How to Choose the Best Organic Mattresses for Your Child or Toddler
How to Choose the Best Organic Mattresses for Your Child or Toddler
Whether you're upgrading your toddler or choosing a mattress for an older child or teen, what are the important things to watch out for when choosing the best organic mattresses for your child?
Materials Matter
Just like you would with an organic crib mattress or an organic mattress for yourself, you should take a look at what's inside your child's mattress. The materials used to provide comfort and support for your growing child are an important part of your research.
Your child's bed may contain the following materials for support:
1. Springs or Coils -A traditional innerspring is most common, but some kids mattresses are also made with individually encased coils, which help to reduce motion transfer and offer more comfort to older children and teens.
2. Latex -Latex is a common mattress material, but also brings allergenic concerns. Naturepedic organic kids mattresses don't include latex because you may not know if your young child has a latex allergy and we want to take a cautionary approach. None of our baby or kids products contain latex.
3. Polyurethane Foam -Often known as memory foam, soybean foam, bio-based foam, and eco-foam, polyurethane foam is highly flammable and you won't find it in any certified organic mattress. Because of polyurethane foam's flammability, it requires flame retardant chemicals and thus can't be considered organic.
To select the best organic mattress for your child, stick with an innerspring or coil support mattress.
Comfort Counts
While firm support for your child is the most important feature in a safer mattress for kids, comfort counts too! Many mattresses contain conventional cotton fiber (treated with pesticides), synthetic filling materials made with harmful chemicals, or polyurethane foam for comfort. At Naturepedic, we focus on using healthier materials like certified organic cotton and plant-based PLA batting.
Pay attention to how your child sleeps to help you select the ideal comfort and support levels needed in the best organic mattress for their needs.
1. Side Sleepers- If your child sleeps on their side, they need a little more cushion to reduce tension and pressure on their developing skeletal system. Check out the Naturepedic Verse with encased coil support if your child is older or a side sleeper. You can also get a quilted mattress pad to provide extra comfort.
2. Tummy Sleepers- For kids who sleep on their stomachs, a firm mattress is important to help reduce pressure on the back and shoulders. Many young children end up flipping around to their stomach at some point in the night, so try the Naturepedic 2-in-1 Ultra with a waterproof side great for potty training and a quilted side for a little more cushion.
3. Back Sleepers- If your big kid sleeps on their back, this is the best position for spinal health! Medium or cushion firm support is great for back sleepers, but remember that kids need a little more firmness than adults. Take a peek at the Naturepedic Quilted Deluxe for firm support and a quilted surface for a little more comfort.
Perfect Pillows
Don't forget the pillows! No big kid bed is complete without a healthier pillow. We offer two pillows that are great for children, the Organic Cotton/PLA Pillow and the Organic Cotton/Organic Kapok Pillow. Both are available in a low-fill standard size or a toddler size perfect for younger sleepers, and the PLA pillow is machine washable.
Ask Us Anything!
If you've got questions, we've got answers. We're here to answer your questions about choosing the best organic mattresses for your child.
What Firmness of Mattress Is Best for a Toddler?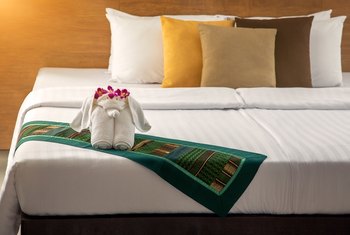 What Firmness of Mattress Is Best for a Toddler?
Related Articles
1 Choosing a Mattress for a Child
2 The Best Mattress for Shoulders and Lumbar Support
3 The Difference Between Plush and Pillow Top
4 Picking a Bed
The day your little one moves from the crib to the big-kid bed is a special milestone. And just as you stressed before your child's birth about finding the right crib mattress, you are likely experiencing the same thing now with the purchase of a toddler mattress. You are right to be taking the decision seriously because choosing the right firmness for your child helps them get a better night sleep while giving them the support they need.
Rule of Thumb
Mattresses that are too fluffy can conform to a child's face and potentially smother them. For this reason, select a firm mattress for your toddler instead. But toddlers do not require the same amount of firmness in their mattress as they did as infants. Mattress firmness is rated using the Indentation Load Deflection rating which measures on a scale from 12 to 50. Anything above a rating of 36 indicates a firm mattress. Using a crib mattress as a toddler mattress offers a fine option that should not have any negative impact on your child, as long as it is still in good condition.
Material Considerations
Mattresses have coils, springs, wool, cotton or memory foam. It does not matter what materials go into making your toddler's mattress, as long the materials create a firm one. But each mattress filler offers specific benefits that others do not. For example, cotton mattresses contain breathable materials, which makes them the better choice for children with allergies. In contrast, wool mattresses maintain warmth but are often culprits in increasing allergies in children who are already susceptible. Coil-and-spring mattresses offer plenty of support for a small child's body. Memory foam — though it gets hot — provides durability and good support.
An Issue of Size
Toddler mattresses for toddler-sized beds are typically the same size as crib mattresses. Because they are the same size, there are dual-sided mattresses available that offer a very firm side for infants and a medium-firm side for toddlers. Twin and twin extra-long mattresses also offer appropriate sizes for toddlers when matched with the correct bed frames.
Maintaining Firmness
A waterproof mattress cover over your toddler's mattresses protects it from stains and moisture and enables you to do quick clean ups when the inevitable accidents happen. More importantly, waterproof covers also help prevent the breakdown of mattress materials, which assists in maintaining firmness.
How to Choose the Best Mattress for Kids – 2020 Buying Guide
We all know sleep is one of the most important things for children when they are growing up. But learning how to choose the best mattress for kids can be confusing.
Here's what I've learned with my 3 kids:
Look for a firmer mattress that provides greater support for growing bones, reducing fidgeting & restlessness, which can negatively impact sleep. When considering sprung mattresses, look for a higher coil count as that indicates a greater level of support. Avoid memory foam due to heavy chemical use in manufacturing.
But that's just the beginning of the benefits of a good mattress for your kids.
Vitamin ZZZ helps your child avoid colds, fight obesity, to succeed in school and to be in an overall better mood. Children sleep more than any other age group because of continually growing both physically and mentally. At night is when your kid's brain organizes everything it learned during the day and at that age that is a lot.
Everything in their bodies is continuously developing, turning them into the men and women they will one day become.
Once you notice that it is time for your child to move from a toddler bed to a regular bed, it's essential to learn how to find the best mattress for kids.
Learning how to choose a mattress for a child is a significant decision and needs to be treated with the seriousness it merits.
So, we came up with a child mattress buying guide to help in deciding which one to buy.
Co-authored with Parenting expert Michael Nilles
The Crucial Points to be Aware of When Choosing the Best Mattress for Kids
All you parents out there know what it's like when you let the little ones stay up just that little bit longer than usual as a treat. The next day is invariably a disaster full of temper tantrums and a sluggish demeanor.
Those little bodies are going through so much when growing up and much of it happens during the night.
Parents, like their kids, need a Great Mattress for Couples, as rest is important to everyone
A children's mattress should:
provide a clean and healthy night's sleep
promote a healthy posture
and support their constantly changing size
Also, know that the quality of the mattress directly affects the quality of the sleep. The Effects of Sleep Deprivation on Students (click to read on my site) is significant. To learn more I highly recommend you take a moment and review how that can impact your kids.
Help Your Child Recover from Their Day, Every Night
Make sure your child is sleeping on the best mattress.
Bear Mattress has been named the "Best Mattress for Athletes" by Sports Illustrated, Business Insider rated it the "Best Mattress for Back Pain" and Esquire named it the "Best Mattress for Hot Sleepers".
Come see what the fuss is all about. 100-night sleep trial – if your sleep-deprived teen doesn't love it, they'll come to pick it up for a full refund.
Great prices all year, but they often have jaw-dropping sales throughout the year too.Check out all the options at Bear Mattress(click to see their website).
What is the best type of mattress for a child?
There are many different styles, offering all kinds of benefits depending on the type of sleeper involved.
The primary choices are:
Innerspring
Memory foam
Pocket-sprung(individual coil)
Latex foam
All children need the proper support when they sleep, keeping the spine and bones aligned.
The right support also influences rolling, fidgeting and general discomfort, allowing for a sounder sleep – every parent's dream, right?
The best mattress for kids with the most support are the pocket-sprung, memory foam and latex varieties. However, each one has certain features that benefit some children more than others.
Pocket-sprung mattressesmainly feature tufted layers and each coil is independent of the others.
Latex foam mattressesare super breathable and ideal for a warm environment and for kids who have an aversion to hot temperatures. Also, this model is measured by density. Good quality mattresses have a higher density; the higher the number, the firmer the sleeping surface.
When choosing aspring mattress, it's vital to check the height of the spring count and the coil gauge. A higher spring count equates to more support, while a lower gauge figure points to thicker coils and an overall firmer mattress.
What's the difference between pocket sprung and coil spring mattresses?
Pocket sprung mattresses essentially have each spring in an individual pocket. This helps each spring move independently from the others.
If you've ever set a glass of water on a spring mattress on one end and sat down on the other end only to watch the cup topple over, that's the difference.
Traditional spring mattresses have each coil connected. In doing that, if one spring moves, they all move. At least to a degree.
So generally speaking, most people prefer pocket sprung over a traditional coil spring mattress.
Is a memory foam mattress good for a child?
Probably not is the short answer; at least for a lot of folks.
On the plus side, memory foam mattresses are dense and body forming and reduce how often a restless child wakes up during the night. They are also hypo-allergenic and dust mites don't like to live on or in them.
They also stink for doubling as a trampoline, so your kids aren't likely to jump on it much.
But, that being said, not everyone thinks these are the best mattress for kids.
There areconcerns about chemicals in the foamas well as the fact that the foam conforms to body shape and may not adapt as kids grow in size. You can, however, find ones that are GREENGUARD gold Certified which alleviates the chemical concern.
Sealy Posturpedic, possibly the world's best-known mattress company, says "Innerspring mattresses, as opposed to pure foam mattresses, will provide the best skeletal support and conformance to the body while sleeping, and will not degrade with moisture".
Are latex mattresses good for kids?
As I mentioned above, many parents and experts have concerns with memory foam due to the chemicals used in making the mattress.
The good news is that latex, being all-natural, solves that issue.
Also, like memory foam, latex is naturally resistant to mold and dust mites, both of which can really benefit your kid's health. And latex is also hypo-allergenic.
Latex actually comes from the sap of rubber trees! It doesn't get much more all-natural than that. Taking it even further, you can also find organic latex mattresses too. And from a sustainability standpoint, as with maple syrup, collecting the sap doesn't kill the tree.
All that being said, while it is certainly a better choice than memory foam, it still has the same concerns about skeletal support. So at least for kids over 8, I would still prefer a spring mattress.
Is a firm mattress better for kids?
Yes, is the short answer.
Kid's bodies are constantly growing and changing. Their bones are growing bigger and stronger. So they need a firm mattress to support that growth. Too soft of a mattress could easily hamper growth or cause improper growth.
Generally speaking, the younger the child, the firmer the mattress should be. So babies need a very firm mattress. But, even for toddlers, we don't want a mattress that is so soft it could potentially smother their mouth.
Mattress firmness gets rated on a scale of 12 to 50. Anything over 36 indicates it is a firm mattress.
A pillow-top mattress, however, can get you the best of both worlds; a firm mattress and a soft luxurious feel.
How thick should a child's mattress be?
The thickness isn't nearly as important as the firmness.
So in once sense, you can choose any mattress thickness from 5″ up to 11″. That being said, if we're talking about toddlers in a crib or bed with rails, you don't want a mattress that is so tall it encourages them to fall over the railing.
So in those cases, choose a 5″ thick mattress to help ensure they stay in their crib, toddler bed, or bed with rails.
Once they get to be age 8 or so, it's much safer to go with thicker mattresses.
What is the best way to choose a baby mattress?
As we've mentioned, you want a firm mattress. That is BY FAR the most important factor, and the younger the child the firmer it needs to be.
The Consumer Product Safety Commission has stated that "the risk of SIDS is significantly reduced by placing babies to sleep on their backs in a crib that meets current safety standards and has a firm, tight-fitting mattress and no soft bedding."
We've also covered some of the dangers of the chemicals found in some types of memory foam, so avoid that kind of mattress too. Any kind of organic mattress will be free of those concerns.
But you can also find memory foam that is GREENGUARD gold Certified. This ensures it's free of toxic chemicals.
Also, avoid a used mattress due to the possibility of mold, mildew, or fungus inside the mattress. Even if you can't see it or smell it, it could be there.
A firm, organic latex mattress can provide a great balance between firmness, mold-resistance, and being chemical-free and hypo-allergenic.
Want to know the #1 best-selling crib mattress on Amazon?
Here's what it features:
It's non-toxic
Breathable
Removable, washable, water-resistant outer cover
It's also an Amazon's Choice product with almost 3,000 near-perfect reviews and free shipping too!
What is the mattress size for a toddler bed?
The size of a toddler bed is typically 28″x55″ and even if your crib doesn't convert you can still use the crib mattress (click to check price on Amazon) for your toddler bed.
Toddler beds typically sit low to the ground to prevent injury from falling out of bed.
They are usually about the same size as a crib and the best cribs sometimes convert to a toddler bed, such as theStork Craft 4-in-1 Convertible Crib(click to see it on Amazon).
This amazing bed is a crib, a toddler bed, a daybed and even converts to a full-size bed (with additional options). It also comes with free shipping on Amazon and has almost all 5 stars and over 800 reviews; so you know this is a quality bed. The best part is it's (currently) under $200!
Do you need a box spring for a toddler?
In most cases, no.
With a good convertible crib like the Stork mentioned above, no box spring is needed.
Most stand-alone toddler beds use a standard crib mattress with no box spring needed.
Want to know the best-selling toddler beds on Amazon Prime?
and the Disney Minnie Mouse both from Delta Children.
Both come with free shipping, free returns and both have 4.5 stars and hundreds of reviews, so these are the best of the best!
Make sure to get the #1 crib mattress on Amazon to go with it!
What is off-gassing in a mattress?
When you first take a new mattress out of its plastic wrap it's not uncommon to smell a chemical smell.
This is known as off-gassing.
Off-gassing happens when volatile organic compounds (VOCs) break down. These VOCs can be found in 1000's of household items, from cleaners to paint or when you dry-clean your clothes.
Usually, the VOCs in foam and adhesive are the most typical ones to off-gas in memory foam mattresses.
Some of the chemicals include chlorofluorocarbons (CFCs), methylene chloride, formaldehyde, benzene, and several others.
All mattresses are required to be flame retardant, thus VOCs are used to aid with that also.
Experts say that the low emission levels of these compounds make it OK for us to breathe in each day. But you may still want to air the new mattress out in a garage for a day or two before letting your little one sleep on it.
Are a toddler bed and a twin bed the same size?
No. As we covered above in our child mattress buying guide, generally a crib and a toddler bed are the same sizes whereas a twin bed is 38″ wide by 75″ long.
Thus a twin bed is typically both longer and wider. As long as it's not high off the ground though, there's no reason you couldn't use a twin bed and skip the toddler bed stage.
One of the best twin beds on Amazon with free shipping that's perfect for toddlers through tweens is the Canopy Bed from DHP(click to see current price on Amazon).
It has an all-metal frame, decorative side rails and is easy to put together.
The canopy bed also has 4.5 stars and hundreds of reviews. This is also the bed that my (Jeff) middle daughter (almost age 12) had in her bedroom for years and she loved it!
It comes in pink only, so if that's not quite right for your child, consider the Metal Loft Bed also from DHP. Just click that link to see it on Amazon.
It features side rails, storage compartments in the steps and lots of play or storage space underneath.
Either way, don't forget theModway Aveline 8″ Gel Infused Memory Foam Twin Mattress(click to see on Amazon). It's Green Foam Certified, an Amazon's Choice product and also got over 4 stars and over 2,200 reviews and comes with free shipping on Amazon.
CertiPUR US certified so you can be sure it's made without formaldehyde, heavy metals, PBDEs, TDCPP or TCEP ("Tris") flame retardants, and is low on VOC.
Did we cover everything you wanted to know about how to choose the best mattress for kids?
In this ultimate child mattress buying guide, we took an in-depth look into the world of beds and mattresses for kids.
We know proper sleep is important for our children's mental & physical health as well as brain development. But finding the best mattress for kids can be confusing!
So we answered all the top questions, we reviewed the top choices on Amazon Prime all to help you get the information you need to make the best choice for your child.
So, it's safe to say that there is a lot out there.
Too many choices sometimes make deciding the best mattress for kids more difficult, but when it comes to your cherished little ones' well-being, a little research can go along way.
About the co-author of this post.
Michael Nilles is a part-time blogger who loves to share parenting tips he has discovered over the years.
Want to write for Middle Class Dad too? Check out everything you need to know on my Guest Blog Page.
Some of the images used in this post were acquired from the web and are considered "fair use" under US Copyright law given this post is for the purposes of reviewing these products. That being said if the original photographer prefers us to not use their photo, we will happily swap them out upon being contacted.
Jeff Campbell is a husband, father, martial artist, budget-master, Disney-addict, musician, and recovering foodie having spent over 2 decades as a leader for Whole Foods Market.Click to learn more about me
Leave a ReplyCancel reply
Recent Content
Have you ever felt like something is off in your marriage? Maybe your once warm and affectionate husband now seems aloof and distant? If that's what you're seeing, it's common to wonder does my.
My family and I just returned from London; our first visit there with kids. Before we went, we wondered how can I travel with kids in London and what is there to do in London with kids? Here's.
About Me
Hi! I'm Jeff Campbell. I am a husband, father, martial artist, budget-master, Disney-addict, musician, and recovering foodie. I was a leader for Whole Foods Market for over 2 decades and currently help run a large martial arts school (primarily) for kids. When I'm not spending time with my wife & 3 daughters, I can usually be found practicing martial arts, making music, blogging on my new blog over at KitchenApplianceHQ.com or, blogging right here.
Learn more about me!
Legal Information
Middle Class Dad is owned and operated by Jeff Campbell/Middle Class Dad. Middle Class Dad is a participant in the Amazon Services LLC Associates Program, an affiliate advertising program designed to provide a means for sites to earn advertising fees by advertising and linking to Amazon.com. Middle Class Dad also participates in affiliate programs with Siteground, Clickbank, CJ, ShareASale, and other sites. Middle Class Dad is compensated for referring traffic and business to these companies, but in no way increases the cost to you if you opt to make a purchase from my links.
The Middle Class Dad's Guide to Budgeting e-book – Only $15.99
Get started saving your family's financial future today!
Join the 61,342 people who follow me and my posts each month!
So if you're ready to get started saving, budgeting and getting your household's finances on track for your best year yet, click the image to learn more!
Haven't started your budget yet?
Need some help getting started?
For a limited time only, I am offering my services for creating your custom monthly budget!
Just fill out a simple form with your info (submitted securely through Formsite) and I'll have a custom budget done for you within 72 hours!
Click the image to learn more!

Best Crib Mattresses of 2020
Choosing a crib mattress can be confusing. Here's what to know to have your baby sleeping like, well, a baby.
During the first few months of life, your baby will spend more time asleep than awake—although it won't always seem that way! Part of getting your little one to sleep soundly is creating a good sleeping environment.
In this article:
What Are the Types of Crib Mattresses?
There are different types of crib mattresses to choose from, but what matters most is getting a quality one. Which type you end up buying is more a matter of personal preference. Here are the options:
Innerspring mattresses:This traditional mattress type has steel coils inside, which makes it resilient and sturdy. Above the coils, innerspring mattresses have layers of different cushioning materials, such as polyester, cotton or foam.
You'll see innersprings described by their coil count (that's the number of steel coils in the mattress; the more coils, the more supportive) and steel gauge (the thickness of the coil; the lower numbers are thicker). Some models also have metal border rods that provide stability around the edges.
Innerspring mattresses can be pricey, especially if you're looking into higher coil count. Reliable brands range from $80 to $300. These mattresses also tend to weigh more (something to consider for when you have to change crib sheets in the night).
Foam mattresses:These are typically made from polyurethane, a foam resin. Foam mattresses can be a great choice because they're lightweight and durable, and are also usually the least-expensive mattress option.
When choosing a foam crib mattress, you want to make sure it's resilient. Test this by pressing your hand on the mattress and seeing how long the surface takes to regain its shape (the faster, the better).
Also, look for a mattress that has a higher density, which makes it firmer. You can test this by how heavy it is (denser mattresses are typically heavier) or by squeezing the sides of the mattress (you won't be able to press that hard on denser models).
Double-sided mattresses:2 for 1! These mattresses have a firmer infant side and a softer side that is more appropriate for toddlers who still use a crib or convertible toddler bed. Just flip it over to give your tot a softer, more comfortable mattress.
Keep in mind though, these models might be more expensive than some infant crib mattresses. And, you'll have to remember to place the correct side of the mattress facing up when you're changing the crib sheets.
How to Choose a Crib Mattress
Crib mattresses are similar to adult mattress, but with a few special considerations. Here's what to look for in a crib mattress:
Firmness:Crib mattresses are firmer than adult ones in order to keep babies safe and to support growing bones while they sleep. Make sure the mattress is rated for infant use.
Waterproof:Crib mattresses should have a vinyl or polyethylene surface to make them waterproof and resist mold. If yours is fabric be sure to use a waterproof cover.
Fit:The mattress should fit snugly against the frame. You shouldn't be able to fit more than two fingers between the mattress and the crib. If you choose a mini crib or bassinet, the same sizing rules apply.
Materials:Some parents prefer mattresses made from natural and organic materials to avoid chemicals used in standard mattress production. (Note: No health effects have been evaluated yet).
Crib Mattress Safety Guidelines
Obviously, your baby's safety is a top priority. Here are a few safety basics to keep in mind when choosing a crib mattress:
Avoid second-hand if possible:Because of the dangers associated with mold and bacteria, it's best to avoid a used mattress, especially if you don't know the history of the product. Reusing one from another one of your children? Make sure there aren't any openings in the waterproof cover where mold could've taken root.
Keep the crib empty:Although they look lovely, pillows, bumpers, stuffed animals and blankets shouldn't be in a baby's crib. That's because they can wind up covering your baby's face and be a suffocation hazard. Keep it to a fitted sheet only.
Place baby on their back:The safest sleeping position for your baby is on the back. It reduces the risk of sudden infant death syndrome (SIDS), which is the leading cause of death in the first year of life.
Check before you flip the mattress:If you have a double-sided mattress, check with your pediatrician to see if the time is right to flip it over to the toddler side. Most parents make the switch when their children are about 12 months old.
Do you think this content is helpful? Let our editors know!
How We Chose Our Best Crib Mattresses
We asked thousands of real Babylist families about the products they love the most. We took the top products they shared with us and added our own research and insight to tell you about the best crib mattresses.
How to choose the right bed for growing kids
When the time comes for your toddler to graduate from a cot to a bed, the range of options can be bewildering. Should you buy a toddler bed or a single bed? An innerspring mattress or a latex one? Should you place it on an ensemble or a slatted base? And what kind of pillow is right if your child sleeps on his back, side or stomach?
Here we consult the experts on how to choose a bed that will best support your child's growing body and spine. Follow these golden rules to ensure a great night's sleep for them (and you).
All beds are not created equal
So says Dr Havard Bergby, a paediatric chiropractor at Sydney's Inner West Spinal and Sports Injury Centre. 'As with most things in life, you get what you pay for,' Dr Bergby says. 'When buying a bed for a toddler, parents have to consider the weight and age of the child. The transition from cot to a normal bed should happen between 18 and 36 months, after which a toddler should be in a proper bed with a proper mattress.'
Spring for innersprings
Sealy Posturepedic, the world's number-one bedding brand, recommends mattresses with an innerspring system. 'Innerspring mattresses, as opposed to pure foam mattresses, will provide the best skeletal support and conformance to the body while sleeping, and will not degrade with moisture,' says Sealy Australia spokeswoman Kim Bennett. Dr Bergby agrees that innerspring mattresses are better for kids than ones made of foam or latex. 'Foam simply does not have the same supportive properties as a sprung bed and latex has a tendency of shaping to your body over time,' he says. 'This is not recommended for children due to the fact that their body is constantly changing. So, memory foam beds are definitely not good for children.' Dr Bergby says children do not necessarily need an ensemble – a slatted base can be fine, as long as the slats are no further than five centimetres apart. Dr Bergby generally does not recommend bunk beds, 'mainly because of the many injuries I see as a result of kids either falling from or jumping from the top of a bunk bed. Boys, in particular, tend to love this.'
Toddler beds are an unnecessary extra expense
Although they're all the rage, a toddler bed – which is essentially a frame that makes sure a child does not roll out of it at night as well as giving them a similar snug feeling to their cot – is something they will quickly grow too big for. 'A toddler bed can be a good alternative for children who are finding the transition to a "big" bed difficult,' says Dr Bergby. 'What mattress you use on the toddler bed is what matters. Between 18 and 36 months a child's spine is rapidly developing and growing, particularly at night. It's imperative that the mattress provides sufficient support to ensure this growth happens naturally. I frequently encounter families where the mum and dad have a $4000 bed, whereas their toddler sleeps on a thin foam mattress.'
Spinal support is crucial
'When it comes to sleeping, what matters for a child's spine is support,' says Dr Bergby. 'Both their spine and neck have to be in a neutral position, which minimises stress and allows the spine to grow without any restrictions. A toddler's spine can grow as much as 1.5cm during the night, which mainly comes from the intervertebral discs in between their vertebrae filling up with water. So the mattress has to be soft enough for them to be comfortable, yet firm enough to prevent them from completely sinking into it.'
Dr Bergby says the potential consequence of children sleeping on an unsupportive foam mattress is that their growing spine is placed under stress for prolonged periods of time. 'A growing spine is very flexible and can adapt to stressors in daily life such as falls,' he says. 'However, this flexibility makes the growing spine more susceptible to more permanent deformative issues when placed under a certain load over long periods of time, such as 10-12 hours of sleep per night.' Dr Bergby says it is hard to predict what type of short-term problems might arise from sleeping on a foam mattress in the early years, 'However, there is no question that sleeping on a spring mattress allows for better and more natural development of a growing spine.'
For parents who can't afford a good-quality innerspring mattress, Dr Bergby advises buying a second-hand one no more than two years old. 'I suggest to parents planning on having more than one child to buy a good-quality spring mattress and pass it down. If you buy good quality there is no reason why three kids can't spend two to three years each on it.'
Cleanliness is important
By law, all new beds must be treated for dust mites before being sold. However, this does not mean that over time dust mites will not develop – especially given that every night a human body loses up to one litre of body fluid through the skin and mouth, as well as millions of skin flakes. Sealy Australia spokeswoman Kim Bennett says special mattress protectors are a good way to add additional anti-allergenic and moisture-barrier properties to mattresses. 'Most sprays, such as Glen 20, are not recommended as the risk (inhalation of a cocktail of chemicals) versus the benefit (possible removal of bacteria, dust mites etc) is just not feasible,' says Dr Bergby.
As such, the best way to avoid worsening a child's asthma and prevent the build-up of dust mites is to:
clean bed sheets weekly, including pillow cases and doona cover
air out the bed with no sheets on for at least two hours when you change the sheets
these two hours are ideal for cleaning the room, which includes both dusting and vacuuming
In general, a clean and tidy home (and bedroom) is a good way of controlling the spread of dust mites.
Replace mattresses regularly
How frequently should mattresses be replaced? 'It comes down to the quality of the bed and the size of your child,' Dr Bergby says. 'As long as they haven't grown out of it, a good-quality sprung bed can easily last as long as five years. As a general rule of thumb, change the bed every three years between the ages of 0 tand 10 years, and every five years between the ages of 10 and 20. Latex beds, however, have a tendency of shaping to the body of a child after about one year, so I do not recommend these for anyone under 18 years old. Latex pillows, on the other hand (they must be natural latex), I do recommend, however they need to be replaced every one to two years.'
This article was written by Karen Fontaine for Kidspot, Australia's best parenting resource.