How to Make a Higher Boxspring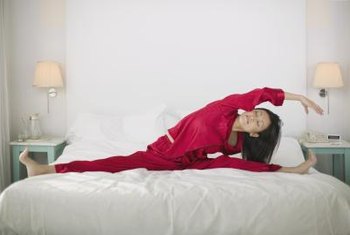 Get a better night sleep when your boxspring is higher and better supports your mattress.
Related Articles
1 Make a Bed Skirt Using a Fitted Sheet
2 Convert a Munire Toddler Bed to a Full Size Bed
3 Make Your Own Full-Size Bed Base
4 Connect Twin Beds
Box springs are manufactured in a wide array of depths, and if you have a deep bed frame, one option for increasing your box spring's height involves using a bunkie board, a rigid support that serves as a mattress substitute on bunk beds. Bunkie boards provide the same function on platform beds and, in the same manner, raise box springs between 2 and 3 inches. But if your box spring is not elevated by a bed frame, risers provide an alternative. The risers' base plates screw into the box spring's corners, and some risers feature natural wood tones that simulate the look of platform beds.
Adding a Bunkie Board
Remove your mattress and box spring from your bed frame, getting help if they are too heavy. Lay the mattress and box spring on the floor. Measure the horizontal and vertical dimensions of your box spring with a tape measure to determine if it's a standard size: twin, 39-by-75; full, 54-by-75; queen, 60-by-80; or king, 76-by-80.
Use the measurement to procure a bunkie board that matches the box spring's dimensions. Lay the bunkie board on the floor with the upholstered side facing upward, and with the help of an assistant, lift it onto the bed frame.
Pick up the box spring, positioning it on top of the bunkie board and aligning it with the bunkie board's corners. Make sure the sides of the bed frame overlap both the bunkie board and the bottom edge of the box spring, which promotes a stable bedding ensemble.
Lift the mattress off the floor with a helper, laying it on top of the box spring in alignment with the box spring's corners. Dress the bed.
Adding Risers
Lift your mattress off your box spring with an assistant's help, then turn the box spring over, so the wooden support underneath the box spring is visible beneath its covering. Remove some of the covering if needed for drilling the holes. Measure the width of the box spring's wooden support at the corner.
Use this measurement to procure four suitable risers, selecting the type with base plates and stems. Position one of the base plates on the box spring's corner, centering it atop the box spring's wooden support.
Draw dots to mark the base plate's position and repeat the process on all the box spring's corners. Drill holes on the dots, then mount the base plates by screwing them into the box spring's corners. Screw the stem plates into the base plates.
Carefully turn over the box spring, easing the risers onto the floor. Acquire help to lift the mattress onto the elevated box spring, then dress the bed according to your preference.
How to Make a Mattress


How to Make Pillowcase Chair Covers for a Wedding
Things You'll Need
Two cotton flat sheets in the size desired
Stuffing material
Sewing machine and thread
With the use of a sewing machine and other materials, making a homemade mattress is easy.
Sew the two flat sheets together on three sides, inside out, using a 1-inch seam. Repeat the process a quarter-inch away from the first seam. This will add stability. Turn the mattress sheet cover right side out where the seams are on the inside.
Decide if you wish to stuff your mattress with down feathers, shredded, flat, or egg carton-shaped fiber foam or with memory foam or other materials. Ripped-up clothing can be used as stuffing if desired. If using flat or other foam sheets, cut the foam a quarter-inch smaller than the size of the sewn-together mattress sleeve sheets.
Begin stuffing your mattress cover. For foam sheets, roll up the covers much as you would put on a sock and start at one end of the foam and work the cover up to the opposite end. For shredded foam or down feathers, stuff the material into the cover until full.
Pin or hand-stitch the end of the mattress cover together. Once you have a straight seam, sew the ends together using the sewing machine, attempting to keep the one-inch seam margins. Sew a second seam close to the first line of stitching to ensure the seams do not rip out.
Loose fiberfill, down or old clothing may shift as the mattress is used. Simply fluff the mattress regularly to keep the stuffing distributed evenly throughout the mattress.
How To Make A Mattress Firmer
A few ways you can make a soft mattress firmer and more supportive.
Categories:
Last Updated:
Before we begin, let's first firm a few things up (get it). All jokes aside, this post is designed to be a helpful guide for you to firm up your existing mattress. Let's get to it.
Why You Might Need A Firm Bed
There are many reasons why you might need a firmer mattress. Your bed may have simply arrived a little softer than expected. Also, some mattresses tend to get softer with time, as you break them in. If you have a back injury or some back pain, your doctor may have recommended that you sleep on a firmer surface. Or maybe your partner moved in, and they need a firmer mattress. Whatever it is, we're here to help.
Let's first go over some reasons why having a firmer versus a softer bed can be so important, and then we'll talk about some options for making your mattress firmer.
Why Firmness Level Is Important
When we talk about firmness here at the Slumber Yard, know that we are doing so in a relative manner, as firmness is a term that is relative to weight. Basically, the less you weigh, the more you lay on top of a mattress, sofa, or any other surface for that matter. When you're laying more on top of a surface, instead of sinking down in it, it will feel firmer to you. Because of this, petite people might find more mattresses feel firm to them.
On the opposite end of spectrum, the more you weigh, the more you sink into a mattress or other surface. Because you're sinking down into the material more, the surface will feel softer. Heavier people might find more mattresses feel softer to them, and may have a more difficult time finding a firm enough bed. In some cases, though, we have found that heavier people will sink right through the comfort layers of a mattress and will settle more on the poly foam or coil base layers, which actually make the bed feel firmer. This isn't good for your spine though.
Your sleeper type is also important when considering the firmness level you need in your mattress. Side sleepers tend to need a softer mattress that will accommodate their curves, instead of fighting against them and possibly limiting blood flow. Back and stomach sleepers will need a firmer mattress that will keep their spine in proper alignment while they sleep. Back and stomach sleepers shouldn't have their hips or shoulders sinking into the bed too much, as this will cause the spine to be in an arched position, which can lead to back aches or other problems.
Plank is a firm mattress
Having a firm bed can also be better for your health. Remember, you sleep on your mattress for (hopefully) eight hours every night. Over the course of a lifetime, that's a third of your life spent sleeping. Keeping the spine in proper alignment, whether sleeping on your back or on your side, is very important for the overall health of your body. This study even explores the concept that firmer bedding can reduce back pain, improve sleep quality, and decrease overall stress.
Keep all this in mind as we explore the different options you have when it comes to making your mattress more firm.
Options To Increase Firmness
Trial period.Many online mattress brands have trial periods, so that you can really get to know your new mattress before you commit. Most companies offer a 100-night trial period, but others, like Nectar for example, have year-long trial periods. Check to see if your mattress is still within its trial period, because you might be able to return the bed for a full refund, and most of the time the company will come remove the mattress for you, also free of charge. You could also try contacting the company and see if they can help you. Novosbed will even send you a Comfort+ Kit, which is a free foam topper, if you feel the firmness of the bed isn't quite right for you.
Try placing your mattress on the floor.If that makes it feel firm enough for you, you could either go for a cool college kid vibe and leave it there, or you can try slipping some plywood boards between your mattress and the bed frame. This will add some extra firm support and possibly harden your mattress.
Check your box spring.Box springs can wear out with prolonged use. When they lose their strength, they provide less support for your mattress than they should, which in turn may make your mattress feel softer. Replacing a box spring is usually much less pricey than replacing a mattress, and can help to harden up your bed.
Replace the worn out layers.More and more companies are manufacturing their mattresses with different layers of material, so it's easy to switch out the ones that are more damaged. This is also a more affordable way to make your mattress firmer. Just make sure your mattress has a removable mattress cover and you're not
Dampness.Your bed can become soft from absorbing moisture from the air. This is common in humid areas or if you live close to the beach. If you think this might be the problem, just take your bed and lay it in the sun, and let it dry out for the day. This should not only firm up your mattress, but the sun should also kill off any bacteria, mold, and germs that may have occurred from the dampness. If you're super worried about a contaminated mattress, you can also pay for a professional cleaning, but make sure to try this first.
Mattress topper.I know, you're probably thinking, aren't mattress toppers suppose to make beds softer? But there are tons of great mattress toppers you can find on Amazon that will make your bed firmer. We suggest a dense memory foam or a latex one. Latex is a natural foam material made from the sap of rubber trees, and its known to be pretty firm and responsive. They have synthetic latex options, as well, which are usually cheaper. Toppers are usually around 2"-6" thick, so they can make your bed decently thicker, or just a little bit thicker, if that's what you prefer. Also, mattress pads tend to be thinner and make mattresses softer, so look specifically for a topper.
Consider your room temperature.Some materials, like 100% memory foam or airy polyurethane foam, can be temperature sensitive. If you leave them in a cold room they We've even heard of pure memory foam freezing solid if left in a super cold climate! Try adjusting your thermostat in your bedroom to a lower temperature, or even leave a window open and get the fan going and see if that firms up your bed a bit. Likewise, a warmer temperature might make your bed softer.
Rotate or flip your mattress.Sometimes simply rotating your bed so that the heavier parts of your body lay in different spots can help. We always recommend that, no matter what kind of mattress you have, you rotate it seasonally to help prevent against sagging or impressions. If your bed is two-sided, you can also try flipping it to make it firmer. Just double check first that it's a flippable mattress. Some beds, like the Plank for example, come with two different firmness levels on each side. If there aren't different firmness levels, the unused side will still often be firmer.
Nest Flip is a double-sided mattress
If all else fails, get a new mattress. As we explained above, the firmness of your bed is very important for your spinal health, and to prevent against body aches and stiffness. This is especially true for strict back or stomach sleepers. Also, having a worn out bed that's been around too long is just not great for your body. If you've had your bed for over 10 years and it's much softer than when you first got it, it might be time for a new mattress anyway. You can check out our list of Best Firm Beds or Best Beds for Back Sleepers if you want some help figuring out which bed might be best for you.
The best spring mattress you can buy
When you buy through our links, we may earn money from our affiliate partners. Learn more.
A high-quality spring mattress offers an impressive balance of support and comfort to a broad range of sleeping styles and body types, comes with a long risk-free trial period, and provides excellent edge support and motion isolation.
The Saatva Classic Mattress is our top pick because you can try it for 120 nights, there are three firmness options, and the company offers free in-home set-up and mattress removal.
Looking for a new mattress on Black Friday? Check out all the deals.
Black Friday and Cyber Monday are fast approaching, and many products in this guide will likely be on sale. You can check out our Black Friday and Cyber Monday deal coverage on Insider Picks.
A mattress is one of the most important purchases you'll make in your lifetime. After all, a significant amount of our time is spent sleeping. But with so many different mattress options, where do you start?
If you're leaning toward a traditional spring mattress (also called an innerspring mattress), we have five great recommendations, including our favorite, the Saatva Classic. Before we dive into our picks, here's what to consider when shopping for a spring mattress.
What to look for
So, with next-gen memory foam tech generating all the latest mattress buzz, why pick one with springs? Don't think of those uncomfortable spring mattresses from the past: Today's options are well-made, comfortable to sleep on, and designed to last for some time (at least, at the higher end). Compared to a foam mattress, a spring mattress offers better air circulation, edge support, and bounce. It can also feel plusher.
Your sleeping style and body types will determine what firmness is ideal for you. For the most part, heavier individuals and back sleepers will benefit most from a firmer mattress. Lighter folks and those who sleep on their side or stomach will prefer mattresses on the softer side. Of course, there is also variance due to preference within each of these categories.
Another factor to consider is a mattress's ability to isolate motion — a must if you are a light sleeper and share a bed with a partner or pets. And, edge support is another important feature for couples because you don't want to feel like you're going to fall off when your significant other decides to annex your side of the bed.
Spring mattresses work best on a firm, supportive foundation. When I'm testing mattresses, I keep them on the floor, which works perfectly fine. However, this makes it harder to get in and out of bed, and your mattress may soak up any spills nearby, which could cause permanent damage. So, we recommend using a bed frame or foundation. Here are some excellent options.
Lastly, price should not be your main consideration when buying a spring mattress. Keep in mind, you will be using this mattress for 10 years or longer. So, differences in prices work out to only a few cents per day. Additionally, most mattress retailers offer financing options, although we don't recommend going into debt if you can avoid it.
Sleep on it
A comfortable mattress for one person may be torture for another. So, the only way to know for sure that a bed will be right for your sleeping style and body type is to sleep on it. Most online companies offer risk-free trials — the brands featured in our guide have trials of at least 100 nights, including two with 365-night trials. However, be sure to read the fine print because some companies will charge you shipping fees or other expenses if you want to return a mattress.
While researching the best spring mattresses, we looked at countless reviews and ratings and dozens of models from buyers and experts alike (including our own). Our guide features mattresses that have a track record of durability, comfort, support, and versatility.
Mattress
Background
From the available evidence, it seems fairly certain that the concept of the mattress originated during prehistoric times. By lying on piles of leaves, straw, and animal skins, early humans were able to sleep more comfortably and more soundly than they could have on hard surfaces. As greater numbers of people left a nomadic, hunting existence for a settled, agrarian lifestyle, primitive furnishings, including the bed, began to develop.
To a large extent the development of the mattress is closely linked with that of the bed. In many ancient societies, the bed was considered the most important piece of furniture in the household; often, it provided a central gathering place for dining and relaxing as well as sleeping. Over the centuries, bed frames became more elaborate for those who could afford luxury; however, mattresses themselves remained unsophisticated—and uncomfortable. Until the twentieth century, they generally consisted of lumpy pads filled with horse hair, cotton, or rags. Poorer people relied onticks—fabric sacks stuffed with straw, corn cobs, or other crop debris. In addition to offering an inconsistent texture, such primitive mattresses were difficult to clean—and they generally started out dirty, stuffed as they were with agricultural debris that often entered the pad or ticking with soil and insects. However, they offered one concrete advantage: made at home from cast-off farm goods, they were cheap. Even late in the nineteenth century when small local manufacturers began to produce mattresses commercially, the items remained inexpensive because early mattress makers continued to rely on extremely inexpensive stuffing (usually, unusable fabric remnants discarded by second-hand tailors).
Mattresses with stabilizing interior springs, probably the single most significant advance in mattress design, were first developed during the mid-1800s. By placing a set of uniform springs inside layers of upholstery, mattress manufacturers could imbue their product with a firm, resilient, and uniform texture. However, because so-called innerspring mattresses were expensive to manufacture, only luxury ships and hotels that could pass the cost along to their affluent patrons purchased them initially. It was not until after World War I that innerspring mattresses were mass-produced by Zalmon Simmons, Jr., the president of a company that had theretofore produced bedsteads. Despite the fact that Simmons asked 40 dollars—more than twice the cost of the finest horse hair mattress available at that time—for his innerspring mattress in 1926, his products proved so comfortable that millions of Americans purchased them.
To render potential customers more willing to spend what must have struck many as a small fortune on his innerspring mattress, Simmons promoted the advantages of a good night's sleep. The effectiveness of this marketing strategy has only increased over the years, as subsequent research has confirmed that abundant, high-quality sleep constitutes a fundamental component of good health. Today's sophisticated mattresses improve sleeping comfort in several ways. First, through a variety of enhanced innerspring designs, modern mattresses distribute the weight of the body over a broad area; this also helps to prevent differential wear on the mattress. In addition, mattresses offer surfaces of appropriate softness and flexibility to help keep the spine in its naturally curved position. However, contemporary mattress manufacturers carefully avoid excessively soft surfaces that would distort the position of the sleeper's spine, resulting in discomfort or even pain.
Presently, the consumer demand for mattresses is fairly consistent. In 1990, approximately 16 million mattresses were sold in the United States. Together with foundations, mattresses accounted for about $4 billion in retail sales. With the exception of a few large companies, most mattress manufacturers are fairly small, community-based operations. Of the approximately 825 mattress factories across the United States, most are still owned and operated by the founding families.
Design
Today, most mattresses are manufactured according to standard sizes. This standardization was initiated by the industry to resolve any dimensional discrepancies that might occur between companies that manufacture beds and companies that make mattresses. The sizes include the twin bed, 39 inches wide and 74 inches long; the double bed, 54 inches wide and 74 inches long; the queen bed, 60 inches wide and 80 inches long; and the king bed, 78 inches wide and 80 inches long.
The "core" of a typical mattress is the innerspring unit, a series of wire coils that are attached to one another with additional wire. The upholstery layers are affixed to the innerspring: the first, called theinsulator,is fitted directly onto the innerspring and prevents the next layer, thecushioning,from molding to the coils. While the insulator is fairly standard, the number of cushioning layers can vary widely in number, ranging from two to eight layers and from 1/4 inch to 2 inches (.63 to 5 centimeters) in thickness. Moving outward, the next component is theflanges,connecting panels that are attached to the mattress's quilted cover with large, round staples calledhogs rings.The top, bottom, and side panels of the mattress are stitched together with border tape.
While a wide variety of springs are designed to accommodate special needs and situations, the four most commonly used coils are theBonnell,theOffset,theContinuous,and thePocket System.The Bonnell springs are hourglass-shaped and knotted at both ends. The Offset design is similarly hourglass-shaped, but its top and bottom are flattened to facilitate a hinging action between the coils. The Continuous innerspring consists of one extremely long strand of steel wire configured into S-shaped units. Finally, in the Pocket System, each coil is encased in a fabric casing that also connects it to neighboring coil-casing units.
A typical mattress contains between 250 and 1,000 coil springs, and mattresses that use fewer coils normally require a heavier gauge of wire. It is not uncommon for an innerspring unit to require as much as 2,000 linear feet (610 meters) of steel wire. The individual coils can be joined in several ways. One common method is to use helicals—corkscrew-shaped wires that run along the top and bottom of the springs, lacing the coils together. Rigid border wires are sometimes attached around the perimeters to stabilize the unit.
Most manufacturers also produce foundation mattresses or boxsprings that lie directly beneath the mattress, resting on the frame of the bed. One of the most common types of box spring foundations uses a spiked coil configuration, in which the springs are narrow at the bottom but spiral to a wider diameter at the top. While a spring system provides the most common type of boxspring support, torsion bars are also sometimes used. Other foundation mattresses contain no springs at all but consist of a built-up wooden frame.
Raw Materials
Mattresses are presently made of many materials, both natural and synthetic. The innerspring, helical, and boxspring components are made from wire; the boxspring wire is usually of a heavier gauge than that used in the innerspring. The insulator consists of semi-rigid netting or wire mesh, and the cushioning layers can comprise a number of different materials including natural fiber, polyurethane foam, and polyester. The flanges are made of fabric, and the hogs rings of metal. Top, bottom, and side panels consist of a durable fabric cover quilted over a backing of foam or fiber, and the binding
The Manufacturing
Process
Building mattress layers
1 Most mattress manufacturers subcontract the production of the innerspring unit to an outside firm that specializes in making springs. Once the completed spring unit is received and inspected, the workers manually apply the insulator. Next, they apply the cushioning layers that will determine the feel and comfort of the final product.
2 While the mattress is being "built up" in one part of the plant, the decorative cover that will serve as the exterior for the top, bottom and sides is being made in another part. Usually this cover is made on a giant quilting machine, which controls a multitude of needles that stitch the cover to a layer of backing material. The stitching chosen serves both useful and ornamental purposes, as it must prevent the mattress cover from slipping or creeping over the layers of cushioning in addition to creating a visually pleasing exterior.
3 Once the fabric is quilted, it is cut into panels that will fit the top and bottom of the mattress. The side panels are often cut from this same composite or made separately on a border machine. If side handles or vents are to be added, they are attached to the side panels before these are applied to the mattress.
Attaching the flanges
4 Specially modified sewing machines are used to attach the flanges to the top and bottom panels, and the hogs rings are stapled to the flanges. Everything is now ready for the closing operation, during which the hogs rings will be secured to the innerspring unit.
Completing the mattress
5 The closing operation is of one of the most highly skilled and critical procedures in the entire process. It is done with a movable sewing head that is mounted on a track. Tape edge operators manually feed the top, bottom, and side panels and a heavy duty binding tape into the sewing machine as it moves around the mattress. As this combination of materials is fed into the machine, the operators uses their skill to feed the proper amount of each material into the machine to produce a professionally tailored product.
6 Some of the highest quality mattresses may also feature a pillowtop, a panel filled with soft upholstery and attached to the top and bottom panels of the mattress for a more luxurious feel and appearance. Prequilted, the pillowtop is then taped to the mattress.
Boxsprings
7 If the desired boxspring has a spiked coil design, it is made by stapling the bottom of each coil to a flat wooden frame. A wire grid is then placed on top of the springs and, once aligned, manually locked to them. A thin layer of upholstery is applied to the top. If the desired boxspring contains no springs,
Inspection, labeling, and packing
8 Once the units are complete, they are inspected for quality. If every thing is in order, they are labeled with the content and the contingent "do not remove" tag, required by law to ensure the consumer that the contents are properly represented in the labeling. The finished product is then transported to the packing area. Here it is inserted by hand or by automated machinery into protective plastic or paper covers. Additional information about the warranty, safety, and care of the product is also included in the packaging.
Quality Control
During the manufacturing phase most quality control procedures are carried out by sight. The majority of manufacturers implement inspections at critical points in the production process: after receiving the innerspring, before the closing, and before packing.
Fire is a very real danger with all conventional mattresses, and the industry and the federal government have long sought ways to limit that danger. Since 1973, manufacturers selling in the United States have been required by law to make mattresses that resist ignition by cigarettes. In 1987, the industry voluntarily began to include tags on mattresses that warn consumers of potential fire hazards.
The Future
In recent years a great deal of research has been done on the relationship between effective sleep and the sleeping environment. Since comfort and sleep are to a great extent subjective, it is often difficult to quantify the results of such studies. However, many of the larger companies continue to spend a considerable amount of money on research, especially on the design of the innerspring. In these studies quality and comfort are key considerations.
While traditional innerspring construction continues to account for the lion's share of the mattresses produced in this country, both the water bed and the air mattress are gaining in popularity. While these unique designs require many different skills and production technologies, the growing demand for them over the last 20 years indicates a significant new trend.
Where To Learn More
Associations
American Innerspring Manufacturers, 1918 North Parkway, Memphis, Tennessee, 38112.
International Sleep Products Association, 333 Commerce St., Alexandria, Virginia, 22314.