My Portfolio
This blog encompasses my writings for personal and professional growth.
How to insulate your air mattress against the cold
Air mattress can provide you with a lot of comfort in comparison to other types of bed and especially when you use it during a camping trip. Well, I, for one, will not be caught dead sleeping in one of those foam pads or thin sleeping bags. Sleeping on the cold hard ground and waking up with a stiff back is not an ideal way to start my day.
An air mattress is the best thing you can ever get to a comfortable sleep outdoors. However, there are a few disadvantages to the air mattress and one of it is the inability to stay warm in cold climate. Have you ever gone camping on a cold weather or to a high altitude sleeping on an air mattress? If your answer is yes, then, you will know what I mean. I hate the feeling of sleeping on a cold bed whether it's at home or outside. No fear. There are a few ways to insulate your air mattress against the cold.
At home: During cold weather especially in winter, you may find that you are not too keen on getting onto your air mattress when it's time to go to sleep. My husband will literally find excuses not to go to bed before I do so that I'll get to warm it first. Finally when I caught on to his trick, I realize that I have to find a way to solve this problem.
One effective and easy way is to put a layer of foam on top of your air mattress. This will help to keep your body from directly touching the bed. In order to keep it in place, you can use a good cotton mattress cover over it. This way you will have dual layer of protection. Aside from that, if you are into vintage decoration, you can consider using a felt.
During camping: Well, as you know, it is more important to keep the air mattress or yourself warm especially when you are outdoors facing the forces of nature. The best air mattress to get for an outdoor activity will be a self-insulated one. The insulator will help to keep your bed warm. Besides that, you can also get a high density foam.
Do not use it to layer the bottom of your air mattress. It may keep your bed above the cold ground but cold air still can go into your air mattress through the sides. So, the best way is to use the high density foam on top of your bed to keep your body away from the cold air mattress.
Aside from that, there are many other materials that you can use to insulate your air mattress from the cold. The thumb rule is to put the extra layer on top of your air mattress. Of course, it also depends on what you have on your hands so that you don't have to buy a new one. For example, you can use an old sleeping bag, blue camping mat and even one of those silver blankets that are used by emergency services to wrap people up after an accident to keep them warm. These are some ways which you can consider using the next time you feel adventurous.
7 Ways to Make an Air Mattress More Comfortable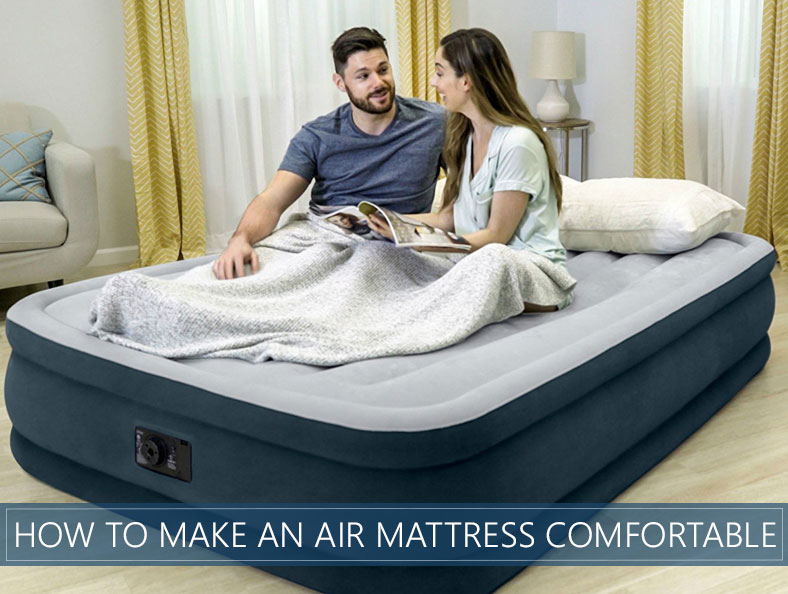 It goes without saying that unhealthy sleeping patterns are amongst the most common problem which leads to a range of different issues. And, when it comes to it, the mattress is one of the main causes for this.
With this said, we've decided to take the liberty of providing you with a few things that you might want to considerif you wanted to make your air bed a lot more comfortable. While we understand that this is likely to be a temporary solution, it is still important to make sure that it is supportive and reliable enough to prevent any issues.
Here are a few things that you might want to take into account if you want to enhance the quality of sleep on your air bed.
Proper Covers and Spreading of Bed Sheets
What you might want to consider is the fact that an air mattress (inflatable bed) is nothing but an inflated air into a structure that has been preliminarily enclosed and made in the form of bed. With this said, the air inside is bound to get warm as the weather becomes hotter.
The same is true for when the weather becomes colder – the air is also going to cool off. To prevent any serious alterations regarding temperature, you should prepare the proper spreading of bed sheets alongside mattress covers. This would prevent you from feeling uncomfortable due to the severe temperature changes.
Put it on a Softer Surface
This is another straightforward and quick way to improve the overall quality of the inflatable mattress. It is because the vinyl bottom layer of the bed is not going to augur that good with a surface that's harder. These include hardwood floor, for example – it is certainly going to make your sleeping quite rough. For this reason, you can put it on a mat or a rug, and this will significantly increase the overall quality of your sleep. And if you're wondering how to make an inflatable mattress quiet, this trick can help you with the noise as well.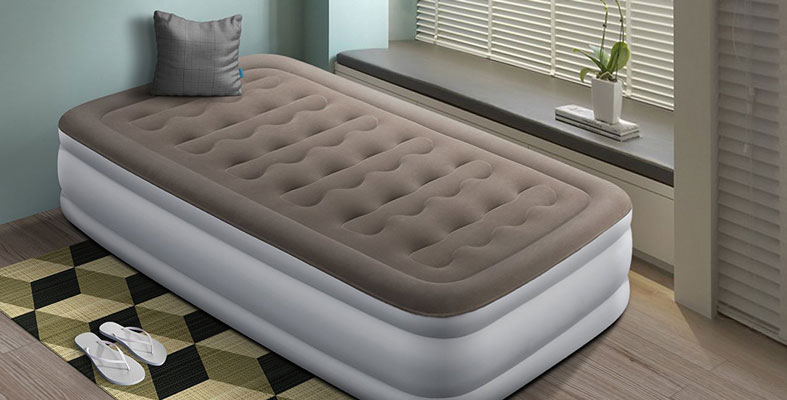 Add a Topper
This is one of the most affordable ways to substantially increase the overall quality of the bed. This is going to ensure that you don't sleep on the characteristic rubbery surface of the air bed.
In cheaper solutions, this surface feels particularly uncomfortable, and with a mattress topper, you can easily get rid of those issues. The topper is going to maximize the comfort as much as it is actually possible. It is also usable on regular beds as well.
Place it on a Box Spring
This is one of the things which is going to enhance the comfort of your air bed substantially. It is also going to ensure that you would be capable of getting out of the bed a lot quicker and without having to put in as much effort. The reason for this is that the overall height would be a lot more. If you wish to enhance the quality of your sleep substantially, box spring is another thing that you might take advantage of – it is quite convenient.
Your Pillow Matters
There are tremendous and undeniable benefits which are associated with the usage of a proper pillow. They can't be overstated. For this particular reason, you should always make sure that you have a great and appropriate pillow for your bed.
This is something that applies to regular mattresses as well. It doesn't matter if you have the most expensive mattress on the market, if your pillow is uncomfortable and inappropriate, this could cause a lot of issues.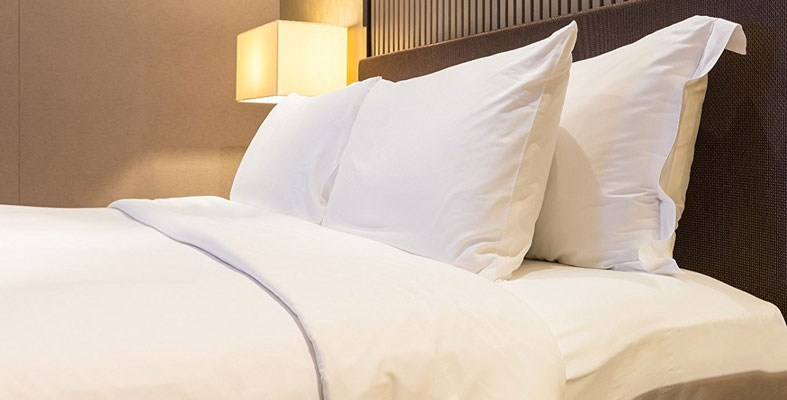 Using the Wall
Having a headboard over your head is something that you might want to consider for each bed that you use. The headboard is likely to prevent your pillow from falling off as you sleep and causing disruptions. An inflated mattress is unlikely to ever have a board over it, so you can put it right next to the wall to resemble this sensation.
Deflate or Inflate
One of the most important factors which are going to impact the quality of the sleep in an air bed is the amount of air that it contains – this is something critical. If you have too much air in it, the inflatable bed is going to feel very firm.
If you don't have enough, on the other hand, this is going to cause it to sag and to be unable to support you properly. This is something that you want to prevent. Make sure to inflate and to deflate the bed as much as it is needed to achieve the perfect specification. This is something fairly individual as it would obviously vary based on your actual weight, for instance.
Conclusion
As you can see, an air bed could be adjusted to fit your requirements for a reliable and comfortable sleeping solution. Of course, this is something that should only be used temporarily as it is incapable of bringing any long-term comfort and support.
An air bed is awesome for your guest room, but it doesn't mean that you have to keep it ill-maintained. Following all of the above is going to ensure that you get a bed that's supportive, comfortable and cool.
They are particularly affordable, so keep in mind that they would bring tremendous value for your money as well.
Sources and References:
Should You Buy A Pull-out Sofa or An Inflatable Mattress? – sleep.org
Effect of different mattress designs on promoting sleep quality, pain reduction, and spinal alignment in adults with or without back pain; systematic review of controlled trials– sciencedirect.com
More Reading:
Author: Sleep Advisor
Our team covers as many areas of expertise as we do time zones, but none of us started here as a so-called expert on sleep. What we do share is a willingness to ask questions (lots of them), seek experts, and dig deep into conventional wisdom to see if maybe there might be a better path towards healthy living. We apply what we learn not only to our company culture, but also how we deliver information to our over 12.7M readers.
Sleep research is changing all the time, and we are 100% dedicated to keeping up with breakthroughs and innovations. You live better if you sleep better. Whatever has brought you here, we wish you luck on your journey towards better rest.
Transparency Disclosure– We may receive a referral fee (at no additional cost to the buyer) for products purchased through the links on our site or other applicable pages. To learn more, please read our full disclosure pagehere. We also encourage you to read about how we may research and/or test Products here.

6 Types of Foam – Qualities To Look Out For
10 Top Rated Trundle Beds – Our Reviews and Ratings for 2020
How to Properly Wash (or Clean) Your Pillows
How Can You Make a Mattress Firmer – 7 Helpful Tips And Tricks
How To Pick a Carpet for Your Bedroom
Menopause and Insomnia – What's Burning? Oh, it's me.
Our 8 Highest Rated CBD Oils for 2020
What is Beauty Sleep and How Can I Get it? The Science Revealed
9 Tips for Sleeping Better in a CPAP Mask
Sleep Chronotypes – Are You a Bear, Wolf, Lion, or Dolphin?
Transparency Disclosure– We may receive a referral fee (at no additional cost to the buyer) for products purchased through the links on our site or other applicable pages. To learn more, please read our full disclosure page here.We also encourage you to read about how we may research and/or test Products here.
About Us
Contact Us
Culture
Terms & Conditions
Privacy Policy
DMCA Policy
Contribute
Sleep Calculator
There's no one-size-fits-all when it comes to better health and better rest, but no one has time to sleep, let alone figure out how to upgrade the sleep they're getting.
From figuring out how to buy a mattress, suggesting ones that are good for different needs and body types, or breaking down the newest science behind technology and wellness breakthroughs, Sleep Advisor has you covered.
How to Make a Camping Bedroll
Explore America's Campgrounds
How to Attach a Sleeping Bag to a Backpack
How to Make Sleeping Pads

Bedrolls allow you to create a comfortable and dry sleeping unit on a camping trip when you plan to travel without a tent. Rather than placing your sleeping bag on the hard ground, bedrolls make use of an air or foam mattress and additional blankets to create a plush and comfortable bed. The bedding is then rolled up and secured by a rope or strap of leather, which makes it easy to carry while hiking or making your way to the next night's camping grounds.
Items you will need
Air or foam mattress
Step 1
Spread out the groundsheet flat on the ground. Typically made of a waterproof canvas or polyester material, the groundsheet protects your bed from a damp or moist ground. Use a groundsheet that is twice the width and length of your mattress.
Step 2
Place your air or foam mattress in the center of the groundsheet. Any size mattress may be used for a bedroll. Still, a smaller mattress, such as a twin size, will be easier to carry when hiking or transporting from one campsite to the next.
Step 3
Position the zippered sleeping bag lengthwise on the mattress. Lay each blanket on top of the sleeping bag. Blankets can be made of fleece or wool, depending on your personal preference. Fold large blankets in half vertically for a compact and tidy bedroll.
Step 4
Tuck a small pillow inside the top of the sleeping bag. Though you want to minimize your load, bringing a small pillow can allow for a more restful night's sleep.
Step 5
Fold the side edges of the groundsheet over the top of the blankets. Roll up the entire bed, keeping the mattress, sleeping bag, blankets and groundsheet intact, from head to foot.
Step 6
Fasten the bedroll with three pieces of rope, two around the roll toward each end and another lengthwise, which can be used as a handle. Tie the rope with slipknots, which allows the bedroll to be secure. When you untie and open the roll at night, your bed should be intact and ready for sleeping.
11 Important tips on How to make a sleeping bag warmer
Last Updated on 05/06/2018 by Brian John Leave a Comment
My fear of staying out in the cold always made me put away my camping gear every time winter set in. This was despite the fact I had gone ahead and even invested in camping gear like the best winter hammock.
It was never easy spending the countless weekends indoors. The boredom got me thinking of ways to go camping during the winter season and still keep warm during my sleep. After conducting my research, I believe I succeeded. Keeping warm in my sleeping bag has never been an issue anymore.
I would urge you to carefully read the tips on how to keep your sleeping bag warmer and make use of them when you go camping during the winter season.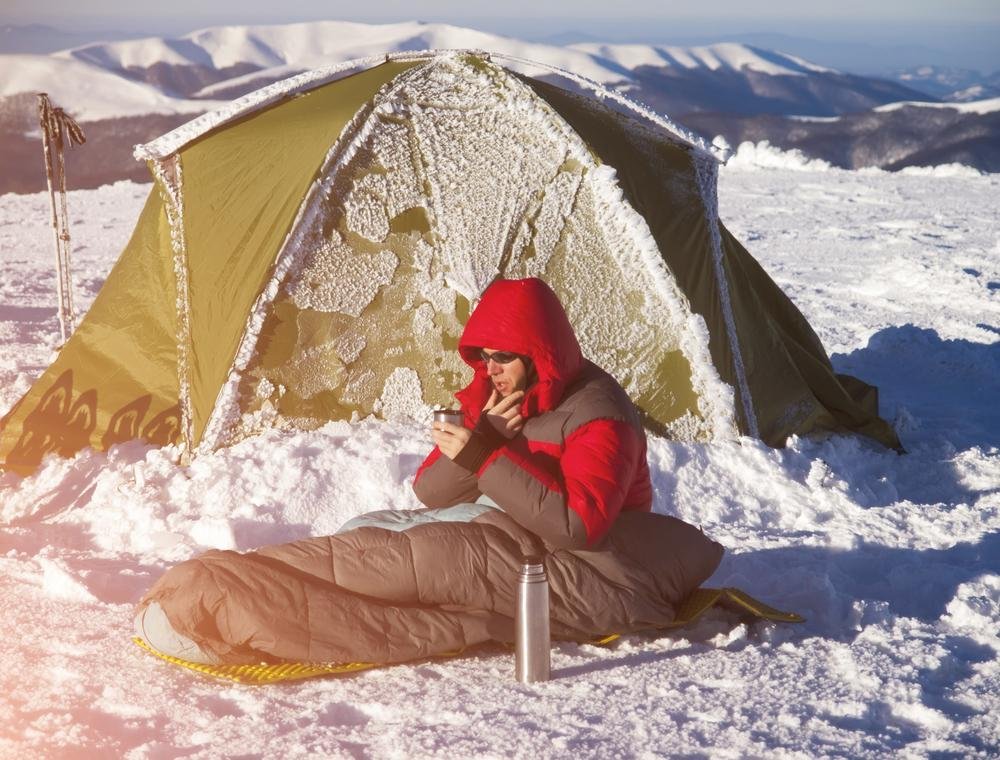 Top 5 of the best sellers on Amazon:
#
Preview
Product
Price
1
oaskys Camping Sleeping Bag – 3 Season Warm & Cool.
$39.99 $24.99
Buy on Amazon
2
MalloMe Single Camping Sleeping Bag – 4 Season Warm.
$25.99
Buy on Amazon
3
Coleman Sun Ridge 40°F Warm Weather Sleeping Bag, Blue
$28.09
Buy on Amazon
4
Lightweight Backpacking Sleeping Bag for Adults Boys.
$49.90 $18.99
Buy on Amazon
5
Coleman Sleeping Bag | Cold-Weather 20°F Brazos.
$29.99 $26.13
Buy on Amazon
Last update on 2020-04-09 PST / Source: Amazon Affiliates – Details
11 Primary tips on how to increase sleeping bag warmth
1. Get yourself a sleeping bag that is of the right size
The right size of a sleeping bag for you is one in which you fit snugly. A sleeping bag that has an extremely large extra space is not ideal. This is because the extra space will need to be heated and this will cause your body to take too long to heat up.
2. Check on your diet
Before you get to bed, eat some energy bars. These will provide your body with just enough fuel to keep you warm all night long. When it is cold, your body uses a lot of energy to digest food. The energy produced is essential in producing heat which will keep you warm. Sleeping with an empty belly will keep you turning and tossing till dawn due to the chilly feeling.
3. Dress right
When it is too cold, the temptation to dress up in too many layers is almost irresistible. Wearing too much clothing is not ideal since it will make your sleeping bag too tight. The tighter the bag is, the more it will compress the insulation. To avoid this, dress right to ensure that you fit snugly in your sleeping bag. This is because the insulation keeps you warm. Wear a beanie and socks.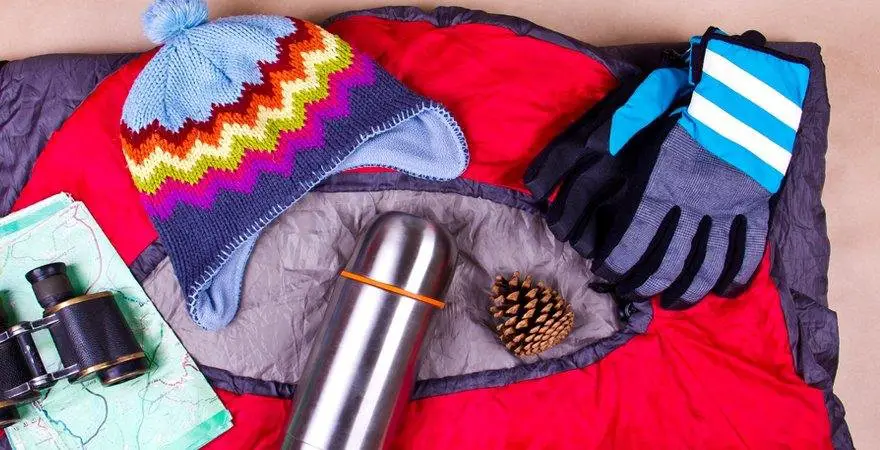 This way, you can trap a lot of warmth since human beings lose heat mostly through their heads. When it is extremely cold, you find that your legs get cold first. This is because blood is taken from the extreme body parts to aid in retaining warmth at the vital organs of the body.
Wearing socks as you sleep in your sleeping bag will help eliminate the possibility of this happening since blood will flow to all body parts, inclusive of the extremities hence you will have a sound sleep.
4. Boil your way to warmth
Before you get into your sleeping bag, boil some water and put it in a Lexan bottle. The number of Lexan bottles you need to keep warm depends on how cold the place you are in is. To avoid getting burnt, stuff it in a fleece or sock. This way, you can comfortably hold the bottle to keep your hands warm, and you can also place it at your feet. Cold feet can barely allow you to get sleep.
5. Carry with you your air mattress
During the winter season, you should not leave anything to chance when it comes to matters of keeping warm. Carry with you your air mattress. The best choice would be a self-inflating air mattress which is about one and a half inches thick. A full-length mat would also serve you. Placing the air mattress under your sleeping bag will offer you insulation from the cold from the ground.
6. Wash your old sleeping bag
If you have used your sleeping bag for quite some time, we can call it old. As it depreciates, it may cease to offer you the warmth you were used to. A good wash will do you justice in retaining the old warm and cozy nature of your sleeping bag. The more you utilize your sleeping bag, the more it gets moisture and oils from your skin.
This causes the fillings in the sleeping bag to clump together. This way, the sleeping bag can barely warm you up since it can't fluff up. Once you wash your sleeping bag, it can easily puff up and trap more warm air from your body. This way a greater barrier is created between you while you are on the sleeping bag and the cold outside.
A step-by-step procedure on how to wash your sleeping bag:
The steps given below will guide you in washing your sleeping bag with a lot of ease. It is important to follow the steps outlined below to the latter to realize better results.
Is It Really Better To Sleep in a Cold Room?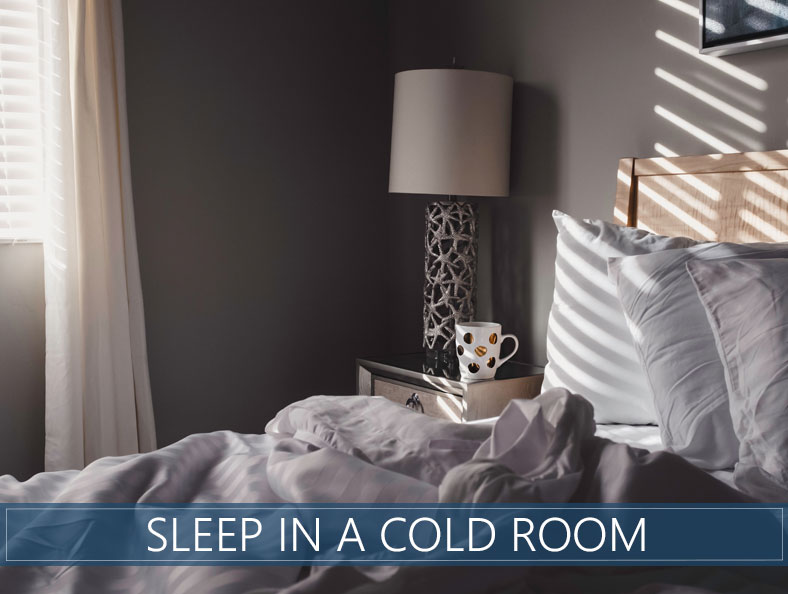 We don't often think about the temperature of our bedrooms unless it's the blistering middle of summer and we're trying everything we can think of to get comfortable.
What you might not have considered is that it's beneficial to keep our bedrooms cold year round. Not only does it help improve the quality of our sleep, but it can also prevent disease and even slow down the aging process!
In this article, I'll share the top benefits you can experience by keeping your bedroom cooler, as well as a ton of tips about how you can cool down your room without cranking up the air conditioner.
I'll also answer your burning questions about the health risks ofsleeping in the coldand whether or not you can expect to experience nightmares.
Benefits of Sleeping in a Cool Room
Fall Asleep Quickly
As nighttime approaches, our body temperature naturally drops, signaling that it's time to slow down and get some rest. By keeping your bedroom cooler, you're reinforcing your body's natural instinct to sleep. If the room is too hot, it could potentially block that signal and cause it to take longer for you to fall asleep.
Improves Sleep Quality
Your body temperature bottoms out right before bed, and will rise naturally as you get closer to waking. This rise in body temperature can cause people to feel like they're "sleeping hot." If you've ever woken up in the middle of the night drenched in sweat, you know how disruptive that can be. If you keep your bedroom cooler and regulate the temperature throughout the night, you'll find that your overall sleep quality improves.
Another way that keeping your room cold can improve the quality of your sleep is by stimulating melatonin production. It turns out that rooms with temperatures in the range of 60 to 68 degrees stimulate the production of melatonin, which encourages sleep.
Anti-Aging
As mentioned above, rooms between 60 and 68 degrees encourage the body to produce melatonin. In addition to promoting sleep, melatonin is also a powerful anti-aging hormone.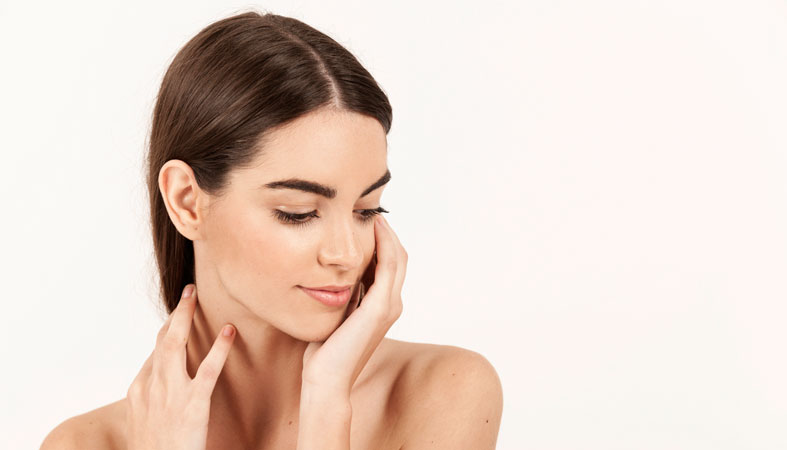 Improves Melatonin Levels
Okay, so you already know that higher melatonin levels equate to more sleep and anti-aging. Other benefits of increased melatonin production are regular menstrual cycles, enhanced moods, weight loss, cancer-fighting properties, and increased brain health.
This hormone is a powerful tool in our health arsenal!
Prevents Metabolic Disease
This is a politically correct way of saying that sleeping in a cold room can help prevent you from getting fat, and even help you with your weight loss goals. Again, when your room is set to an optimal, cooler temperature, the melatonin your body produces will cause your body to store "beige fat," which contrary to the name, helps you burn calories instead of storing them.
Who knew that you could burn extra calories while you sleep?!
Decrease Risk of Disease
Conditions like type 2 diabetes are on the rise, so any tip about decreasing our risk gets our immediate attention. In addition to the phenomenon of beige and brown fat increasing in cooler temperatures and causing your body to burn more calories, it also increases insulin sensitivity, which lowers the risk of type 2 diabetes.
Colder sleeping temperatures also promote glucose disposal, another indicator of type 2 diabetes risk.
Diabetes isn't the only disease that a cold room can freeze out. Because melatonin is a powerful antioxidant with the ability to cross the blood-brain barrier, it's been shown to prevent Alzheimer's and aging of the brain.
Prevents Insomnia
A stressful day and an overactive brain aren't the only things keeping you awake at night. Studies show that people who suffer from insomnia tend to have a warmer core body temperature before falling asleep than so-called normal people.
Remember that our bodies cool off at night in anticipation of sleep. But if your body automatically runs hot, you'll have to alter your environment to cool your temperature down enough to signal that it's time for bed.