How to make a mattress for an IKEA doll's bed
FINALLY I have a working sewing machine again! It has been 6 weeks since my Janome 9000 (permanently) broke down. But I am now back up and running with a Bernina Artista 200 (thanks mom!). Fantastic sewing machine – but a bit of a learning curve to get it up and running since it's another crazy computerized one.
This mattress project has been on my to-do list for weeks! And it was a simple project to tackle on a sewing machine that I'm not familiar with – so it felt great to finally get it finished!
How to make a mattress for an IKEA doll's bed
I used 1″ urethane foam that I bought on sale for about $5 for the mattress:
The pieces weren't the right size at all but it was really easy to cut into shape. Just use scissors to cut out two pieces that add up to 12″ x 19″:
Cut out a piece of fabric that wraps around all sides of the foam leaving about an inch extra on all sides. (I didn't bother measuring mine before I cut it – just use the same approach you'd use if you were wrapping a present). I believe my piece of fabric ended up being around 22″ x 26″:
Fold the piece of fabric in half with the right side on the inside. Pin if you want, but I was lazy and didn't bother:
Sew together two of the edges, leaving one end open:
So when you turn it back right side out you'll have something that resembles a pillow case:
Now you need to get the foam inside of it. To make it easier, turn it back inside out, put your fingers in the two corners and pinch the corresponding two corners of the foam:
And then pull the cover over top of the foam. I definitely recommend starting with the larger piece of foam:
And then the small piece of foam will just slide in really easily:
Fold in the edges of the end of the cover:
And pin it closed leaving as little space between the pins and foam as possible:
The end will look something like this:
Then sew a straight stitch across the entire open edge of the cover (without hitting the foam inside) removing pins as you go:
So the finished edge will look like this. Don't worry too much about this seam if you can't quite maneuver it to be perfect – it's not easy sewing so close to the foam! Once the mattress is tucked into the bed, this seam won't be visible at all:
Slide the mattress into the doll's bed. Mine fit perfectly which is always a huge relief!
I considered making a fancy shmancy reversible mattress cover with tons of seams that flawlessly fit the foam, but I decided it just wasn't worth the effort.
This one works perfectly and is super easy to make! It will be plenty comfortable for the dolls and teddy bears that will be sleeping in it. I still hope to make another pillow or two, but I feel relieved to finally have this mattress project off my plate!
18" Doll Mattress Sewing Tutorial
Make your own doll mattress for American girl doll furniture and beds with this simple step by step sewing tutorial designed for beginners.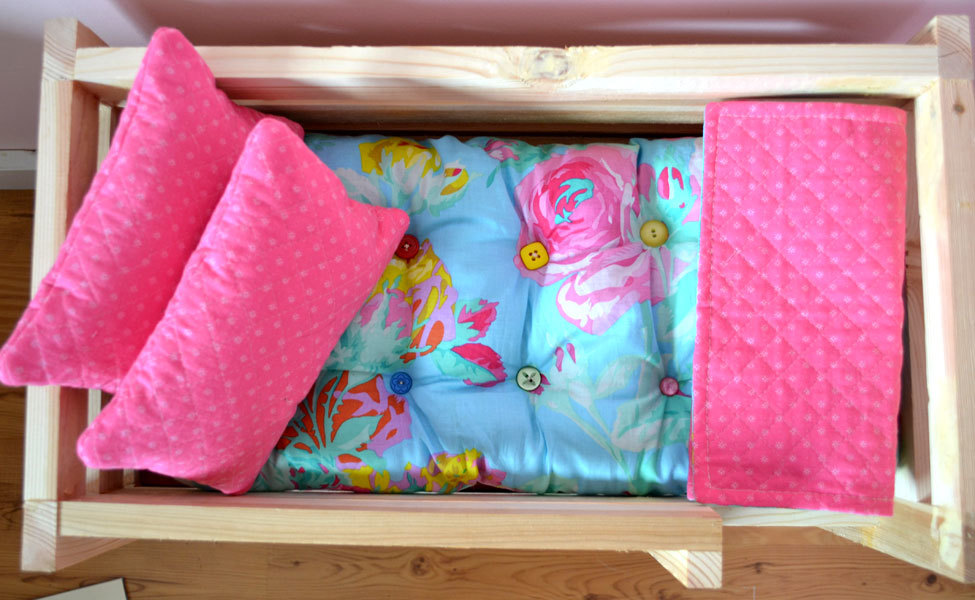 I'd be the first to tell you that sewing intimidates me.
Because a board does what I tell it too. And it stays straight when I cut it. Fabric, well, doesn't. At least not for me.
I've sewed doll mattresses before in the traditional "box cushion" style, which means cutting six different pieces of fabric, and then accurately sewing them together in a 3D box, with corners matching. It was never a fun or easy process.
But this time, Grace Grandma showed me something really neat. And 10 times faster. All you do is sew two squares of fabric together, and then you clip the corners with seams, and you've got a box cushion without all the fuss!
I could not believe how easy this doll mattress was to make for Grace's American girl doll. In this tute, I've included how to size for any size doll mattress (or even a dog bed or nap mat or floor cushion!) and you can skip the tufting to save steps.
Preparation
For one mattress finished size 10" x 19" I used:
1/2 – yard of fabric
Thread
Stuffing from recycled pillows and stuffed animals
Mix-matched buttons
2 – Pieces of Fabric 2 1/2" wider and 2 1/2" longer than the desired finished mattress size (for 2" thick mattress)
Please read through the entire plan and all comments before beginning this project. It is also advisable to review the Getting Started Section. Take all necessary precautions to build safely and smartly. Work on a clean level surface, free of imperfections or debris. Always use straight boards. Check for square after each step. Always predrill holes before attaching with screws. Use glue with finish nails for a stronger hold. Wipe excess glue off bare wood for stained projects, as dried glue will not take stain. Be safe, have fun, and ask for help if you need it. Good luck!
Instructions
Step 1
Determining Size
Sewing the Edges
Step 2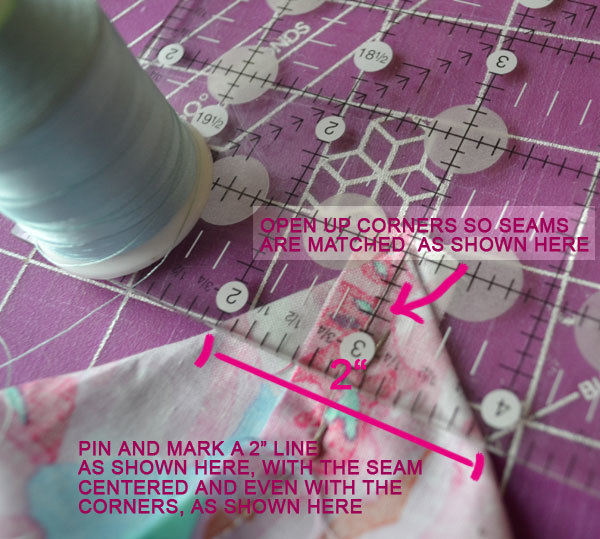 Clip Stitching Corners
Now this a little tricky, but once you "get" it you'll breeze through. Open up the corners so the seams you stitched in step 1 are matched up, and the corner forms a 90 degree angle, with the seam down the center. Pin. Then line a ruler up with this seam and mark a 2" clip off the corner. Sew a seam right on the mark you made.
Step 3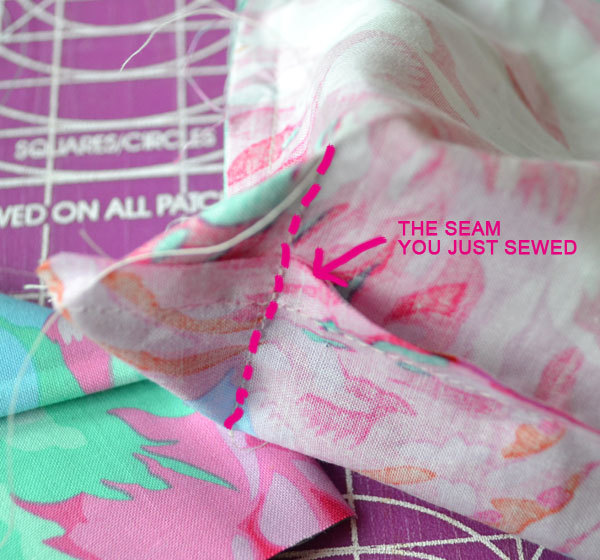 Seam Check
Step 4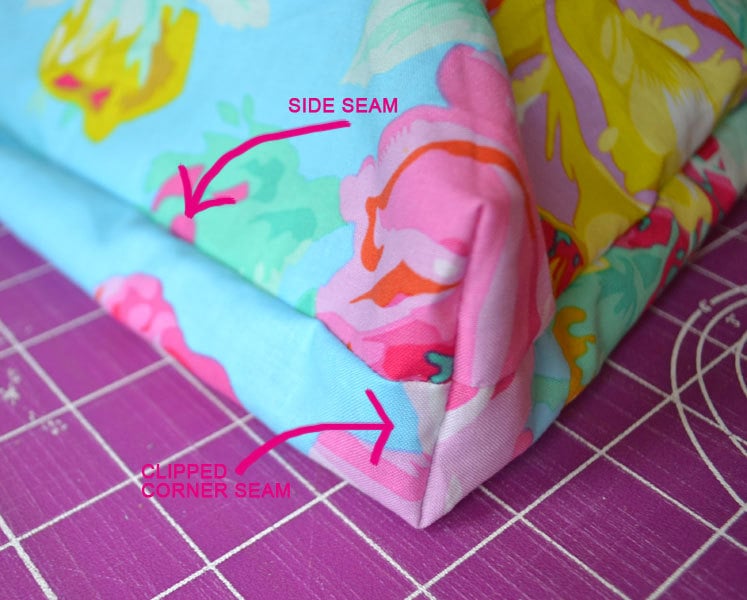 Finished Corners
Filling
Step 5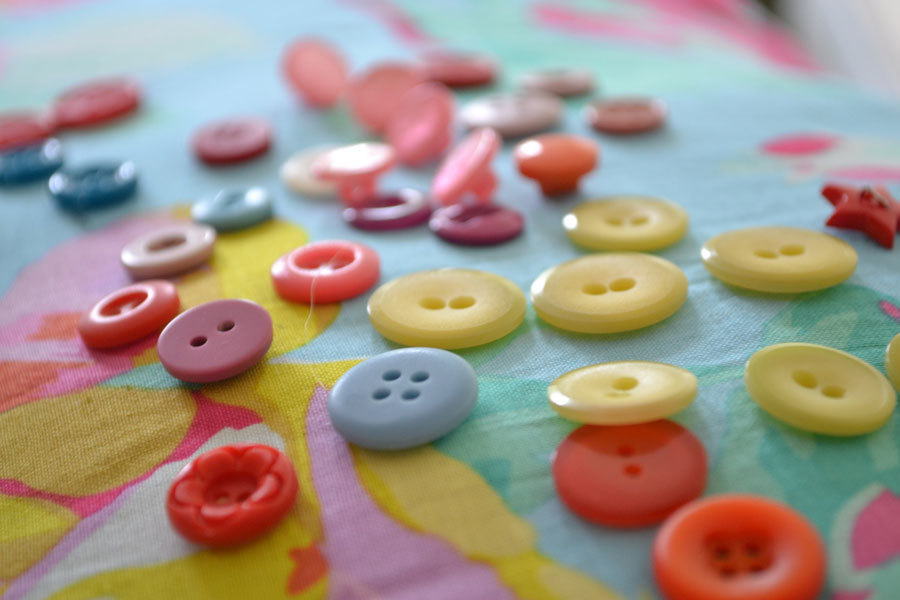 Step 6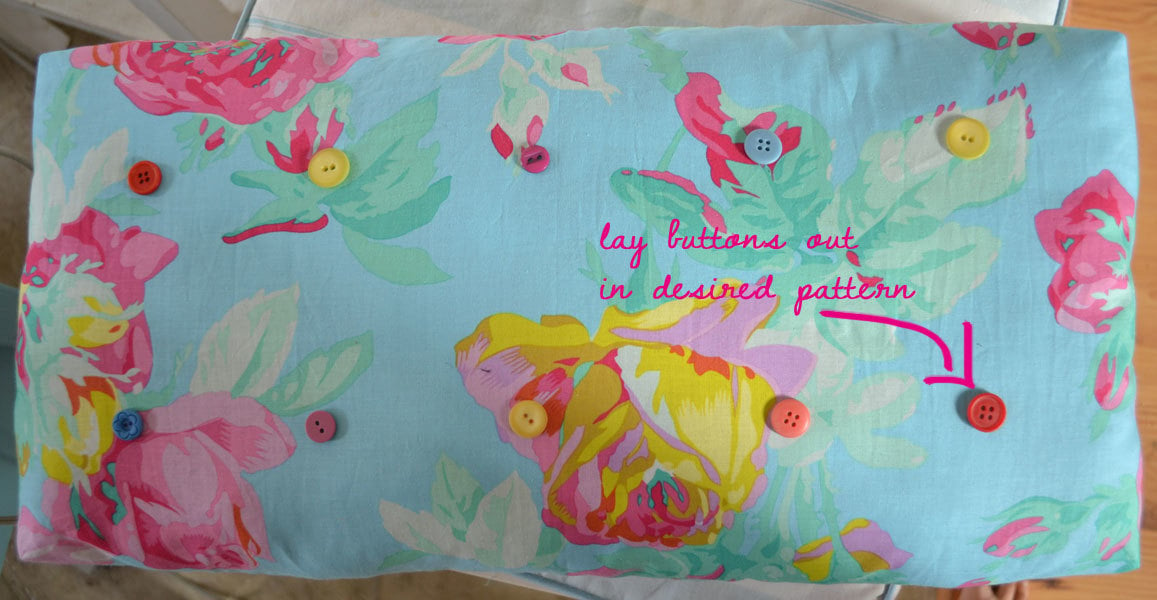 Layout Buttons
Next, lay the buttons out in a desired pattern. Note that you will need twice as many buttons, for the top and bottom. Once you are happy, mark the location of the buttons on front and back.
Step 7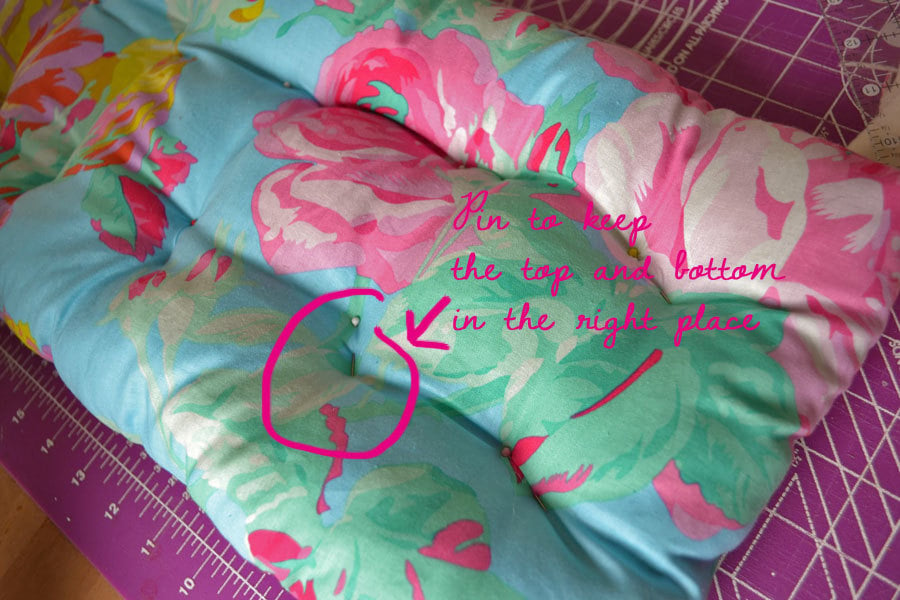 Pin Mattress
Step 8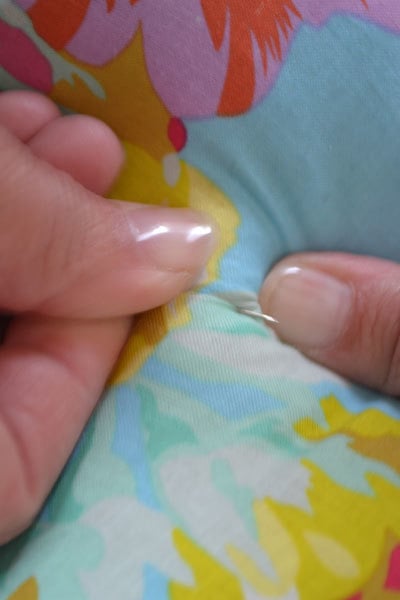 Sew Buttons
Step 9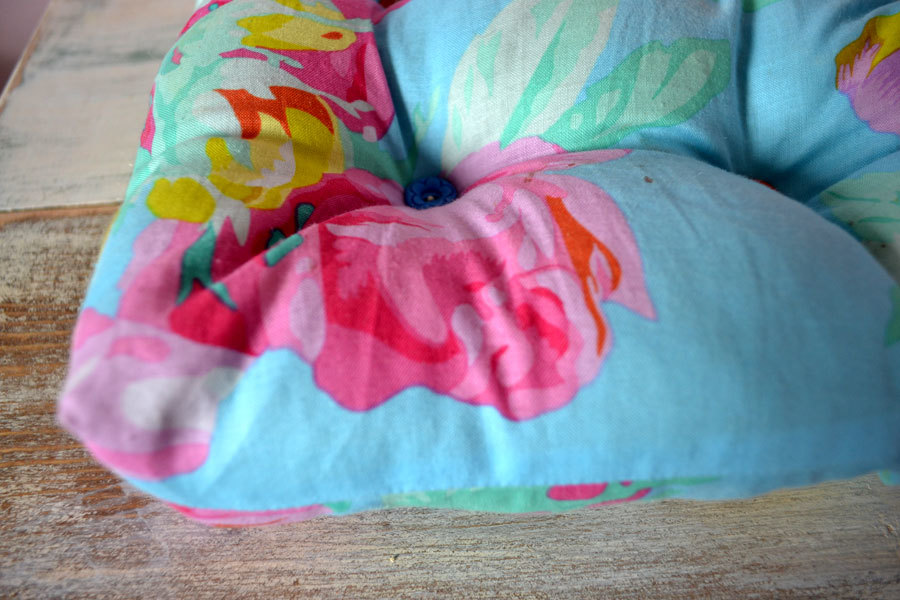 Admire Your Hard Work
Step 10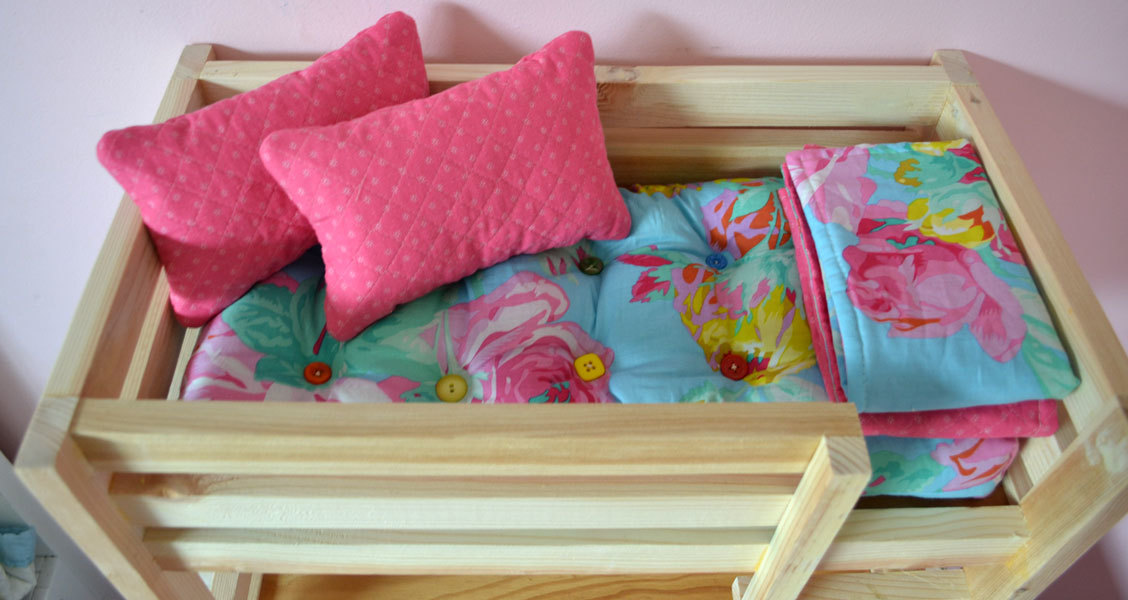 Pillows and Blankets
Step 11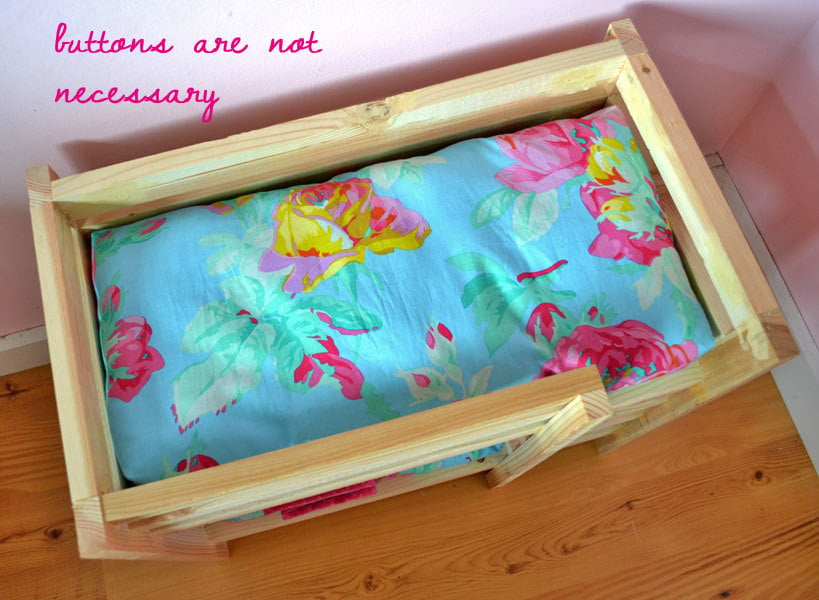 No Buttons
Fill all holes with wood filler and let dry. Apply additional coats of wood filler as needed. When wood filler is completely dry, sand the project in the direction of the wood grain with 120 grit sandpaper. Vacuum sanded project to remove sanding residue. Remove all sanding residue on work surfaces as well. Wipe project clean with damp cloth.
It is always recommended to apply a test coat on a hidden area or scrap piece to ensure color evenness and adhesion. Use primer or wood conditioner as needed.
We apologize if there was an error in this plan. Please help us out and report any errors here.
Comments
Thu, 08/11/2011 – 22:59
and i love this too! thank you ana.
Log in or register to post comments
Fri, 08/12/2011 – 06:29
Fake Box Cushions
Oh yeah! Fake boxes. My favorite cushion technique.
If you are a perfectionist, you can sew a small tuck into the fabric from corner to corner to enhance the boxed look.
I combine that with an "envelope back" cushion cover, like used for pillow shams, where the back just overlaps. It makes nice couch cushion covers.
Log in or register to post comments

Mon, 08/15/2011 – 12:10
Thanks!
I'm slipcovering my neighbor's sofa right now and I think this envelope technique may be perfect for the seat cushions. Thanks for the idea!
Log in or register to post comments
Fri, 08/12/2011 – 07:42
Thanx, I needed this!
Log in or register to post comments
Cherie Heltne (not verified)
Fri, 08/12/2011 – 08:39
Fabric
What fabric is that? It's amazing!
Log in or register to post comments

In reply to Fabric by Cherie Heltne (not verified)
Fri, 08/12/2011 – 09:34
Thanks everyone! The fabric
Thanks everyone! The fabric is Kaffe Fasset English Rose.
Log in or register to post comments
Sat, 08/13/2011 – 10:06
more my expertise
This project is more where my talent lies although I have high hopes of making the beds to put them on too. Last year I made all my girls in daycare baby doll diaper bags full of clothes, changing pads, etc. I love the idea of making them beds with mattresses and maybe blankets and rag dols to go with it. I'm very new to woodworking so we will have to see if I can figure it out well enough for gifts. I love your plans, so far on my first project very easy to follow. I can't wait to start on the baby doll stuff!
Log in or register to post comments
Guest (not verified)
Thu, 08/18/2011 – 13:06
NO Buttons!
This is how I made my Grandaughters (x4) mattress for their doll beds, except I did NOT use buttons. In the place of buttons I used embroidery thread and make tucks. The reason I did this is because of their ages, 4 – 14 months. I am in the process of making the beds to go with the mattresses. Did it a bit backwards because of the heat in my state. Trying to plan ahead for Christmas gifts.
Thanks for all you do Ana.
Log in or register to post comments
Loretta (not verified)
Wed, 10/12/2011 – 13:27
At our daughter's request my
At our daughter's request my husband made the bunkbed for our granddaughter for Christmas, so of course I got out my sewing machine and made the mattresses — twice!
For the first 2 mattresses I used your dimensions: 12-1/2 x 21-1/2. Got the mattresses all stuffed and found them to be too short for the bed by about 2 inches! Well, I wanted the mattresses to fill the entire space, so I made another set using my dimensions: 12-1/2 x 24, and they fit perfectly.
I think what you forgot to figure was those nice boxy corners actually take up an extra 2-1/2 inches on each end of the mattress. Anyway, just thought I'd pass this along for anyone else making them.
The first set of mattresses won't go to waste, as I figure that our granddaughter's dolls will need a place to sleep when they come down with her to spend the night! It's all fun isn't it?! Thanks for the pattern!
Log in or register to post comments
Dianne (not verified)
Sat, 11/10/2012 – 17:07
Hey Loretta, I know what
Hey Loretta,
I know what happened because I almost did the same thing. At first I printed out the PDF format which does not show pictures. I realized my mattress was going to be the wrong size. I went back and looked at the pictures. On step 2, you place your ruler across the triangle and slide it down until the bottom of the triangle from side to side measures two inches – not from top down. When you do this, from top down only measures one inch. Does this make sense? Look at the picture and you see the two inches are across the bottom not up and down.
How to Make a Mattress for Any Doll Bed
Do you remember a few months ago when I made the new bunk beds for our American Girl dolls? Well, our poor dolls have had nothing but a hard board to sleep on since then. I was just kind of dreading thedoll bedding pattern. Not that is it hard stuff to sew, it is just that sometimes I put off pulling out the sewing machine and making things like this. I think I make it worse than it really is in my mind. Ever been there, done that?

Well, I finally got over my mental block and made new mattresses for the new beds. Yay!
If you have been a follower of my blog for a long time, you may remember when I made bedding a few years ago for our first set of doll beds. This time Fairfield offered to sponsor this post and sent me a couple of products with which to make the doll mattress.
I had originally been planning to make the doll mattress in the exact same way that I made it a few years ago. However, when Fairfield sent me their project foam (affiliate link) as one of the possible items to use to make the mattress, I realized the 1″ thick foam would be perfect for the doll mattress. I also realized it would make the mattresses even easier to make. I always love when I can make a project more simple!

Now I realize that this isn't directly a fun activity with the kids and myself, but I also know that when I make something like this for my girls they have a great time playing. To me, that helps make for a Real Summer of Fun. That is why I'm including this in my list of ideas for making this a summer of real fun. You can check out all the other Real Summer of Fun ideas in that post.
So let me show you how I made this doll mattress.


Supplies:
Doll bed(affiliate link)
1″ Foamology Project Foam (affiliate link)
Fabric
Thread
Sewing machine
Pins
Fabric marker
Measuring tape
Scissors

Start by measuring your bed. This pattern can be adapted for any size doll bed.
Our doll beds happen to be the beds from IKEA that I painted and customized. The portion for the mattress measures 12″ x 19″.
You will want to add 1.5″ to your measurements. Cut your fabric at that measurement. My fabric cuts were 13.5 x 20.5″.
Cut two pieces of fabric at this size.
I tried making the mattress casing the same size as the original mattress that I made a few years ago, but because this foam is thicker than the batting that I used last time, I needed to increase the cut fabric size.

Mark off your Foamology 1″ Project Foam with the dimensions of your bed.
Mine was 12″ x 19″. I was making 2 mattresses. One for each of my daughter's beds. I marked off two mattresses.

Cut your foam to size following the lines you marked.
Now you need to sew your mattress casing. Place the two right sides (or patterned sides) of your fabric together and pin. Sew with a 1/2″ seam leaving an opening at the top or bottom of the mattress.

Before you turn the mattress casing right side out, pull each corner to a point and pin. This will give you your box corners for the thickness of the mattress.

Since I was using 1″ foam, I marked a line across the pointed end at the point where it was 1″ across. Use a fabric marker for this.

Sew on that line making sure to backstitch both at the beginning and end. Clip the excess fabric.

Now here is where I made this a super simple project. Turn your fabric right side out and place the foam mattress inside. You will need to wiggle and work the foam into the corners.
Last time I made these mattresses, my mom was in town. She doesn't mind doing the hand sewing. She wasn't in town this time. I really dislike hand sewing. I decided that the mattresses were going to be closed on the machine. In order to do it that way, you will need to pin the opening closed. Then add a second row of pins that will allow room for the presser foot, kind of like when I turned the one IKEA pillow into two.
To get a really narrow seam, if your machine has the ability to move the needle position, move the needle position to the right. Sew the opening closed remembering to backstitch both at the beginning and end.
Easy peasy! It may not look as perfect as the hand sewn closure, but it entailed no swear words and a happier mom, so it worked fantastically for me!

The dolls love their mattresses as well. They don't mind that I went for the easy closure. I also didn't add any buttons to the mattress this time. You could add a few buttons to help hold the mattress in place. I dislike sewing buttons as well and the foam is in the casing nice and snug, so I think it will have a hard time sliding around (which would be the point of the buttons).

These doll bed mattresses are just adorable. Both of my girls really thought about the paint for the bed as well as matching the bedding to the paint. So far they look great! Next week, I should be able to show you the reversible sheets we are going to add to the doll bedding.
In the meantime, you can whip up a doll bed mattress easy peasy. You can sew with your kids or you can sew it for them. Either way, it gives something fun for your Real Summer of Fun.
Don't forget to follow Fairfield on Pinterest, Facebook or Instagram for more great ideas and fun.
For more American Girl Doll ideas, follow my AG Pinterest Board. Tons of great ideas!
My Blog
If you're looking for a way to make your removable doll bed mattresswithoutputting in a zipper, we've got you covered!
Try this easy envelope-style technique for making the mattress in your Snug As A Bug Collection: Twin Bed pattern!
How To Make a No-Zipper Doll Bed Mattress
Supplies Needed
• Fabric – 1/2 yard fabric (cotton, pre-quilted cotton, muslin, broadcloth, ticking)
• 1 inch thick upholstery foam – enough for one 7×16-inch piece
• Approximately 8 feet of bias tape maxi piping (optional)
• Thread
• Snug As A Bug Collection: Twin Bed pattern by AptOne8
Tools Needed
• Sewing pins
• Sewing machine
• Iron
Instructions
1. Print out or trace an extra copy of your MATTRESS TOP & BOTTOM (A) pattern piece. Do NOT attach the (B) section to this piece.
2. Pin and cut your fabric pieces, as directed in the pattern, making the following substitutions : Instead of cutting two MATTRESS TOP & BOTTOM pieces, cut just one using your original MATTRESS TOP & BOTTOM (A) pattern piece with attached (B) section. This is your MATTRESS TOP piece.
In place of the second piece, cut two pieces using your new MATTRESS TOP & BOTTOM (A) piece without attached (B) section, using the original dotted line where you would have attached the (B) piece as your new cutting line. These will become your MATTRESS BOTTOM pieces.
Cut two MATTRESS END pieces. (You will not need to cut the original two MATTRESS ZIPPERED END pieces.) Cut two MATTRESS SIDE pieces as directed in the original instructions.
3. Zigzag the straight un-notched edge of each MATTRESS BOTTOM piece to finish the edges.
4. Fold the straight un-notched edge of each MATTRESS BOTTOM to the wrong side 1/4 inch and press.
5. Stitch each piece close the inner finished (zigzagged) edge.
6.To attach your MATTRESS BOTTOM pieces to one another:Lay your MATTRESS TOP on the table. (You will be using this just for placement right now, so it doesn't matter which side is up.) Lay one of the MATTRESS BOTTOM pieces on top of the MATTRESS TOP, right side up, matching notches. Place the other MATTRESS BOTTOM on the other end of the MATTRESS TOP, also right side up, overlapping the finished edges along the center and matching notches. Pin the MATTRESS BOTTOM layers only together where they are overlapped. Remove the MATTRESS TOP. Baste both MATTRESS BOTTOM layers to one another close to the outside edges, as shown.
7. Now you can make your mattress according to the original instructions, starting at Step 1 and using the new piece you just created as the MATTRESS BOTTOM.Skip Steps 4-11.Starting with Step 12, substitute a regular MATTRESS END for the ZIPPERED END described in the instructions.
8. By the time you have completed Step 23, your MATTRESS should resemble the photo above. Trim seams to 1/8 inch, zigzag or serge to finish. Turn.
9. Measure and cut your upholstery foam as instructed in Step 26. To insert the foam into your MATTRESS COVER, first slide one end into the pocket created by the overlapping MATTRESS BACK pieces.
10. Fold the foam until you can slide the remaining end into the other side of the MATTRESS COVER.
Your no-zipper mattress is complete!
Interested in making furniture for your doll?Check out our AptOne8 PVC doll furniture plans…
Matilda's Closet and AptOne8 are not affiliated with American Girl® or Mattel®. No endorsement is implied.
How to Make Boxed Cushions – Doll Bed Mattresses
So this post is only about a year late, right? I made my daughters' doll beds back last December for Christmas, and I am just now getting to the mattress tutorial. Lazy much? 😉
Without further ado, here's the tutorial. And it can be adapted to make any kind of boxed cushions for benches, etc. I'll describe how to measure for other sizes in the tutorial. Enjoy!
– Corrugated mattress topper – I bought this full-size topper at Wal-mart for about $10, and you can see how much I needed to make two full cushions…it'll last awhile! Ha! It's still so much cheaper than buying the foam padding from the craft stores. That stuff is outrageous!
– Fabric – 1/2 yard (at least 45″ wide) fabric of your choice
– Batting (optional – I did not use it on the doll bed, but if you're doing cushions for a couch or chair, it would be recommended)
STEP 1: Decide on the size of your cushions/mattress and cut it out. I cut mine to fit my doll beds nice and snug, so they are 18″ long and 12″ wide. Hot glue together.
The hot glue isn't a perfect hold, and you'll have to do one section at a time since it will dry really fast. but it will keep them together until you get them in the casing, and then it doesn't really matter much at that point!
STEP 2: Measure around your padding both width-wise and length-wise. Divide each number in half and then add one inch to each (for a 1/2″ seam allowance on either side). That will tell you how wide and long to cut your pieces.
My mattress was 23″ around width-wise and 40″ around length-wise, so I needed to cut my two pieces each 12.5″ x 21″. Make sense?
STEP 3: Once you have your two pieces, place right sides together, and sew around the edges with 1/2″ seam allowance. On one of the long sides, leave a large portion open, so you can fit your mattress in there.
STEPS 4 and 5: Pinch each of the corners and separate them. Then iron down along the seams, so they're nice and open.
STEP 6: Measure how tall your mattress or padding is. Mine was 2″ tall. Then place a pin or mark on your fabric where it is 2″ across in width (or however tall your padding ends up being, go to that measurement). Then sew along that line and trim off that extra little triangle.
STEP 7: Turn it right-side-out, and it should look like this. As you can see from mine, I measured wrong the first time! Good thing I didn't trim it off before checking to make sure it fit! 😉
STEP 8: Roll up your mattress slightly and squeeze into the casing.
It should look like this once it's in.
STEP 9: This step will mostly depend on how polished you want your cushion to be. If you wanted a really professional finish and plan to remove the casing to wash (like for chair cushions), I'd recommend removing the padding and sewing in a zipper. If you don't care much about washing it, you can stitch it closed by hand with a blind stitch, and that will give it a nice, even finish.
Or you can be lazy like me and just move the padding over a tiny bit, pinning the edge, and then sewing it closed with your sewing machine! Ha!
It's not the prettiest finish (especially here with my seam that had to be unpicked), but for a doll bed, I wasn't going to mess with either of the other two options.
Not bad for a doll bed mattress, right?!
Be sure to visit my PROJECTS page to see links to the doll beds and other bedding and pillow tutorials I have!
Linking to: