How to choose a mattress for a newborn
The content of the article
A pregnant woman closer to childbirth begins "nesting syndrome". She is actively beginning to prepare for the upcoming life with the future baby. Curtains go to the wash, wash the floors under the sofas and in other places where people usually do not step foot. It comes to the future crib of the child. A woman tries to make or buy beautiful bumpers in a crib, takes care of blankets and pillows. But any mother knows that the main thing is a mattress. It determines the mood and future health of the crumbs. Incorrectly chosen mattress can lead to problems with the spine, poor rest and, as a result, unimportant mood. In order for the baby to be healthy, vigorous and cheerful, the mattress needs to be chosen correctly.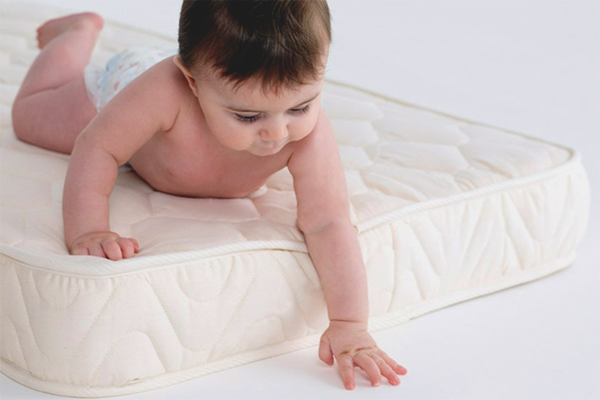 What should be the children's mattress
To sleep a newborn baby was comfortable, long and deep, the mattress must meet certain criteria.
Safe.This is the first rule that applies to the mattress. The filler should consist only of environmentally friendly materials. It is very important that the mattress filler is not a food for germs, ticks and bedbugs. Many manufacturers make special antibacterial treatment to protect the inside of the mattress from various insects.
Hypoallergenic.When choosing a filler, you need to be as careful as possible – some components (especially natural ones) can cause an allergic reaction in a child. For example, allergies can occur on swan's down or camel wool. It is clear that the mattress for the newborn is prepared in advance. When you leave your child to sleep for the first time on a new mattress, be sure to follow his reaction. If the skin appears red, itchy, if the baby began to cough – so an allergic reaction may occur.
These are the main criteria for choosing a mattress. But what should be inside a quality mattress? What filler to choose, so that the newborn is comfortable and safe?
Mattress filler
Choosing a good mattress for the child, it is very important to pay attention to its contents. The mattress can be spring and springless. Spring mattresses, in turn, are divided into dependent and independent spring blocks. Springless mattresses can be filled with various natural or artificial materials. Let's talk about each type of mattress in more detail.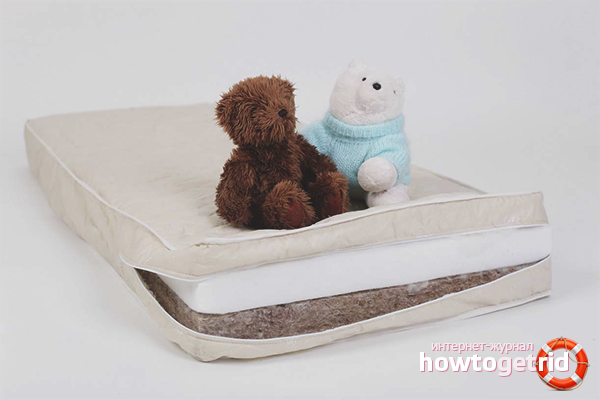 Mattress with dependent springs.This is the so-called technology of manufacturing mattresses "Bonnel".It is the most popular due to the relative cheapness of the product. Bonnel – these are interconnected springs, when pressing one, the adjacent springs are compressed. Due to this, the mattress worse repeats the anatomy of the human body, but it can withstand heavy loads and weights. Over time, such a mattress quickly deteriorates, as the baby grows and begins to walk on the mattress with their feet. From this spring blocks come into disrepair. If you decide to buy just such a mattress, pay attention to the diameter of the springs – the smaller they are, the longer the mattress will serve.
Independent spring blocks.The design of the mattress involves the use of independent springs. That is, each spring is surrounded by a special cover and fixed in a certain place. The springs do not interlock with each other, so when pressing on one, the neighboring ones do not contract. This makes the mattress completely orthopedic – it perfectly repeats the curves of the human body. For a newborn, you should choose a mattress with independent spring blocks of medium or high rigidity so that the baby's skeleton is formed correctly.Among the additional advantages of such a mattress can be called its noiselessness – the springs do not creak when changing the position of the body. In addition, the spine on this mattress is really resting and completely relaxed. Among the disadvantages of independent spring units is the high price of the product, the large weight of the mattress and the relatively high height. The child may subsequently fall out of the crib with such a high mattress.
Coconut fiber or coir.These are coconut flakes, which are usually sold with latex. That is, the mattress turns out to be double-layered – one side is latex, the other is coir. To check the quality of the coconut fiber, you need to ask the seller for a certificate of conformity of the product. It is very important to touch the coconut fiber in the cut, if it crumbles – the mattress is of poor quality. In this case, fine coconut dust can lead to allergies in the child. In addition, it is worth to smell the mattress – if it smells of rubber, it means synthetic latex. A quality mattress made of coconut fiber is very good for a baby – it has sufficient rigidity, is well ventilated, dries quickly, does not cause allergic reactions.In addition, coconut fibers do not absorb moisture, do not swell and do not rot.
These are the most common types of fillers for mattresses, their advantages and advantages. Whatever mattress you buy, you need to know a few more nuances regarding its operation.
How to care for a mattress
When preparing the bed for the future baby, it is important to understand that in addition to the mattress you need to provide a bed with additional accessories. It is best to wrap the walls of the crib with special soft rims – they will protect the baby from injury and strikes on the hard rods of the crib. It is very important for a baby of the first year of life not to use a pillow. All orthopedists say that the use of a pillow can bend the spine and the child will suffer from an abnormal physiological bend of the cervical spine.Also, the baby should buy a warm blanket made of natural fabrics, which will cover it from the cold. It is very important to lay a mattress cover that will soften a rather hard mattress, make the bed more comfortable and cozy. Choose a waterproof mattress to prevent the mattress from getting wet during an "accident". It is much easier and faster to dry the mattress pad than the mattress itself.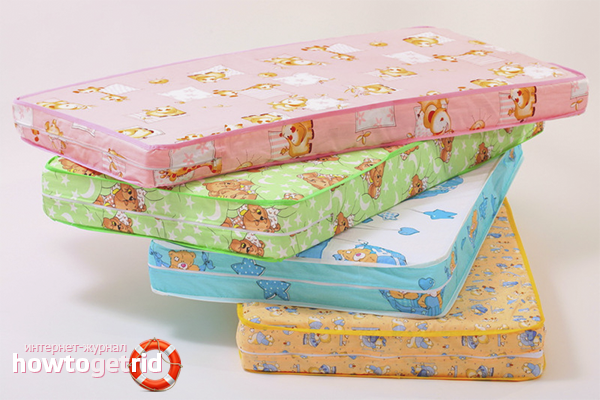 To care for the mattress is not difficult. Every three months you need to turn it over in order to avoid staleness and the formation of mounds. If the child's mattress is double-sided with varying degrees of rigidity, it should be turned over only along the length, changing the headboard and legroom. It is possible to turn the mattress on the softer side only after the first year of life, when the child's skeleton is strong enough. And it is better to sleep on a hard mattress for a child up to three years, to surely protect yourself from back problems.
From time to time the mattress needs to be vacuumed and aired. When spots are found, the mattress is cleaned with special means, preventing moisture from entering the mattress. If the mattress is for children, it is better to clean it with household soap, chlorine-containing agents may cause allergies in the child.The mattress can only be transported vertically so that the springs do not deform and leave their seats. And further. If possible, prevent children's games and jumping on the mattress – so the product will last longer.
Choosing a quality mattress for a child is a responsible matter. The comfort of the child, his full and healthy sleep, as well as the formation of the correct bending of the skeleton depend on this. Take care of the health of your children from birth!
Buying a mattress
There are many types of cot mattress available. You can choose between foam spring interiors, natural fibres, special anti-allergy fillings, or a combination of any of the above.
You may find it difficult to decide which is the best and safest mattress for your baby. But The Lullaby Trust states that it doesn't matter what kind of mattress you use, as long as it:
is firm not soft
fits the cot snugly without any gaps
doesn't sag
doesn't have signs of wear and tear
Any mattress you choose should conform to BS 1877-10: 1997. It should also be at least 8cm to 10cm deep to support your baby while she sleeps.
If the mattress you choose has a fabric cover, vacuum it regularly to keep dust mites at bay.
Unless you know the history of a second-hand mattress, buy a new one. This will give you peace of mind.
Foam mattresses
Foam mattresses are generally the cheapest. They are designed to provide the right support and maintain your baby's natural posture. They often have a wipe-clean PVC cover or removable, breathable covers on one or both sides. They may also have ventilation holes to help keep your baby cool, but these aren't necessary.
Pros
lightweight
provide good support
good value for money
generally easy to keep clean
Coil spring mattresses
These traditional mattresses have a coiled spring interior with layers of felt and foam padding. They often have a cotton cover on one side and PVC, or other wipe-clean material, on the other side.
A spring inner core will support your baby. These mattresses also tend to hold their shape well. If you choose a cot bed, you may prefer a coil spring mattress as they tend to be longer lasting than foam.
The space within the spring lattice allows for increased airflow through the mattress. This helps to regulate a child's body temperature and to keep the mattress fresh.
Pros
They are a traditional, popular choice with many parents.
In hot weather, you can lay your baby on the cotton cover side to prevent her becoming clammy.
Cons
More expensive than a foam mattress.
The cotton side may be preferred for comfort, but can be more difficult to keep clean, unless your mattress has a removable panel.
Pocketed spring mattresses
These mattresses are very similar to coil spring mattresses, but each spring is in its own pocket to provide improved support for longer.
Pros
excellent support
extremely hard-wearing
Cons
Expensive.
Probably not cost-effective, unless you have a cot bed that your baby will sleep in for several years, or the mattress will be used for more than one child.
Dual Core™ mattresses
The Dual Core™ cot mattress is a patented design that incorporates two cores in one. It aims to meet the needs of your child from when they are first born to when they start school.
For your newborn baby, it has a coir and orthopedic foam interior, which provides a flat and firm sleeping surface. As your baby grows into a toddler and preschooler, the second core incorporates micro-pocketed springs to conform to your child's changing weight and shape.
Pros
excellent support throughout your baby's early years
extremely hard-wearing
holds its shape well
Cons
Natural fibre mattressess
Natural fibre mattresses have a core of coconut fibre with other layers of different materials. The fibres are coated in latex for strength and protection, and the natural fibre filling helps air to circulate through the mattress. These mattresses are available with a soft cotton or wipe-clean covering.
Pros
Good choice if you are concerned about your baby sleeping on synthetic material, or you are concerned about introducing unnecessary chemicals or synthetics into your home.
One of the firmest types, so the mattress is long-lasting, and holds its shape well. This could be a sensible choice if you want a mattress that will last for more than one child.
Cons
More expensive than foam or most spring interior mattresses.
Less widely available than other types of mattress.
Hypoallergenic mattresses
If allergies or asthma are a concern in your family, you may want to consider a hypoallergenic mattress for your baby. These come with a quilted top layer that can be easily detached and washed at 60 degrees C to kill the dust mites that may cause allergies. Allergy UK has a list of approved mattress covers and bedding.
Pros
Good choice if your baby has allergies or asthma.
Easy to keep clean.
Cons
May be more expensive than other kinds of mattress.
For most babies, this may be a luxury buy.
We've used shopping tag symbols to show you where we've placed an Amazon shopping link. Purchasing through these links may earn BabyCentre a small Amazon commission. Thanks for supporting us!
How to buy a crib mattress
The lowdown on crib mattresses
A good mattress not only makes bedtime cozier – it supports your growing baby and keeps her safe. Consider cost, comfort, and durability, as your baby will probably sleep in a crib for up to 3 years.
Types of mattresses
Foam mattressesare generally the lightest option. These are available in a variety of thicknesses, usually between 3 and 6 inches. Look for foam mattresses that are firm, on the heavier side, and resilient when you press your hand on them. Too soft a surface can conform to a baby's shape and create a risk of suffocation and a sudden infant death syndrome (SIDS) hazard.
Innerspring mattressesare coils covered with foam, padding, and fabric.
Better-gauge steel and higher-quality cushioning is heavier and more expensive, as well as firmer and more durable.
Organic mattressesare made with all-natural or organic materials, including cotton, wool, coconut fibers, food-grade polymers, plant-based foam, and natural latex. These mattresses can be innerspring, foam, or other – it's hard to classify a mattress stuffed with coconut-husk fibers.
Organic crib mattresses can be expensive, but some people say the peace of mind is worth the price. They contend that chemicals and industrial compounds used in standard mattresses – flame retardants known as PBDE (polybrominated diphenyl ethers), vinyl, and polyurethane foam, for instance – emit toxic gases, and that the substances used to make mattresses could harm babies. Others say materials like latex can produce an allergic reaction in infants.
As researchers continue to analyze issues of toxicity, advocates for going organic point out that if these chemicals could be harmful, the safest thing to do is to buy a crib mattress that doesn't use them.
"Breathable" mattresses, made of materials that are supposed to allow a baby to breathe freely even if his or her face is pressed up against it, are getting more popular. Experts haven't yet weighed in on their efficacy.
What to look for when buying
The right size:A mattress needs to fit snugly in the crib, with no space between the side of the mattress and the crib frame. If there's a space, the mattress is too small and could be a suffocation and entrapment hazard. The size of both crib mattresses and cribs is standardized by the federal government, but due to slight variations in each, not every mattress will fit perfectly in every crib.
Firmness:The firmer the crib mattress the better (mattresses designed for older children and adults may not be firm enough). Even if it feels very stiff to you, your baby will adjust to it.Consumer Reportssuggests this test: "Press on the mattress in the center and at the edges. It should snap back readily and should not conform to the shape of your hand."
Density:You want high density so it's firm enough to keep your baby safe while sleeping. Most foam mattresses don't list density on the packaging, but weight can be a good indicator. As for innerspring mattresses, manufacturers often equate the number of coils with firmness, but the gauge of the wire is just as important. Lower gauge means thicker wire, which is stronger and therefore firmer. Look for a mattress with 135 or more coils and a gauge of 15.5 or lower.
Resiliency:When you push your hand down into the middle of the mattress and remove it, how quickly does it regain its shape? Faster is better; sleeping babies make an impression on the foam, and it can be difficult for them to change position if the mattress retains their shape. Some foam mattresses are "2-stage" or "dual firmness," with a firm side for infants and a softer side for toddlers.
Weight:A typical foam mattress weighs about 7 to 8 pounds, although mattresses made of memory foam (an especially dense form of polyurethane) can weigh close to 20 pounds. Innerspring crib mattresses are heavier in general, weighing in at about 15 to 25 pounds. Keep in mind that you'll be hoisting up a side of the mattress, or lifting the whole thing, when changing your baby's sheet.
Mattress cover (ticking):For water resistance, look for double- or triple-laminated ticking reinforced with nylon. This composition is also more resistant to tears, holes, and soggy diapers. Organic mattresses usually have cotton covers; parents may want to consider a fitted waterproof mattress cover.
Venting:Look for small holes on the sides of the mattress that let air flow in and out. A mattress will smell better if it has plenty of vent holes to let odors escape. Diapers do leak, so this is important.
Cleaning:Most traditional mattresses suggest spot-cleaning only. Some have removable covers that can be machine-washed. The innards of at least one crib mattress on the market can be hosed down in the tub once its washable cover is removed.
Certification seals:Crib mattresses for sale in the United States must meet safety standards defined by the U.S. Consumer Product Safety Commission and the American Society for Testing and Materials. (The Juvenile Products Manufacturer Association does not test or certify crib mattresses.) A manufacturer's claim that a product is organic can mean a variety of things, but look for an Oeko-Tex Standard 100 certification (a worldwide uniform certification), which assures you that certain flame retardants and heavy metals were not used to make the mattress.
Important safety notes
Use caution with used or secondhand crib mattresses. Some studies link used mattresses to an increased risk of SIDS, although researchers aren't sure whether the mattresses caused the increase in risk or were simply correlated with an increased risk. (Theories that fungal activity or toxic gases in used mattresses caused SIDS have been largely laid to rest.) Experts recommend that parents avoid old, worn mattresses, particularly those with foam/padding exposed – which can increase the potential for bacterial growth – or those that hold an indentation after your hand is placed firmly on the surface, then removed.
Air mattresses are not safe for babies. The soft surface is a suffocation hazard. As the CPSC warns, "Never place infants to sleep on air mattresses or other soft surfaces (such as water beds and adult beds), which are not specifically designed or safe for infant use."
No matter what mattress parents choose, they should continue to follow the American Academy of Pediatrics' safe-sleep guidelines and put babies to sleep on their backs on a firm, bare surface.
What it's going to cost you
Crib mattresses start at about $40 and can range to more than $350. Organic mattresses start at about $80 and can reach $400.
How to Pick Your Perfect Mattress
Ready for a new mattress? Here's how to find the one that suits you best.
Getting a good night's sleep depends on a lot of different factors — comfort, stress level, room temperature – but to get it right, you've got to start with the basics and your mattress is the first building block to a restful slumber.
If you're in the market for a new mattress and have recently taken a stroll down the aisle of a bedding store, you know that there is a dizzying array from which to choose. How do you know which mattress is best for you?
To start, says Arya Nick Shamie, MD, associate professor of orthopedic surgery and neurosurgery at Santa Monica UCLA Medical Center, the mattress needs to support your body in a neutral position, one in which your spine has a nice curvature and your buttocks, heels, shoulders, and head are supported in proper alignment
"If the mattress is too firm, it will push on those main pressure points and take you out of alignment," Shamie tells WebMD. "If it's too soft, those pressure points won't be properly supported, so your whole body flops back." Both of these scenarios can lead to an achy morning.
Generally speaking, one type or brand of bed isn't better than another, says Michael Breus, PhD, a WebMD sleep expert and author ofBeauty Sleep: Look Younger, Lose Weight, and Feel Great Through Better Sleep.But he does find that a firmer bed seems to be better for people with lower back pain.
In fact, researchers in Spain studied people with long-term back pain and found that on a 10-point hard-to-soft scale people who slept on a medium-to-firm mattress (5.6 on the scale) had less back pain than those who slept on a softer mattress.
Is It Time for a New Mattress?
How do you know if the bed you're sleeping on is the right one?
"If you wake up in the morning and have some low back pain and can stretch and get rid of it in 15 or 30 minutes, that means you're on an inappropriate mattress for you," Breus says.
The right mattress, on the other hand, is one on which you feel no pressure, almost like you're floating in air, Breus says.
If you're looking for a new mattress, experts suggest testing it in the store and laying down on each mattress in the position in which you normally sleep. Breus suggests spending at least 10 to 15 minutes on the bed. And, bring your own pillow! The more you can replicate the way you'll be sleeping on the mattress once you get it home, the better your chances of picking the right one.
Continued
Innerspring Mattresses
Innerspring mattresses are still by far the most widely used. They support you with coil springs, and in most built today, each coil is individually enclosed. This helps the bed weather years of use and prevents the coils from popping out of the mattress. On top of the coils are a wide variety of materials added for comfort, from pillow to latex to memory foam. It's all a matter of preference.
Salespeople may try to sell you on the idea that more coils mean more comfort, but that's not necessarily true, Breus and Shamie say.
"You don't really need a coil count above 390," Breus says. Beyond that, the difference in feel is so small it would be difficult to notice.
Pros:There are plenty of innerspring mattresses on the market from which to choose. They range in firmness, the fluffiness of the pillow top, and in price to fit nearly every preference and pocket book.
Cons:There's no direct relationship in most cases between price and comfort, but Shamie suggests steering clear of the cheapest innerspring mattress. If there aren't enough springs and cushion to offer you proper support, he says, you'll likely wake up with an aching back.
Conditions:For someone who is very overweight, spring mattresses may offer a firmer support, making them easier to get in and out of, Breus says. Firmer versions are good for people with back pain. But spring-based mattresses can be comfortable for almost anyone.
Memory Foam Mattresses
Memory foam mattresses are growing in popularity. They are made of layers of different densities of foam that respond to weight and temperature, and are known for comfort because they contour to the specific shape of your body. Memory foam toppers are also available.
Pros:By molding to the shape of your body as your weight shifts through the night, memory foam reduces pressure points, and relieves pain. Memory foam also absorbs movement, so if you sleep with a partner, you're not likely to be disturbed by his tossing and turning.
Cons:One of the biggest complaints with memory foam mattresses is that because these mattresses are temperature sensitive, softening and molding with your body heat, they can make you feel extremely hot during the night. Breus also says memory foam mattresses have been known to emit an unpleasant chemical smell.
Conditions:"If you have a hard time getting comfortable, if you have chronic fatigue, or some type of muscle pain, then a memory foam mattress would work well for you, assuming you don't have temperature issues," Breus says.
Continued
Latex Mattresses
Latex mattresses are made from either natural or synthetic rubber, and are known for providing a very firm, bouncy support that is uniform throughout the bed.
Pros:"Quite frankly, I think one of the best materials is latex," Breus says. He likes it for being very firm and supportive, but also for providing comfort similar to memory foam. Unlike the memory foam mattresses, however, Breus says latex pushes back, ultimately providing more support.
Cons:If you don't like the feel of a firm mattress, latex is probably not the right choice for you.
Conditions: Either a latex mattress or latex mattress topper is great for relieving back pain because they offer the best combination of comfort and support, Breus says.
Air Mattresses
We're not talking about the blow-up mattresses you put your holiday guests on for a few days. Higher-end air beds look like a standard innerspring mattress, but use air-filled chambers instead of coils, and are covered by a foam layer on top.
Shamie notes that air beds have long been used for patients with spinal cord injuries who are lying in bed for a long time. They can be adjusted so they don't continue to press on the same areas of the body, which helps to avoid skin breakdown in patients who can't move.
Pros:"Couples who have dramatic differences in their individual preference for comfort and firmness levels might do very well with an air mattress," Breus says. The reason is that the firmness of each side of the bed can be altered. If you like it firmer than your partner, these beds can be adjusted for that.
Like latex and memory foam, you can also find air toppers for your mattress.
Cons:Shamie says people sometimes fail to make their air bed firm enough and wake up with back aches. Less sophisticated air mattresses also pop up on one side when you sit on the opposite end. For that reason Breus says, you want multiple chambers so that doesn't occur.
Conditions:These beds are particularly useful when sleeping partners have different needs. If one of you has a bad back, one side can be made firmer than the other to provide greater support.
Continued
Adjustable Beds
These beds are able to bend and elevate at varying angles. As a result, the mattress has to be flexible. Different types of mattresses can be used on an adjustable bed – memory foam, latex, or air, for example. Spring mattresses are more difficult to use, however, because the springs don't handle the bending well.
Pros:For people who have difficulty getting in and out of bed or who like to watch television in bed, Shamie says, adjustables can make life easier by moving you closer to where you need to be.
Conditions:If you suffer from sleep apnea, sleeping flat can make the condition worse by cutting off airways and causing the tongue to fall into the back of the throat, Shamie says. People who experience acid reflux can also benefit by sleeping in a bed that elevates their upper body.
Shamie also suggests adjustable beds for people with hip or back pain who have a hard time moving from a lying position to sitting up or standing.
Sofa Beds
When you have guests staying for a night or two, sofa beds come in handy. The mattresses in these beds tend to be very thin so they are flexible enough to fold and collapse into the couch. It's a great convenience to have a sofa bed, but you'd be hard-pressed to find someone who raves about their comfort.
Pros:Sofa beds are convenient, especially if you have limited space. But from a health perspective, Shamie and Breus don't see any advantages.
Cons:A night or two on a sofa bed is OK. But "this is probably the worst kind of bed you can sleep on long-term," Shamie says. The mattresses used in most sofa beds are very thin and the springs quite weak. "It really leads to an uncomfortable situation," Shamie says.
If you're really tight for space and need a bed that folds up, Shamie says that futons, while not the most supportive, are better for your back than the typical sofa bed.
Conditions:There are no conditions for which a sofa bed will be helpful, according to the experts. But if you have a bad back or hips, these beds will be especially uncomfortable.
Continued
When to Part With Your Old Mattress
Today's mattresses are made to last a lifetime. But you probably shouldn't plan on keeping yours for that long. Our bodies change over time, Breus says, so the mattress that was once a joy to sleep on may no longer feel comfortable a few years down the road.
In addition, mattresses collect dust mites, fungus, and other germs that can exacerbate allergies and impact your sleep patterns. After 10 to 15 years, it's time to think about buying a new bed.
Ultimately, the experts say that the best bed for you is the one that feels most comfortable. And remember, Shamie says, "There's no mattress that's going to save your body when you get only five hours of sleep." In order to feel your best, you need to get enough rest… no matter what type of mattress you're sleeping on.
Sources
Arya Nick Shamie, MD, associate professor of orthopedic surgery and neurosurgery, Santa Monica UCLA Medical Center.
Breus, Michael, PhD, WebMD sleep expert and author ofBeauty Sleep: Look Younger, Lose Weight, and Feel Great Through Better Sleep
Kovacs, FM.The Lancet, November 2003; vol 362: pp 1599-1604.
Our Step-by-Step Guide to Choosing a Crib Mattress (Without Losing Your Mind)
Share this Post
Last Updated on January 16, 2020
How to Choose a Crib Mattress – Without Going Crazy. If you're overwhelmed by all the choices and wondering what to consider when buying a crib mattress, we've got you covered with this guide!
When I was a pregnant, soon-to-be mama, choosing a crib mattress was one of the most difficult decisions I made. I was paralyzed by the fear of sudden infant death syndrome (SIDS). Not to mention all the crib mattress options on the market. I had no idea where to start.
I researched. And then I researched. And then I researched some more. And I finally found a crib mattress for my baby.
Then that mattress arrived at my house, and I sent it back. Once I actually saw it in person, it wasn't up to my standards.
So I researched some more and finally found the best mattress I could afford for my daughter.
Hopefully with this guide, we can make your mattress search a little easier than mine was. We want you to be able to make an informed decision and choose what is best for your family.
How to Choose a Crib Mattress
Below, we've outlined what to look for when buying a crib mattress. We've also highlighted some additional factors to consider.
Step 1: Decide on Your Budget
There are hundreds, if not thousands of crib mattresses to choose from. Deciding on a budget can help you narrow down your options considerably.
Many crib mattresses fall in the $100-200 range. However, some of the "cleaner" and more high-end options can run you upwards of $500.
Your baby will spend upwards of 50% of his/her life on their mattress, especially in the first year. Because of this, we recommend buying the best mattress you can afford.
Related Reading
Step 2: Choose Which Type of Crib Mattress You Want
The two traditional types of crib mattress are foam and innerspring coil. These days, there are other natural and synthetic options to consider as well.
Innerspring Crib Mattresses
Innerspring mattresses are made of metal coils combined with other materials like latex, cotton, or polyester. Innerspring crib mattresses may also use foam in addition to the coils. However, it's the coils (not the foam) that make these mattresses firm.
Innerspring mattresses provide even weight distribution and are typically very firm (good for infants). They're also very durable, and are typically more breathable than foam.
However, they tend to be more expensive and heavier than other options.
Foam Crib Mattresses
Foam crib mattresses are generally cheaper and lighter than innerspring crib mattresses. Even though they're lighter, it's worth noting manufacturers use a firm, dense foam in crib mattresses. Memory foam is not safe for babies.
However, foam crib mattresses are less breathable and might not hold up as well as innerspring mattresses. You'll probably save money by buying a foam mattress initially. That said, you might spend more over the long term if you need to buy a second crib mattress.
There are also some safety concerns with foam. Lower quality foam might form an indent after a while, which can be dangerous to your baby.
Many (but not all) foams emit potentially harmful Volatile Organic Compounds and/or use fire retardant chemicals. Worth noting, cribs made with manufactured/composite wood and glues can also emit VOCs, which is why we also recommend choosing a non toxic crib.
Look for foam that is Greenguard Gold and CertiPUR-US certified. While these programs don't eliminate all problems with polyurethane foam, they're a good start.
Related Reading
You might also consider looking for a soybean foam crib mattress, or a mattress made from other plant-based foams. Our research suggests the manufacturer's touted benefits of these plant foams are vastly exaggerated. However, they're likely somewhat better from a toxin point of view than "normal" foam.
Natural & Non-Toxic Mattresses
These days, there are more natural, organic and alternative "non-toxic" crib mattresses on the market than ever before.
These manufacturers use plant and unprocessed animal materials( eg., coconut coir, natural latex, cotton, wool) in their crib mattresses. Some also use alternative materials like recycled PET/PETE bottles.
Related Reading
With these natural and non-toxic mattresses, manufacturing is done without harmful chemicals, and the mattresses emit no or low VOCs. They use natural rather than chemical flame barriers, and are relatively sustainable/eco-friendly. They also use "safer" plastics for waterproofing, eliminating the need for PVC, which is destructive to our health and the environment and a source of phthalates.
Many natural mattresses also come with third party certifications to ensure they are what the manufacturer says they are. CertiPUR-US certified foam, GOTS or GOLS certified organic, GREENGUARD Gold certification, and Oeko-Tex certification are a few to look for.
One of the biggest disadvantages of a natural or organic crib mattress is the price. You're going to be paying more, but you get what you pay for.
It's also worth looking out for "greenwashing" – when companies say something is better for the environment, without backing it up with proof.
Step 3: Safety Check (and Check Again)
This is crucial! Once you've decided your budget, and have started to narrow down your choices, check the mattress you're considering for safety.
Any mattress you consider should be certified by the Consumer Product Safety Commission at the very least.
Some other factors to consider include:
Firmness
If this is your first time shopping for a crib mattress, you'll probably be a bit shocked at how firm they are. For both developmental support and safety reasons, the firmer the better.
I recently lay down on my daughter's crib mattress and it felt extremely uncomfortable. While this seems counterintuitive, that's exactly how it should feel.
Researchers have found that soft bedding is associated with an increased risk of SIDS for infants. Specifically, beds associated with SIDS were "softer and limited CO2 dispersal to a greater degree" than beds not associated with SIDS. Softer crib mattressesmightlead to infants re-breathing their own exhaled air (which is filled with CO2).
For coil mattresses, more and thicker coils indicate a firmer mattress. For foam mattresses, a heavier weight typically indicates a denser, firmer mattress.
Related Reading
Crib Mattress Fit
You'll also need to do some comparison between the mattress you're considering and your crib.
Your baby's crib mattress should fit snugly in the crib with no more than two finger widths gap in any area.
While most mattresses and cribs meet standard sizes, you should still measure the inner dimensions of your crib to make sure it fits with mattress dimensions. The minimum size for mattresses is 27.25 inches by 51.25 inches, and the mattress should be no more than six inches thick.
Breathability
The more a mattress allows for air to flow through the fibers, coils, or mattress material, the more breathable it will be.
A breathable crib mattress may help with your baby's temperature regulation (overheating is a risk factor for SIDS). It also may help prevent suffocation.
Worth noting, no studies to date have proven that more breathable crib mattresses are safer. However, they likely aren't worse than less breathable options. At the very least, a breathable crib mattress should help with mold and mildew prevention.
The American Academy of Pediatrics has this to say about "breathe-through" crib mattresses (emphasis ours):
"Certain crib mattresses have been designed with air-permeable materials to reduce rebreathing of expired gases, in the event that an infant ends up in the prone position during sleep, andthese may be preferableto those with air-impermeable materials…
Related Reading
An Extra Safety Note
Baby blankets, stuffed animals, crib bumpers, and other accessories are cute, but they're dangerous to your baby – especially during his or her first year – and should be kept out of the sleeping environment.
Once you choose your mattress and put it in your baby's crib, stop! That's the only thing that should be in there (other than your baby, of course) for the first year.
And always put your baby to sleep on his/her back.
Step 4: Decide Which Additional Factors are Important to You
If you've made it through the first three steps, good job! You probably have your crib mattress narrowed down to a few options. Making a final choice might be the hardest part!
Considering these additional factors – and deciding which are important to you – should help you find your baby's perfect crib mattress.
Single Sided or Dual Sided
Many crib mattresses are double sided, with a firmer side for infants and a relatively softer side for toddlers.
If you have a crib that converts into a toddler bed, this type of mattress is a great option to extend its life. When I recently tested out my daughter's mattress for myself, I found the toddler side to be much more comfortable than the infant side.
If you choose a double-sided mattress, wait until your baby is at least 12-months-old before flipping to the toddler side. I flipped my baby's mattress when she was 14-months-old.
Waterproofing
Some mattresses are waterproof while others are water resistant. If the mattress you choose doesn't have any degree of water resistance, you might want to get a mattress cover to protect the mattress from getting damp and moldy. If you plan on always using a mattress cover anyway, you might not care as much about finding a waterproof mattress.
Sleep Guarantees and Warranties
Many mattress manufacturers offer lifetime warranties against manufacturer defects—this is pretty standard.
An additional guarantee to look out for is a "sleep guarantee." These guarantees let you test out the mattress for a certain number of nights and allow you to return the mattress if you aren't satisfied.
Conclusion
No mattress is going to guarantee your baby will sleep through the night (if such a magical thing exists, please let me know!), but the right mattress will keep your baby safe on his/her own sleeping surface through the night.