How to Choose the Best Organic Mattresses for Your Child or Toddler
How to Choose the Best Organic Mattresses for Your Child or Toddler
Whether you're upgrading your toddler or choosing a mattress for an older child or teen, what are the important things to watch out for when choosing the best organic mattresses for your child?
Materials Matter
Just like you would with an organic crib mattress or an organic mattress for yourself, you should take a look at what's inside your child's mattress. The materials used to provide comfort and support for your growing child are an important part of your research.
Your child's bed may contain the following materials for support:
1. Springs or Coils -A traditional innerspring is most common, but some kids mattresses are also made with individually encased coils, which help to reduce motion transfer and offer more comfort to older children and teens.
2. Latex -Latex is a common mattress material, but also brings allergenic concerns. Naturepedic organic kids mattresses don't include latex because you may not know if your young child has a latex allergy and we want to take a cautionary approach. None of our baby or kids products contain latex.
3. Polyurethane Foam -Often known as memory foam, soybean foam, bio-based foam, and eco-foam, polyurethane foam is highly flammable and you won't find it in any certified organic mattress. Because of polyurethane foam's flammability, it requires flame retardant chemicals and thus can't be considered organic.
To select the best organic mattress for your child, stick with an innerspring or coil support mattress.
Comfort Counts
While firm support for your child is the most important feature in a safer mattress for kids, comfort counts too! Many mattresses contain conventional cotton fiber (treated with pesticides), synthetic filling materials made with harmful chemicals, or polyurethane foam for comfort. At Naturepedic, we focus on using healthier materials like certified organic cotton and plant-based PLA batting.
Pay attention to how your child sleeps to help you select the ideal comfort and support levels needed in the best organic mattress for their needs.
1. Side Sleepers- If your child sleeps on their side, they need a little more cushion to reduce tension and pressure on their developing skeletal system. Check out the Naturepedic Verse with encased coil support if your child is older or a side sleeper. You can also get a quilted mattress pad to provide extra comfort.
2. Tummy Sleepers- For kids who sleep on their stomachs, a firm mattress is important to help reduce pressure on the back and shoulders. Many young children end up flipping around to their stomach at some point in the night, so try the Naturepedic 2-in-1 Ultra with a waterproof side great for potty training and a quilted side for a little more cushion.
3. Back Sleepers- If your big kid sleeps on their back, this is the best position for spinal health! Medium or cushion firm support is great for back sleepers, but remember that kids need a little more firmness than adults. Take a peek at the Naturepedic Quilted Deluxe for firm support and a quilted surface for a little more comfort.
Perfect Pillows
Don't forget the pillows! No big kid bed is complete without a healthier pillow. We offer two pillows that are great for children, the Organic Cotton/PLA Pillow and the Organic Cotton/Organic Kapok Pillow. Both are available in a low-fill standard size or a toddler size perfect for younger sleepers, and the PLA pillow is machine washable.
Ask Us Anything!
If you've got questions, we've got answers. We're here to answer your questions about choosing the best organic mattresses for your child.
Choosing a Mattress for a Child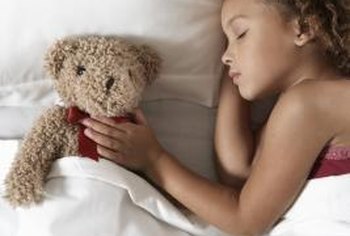 Purchasing a larger mattress gives your child room to grow.
Thomas Northcut/Lifesize/Getty Images
Related Articles
1 Choose the Best King Size Mattress
2 Sleeping on a Futon Vs. a Coil Bed
3 How Big Is an XL Twin-Size Bed?
4 Waterbed Vs. Innerspring Mattresses
While you may know the ins and outs of choosing a mattress for your own bed, buying one for your child may seem like a different ballgame. But purchasing a mattress for your child doesn't have to be confusing or overwhelming. Focus on the same basic features that you would for your own mattress while keeping in mind that your son or daughter is still growing and the mattress will need to accommodate that growth.
Just as when buying a mattress for your own bed, it's important to choose the right size mattress for your child. If your child already has a bed, make sure that the mattress corresponds to the size of the bed, whether it's a twin, full, queen or king size. If you're choosing the bed and mattress at the same time, however, consider the age and height of your child to find the best fit. For a young child who's just moving to a bed from a crib, a twin-size mattress is a good option. It's not too big but provides room for your child to grow. If you have an older child or teen who's fairly tall, an extra-long twin size mattress can accommodate extra height. But an older child may prefer a larger-size mattress like a full or queen for extra room. It may be a good option if you have the space for it since you won't have to worry about your child outgrowing it.
Materials
The materials used are another important consideration when choosing a mattress for your child. Many synthetic mattresses contain chemical-based materials that may cause allergies, respiratory issues and skin irritations. To prevent possible health issues, choose a mattress made from natural materials like organic wool or organic cotton. Other natural mattress materials include bamboo, silk, hemp and natural latex. Flame retardants often contain toxic chemicals as well, so be sure to read the manufacturer's product description carefully to know if any unsafe chemicals, synthetics, glues, dyes or plastics were mixed with natural materials.
Coil Count
The wire coils inside a mattress are what support the sleeper's body weight, so the coil count can make a significant difference in how supportive a mattress feels. Typically, a high-quality mattress will have a higher coil count. If you plan to keep the same mattress for your child for several years, coil count is particularly important since he'll need more support as he grows. Similarly, if you're buying a mattress for a teenager, you'll want to choose an option with more coils to support his heavier weight. As a guideline, a twin size bed should have at least 200 coils, while a full size bed should have a minimum of 375 coils to ensure its quality.
Warranty
If you plan for your child to keep his mattress for several years, choose an option that comes with a solid warranty. First, make sure that the retailer has a refund policy that allows you to return the mattress within a certain period if you find out that it does not work for your child's bed. Next, read the fine print of the manufacturer's warranty. Mattress warranties are typically good for five to 10 years, but there may be details that make one warranty better than another. For example, check to see if the retailer will come to your home to pick up the mattress if there's a repair issue or if you are expected to lug it back to the store yourself. Small issues like that can make a difference when choosing among mattress options.
Best Mattresses for Kids – Top 4 Beds and Buying Guide
Our Research
Mattresses Considered
Hours of Research
Mattress Executives Interviewed
Sleep Experts Consulted
Quick Overview
Sleep is important for all of us, but especially children. How well your child sleeps directly affects their physical, emotional, and mental development. Choosing the right mattress is obviously an important part of that.
Fortunately, buying a mattress for children doesn't require a specialized process. Many of the mattresses that are suitable for adults can be just as supportive and comfortable for children; you just need to account for the unique firmness and comfort needs of a growing child. These include support and pressure relief, particularly for those experiencing growing pains, along with temperature neutrality, bed thickness, and your child's preferred sleep position.
Best Mattresses for Children
Editor's Pick – Tuft & Needle
Best Memory Foam Mattress – Nectar
Best Innerspring Mattress – Saatva
Best Latex Mattress – Birch Mattress
Below we share our top mattress picks for children, all selected based on verified customer and owner experiences, along with our intensive product research and analysis here at Tuck.
Then, in our Buyer's Guide, we share everything parents need to know about buying a mattress for their child. Learn how to identify the best types of mattresses to relieve growing pains, prevent jumping on the bed, and calm hyperactive minds to sleep. Plus, get insider tips for securing the best deal on a mattress, like extended sleep trials which allow your child to test the mattress for 100 nights or more to ensure they won't outgrow it after a year.
First Time Buying a Mattress for Your Child?
Hop down to our Buyer's Guide for a crash course on finding the best mattress for kids.
Our Top 4 Picks
Medium Firm (6.5)
100-night sleep trial
10-year warranty
Very good motion isolation
Consistent conforming and pressure relief
Medium Firm (6)
365-night sleep trial
Lifetime warranty
Close conforming and pressure relief
Sleeps cooler than most foam models
Multiple firmness options (4, 6, 7.5)
120-night sleep trial
15-year warranty
Free white glove delivery & old mattress removal
Sleeps cool
Medium Firm (6.5)
100-night sleep trial
25-year warranty
Breathable, eco-friendly materials
Long expected lifespan
The Best Mattresses for Kids – Reviewed
Editor's Pick – Tuft & Needle Mattress
Highlights
Medium Firm (6.5)
100-night sleep trial
10-year warranty
Very good motion isolation
Consistent conforming and pressure relief
Tuft & Needle Mattresses are available to Tuck readers at the lowest price
Editor's Choice Overview
The T&N Mattress from Tuft & Needle is our Editor's Pick because of its effective, no-frills design and its competitive price point. The T&N Mattress is constructed with the company's Adaptive Foam, a graphite-infused polyfoam comfort layer and a high-density foam support core. Its surface is 'Medium Firm' (6.5) and most kids find the bed sufficiently supportive. This includes heavier children and those who sleep on their backs or stomachs.
The graphite infusion keeps the bed cool, making it a good option for children who usually sleep hot on foam mattresses. Many of those who experience growing pains also find the T&N Mattress comfortable due to its moderate yet consistent conforming ability. The all-foam construction readily adapts to a child's growing body, cradling pressure points and support healthy spinal alignment.
Other benefits include its lack of noise – which can be helpful for kids who awaken easily during the night – and a lightweight design that is relatively easy to lift and move for most adults.
In addition to a low price-point, Tuft & Needle offers free mattress shipping to customers in the contiguous U.S. The T&N Mattress is backed by a 100-night sleep trial and a 10-year warranty.
The Bottom Line.
The T&N Mattress features an all-foam construction that's highly adaptable. The foams respond to the sleeper's body pressure and weight, maintaining healthy support as your child's body develops and they settle into a preferred sleep position. The bed also sleeps quiet and cool, making it a soothing option for children who tend to sleep hot or wake easily from noise.
Recommended for:
Kids in the average and heavy weight groups.The 'Medium Firm' feel of the T&N Mattress ensures these children enjoy comfortable support without sinking too deeply into the mattress.
Every type of sleeper (side, back, stomach, combination).With a Medium Firm feel and foam construction, the T&N Mattress adapts to support different sleep positions. Wider and heavier parts of the body sink deeper into the mattress to maintain a healthy spine.
Those who normally sleep hot on foam beds.The infusion of graphite in the comfort layer helps regulate the mattress surface temperature and keep it cool.
Kids experiencing growing pains or engaged in sports.All-foam beds like the T&N Mattress are lauded for their pressure relief and ability to alleviate the aches and pains associated with a growing body or heavy exercise.
Not Recommended for:
Side sleepers who weigh more than 230 pounds.The T&N Mattress can comfortably support most children who weigh up to 230 pounds, regardless of sleep position, but it may allow those who weigh more than that to sink too deeply into the mattress when sleeping on their side.
Very lightweight sleepers.The T&N Mattress has a 'Medium Firm' feel which may feel too hard for more petite children.
Best Memory Foam Mattress for Kids – Nectar Mattress
Highlights
Medium Firm (6)
365-night sleep trial
Lifetime warranty
Close conforming and pressure relief
Sleeps cooler than most foam models
Get $100 off a Nectar mattress with code = TUCK
Best Memory Foam Mattress Overview
The Nectar Mattress – our pick for the Best Memory Foam Mattress for Kids – is constructed with four individual layers of foam for optimal conforming and support. Comfort layers of gel memory foam and standard memory foam offer a body-hugging feel that can help kids fall asleep more quickly and also prevent aches and pains from developing. The bed's 'Medium Firm' feel is ideal for any child that prefers a moderate feel that isn't too soft.
The Nectar mattress has a longer-than-average lifespan thanks to its dual-layer high-density polyfoam base, which helps maintain an even sleep surface with minimal sagging. The bed is suitable for kids who tend to sleep hot, as well, due in part to the gel foam layer and a breathable cover made from cotton and lyocell. The mattress is 11″ thick, making it easy to get on and off for children of all ages.
Nectar offers free shipping to customers in the contiguous U.S., and White Glove delivery – including in-home assembly and old mattress removal – is available for an additional charge. The Nectar comes with a 365-night sleep trial, which is one of the longest sleep trials available, as well as a 10-year warranty. Given how quickly children grow, the year-long sleep trial is an especially attractive perk.
The Bottom Line.
The Nectar mattress satisfies a lot of things parents are looking for when buying a mattress for their child. It's built well and designed to last a number of years, but the year-long sleep trial gives you wiggle room to return it if your child's comfort preferences change. Although, given the adaptable foam feel, cool sleep surface, and superior pressure relief, chances are you won't need to.
Recommended for:
Side and back sleepers.The all-foam construction and 'Medium Firm' feel is suitable to the full range of sleep positions, although side and back sleepers tend to find this mattress especially comfortable.
Children in average and heavy weight groups.The Nectar's 'Medium Firm' feel and higher-density support foams are ideal for supporting sleepers in these weight groups, although lighter sleepers may find the mattress just as comfortable as well.
Kids who normally sleep hot on foam beds.The Nectar uses gel in its comfort layer and tops the mattress with a cotton/lyocell cover, both of which work together to keep the surface temperature much cooler than the average foam bed.
Children who have sleep onset issues.Dual comfort layers of memory foam cushion and envelop the body, creating a body-hugging sensation that calms restless minds and helps soothe children to sleep.
Not Recommended for:
Children who weigh much less than 130 pounds.The 'Medium Firm' feel of the mattress may feel too firm for lighter body types.
Children who don't like the feel of memory foam.The Nectar mattress conforms closely to the body, which can make some children feel uncomfortable.
Best Innerspring Mattress for Kids – Saatva Mattress
Highlights
Multiple firmness options (4, 6, 7.5)
120-night sleep trial
15-year warranty
Free white glove delivery & old mattress removal
Sleeps cool
Tuck readers receive a $100 discount on a purchase of a Saatva mattress
Best Innerspring Mattress Overview
Innersprings are known for their high levels of support, but many mattresses in this category have some notable shortcomings – particularly poor durability and minimal conforming ability. The Saatva, on the other hand, is a very durable mattress built with memory foam, polyfoam, and pocketed minicoil comfort layers that conform very well. These two factors make the Saatva a good innerspring pick for parents with children who are undergoing growth spurts.
The Saatva is offered in three firmness settings – 'Medium Soft' (4), 'Medium Firm' (6), and 'Firm' (7.5); this wide selection ensures at least one option for children of all body types. And like many innersprings, the Saatva is highly supportive thanks to its robust bonnell coil support core. Good airflow through both coil layers allow the bed to sleep very cool, as well, and the Saatva's thick comfort system causes the bed to produce less noise than other innersprings.
The Saatva is available in two profiles: 11.5- and 14.5-inches. The difference is in the support layer, with the larger profile containing 3 additional inches of bonnell coils. The shorter 11.5-inch profile is probably appropriate for most children, but parents of larger children or teenage athletes may find their kids enjoy better support from the thicker model.
Saatva offers free White Glove delivery for all customers in the contiguous U.S., including old mattress removal; most competing manufacturers will charge customers an additional fee of at least $100 for these services. The mattress is also backed by a 120-night sleep trial and a 15-year warranty, both of which are longer than average.
The Bottom Line.
The Saatva's durable construction and plusher-than-typical comfort layers make this innerspring bed attractive to a wide range of children. It provides a decent amount of conforming, while remaining strong enough to support growing bodies. Moreover, the bed is available in multiple firmness options, so parents can choose the best one for their child's body weight and comfort preferences.
Recommended for:
Every type of sleeper (side, back, stomach, combination).The softer firmness setting is most comfortable for side sleepers, while back and stomach sleepers may enjoy either of the firmer settings, depending on their body weight.
Children in all weight groups (light, average, heavy).Larger children will receive better support from the 'Firm' option, while smaller children will find the 'Medium Soft' option most comfortable. The 'Medium Firm' is perfect for children of average weight.
Kids who are experiencing growing pains.The Saatva's durable construction ensures long-lasting support for developing bodies, with thick comfort layers to relieve aches and pains.
Those who tend to sleep hot.As an innerspring bed, the Saatva sleeps extremely cool, due to freely flowing air through the support core.
Not Recommended for:
Children prone to jumping on their mattress.The Saatva has a very bouncy innerspring construction that may be hard for these children to resist.
Light sleepers.The Saatva's innerspring construction also makes this mattress a bit noisier, especially when shifting sleep positions.
Best Latex Mattress for Kids – Birch Mattress
Highlights
Medium Firm (6.5)
100-night sleep trial
25-year warranty
Breathable, eco-friendly materials
Long expected lifespan
Tuck readers save $200 on the Birch Mattress.
Best Latex Mattress Overview
Many kids like the responsive, relatively cool feel of latex beds compared to the sinking and heat retention of mattress foam. However, latex and latex hybrid mattresses typically carry high price-points. The Birch Mattress, our pick for the Best Latex Mattress for Kids, is a notable exception. It costs much less than the average latex mattress but provides the same resilient design and comfortable sleep surface as its more expensive competitors.
The mattress is designed with a top layer of natural and organic wool, which helps the bed sleep cool and wicks away moisture from the sleeper's body. The second layer is made of natural Talalay latex, resulting in a 'Medium Firm' (6.5) feel that is particularly well-suited to heavier kids. The support core features pocketed coils that allow air to circulate freely, which helps keep the sleep surface cool. The coils are also relatively quiet.
In addition to offering a low price-point, Birch provides free shipping to customers in all 50 states. The mattress is backed by a 100-night sleep trial, as well as a longer-than-average 25-year warranty.
The Bottom Line.
The Birch Mattress offers a nice alternative for children who like some conforming and pressure relief, but can't enjoy most memory foam mattresses due to their heat retention. The mattress also boasts a longer lifespan and extensive warranty, two features which make it attractive to value-seeking parents.
Recommended for:
Every type of sleeper (side, back, stomach, combination).Latex foams offer sufficient conforming to make any sleep position comfortable, while the pocketed coil layer provides support.
Sleepers in the average and heavy weight groups.The 'Medium Firm' feel is ideal for kids who weigh 130 pounds or more.
Kids who prefer springier, more responsive beds.As a latex hybrid, the Birch Mattress provides a more responsive feel, with the perk of a much quieter sleep surface than innerspring beds, thanks to quieter foams and a pocketed coil core.
Hot sleepers.The Birch Mattress is made from organic materials which naturally sleep cooler, like natural Talalay latex and moisture-wicking wool.
Not Recommended for:
Children who weigh less than 130 pounds.The 'Medium Firm' feel may feel too firm for lightweight children, especially side and stomach sleepers.
Kids who are experiencing growing pains.Latex hybrids like the Birch Mattress are not particularly known for their pressure relief.
Mattress Buying Guide for Kids
Below, we share everything parents need to consider when buying a mattress for their child, along with our best tips for buying a new mattress.
Mattress Buyer's Guide for Parents
What Parents Need to Know About Buying a Child's Mattress
Healthy sleep is essential for growing children. The right mattress will provide a comfortable, supportive sleep surface for boys and girls throughout their childhood, and may even be able to accommodate them after they experience major growth spurts. The wrong mattress, on the other hand, can negatively affect a child's sleep quality, creating far-reaching repercussions for their health, growth, and development.
This guide will look at mattress options for children who are old enough to sleep in their own bed, as well as some shopping tips for parents. Please note that this page will focus on mattresses that may be used by adults or children, not mattresses that are specifically designed for kids' beds. While many mattress manufacturers offer beds that are specifically designed for children, parents often find that a non-specialty mattress is just as suitable for their child's sleep needs and preferences.
Supportis arguably the most important factor to consider when shopping for a child's mattress. In the mattress industry, 'support' refers to how well a mattress maintains a flat, even sleep surface and promotes spinal alignment. Growing children need optimal support, particularly around their spine, and parents are strongly urged to select models that will provide adequate support.
Mattresses that are too firm or too soft are generally considered unsupportive for most sleepers. Additionally, some mattresses may begin to sag in the middle after as little as one to two years of use; this causes children to sleep in positions that do not align the spine.
Finding the most supportive mattress for your child is a combination of several factors, including the mattress size, firmness, material composition, and more. We'll review each of these features in the following sections.
Selecting the Right Mattress Size for Your Child
When choosing a mattress for your child, it's important to keep in mind that they will probably grow by a significant margin before the mattress needs to be replaced. As a result, parents may want to consider larger sizes to ensure their boy or girl won't outgrow their bed.
Most mattresses sold today come in six standard mattress sizes.
Size
Dimensions (width/length)
Suitable for kids?
Twin
38W" x 75L"
Yes. Although this is the smallest mattress size available, these sizes measure more than six feet in length, making them suitable for most children. This is also usually the cheapest size.
Twin Extra Long (XL)
38W" x 80L"
Yes. The extra five inches of length over a standard Twin may be helpful for teenagers that are somewhat tall and expected to grow more.
Full or Double
54W" x 75L"
Yes. Full/Double mattresses are often ideal for children because they are wide enough to accommodate restless sleepers and long enough for any child who is less than six feet tall. Many children are able to sleep on their Full/Double mattress until they reach adulthood.
Queen
60W" x 80L"
No. Queen-size mattresses measure six feet wide and nearly eight feet long, making them excessively large for most children. Parents can usually save some money by opting for a Full/Double instead, which offers adequate room at a lower price-point.
King
76W" x 80L"
No. A King-size mattress is simply too large for most children and will be an expensive investment for parents.
California King
72W" x 84L"
No. Like King-size mattresses, the California King is too large and expensive to be suitable for a child's bed.
As you can see, the most popular mattress sizes for children are Twin, Twin XL, and Full (or Double). Here's a quick list of the pros and cons of each of these three mattress sizes for parents to consider.
Twin Mattresses
Twin mattresses are the smallest and cheapest mattress size available today.
These can be a great choice if space is a consideration, such as when your child has a smaller bedroom, shares their bedroom with another sibling, or uses a bunk bed.
Twin mattresses are the easiest to grow out of, especially if you expect your child to be an athlete or grow over six feet tall.
While your child is still little, Twin mattresses can feel a bit cramped if you're lying in bed with your child to read a story together or to help them fall asleep.
Twin XL Mattresses
These include an additional six inches in length over Twin mattresses, making them an ideal option for teenagers or children of tall parents.
Twin XL mattresses are still relatively cheap.
The longer size of a Twin XL may not always fit in bunk beds.
These mattresses can still feel cramped if you're lying in bed with your child to read a story together or to help them fall asleep.
Full/Double Mattresses
Full mattresses wide enough to accommodate larger children, kids who want to sleep with you, or those who like you to read to them before they go to sleep.
They can also be suitably comfortable for children to sleep on once they become adults, and come to visit you at home.
Full-size mattress can double as a guest bed much more easily than smaller sizes.
Full mattresses are the most expensive of these three mattress sizes, but they can be a good financial investment, since they provide ample room for your child to grow.
If your child's bedroom is small, however, they can be a tight fit.
Selecting the Right Mattress Firmness Level for Your Child
Mattresses sold today are available in a wide range of firmness options, from very soft to very firm and everything in between. At Tuck, we refer to firmness as having a 1 to 10 scale, with 'Soft' mattresses rating around a 3, and 'Very Firm' mattresses rating around an 8.
Although a 'Medium Firm' design is generally considered the most popular, that's usually assuming the sleeper is an adult of average weight (between 130 and 230 pounds). Every child will have different firmness preferences, and they'll typically find a softer mattress to be more comfortable when they're younger and still growing.
However, you can always buy a 'Medium' or 'Medium Firm' mattress and then get a mattress topper with a softer firmness rating to make the mattress more comfortable for your child until they grow into it. Jump to learn more about mattress toppers.
Alternately, you can select a mattress firmness according to your child's body weight and preferred sleep position. It's important to note that children who weigh less than 130 pounds tend to feel most comfortable on mattresses that are 'Soft' to 'Medium', while heavier children typically prefer mattresses that are 'Medium' to 'Firm'.
Regarding sleep position,side sleepersfind softer mattresses to be more comfortable, between 'Soft' and 'Medium Firm', or a 3 to 6 on the 1-to-10 scale. A softer mattress surface allows wider and heavier parts of the body to sink deeper into the mattress, ensuring healthy spinal alignment for the side sleeping position.Stomach sleeperstypically prefer firmer mattress surfaces, to avoid their pelvis from sinking too deeply and pulling the spinal alignment.Back sleepersmake things easy, as they usually enjoy the widely popular 'Medium Firm' setting.
Parents should have their child test out different mattress firmness options in order to determine the best comfort level for them. You can do this easily at your local mattress retailer. Have your child lie on the bed in store and tell you how comfortable they feel. Of course, you can return a mattress under the sleep trial if it ends up being too soft or too firm, but the easier approach is to know your child's preferred firmness level before buying the mattress.
A note on flippable mattress designs:If a child tends to change his or her mind about their desired firmness option, then a flippable mattress may be a reasonable investment. These beds are designed with a comfort layer on each side with a different firmness and a shared support core. To adjust the firmness from one to the other, simply flip over the mattress. Please note: parents should handle the flipping process, as mattresses are always too heavy for children to lift.
Understanding the Different Mattress Types
Mattress type is an important consideration, since each different design carries unique pros, cons, and precautions for parents. Below we provide an overview of the five most common mattress types and share everything you need to know:
Best Innerspring Beds for Kids
Mattress Brands
Innerspring Mattresses
Innerspring beds use steel springs in their support core, laid in a uniform grid. Comfort layers are made of polyfoam or memory foam.
Benefits for Kids and Parents:
Low price-point.Innerspring mattresses are one of the most affordable mattress types, usually costing around $700 to $1,200.
Sleeps cool.The coil support core provides ample airflow, and thinner comfort layers minimize the potential for heat retention.
Good option for growing children.Innerspring mattresses have a traditional feel that's comfortable for many sleepers, and their steel support system supports the weight of growing bodies.
Disadvantages for Kids and Parents:
Noise potential.Because they use steel springs as their support system, these beds can be noisy when bearing weight.
Limited durability.Depending on the quality of their construction, innerspring beds can be prone to sag within a handful of years.
Too firm for some children.Thinner comfort layers may not provide enough cushion for smaller or more lightweight children.
Precautions for Parents:
Bounce potential.Innerspring beds are definitely the bounciest, which can be problematic if your child is prone to jumping on the bed.
Best Foam Beds for Kids
Mattress Brands
Mattress Brands
Foam Mattresses
Foam mattresses use foam in all layers of the mattress, with memory foam and/or polyfoam in the comfort layer and high-density polyfoam in the support layer.
Benefits for Kids and Parents:
Low price-point.Foam mattresses are generally more affordable, costing around $600 to $1,200.
No noise.Foam absorbs movement and related noise extremely well, so these beds sleep silent even if your child shifts positions often during the night.
Good motion isolation.Along the same lines, the all-foam construction isolates motion, which can make these beds a great option for kids who share a bed or light sleepers.
Long lifespan.Quality foam mattresses can last up to 7 years or longer.
Excellent pressure relief.The high conforming ability of these mattresses makes them especially suitable for children with growing pains.
Anti-bounce.Foam mattresses are made entirely of foam, reducing the fun (and injury risk) of jumping on the bed.
Disadvantages for Kids and Parents:
Off-gassing potential.Memory foam mattresses have an initial off-gassing odor. This dissipates fairly quickly (within a few days) once the beds are unwrapped and set up, but may be a bit much for sensitive noses to take.
Can sleep hot.Foam mattresses conform closely to the body, which can result in a warmer sleep experience.
Precautions for Parents:
Look for certified foams.CertiPUR-US foams have been tested for safety, indoor air quality, and low VOC emissions. Certified foams tend to sleep cooler and produce less odor.
Hybrid Mattresses
Hybrid mattresses use individually pocketed coils as their support system, with at least 2 inches of memory foam or latex in the comfort layers. These beds may feature additional foams or minicoils in the comfort layers, too.
Benefits for Kids and Parents:
Long lifespan.Hybrid mattresses remain supportive for up to 7 years or more.
Contoured support ideal for growing pains.With thick comfort layers above a pocketed coil core, hybrid mattresses offer a higher level of contouring than innerspring mattresses, but without enveloping the body like memory foam.
Quieter sleep surface.While not as quiet as all-foam beds, hybrid mattresses do minimize movement and noise well, resulting in a quiet sleep surface for more restless sleepers.
Sleep cooler than all-foam beds.Depending on the composition of their comfort layers, hybrid beds tend to sleep cooler thanks to air flowing through the pocketed coil core.
Disadvantages for Kids and Parents:
Higher price-point.Hybrids do tend to be more expensive, costing around $1,500 to $2,200.
Heavy and difficult to move.Hybrid mattresses feature a heavier construction that can make it tougher for children to make their bed.
Noise potential.If the hybrid has thinner comfort layers, it may not isolate movement as well. The resulting noise may wake up light sleepers or children who share the bed with a sibling.
Precautions for Parents:
Pay attention to the foam materials.If your child is a hot sleeper, look for hybrid mattresses with cooler comfort layers. These include latex foams, or memory foam infused with gel, graphite, or copper.
Off-gassing potential.If the bed has thicker comfort layers of memory foam or polyfoam, there may be an initial off-gassing odor present for the first few days.
Bounce potential.While not as bouncy as innerspring mattresses, kids may still find these beds bouncy enough for jumping on the bed.
Best Latex Beds for Kids
Mattress Brands
Latex Mattresses
Latex mattresses use polyfoam or latex in the support core, with comfort layers of latex. Latex mattresses may use only natural latex, synthetic latex, or a blend of the two. Natural latex tends to be more durable and sleep cooler, although it's also more expensive.
Additionally, the latex may be poured using either the Talalay or Dunlop process. Talalay latex has a fluffier feel more suitable for comfort layers, while denser Dunlop latex may appear in either the comfort or support layers of the mattress.
Benefits for Kids and Parents:
Good motion isolation.Latex mattresses absorb motion well, resulting in a quieter, more still sleep surface for kids who share the bed.
Long lifespan.Latex mattresses are extremely durable, especially if they use primarily organic latex foams. These beds should last over 8 years or more.
Naturally hypoallergenic.As long as your child doesn't have a latex allergy, these beds can be particularly great for kids with asthma or allergies. Organic latex is naturally resistant to mold, bacteria, and other allergens that can make breathing tougher for kids at night.
Sleep cool.Latex mattresses sleep cooler than hybrid or foam beds, as organic latex is naturally more breathable. It's common for all-latex beds to use cotton and wool in their cover, which further helps regulate the mattress surface temperature.
Anti-bounce.Latex mattresses don't contain any spring components, so children will be less likely to engage in jumping on the bed.
Disadvantages for Kids and Parents:
High price-point.Latex mattresses, especially ones made from natural latex, are more expensive, costing around $1,500 to $2,500.
Less pressure relief.Latex mattresses do not conform closely to the body, so they may offer less pressure relief for children experiencing growing pains.
Precautions for Parents:
Allergy potential in organic latex beds.If your child has an allergy to latex, these beds will not be a good fit. Although, synthetic or blended latex foams may carry a lower allergy risk.
Airbeds
Airbeds use air as their support system, with individual air chambers that can be adjusted according to the owner's firmness preferences. Airbeds may have a thin, foam-based comfort layer, or feature no comfort layer at all.
Benefits for Kids and Parents:
Adjustable firmness.Since the firmness can be adjusted at any time, airbeds can be a good choice for children who are still growing or have changing firmness preferences.
Long lifespan.As long as they are properly maintained and individual parts are replaced as needed, airbeds can easily outlast other mattress types.
Disadvantages for Kids and Parents:
High price-point.Airbeds are one of the most expensive mattress types, costing around $1,500 to $2,500.
Controls may be difficult for kids to operate.You need to use a manual hand crank or remote control to adjust the firmness level, which can be confusing for children.
Below-average pressure relief.Because the comfort layers are so thin, airbeds may not provide sufficient pressure relief for kids experiencing growing pains.
Precautions for Parents:
Electrical components carry a high safety risk.Airbeds often feature electrical components which may make them dangerous for children to operate.
The chart below summarizes the key advantages and disadvantages of these mattress types for kids:
Mattress Type
Benefits for Kids and Parents
Disadvantages for Kids and Parents
Precautions for Parents
Innerspring
Low price-point
Sleeps cool
Good option for growing children
Noise potential
Limited durability
Too firm for some children
Bounce potential
Polyfoam/Memory Foam
No noise
Long lifespan
Good motion isolation for kids who share a bed
Off-gassing potential
Sleeps hot
Certified foams produce less odor and sleep cooler
Latex
No noise
Good motion isolation for kids who share a bed
High price-point
Allergy potential in organic latex beds
Synthetic or blended latex carries lower allergy risk
Hybrid
Long lifespan
Contoured support
High price-point
Noise potential
Bounce potential
Airbed
Adjustable firmness
Long lifespan
High price-point
Noise potential
Electrical components
Controls may be difficult for kids to operate
Electrical components carry high safety risk
Other Mattress Questions for Parents to Consider
By now you know the size, firmness, and type of mattress you want to buy for your child. You're ready to go mattress shopping. If you find yourself torn between a few different models, ask yourself the following questions to find the best mattress for your child's needs.
How Important Is Durability?
Durability is key for selecting a child's mattress because there is a strong chance he or she will grow significantly during the bed's lifespan. As such, parents may not want to invest in a long-lasting, potentially more expensive mattress (such as a latex or airbed model), and may opt for a cheaper, less durable model instead (such as an innerspring or memory foam mattress). However, models that are prone to early sagging may not be a good choice, since sagging can impact the supportiveness of a mattress.
Is Your Child a Hot Sleeper?
Sleeping hot is most commonly associated with memory foam and polyfoam beds, although hybrids and innersprings with thick foam layers may also feel warm. Temperature neutrality is important for all sleepers including children, particularly those who tend to sleep hot regardless of the mattress they use. If the mattress has thicker comfort layers, look for cooling materials like gel, copper, or graphite (like the T&N Mattress uses).
Do You Want a Low- or High-Profile Bed?
Thickness preferences will depend on the child, but smaller children typically prefer mattresses that are 12 inches or shorter in height. These models are usually easier for smaller bodies to get on and off of, compared to higher-profile beds. Most kids 10 or older won't have as much difficulty climbing into or out of higher-profile mattresses.
Is Your Child Sensitive to Smell?
Off-gassing odor is to be expected from most mattresses when they are new, but foam-based models (as well as some latex and hybrid designs) may produce smells for days or weeks afterward. This may be a problem for children who are sensitive to smell.
Does Your Child Share Their Bed or Bedroom With a Sibling?
Some mattresses are designed to absorb and minimize motion transfer, which occurs when someone shifts positions or gets in and out of bed. These models can be helpful for beds that accommodate more than one child.
Innersprings and hybrids may produce squeaking sounds due to their metal components, and airbeds feature electrical systems that may be somewhat loud. If a child is sensitive to noise, then a foam or latex model may be best.
How Old Is Your Child?
Most girls experience major growth spurts between the ages of 8 and 13 years, while most boys experience growth spurts between the ages of 10 and 15. If a child is nearing an age where significant growth is expected, then a longer mattress may be more suitable, such as a Twin XL or Full.
Alternatively, parents may opt for a cheaper mattress that fits their current size, and plan to replace it when the growth spurt begins to take effect — though this may not be suitable for parents on a budget.
What's Your Child's Preferred Sleep Position?
Children who sleep on their backs will be less restricted when it comes to choosing a mattress type and firmness. For children who sleep on their side, a relatively soft mattress will usually be best; firmer models do not sink deeply enough to help align their spine. For stomach sleepers, a soft to medium mattress may be best — although stomach sleeping is generally discouraged due to the excessive pressure this position puts on the body.
Does Your Child Like to Jump on the Bed?
Parents who are worried about their child bouncing on their mattress (and potentially hurting themselves) may want to choose a mattress made of foam and/or latex with no spring components and soft to medium firmness. These mattresses are not very responsive, and offer little to no bounce, which can reduce the risk of the child getting hurt.
How to Review Sleep Trial & Warranty Periods
Lastly, let's look at two other important aspects of buying a new mattress: the sleep trial and warranty coverage.
Sleep Trial
For parents who are unsure which mattress will work best for their children, a sleep trial can make a huge difference. Most mattress brands and retailers offer sleep trials that allow customers to test out the mattress for a certain length of time (anywhere from 90 to 365 nights), and then return it for a full or partial refund if they are dissatisfied.
All of the mattresses we've reviewed above have sleep trials lasting 100 nights or more, with the Nectar offering a full 365 nights.
Make sure you understand the terms of the sleep trial. Some brands will require you to test the mattress for a "break-in" period (usually 30 to 60 nights) before you can return it for a refund.
Mattress Warranty
Children can be hard on a mattress for a number of reasons, and some wear and tear is expected. The mattress warranty will not usually cover defects that stem from normal wear and tear, but they will cover certain defects, such as significant sagging or indentations in the sleep surface that affect support or manufacturing flaws in the mattress or mattress cover.
The warranty coverage periods are key. Some mattress warranties are entirely nonprorated, which means the company will repair or replace defective mattresses at no extra expense to the owner (except for shipping and handling fees in some instances). Other warranties are partially prorated, which means owners must pay a certain percentage of the original mattress price in order to have it repaired or replaced. This can add up to major expenses. As a general rule, parents should not select a mattress that offers less than two years of nonprorated coverage.
Pay particular attention to what the warranty says about the bed's foundation. You can void a mattress warranty if you don't use the proper foundation for the bed, whether that's a solid foundation, the floor, or a bed frame. If your child sleeps on a bunk bed or uses a less-common foundation, make sure it's covered under the warranty.
Pillows & Sleep Accessories for Kids
In addition to their mattress, parents should carefully choose other components of their child's sleeping area to ensure they get high-quality rest night after night. Let's look at some strategies for selecting pillows, mattress toppers, and bunk beds for kids.
Pillows for Kids
Pillows , like mattresses, are designed to support sleepers by providing an even surface — in this case, for the head, neck, and shoulders. The most important consideration when shopping for pillows is 'loft,' or thickness. Pillows that are too thin or too thick provide do not properly align the spine, which can lead to discomfort and pressure.
When determining the proper loft for your child's pillow, it's important to keep the following factors in mind:
Head size:Children with larger-than-average heads typically feel most comfortable on high-loft pillows that provide sufficient support, while those with smaller-than-average heads tend to feel comfortable on low-loft pillows.
Body weight:Children who weigh more require less loft, and will usually feel most comfortable on thinner pillows, while those who weigh less may require extra loft in order to feel supported and comfortable.
Shoulder width:As a general rule, children with broad shoulders usually prefer high-loft pillows and children with narrower shoulders usually prefer low-loft pillows.
Mattress firmness preference:Low-loft pillows tend to be better for those who prefer softer mattresses; this is because the pillow provides less of a barrier between the sleeper's body and the mattress surface. In contrast, high-loft pillows may be better for those who prefer a firmer mattress surface because the sleeper does not need to sink as deeply.
The table below breaks pillows down by three loft categories:
| | | | | | |
| --- | --- | --- | --- | --- | --- |
| Loft | Thickness | Optimal Head Size | Optimal Weight | Optimal Shoulder Width | Optimal Mattress Firmness |
| Low | Less than 3″ | Small | More than 200 lbs. | Narrow | Soft to Medium Soft |
| Medium | 3″ to 5″ | Average | 100 to 200 lbs. | Average | Medium |
| High | More than 5″ | Large | Less than 100 lbs. | Broad | Medium Firm to Firm |
Pillow compositionis another key factor. Some pillow materials are associated with high levels of support, including buckwheat, latex, and memory foam. Latex and buckwheat pillows are also considered more durable than other pillow types. However, these two pillow types tend to be somewhat expensive. In contrast, cheaper pillow types — such as down alternative and polyester models — do not provide the same levels of support, and tend to wear out much more quickly.
Mattress Toppers for Kids
The term 'mattress topper' refers to an individual cushioning layer that is placed on the top surface of a mattress to adjust the firmness and comfort levels, and also provide better support in some cases. Mattress toppers may rest freely on the mattress, or may feature elasticized corners that can be tucked over the mattress like a fitted sheet.
In most cases, the topper is designed to make the sleep surface less firm; however, some toppers can increase the firmness when used on exceptionally soft mattresses. Either way, a mattress topper can be used to help a child sleep better on their current mattress's firmness, if buying a new mattress is not financially feasible.
Toppers made of latex, memory foam, and wool are generally considered the best choice for kids. These models are fairly durable, less lumpy, and produce little to no noise. They are also among the most expensive topper options. More affordable toppers, such as those made from feathers and polyester fibers, are more affordable, but they also wear out more quickly, develop lumps and can be somewhat loud.
For more information about mattress toppers, please visit our Best Mattress Toppers guide .
Mattress Protectors for Kids
Moisture can seriously diminish the lifespan of a mattress, and introduce mold and bacteria into your child's bedroom environment if not taken care of. Although some mattresses come with a removable, machine-washable cover, most mattresses are spot-clean only. So, if your child is prone to bedwetting, you may want to invest in some additional protection for your mattress.
Fortunately, it's easy enough to protect your mattress investment and keep it clean with waterproof mattress protectors. Waterproof mattress protectors come in a few different styles. For children, fitted sheets, fitted pads, or six-sided protectors are all good options. These completely cover the top and sides of the bed and fit snugly, so the bed won't look noticeably different or cause your child to feel embarrassed.
For more information, take a look at our reviews of the Best Mattress Protectors for Bedwetting.
Bunk Beds
Bunk beds is a catch-all term for any stackable bed that accommodates two or more sleep surfaces. They are typically made from wood or metal, and come equipped with ladders or stairs that can be used to access the top bunk(s). Some models also feature storage drawers in the base. The most common sizes for bunk bed mattresses are Twin and Full.
Bunk beds do carry a risk of injury. Sturdy construction is essential, and most models feature bars or other types of barriers to prevent sleepers from rolling off the top bunk(s). Parents should carefully research the product history and manufacturer warnings for different bunk bed models.
Additionally, purchasers should measure the height of their children's bedroom before investing in a bunk bed; otherwise they may face space issues. In terms of price, metal bunk beds tend to be less expensive than wood models.
For more information, please check out our Best Bunk Beds guide.
What's The Best Mattress For Your Kid? – 2020 Review Guide
Transparency Disclosure– We may receive a referral fee (at no additional cost to the buyer) for products purchased through the links on our site or other applicable pages. To learn more, please read our full disclosure pagehere . We also encourage you to read about how we may research and/or test Products here .
Kids grow up fast. That's just a fact. It seems like the clothes bought for them get outgrown in a matter of days. But,we only want what's best for childrenso they can grow up healthy and strong, right?
Hence, we need to find a comfortable bed, suitable for their size, that won't sag and break after a few years.
Let's take a look what we need to account for when buying a quality mattress for your child.
There are many options available on the market which would apply to your kid's needs a lot more in comparison to others. With this in mind, we've decided to create this guide to help you decide what is right for your kid.
Additionally, we've also synthesized a few reviews of some of the best options available on the market, hoping to make it even easier for you to make the right call.
Type: Memory Foam
Trial Period: 100 Days

CLICK HERE FOR PRICE

Type: All Foam
Trial Period: 120 Days

CLICK HERE FOR PRICE

Type: All Foam
Trial Period: 100 Days

CLICK HERE FOR PRICE

Type: Latex
Trial Period: 120 Days

CLICK HERE FOR PRICE

Type: Hybrid
Trial Period: 365 Days

CLICK HERE FOR PRICE

Type: Gel Foam
Trial Period: 120 Days

Top 6 Youth (Kid) Mattress Reviews

Casper Element – Best Overall Value

Highlights:

CertiPUR-US® Certified
OEKO-TEX® Certified
100-Night Trial
10-Year Warranty
Designed and Assembled in the USA

The Element is a foam bed made by one of the most trusted online mattress retailers. A few hundred dollars cheaper than their original model and an inch thinner, it is an amazing option for kids.

What makes it so special?At a very affordable price no matter the size, The Essential is an exceptional value – especially if you plan on switching to a different size during teen or college years. It works with most bases and foundations, which is important as needs and styles change.

Because of the cover's gray color, many spills or messes can be hidden. It is one of the reasons we love it!

Moving around on the mattress is easy since it has a quick response and its memory foam layer is in between two other foam layers. With this type of construction, the brand provides pressure relief while ensuring that memory foam does not conform directly to the skin, and it should not uncomfortably overheat.

Learn more about the Essential in our full review here.

Brooklyn Bowery – Great Value

Highlights:

CertiPUR-US® Certified
120-Night Trial
10-Year Warranty
Made in the USA

The company behind Bowery is Brooklyn Bedding, which is well known for their high-quality handcrafted mattresses. This model has a medium-level of firmness that is comfortable for most individuals.

Energex™ foam with cooling gel provides contouring and pressure relief while helping to regulate body temperature.

Its CertiPUR-US® Certified foams are not made with harmful chemicals and pass rigorous testing. As kids grow and spend time on the mattress, you can feel better knowing the quality of products they are around each night.

What makes it stand out?Bowery is an excellent budget bed that has durability and cooling features, making it our Great Value product.

The reason Brooklyn Bedding can offer their products at lower price points is that they own their factory. Truly a direct-to-consumer business, they graciously pass along savings to their customers and do not skimp on quality materials.

The BKB – My Big Kid's Bed – Young Kids

Highlights:

CertiPUR-US® Certified
100-Night Comfort Guarantee
Lifetime Warranty
Made in the USA

Nest Bedding's BKB mattress is designed specifically for kids and every aspect has been tailored with their needs in mind. At 7 inches tall, it is thinner than typical adult mattresses, and fewer inches translate to additional savings.

The company is the first online brand to produce a bed-in-a-box model for children. It comes in Twin, Twin XL, and Full sizes and can be used on any base. It even works with bunk beds and trundle-style frames.

Why do we love it?Along with a fantastic price point, it is durable with a simple well-made design. The cover has a soft top, mesh sides, and a bold "My BKB" logo that can be fun for kids to see, especially when pulling it out of the box for the first time.

The company recommends it for kids up to 120 pounds, making it a great option for younger children.

Elements Aspen 10″ Latex – Durable

Highlights:

CertiPUR-US® Certified
OEKO-TEX® Certified
120-Night Trial
10-Year Warranty
Made in the USA

The Aspen latex mattress by Dreamfoam Bedding is comfortable from the first touch. It has a soft cover made out of bamboo and is quilted with foam. The materials wick away moisture for hot sleepers and provide additional pressure relief, which is helpful if your child is a combination or side sleeper.

If your child suffers from allergies, they may have an easier time sleeping with this product. The latex in the bed is naturally hypoallergenic and very breathable.

What makes it special?Dreamfoam uses durable Talalay latex in their design that should last for years to come, which is impressive given its lower price point. Parents and kids alike have given the product glowing reviews!

The firmness level is determined after ordering, when the Dreamfoam team will reach out to help determine the level that provides the most pleasant night's sleep.

Avocado – Eco-Friendly

Highlights:

OEKO-TEX Certified
GREENGUARD Gold Certified
365-Night Trial
25-Year Warranty
Environmental Charity Initiative
Made in the USA

If you are concerned about exposing your child to harmful chemicals or if you value eco-friendly products, Avocado has a solution. With a cover made from organic cotton and the inclusion of New Zealand wool, natural latex, and upcycled steel innersprings in the design, you can feel good about its green qualities.

The brand also sells an optional pillow top with two more inches of latex that provide additional comfort. The pillow top is geared towards side and back sleepers for a more luxurious experience with pressure point relief, while their standard model works best for stomach or back sleepers who prefer a firmer feel and more spinal support.

What makes it stand out?With certifications geared towards the use of natural materials, as well as the avoidance of harmful chemicals and emissions, you and your child can rest easy knowing the comfort and care that this brand puts into their products.

Arctic Dreams – Budget Choice

Highlights:

CertiPUR-US® Certified
OEKO-TEX® Certified
120-Night Trial
10-Year Warranty
Made in the USA

Made by Dreamfoam Bedding, Arctic Dreams has good cooling capabilities in its Energex™ gel foam comfort layer. It has bounce and responds quickly so kids can reposition or play without feeling stuck.

Why did it make the list?Quite simply, Arctic Dreams is an impressive budget pick with quality materials that costs under $200 for a Twin size of medium-level firmness. No matter the size, it costs significantly less than many of the mattresses we have reviewed.

Whatever sleeping position your child prefers, the mattress' Medium firmness should accommodate and support them comfortably. Whether a side, front, back, or combo sleeper, the bed has enough support and comfort to help their bodies recover and get a great rest so they are recharged and ready to play and learn the next day.

Head over to our full review to find out more about this model.

How To Choose A Youth Mattress

Age – Toddler or Kid?

As your young kid(s) start getting older, their bodies will grow accordingly. This has to be reflected when you purchase a mattress. Of course, it doesn't mean that you ought to buy a new one every year. You need to account for that growth, and if you make the right call, a goodbed could easily last for 8 to 12 years.

Thanks to contemporary solutions and high-quality materials, we have more freedom to choose what we like and what's good for our specific needs. Memory foam mattresses, for instance, conform according to the pressure our bodies apply to them. Latex and coils tend to have better cooling, etc.

High-quality sleep is undoubtedly one of the most important factors to consider for your kid's health (find our how much they need). Investing in a premium mattress made out of quality materials is something that should be weighed carefully. It should eliminate the need to change it every few years, and it's much better for health and posture.

Age – Growing Teenager(s)

Kids grow really fast, and if you are going to invest in a mattress, you'll want to be sure it's one that is versatile enough to adapt to your child's growing body. During the teenage years, especially your kid could grow to be the same size as many adults. Think about expected growth in both height and weight and how that may affect the suitability of a mattress over time.

Depending on the space, you may consider a Twin XL instead of a standard Twin size for your teen, especially if you and the rest of your family tend to be taller than average. This is also a popular size for many dorm room bed frames, so the investment in a Twin XL could potentially follow your kid to college and enable you to save on the expense of a new bed.

Which Bed Size?

The size of the bed and the mattress, respectively, would usually pose a significant difference in the price. The larger the mattress is, the more it's going to cost you. There are traditionally four kids bed sizes to choose from.

Single Size

The single bed is one of the most frequently purchased bed sizes for a child. There are a lot of great benefits for this size mattress: It'scheaper than all otherdimensions, fits in the smallest of rooms or sleep areas, and fits most young children without any issues.

The major downside with this is some kids, especially when they become teenagers, will not fit in the bed properly. However, this can be an exceptional buyfor younger kidsthat have outgrown their cribs and you can buy a new size as they grow out of it.

Twin-sized Bed

This is a common choice for a lot of people due to limited availability concerning bedroom space. The dimensions are usually around 38 x 75 inches. This is typically the least expensive option, and it's perfect for a kid upuntil the age of 12.

Twin-XL

The XL option adds five more inches in length, providing additional growing room for the children. It measures 38 x 80 inches. This isn't a lot more expensive compared to a twin-sized bed (and sometimes there is not a difference in price), but it could potentially be used for a while longer, depending on how fast your kid grows. Some people sleep on this type of bedfor most of their college yearswithout any issues.

Full-Size

Should you be able to afford the additional amount of money, this may be the best fit for your needs. It's 54 x 75 inches, leaving enough room for growth, and it's likely for your children to use it well into their 20s.

We've some key factors explained earlier in our main mattress guide for buyers.

Using Bunk Beds?

Bunk beds can be a fantastic solution if two or more of your kids are sharing a room with limited space as it gives both child room to spread out without sacrificing potential play areas on the floor. If you choose to go this route, know that there is more to the process than selecting a bunk frame and placing a standard single bed on it. There are mattresses specifically sized for bunk beds, and the size of your room and frame will help decide which works best (here are our top picks for bunk beds).

Check the dimensions required, and consider the weight of the mattress combined with the weight of your kid to make sure the frame is robust enough to remain safe and secure. You may consider the space between the top bunk and the ceiling as a thicker mattress may reduce available space to sit up.

Firm or Soft?

Getting the comfort right on the first try can be vital. Even adults can get cranky when they don't sleep well, so imagine what could happen with your kids.

One of the most important things to consider when it comes to the comfort is the firmness of the mattress. Should it be firm or should it be soft?

When looking for the optimal firmness, you ought to consider the weight of your kid. This is a parameter which is referred to as ILD or Indentation Load Deflection. It's complicated, so here are the general standards that you should consider:

Soft beds– these are appropriate for ILD of less than 25 lbs.
Firm– these are appropriate for ILD of more than 31 lbs.
Medium– consider these for ILD between 25 to 31 lbs.

Of all these, the golden middle ground tends to be the medium firmness as this can accommodate the vast majority of children throughout most of their junior years.

Go For a Supportive Bed

The support of the mattress relates to thecapability to correctly align the spine. It is quite important that your kid can grow up sleeping with the perfect support as this can help ensure normal health and growth.

The thing that you ought to consider is the proper spinal alignment. Of course, apart from the bed and its structure, you also have to take into account the pillow being used. You can instruct your kid to avoid using more than one pillow to prevent malformations. Additionally, sleeping on your side with your knees bent towards your chest can often reduce pressure.

Involve your kid in the buying processand let him or her tell you what feels best.

Off-Gassing

Off-gassing is the process which follows immediately after unpacking the new mattress. It carries a characteristic and robust smell which differs in its essence, depending on the type of material you've decided to go for. It's highly advisable that you allow airflow to do its thing for a few days to prevent any potential headaches, as this could potentially happen in the first few weeks.

While it's not viewed as harmful, it's easily something you could avoid. Just keep the windows open in the room and allow your kid to sleep with you for the next few days – it should pass quite quickly. Off-gassing is commonly found in memory foam beds, so be sure to research if this style is right for you and your child.

Also, you can go for GREENGUARD certified products that focus on lower emissions and safer materials. CertiPUR-US® is another certification.

Budget & Value

Many people place too much emphasis on the price tag of a mattress they are shopping for, wrongly believing that a lower price represents a better deal. This is not always the case, and when you're shopping for one for your child, you want to be sure the quality of materials does not compromise their health and is durable and flexible enough to grow with them.

A cheaper product may look like it is going to save you money, but that's not always the case. Beds that wear out quicker will need to be replaced sooner, especially as your child continues to grow. If you have to replace the product often, you will probably end up spending more money than if you had invested in a better value from the start.

When evaluating a brand's price tag, also look for things that can increase long-term value. The durability of better quality building materials, fabrics, and better stitching will help it hold up over time, which will often save you money. You may want to look at safety certifications as well, as developing lungs often need additional consideration around manufactured materials.

Interested in affordable brands? Click here.

Add a Mattress Topper?

A bed topper is a great way to adjust the solution to the needs of your growing kid. Keep in mind that every young child grows at the individual pace and it's quite reasonable for them to outgrow the mattress you've purchased. With this said, if your kid starts to gain weight faster than expected, this should to be reflected in the firmness of the mattress.

Instead of spending another small fortune on a brand new bed, you could easilyadd a topper to your currentone and adjust the firmness accordingly.This will save you time, effort and money. However, it isn't an alternative to a mattress with great support, so if you have a product that is sagging quite a bit, you may need to buy a new one.

Best Bed Type for Kids

Memory Foam

Memory foam is a material which is intended to respond to both body heat and applied pressure. Therefore, the more you lay on it, the more it's going to conform to the contours of your body. We refer to this as "hug," and it is most commonly associated with this particular product type.

Additionally, the material tends toisolate motionperfectly and should not disturb your kids' sleep if two of them sleep on the same mattress. If you want to go for this particular type, it's appropriate that you choose GREENGUARD Gold or CertiPUR-US certificated products. This can help ensure safety/emissions standards.

Read our top overall memory foam mattress picks in this buyer's guide.

Innerspring

Innerspring constructions are typically preferred by quite a lot of parents as they are durable (if they have a proper gauge) and most can truly take a beating. And, as we mentioned in the beginning, young children sometimes apply more wear and tear to their mattress than anyone in comparison.

There aretwo different typesof innerspring constructions:open coil and pocketed coil. The former is less expensive because they tend to be less durable as the coils are padded directly with the top layer of the mattress.Pocketed coilsare wrapped individually, which is why they are also a bit more expensive in comparison. They should also endure an entire load of your kids and the pressure applied by their jumping and playing, which can make them a better option for some.

Latex

The most impressive characteristic about latex mattresses (see our top picks) is theirenhanced durability. Furthermore, they shine with superior levels of support. They offer a lot of the features also brought by memory foam, and it's necessary to take a further look at the individual specifications of the beds and compare them thoroughly before making a final decision.

Bed in a Box

There are many bed-in-a-box brands out there right now that would work perfectly in your child's room, several of which are versatile and durable enough to accommodate a growing frame without needing to be replaced when they grow a foot taller every year.

One of the many advantages of boxed brands is that many are offered at unbeatable price points because they are able to reduce overhead so significantly by cutting out the middlemen. Those looking for a great value to suit a tighter budget might appreciate the streamlined, entry-level options that many brands offer that often work great for kids.

For the environmentally-minded, more companies are also working to achieve top-rated health and safety certifications such as CertiPUR-US® or GREENGUARD Gold that can help ease your mind about potentially hazardous chemicals. Several more organic mattresses that look for more natural building materials have also entered the space in recent years.

Air Mattress

This is an inflatable bed, typically promising a lot ofquality, convenience, and comfort. They can offer a proper night's sleep, but they arenot intended for prolonged and permanent usage. While delivering the excellent opportunity to turn any space into a bedroom, they shouldn't be used as the primary bed of your kid. However, they are easily portable, lightweight, and convenient, and you can bring them with you on family trips, sleepovers, and vacations.

Mattress Guide: How to Choose a Mattress for Your Kid

Most people rarely take their time when purchasing mattresses for the little ones. In most cases, they settle for convenience over comfort. Choosing the best mattress for your child is very important. Whether it is a pocket spring mattress or an open coil, you need to understand what it takes to find the best mattress. A peaceful night sleep for the little ones translates to a happy night for the entire family.

Consider the essentials

To obtain the perfect mattress for your kids, you must put important factors into consideration. From firmness, comfort to size, there is so much to consider. We'll dig deep into some of them.

Age

You cannot ignore the age of your child when buying a mattress for him or her. For the very young ones, you can use crib and toddler bed mattresses interchangeably. Some crib mattresses come with two sides; a firm one used in the crib and another soft side used when the toddler is moved to her own small bed.

If you are making purchase for the bigger kids, think of twin mattresses. Investing in such quality mattresses ensures peace of mind for a couple of years. If you spend considerably less amounts on mattress purchase, you can still buy toppers to ensure it lasts long enough.

Support

Everyone wants their child to have a comfortable, peaceful night sleep. For that to be so, you need a mattress that will provide a mattress that provides maximum support when the child is asleep. When purchasing a mattress for toddlers or smaller children below the age of ten, you should avoid products that are too soft. Instead, opt for innerspring mattresses which do not contain body heat while the kids are asleep.

Extra security measures

For the smaller children, it is advisable to purchase mattresses with waterproof pads. Such mattresses will stand the test of time in case of accidental wetting of the bed. Without such covers, the mattress might not last long enough.

Allergies

Kids who suffer from allergies should sleep on mattresses with special covers. You have the choice of buying customised mattresses with such provisions. Alternatively, you can purchase mattress covers made of natural, breathable materials like bamboo fibres.

Advisably, you should choose mattresses that comply with US safety and health regulations. Knowing that your child is sleeping on a quality product will grant you additional peace of mind.

Size

For the younger ones, there isn't much need buying thick mattresses. A product that is 3-6 inches is recommended. They will have an easier time operating on such mattresses. Adding thick mattresses to a bunk bed is a safety hazard. The combination might put your little one very close to the ceiling. Always remember to leave sufficient space between the mattress and the ceiling.

Personal preferences

Some parents prefer particular styles of beds. That's understandable. In such a case, you will have to choose a mattress that will perfectly fit in the bed you already have in mind. In the end, the choice of mattress for your little one might depend on whether you have a cabin bed or bunk beds.

Best Mattress for Kids Reviews

After considering some of the most important factors when choosing mattresses for kids, narrowing down to specific mattresses would be more appropriate.

Best Price Mattress

For the older kids who enjoy the comfort and softness of a memory foam, this mattress is a great option. The mattress is an assortment of various layers, brought together to guarantee optimum comfort. On top of the layer is a two-inch layer of memory foam. Just below it is two inches of cool foam. The base of the mattress is adorned with high-density foam layer.

Even more interesting, the mattress features pressure relief system technology. This eases pressure in the shoulder and hip, ensuring a wonderful sleep all night long. Best price mattress is made of natural materials free of toxic or foul odours. Since the smaller children spend most of their times sleeping, unlike the average adults, such mattresses are better for them. This mattress should not miss in your list of ten best mattresses to compare for your kid. Investing in this mattress ensures quality sleep for the older kids and younger ones alike.

Signature Sleep Contour

This serves as a wonderful coil mattress for kids. It works best for a toddler who is ready for transition to a kid bed. With this choice of mattress, you do not need a box spring. You can easily rest it on a slated base and the height will still be perfect.

The mattress is an assortment of fifteen encased coil springs. The combination ensures an even weight distribution. The thick layer of foam on top makes the mattress even more comfortable. For your little one who is rapidly growing, this is a great choice of mattress.

Sleep Master iCoil

For a bigger child who will soon be a teenager, a twin-sized mattress is an awesome choice. The presence of inner spring coils ensure the little ones have the required support. All these reasons explain why Sleep Master is a great choice for bigger kids. They will love the comfort while enjoying the durability and sense of elegance.

The presence of iCoil pocketed springs at the bottom of the mattress ensures great comforts. On top of the spring are three different layers of foams. Close to the foam is a microfiber fabric layer. All the contents are nicely wrapped in a nicely knitted jacquard. This mattress has been designed to last; the kind of mattress that will see your kids through to their teen years. If you need an awesome mattress for the bigger kids, this choice will not disappoint.

When choosing a mattress for your kid, it is important to prioritise comfort and durability. Many people simply buy mattresses out of convenience. Do not make the same mistake. Choose a product that will ensure the comfort, safety and happiness of your kid every time he retires to bed. One more tip; invest in a quality mattress protector every time you purchase a mattress.