How Much Does a Hospital Bed Cost – Prices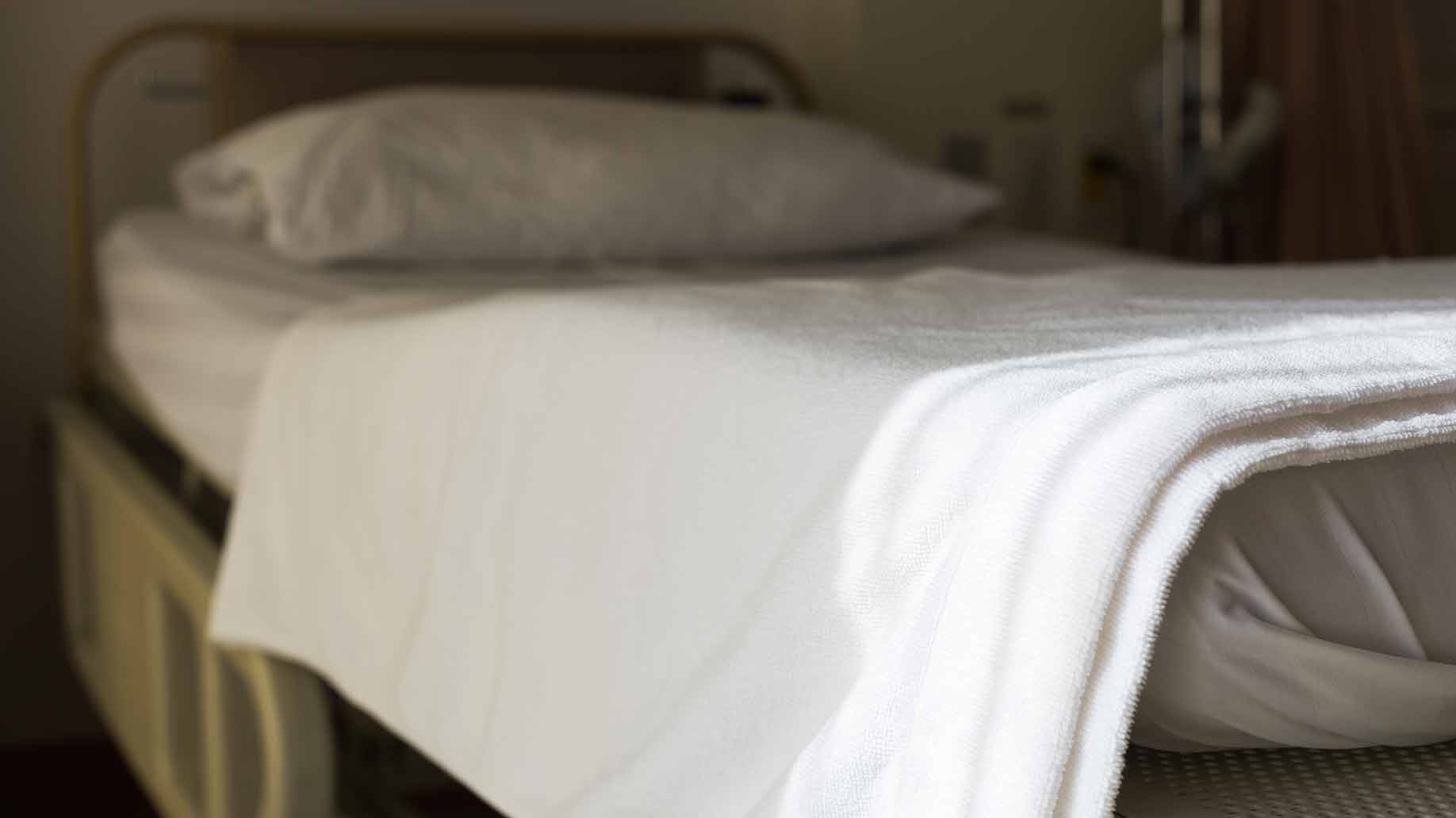 Ballpark Estimate: $200 to $500/month to rent; $500 to $2,000 to buy.
The familiarity of your home environment is often the most comfortable place to recuperate from a serious illness, injury, or surgery. But most homes are not equipped to meet all of the different health concerns of someone recovering from a medical problem. Therefore, if you or someone you care for is incapacitated, you may wonder how to turn a home into the best and safest medical setting.
Some medical supply companies sell or lease hospital beds that you can use at home to care for a loved one with a variety of health needs and requirements.
Why a Hospital Bed
Unlike "regular" beds, which are stationary, hospital beds can be adjusted for different purposes. For instance, the back or feet can be raised, or the bed can be separated into special sections to make it possible to use medical equipment, due to needed testing, or simply to increase the patient's comfort level. The height of the hospital bed can also be adjusted in most cases. The way these tasks are performed though, varies depending on the type of hospital bed you select.
Hospital Bed Types
There are three basic styles of hospital beds: manual, semi-electric, or full electric beds. The difference in these types is exactly how the features are operated. In a manual hospital bed, the foot and head portions are usually moved using a hand crank. The same is true of the bed height. Semi-electric hospital beds have a control panel that allow users to move the head and foot of the bed, but in order to change the hospital bed height, this much be done manually with a crank. Electric hospital beds have a panel that allows users to control all of these features automatically.
Other Hospital Bed Features
Many hospital beds also feature side rails, such as those that are used with small children, which can be important to keep the patient safe and to prevent falling. You can get automatic rails, which can be lowered or raised with the push of a button, or rails that you add yourself that need to be moved manually.
Other Details
You can expect a hospital bed to be on wheels, which makes it easy to change the bed's location as desired. Just be sure to lock the wheels when the hospital bed is stationary so there's no danger that the bed will inadvertently move when you aren't expecting it.
If you need to accommodate any special medical equipment, such as intravenous bags, oxygen, or monitoring equipment, many hospital beds also have attached poles that can make it easy to use these supplies and keep them out of the way. Among the many other extras you can select include a table tray that fits over the hospital bed and a trapeze that can be used to help the caregiver lift and lower the patient smoothly.
Insurance Matters
When you need a hospital bed at home for medical reasons, you can talk to your insurance company and find out if they will cover some, or all, of the bed's expense. Medicare will also cover a hospital bed when it's medically necessitated. To qualify for coverage, your doctor will be required to fill out some paperwork.
Your doctor should also be able to recommend a company that can provide you with a hospital bed to buy or rent. (If Medicare is the insurance provider, you can go to Medicare.gov to access a searchable directory of approved vendors.) You can also do a search online to find options that are available in your area, or stores that can deliver a hospital bed right to your door if you order over the Internet. A few of the numerous online medical supply companies include Specialty Medical, Health Care Supply Pros and The Homecare Warehouse.
Other Factors to Consider
When shopping for a hospital bed, you'll need to determine first if you plan to rent or buy this equipment. Many private insurance companies and Medicare will likely cover the rental (minus any co-pays and deductions), but if you purchase the hospital bed, you'll need to pay for it yourself.
In some cases if you rent the hospital bed with an option to buy, the rental price can be applied toward the cost of the hospital bed. (For instance, Medicare offers this option after they make 10 monthly payments. If you decide to purchase the hospital bed outright, Medicare will also cover some of the hospital bed's maintenance.)
Other Factors to Consider Include:
Do you prefer a semi-electric or full electric hospital bed, or will a manual model serve your purposes? Is incontinence an issue, making it essential that the hospital bed be easy to strip and clean? What type of mattress for the hospital bed do you want? The choices range from a basic foam design to a deluxe model with inner springs.
Keep in mind that for a bariatric (obese) patient, you'll need a hospital bed and mattress that are extra sturdy and will offer the utmost support.
Finally, what other accessories would be helpful with day-to-day needs and preferences? All of the answers should help guide you on what type of hospital bed you'll need.
What It Costs
What you can expect to spend on a hospital bed depends on exactly what features you select. A twin-size hospital bed will be on the lower price end, while a full-sized will usually be more expensive. A high-quality mattress, side rails, and other deluxe features will also add to the price. Whether you plan to buy the hospital bed outright or to rent for a while will also affect your final cost.
Here are some ballparks of what to expect with a basic hospital bed in each scenario.
Renting a Hospital Bed
Asemi-electric hospital bedcosts about$200 to $250a month to rent.
Afull electric hospital bedcosts around$250 to $500a month to rent.
Afull electric bariatric hospital bedcosts between$350 to $600a month to rent.
In addition, some companies may charge a bedset-up feefor a price of between$50 and $100on top of the monthly rental cost.
(Note that for rentals, most companies offer semi-electric or electric hospital beds, not manual options.)
Renting a hospital bed can cost from $100 to $350 a month.
Buying A Hospital Bed
A basicmanual hospital bedprice starts as low as$500to buy.
A decentsemi-electric hospital bedprice starts about$1,000to buy.
A good qualityfull electric hospital bedcosts about$2,000to buy.
A heavy-dutyfull electric bariatric hospital bedcan cost as much as$5,000to buy.
Buying a hospital bed can cost between $500 and $5,000, depending on what you select.
Extra Costs
Any special features that don't come standard with the hospital bed you choose, such as the mattress and bed rails, will be extra. You can figure these will cost about$100 eachto purchase an economical option and the price can go up to$400.
A hospital bed provides all the comfort and support that a sick person may need, while at the same time, providing conveniences for the caretakers.
How much does a hospital bed cost?
The price of a hospital bed can greatly vary from as little as$500 to more than $5,000.The costs will depend on the type, dimensions, weight bearing, accessories included and where you purchase it.
A manual hospital bed, which is the most basic bed available, will work by using the hand crack, located either near the foot or the head of the bed, depending on the model. Most manual hospital beds start at $500 and can cost as much as $1,500.
With a semi-electric bed, the head and foot of the bed can be adjusted electronically, but the height of the bed will still have to be adjusted manually. These types of beds can start at $1,000 and cost as much as $2,500.
Lastly, a fully electric bed can make all adjustments electronically. This type of bed starts at $2,000 and can increase to more than $5,000 when you add in various accessories.
| Type of Hospital Bed | Average Price |
| --- | --- |
| Bariatric Hospital Bed | $1,500 to $4,200 |
| Deluxe Hospital Beds | $2,000 to $7,000 |
| Fully Electric | $650 to $2,800 |
| Manual | $350 to $550 |
| Semi-Electric Bed | $460 to $800 |
According to Modern Healthcare, hospitals pay much more than a hospital bed designed for home usage. According to the newest data in the Technology Price Index, hospitals pay $15,627 per hospital bed, with ICU beds costing a reported $20,000 to $30,000 and bariatric beds retailing for as much as $40,000. The three major brands, Hill-Rom, Linet and Stryker, all fall within this range.
The highest rated hospital beds on Amazon.com range quite a bit, from as little as $80 for the Amazon's Choice to as much as $1,000+
Hospital beds overview
Hospital beds will either be semi-electric or fully electric, but most are going to be created from a heavy-duty frame and may include side bed rails. The typical weight capacity is up to 400 pounds, but for those who weigh more than this, then a bariatric bed is required. This type of bed is fully electric and will cost two to three times more than that of a standard bed.
The length of a standard bed, according to PayingforSeniorCare.com, is 38 inches wide and 84 inches long, with a 36 by 80-inch sleeping surface. However, extension kits are available for hospital beds, which extends the bed by an additional four inches, making it ideal for someone taller than six feet tall. Full-size hospital beds, which are also available, measure 54 inches wide and 80 inches long, whereas a queen size bed measure 60 inches wide by 80 inches long.
Hospital beds will be on wheels so that they can be easily moved from one place to another; however, these wheels can be locked when the bed is in the place.
All hospital beds will have side rails, usually two on each side, to prevent the patient from falling out of the bed. The top rail will cover from shoulder to hip while the bottom will cover hip to lower leg. These side rails can be lowered to make getting in and out of the bed a little easier.
What are the extra costs?
Many hospital beds require a certain type of bed sheet that isn't like the sheets you find on the average bedroom bed. This is due to the oblong size due to its longer-than-average length A good set of standard hospital bed sheets can cost close to $50.
Mattress pads, also designed specifically for hospital beds, add comfort and help prevent sores from body pressure. Depending on the type, a hospital bed designed mattress pad can cost $100 to $300
Trapeze bars, the bar designed to help individuals switch positions and assistance while getting into bed, can cost $10 to $40.
Manual and electronic rails are available for purchase, often ranging from $100 to $450.
IV poles, designed for those who need an IV while in bed, can cost another $50 to $75.
Other optional add-ons, such as bed trays, bedpans and call cords, need to be budgeted for.
How can I save money?
Medicare or private insurance may cover portions of the hospital bed if it is deemed medically necessary. Medicare Part B, for example, will cover hospital beds as durable medical equipment as long as your doctor prescribes it for your home. To qualify, you must show that you can't change positions in a normal bed and/or have to sleep in a bed higher than 30 degrees due to a medical condition, for example. Some states also offer non-Medicaid assistance in obtaining hospital beds for aging and low-income residents.
Medicaid, like Medicare,maycover a hospital bed, but it will vary across state lines. With each state having its own state plan, refer to your state's Medicaid documentation for more information.
Renting a hospital bed, whether manual or electric, may be a better option if you only need it for a limited time. On average, it can cost $250 to $500 a month to rent a home hospital bed, not including the setup fee. If you were to need help with setup, then the costs could add another $50 to $100.
Used hospital beds are another option and can save you a significant amount of money. Check out eBay, Craiglist or even a local medical supply company that specializes in refurbished equipment.
Some local non-profit charities may be able to loan hospital beds for certain conditions.
If you're on a limited budget, a manual bed will always be your least expensive choice; however, the benefits will be far less when compared to a fully electric version.
Advertising Disclosure: This content may include referral links. Please read our disclosure policy for more info.
Help Paying for Home Hospital Beds: Medicare's Benefits & Financial Assistance
Page Reviewed / Updated – August 20, 2019
Table of Contents
Medicare's Policy
Financial Assistance & Payment Options
Medicaid
State Funded, Non-Medicaid Programs
Veterans Options
Tax Deductions
Non-Profits & Charities
Home Hospital Bed Costs
Feature Impacting Price
Purchasing Used
Renting
Manufacturers
Medicare's Policy on Home Hospital Beds
Basic home hospital beds may be paid for, in part, by Medicare Part B. Anyone who has Medicare Part B, and has a medical need for a hospital bed in their home, is able to get partial coverage under Medicare's Durable Medical Equipment (DME) policy. DME is defined as medical equipment that can be reused, and a hospital bed falls under this policy. A Medicare enrolled doctor must deem the hospital bed necessary, and therefore, prescribe it for use in an individual's home.
Medicare will pick up 80% of the amount that is Medicare approved for the purchase of a hospital bed for home use. The individual must cover the remaining 20%. This can be paid out-of-pocket or with help from supplemental insurance, such as Medigap. One must also have met their Medicare Part B deductible, which as of 2019 is $185. Medicare will also help to cover the cost of some bed accessories, which may include trapeze bars, mattress covers that are intended to avoid bedsores, and bedside rails.
Rather than purchase a home hospital bed straight out, one can also rent a hospital bed and still receive financial assistance from Medicare. With current Medicare regulations, after 13 months of renting, the individual owns the bed.
It's important to note, Medicare will not cover the cost of full electric beds. However, one can pay the difference out-of-pocket between a manual-lift bed and a fully electric one. In addition, Medicare only covers a basic bed, meaning a shape very similar to a twin bed, but not identical.
In order for Medicare to pick up a portion of the bill, an individual must get the hospital bed from a Medicare approved supplier. If the hospital bed is purchased from a supplier that is not approved, Medicare won't cover any of the cost of the hospital bed. Participating suppliers have Medicare supplier numbers. To find participating suppliers, click here or call 1-800-633-4227.
Medicare Advantage Plans, such as a PPO or HMO, may also help to cover the cost of hospital beds. Since plans vary, one will need to call their provider and ask about their specific plan. It is very likely their policies will be the same as Medicare's policy.
Financial Assistance & Payment Options
Since Medicaid is a joint federal and state program, with each state running the program as they see fit within the guidelines set forth by the federal government, rules and regulations regarding durable medical equipment (DME) such as home hospital beds, is not consistent across the states. That being said, each state has a Medicaid State Plan and most states also have Home and Community Based Services (HCBS) Medicaid Waivers. Both State Plans and Waivers provide assistance to help the elderly avoid nursing home placement. Therefore, Medicaid very often will cover the cost of DME, which includes home hospital beds. As with Medicare, the bed must be deemed necessary by a physician. Learn more about Medicaid and their stance on DME here.
Some states offer non-Medicaid assistance in obtaining durable medical equipment and hospital beds for home use for aging or low income residents. However, it's important to note that these programs vary widely across the board. Click here to learn more about these programs and to see if one is available in your state.
The Department of Veterans Affairs (VA) offers medical benefits for veterans that also include covering DME, such as home hospital beds. However, once again, a doctor must deem the bed medically necessary.
TRICARE for Life (TFL), a supplemental medical insurance for retired veterans, helps to cover the costs for those enrolled in Medicare that are not covered by Medicare. This holds true for DME, as TFL will pick up the 20% copayment that Medicare requires when purchasing DME. CHAMPVA for Life (CFL) offers the same benefit, but is meant for spouses at least 65 years of age of vets who have been permanently disabled or killed in service. TRICARE, also for retired vets, also covers hospital beds (both rented and purchased), given they have been prescribed by a doctor.
There are additional avenues in which a veteran can get a home hospital bed should a family feel one is required, but is not able to obtain a prescription. The Veteran-Directed Home and Community Based Services Program (VD-HCBS) allows participants control over what care and services meet their needs. This program should give veterans the flexibility to purchase a hospital bed even if they are unable to have one officially prescribed.
Another option is the Aid & Attendance (A&A) Program, which is a pension program for veterans who require assistance with their activities of daily living. Their care requirements do not need to be related to their military service. Under A&A, monies can be allocated as the beneficiary see fits.
In addition, many states also have programs specifically for veterans. For instance, Project MEND is for residents of Texas and provides refurbished home hospital beds and mattresses to veterans and their spouses.
One may make a deduction from their federal income taxes in the event they purchase a needed home hospital bed, for themselves, their spouse or other dependent. It's important to note that deductions for durable medical equipment can only be made in the year that they were purchased. The following examples presume the tax filer has no other medical expenses for the year.
The tax filer can deduct the cost of the bed that is over 10% of their adjusted gross income. If a portion of the bed was covered by insurance, the tax filer would only be able to deduct the portion that was paid out-of-pocket.
Example: Carol's adjusted gross income is $20,000. 10% of $20,000 is $2,000. She purchased a hospital bed for $3,000 out-of-pocket. Therefore, she can deduct $1,000 from her federal taxes.
Example: John has an adjusted gross income in the amount of $15,000. Medicare picked up $2,400 of a $3,000 bed, leaving John $600 to pay (the 20% co-payment). 10% of $15,000 is $1,500. Therefore, since the portion of the hospital bed John has to pay is not over 10% of his adjusted gross income, he cannot deduct this amount from his federal taxes.
Depending on the area in which one resides, there may be non-profits and charitable organizations that give away or loan home hospital beds. For instance, the Muscular Dystrophy Association has an equipment loan program, which includes home hospital beds for those who have neuromuscular diseases, such as ALS. To learn more, click here.
For more information on non-profit organizations that provide DME, click here.
Home Hospital Bed Costs
The cost of a home hospital bed ranges from $500 to $10,000. The variance is largely due to features and size.
Electric vs. Manual
Manual Hospital Beds – Hospital beds that are manual are the most basic hospital beds and are adjusted via a hand crank. This crank is either attached to the head or the foot of the bed, depending on the model. This type of bed is the most affordable option, which generally starts at about $500.
Semi-Electric Hospital Beds – Semi-electric beds offer more convenience than do manual beds, making it much easier for one to move the position of the bed. With this type of bed, one is able to move the head and foot of the bed electronically, but still has to manually adjust the height of the bed via a crank. The price of a semi-electric bed generally starts at approximately $1,000.
Full-Electric Hospital Beds – Full-electric beds offer the ultimate in convenience since all movements / adjustments are made electronically. However, this type of hospital bed is the priciest, starting at around $2,000.
Bed Dimensions
The length of a standard hospital bed from the top of the bed to the bottom of the bed is 38" width by 84" length, with the sleep surface being 36" width by 80" long. However, there are extension kits to extend the length of some hospital beds by 4", which is ideal for persons that are taller than 6'. There are also full size hospital beds, which are 54" wide by 80" long, queen size beds that are 60" wide by 80" long, and king size beds that are 76" wide by 80" long. In addition, there are also bariatric beds that come in a larger width of 48". Of course, the larger one goes in size, the more the bed will cost.
Weight Bearing
Most home hospital beds can accommodate weight up to 450 pounds. For individuals who weigh more than this, a bariatric bed is required, which can hold up to 1,000 pounds. Bariatric beds are generally full-electric beds. In general, bariatric beds can cost as much as three times more than standard hospital beds. Bariatric beds also require specific sheets and mattress pads.
Bed Sheets
Home hospital beds require sheets that are specifically made for this type of bed. This is because a typical hospital bed is the size of a twin bed in width, but is longer in length. One should expect to pay approximately $50 for a set of sheets for a standard home hospital bed.
Mattress Pads
Home hospital beds also require mattress pads that are specifically made for home hospital beds. A variety of different types of mattresses are available for purchase, including air, gel, and foam. Also, some serve specific purposes, such as adding comfort and helping to prevent sores from body pressure. One can find basic mattress pads starting at approximately $100.
Trapeze Bars
These bars are used to assist individuals in switching positions, whether it be repositioning to get more comfortable or offering assistance in getting in and out of bed. Bars add $100 – $200 in cost.
Rails
Both manual and electronic rails are available for purchase. One should expect to pay an additional $75 – $400.
IV Poles
For those who require an IV pole, there are both IV poles that attach to hospital beds and freestanding IV poles. One should expect to pay approximately $50.
Others
Other add-ons for home hospital beds include bed trays, table trays, bedpans, call cords, and bed rail pads.
Used hospital beds are available and can save one a significant amount of money. In fact, one can purchase a used hospital bed starting at approximately $300. While one can purchase used hospital beds from websites such as Ebay and Craigslist from private owners, these hospital beds generally will not come with any sort of warranty. Many dealers sell refurbished beds, which typically come with a 3-month to 1-year warranty. Make note, used bariatric beds are more difficult to find than standard home hospital beds.
Renting a home hospital bed (manual, semi-electric, and full-electric) is a great option for those who will only need it for a limited period of time, as this is a much more cost efficient option for short-term use. On average, it costs one $200 – $500 / month to rent a home hospital bed. One can also find mattresses for rent. Some companies that rent home hospital beds may charge an initial fee for set-up. If this is the case, one should expect to pay an additional $50 to $100.
Manufacturers
To assist in one's search for home hospital beds, below is a list of reputable manufacturers.
How much does a hospital bed mattress cost
"A big thank you to all you guys at Progress Mobility. My scooter arrived in only 3 days and I absolutely love it. Your service from start to finish has been excellent and has made everything so easy for me."
"I wish I had bought the Victory scooter I purchased from you years ago. It is an amazing machine and has allowed me to get so much more freedom. I want to thank you all at Progress Mobility."
"Being able to find the scooter I wanted and at the right price was so easy with Progress Mobility. It arrived right on time and the service was excellent. A real pleasure to deal with. Thank you."
"I purchased two scooters. Look for us riding up and down the Cape Cod Canal. . We love them. We will certainly be recommending you at every opportunity. Thank you for your great service!"
Your Satisfaction is Our Main Concern
Largest Selection – Best Price Guarantee – On Time Shipping- Best Customer Service
What is the cost of a hospital bed?
By Lucie Hudson
Hospital beds come in all shapes and sizes and they range in prices too. Depending on what you want to include, hospital bed prices can vary massively.
Here are a few things that will affect the hospital bed prices, so you can understand the rough prices and how to budget for your ideal bed. (Please note that these beds are for use on hospital wards.)
How much do siderails and bed controls cost?
One of the first things you will consider with a hospital bed is the siderails. Siderails range in style and cost depending on what sort you want.
If you're wanting basic metal concertina bedrails, then these will sometimes be included as standard or will come at a small extra cost.
But for more advanced options like split siderails, the cost will be more. We've looked at the benefits of split siderails before, you can read about them here.
Split siderails have a lot of benefits, but they do tend to be more expensive than full-length bedsides.
The bed controls will also affect hospital bed prices. If you want to have a control panel built-in to the siderail, this will be more expensive.
Similarly, nurse controls will also push up the price.
Specialist narrow beds with length adjustment
Narrow hospital beds tend to cost more because they are a specialist size. Likewise, shorter hospital beds will also be more expensive.
Please bear in mind that if you are looking at hospital beds in specialist sizes, you will need to make sure your mattresses and the right size for the bed. Always double-check your mattress and bed sizes to save yourself time and hassle!
Integral length adjustment may also cost more on some hospital beds. The Volker range is available with length adjustability, but it doesn't come as standard.
Bariatric hospital beds will also be more expensive because they are bigger. Bariatric beds are also reinforced for plus-sized patients to make sure that the bed will provide long-lasting support around the hospital.
Hospital Bed Accessories
Any additional accessories you add on to the bed will also increase the price. That includes things like IV poles, brake alarms, and built-in weigh scales.
The option of a fifth wheel (in the centre of the bed) and a linen tray would also push the cost up. However, a central brake is usually included in a hospital bed as standard.
Hospital Bed Prices
So, here's the bit you've been waiting for. What kind of prices are you looking at?
For a basic, bog standard hospital bed with no additional features, you're looking at prices starting at £1500 for one bed.
For hospital beds that more equipped and a higher spec (like the Interlude range), then the price is around £2100 depending on what you include.
Hospital bed prices can start from anywhere around £1500. The Interlude Newcare V3 starts at £2100.
The absolute maximum you could pay for a hospital bed is much higher. For example, if you want a bariatric hospital bed with lateral tilt and all the bells and whistles, it could cost up to £12,000.
Do bear in mind though that lots of good hospital bed suppliers will offer discounted rates for bulk orders. Again, the exact specification of your hospital beds will affect the cost.
Summary
In a nutshell, hospital beds can cost anywhere between £1500 and £12,000 depending on what you want and the specifications. Specialist models will cost more, as will including lots of accessories.
The key is to get in touch with a good hospital bed supplier and get them to talk you through their prices and what you get for that cost.