King vs. Queen Bed Size Comparison – What's The Better Choice?
The King vs. Queen – that's a battle worth taking a closer look into. One of the first questions asked is this:How much bigger is a king than a queen?
While the answer to this question might seem obvious, there is still a shred of doubt — especially to know which one is right for you and your needs. Understanding the core differences between both would allow you to make an informed choice.
We have taken the liberty to ensure that you get the full information broken down in quick and easy to understand bits.
Hopefully, once you are done reading the following, you will be able to see the cleardifference between queen and king sized beds. This would ultimately allow you to make a decisive and informed call without wasting your entire day looking. So, let's have a look.
Read more about:
Comparison Chart
Length
80 inches
80 inches
Width
60 inches
76 inches
Room Size
10 x 12 feet
10 x 14 feet
Suitable For
For single sleeper or for couples that don't need a lot of sleeping space.
For couples who want maximum personal sleeping space.
Price
Quite affordable
Slightly more expensive
What is the Difference Between King and Queen?
Dimensions and Size
Starting off with the dimensions of both solutions, we have the king mattress size which is 76 x 80 inches in total. This is perfect for master bedrooms, and that's where you'd find it most commonly. It is ideal for couples as it provides more than enough space per person.
On the offside, this is a mattress which requires a large room. It doesn't make sense to put a king mattress in a small room just to make it feel crowded. Additionally, you'd have to account for further furniture.
Queen mattresses measure 60 x 80 inches. As you can see, the main difference is only within the width. However, 16 inches is definitely substantial. Queen models are appropriate for people who sleep alone yet prefer the more spacious solution or for couples who don't have the luxury of a large master room and they need something more compact and space-efficient. This is something worth accounting for.
Comfort
The comfort of both solutions would seriously depend on whether or not you'd be sleeping alone or with a partner. If you get the king and you sleep alone, this is undoubtedly an overkill. It's widely inappropriate and unnecessary. However, it is a great choice for a couple as it would provide you with the necessary space per person.
On the other hand, queen-sized options are more appropriate for a single sleeper, even though you should only consider it if you have the luxury of a larger bedroom. If you have the room, though, and you ought to choose between a queen or a king for a couple, our advice would stick with the latter as it's just more comfortable.
Price
The prices of both solutions could vary wildly based on a myriad of factors. However, it's important to note that the king-sized bed is usually going to be more expensive in comparison. And, when you come to think about it, it's only natural. This stems from the larger dimensions of the bed. The same goes for its accessories.
Purchasing a set for a king bed will cost you more than getting one for your queen-sized solution. Nevertheless, the difference is not as substantial, and this isn't a decisive factor that you should be worried about. Both options are rather popular which provides you with a large breathing room to search for cheaper accessories.
Accessories
Even though the queen is far more popular than the king-sized one, both are wildly distributed and as such, finding accessories for them is incredibly easy. Literally, every specialized store that you walk into will provide you with a range of options for your queen or king-sized mattress.
This is not something that you should be worried of. Additionally, as we mentioned above, there is no significant difference in the pricing as well, and you could find affordable solutions for both sizes.
Recommended Room Size
This is also something quite important that you would have to account for. While every married couple is likely to enjoy the additional 16 inches of width on the king, not each one of them would be able to allow the additional room space.
The general rule of thumb is that you need at least 2 feet on the three sides of the room. However, this is just in case you are not looking to furnish your bedroom. If you wish to include a wardrobe and other furniture as well, you would have to leave a lot more than just that. Therefore, if you have a bedroom which is smaller than 12 x 14 feet you ought to consider something different than the king mattress.
The perfect dimension for a queen, on the other hand, is about 10 x 12 feet in dimensions. This would allow enough room for maneuvering on the sides so that you don't feel crowded.
How to Decide if a King Size Bed Is Right for You
The notion of a "king size" bed has always baffled me. Why would two people on relatively good terms need all that space?
Maybe, says my king-size-loving friend Jackie, I am missing the point. It turns out there are some benefits to choosing a king vs. queen bed. A king bed is more than a place to park two heads. It's also useful as a tool for living.
"I feel a lot of kinship with Proust, who liked to spend a lot of time in bed," Jackie says. "It's where I go to watch mysteries on my iPad. I could watch downstairs, but then I think it would be so nice to go upstairs where it's quiet and I have lots of pillows and a down comforter—yeah, I'm going to do that."
She adds, "I hadn't realized how much I would like it. I can sleep diagonally. When there are two of us, we have enough room to move around—and I move!" There are other reasons why you might choose king beds over queen beds. A king size mattress provides space for children and pets, and it also allows you to keep enough space between you and a partner so that neither of you gets uncomfortably overheated while you sleep. (Speaking of which, here are ways to sleep cool.)
Jackie takes comfort from just being in the same room with her king-size bed. "If I'm doing laundry or packing, I'll use it to make piles and sort them. It's the widest surface besides the floor!"
How to decide if a king vs. queen bed is right for you
If you're wondering whether a king bed vs. queen size bed is right for you, here are some things to think about before you make the leap.
Take measure
How big is a king size bed? A standard king size bed is 76 inches wide by 80 inches long—16 inches wider than a queen mattress. (California king size beds add 12 inches in width and 4 inches in length over a queen size bed.) Though queen size mattresses still reign as America's top choice, sales of kings have been quietly climbing—in part, says Mary Helen Rogers, of the Better Sleep Council, because "people are a little bit bigger, so there's going to be a need for a bigger bed."
But only in part: Some 82% of those surveyed said that size directly impacts their perception of comfort. Bigger bed sizes aren't only about creating more space for sleep. A lot of people like all that comfy space because they use it to do everythingbutsleep, Rogers notes, from watching TV and playing video games to catching up on work. In other words, in some households a king-size bed is a second family room.
Make a floor plan
Before making the leap from a queen size mattress to a king size mattress, space planners advise, do some legwork. For one thing, you need to make sure the bed can get around corners, down halls, and up stairs. For easier maneuvering, adjustable bases, box springs, and mattresses in king size—the equivalent of two extra-long twins side by side— can be ordered "split." (Individual twin XL mattresses measure 38 inches wide by 80 inches long.)
Ideally, the bed will land if not in a castle then at least in a space that's 14 by 19 feet, says Sara Raak, a decorator and stylist based in Washington, D.C. "You can make it work in a smaller room, just know it will be a lot 'cozier,'" she says. The minimum dimensions for a bedroom that can accommodate a king bed (and still leave room to maneuver) are about 10 feet by 12 feet.
Next, map out the placement of the king size bed in the room. Jeffrey Phillip, an interior designer and organizer in New York, says people often make the mistake of assuming that the new king size bed can slide right into the old one's spot. He starts by asking, "Will the headboard still fit between windows? Can all the doors in the room still swing properly?" He even asks clients to make sure there's enough floor space for the dog to spread out—assuming the dog hasn't already made plans to join the crowd on the bed.
Whatever the room size, Raak advises, "take painter's tape and tape out where the bed would go, making sure you have three feet of walk-around room, plus space for your furniture."
A nightstand can share the required path around the king bed, but a dresser is another story. If the room is small, Phillip says, "you may need to move the dresser from the room or fit it in a walk-in closet."
Size up storage needs
Depending on the size of your space, a king size bed may mean less room for other furnishings. "The good news is that there are so many options for storage these days," Raak says. "A platform bed can incorporate storage. A bedside table can too."
Raak is also a fan of wall storage and suggests taking a look at Ikea's perennial favorite, the Billy bookcase, which comes in different sizes and options like doors, allowing two or more units to be configured to fit one's space and storage needs. Paint and trim, such as crown molding, can give the end result a custom built-in look.
Learn More About Saatva Mattresses
Our flagship luxury mattress is expertly engineered with coil-on-coil construction for durability, a layer of memory foam for enhanced back support, and a cushiony Euro pillow top for extra comfort.
Loom & Leaf Memory Foam
Premium memory foam, handcrafted in the U.S. with eco-friendly materials. Breathable organic cotton, cooling spinal gel, and layers of high-density support foam assure a cool, comfortable night's sleep.
Zenhaven Latex Mattress
100% Talalay latex responds to every curve for pressure-free support and responsive comfort. Talalay latex is supple, resilient, and durable, for the ultimate in elevated sleep. (It's naturally hypoallergenic too.)
For more advice on finding the perfect bed for you, here's how to choose the right mattress for your sleep style.
Which Is Bigger A King or Queen Size Bed Mattress?
The King size bed is bigger than the Queen size bed. The king measures 76 inches wide and 80 inches long and the queen measures 60 inches wide and 80 inches long. As you can see this gives king size mattress owners an extra 16 inches of additional sleeping space. It doesn't sound like a lot, but it usually means the difference between getting comfortable or not getting a good night of sleep.
Even though the king mattress is bigger the queen is the more popular mattress size and outsells the queen size as much as 3 to 1. One of the biggest reasons for this is that a king size mattress costs more. Secondly most bedrooms will not accommodate the larger king size mattress along with a bedroom full of furniture. Steel bed frames, sheets, and mattresses pads usually cost more in the king as well.
On the other hand even with all of the extra expense incurred buying a king size bed, these owners are usually the happiest with their purchase in the end. The main reason is because each person on the king size mattress has the equivalent of 2 twin extra long mattresses to sleep on. That is one bed for each person. Queen mattress owners are getting the equivalent of 28″ x 52″ crib mattress. That is the sleeping space for the typical infant or baby.
If you have questions about sizing be sure to contact a bedroom store.
Author: Douglas Belleville
Doug Belleville and his father Dave own and run STLBeds – a specialty sleep store located in Arnold, MO. The staff at STLBeds is highly educated about sleep, comfort and their special sleep products. STLBeds only carries high quality mattresses and bed-related products. You won't find the brand names here – click here to find out why!
UK Bed Sizes: The Bed And Mattress Size Guide
So you're buying a new bed or mattress, but you're not sure about what the different bed sizes are. "Is there a standard size?" "Do I have to buy my bed frame and mattress at the same time?" "How big are king size bed dimensions compared to a standard double?"
It's enough to stress anyone out, which is why we thought we'd put together this quick-reference guide to help you out. If we've missed anything out or you'd like to know more please do comment below or tweet us at @FullRangeFurni and we'll do our best to answer your questions.
In the UK, bed sizes are measured according to the size of the mattress they hold, which is a standard measurement. However, the actual dimensions of the bed frames can vary according to their shape and style, which is what can often cause confusion. A common mistake is to use the mattress size measurements for the required space, but you should always look at individual bed frame dimensions for exact measurements, as they will vary from frame to frame, and almost always be slightly larger than the mattress dimensions.
Most modern beds/mattresses sold in the UK (and Ireland) are constructed using imperial dimensions but are generally sold in their approximate metric equivalents:
| | | |
| --- | --- | --- |
| Bed/Mattress Size | Dimensions (Imperial) | Dimensions (Metric) |
| Small Single | 2'6" x 6'3" | 75 x 190 cm |
| Single | 3'0" x 6'3" | 90 x 190 cm |
| Small Double (Queen) | 4'0" x 6'3" | 120 x 190 cm |
| Double | 4'6" x 6'3" | 135 x 190 cm |
| King Size | 5'0" x 6'6" | 150 x 200 cm |
| Super King Size | 6'0" x 6'6" | 180 x 200 cm |
Standard Bed & Mattress Sizes (UK)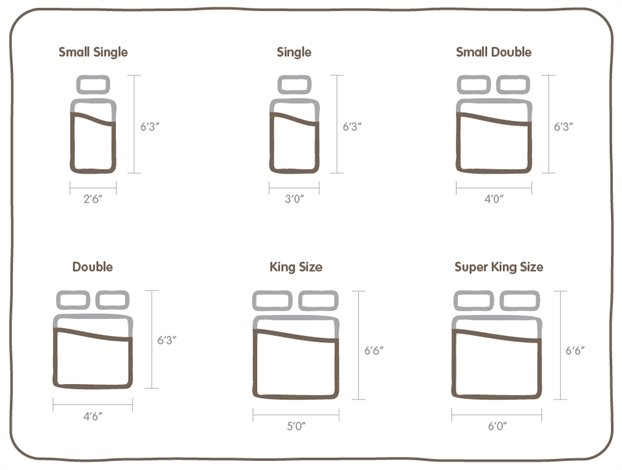 Small Single (2'6") Size
Ideal for younger children or the petite, 'small single' (2'6") bed frames and mattresses work well in smaller bedrooms where space is tight. They are also a good 'transition' bed for young children moving from a cot into their first 'grown-up' bed.
Single (3'0") Size
Suitable for both children and adults, 'single' (3'0") beds are wider than 'small singles' and provide a good amount of room for a single sleeper. This is the most common size for children's beds, including bunk beds.
Small Double (4'0") (Queen)
A 'small double' (4'0") bed (also known as a 'Queen' or a 'Three Quarter') is wider than a single bed but smaller in width than a double. It provides plenty of space for one or enough room for two (although two adults may find it a little 'cosy'). Great for smaller bedrooms and guestrooms where a standard double won't quite fit.
Standard Double (4'6") Size
A 'double' bed (4'6") is designed to sleep two adults comfortably. This is the most common and widely available size for all bed types in the UK.
King Size (5'0")
A standard 'King Size' (5'0") bed includes a longer length than the standard 'double' (6'6" instead of 6'3"). A king size bed will provide plenty of room for two adult sleepers, but should only be used in larger bedrooms with more space.
Super King Size (6'0")
These are the standard sizes of beds and mattresses in the UK, but be sure to always double check – just in case. Some retailers have their own bed and mattresses, which is REALLY annoying because it means you have to buy both the bed frame and the mattress from the same store, instead of being able to mix and match.
Queen vs. King Mattress – What's the Difference Between the Beds
How much bigger is a king than a queen?This is the question we will seek to answer in this post of King vs. Queen.
If you're considering buying a new bed, there are a lot of different size options to choose from, and so it can be very confusing. If you want something larger than a double, you have the choice between a King or Queen.
Not sure what the difference is exactly? Don't stress about it; most people don't really know either. In this post, we will go through thedifference between queen and king sized bedsso that you can determine which option is better for your needs.
Naturally, the primary difference between the king and queen bed is size. A King is usually around about 16 inches wider than your Queen bed, but there is more to consider than simply the size.
Features
King
Queen
Width
76 inches (193 cm)
60 inches (152 cm)
Length
80 inches (203 cm)
80 inches (203 cm)
Cost
More expensive and mattresses in this size also cost more as compared to queen.
Less expensive than king bed.
Usage
Usually found in master bedrooms.
Guest rooms and smaller master bedrooms.
Popularity
Accounts for 7% of all mattress purchases.
Accounts for 32% of all mattress purchases.
Frame
Required to have a center leg support besides the normal rectangular structure.
Required to have a center leg support besides the normal rectangular structure.
Advantage
King size bed allows for greater comfort and space.
Queen size bed is better suited for two people.
What is the Difference Between King and Queen?
Size & Dimensions
Both beds are about 80 inches in length, so the real difference is in the width. A king is what you are most likely to find in a luxury hotel or in a master suite. This is a monster-sized bed and needs a lot of space.
The whole surface area of the mattress is 6080 square inches, so there is a lot of space on it. It also, therefore, takes up a lot of space, so it is not likely to be a good fit if you have a smaller bedroom.
It is a good size for a couple, allowing both people to have ample room to sleep on.
The Queen has a surface area of 4800 square inches, so it is quite a bit more compact. It will work well for a single person who likes space to stretch out more, and it can work for couples that find that a double is just not big enough.
For roominess, you cannot beat the King, but it does require a lot more space.
Needless to say, when it comes to those extra 16 inches, you are going to pay more – the King is not the cheapest option out there. You also need to factor in that costs in terms of bedding and linen will also increase.
The Queen is more reasonable in price and accessories will cost you less upfront as well.
But, considering that this purchase is going to last you for around ten years, and you will use it every day, it is worth considering paying the extra.
Which is Better for Me? King vs Queen
Before making your final decision, here are some other things that you might want to consider.
Size of the Room
Do yourself a favor and measure the room. Make a scale map of it and the furniture that you want to place in it. Alternatively, pace out the size of both beds in the room itself.
Will it actually fit in the room? How much space will there be around it? Will you be able to access all areas of the room and all other furniture? The generally accepted rule is that you should have at least two feet of clear space on three sides of the bed.
This will give you plenty of space to move around in your room, and also space to make the bed easily. While the extra step of measuring the room or pacing out the space that the bed will occupy takes a bit more time, it is essential to ensure that you get an option that fits properly.
Your Size and Age
If you and/ or your partner are a little overweight, the bigger option will prove more comfortable for you. If you are buying a new bed for your teen, the smaller bed should be more than adequate.
Sleeping Preferences
Do you like to sleep all stretched out? Then the more space, the better. Do you and your partner like sleeping all cuddled up? Then the smaller option could be just as good.
If one of the partners is more restless during sleep than the other, a larger surface area could help to create enough space between the two of you for both to be comfortable.
Do You Have Small Kids or Pets?
Do you have small kids that like to cuddle with you and your partner at night? Then think about getting the larger mattress.
If your kids are older, this is less important.
What about your pets? Do they sleep on the bed with you? It is quite amazing how much space even a small cat can occupy so factor this into your calculations as well.
Are You Going to be Moving House?
This seems like a rather arbitrary question, but it can make a difference in your decision. The larger option will end up being more unwieldy when it comes to moving. It might also become problematic if you are considering downsizing your space.
Bed Accessories
Unless you are getting a non-standard option, like the Cali-King, you should easily be able to find bedding for either option. The larger sizes will cost more, and it should also be considered that they are bulkier when it comes to washing them.
It is also worth keeping the larger size in mind if you plan on ironing your linen. An extra 16 inches means a fair amount of extra fabric and so too a good deal more material to iron.
Get a Queen is If
You sleep alone, or you and our partner like snuggling up. Don't get me wrong, it is better than a Double, but you cannot stretch out as much. It is also the better option if you have a more limited budget and if you have less space.
Get a King is If
You and your partner like their space, or if you have kids that might want to climb into the bed with you. You have a larger budget and loads of space. It is also better if you and your partner are larger in size.
Final Thoughts
Which option to choose can be a hotly debated issue and one that eventually boils down to preference. If all other things are equal, what would you prefer? I recommend considering your options carefully here, so your bed is not too big, not too small but just right.
For couples, the bigger size does make sense, especially if you have a young family. The smaller size is more appealing in terms of budget and space-saving, though, so this should also be taken into consideration.
My best advice is to think not only about your immediate needs but also about what your needs will be over the next ten years or so.