Full vs. Queen Bed – Size Difference Comparison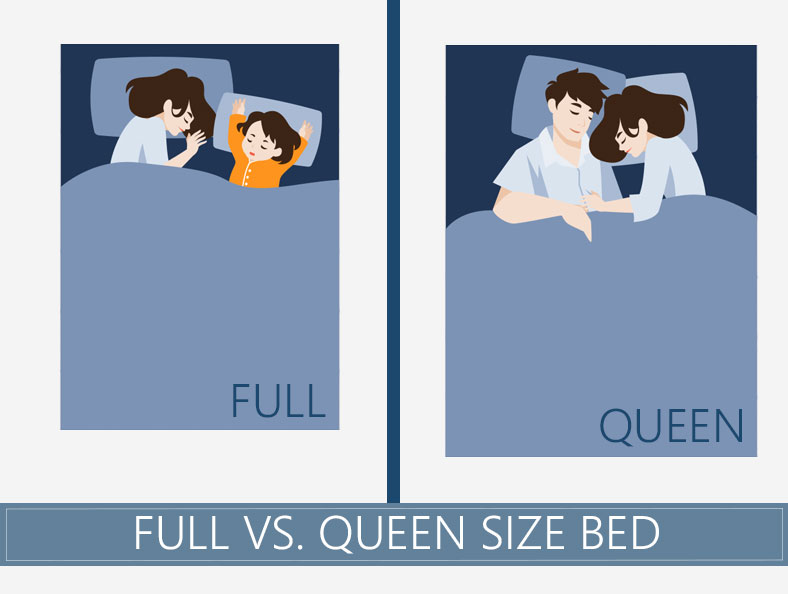 Full-sized beds, also commonly referred to as "double beds" are generally bigger than a small twin bed and a bit tinier than the overly popular queen-sized mattress. The difference is in the overall surface area, length, and width and it is capable of making a significant change.
However, a lot of people are unaware of the actual dimensions, and they are definitely not to blame. The truth is that there are quite a lot of different names which popped out of the blue which makes it harder to understand all the difference. Kings, queens, and twins – all of them seem to be involved in the market, making it overly complicated for the regular end user.
With this in mind, we've taken the liberty to break down the differencesbetween a Full and Queen size bed. Our goal is to make sure that you have all the necessary details so you can decide which one is right for you.
Join Better Sleep Community
Have you joined our Facebook group?
Come ask questions in our awesome community that stretches around the globe. Build connections and make friends with folks just like you trying to sleep better.
Comparison Chart
Full Bed
Queen Bed
Width
54 inches
60 inches
Length
75 inches
80 inches
Popularity
21% of all the purchases
32% of all the purchases
Pros
The size is perfect for a single sleeper
It is usually suited for someone taller or for a couple
Cons
The full bed won't fit a couple good as it is too narrow
Even though the bed is designated for couples, it could still feel too narrow
Difference Between Queen and Full Bed Explained
Dimensions
Starting off with the dimensions, as you can see from the comparison chart, the full-sized bed measures 54 x 75 inches while the queen-sized one measures 60 x 80 inches. The difference is quite significant, yet not enough for the queen bed to freely accommodate a couple comfortably. This is why both choices are usually preferred by people who prefer to sleep alone.
One of the best parts about owning a full-size is that it would provide you with a substantial amount of sleeping space without taking a whole lot from your room. Even though it's not as compact as a regular twin, it could fit within the majority of bedrooms comfortably. You will have the necessary amount of space to conveniently maneuver in your room.
Price
Regardless of the brand or built you go for, a full-size is always going to be the cheaper solution in absolutely every aspect. This is since they are both quite popular and are amongst the most regular choice of the majority of people. With this said, even the spare parts for the full-sized bed are going to be cheaper.
The reason for this is quite logical and straightforward – they are comparatively smaller which makes the main difference. This is something that you ought to account for. Queen sized beds also require larger pieces of sheeting, duvets, and comforters which is even going to jack up the price a bit so keep this in mind.
Comfort
You're likely to be looking at an overkill if you prefer the queen-size for a single sleeper. However, if you have the room to afford it, this is never a bad thing. This is especially true if you find yourself moving a lot during the night – the extra space could prevent you from waking up in the middle of the night as you've run out of room for your feet. While it's not the ideal pick for a couple, 30 inches per person is quite substantial and it's certainly better than the full-sized option.
This is the ultimate solution if you don't have excessive space in your bedroom and you intend to sleep alone. It is going to leave an inconsiderable 27 inches per person if you decide to share it which could be quite tight. However, if you are a single sleeper, the mattress is the most optimal space-saving option, which is quite awesome. Keep in mind, though, that it is also 5-inches shorter than its queen-sized counterpart.
Accessories
Accessories for full-sized beds are incredibly common, and you would be able to find different sets at prices which are fairly affordable. You would also be able to get a nice and appropriate duvet set at one of the most commonly visited big box stores or even online for as much as $20 or even less than that. You will also be given a room for one additional pillow, which is always something beneficial.
Finding accessories for your queen-size is also going to be a breeze as this is one of the most commonly purchased sizes. The sets are pretty much equally prized as the ones for the full-sized beds, even though a slight increase because of the larger dimensions is quite possible. There is nothing overly expensive to be worried about, though.
Recommended Room Size
If you want to purchase a full-sized bed, the recommended room size should be about 10 x 12 feet. If you don't have that, you should consider going down to a twin-size in order to allow yourself the additional breathing room around the mattress.
Once again,anything above 10 x 10 feetis likely to work fine, even though you'd have slightly less space around it for maneuvering. On the other hand, if thee room is smaller than 9,5 x 10 feet, you should consider going down a size to make sure that there is no discomfort.
King vs. Queen Bed Size Comparison – What's The Better Choice?
The King vs. Queen – that's a battle worth taking a closer look into. One of the first questions asked is this:How much bigger is a king than a queen?
While the answer to this question might seem obvious, there is still a shred of doubt — especially to know which one is right for you and your needs. Understanding the core differences between both would allow you to make an informed choice.
We have taken the liberty to ensure that you get the full information broken down in quick and easy to understand bits.
Hopefully, once you are done reading the following, you will be able to see the cleardifference between queen and king sized beds. This would ultimately allow you to make a decisive and informed call without wasting your entire day looking. So, let's have a look.
Read more about:
Comparison Chart
Length
80 inches
80 inches
Width
60 inches
76 inches
Room Size
10 x 12 feet
10 x 14 feet
Suitable For
For single sleeper or for couples that don't need a lot of sleeping space.
For couples who want maximum personal sleeping space.
Price
Quite affordable
Slightly more expensive
What is the Difference Between King and Queen?
Dimensions and Size
Starting off with the dimensions of both solutions, we have the king mattress size which is 76 x 80 inches in total. This is perfect for master bedrooms, and that's where you'd find it most commonly. It is ideal for couples as it provides more than enough space per person.
On the offside, this is a mattress which requires a large room. It doesn't make sense to put a king mattress in a small room just to make it feel crowded. Additionally, you'd have to account for further furniture.
Queen mattresses measure 60 x 80 inches. As you can see, the main difference is only within the width. However, 16 inches is definitely substantial. Queen models are appropriate for people who sleep alone yet prefer the more spacious solution or for couples who don't have the luxury of a large master room and they need something more compact and space-efficient. This is something worth accounting for.
Comfort
The comfort of both solutions would seriously depend on whether or not you'd be sleeping alone or with a partner. If you get the king and you sleep alone, this is undoubtedly an overkill. It's widely inappropriate and unnecessary. However, it is a great choice for a couple as it would provide you with the necessary space per person.
On the other hand, queen-sized options are more appropriate for a single sleeper, even though you should only consider it if you have the luxury of a larger bedroom. If you have the room, though, and you ought to choose between a queen or a king for a couple, our advice would stick with the latter as it's just more comfortable.
Price
The prices of both solutions could vary wildly based on a myriad of factors. However, it's important to note that the king-sized bed is usually going to be more expensive in comparison. And, when you come to think about it, it's only natural. This stems from the larger dimensions of the bed. The same goes for its accessories.
Purchasing a set for a king bed will cost you more than getting one for your queen-sized solution. Nevertheless, the difference is not as substantial, and this isn't a decisive factor that you should be worried about. Both options are rather popular which provides you with a large breathing room to search for cheaper accessories.
Accessories
Even though the queen is far more popular than the king-sized one, both are wildly distributed and as such, finding accessories for them is incredibly easy. Literally, every specialized store that you walk into will provide you with a range of options for your queen or king-sized mattress.
This is not something that you should be worried of. Additionally, as we mentioned above, there is no significant difference in the pricing as well, and you could find affordable solutions for both sizes.
Recommended Room Size
This is also something quite important that you would have to account for. While every married couple is likely to enjoy the additional 16 inches of width on the king, not each one of them would be able to allow the additional room space.
The general rule of thumb is that you need at least 2 feet on the three sides of the room. However, this is just in case you are not looking to furnish your bedroom. If you wish to include a wardrobe and other furniture as well, you would have to leave a lot more than just that. Therefore, if you have a bedroom which is smaller than 12 x 14 feet you ought to consider something different than the king mattress.
The perfect dimension for a queen, on the other hand, is about 10 x 12 feet in dimensions. This would allow enough room for maneuvering on the sides so that you don't feel crowded.
Difference Between Queen Size and Double Size
December 31, 2010 Posted by koshal
Queen Size vs Double Size

The difference between queen size and double size, as the names imply, are in the sizes. Single, Double, Queen, King, Super King and California King are all used to denote different sizes of comforters/beds, and mattresses. The bed is one of the most important furniture in households, which is linked to relaxation. As such, people often show great concern on its design. The size of the bed is the key factor in the design. The beds are available in various sizes in the market, but before choosing one, you must have the awareness of the space availability at home. Let us see more about queen size and double size and the difference between them in this article.
What is Double Size Bed?
The double bed, also known as the full bed, is larger than a single bed, which is only 39 x 75 inches. The dimensions of a double bed are 75 × 54 inches. That is 191 x 137 in centimeters. This implies that an individual gets just 27 inches space for himself, which is even less than a single bed, where a person gets 39 inches of space for himself. To make matters worse, the length of 75 inches is too small for comfort for some full grown adults, who are more than 6 feet in height. However, the double bed is comfortable enough for two young adults. It is suited for people with a height of 5 feet and 6 inches.
However, the double bed is suitable for smaller rooms in the household. They fit nicely into smaller rooms and look odd in larger rooms. It should be noted that, since it is smaller in size, the center leg is absent in a double bed.
What is Queen Size Bed?
Since double bed does not let the two grown adults to have a comfortable sleeping experience, queen bed was found. Queen bed is much larger than the double size bed or the double bed. The queen bed is longer and wider than the double bed. The queen bed has been standardized at 80 x 60 inches. This means it is 203 x 152 centimeters. Of course, these standards vary slightly from region to region and the unit of measurement also varies. Also, it is interesting to note that in U.K. and Ireland, Queen size is known as King. They have King and Super King size beds.
Because of its large size, the queen bed is equipped with a center leg. When it comes to the appearance and placing, queen beds fit nicely in the larger rooms of the household especially guest rooms and master bedrooms. It is for sure that two adults can lie comfortably in a queen bed.
Region

Double/Full

(Width x Length)

Queen

(Width x Length)

U.S. & Canada
54″ x 75″
60″ x 80"
U.K. & Ireland
54″ x 75
60″ x 78 (KING)
Mainland Europe & Latin America
55″ x 79″
63″ x 79″
Australia
54″ x 75
60″ x 80
Queen beds are indeed more expensive than double beds. The reason for the greater price of queen beds is the fact that they are endowed with the additional feature of comfort. However, the primary reason why queen beds are in great demand is that couples prefer queen beds to double beds.
What is the difference between Queen Size and Double Size Bed?
Dimensions of Queen Size and Double Size Bed:
Double Size:Double size bed has the dimensions of 75 × 54 inches. That is 191 x 137 in centimeters.
Queen Size:Queen size bed has the dimensions of 80 x 60 inches. That is 203 x 152 centimeters.
Center Leg:
Double Size:Center leg is absent in double size.
Queen Size:Center leg is present in queen size.
Comfort:
Double Size:In a double size bed, when two people shares, an individual gets just 27 inches space.
Queen Size:In a queen size bed, two people can sleep comfortably as each individual will get a space of 40 inches.
Double Size:Double size is used for two young adults to sleep.
Queen Size:Queen size is used for two grown adults to sleep.
How Much Bigger is a Queen Bed Mattress than a Full?
Are you confused about buying a new bed mattress? The simple way to find a solution for your confusion is to choose any one mattress from the full-size mattress or queen size mattress. But before that, you need to know the measurements and use of these two types of mattress.
Most of the people are think that the size of the mattress does not take a role in the comfortableness provided by the bed mattress, which is totally wrong. While choosing a bed mattress the size of the mattress gets high priority.
On the other words, the size of the bed mattress only changes the name of it. For example, the queen mattresses have measures as 60 inches wide and 80 inches long and the full-size bed mattress has the measure as 54 inches wide and 75 inches long.
The difference of these bed mattresses is only 5 inches in length which should but be easily shrugged off. The most average height of the sleepers is the difference between the user's feet hanging off the bed.
Other than those 6 extra inches is added with the queen size bed mattress and it must fit for any adult couple who sleeps together.
It is suggested to buy a queen size bed mattress than the full-size mattress to get more comfortable sleeping experience. If you are choosing the average size of the bed mattress, normally it gets a measure as 28 inches * 52 inches.
While choosing the full-size mattress you should notice that the height of the bed is little bit extra than the baby bed, but the queen mattress size is larger than the full-size mattress. The biggest problems with the full-size mattress are it can be limited with the selection in sheets, comforters, and other linens.
The queen size beds are considered as the most popular mattress size in the point of adults' growth. So that most of the people will find the best selection of bedding for the mattress due to the mfg will market to the masses.
The headboards are the other common thing which is sold with both queen size mattress and full-size mattress that taking up less cargo space in shipping the containers. The combination of headboards will attach to the both size mattress.
Most of the people look great however if you are limited on the space to the headboards which is 60 inches wide and making it tough to fit into the bedrooms which can only accommodate a 54-inch wide full bed mattress.
The full-size bed mattress with the headboards and footboards are rare to use in the present days. The queen size mattress are normally utilize the full size of the conversion steel rails which permitting the use if a full-sized mattress with a sets for people who do not want to buy a new mattress.
There are several reasons to buy a full-size mattress which are listed as,
The full-size mattress are used as great space savers,
They are best to use for the teenagers,
The cost of the full-size matters are little bit higher than the queen size mattress,
The bedding cost of the mattress is less than the full-size
Conclusion:
As a conclusion of this article, the size of the queen bed mattress is comparatively high than the full-size bed mattress, but the cost of the full-size bed mattress is less than the queen size bed mattress.
King vs. Queen Size Bed
Standardking size beds, a.k.a., Eastern king beds, andqueen size bedsdiffer in width but not in length. A king size bed offers ample room for stretching out, while a queen size bed is better for smaller bedrooms. The upfront and long-term costs of owning a king size bed will be higher than those of a queen size bed.
Comparison chart
| | King Size | Queen Bed |
| --- | --- | --- |
| Width | 76 inches (193 cm) | 60 inches (152 cm) |
| Length | 80 inches (203 cm) | 80 inches (203 cm) |
| Width per person | 38 inches (96.5 cm) per person | 30 inches (76 cm) per person |
| Cost | Since a king size bed is larger, it is more expensive and mattresses in this size may also cost more compared to queen beds. | More expensive than twin or full beds, but less expensive than king beds. |
| Usage | King size beds are usually found in master bedrooms. | Queen beds are generally put in guest rooms and smaller master bedrooms. |
| Frame | The frame is required to have a centre leg support besides the normal rectangular structure. | The frame for a queen bed is required to have a center leg support besides the normal rectangular structure. |
| Popularity | 7% of all mattress purchases | 32% of all mattress purchases |
| Advantage | The size of a king size bed allows for greater comfort and space, especially for people who are bigger in size. | It is better suited for two people or for somebody who is tall. |
Contents: King vs Queen Size Bed
Standard Dimensions
A king size bed is wider than a queen bed. While a queen size bed is 60 inches (152 cm) wide, a king size bed is 76 inches (193 cm) wide. Both bed sizes are 80 inches (203 cm) long.
Non-Standard Dimensions
In some cases, mattresses or bed frames come in slightly nonstandard dimensions that can easily become troublesome. It is important to remember to measure beds and/or refer to manufacturers' details for all mattresses, bed frames, and box-springs to ensure products are not mismatched. Nonstandard sizes, particularly very thick mattresses, also sometimes require different bed sheets.
The most common nonstandard queen mattress sizes are as follows:
Olympic queen (a.k.a., expanded queen)mattresses measure 66" x 80" (167.6 cm x 203 cm), making them a full six inches wider than the standard.
California queensare specifically waterbed mattresses that are four inches (10 cm) longer than a standard queen size mattress. These are mostly obsolete now but can still be found occasionally.
Split queenmattresses are standard queen mattresses that are literally split down the middle, allowing them to be adjusted and moved for various needs. Each half measures 30" by 80" (76 cm x 203 cm).
Common nonstandard king mattress dimensions include the following:
California king(a.k.a., Western king) mattresses are the most common "nonstandard" king bed. They are so common that they are not even really nonstandard, simply a different kind of king size bed. At 72" x 84" (183 cm x 213 cm), they are narrower and longer than the standard king size.
Split kingmattresses are like split queen mattresses and are divided down their middle. They are often two inches (5 cm) wider than the standard width, however. Each half measures 39" x 80" (99 cm x 203 cm).
IKEA Dimensions
In the U.S., IKEA's queen and king mattresses are not made to standard size. The company's mattresses are often a half-inch to inch (1.27 cm to 2.5 cm)shorterthan standard mattress lengths. This means that standard bed sheets will fit an IKEA mattress, but buyers will often be forced to use IKEA bed frames if they want to avoid having a gap between their IKEA mattress and a non-IKEA bed frame's headboard or footboard. Likewise, IKEA bed frames will not be able to properly contain non-IKEA mattresses.
Pros and Cons
Queen size mattresses are considerably narrower in width than king size mattresses. A king size mattress allows two average-sized people to sleep next to each other with nearly as much room as if two twin XL size mattresses have been placed together — 38 inches (96.5 cm) per person. This allows for comfortable stretching out. A queen size mattress puts couplesmuchcloser together — 30 inches (76 cm) per person — which can negatively affect sleep.[1]
Though king size beds might be more comfortable for some and allow couples to spread out more, they are very heavy to move and require a large bedroom. This quickly makes them impractical for apartments and smaller homes, both of which tend to have small rooms. A good way to know whether a king size bed will fit in a bedroom is to make sure there will still be two feet (61 cm) outside of the king bed. This will allow for enough walkable room. However, if other furniture is to be placed in the same room (e.g., nightstands, dressers, etc.), extra space is needed.
Unsurprisingly, king size beds cost more than queen size beds. Other than this obvious cost difference, though, there is no real average price for either size bed. Prices tend to vary depending on manufacturers, distributors, mattress material (e.g., spring, memory foam, latex, etc.), and padding (e.g., Eurotop or pillowtop). The personal finance blog, Get Rich Slowly, has a guide to smart and affordable mattress buying.
It may be difficult to figure out whether a king size bed is worth its higher upfront cost. Factoring in related and future costs may paint a clearer picture. For example, the bed frame, box-spring, and linens for a king size mattress will all cost more than they would for a queen size mattress.
Popularity
Queen size beds are sold more than any other bed size in the U.S. A survey by the Sleep Products Association (albeit dated) pegged the market share of major bed sizes in the U.S. mattress market as follows [2] :
Queen beds: 32%
Twin beds: 30%
Full beds: 21%
King beds: 7%
References
Related Comparisons
Share this comparison:
If you read this far, you should follow us: