7 Signs You Should Replace Your Mattress
A good night's rest is crucial to your health and well-being, yet millions of Americans suffer from lack of sleep. TheSleep in Americastudy by the National Sleep Foundation (NSF) found that 75% of adults have problems sleeping well. The study showed that 60% of respondents experienced daytime sleepiness that interfered with activities, caused work absences, or mistakes on the job. While medical conditions may be responsible for some instances of bad sleep, it might be your mattress that's the issue. Review these seven signs that it's time to replace your mattress to see if your bed is to blame for inadequate sleep.
#1 Your mattress is 7-10 years old
Research has found that mattresses have a life-span of roughly eight years, but this varies by manufacturer, mattress type, whether you sleep alone or with a partner, and how you sleep. If you're a larger person, your mattress will likely wear out faster than manufacturer guidelines suggest.
Mattresses were not designed to last forever, and excessive wear and tear will age a product faster. Inferior products don't last as long, yet even the highest-quality mattress has a maximum lifespan and will eventually need replacing. If your mattress is old, that's the first sign you may need a new one.
#2 The mattress is saggy
If there's a dent in your mattress in the shape of your body, that's a signal that your mattress is overly worn. Sagging can occur with almost any mattress material (aside from waterbeds) and can be observed under your sleep area, at the edges, or both. If your mattress has springs, they can break down and sag.
Fiber, foam, and pillowtop materials all break down over time and the deeper the sag in your mattress, the more discomfort you'll likely experience. Saggy mattresses can disrupt sleep and cause aches and pains. If your memory foam mattress core has softened, you may feel the sag as a "hammock" effect.
#3 Your spine isn't aligned when you sleep
No matter how old (or new) your mattress, if it doesn't offer proper support and alignment, you won't get optimal sleep. For back or stomach sleepers, your spine's natural S curve should be evident when you're lying on your mattress. If it's flattened or exaggerated, the mattress isn't aligning your spine properly.
For side sleepers, your spine should be straight from neck to bottom if you've got proper support. A yardstick or level can confirm adequate alignment. A good pillow may correct minor issues, but if you can slide a hand in the gap between body and mattress, it's a red flag that you might need a different mattress.
#4 Your mattress is uncomfortable
Knowing whether your mattress is comfortable sounds like common sense, but many people adjust to discomfort. If you get better sleep on a hotel mattress or a friend's guest room, your home bed might not be comfortable enough. A bed may seem comfortable in a showroom but then doesn't perform well at home.
The upper part of your mattress consists of "comfort layers" that should support your body and provide pressure relief. Comfort layers break down over time resulting in poor sleep and body aches but in some cases, your mattress choice might have been faulty from the start, and you need to replace it.
#5 You wake stiff and sore
Poor sleep can contribute to chronic back pain. If you wake up stiff and sore every day, your mattress could be part of the problem. If your back pain is worse when you wake but subsides when you stretch and move around, that's a sign that the mattress is causing or contributing to your pain.
A firm mattress may not be the answer. A study from the Kovacs Foundation in Mallorca found that medium-firm mattresses provided better comfort for chronic low-back pain. Experts recommend sleep testing different types of mattresses before buying if you suffer pain while sleeping or when waking.
#6 Worsening allergies or asthma
If it's not allergy season and there's no alternate explanation for an uptick in allergy or asthma symptoms, your mattress might be the culprit.Slateinterviewed an expert on dust mites that said your mattress is a "crime scene in terms of how it gets inoculated with [dust] mites" over time.
The protein in dust mite feces may cause allergic reactions and asthma attacks and so can the dust that accumulates in your mattress. Vacuuming, steaming, and flipping your mattress might reduce dust and mites to ease your symptoms. If these steps don't help, a new mattress might be the solution.
#7 You gained or lost weight (or added a co-sleeper)
For those that experience a significant gain or loss in weight over the life cycle of your mattress, the change might alter the effectiveness of your mattress. A Canadian study linked both inadequate and excessive sleep to weight gain so how you sleep and what you weigh are intermingled.
Heavier body types trigger more wear and tear on springs, foam, cushioning and mattress components. Also, if you were a solo sleeper but now have a partner in your bed, your mattress might not offer adequate sleep surface or support for the extra weight. That means it's time for a new mattress.
Become an informed consumer
If you suspect you need a new mattress, do your homework, and educate yourself before you buy. Understand the lingo and gimmicks employed by mattress firms so that you get the product you need that fits your budget and gives you the best night's sleep. There's no prescription for which mattress will best fit your unique needs.
Look for a mattress that offers adequate support for spinal alignment. Comfort is subjective – it's how a bed feels to you. You might find a firmer mattress superior to a softer one or vice-versa. Mattress selection is highly personal and should be your preference at the cross-section of proper alignment, support, and comfort.
How long does a mattress last?
My mattress is getting on in years. In fact, Bill Clinton was in his first term as president when I last bought a new one. Is it time for me to replace my mattress?
You've probably logged more than 30,000 hours in your bed, and your mattress has likely become less comfortable and less supportive. But there's no set formula for determining when you need to replace a mattress. It might be time to buy one if:
•You regularly wake up tired or achy—you make Oscar the Grouch seem as cheerful as Mr. Rogers.
•You tend to sleep better away from home, than in your own bed. Are you planning unnecessary business trips or looking for any reason to go on a weekend getaway?
•Your mattress looks or feels saggy or lumpy—it needs go on the Abs Diet.
•You're over age 40 and your mattress is five to seven years old. Remember, your body tolerates less pressure as it ages. As if getting older weren't tough enough . . .
A mattress can be an expensive investment—we've tested models that cost in excess of $4,000—but if you treat your new one properly, it could easily last 10 years. Our advice:
•Don't let your kids use your bed as a trampoline.
•Rotate your mattress. If you have a single-sided mattress (you sleep on only one side), rotate the mattress from end to end—that is, move the mattress 180 degrees. The foot of the mattress is now at the head, and vice versa.
If you have a double-sided mattress, rotate it as above, then turn it over so the bottom is now on top.
Perform these steps every two weeks for the first three months you have your new mattress, then once every two months thereafter. You'll find illustrated instructions on a number of different Web sites.
• Use a bed frame that has a center support.
Essential information:See "How to buy a mattress without losing sleep" for detailed advice on finding the perfect bed. And watch our video buying guide.
How Long Do Mattresses Last?
Mattresses aren't exactly cheap, most people replace them very infrequently and consider buying a new one either a chore or a burden. It's easy to delay or prolong this process simply by taking proper care of whichever type you own. As a general rule, most should be replaced within ten years for best results in sleep and health, however, the average life of a mattress can last beyond ten years or more if taken care of properly. While it is true that how long one lasts depends on different factors, you can easily increase its life expectancy by undertaking a small number of simple steps. Here is a look at a few of the factors that can decide how long should a mattress last, and possible ways to increase its lifespan:
Table of Contents
1. The Type
What type do you have? For instance, is it air, innerspring, memory foam or latex? Each one has its own life expectancy; air and innerspring being the shortest, memory foam being mid length, while latex types are known to last the longest.
Air mattresses will over time either develop leaks or generally become less effective at retaining air pressure. If they have a built-in pump that becomes faulty, this too can lead to premature replacement. Overall, the average air mattress life expectancy is placed at five years.
Spring mattresses are good for sharing couples who like a springy and bouncy surface, but unfortunately, due to the inner core being thin metal wire, this type does tend to sag and lose its support even if flipped and rotated regularly. Even ones which have been well cared for will most likely need replacing within 7-8 years.
Memory foam mattresses are less prone to sagging but not invincible. They too require rotating, and foam does eventually lose its support but after a long while. This type should be good for at least ten years if kept ventilated, clean, and rotated.
Latex mattresses are the creme de la creme and tick all the boxes for quality and longevity. The naturally hypoallergenic and anti-microbial properties add to the durable nature of latex rubber foam to combine a core which can last up to 15 years.
2. Regular Cleaning
Another important factor which determines mattress life expectancy is to do with cleaning.Howdo you clean it? Do you clean itregularly? Do you give it to aprofessionalcleaner? It's essential that you clean your mattress regularly to prolong the life. If you do not, it won't last long at all. This is due to the invisible bacteria, mildew, and mattress mold that can slowly eat away at the materials involved. Moreover, it may be better if you could have it cleaned professionally from time to time, as mattresses are home to bacteria and germs in plenty, which might not get adequately cleansed with household cleaning products and methods.
3. Amount of Use
As you can imagine, anything that is used more will last less. However, there are two things that need to be kept in mind. Whichever type you own, it wouldn't last as long in cases of extreme use, for example sharing couples who use for 10+ hours per day, and secondly on the other hand, if it has been left unused and uncleaned for prolong periods of time. Mattresses that are moderately used, where people sleep on it for around 7-8 hours a day, and then cleaned regularly are the ones that have the longest life.
4. The Cleaning Products
The question of how long do mattresses last really is to do with many supporting factors, but quite often depends on the cleaning methods used to clean them. For instance, in case of blood stains, you might have to use hydrogen peroxide to get rid. Too much of this chemical (and other heavy duty stain removers) would lead to a reduction of mattress life as these are not made to withstand such chemical uses.
5. Proper Precautions
It is always nice to have kids around the house. However, if your kids want to use your bed as a trampoline, it seriously isn't a good idea. You would rather have them play elsewhere since this can seriously damage your bed. Imagine you have an innerspring, the springs will become too soft and compressed in no time at all and will leave you with a creaky and sagging surface. Additionally, whether it's latex or memory foam, soon there will be indentations which are beyond repair. To prolong its life, you can also rotate and flip it from time to time, but that's only if it's double-sided and permits you to do so. You could perform this every few months for the duration of its life, which will significantly improve how long a mattress can last.
When Do You Know You Cannot Use Your Mattress?
Usually, mattresses that are over seven years old do not provide the comfort and support you need on the bed. Once you see there are signs of the surface and support wearing out, or you're feeling uncomfortable in the bed when you are sleeping on it, you would be better off changing it. Some of the common visible signs of wearing are sagging, holes and tearing. If you cannot get a full night's sleep and feel that you're having a better slumber elsewhere than your bed, you need to start looking for a replacement.
You might buy the most expensive mattress, but if you do not care for it properly, it might not even last ten years. On the other side, ones which are taken care of correctly are known to last more than 15 years.
How Long Do Mattresses Last? The Results May Shock You!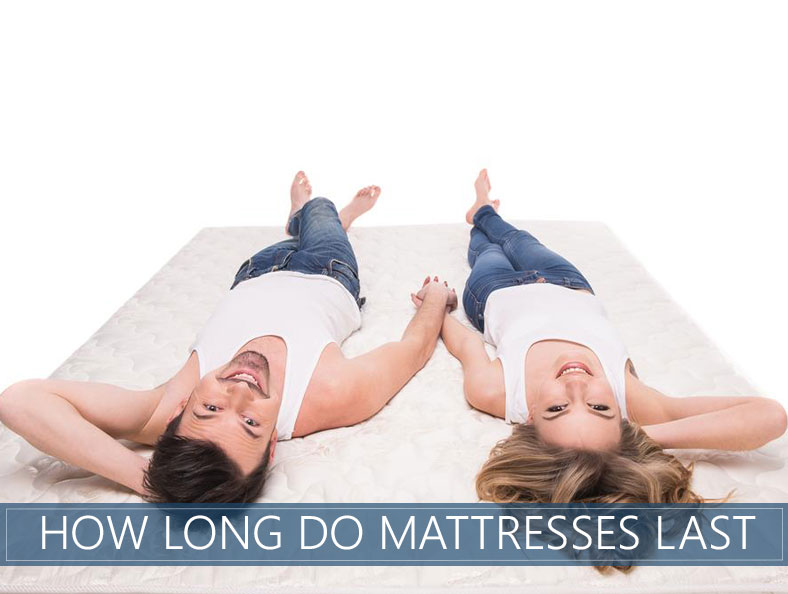 Mattresses are pretty expensive — one quick glance at our buyer's guide will confirm this fact. This is why many people do not replace them – not even after many years of use.
They do not want to spend a lot of money on a new one. Besides, now you can delay the process of buying a new one if you do an excellent job at maintaining your existing one.So, how often should you replace your mattress?
It doesn't matter which type of bed you have. Most of them are ready for replacement within ten years to ensure a good night's rest (old mattresses can hurt your sleep quality). Besides, it can last beyond ten years on average, if the owners maintain it properly.
Also, many different factors affect a bed's lifespan. You can extend its life expectancy by following a few easy steps in the text below. We prepared and wrote down some tips to boost its longevity.
How Long Does a Mattress Last ?
Perhaps you no longer feel lulled into sleep, or you bear the ironclad mattress to finally fall asleep every night. Regardless of your reason to ponder the lifespan of your mattress, it is imperative to know theaverage lifespantoo. As most of depending oninstinctsto upgrade or renew the mattress, it is the time you focused how long your rugged old mattress has been the culprit of yourill health.
Today, having a multi-purpose mattress is trendy, while mattress aficionados advocate mattresses shouldcater for sleepalone. The best feature of a mattress is how well it supports the body to enterdeep sleep.
Moreover, using a damaged mattress canaggravatebackachesand introduces new health issues due to poorsleep postureas wellsleep cycle.
Average Lifespan of a Mattress
How many years (5, 8, 10, 15 or 20) should a mattress is used until it becomes unfit for further use?While most mattresses boast10 yearsaccording to warranties, the health of the mattress is solely dependent on youruse. Studies show that each of us spends about2900 hoursor oddly8 yearsof our life on the mattress.
The primary cause ofback painin a variety of people owes it to theworn out mattressesthey use. Not only does updating boost your health, but it also helps to dissipate the annoyance ofsleepless nights.
According to extensive studies, the average lifespan of a standard mattress isunique. While theSleep Outfittersadvocate7 to 10 Yearsfor a mattress, Consumer reports advocate that people above 40 must not use the same mattress for more than7 years.A mattress lasts as long as it is used well. Oklahoma State University inferred that sleep cycle was considerably enhanced when a person changed from a neglected mattress to new mattressafter a decade.
If the diverse recommendations confuse you, refer to the in-depth table on how long does a mattress last:
Futon– 4 to 5 Years
Innerspring– 6 to 7 Years
Coil Spring– 8 years
Memory Foam-7 to 8 Years
Latex Mattress– 8 Years
Water Bed– 8 to 9 Years
Air Bed– 9 to 10 Years
An easy way to determine the average lifespan of your mattress is to crosscheck with themanufacturer's warranty. If you are dubious about the health of your mattress even after rummaging the paperwork, yourintuitionmust be the signal that you need a new mattress!
Symptoms of a Bad Mattress
It is not easy to determine if your mattress is ready to bedumped. Being anexpensive purchase, trashing a mattress requires appropriate planning, in addition torecognizingthe symptoms of an old mattress.
The best way to determine the lifespan of your mattress is by analyzing the following and its effectiveness towards sleep-
· Fatigue
The first symptom of sleeping on a beaten up mattress is themorning fatigue. Even though you've slept more than enough of your regular sleeping hours, you feeltired. Theworn out feelingowes it to thelack of deep sleepdue to theabsence ofcomfortduring slumber.
If you suffer from pains andspasmsin your body immediately after waking up, your mattress might be the culprit. As the mattresslacks softnessandmedium firmness, the sleeper experiences nbosupportduring sleep and wakes up withpricking pain.
· Reluctance to sleep on one's own bed
An effective way to determine if your mattress is apain than balmis by checking whether you prefer places other than your mattress to doze off. If you find comfort sleeping in your car, couch or best friend's mattress, it is time to replace your mattress. When you realize that you get abetter night's sleep everywhere other than your mattress, you need a new bedding!
Abad mattressis not easy to notice if it is damaged since long. The best way to diagnose your mattress is byinspecting theevennesson the surface of your mattress.
What are the dangers of using a bad mattress?
Do you wash your mattress equal to the times you wash your clothes? How many times do you wash your mattress?Perhaps you are one of the many that rarely cleans their mattresses. Moving on, it is no surprise that none of us genuinelycaresorvaluesour mattress.
Why do you need to change your mattress?If you wear your clothes for years at a stretch without washing them, would you be healthy?
Sleeping on aneglected mattresscannot only give you astiff neckthe next day, but alsosores,rashesorallergies!
People who use damaged mattresses wake up with cramps, drowsiness and body pains. Mattresses are often replenishedlong afterit becomes unusable. These risks pose adirect threatto thephysicalandmental healthof a person.
In addition, if you work from your mattress, the same is why;sweatmust becakedon the foam. You mustperiodicallyrotate, dust and clean the mattress to avoid catchinginfections!
How to Check if you need a new Mattress
If you doubt your mattress's health, you mustweighandcomparethe measurement with itsinitialweight. Often, theshocking weight differenceis sufficient to enlighten how pivotalcleaningandmaintenanceof a mattress is.
Essential factors to determine if you need to buy a new mattress is by inferring-
· Age of your Mattress
Every manufacturer lists the warranty oryear limitfor every mattress. Mostly embroidered as a tag on the blanket, theage limitof the mattress is not always the best answer. If your mattress does not have such a tag, contact your manufacturer and crosscheck with the model number to determine the lifespan of your mattress.
Oftentimes sleep specialists give admonition about using mattresses are older than10 years! Depending on the type of mattress you use, the age limit varies.
· Quality of your Mattress
The second most important characteristic of a mattress itsmake. If you have alow-grade mattressmade with cheap foams and springs, it is paradoxical to expect longevity of the mattress, let alone agood night's sleep.
Theworthof your foam determines your health status as well. Moreover, buying acheap mattresswill hike your medical bills while an expensive mattress will be alifelong investment.
· Duration of usage
Synonymous with the age of the mattress, usage of the mattress alsodiffers subjectively. In fact, depending on thehoursyou spend on the mattress, its lifespan varies. The mattress in your guest room is used sparingly, in comparison with the one in master bedroom. Noting thedifferencebetween the two will make you understand the effect of sleep duration on a bedding.
Additionally, depending on the kind of use, for example, if you have a routine of watching TV from the bed, then, surely, your mattress counts double the time you spend sleeping on it. In such cases, the lifespan of the mattress is,reduced by half.
· Weight of the users
Yet another important factor that adversely affects the health of your mattress is the weight of the sleepers. Depending on your body weight, select a mattress that canconformorsupportyour body weight rather than hinder it.
Not all mattresses are built to last a decade when used by hefty people. Always remember to pick your mattress respective to yourphysiqueanduse. If you do not, the mattress will break and wear out easily, not to forget newer somnipathies!
· Maintenance provided
There are numerous ways to care for a mattress and keep it healthy throughout the use. Provided you aredisciplinedabouthowandwhenyou occupy the mattress, the mattress lasts longer.
Exemplifying, if you use abed coverfor the mattress, you add a quarter decade to its life. Depending on whether you let yourkidsuse the mattress as atrampoline, the age of the mattress differs.
· Dust mites and Stains
If you are irregular about spring cleaning your mattress, there is a high chance that the mattress is caked withdead cells, sweat, dirtand ready fordust mites. The same is the primal cause ofallergiesandskin infections. If you do not clean the mattress regularly, the same can lead to its speedy damage too!
On an average, mattresses must bevacuumed6-12timesper year!
· Noisy Mattress
Another notable way to determine if you need a new mattress is by observing how well the mattress functions. If your mattress makesstrange noisesevery time you occupy it or move around, then you need new bedding!
Creakymattresses are not only annoying to its user, but a signal of how close your mattress is towards dying out! If thesqueakingis chronic, it is a red sign that it can break at any time. Often, mattresses also creak when thespringwithin the foam is damaged.
· Sagging or Sleep Impression
Lastly, an easy way to judge your mattress is by waking up and checking how well the mattress haspreservedtheimpressionof your body. Overtime, beddings tend tosagor developuneven lumpson the sleeping surface. Not only is thisirking, it disturbs thequality of sleeptoo.
Ways to Keep your Mattress Clean
When you invest in a mattress worth a few grand, you must alsomaintainitadequately. Keeping a mattress is clean is an easy habit of picking up, provided youwantto make your mattress last. The first step is to determinehow many times a year can you clean the mattress.
The two essential types of cleaning that a mattress requires arevacuumingandsun drying.Washingis not recommended and it is best to mark aroutinefor cleaning your bedding. Make sure to change your bedcover every few days and vacuum the mattress soon after. Overall cleanliness is necessary to keep the allergens and sleep-spoilers away.
If you ownsingle sided bedding, rotate it in anend-to-endfashion. You can reverse the foot end with the head end and vice-versa for each rotating session. Fordouble-sided bedding,invertthe mattress and repeat the sameonce every two weeksif your mattress is brandnew.
How to increase the lifespan of a mattress
It is true that a brand new mattress makes you feel like it will always be a dream sleep. Although it takes a few days for the mattress to loosen up into its original outline, caring for a mattress starts from the first night!
Dos and Don'ts of using a mattress to make it last longer-
Do notrollyour mattress at any point of cleaning. This tends todeformits evenness and may even make the bedding lumpy or uneven at places. The same applies avoidingbendingthe mattress at angles more than20 0 .
When shifting or going for vacation,how do youstoreyour mattress? If you're not going to use it for –>report this ad