Twin to King Mattress Conversion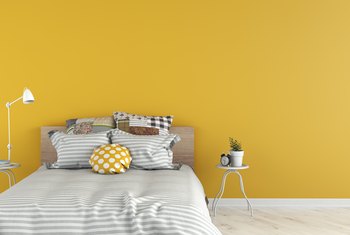 Twin to King Mattress Conversion
Related Articles
1 Double up Two Mattresses
2 Standard Bed Sizes in the United States
3 Standard Bedding Size Measurements
4 Will a King Bed Frame Work for a California King Bed?
Whether you need to convert a guest bedroom with two beds into a room with one larger bed or you desire a different mattress firmness, it is simple to create a king-size bed from two smaller twin beds. A king mattress already sits on top of two twin box springs inside of a bed frame. Two twin mattresses and box springs will fit easily into the same bed frame to create a larger bed.
Standard Bed Sizes
A standard twin bed is 39 inches wide and 75 inches long; a standard king bed is 76 inches wide and 80 inches long. Attaching two twin beds will give you a king size bed 2 inches wider than the standard size king and 5 inches shorter. It is not ideal, but it will give you a larger bed that two adults can share reasonably well.
Versatility
Twin beds are often less expensive than king mattresses. Purchasing two twins and converting them can be more affordable for some people. Other couples find it helpful to have separate mattresses with different levels of firmness; pushing two twins together will give them the king bed they prefer and the restful night's sleep they need.
Converter Belts
There are two ways to convert twin beds into king beds. Both methods will require a twin-to-king converter belt, available at most home goods stores. Most metal bed frames are adjustable to fit a range of bed sizes. If yours expands to a king, set up the bed by expanding the frame to fit the two box springs with the two mattresses. Close the gap between the mattresses using the converter belt and a king-size mattress pad. If your frame won't expand or you need flexibility and want to be able to use either two twins or one king, simply push the two twin bed frames together when a king is needed. Hold the mattresses together with the converter belt.
Sheets and Bedding
Since your new king does not meet standard sizes, buying bedding for it takes a little creativity. Instead of purchasing sheet sets with a fitted sheet and flat sheet, look for sheets sold separately and buy two flat sheets. One flat sheet will tuck into the mattress easily and act as a fitted sheet. If it is a little short, you can buy clips that will hold the sheet in place at the corners, creating a fitted sheet. King-size blankets, comforters and duvet covers will work. They may be a little long and tad narrow.
Do More Coils Make a Better Mattress?
The Core of the Matter
The coils, also known as the core or the innerspring unit, provide the main support for the body. Proper support is essential not only for a good night's sleep, but for maintaining a healthy spine. When considering the core of an innerspring mattress, there are a number of important factors: the number of coils used throughout the mattress, the way the coils are constructed , and the shape of the coils .
Is a High Coil Count Better?
You might have heard a rumor that the more coils in a mattress core, the more supportive the mattress will be. While this can be true, coil count is not nearly as critical today as it once was. These days the construction of the coils is a much more important factor in determining the overall comfort and support of the mattress.
A typical mattress contains between 250 and 1,000 coil springs
A mattress with a lower coil count might use thicker wire or other techniques to compensate for this (see Coil Construction below)
As a rule of thumb, the minimum number of coils you should look for in a mattress is 300 for a full, 375 for a queen and 450 for a king-size mattress
How are Mattress Coils Made?
Gauge:
When discussing the coils of an innerspring mattress, the word "gauge" refers to the thickness of the wire used to construct the coil. Somewhat counter-intuitively, the lower the number, the "heavier" the gauge, and the thicker the wire — 12.5 gauge wire (very "stiff") is thicker and stronger than 16.5 gauge wire (quite "springy").
Working Turns:
Another important factor is the number of "working turns" in each coil, a measurement of how tightly the coil is wound. Coils constructed with a higher number of working turns will result in both a softer and more durable mattress, since the work of supporting your body is spread throughout the spring. Working turns can be counted by tracing the wire with your finger — each time your finger travels 180 degrees around the coil translates to one working turn.
Tempering:
Tempering is the process of heating and cooling the coils to ensure they retain their proper shape over time. A "double heat tempered" coil has gone through that process twice, ensuring increased durability .
Types of Coils
There are three main coil designs used in modern mattresses: Hourglass (also called Bonnell) , Pocketed and Continuous .
Hourglass Bonnell Coils
Hourglass coils, the most commonly used design, come in two varieties — Bonnell coils and offset coils. Based on 19th century buggy seat springs, the Bonnell coil has an hourglass shape with a knot at each end, and is known as the original mattress coil. Today, Bonnell coils are still the most prevalent coils in the mattress industry, though they are typically found in less expensive mattresses. The offset design, found in more expensive mattresses, is similarly hourglass shaped, but the circles at the top and bottom of each coil are flattened to create a hinging action within the mattress core. This design allows the mattress to better conform to your body, and tends to make offset coils less noisy than their Bonnell predecessors. It also allows offset coils to be connected to each other via helicals (corkscrew-shaped wires that run over the tops and bottoms of the coils), which prevents them from moving from side to side when compressed.
Below: Offset hourglass coils connected with helicals
Continuous Coils
Continuous coil springs are made from a single length of wire shaped into a series of loose S-shaped ringlets. The concept behind this design is that by attaching each coil to its neighbors, the mattress core will be stronger, more stable, and more durable. Continuous coil designs also allow for significantly more coils per mattress, making it difficult to compare coil counts with non-continuous coil systems. Today, this coil type is common mainly in very inexpensive mattresses.
As with connected coils, since metal touches metal in the bed, there's potential for noise or squeaking when the coils rub against each other.
Are Pocketed Coils Better?
Pocketed coils, also known as Marshall coils, are each individually wrapped in a fabric pocket. While the pockets might be connected together, the springs are each independent of one another and can move separately. Pocketed coils provide more motion separation than other innerspring coil types, meaning that when your partner starts tossing and turning, you are less likely to be disrupted. This can really come in handy if your bed-mate is a restless sleeper. On the flip side, pocketed coils endure greater strain over time, since each coil absorbs weight without distributing it to other nearby coils.
Many innerspring mattresses now use pocketed coils, and the majority of hybrid beds use them too.
Below: Coils in their fabric pockets
Micro coils
Coils are usually found in the support layer of a mattress. But coils can be part of the comfort layer, too. Micro coils are small, flexible springs that can make up a layer near the surface of a mattress. They are usually designed as individual coils wrapped in fabric pockets that are sewn, glued or welded together to create a flexible surface.
Micro coils range in height from about 1" to 3" tall. In addition to being shorter, micro coils are narrower and made with lighter gauge wire than regular coils. The lighter, encased wire gives micro coils a softer feel, and the smaller size enables more springs to be placed into a given area, also enhancing softness.
If pressure relief and motion isolation are important to you, micro coils are a good choice. They do a good job of conforming to your body's contours. They also do a good job at isolating movement. Micro coils provide a good level of repositioning and overall responsiveness, cradling the body while creating a supportive, pressure-relieving effect for recessed areas of the body not in direct contact with the support layers of a mattress.
How Long Do Innerspring Mattresses Last?
The basic techniques and materials used to make innerspring mattresses date back centuries, and are time-tested. Assuming you buy a good quality innerspring or pocketed coil mattress from a reputable brand and retailer, your new mattress should last in the neighborhood of 8 to 10 years. It could be more or less depending on your circumstances, sleep style and body weight, but a quality innerspring mattress should hold up well and resist body impressions as well as (or perhaps better than) newer-technology memory foam.
Pocket spring mattress guide
First lets clear up what isn't a pocket spring. Common names such as Orthopaedic, Continuous Coil, Bonnel coil, Bonnel sprung, Miracoil & Opencoil are all cheap cage sprung systems. If a manufacturer is using premium pocket springs in their mattresses, trust us, they will want to tell you all about it!
Spring counts
What is a pocket spring?
Types of pocket spring
Mattress upholstery and pocket springs
Tailored Spring Gauges – Soft, Medium or Firm?
How are pocket springs made?
What is a Vanadium spring?
Other types of springs – Cortec, Revolution & Micro Springs
View our range of Pocket Spring Mattresses
Pocket Spring Counts
It has become a trend in recent years for mattress manufacturers to increase the number of springs listed in their mattresses. They are tapping into the consumer's belief that the higher the spring count the more value they are getting for their bed purchase. Its worth understanding that there is only so much space in a mattress and to achieve these ridiculously high spring counts, ie 6,000 plus the manufacturers are simply using sheets of miniature springs layered on top of each other and reducing upholstery. They are also placing springs within springs to artificially inflate the number of springs on the label.
Thankfully this approach has not been adopted by the most respected mattress manufacturers here in the UK. We continue to see more and more mattress models adopting this farcical approach to bed making.
Pocket spring counts are always based on the number of springs in a king size mattress: 150 x 200 / 5'0 x 6'6. Even when a single mattress is described as having 1000 pocket springs, for example, it won't. It will have proportionately less based on its size. A super king size mattress will have proportionately more.
Some retailers have started to give the exact count of a particular size which throws a fly into the ointment when you are doing like for like comparisons. Always be aware of the count in a king sized mattress and you just can't go wrong.
The least number of pocket springs you can get in a mattress is 600.
This level of spring count will be in starter or budget ranges of pocket sprung mattresses. This is a good example of the value of a pocket sprung unit, obviously, the retail price will be low but, the quality level of mattress will be significantly better thananymattress utilising an open coil or continuous coil retailing for a similar price.
Our Origins 1500 is our best selling starter model click here to view
What is a pocket spring?
A pocket spring is a case, usually made of fabric that encases a wire spring. These cases are either stitched or in cheaper models, glued together to create a length of individual springs that are connected. This enables a sleeper to be supported independently by each pocket spring. It's great to prevent movement between sleepers and will enable you to have far greater support than a cage sprung or open coil mattress.
The highest quality pocket springs will be calico encased and the spring wire will be vanadium plated. This enables them springs to breathe and prevents heat build-up.
Our Mattress collection only uses Premium Pocket Springs, if you want to see more please visit our shop to start browsing. We have never sold and will never sell a cage sprung contraption and would highly recommend that you do not buy one.
Types of Pocket Spring Mattress
We have always advocated for high-quality handmade pocket sprung mattresses over mass-produced bags of springs such as open coil mattresses, but there's still a minefield of information on pocket springs which we aim to summarise for you. We like to keep things simple so we have summarised to two types of pocket springs below.
There are two main types of pocket spring
1.Synthetic spun bond springs – the entry-level spring unit. Glued together with a polyester style material. The least breathable and responsive but still a million times better than any cage sprung or open coil nightmare.
Click here to view Pocket Spring Mattresses
2.Calico encased pocket springs – Encased in a breathable natural calico cover which are then stitched together. Highly responsive and much more breathable.
Calico Pocket Springs are the highest quality view our Artisan Mattress Range Here
All the high-end manufacturers, such as Savoir beds, Vi-spring will use calico pocket springs
Pocket springs must be matched with suitable upholstery
For instance, there is no use having a super duper all singing all dancing pocket spring unit when it is not backed up by an element of substantial upholstery.
As you browse through the internet looking for your perfect mattress you will soon see that in most cases great swathes of text is focused on how good the pocket springs are in any particular model, the science behind the design and how you will sleep like a baby. All of this will be relatively pointless if equal space is not designated to the rest of the mattress, the upholstery, the detailing and so forth.
We detail the GSM alongside the Pocket Spring count in each of our Hand Made mattresses – Visit our Shop by Clicking Here.
The fact of the matter is, a standard pocket sprung unit which forms the basis of many mattresses, will be suitable for practically everyone. Especially when compared to a cage sprung or open coil mattresses which should be avoided at all costs. Standard spun-bond pocket springs are not overly expensive and will offer you all the support you will require.
The most pocket spring units you can get into a king-sized mattress on one layer is 2000. Mattresses described as having more than this are utilising double-layer construction techniques or they are utilising a suspension pocket sprung unit or they are using mini springs to increase the count. When looking at descriptions and you see a specification with more than 2000 pocket springs you really do have to examine how this was achieved.
As I have said in previous posts, the only differentiating factor between many mattress manufacturers are the springs used. Fundamentally, the springs will more often than not be similar but how they are constructed will provide enough difference to achieve the elusive brownie points that will sway you into thinking their product is somehow better than the competition.
Generally, though and this certainly does not apply in all cases manufacturers tend to go down the soft / medium/ firm route and use the firmer springs on the 1000 counts to softer springs on the 2000 counts. The theory being that 2000 pocket springs do not have to be as supportive as 1000. The support will be there but spread out over a greater number of springs.
I know you are thinking now that if a 1000 spring unit is firm why would that suit our ten stone friend? Good point. The Firm spring unit only has 1000 springs and at a gauge of say 1.5mm. The 2000 spring unit at Soft will have a gauge of 1.2. This difference in spring gauge is fractional and nominal between two individual pockets. They will both compress easily under the pressure of your hands. As the number of springs increases as in a complete unit, it takes more pressure to compress them.
Guide to pocket springs
A good thing to bear in mind that a 1000 / 1500 / 2000 pocket sprung unit will be broadly similar from about 90% of all manufacturers. It is what is placed on top of the units (upholstery) that makes the difference in Price and in quality.
Total spring counts come in usually at 600 / 800 / 1000 / 1200 / 1400 / 1500 / 2000 pockets per unit.
The lower spring counts will have a larger diameter spring – The higher spring counts will have a smaller diameter spring. One of the most prolific questions we get asked and abundant on internet forums is the "how many springs are best?". Now although this is such a simple question the answer is not! The response to this question should always be followed up with "best for what?"
Which is best a Pocket Spring or Open Coil?
If you are torn between two similar mattresses one open coil and one pocket sprung the pocket sprung mattress will win hands down! Like I said above, the minimum 600 pocket count is far superior toanyopen coil or continuous coil mattress you can get. It is so unlikely an open coil/continuous coil mattress will have a quality level of upholstery attached and all these fall within the low-end range of mattresses.
How many mattress springs do I need?
If you look at the complete range from Rest Assured, for example, you will see that the bulk of their mattresses utilise a 1400 pocket spring unit. This count will suit the majority of users not too firm and not too soft. A bigger person (such as my 20st Rugby Player friend) will gain more benefit from a 2000 unit. His weight will be equalised over a greater number of springs, The springs will not be fully compressed but allowed to 'move' with him. If he was on a 1000 pocket unit, for example, the weight is distributed over a lesser number of springs. Whereas our ten stone friend will be quite happy on 1000 pockets.
You should aim for atleast 1000 pocket springsin a mattress up to 2000 in a single layer.
This is only half the story, though! The other difference between 1000 springs and 2000 springs is the tension of the spring itself. There is no hard or fast rule on what gauge wire is used on a particular spring count: A 2000 unit can utilise a firm spring say 1.5mm or it can utilise a soft spring say 1.2mm. And it is this reason alone why the question above cannot be answered with any degree of precision. It is so unlikely a retailer will know what gauge wire is used on any particular unit contained in a particular mattress.
Tailored Spring Gauges – Soft, Medium or Firm?
Once you move away from cheaper mass-produced springs you then have the option of tailored spring gauges. This means that dependant on your weight you can choose a soft, medium or firm spring. This means that you have the potential for split tension mattresses and zip and links. So if you and your partner are different weights, then you can have different tensions to suit each of you.
View our Zip & Link Mattresses
Creating the perfect sleeping experience for both of you! Our Handmade mattress range are all available in both zip and link and split tensions if required.
| Bodyweight | Spring tension |
| --- | --- |
| Upto 16 Stone / 50-101kg | Medium |
| 16 Stone / 101kg Upwards | Firm |
| Available in Bespoke Products (Please Call) | Soft |
Pocket Spring wire diameter explained
Spring wire diameter is sometimes shown on product descriptions, not to be confused with spring gauges. It shows you how thick the wire is for that spring unit. The thicker the spring wire the firmer the support you will get from it as it's harder to compress. The gauge refers to the torsion, push-pull measurement which tells you how resilient/firm a mattress spring is. An example of this is an orthopaedic mattress which has a gauge of 12 and is very firm.
We have a handy table that allows you to see the spring wire diameter we use in our range and the tension that the spring is set at. We also, unlike many competitors, allow you to see what the weight tolerance is for these springs. This is crucial when working out the support you need and we detail this more in the article on soft, medium & firm.
| Spring Tension | Wire diameter (Gauge) | Weight Range |
| --- | --- | --- |
| Soft | 1.2mm | Bespoke Tension (Please Call) |
| Medium | 1.4mm | Upto 16 stone |
| Firm | 1.6mm | 16 stone plus |
| Extra Firm / Orthopaedic | 1.9mm | 20 stone plus |
How are pocket springs made?
In the bulk of all mattresses, you will come up against the pocket sprung unit itself, which will be relatively similar. They are produced in this country in large factories such as Leggett and Platt, Charles Blythe and such like. There are also imports with the most regarded being Agro gmbh (Germany). Currently, the most prolific imports of pocket sprung units come from Turkey and South Africa.
Some manufacturers have the equipment and facility to produce their own springs such as Vi-Spring/Harrisons and, of course, the manufacturer we use who makes our Artisan range all completely made in Britain.
Calico Pocket Springs are meticulously made by specialist equipment and craftsmen
Each one of our Artisan Calico Encased Pocket Springs is made by a specialist piece of machinery. Each individual spring is formed and then inserted into a calico sleeve which is then machine stitched shut. Once each length of pocket springs have been formed they are then hand-cut so each strip is one piece. Cheaper synthetic pocket springs may be glued together instead of stitching to reduce the time required to make them.
What's a Vanadium pocket spring?
Vanadium is used in the steel forging process and provides strength to the metal which assists when it is then formed into a spring. It also has a low oxidisation value meaning it doesn't corrode as quickly as other metals. So springs don't rust.
We use Vanadium on our calico pocket springs that are found in the higher end Artisan models. Vanadium is often found in metal alloys and top-end tools to give strength and durability against corrosion. It is used within our springs to ensure they are of the highest quality giving an enhanced lifespan and longevity. Most manufacturers couldn't tell you what is in their spring wire, you will probably just get shrugged shoulders, but here at John Ryan, we can share with you the exact composition of our calico vanadium pocket springs.
| Chemical Composition of Steel Wire | C | Mn | Si | P | S | Cu | V (Vanadium) |
| --- | --- | --- | --- | --- | --- | --- | --- |
| Percentage Contained | 0.71 | 0.54 | 18 | 0.12 | 0.014 | 0.190 | 0.5/0.9 |
Other types of springs – Cortec, Revolution & Micro Springs
Update 2020:Recently the mattress market has seen a flood of new 'spring innovations' which are all there to tempt you to certain brands mattresses. Spring technology has pretty much remained the same for over a hundred years. The simple spring mechanism works by compressing and extending based on a load applied to it, ie a sleeper loading the spring when they lie on a mattress. There's only so much innovation you can do with a spring, such as changing its shape or size. It will have some influence, but is it enough to spend hundreds of pounds more on a new mattress? We take a look at a few of the newer spring types so you can make your own mind up.
Cortec Springs:Cortec springs by Harrison Spinks are an elongated pocket spring. That means they are thinner and taller than regular pocket springs. Cortec springs are not glued together but heat-sealed into rows meaning they are glue-free. So you don't need glue to bond them together as they can concertina together by being folded in their rows. Imagine a roll of paper labels and how each one can be folded back on each other or torn off. This is the same layout as the Cortec spring. They are still synthetic coated pocket springs and unlike our Calico ones are not vanadium coated so won't be as impervious to rusting over time.
Revolution Springs:This is again another innovation from Harrisons which involves placing a smaller spring within a regular-sized pocket spring. So you have two springs in one. We've trialled these and not found a huge amount of comfort difference between the two. We do have reservations about how sure they are that the smaller internal spring won't get stuck or trapped in the larger spring.
Micro Springs:These are the latest in spring count hype. Micro springs are tiny synthetic pocket springs that come in rows of 1000. Meaning you can add a few layers to suddenly boost the overall spring count of a mattress. We really don't rate micro springs as they compress almost instantaneously making them redundant in our tests. We can only imagine that retailers are now using HD or micro springs simply to up the spring count in the competition to have the higher figure. However, this simply means less upholstery for you as the more layers of springs you place in a mattress the less room there is for the upholstery comfort layers. So bare this in mind.
Here is an example – not from Harrisons – of multiple synthetic spring layers and micro springs. Click to view true Vanadium coated Pocket Spring models.
If you're wanting the best of the best you need to be looking for calico pocket springs. If your budget constrains you, a spun-bond pocket spring unit with at least 1000 pocket springs per kingsize will get you a mid-range mattress. There is also a post on this site about the anomalies of soft medium or firm mattresses. Worth a read particularly if you are struggling with how on earth a mattress can be described as such. If you have different body weights we can create split tension mattress or zip and link beds which can be tailored specifically to your weight.
Lastly, if you want to get really informed on the details of pocket springs and the different tiers, gauges and latest developments read our detailed arguments here. To help start off by viewing some of the best handmade mattresses here in our shop where we only use the highest quality pocket springs and coverings. Still struggling? Then why not call our small expert team based here in Manchester on 0161 437 4419 to see if we can help?
HOW TO: Turn Two Twins Into a King Size Mattress.
Did you know you can have a more spacious split king size mattress with just two XL twin size beds? Well, you can, and it only takes a few simple steps. Follow our step-by-step guide to turn two XL twin size mattresses into a king size bed.
Start with Two Twin XL mattresses.
Two twins make a king, but not just any twins will do. A standard king size mattress is 76 inches wide and 80 inches long. A standard twin bed is 38 inches wide and 75 inches long. And while it would be easy to simply put two standard twin mattresses together, this presents a problem: You'll end up with a perfect fit width-wise, but the bed will be a whopping 5 inches shorter in length.
The easy solution to this conundrum is to use two XL twin beds which, at 80 inches in length, will be exactly the same length as a king size mattress. This means any standard king size sheets will be a perfect fit and no one's feet are left to dangle.
Check Your Frame Width
Before moving forward with the tutorial, here are a few points to take into account when deciding to use two XL twin beds to make a king size bed:
Check your width. A standard XL twin mattress is 38 inches across. A few twin mattresses, however, are 39 inches across. While standard sheets (both king and XL twin) will fit either of these mattress sizes, it's essential to measure your bed frame(s) or platform to verify the mattresses will fit.
The key to a comfortable king is finding two mattresses with uniform thickness. This way, when putting them side by side, you are ensured a level sleep surface. No one wants a "bump" in the middle of their bed!
And now that we've got all of that out of the way, it's time to build your ideal bed! While this hack will work with any mattress, we'll start by using the Layla mattress as an example.
Get Two Firmness levels with One Bed.
Consider which side of the bed you usually sleep on, and which side of the Layla mattress you prefer. With Layla's Flippable Firmness, one of the sides is guaranteed to be your perfect match. Fit your mattress, comfortable side up, on your side of a king size bed base (a king size platform, king size bed frame or two XL twin bed frames).
Have your partner do the same with their side, choosing the mattress firmness level they prefer. You now have a standard king size bed with varying levels of firmness for the uncompromising couple!
Bridge the Gap.
Two Twins make a king with a gap, but they don't have to. Insert a bed bridge between the two mattresses. Widely available online, a bed bridge is designed to fill the gap between the two beds and provide an even sleep surface, identical to what you'd get in a regular king size mattress .
While you may be tempted to skip this step, we strongly advise you don't. The bed bridge is the key to making your XL twins feel like a true king, as opposed to two twins put together.
Crown your King
Know you know what Joan of Arc felt like when she made a King, but you didn't have to fight a single battle. Now you can enjoy a deep, restful sleep in your new, more spacious, bed! Your two twins make a king size mattress that would make royalty proud.
You don't want to compromise a good night's sleep. By turning two XL twin size beds into one spacious king size mattress , now you don't have to. For an even better good night's sleep, add a new memory foam mattress instead.
King vs Twin XL Beds – Mattress Sizes
Fun fact: assembletwo Twin XL mattressesnext to one another and they have the identicaldimensions of a King bed. The Twin XL is thesame width as the Standard Twin, but the mattresses5″ of additional lengthmake it the length as a King. Read on for our complete comparison of Twin XL vs King mattress sizes.
The Basics
Standard (or Eastern) King:
Standard King
Width
76"
Length
80"
Width Per Person
38"
Who is this bed size ideal for?
A King bed is typicallybest suited for couples. In fact, a King mattress is the equivalent of each individual sleeping in their own Twin XL bed (pushed together). The King bed offers each sleeper 8 additional inches of space compared to a Queen sized bed, which makes it ideal for Master Bedrooms, but potentially too large for some individuals.
Twin XL
Who is this bed size ideal for?
The Twin XL has the identical width as a Standard Twin, but it's approximately5″ longer, making it the same length as a Queen or King. The Twin XL is a solid option forcollege dormitoriesor taller children who may have smaller rooms. Travelers will also see them in hostels where multiple beds are in one large room.
Other Size Options
Kings
The California (Western) Kingis decently popular because it's narrower and longer than a traditional King size mattress, which can sometimes be a little too wide for a medium-sized bedroom.
The Split Kingis similar to a Standard King, but it's 2" wider and split down the middle, allowing each individual sleeper to have their own designated section of the bed.
Split King
Width
39" (each half)
Length
80"
A Standard Twinis also known as a Single bed, and Twin mattresses and beds are often the next steps for children who have outgrown their cribs. Twin mattresses are also a great option for smaller bedrooms like Guest Rooms, as well as bunk beds, which are traditionally manufactured in Twin size.
What Size Is Best?
Who will like the King mattress?
People upgrading their MasterBedroom,King sized bedstend to be the best fit for larger master bedrooms, where there is ample space not only for the new bed but for the additional pieces of furniture and accessories in the bedroom.
Individuals who like to stretch out,while it comes down to personal preference, manycouples opt for a King size bedover a Queen (or a Full for that matter). In a King-sized mattress, each person gets38″ of space on each side, which makes it comfortable forcouples to spread out, or for the youngest family member to hop in during the night.
Shoppers with a budget as massive as a King bed.Everything adds up when shopping for a new mattress.People who move from a Queen – or something smaller – to a new King bed, will probably need to purchase a sturdy, reliable bed and bed frame, as well as some comfortable King-sized sheets, and potentially some more pillows.
Who Will Like the Twin XL?
A young adult or childwill be well-suited for a Twin XL mattress. As mentioned earlier, Twin-sized beds are essentially thenext step up from a crib mattress. A Twin XL's dimensions are 38″ x 80″ and could be a good fit for a child's room, or even a teenager who could use the additional length.
People trying to save moneymight have room for a Full/Double bed but can't afford the frame, mattress, and sheets. Shoppers who need a new mattress can consider a Twin XL. The bedwill definitely be more affordablesince it's a smaller mattress. Saving on space also gives sleepers an extra 5″ in length, and many Back-To-School sales offer bedding bundles in Twin XL size.
For people who need a bed for a smallerroom,one Twin XL bed will lookvery small in a Master Bedroom(unless it's a smaller bedroom). Instead, the the Twin XL is probably a good fit as a replacement for a crib in a nursery or a smaller room that maybe two people share – like a kid's room.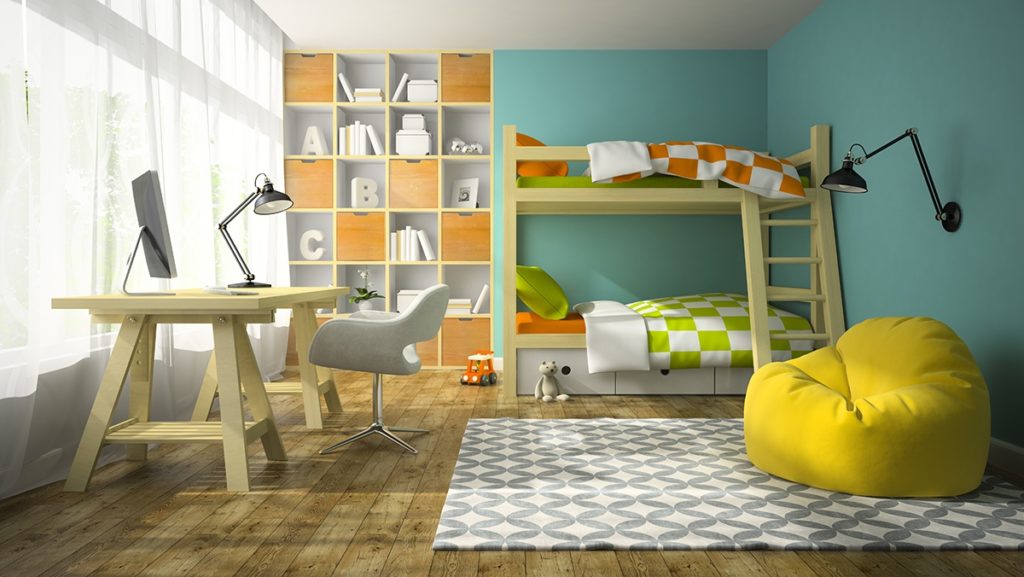 Koksharov Dmitry/Shutterstock
Things To Consider
Here are some tips and things to think about before making a purchase.
Measure the space and leave room for movement.Shoppers who are thinking about making the jump from a crib to a Twin XL – or are ready to live large and get a King bed – make sureit fits it in your bedroom.Just know that it's easy to get caught up in an impulsive shopping moment and end up with a bed that doesn't exactly fit. An article from Th!ngz Contemporary Living says thatmost designers will recommend 30″ of space around your bedfor movement. That means that a King size will be best for a large Master bedroom.
Consider how you'll get your bed into the room.While Twin XL beds and mattresses won't be too difficult to get through doorways or upstairs, a King mattress may take some maneuvering (and another set of hands) to get into a bedroom.
Shop seasonally whenever possible.There are specific times during the year that mattresses andbeds will go on sale.For shoppers who are on a budget but want to upgrade to a bigger bed, it might be worth waiting to make a purchase during that time. Back-To-School is an excellent time to shop for Twin XL beds as they're very common in college dorm rooms. For mattresses, Labor Day weekend is often a good time for sales.
Overall
There are a variety of reasons to go with either a Twin XL bed or a King bed. It'lldepend on sleep needs, room size and – of course – budget!One hack that might be worth investigating is seeing ifthe cost of two Twin XL beds is cheaper than a King bed.Sleepers can put two Twin XL mattresses on a King frame for a Split King mattress (always check dimensions first as some brands may change theirs).
Subscribe to Mattress Clarity!
Get special coupons, discounts, and giveaways!