How many inches is a double size mattress
What is a size of a double mattress
Double mattress also known as a full mattress size54inches (137.2 centimeters) wide and75inches (190.5 centimeters) long with a total space 4050 square feet (26,137 square centimeters). It is 30% bigger than extra long twin size mattress. Double bed is the best suit for medium sizes 12' x 12' bedroom consuming only about 20% of it space and leaving enough area for nightstands and other bedroom furniture. It is also can be used in a smaller 10' x 10' bedroom, but it might be problematically to accommodate bigger drawers or dressers. With middle by one side placement in 12 x12 feet bedroom it is 45" space left from both side of a double mattress.
A full mattress dimension is a smalleststandard mattress sizedesigned for two people. Each person have 27" wide or 2025 square feet (1.3 square meter) space and the mattress will be a good choice for two average heights and body proportions adults. Double bed is also much more convenient to transport than other beds for couples. Full size mattress 6 inches narrower and 5 inches shorter what makes it 750 square inches or about 17% smaller than standardqueen mattress size.
Depending on a mattress type the thickness will range from 5 to 19 inches with a typical 300 – 350 coils count. High quality and performance memory foam full mattress might be 9 – 15 thick plus 4" – 11" base. Full size mattress also much heavier than twin because of bigger dimensions, but it is lighter than any other mattress designed for two adults.
Considering family needs and personal preferences double bed might fit perfectly in a bigger master bedrooms allowing much more area for furniture with bigger measurements or getting more wide open space. But if the people are big 27 inches for each might be not enough and it is better to get more spacious mattress such as queen or king size.
In UK small double mattress size 4 feet (120 cm) wide and 6' 3" (190 cm) long (4'0" x 6'3") with a total space 3,600 square feet (22,800 square centimeters). It is rather smaller version of US double mattress rather than its equivalent, but double 4'6" x 6'3" (135 x 190 cm) mattress has a similar measurements.
54" x 75" Full – Double Mattressin the 12′ x 12′ bedroom
Dimensions of full – double size mattress were proportionally resized according to average men heights – 5 feet 10 inches (1.778 meter) and average women heights 5' 4 ВЅ" (1.638 meter). Bedroom size – 12 x 12 feet (366 x 366 centimeters)
The Ultimate Mattress Size Chart and Bed Dimensions Guide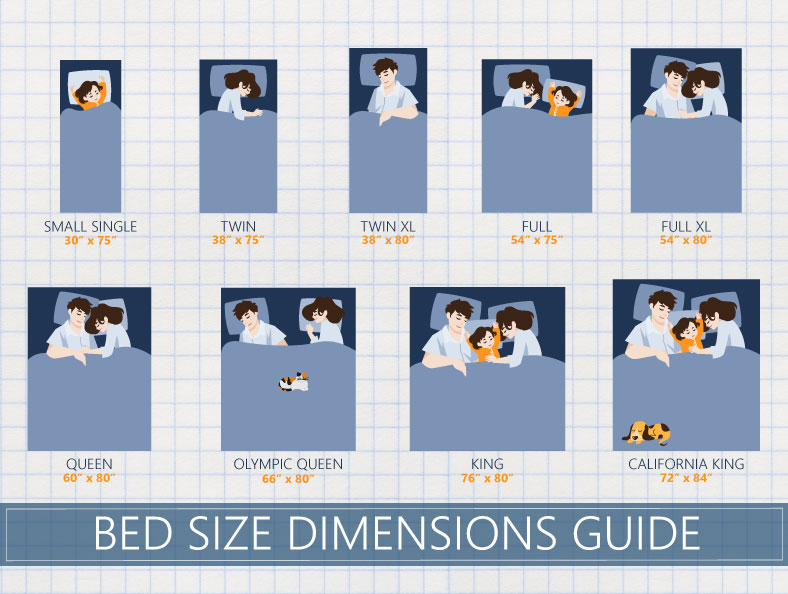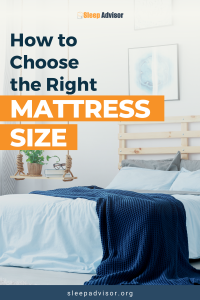 Intuitively, the different sizes of beds seem easy enough to understand, right? The truth is,choosing the right size of your mattresscan be more complicated than you may think. Does it fit nicely in my bedroom? Is there enough leg room? And many other.
To help you make the best decisions when selecting a mattress, we've put together a summary of the most common measurements you will see online and in a store so you can have an idea if it's a perfect bed for you and your bedroom.
Join Better Sleep Community
Have you joined our Facebook group?
Come ask questions in our awesome community that stretches around the globe. Build connections and make friends with folks just like you trying to sleep better.
Common Bed Size Dimensions Comparison
| Type | Size (Inches) | Suitable For |
| --- | --- | --- |
| Small Single or Cot | 30 x 75 | Babies and toddlers |
| Twin | 38 x 75 | Kids that have outgrown their cribs and single adults living in smaller apartments. It's also great for daybed or bunk bed. |
| Twin XL | 38 x 80 | Kids and taller adults and those who want to use an adjustable bed frame |
| Full | 54 x 75 | Good for a single sleeper or someone with children or pets and couples that do not require a lot of leg room. |
| Full XL | 54 x 80 | More than enough for single sleeper and for couples that need more leg room but can not accommodate queen size due to bedroom limitations. |
| Queen | 60 x 80 | Frequent choice and a perfect size for most couples that do not need a lot of sleeping space. If you plan to sleep alone this is more than enough. |
| Olympic Queen | 66 x 80 | Six Inches wider than a standard queen, it makes it nice for someone who doesn't want to upgrade all the way to king. |
| King | 76 x 80 | Great choice for couples who want maximum personal sleeping space. Check our room dimensions scale guide to ensure it will fit in your bedroom. |
| California King | 72 x 84 | 4 inches longer but 4 inches narrower than a standard king type. Good for taller individuals. |
Small Single Bed (Cot) Dimensions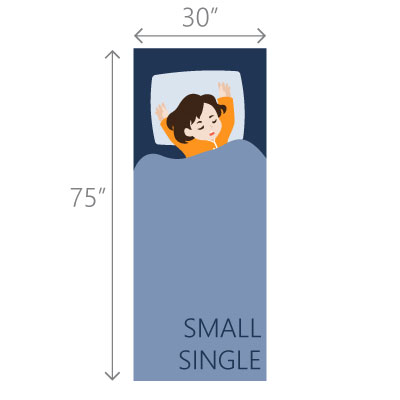 These are the mattresses specifically designed for cribs. It can also serve as toddler beds in most cases once your baby outgrows the cot. Typical measurements are30" width and 75" length.
Twin Bed Dimensions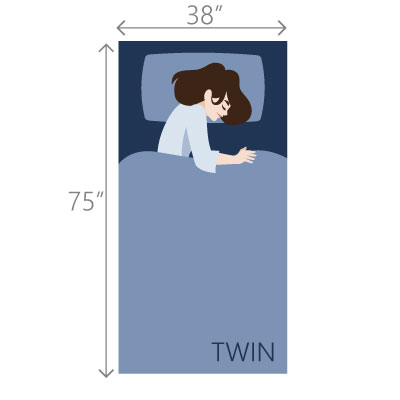 Atypical single, twin or bunk mattresses are 38" width x 75" length. You'd be hard-pressed to find a bed that is any smaller than this one, other than that of a toddler bed or crib.
Typically this isideal for childrenwho have outgrown cribs and toddler beds, and who are now ready to graduate to a larger mattress.
Additionally, for those who sleep in cramped quarters, who have small rooms or who share a room with a sibling or roommate, Twin beds are an ideal choice. Day beds, bunk beds, dorm room beds or those found in the guest room often use this type.
Recommended reading:
What is important to note about a Twin bed versus a larger toddler bed, is that comfort is taken more into account. It's common that, once you reach the Twin size, more quality materials are used, and more engineering centered on comfort takes place. This is because, the older we get, the more we consider comfortable sleeping to be a necessity.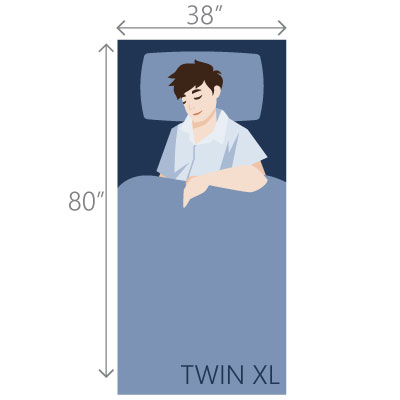 Twin XL
There are subcategories of double beds to consider as well. The Twin XL istypically 80" L while still maintaining the 38" W. If you're an adult looking for a bed that saves space and still is a comfortable choice, an XL Twin may be perfect for you.
Can I use Twin XL mattress on a King Size Bed Frame?
Yes, you can use two double/twin XL beds in a king frame. If you are in a relationship where one partner requires a different firmness than the other, usually end up being big fans of this setup. This is because Two XL beds can fit snugly alongside each other within a King sized bed frame.
This is good to know for partners who are tired of the fluffiness or firmness of their spouse's mattress.
Full Bed Dimensions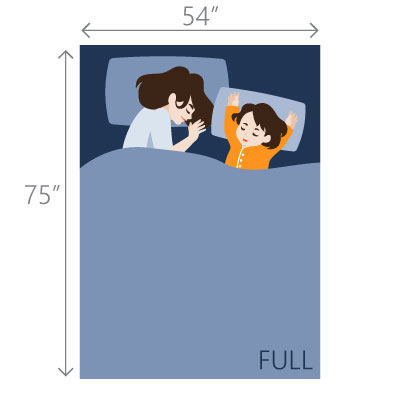 Full-size mattress measures54' width x 75" in length, and these are also commonly referred to as "standard double." Sufficient for adults that need more room than what a Twin can offer.
If you are in a relationship, this may not be the best choice for you, as the fit will be exceedingly tight. Likewise, if you have a dog, cat, or you have a child that sleeps next to you, you may want to consider a wider option.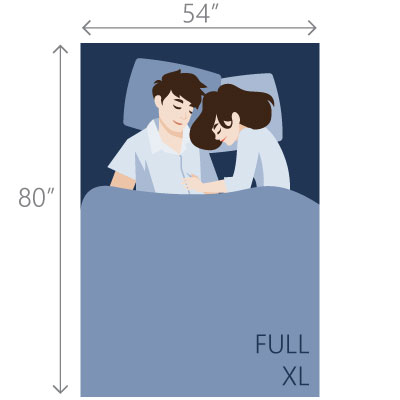 Full (Double) XL
A XL option is54" x 80"giving you anextra 6 inchesof leg space. If you do not require extra width but want some more room for your legs this is a perfect option.
Queen Bed Dimensions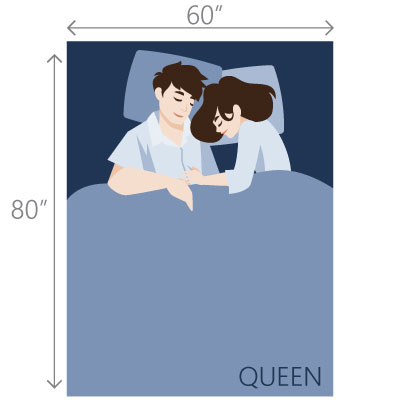 Queen size mattresses are60" width x 80" length. Ideal for almost anyone, in that it's long enough and wide enough to suit most any sleeper. For those who sleep with their spouse, child or pet, it might be perfect for you.
When thinking about these larger types, it becomes necessary to consider the living space. These take up much more room than the Twin or the Full, and thus, the ability to freely move around the bedroom may become restricted.
If you have a larger bedroom, then this won't be a factor for you.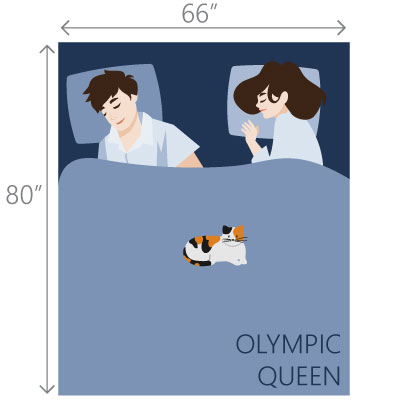 Olympic Queen
These are slightly wider andmeasure at 66"W x 80" L. Olympic queen is perfect for taller individuals, but you don't want to upgrade all the way to King, but you could use some more width.
King Bed Dimensions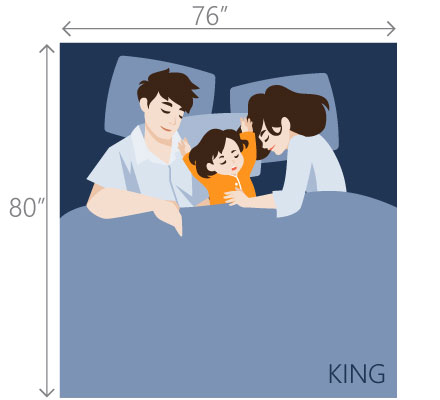 A standardKing size mattress is 76" in width and 80" in length. It's recommended that you do not opt for this option unless your room is at least 12×12. This is a perfect option for couples who sleep with their kids or pets and want more sleeping room for themselves.
If you want to compare this to other options,King is same as 2x Twin XL.
A nice fact is that box springs are split for this type, and it makes it easier to carry around and maneuver.
California King Bed Dimensions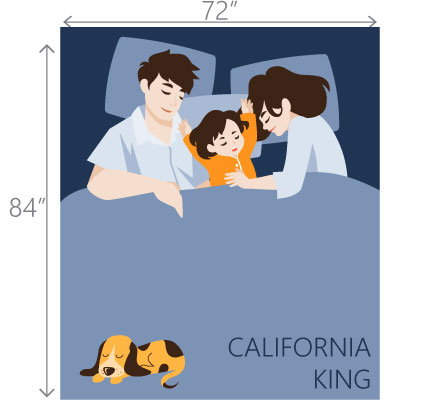 TheCalifornia King mattress is 72" W x 84" Lmaking it one of the biggest options on the market. It's perfect for active sleepers, tall people and couples with kids or pets. Cal King is 4" longer but 4" narrower when compared to a standard King.
It is recommended that you have a large room of at least 12'x12'.
Bedroom Size Requirements
Ok, so you have decided that you need a new bed. But, can you actually put it in your room and still be able to open the door and walk around it?
Let's take a look at the following illustrations showing how certain mattress sizes will fit in your room.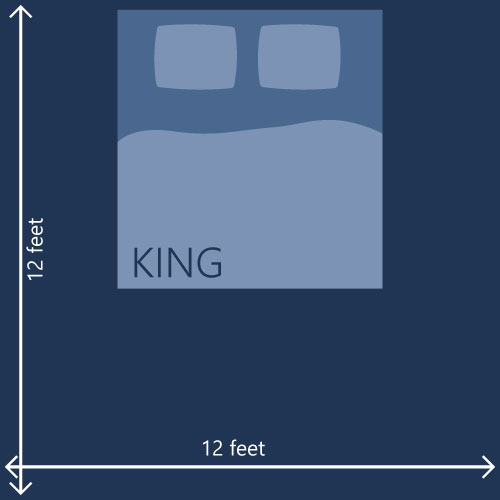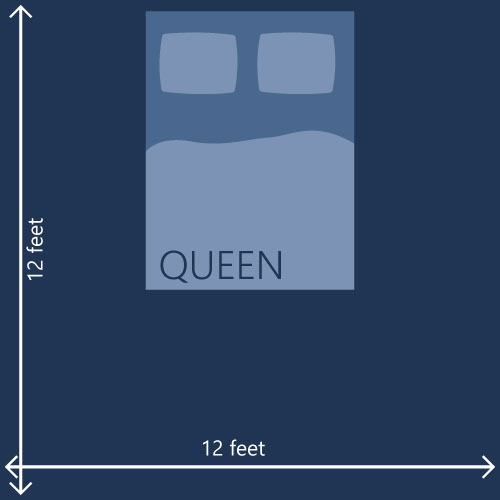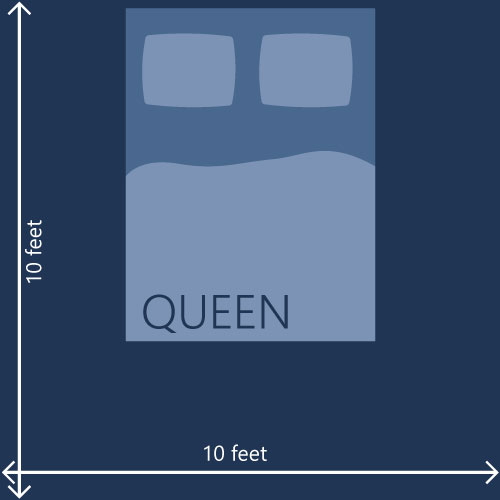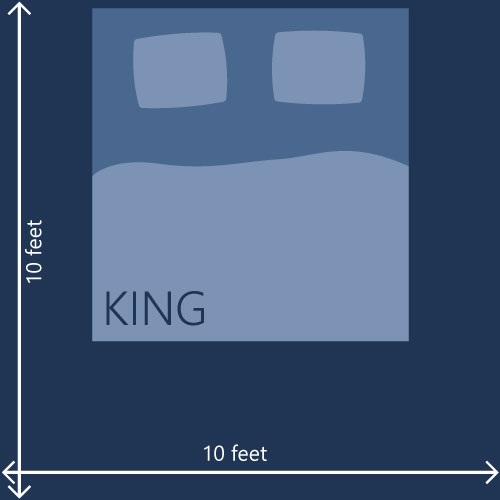 Frequently Asked Questions
Which size is best for me?
Bigger isn't always better, but in most cases it can't hurt. More space could mean fewer sleep interruptions, but if you always prefer to cuddle up rather than spread out, that extra space might not be worth it, especially if you're on a tight budget.
In many cases, couples will opt for a bigger version of a cheap bed, but if you don't need the extra space, that money could be better spent on features like cooling or motion isolation. For a better understanding of getting your money's worth, take a look at our mattress budget guide .
Conclusion
When trying to find the right mattress size to fit the needs of you or your family, these are a few things to have in mind.
First, if you'replanning on upgrading, make sure you know the dimensions of your current bed. You wouldn't want to shop for a larger option and accidentally choose the same type.
Second,if you're moving, don't forget to measure the room that you'll be sleeping in. It is awful to have a mattress that is too big for space. You'll have issues getting around the room, and your space won't be as aesthetically pleasing.
Third,who will be sleeping in it? If it's just you, you are good to go with a Double. But, if you have a spouse, kids or pets you might want to opt for a larger option such as Queen. King is the ultimate comfort size if your room can accommodate it.
Now that you know more about the sizes you can check out our other guides, researched for specific needs and types.
Hope this guide was helpful and that it cleared any doubts.
Please let us know if you have any questions in the comment section.
More from The Sleep Advisor:
More Reading:
Bed size may affect good night's sleep – netdoctor.co.uk
Reasons Why Your Bed Height Actually Matters – dreams.co.uk
Complete Mattress Size Guide – by Nectarsleep.com
Illustrated Bed Dimensions Guide – by Dreamcloudsleep.com
Author: Sleep Advisor
Our team covers as many areas of expertise as we do time zones, but none of us started here as a so-called expert on sleep. What we do share is a willingness to ask questions (lots of them), seek experts, and dig deep into conventional wisdom to see if maybe there might be a better path towards healthy living. We apply what we learn not only to our company culture, but also how we deliver information to our over 12.7M readers.
Sleep research is changing all the time, and we are 100% dedicated to keeping up with breakthroughs and innovations. You live better if you sleep better. Whatever has brought you here, we wish you luck on your journey towards better rest.
Transparency Disclosure– We may receive a referral fee (at no additional cost to the buyer) for products purchased through the links on our site or other applicable pages. To learn more, please read our full disclosure pagehere. We also encourage you to read about how we may research and/or test Products here.

6 Types of Foam – Qualities To Look Out For
10 Top Rated Trundle Beds – Our Reviews and Ratings for 2020
How to Properly Wash (or Clean) Your Pillows
How Can You Make a Mattress Firmer – 7 Helpful Tips And Tricks
How To Pick a Carpet for Your Bedroom
Menopause and Insomnia – What's Burning? Oh, it's me.
Our 8 Highest Rated CBD Oils for 2020
What is Beauty Sleep and How Can I Get it? The Science Revealed
9 Tips for Sleeping Better in a CPAP Mask
Sleep Chronotypes – Are You a Bear, Wolf, Lion, or Dolphin?
Transparency Disclosure– We may receive a referral fee (at no additional cost to the buyer) for products purchased through the links on our site or other applicable pages. To learn more, please read our full disclosure page here.We also encourage you to read about how we may research and/or test Products here.
About Us
Contact Us
Culture
Terms & Conditions
Privacy Policy
DMCA Policy
Contribute
Sleep Calculator
There's no one-size-fits-all when it comes to better health and better rest, but no one has time to sleep, let alone figure out how to upgrade the sleep they're getting.
From figuring out how to buy a mattress, suggesting ones that are good for different needs and body types, or breaking down the newest science behind technology and wellness breakthroughs, Sleep Advisor has you covered.
Mattress Size Chart
Mattress Size
Metric Measurements (cm)
Single Mattresses

Choosing the Right Size

When shopping for a bed, determining the most suitable mattress size is paramount. Whether it be a king, queen, single, king single or double bed, BedsOnline are sure to have the perfect mattress, with the right dimensions, for you.

The Single

Single beds have dimensions of 92cm x 188cm, and they are great choices for kids of all ages. A single bed will offer your child enough space to comfortably sleep, as well as enjoy their bedroom's remaining areas. Single beds are also available in a trundle variant, so you can have a single dimension in a bedroom for two kids.

Single beds are a nice option for students who are living alone and are on a tight budget, due to their value and practicality in saving space, especially if you're sleeping in a small apartment or dorm room where saving space is a priority.

Singles are also good for guest rooms, providing your overnight visitors with a pleasant night's sleep. Single beds can be a little bit short for some people though, and this is where you should consider getting a king single mattress with its bigger dimensions.

The King Single

A perfect alternative to a single bed, especially if an ordinary single is just too short for you but don't have the space for a double bed, or anything larger. The king single bed has the dimensions of 106cm x 203cm, and is perfect for people who are taller than the average height. Like a single bed, it's perfect for kids. Purchasing a king single mattress can provide a parent with the peace of mind that your growing child won't need a new bed bought in the near future.

Despite being sizeable, the king single might not have ample space for you, and that's where you need to browse the larger options which are available.

The Double

Double beds have always been that middle 'sweet spot' for a lot of people wanting to buy a bed that is spacious, but not too big to be overbearing in their rooms. With dimensions of 137cm x 188cm, double beds are not as lengthy as a king single, but are considerably wider, allowing more movement during your sleep, or even the addition of a partner – two average sized individuals could comfortably sleep in a double bed. If you're someone who wants a lot of space in sleeping yet can't afford a queen or king sized bed, or if you simply don't have the space for one, the double is just the right bed for you.

A double bed could also do the job for your child's bedroom. If your kid's room has enough space for a double sized mattress and if it fits into your budget, your child will love their new bed.

The Queen

Probably the most popular size, the queen size beds provide a solid amount of comfort and luxury. The queen's dimensions are 153cm x 203cm, easily fitting two people. Queen beds are usually for couples that have an average sized bedroom. They provide plenty of space and come in different varieties where the mattresses are specialized to make sure that you don't disturb your partner when you get up or move around.

If you sleep alone but want the luxury of having that extra space when in bed, a queen mattress is for you.

Whether you are living alone or with your partner, a queen sized bed offers solid bang for your buck.

The King

With dimensions of 183cm x 203cm, king size beds are extremely wide and provide heaps of space for two. King size mattresses are also suitable for couples who value a lot of space when sleeping.

The king size bed maximizes your comfort when sleeping, thanks to the high-end technology found in most mattresses, which makes sure that your movement doesn't resonate over to your partner's size of the bed. It may not be the right fit for everyone, but the king sized bed provides the most luxury in space and comfort.

Air mattress size chart & top choices by size

It's been a while now that I have been receiving questions about the sizes of air mattresses.

How big is a queen size mattress? How big is king size? What is California King? Do the names used to describe size same all over the world or size varies…and so on…

Today, we are putting all those dilemmas to rest in a concise and to the point article which explains it all.

Instead of me talking so much, I've decided to make this air mattress size chart that says it all:

Air mattress sizes:

Best airbeds by size
Top-rated Twin

SoundAsleep Twin
Click here to read
what owners of
the SoundAsleep Twin
are saying on Amazon >>>
Top-rated Twin XL

Fox Twin XL
Click here to see
ratings & prices of
the Fox Twin XL
on Amazon >>>
Top-rated Full (Double)

Intex Comfort
Plush Durabeam
See the Amazon
ratings & compare prices
of the Intex Plush Durabeam here >>>
Best air mattress in Queen size

SoundAsleep
Dream Series
See the Amazon
ratings & compare prices
of the SoundAsleep Dream here >>>
Top-rated King

Sky Blue King
with Bamboo topper
Click here to see
the Sky Blue King
airbed on Amazon >>>
Best California King

Fox Plush
California King
Now, let us address the issue if this air mattress size chart applies equally in all parts of the world.
The answer to that is no, not exactly. The differences are minor but they still exist, so let me again try to explain how things stand with a simple size chart for mattress sizes in different parts of the world:
Dimensions of airbeds by country/region:
So, let's reiterate what we've seen about air sizes and dimensions.
Twin airbed dimensions
Dimensions of a twin air mattress are 38 x 74 ", with the height varying from 7 to 25 inches.
Twin XL airbed dimensions
A Twin XL airbed is 38 " wide, 80″ long and 7-25″ high, depending on the model.
How big is a Full (double) airbed?
Full (or Double) air mattress is 54 inches wide and 74 inches long. The height varies between 7 and 25 inches.
How big is a Full XL airbed?
Full XL is an extra long version of the Full-sized airbed. It's 54 " wide and 80 inches long, which is 6 inches longer than a standard full. It can be 7-25 inches high.
Queen size air mattress dimensions
Dimensions of a queen size inflatable mattress are 60 times 80 inches, while the height can be anywhere from 7 to 25 inches.
Dimensions of a King airbed
King air mattress are 76 x 80 inches and can be 6.5-25 inches high.
How big is a California King airbed?
Dimensions of a California King air mattress are 72 x 84 inches and it can be 20-25 inches high, depending on the model.
Again, you can see all these dimensions of inflatable beds converted to metric in the table above as well as our top choices in each size.
I hope that this article clarifies everything about air mattress sizes and eliminates the confusion.
Mattress Size Chart
Standard Mattress Sizes Available in Canada, with Dimensions
Width x Length
Crib
28 x 51"
71.1 x 129.5 cm
Half Queen
30 x 79 ½"
76.2 x 202 cm
Twin/Single
38 x 74 ½"
96.5 x 189 cm
Twin/Single Extra Long (XL)
38 x 79 ½"
96.5 x 202 cm
Also known as "Twin Long"
Double/Full
53 x 74 ½"
134.5 x 189 cm
Also known as "Standard"
Queen RV
60 x 74 ½"
152.5 x 189 cm
Common in recreational vehicles
Queen
60 x 79 ½"
152.5 x 202 cm
California King (Western King) 1
72 x 84"
183 x 213 cm
King (Eastern King)
76 x 79 ½"
193 x 202 cm
Standard Canadian & American King
Super King 2
85 ½ x 84 ½"
217 x 215 cm
1 – Although California King is available in Canada, this size only represents a small portion of our king mattress sales.
2 – Super king sized mattresses are available from Vispring, makers of hand crafted pocket spring mattresses since 1901. Super king bedding including sheets and duvets are available from St Genève, Canadian luxury specialists.
Nearly all mattress sizes are rounded up. For example a Twin bed in real-world dimensions is usually 38 x 74" or a Double is 53 x 74". Queen and King are almost always 79 inches long. Most mattresses today are still primarily hand made, which will always lead to variances. Foam mattresses tend to adhere to sizing guidelines more accurately than spring mattresses.
Custom Mattresses
Square, rectangle, round, cut corners to fit antique four poster beds, we're well suited to work with our manufacturing partners to provide these unique requirements. Our hand crafted luxury natural mattress range from Berkeley Ergonomics, Obasan and Vispring allow for just about any possibility.
Our custom mattress category is an excellent starting point for obtaining ideas and approximate pricing on special sized natural mattresses.
Uncommon Mattress Sizes
Our partner suppliers are able to craft a mattress in just about any of these uncommon mattress dimensions. With these sizes it is critical to know that there are two distinct choices available to consumers in Canada:
An inexpensive polyurethane foam mattress cut and upholstered to the sizing required. A mattress made with these materials would usually cost less than $500, regardless of how large. This type of mattress is best sourced from your local foam upholstery shop.
A high quality, hand crafted mattress from our carefully curated range of mattress brands including Berkeley Ergonomics, Obasan and Vispring. Custom sized mattresses made to order start at approximately $1,500.
| | | |
| --- | --- | --- |
| Old Style Single 2 | 36 x 72" | 91.4 x 182.9 cm |
| Twin/Single Waterbed | 36 x 82" | 91.4 x 208.3 cm |
| Half California King | 36 x 84" | 91.4 x 213.4 cm |
| Supersingle (3/4) | 47 x 74 ½" | 119.5 x 189 cm |
| Supersingle (3/4) Extra Long (XL) | 47 x 79 ½" | 119.5 x 202 cm |
| Supersingle Waterbed | 47 x 82" | 119.4 x 208.3 cm |
| Double/Full Extra Long (XL) | 53 x 79 ½" | 134.5 x 202 cm |
| Queen Waterbed | 58 x 82" | 147.3 x 208.3 cm |
| California Queen 3 | 60 x 84" | 152.4 x 213.4 cm |
| King Waterbed | 70 x 82" | 177.8 x 208.3 cm |
Note, sizing may vary dependant upon the manufacturer.
2 – 36 x 72" was a common size in the middle part of the 20 th century. It is no longer a standard size.
3 – California Queen was used primarily as a replacement for wood-framed water beds and is nearly obsolete.
European & British Mattress & Bed Sizes
This table lists the European sizes we most frequently source for our customers here in Canada.
Width x Length
EU – Single/Twin
90 x 200 cm
EU – Single Extra Long
90 x 210 cm
EU – Small Double
120 x 200 cm
EU – Double
140 x 200 cm
EU – King
160 x 200 cm
EU – Grand King
180 x 200 cm
UK – King
152 x 198 cm
60 x 78"
UK – Queen or Super King
183 x 198 cm
72 x 78"
About Discrepancies
It is not uncommon for a particular mattress to not match up exactly to a size listed above. As many aspects of building a mattress are still done by hand, there will always be variations in sizing from one mattress to the next.
Often times, mattresses may measure as much as one or two inches shorter or narrower than the "official" dimensions. This is considered normal.