Mattress Coils: Considerations When Purchasing a Mattress
When purchasing a mattress, a factor of consideration for consumers is the kind and number of mattress coils in the mattress to best suit the customer's sleeping needs. Mattress coils, or mattress springs, are integral to the mattress' support, which in turn impacts comfort and sleep quality.
For those with back pain, back issues, or other concerns for support, considering various alternatives of mattress coils may be key to finding the ideal mattress.
Coil Gauges
The gauge number of a mattress coil indicates the mattress' thickness. The lower the gauge number of the mattress coil, the thicker the coil. Therefore, the lower the gauge number, the firmer and stiffer the mattress will feel, offering a harder surface for the mattress.
Mattress coil gaugestypically range from 12 to 15. If the customer is looking for a forgiving mattress, an ideal gauge number would be 14. However, if the customer is looking for a mattress that offers more firm support, an ideal gauge number would be 13 or lower.
Mattresses with lower coil gauges typically last longerbecause the thicker wire wears out slower over time. However, most consumers replace their mattress before the coils wear out, regardless of their gauge, and therefore gauge number should not be a heavy consideration in regards to durability.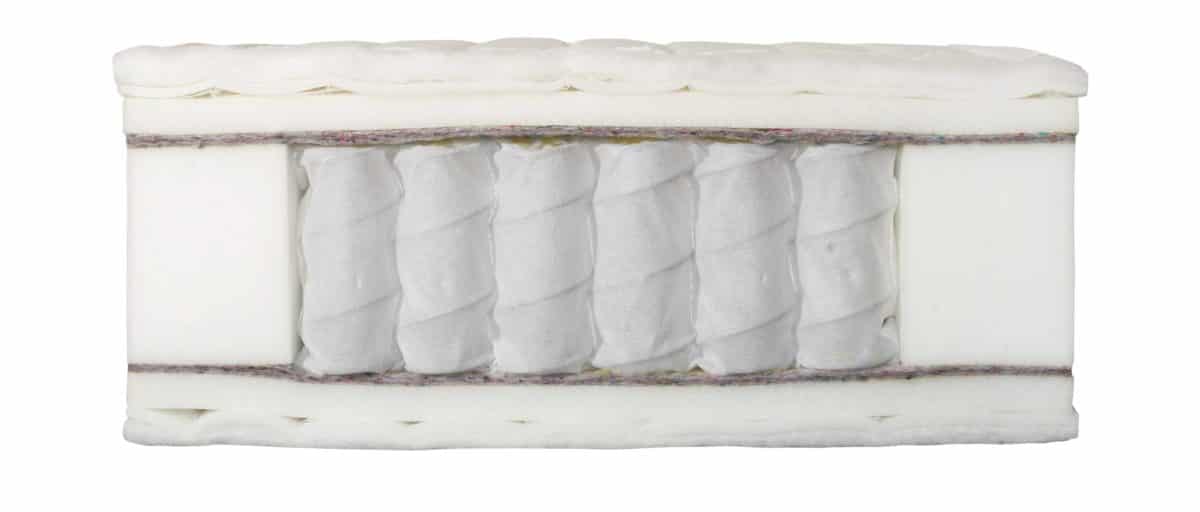 Number of Coils
The number of coils can impact bodily support and mattress longevity. Consumers should generallyavoid mattresses with low coil counts; however, an absolute minimum coil count is difficult to determine because of the variety in mattress sizes.
Generally, full mattresses should have at least 300 coils, queen mattresses should have at least 400 coils, and king mattresses should have at least 380 coils. However, mattresses with coil counts much greater than the minimum level of coils may not actually offer a substantially higher level of comfort or support. For example, mattresses with low coil counts may promote higher coil density, which provides greater support.
Type of Coil
The type and construction of the coil may be considered more important than the number of coils and the gauge of coils. There are three main types of mattress coils:
Hourglass Coils:Hourglass coils are the most common type of mattress coil. Two subtypes of hourglass coils are Bonnell and offset hourglass coils. Bonnell coils are less expensive to make and are therefore more popular, whereas offset coils are constructed with a hinge-like rounded top and bottom and therefore make less noise when slept on. Offset coils also conform more to the user's body shape. The Sealy Posturepedic coil system uses offset coils.
Pocketed Coils:Pocketed coils, also known as Marshall coils or encased coils, reduce the sensation of movement on the bed because each coil is wrapped in a textile. Pocketed coils are often used in high-end mattresses because they are expensive to manufacture and create. These coils have become more popular over the years.
Continuous Coils:Continuous coils, also known as Mira-coils, are made in an S-shaped curve rather than being coiled, and are made from one long wire. These coils provide a more stable and interlinked coil structure. Mattresses with continuous coils have been noted to be more durable. The largest company using continuous coils is Serta Mattress Company.
Other Factors
Other factors include whether or not the mattress coils have been tempered.Tempered coilsare more durable because they have been heated and cooled repeatedly to ensure and solidify the shape of the coil. For customers who require firm support, such as those with a larger frame or greater mass, tempered coils may be ideal.
Works Consulted
"All About Mattress Coils." Sit 'n Sleep. Sit 'n Sleep, 22 Aug. 2009. Web. 11 July 2017.
"Definition of Coil & Coil Count." Furniture. Furniture.com, n.d. Web. 11 July 2017.
"What Is a Mattress Coil Gauge?" US-Mattress. Bedding Pros LLC, n.d. Web. 11 July 2017.
Subscribe to Mattress Clarity!
Get special coupons, discounts, and giveaways!
What's The Best Innerspring Bed For 2020?
Transparency Disclosure– We may receive a referral fee (at no additional cost to the buyer) for products purchased through the links on our site or other applicable pages. To learn more, please read our full disclosure pagehere . We also encourage you to read about how we may research and/or test Products here .
Although an innerspring is one of the oldest bed types, they're still trendy, and it doesn't mean they are less durable or too firm like some people think. Typically, they feature a steel coil core (support system) with a padded layer, or a foam on top if it's a hybrid.
This provides you with a comfortable, flexible, and supportive surface that'll keep you cooler than most other bed types (most notably, memory foam). A modern innerspring base also allows for natural body movement and limits motion disturbance, which is excellent for people sleeping with a partner.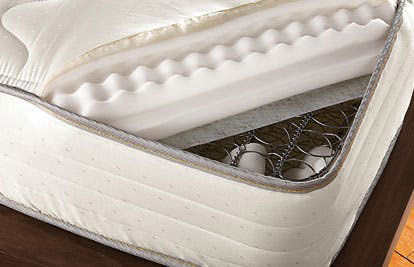 Note: There are manytypes of innerspring mattresses– the quantity, design, and thickness (or gauge) of coils varies greatly. Plus, some are "hybrid" beds, which can be either topped with memory foam, latex, or even gel, and the depth and density of the layers can also differ.
All of this variety can make choosing the right model difficult. But don't let that put you off! We've reviewed many of the highest rated innerspring brands in this article.
Trial Period: 120 Days
Warranty: 15 Years

CLICK HERE FOR PRICE

Trial Period: 120 Days
Warranty: Lifetime

CLICK HERE FOR PRICE

Trial Period: 120 Days
Warranty : 10-Year

CLICK HERE FOR PRICE

Trial Period: 120 Days
Warranty : 15 Years

CLICK HERE FOR PRICE

Trial Period: 100 Days
Warranty : 25 Years

CLICK HERE FOR PRICE

Trial Period: 100 Days
Warranty : 10 Years

CLICK HERE FOR PRICE

Trial Period: 100 Days
Warranty : 10 Years

CLICK HERE FOR PRICE

Trial Period: 365 Days
Warranty: 25 Years

CLICK HERE FOR PRICE

Trial Period: 100 Nights
Warranty: Lifetime

Top Rated Innerspring Mattress Reviews

Saatva – Affordable Luxury

Highlights:

Certified Organic Cotton
CertiPUR-US® Certified
120-Day Trial
15-Year Warranty
Charity Initiatives
Made in the USA

You don't have to skimp on luxury to save some cash. Saatva cuts out the costs of retail stores stock rooms and middlemen to make their products more affordable. Plus, perks like free white glove delivery can save you even more while feeling like true luxury.

What makes it unique?This brand has not one layer of coils, but two in a coil-on-coil pattern. Connected coils line the base and give a deep bounce while individually pocketed coils on top help minimize motion transfer and add contouring.

Saatva has a few more features that make it a popular pick, like support enhancements to the lumbar region to promote healthy spine alignment and a Euro pillow top for pressure relief.

The bed can be purchased at two different heights – the Custom Slim at 11.5 inches and the Premier Luxury at 14.5". This option can help you get the aesthetic you are looking for and the Custom Slim works with adjustable bases. In addition, choose from their popular Luxury Firm, Plush Soft, and Firm comfort levels for further customization.

WinkBed – Premium Feel

Highlights:

CertiPUR-US® Certified
120-Day Trial
"Any Reason" Guarantee
Lifetime Warranty
Made in the USA

After laying on WinkBed for the first time, your eyes will probably be closed much longer than a wink. Its coil-on-coil design feels high-quality, and its quick-responding foams on top feel incredible for pressure relief.

Both coil layers are pocketed, so each spring compresses independently and serves to help isolate motion to minimize transfer throughout the bed that would risk waking a partner.

What makes it special?Unlike lesser designs that can break down over time, the WinkBed holds up extremely well and the brand prides itself on using durable materials and construction, making it our pick for Fantastic Durability. There is a very low risk of support dwindling and materials sagging over time, which is backed up by a test conducted by a third-party that simulated extended use.

The coil-on-coil design has a lot to do with its durability, as does a reinforced dense foam perimeter. Handcrafted in the States with high-end materials, sleepers should feel supported for the long-haul.

Brooklyn Aurora – Exceptional Cooling

Highlights:

CertiPUR-US® Certified
120-Day Trial
10-Year Warranty
Made in the USA

With so many mattress choices available, sometimes it's hard to know where to look for a great value.

Enter DreamCloud, a hybrid bed so full of high-quality materials and luxury features that we're impressed they can offer it at such a good price.

Do you find yourself waking up in a sweat? You need a mattress that will keep you icy cool all night long. Brooklyn Aurora is up there for one of the coolest hybrids we have tried out, so it might be a winner for you.

What is its best feature?Brooklyn Bedding, the maker of Aurora, knows how important cooling is to a good night's rest and has taken measures to add temperature regulating technology to their product.

It starts with the phase-change cover that whisks away heat and moisture. Each layer of foam is infused with different cooling technologies, such as copper and gel. Hybrids are already on the cooler end because coils encourage airflow.

The spring system has reinforced Quantum Edges, so you should not feel like you are falling out of bed, and the bounciness is awesome for repositioning during sleep. Plus, Brooklyn Bedding constructs their mattresses in their own factory for extra savings.

Saatva HD – Heavy People

Highlights:

Certified Organic Cotton
CertiPUR-US® Certified
120-Day Trial
15-Year Warranty
Charity Initiatives
Made in the USA

No mattress is one-size-fits-all, and heavier folks require something extra supportive and durable. And nothing is better than a mattress specifically made with bigger body types in mind.

This hybrid is made with foam, latex, and coils, and all three of these materials make up a long-lasting bed. The Talalay latex has a 5-zone design that targets pressure points and supports the heavier parts.

What is so special?"Luxury comfort for the bigger body" is the motto behind Saatva's HD model, meaning that every detail is sturdy. The company claims that their steel coils are 25 percent stronger than the industry standard, so holes and sagging should not be a problem after years of use.

There is a Spinal Zone for extra support in the middle third of the bed, where the core, often the heaviest part of the body, lays. However, if you share the bed with a lighter weight partner, they might find the bed to be more on the firm side.

Birch – Pressure Relief

Highlights:

GREENGUARD Gold Certified
OEKO-TEX® Certified
Rainforest Alliance Certified
100-Day Trial
25-Year Warranty
Made in the USA

Noticing some aches and pains lately after waking up each morning? Hips, shoulders, and knees tend to feel a lot of pressure from our sleeping positions, and your mattress might not be helping. Generally, materials that contour to your curves help relieve some of that pressure, and latex is great for just that, which is why Birch is our Pressure Relief pick.

What is the best feature?Birch by Helix is all-natural and all-pressure-relieving, using eco-friendly materials to achieve this level of comfort. Latex contours to the body, conforming to and supporting the spots that need it while keeping the spine well-aligned.

The stretchy organic cotton cover and wool layer help whisk moisture and heat away from the body, and the latex and coils promote optimal airflow, so overheating should not be an issue. It is more on the medium-firm side, so back and stomach sleepers will probably appreciate how this feels.

Casper Wave Hybrid – Spine Alignment

Highlights:

CertiPUR-US® Certified
100-Day Trial
10-Year Warranty
Designed and Assembled in the USA

Old mattresses can sag and form dips over time, and if you suffer from any kind of back pain, this can spell disaster.

A key to solving this problem could be a new mattress specifically designed for spine alignment. Casper's Wave Hybrid is a bit firmer than the original Wave Mattress with the same quick response foam that many know and love. The hybrid adds springs into the mix, making it bouncier and adding some extra support.

What stands out?The foams in Wave gently contour to your body to fill the gaps where needed. The springs are the main support in this bed, and they add some lift and ease of mobility, so mornings should be easier.

Casper calls the Wave Hybrid their "most advanced bed" and it's not hard to see why with all the specialized features, the result of years of research. There is also a lower memory foam layer in Wave for deeper contouring, which is great for pressure relief.

Helix – Customizable

Highlights:

CertiPUR-US® Certified
100-Day Trial
10-Year Warranty
Made in the USA

Can you imagine taking a quiz to find your perfect mattress? With Helix, it is that simple. After answering a few simple questions like body type and preferred sleeping position, Helix will help you to pick out one of their 16 customized mattresses.

What makes it special?These hybrids are specifically designed to address your sleeping needs. No more guessing which bed will work for you.

If you sleep with a partner, the quiz can take into account the needs of you both to help determine what features would suit you both for a good night's rest. For plus-size sleepers, the Plus model is built with reinforced coils to offer more enhanced support.

Of course, each bed has a unique construction, but yours will have some combination of the company's memory foam, comfort foam, and micro-coils. With all these layers, you should find the right blend of comfort and support depending on your needs.

Avocado – Organic Materials

Highlights:

GREENGUARD Gold Certified
Certified Organic Materials
Made Safe
365-Day Trial
25-Year Warranty
Made in the USA

Passionate about making green mattresses that create a healthy sleeping environment for the entire family, Avocado is an eco-friendly solution with latex and innersprings that stands out in the bed-in-a-box marketplace. Unlike many of the brands out there, they refuse to use petroleum-based poly foams and opt instead for materials like upcycled coils, natural latex, wool, and cozy organic cotton.

What makes it unique?Quite simply, its eco-friendly hybrid design. Avocado uses natural Dunlop latex from a sustainable source and springs to provide great rest and peace of mind from the lack of harmful chemicals.

Avocado has almost too many certifications to list. Their product has achieved GREENGUARD Gold Certification, a distinction that speaks to low emissions, as well as natural latex and Global Organic Textile Standard certifications (the latter for the cotton cover). The company is so committed to its mission that it gives back 1% of revenue to protect the planet.

Alexander Nest Signature – Balanced Feel

Highlights:

CertiPUR-US® Certified
100-Night Trial
Lifetime Comfort Guarantee
Lifetime Warranty
Made in the USA

Created by Nest Bedding, Alexander Signature Hybrid is a design that benefits sleepers looking for overall comfort and support.

Its layers are optimized for cooling, from the airflow through the coils to conductive copper and EverCool foams, as well as a phase change fabric. It has a good level of bounce that makes it easy to move around on, which is convenient when changing positions during the middle of the night.

What's its best feature?Unlike some other hybrids that may feel more like an innerspring or foam bed and not a combination of the two, Alexander Signature Hybrid has a balanced feel of both. Comfort and support can be enjoyed in equal measure.

The brand provides three firmness options during checkout, so whether you are a strict side sleeper who needs the pressure relief of their Plush model, a stomach sleeper who would love the extra firm support of their Luxury Firm, or a back/combination sleeper who would likely find the Medium most comfortable, Nest Bedding has made it easier to find a personalized comfort option.

What is a Coil (Innerspring) Mattress?

Beds of this type are viewed as having a more traditional, bouncy feel and are primarily classified as including innersprings inside. It very well may be the type of product you slept on each night growing up.

These can come in different gauges and be connected, pocketed, or a different design. As there are many different styles, we will provide a breakdown of what is on the market to help you see which fits your lifestyle best.

How To Choose A Great Spring Mattress

Innerspring beds come in a variety of models. Below we will have a look at the main coil designs and their pros and considerations, as well as why coil count and coil gauge are important factors.

Different Traditional Coil Types Comparison

There are different types of coil patterns and designs. The most commonly available contain four main types of coil types, which are usually advertised as follows:

Pocket Spring (Wrapped Coils)

Often considered the best type by customers, this design is also referred to as pocket, encased, wrapped, or Marshall coil. This kind of bed consists of hundreds or even thousands of individual coil springs, each sitting in its own fabric pocket. As they are not attached to each other, the springs can move independently of each other.

This type of spring systemconforms to your body, distributing your weight evenly and preventing pressure points that can cause back and shoulder pain. For this reason, pocket spring mattresses are known for providingsupreme support. The individual springs also helpprevent motion disturbance, as, if you move, your partner does should not feel it on their side.

Due to these highly desirable features, pocket spring beds are usually themost expensiveof all four types but there are some really affordable brands out there.

Open Coils

Open coils, also commonly called "the Bonnell," is the oldest and most common type of spring system, and is often found in cheaper innerspring mattresses. The open coil design consists of multiple springs, which are interconnected within a wire frame. A standard double open coil mattress usually contains about 300 springs.

This design usually provides a very firm support. They are used in some orthopedic mattresses for this reason. They are also typically lighter than pocket spring mattresses, making them easier to turn.

Unlike the pocket spring, however, some can "dip" in the middle over time. Couples may notice movement from their partner, and roll-together can be an issue, too.

Offset coils

Mid- to higher-priced

Offset coils are similar in structure to open coils, except each spring is hinged together by a helical wire on top. Like pocket coils, this design provides body contouring and better motion isolation.

However, they can be made firmer than a pocket coil, as the hinging effect allows more load-bearing on the springs. This type of bed can be an excellent choice if you want a softer surface with a firm, supportive core.

Q's Views

A mattress industry blog by Mark Quinn

7 Reasons Coil Counts Matter

When I first got into this business, I worked for Stearns & Foster, which at the time was owned by Sealy but had its own sales force and product development team. We sold Correct Comfort products with 390 12¾-gauge innersprings. This was a problem because at the time, Sealy (our sister company) and other leading brands were selling mattresseswith 660 coils, although the gauge of wire was much thinner. In training meetings with RSAs, we used to say, "stronger wire, less coils is just as good as thinner wire, more coils; it really is six of one, half-dozen of another." Then the industry moved away from any conversation around spec or coil counts with Nat Bernstein's Comfort Selling program, which we launched at Sealy. (There may have been other similar training out there or people doing it before we did, but Sealy was THE leader back then so I am pretty confident this led the rest of the producers.) With this approach, we took as much focus off the components as we could and simply sold the comfort of the product above all else. It was easy. It was effective. It worked.

Times have changed. Consumers are not as easy to sell to; they are more educated than ever with the Internet, they are sick and tired of the lack of transparency in our industry,and sellingcomfort onlyjust won't get it done in many cases. All of that to say, COIL COUNTS MATTER! Yes, I work for a spring producer, so it won't surprise you that I am taking this position, but hear me out on my list of seven reasons to focus on the count and construction of the innerspring:

There are many (notice I didn't say all) consumers that just want more information about what is inside the bed. YOU may not be the spec type or need to have a breakdown of the construction, but do not make the mistake of assuming those people are not out there. If you live in Clear Lake, Houston, you know exactly what I am talking about!
If there is a $300 difference from one bed to another, telling them that comfort is the reason for the jump just won't get it done. The consumer needs you to JUSTIFY the higher price with other reasons in order to believe.
More coils can in fact mean more comfort and more support. If you take similar constructions and decrease coil count, it is going to have a direct impact on the feel and likely the durability of the mattress.
With the new micro coils from Spinks/Hickory Springs and Leggett & Platt, this new sleep tech delivers a great story for the RSA to share with the consumer.
Look at Europe. Coil counts are marketed very successfully and it helps them drive consumer interest.
Some may say that speaking about coil counts or construction could complicate things at the point of sale, but I strongly disagree with that. In fact, I think it's just the opposite; it makes things SOOOOO much easier for the consumer to understand. If you SIMPLIFY the experience for the consumer, you will win. Explaining that more coils are better than less coils is pretty much a no-brainer.
There is a discernible comfort difference in testing an average bed versus one with 50% more coils in it. If you can deliver a selling point that is experiential for the consumer, you will get that sale.

So have I convinced you? If you agree or disagree with me, help us learn more on the subject by completing a quick survey. Sleep Geek would like to understand the industry sentiment on this subject and YOU CAN HELP. I will release the findings in a future blog post, so carve out a few minutes, please.Take the survey nowso you can be counted!

36 thoughts on " 7 Reasons Coil Counts Matter "

Agree 100 % Knowledge will out sale most other methods

I work for a reputable mattress company in Edmonton. I am a person who has cut many coils out of different pocket coil beds to illustrate the differences in coil counts to the average person. I strongly disagree with any BS about coil counts adding anything but a "story" to a bed. Of course it is easier to sell beds based on this, but I challenge anyone worth a hoot in this industry to successfully argue the merits of higher coil counts, (which the published story is vague about coil types) especially given the variables in foam, maintenance of the mattress, and protection. You could narrow this list down to one reason why coil counts matter: 1. It helps the ill informed sell to the ill informed. The only thing that may help the general public about buying beds with a hope for happiness, is to remove your "7 Reasons Coil Counts Matter" from the web and try this again. I pity the customer relying on your info to buy.

We are going to have to disagree on this one Tim. Please tell me what you are basing your opinion on, is there research there to back up what you are saying? Feel free to address each of the 7 if you would like and I will be happy to support my thoughts in more detail. Believe me, I understand the BS approach taken by many in our industry to make a point but I assure you there is more to this post than opinion and smoke.

I may be late in my response and sell few innerspring sets these days but during that time in my life it was easy to explain to a customer that what fails on any mattress is most commonly the upholstery layers (comfort layers). Therefore it is only reasonable to explain that More coils utilizing a thinner gauge (14 gauge) of wire will serve to flex moreso than a set with fewer coils utilizing heavy gauge (12.75 gauge) of wire. The higher the resistance to pressure the more quickly the upholstery layers will wear out causing loss of comfort. This is why I was never a Stearns fan. Simple really.

Hey how about giving me some pointers, what to look for, how long they will last and so on please

Hey there Ken, give this website a try. There is a lot of great information to help you with your mattress shopping. http://bettersleep.org/

My best customers did not understand Coil Count 3 Years ago. After they made a very expensive mistake, they come searching for answers and relief from huge depressions. Steel Springs, and a lot of them reward me with many referrals.

Thanks Charlie and I agree. A bed made with a superior core will typically last longer. Thanks for reading and sharing your thoughts.

This is a tough question, good salesmen should be educated in all of the different technologies about coil construction so they can answer their consumers' questions. Latex and tempur mattresses have no coils, and we all know how important these mattresses are to our industry. So, coil counts have no bearing on the all foam bedding. The front coils on your car can support a couple thousand pounds, but they would not make a very comfortable mattress. Typically, the mattresses with fewer coils are less expensive for a reason; they usually are not covered with the most plush upholstery. As the coil count goes up, the quality of padding improves; both alter the feel of the mattress. I am not aware of any mattress company which offers a good, better, best comparison of their mattresses by simply changing the coil count and leaving the upholstery the same. So, the research seems to be tainted. There are definitely companies out there that dress their mattresses, "to the nines" on inferior coils, and then they sell them as more mattress for less money. Ultimately, the consumers should try to buy the most comfortable mattress they can afford. So, does coil count matter? Sometimes yes and sometimes no!

I feel you are making a broader attempt to say coil count can be a factor for some consumers so make sure you are in the know about coil technology. I also see were Tim is coming from. There are many factors when having a conversation about coils. This in itself leads customers to be confused.

Example:
Simmons uses the triple braided coil in their Beautyrest black series. When I did a simple PPI test with a basic scale sealy's new titanium coil actually was stronger. And if my memory is correct there is about a 100 difference in coil count. But many retailers that carry the black series will sell the higher coil count and construction. L&P makes close to 95% of coils manufactured but we all know how the bed is constructed, used, and maintained play a huge factor in lasting comfort and durability. How much weight applied is another huge factor. It is no secret we have an obesity problem in America. Have manufactures adequately addressed this issue for the market? I would argue no.

Listening skills, product knowledge and candid conversations with your customer are the main points to selling any bed. I once had an hour long conversation with a guest about coils and coil count before I sold him a bed, and other customers the comfort is the sole decision.

I would agree that if there are two different price points you are showing a customer, you better have more to say than "well the more expensive bed is more comfortable." People are different and their taste, preferences and needs are different. This in itself leads to such a wide selection of products it can become a daunting task to a customer shopping. Also with an 8-10 year buying cycle retailers are very sensitive to pricing. I love when a customer will ask "why are beds so expensive these days". My reply is two fold: 1. Consumers are more demanding when solving their sleep needs so achieving a highers level of comfort is expensive, just like anything else you buy. 2. There are two other products you don't buy everyday let alone every year, and that is a house and a car. When you buy those items they are always at a higher price point unless you want to sacrifice quality.

European societies are way more conformist than Americans are. Coils are a more in depth conversation to have and simplifying it to "more is better", is naive. I will leave with this: It is important to know about coils and coil counts along with the specs of the beds you sell. However every interaction is different and the better your listening skills are the better you know what features, benefits and advantages are important to the customer you are talking to.

Very good reaction to my blog and I believe that you captured the intent of my message. Thanks for reading it and for your comments. It does depend on your audience as to how you approach that but to ignore it is not wise in my opinion!

I too, successfully sold during the "comfort factor only" era. But coil count has always been a part of the conversation with clients. As implied in points 2 3 and 7, comfort is in part a product of coil count/type/quality. It's common sense. Point is, and has always been, know your product thoroughly. My client doesn't need to know everything about their mattress, but I know the features that make the difference. My confidence in my knowledge makes her/him confident in their purchase.

Educating the customer on a mattress is significant to the sales process. As stated in the article, many customers don't want to hear the specs, but for those who do, educating them is key! A mattress is a large purchase that will be a part of the customer's life for years. I agree with the statement in the article saying that telling a customer that comfort is the reason a bed is $300 higher most likely isn't going to cut it. What goes into the make and build of the bed that makes it worth more? If these are the details the customer is looking for, then explaining these specs to the customer and helping them understand is important.

I agree with you Amanda. For that certain customer that needs more of a reason to believe, getting into some of the details can be very important. I appreciate your comments and for reading!

In 1987 (approx) Simmons won a Clio Award (for Television Advertisements) for the "Bowling Ball Commercial" (Bowling Ball dropping on a raw Beautyrest Coil unit). The point of the commercial was mostly aimed at showing "what" the coils did (or more importantly what they "did NOT" do….(yes this was a long time ago)

Of course, no body really ever slept on a "raw" coil unit….but the TV spot was pretty well a successful one….and I credit Marv Beneteau for the genius of the idea….Marv was a good friend and a real asset to the Simmons Company in those days…..fwiw…
[Marvin Beneteau – Owner, The Retail Marketing Group
Greater Atlanta Area]

Enjoyed this discussion. Thanks…

Now those were the days Mr. Porter! They were very effective and will forever live in the mattress ad hall of fame. Thanks for reading sir. Merry Christmas.

So, who can tell me what should I look for in a mattress for a person weighting 300 lbs +?

Just look for a bed that isn't going to show a body impression Lidia. All foam beds like Tempur-Pedic are probably good for that. We have our own brand called Spink and Edgar that have as many as 9,000 coils in them so having that much steel in the bed would be a good thing as it won't show impressions either. Hope that helps!

Your survey did not work, could not access it. OK so coils matter. Which ones are best, steel or titanium, and what is the best coil mattress out there? We bought a pillow top mattress 1.5 yrs ago. The ruts or gully's in it are terrible, now they are called, body impressions. Other than gel or foam, there is not a mattress without a euro or pillow top to buy. The mattress manufacturers have us trapped. We are seniors and my husband has to have back surgery soon. I was doing research to find a new mattress that would support his back, without the ruts in the mattress top.

Sorry I am just now responding Shirley. Not sure what kind of bed you have but the brand is important. I am partners in a company called Spink and Edgar and you can look at our beds at spinkandedgarusa.com. We make beds with 3,000-9,000 coils and DO NOT USE foam, they are all natural. Foam is typically the culprit when it comes to a bed forming a body impression. I hope this helps and if you want to discuss it in person call my mobile at 630-788-7138 or email me at [email protected] for your husband and his surgery.

So if a queen mattress has 900 coils that is 15 gauge and another queen mattress has 1000 coils at 16 gauge. which one will feel better? in terms of support

I totally depends on what the comfort layers are inside the bed and your definition of comfort. Don't want to be vague but that is really the bottom line. If you are looking at any bed with 900 or more coils you are going to have the support you need which is important!

I had the same feeling many times when I visited a mattress shop (brick and mortar) or visited a mattress selling website – many times they were lacking transparency about how they produce/what is used to produce the mattress and mostly using the "comfort" as a sales point, as well as in some of the stored I felt like a victim put in front of bunch of predators to be eaten alive. As you stated in the article Mark, clients are getting more educated and they expect people who sell them stuff to be transparent and honest about their products, yet some of them forget that all the bs they are telling us can be now quickly debunked with a use of the mobile phone. I personally hope the industry will evolve into something more than just capitalizing on people who are in need of new mattress and will buy pretty much anything and I can already see this is starting to happen which will for sure benefit all current and future customers.

Thanks for reading this Silvia and for your comments. Authenticity is the only way for good companies to make their way to greatness.

interesting topic, my wife and i were out looking at mattresses tonight and the salesman tried using that exact comfort sales approach with us. we are interested in 2 beds, #1 sealy full size with 791 response cased coils, pillow top plush, actually this mattress felt very nice, and supportive.on sale for $439. bed #2 Simmons Harrington Pillow top full size with 465 Silver Recharge Coils, and a lot of fluff layers in the pillow top. feel was a bit on the spongy side, a bit softer then we like. also the simmons mattress was $739. both appeared to be equally covered and constructed. when i asked the salesman about the coil count difference he used the old double talk about comfort and tried to tell us that the coil count was about equal?really my math is not that bad, 791compared to 465? this encounter was not about comfort, but rather money$$$ sales commission on a higher priced item. we will be going back tomorrow for the $439 sealy as it did have a better feel.

This one is hard to navigate, especially now that there are so many micro coils in the market and when I wrote this post, that was not even part of the equation as those products were not really in the market. Glad you found a bed that you believe is a good value! Hope you are sleeping great; thanks for reading Mike!

This convinced me that more coils is a good sales pitch, but the only real difference I can see in the entire article is that more springs will feel 'different'. As a mechanical engineer with metallurgy knowledge, assuming the springs are designed to have the same maximum stress (well below the yield strength) both spring systems will have the same durability. I would guess Q is correct; the foam is more likely to wear out than the springs.

Thanks for reading Ray. More coils definitely feels different and we know this from extensive testing. Especially when you are talking about the micro-coils being used today. Micro-coils only lose about 4% firmness vs. some foam at 47-50% over a ten-year cycle. You can feel anything over 10% so coils win. 🙂

Mark, so if i understood your point correctly, more coils does not affect durability of the mattress, it mostly affects the comfort? (if we disregard foam)

That was not my point, sorry if that is how it came across. Coils are very important for both comfort and for durability, especially now with the innovative things companies are doing with micro coils. Coils are so good today that foam is much less important and don't last as long as a coil will. Hope that helps Davor!

Glad I came across this site. I have been shopping for a new mattress for about a week now. I have it narrowed down to a Stearns and Foster Luxury Plush pillowtop, and a Sleepy's pillowtop. Both have an extra set of coils right underneath the pillow top but the S&F has 2044 coils vs the Sleepy's with 880. The sales person at mattress firm told me that the Sleepy's brand is great quality and less expensive because they do not spend the $$ on advertising etc., which gives them the ability to keep prices lower. The difference in price is dramatic, Queen S&F 2500.00, King Sleepy's 1300.00. I will definitely spend more money on better quality, but want to make sure I am not being taken for a ride here. Opinions would be appreciated. 🙂

Hey there Nicole. Stearns and Foster and Sleepy's both make great beds. In full disclosure, I am friends with the company that makes the Sleepy's product and they also build my Spink and Edgar products. I think it really comes down to your comfort preference because both beds have enough coils to support your body that is for sure. If you want something really special, however, check out spinkandedgarusa.com and prepare to be amazed. 🙂 It is true that Stearns and Foster is part of a very large company that does have a lot of overhead so you do pay for some of that when you purchase their mattresses. Sleepy's producer operates at a much lower cost to produce. Hope that helps!

Sorta informed me their Perfect Sleeper coils are 880 density. So, I'm assuming it has 880 coils. I hope I am making a good decision should I purchase. I appreciate everyone's input.

That is plenty of coils to support your body Mary Anne! Just make sure that it is the right comfort level for you and all should be good. 🙂

Innerspring Mattress Reviews & Ratings You Can Actually Trust

No commission • No endorsements • Based on owner experiences • Since 2008 • More

THE GOOD.Innerspring mattresses are popular mainly for five reasons: 1) consumer familiarity, 2) wide availability, 3) affordability, 4) many firmness and comfort options, 5) suitability for sex.

THE BAD.Innerspring mattresses overall have lower owner satisfaction than other mattress types due mainly to below-average durability / longevity and (long-term) comfort potential. Noise is possible.

THE MATTRESSES:Innerspring coils provide support. Comfort layer material often consists of foam, fiber and perhaps memory foam. Models with at least 1.5 inches of memory foam are calledhybrids– and they are rated separately.

THE COMPETITION:See how innerspring mattresses compare to other mattress types.

Contents

About Our Innerspring Mattress Research

Our innerspring mattress ratings are based on over 8,000 consumer experiences collected from diverse and credible sources. Learn why you can trust our mattress reviews.

Innerspring Mattress Ratings:Overall As a Group

The ratings below show how innerspring mattresses as a group compare to other mattress types as evaluated by owners. For information on specific brands, see the following section.
| | | |
| --- | --- | --- |
| Owner satisfaction | d+ | Owner satisfaction among innerspring mattress brands can vary, but overall they have 64% owner satisfaction when used regularly / everyday. More. |
| Affordable | B- | Prices range considerably ($200-$3000+) due mainly to thickness, material, and coil count. The average queen innerspring mattress costs about $950. More. |
| Durability / longevity | d+ | Within three years of ownership, about 25% of owners (1 in 4) report sagging occurring to an extent that undermines comfort and support.No other mattress type has as high a sagging rate. More. |
| General support | B- | Support level can vary as pricier models often provide better support. Coil count, coil gauge and coil type largely determine support level. Sagging often undermines support. |
| Reduced pressure points | C- | Innerspring mattresses tend to have fair-at-best conforming or contouring-to-the-body ability. This can result in noticeable pressure points due to less than ideal distribution of a person's weight. More. |
| Less (back) pain | c | Initially, innerspring mattresses often provide relief from pain, including back pain.Mattress sagging, however, appears to cause at least some pain for about 15% of owners (1 in 7). (See mattresses and pain for general analysis.) |
| Easy to move on | b- | Those models with poor support or a thick, soft comfort layer may provide some resistance to movement including the changing of positions. Sagging can also impede movement. |
| Motion isolation | c | Motion isolation refers to how well a mattress absorbs motion and prevents movement made by one person from disturbing another. Motion isolation for innerspring beds can vary significantly depending mainly on coil type. Pricier models tend to provide superior isolation. |
| Edge support | B- | Support for sleeping or sitting near the edge of the bed can vary by model but it tends to be at least average – especially compared to many foam mattresses. |
| No initial odor / off gassing | B- | About 8% of owners (1 in 13) complain of off gassing, which is the release of a chemical-like odor that occurs when the mattress is new. Those models with a thick foam comfort layer tend to have the greatest off gassing potential. (General analysis: mattress off gassing.) |
| Not a heat trap | B- | About 7% of owners (1 in 14) report sleeping hot. Softer models and those with memory foam tend to have the most complaints. (General analysis: mattress heat retention.) |
| Good for sex | b- | People often like the bounce of the beds, but there are some negatives. More. |
| No noise | c- | Noise – squeaking, creaking, clunking, crackling – can range from significant to almost nonexistent depending mainly on coil type and cover. Pocket coils tend to have few noise complaints. More. |
| Heavy person friendly | C+ | The durability of low-priced models (under $400) tends to not be ideally suited for people 230+ lbs especially over the long term. Large people also tend to report more noise issues and lack of support. (See mattress guide for large people.) |
| Light / small person friendly | B | Softer innerspring mattress models are often preferred by people under 130 lbs as they better conform to their bodies. Models 12 inches or thicker are often too tall for shorter people to allow for easy access. (See mattress guide for small people.) |
| No topper needed | C | Cheaper models especially – those with little or no comfort layer – have an above-average likelihood of needing a topper to improve softness. |
| Short break in period | C+ | Innerspring mattresses tend to have a shorter-than-average break in, usually under two weeks. |
| Adjustable base friendly | C- | While most innerspring mattresses are compatible with an adjustable base, those models with a border wire / rod are not. And given that most innerspring mattresses have greater-than-average thickness, they may lack optimal flexibility to bend easily with the base. |
| Easy to maintain | c+ | Most models are one sided and no flip. To combat sagging, owners often report rotating (head to foot) their mattress at least twice a year. |
| Easy to lift, move, handle | c+ | The mattresses often weigh 35-140+ lbs with the average queen weighing about 93 lbs. Pricier, thicker models often weigh more. The mattresses tend to be be as floppy and unwieldy as foam-based mattresses. Grips are often present on all but the cheapest models. |
| Warranties | c+ | At least 15% of owners say that warranties lack adequate coverage for sagging. Warranty lengths range 5-25 years with 10 being about average. (See mattress warranties: what you should know.) |
| Availability at mattress retailers | A | Innerspring mattresses are the most widely available mattress type in stores which allows for convenient try out before buying. |
Innerspring Mattress Brands:Ratings and Comparison
The table below rates and compares (in alphabetical order) many of the more popular innerspring mattresses. Select a mattress for a full ratings report. Many of the following mattresses can be compared in detail in the mattress comparison.
Owner Satis-
faction (sample)
Price (twin to king)
Firm-
ness
Thick-
ness
Distinctive Advantage or Trait
SLTD Rating of Company
Sold in Stores and or Online
Main Retailer
War-
ranty
Aireloom / Kluft
75%
(46)
$1400- $7000+
med-soft to firm
12-16"*
often luxurious
B-
stores, online
Macys, Bloom- ingdales
10-20 years
Brooklyn Bedding
79%
(102)
$550- $2400
med-firm to firm
10- 13.5"
each model has 3 firmness options
C+
online, stores
brooklyn bedding .com
10 years
Duxiana (Dux)
74%
(52)
$3700- $12k+
mostly med
9.25- 12.5"*
prestigious
C+
stores
Duxiana
20 years
Denver Mattress
63%
(87)
$130- $1900
med-soft to firm
7.5-14"
strong return policy
B
stores, online
Furniture Row
5-15 years
Hastens
77%
(28)
$3600- $20k+
soft to med*
n/a
ultra prestigious
C+
stores
Hastens stores
25 years
Ikea
75%
(390)
$90- $1000
mostly firm
5-17"
in Ikea stores
B
stores, online
Ikea
20 years
King Koil
65%
(81)
$350- $2800
soft to firm
9-16"*
assist from Intl Chiro Assoc.
B-
stores, online
many retailers
10-25 years
Kingsdown
64%
(151)
$450- $3500+
soft to firm
11-17"*
in-store diagnostic avail.
B-
stores, online
Mattress Warehouse,
Sit N Sleep
10 years
Restonic
64%
(89)
$450- $2200
med-soft to firm
9.5- 17.5"
—
C
stores, online
many retailers
10-15 years
Saatva
81%
(293)
$600- $1400
med-soft to firm
11.5", 14.5"
strong cust. service
B-
online
saatva .com
15 years
Sealy
65%
(856)
$280- $1300+
med-soft to x-firm
8.5-16"
largest global mattress mfg.
C+
stores, online
many retailers
10 years
Serta
64%
(755)
$340- $1000+
soft to firm
9-15"
largest US mattress mfg.
C+
stores, online
many retailers
10 years
Signature Sleep
74%
(1309)
$100- $350
med to med-firm
6", 8", 13"
value
C+
online
Amazon, Walmart .com
1 year
Simmons
63%
(667)
$400- $2000+
soft to firm
6- 18.5"
since 1870
C+
stores, online
many retailers
10 years
Spring Air
67%
(168)
$420- $2100
soft to firm
9.5- 16.5"
—
B-
stores, online
several retailers
10 years
Stearns & Foster
62%
(267)
$1100- $3500+
soft to firm
13-17.5"
widely avail. luxury brand
B-
stores, online
many retailers
10 years
Zinus
71%
(1498)
$95- $350
med to firm
6-13"
ultra value
B-
online
Amazon, Walmart
5-10 years
* partial estimate to estimate
What Makes Innerspring Mattresses Different
Two characteristics most distinguish innerspring mattresses from other mattress types:bounceandlimited conforming ability.
Bounce
Innerspring mattresses tend to have more bounce than other mattress types. This means that quickly placing weight on the mattress, such as sitting down on it, will cause the mattress to rebound, usually 3 to 5 times before stopping. Some innerspring mattresses are bouncier than others due mainly to the type of innerspring coil used.
Bounce has a main pro and a main con:
| Bounce PRO | Bounce CON |
| --- | --- |
| At least some mattress bounce is often preferred for sex as it may help to create and maintain rhythm. More. | Sitting down on, getting up off, and vigorously moving on an innerspring mattress will produce at least some bounce, and this movement may disturb another person on the bed. Models with pocket coils tend to produce the least disturbance. |
Limited Conforming Ability
Innerspring mattresses tend to not conform strongly. In other words, they tend to not contour and mold to a sleeper's body nor envelop and "hug" a sleeper to the extent of most other mattress types. Some innerspring mattresses are more conforming than others due mainly to the type of comfort layer material used.
Limited conforming ability has two main pros and one main con:
Limited Conforming Ability PROS
Limited Conforming Ability CON
Being less enveloped or "hugged" by the mattress often results in more airflow around the sleeper which helps to keep bothersome heat retention minimized.
Limited conforming ability tends to allow for easier body movement, namely changing positions and getting up off the bed.
Due to the mattress not strongly conforming to the curves of a person's body, a person's weight may be unequally distributed on the mattress. This can result in gaps in support and therefore a greater likelihood of experiencing pressure points and even poor spinal alignment.
Price & Value Comparison
Innerspring mattress prices can vary widely mainly due to design and amount / type of material used. The average price for an innerspring mattress (no foundation) is about $950 for a queen. The price of the average queen mattress is about $1550.
While prices are better-than-average for innerspring mattresses, owner satisfaction is worse than average. As a result, consumers give the mattresses about a fair rating for value or "bang for the buck."
Innerspring Mattress Owner Satisfaction
Innerspring Vs Other Mattress Types
Owner satisfaction for innerspring mattresses appears to be improving in recent years, but the beds overall still rate behind the other mattress types.
Learn more about how innerspring mattresses compare to the other mattress types.
Satisfaction By Year of Ownership
The graph below shows that after the first two to three years, innerspring bed owner satisfaction overall is somewhat lower than that of all mattress types overall. This is mostly due to innerspring beds in general having somewhat worse longevity / durability than the other mattress types.

Satisfaction For Temporary vs Regular Use
Innerspring Mattresses
All Mattresses
Owner Satisfaction For Regular / Everyday Adult Use
63%
69%
Owner Satisfaction For Temporary / Occasional / Light Use
86%
89%
Innerspring Mattress Longevity
Innerspring mattresses have lower longevity / lifespan than most other mattress types due mainly to a higher sagging rate (see next entry).
Main Owner Complaint: Mattress Sagging
Compared to other mattress types, innerspring mattresses have the most problem with sagging. Sagging is the loss of a level, supportive sleep surface. Sagging can include the development of body impressions, "sink holes," and "peaks & valleys." About 25% of innerspring mattress owners report the problem thereby making sagging the top innerspring mattress owner complaint.
* estimated to be at least 1.5" depth
** partial estimate
Causes of Sagging
Innerspring mattresses consist of many assembled parts and many different types of materials. In other words, the mattresses are not simple – especially compared to foam mattresses which often consist merely of two to four layers of foam glued together. This complexity of innerspring mattresses appears to give them a higher likelihood of developing problems, including sagging problems.
In addition, models with thick pillow tops / comfort layers tend to be at least two times more likely to sag / compress than those models with a thin / minimal comfort layer. See the truth about pillow top mattresses. Also see the buying tip for a way to possibly minimize comfort layer problems.
Other causes of sagging may include: 1) one-sided designs which cannot be flipped to avoid uneven wear / compression; 2) queen- and king-sized models that lack the construction strength needed to properly support two people especially in the middle; and 3) an inadequate, sagging or poorly assembled foundation.
A lack of (head-to-foot) mattress rotation isnotlikely a chief cause of sagging because many people who report sagging claim to rotate their mattress regularly. A person's heavy weight also does not appear to be the chief cause of the problem since many people who weigh less than 180 pounds report sagging.
Suitability For Sex
Innerspring mattresses tend to rate better than most other mattress types on this issue.
Pros of innerspring mattresses on this issue include:
Bounce action due to their springs .
Ease of movement due to decent support and no or limited use of memory foam.
Edge support tends to be adequate in preventing people from sliding or rolling of the bed when near the edge.
Cons of innerspring mattresses on this issue include:
Mattress sagging may restrict ease of movement.
Questionable comfort as pressure points especially on knees, elbows, hands may be experienced especially on firmer models.
Less-than-convenient and easy fluid and stain cleanup.
Questionable durability and longevity.
Innerspring Mattress Coil Types and Comparison
Seemingly endless types of coils exist, but almost all of them fall under one of the four types below. Each coil type has its own pros and cons.
1. Pocket.These are individual coils wrapped in fabric and appear to be the most widely used mattress coil type. They provide mostly consistent distribution of support and at least fair motion isolation. Pricier mattresses often feature a more advanced pocket coil design. Consumers seeking a highly bouncy mattress may want to avoid this coil.
2. Continuous.This coil type is likely second to pocket coils in popularity and use. A continuous coil system consists of coil rows made of continuous wire that run head to toe. This coil is often present on low- to mid-priced mattresses. While it is durable because each coil gets support from ones next to it, the system tends to not be especially supportive or quiet. In addition, because the system consists of one integrated piece, it tends to provide below average motion isolation making it a less-than-ideal choice for couples.
3. Bonnell / Open.This coil is hour-glass shaped and has a simple design. They are used in mattresses of various price points. Durability is often fair or better, but support is questionable and motion isolation is average at best.
4. Offset.Offset coils are sometimes used in mid- to high-priced mattresses. They are similar to Bonnell coils but have better spring action and support. Some variations have good motion isolation and noise control.
Coil Type Comparison
The following comparison (based on actual owner experiences) shows whattendsto be true; a particular brand, model or individual mattress may go against these findings somewhat.
Pocket
Continuous
Offset
Bonnell / Open
Consumer satisfaction
b+
D+
B-
C-
Support
B
d+
B-
B
Motion isolation
B
D
B-
D+
Bouncy*
C-
B
C
B+
No noise
B
D+
B
C-
* Our research shows that a mattress with significant bounce is often preferred for sex.
Coil Count and Coil Gauge
Coil Count
Coil count refers to the number of coils in the mattress. Most queen innerspring mattresses have a coil count of 450-900 with 725 being about average. Mattresses with a higher coil count are more expensive than mattresses with a lower count, all other things being equal.
Our research shows little correlation between coil count and owner satisfaction or coil count and mattress longevity / durability overall. Nevertheless, heavy people especially may prefer a high-coil-count mattress as this may result in improved support and mattress strength.
Coil Gauge
Coil gauge is a measurement of how large the coil wire is in diameter. Mattress coil gauge often ranges from 12 to 15. The higher the gauge, the thinner the coil wire and the softer and springier the feel of the bed. Coil gauge in conjunction with the thickness and composition of the comfort layer largely determines the firmness level of an innerspring mattress.
Coil gauge may somewhat affect mattress durability / longevity. Mattresses with a lower (thicker) gauge tend to have a longer lifespan than mattresses with a higher (thinner) gauge. Heavy people especially may want to consider buying a mattress with a lower gauge.
Innerspring Mattress Comfort Layer Materials and Comparison
In addition to supportive coils, innerspring mattresses have a comfort layer which can consist of any number of the following materials.
Comfort layer materials
1. (Regular) foam.This material is widely used, and its purpose is to provide softness. Its durability tends to be questionable; those mattresses with a thick layer of regular foam tend to have an above-average number of sagging / compression complaints. This foam can also off gas, that is, release a chemical-like odor when it is new. A greater quantity / thickness of foam present on the mattress means a greater likelihood of noticeable and potentially bothersome off gassing.
2. Fiber.Polyester or cotton is often used to provide softness. Durability is questionable as those mattresses with a thick layer of fiber tend to have the most sagging / compression complaints from owners.
3.Gel-infused (regular) foam.This foam is used on a limited number of innerspring mattresses and usually in small quantity. The foam is infused with tiny gel beads which tends to allow the foam to sleep cooler longer than regular foam.
4. Memory foam.This material may be present on innerspring mattresses in small quantity. (If 1.5 or more inches are present then the mattress is often considered to be a memory foam hybrid.) Memory foam is often more dense than regular foam and provides softness as well as conforming-to-the-body support. It can be effective in minimizing pressure points and, to a lesser extent, reducing motion transfer. In general, memory foam is more likely than regular foam to retain heat and off gas.
5. Gel-infused memory foam.This foam is memory foam infused with tiny gel beads. It is sometimes used on innerspring mattresses in small quantity. (If 1.5 or more inches are present then the mattress is often considered to be a memory foam hybrid.) It tends to reduce heat trap complaints by about 30% compared to regular memory foam.
6. Graphene-infused or diamond particle-infused memory foam.A small number of innerspring mattresses use memory foam infused with tiny graphene or diamond particles – both conductors of heat. Their effectiveness, however, in reducing heat trap complaints is mostly unknown at this time given their currently limited use.
7. Latex.This material is not widely used. Its purpose is to provide pressure relief similar to that of memory foam. The latex used is often blended latex – a combination of natural and synthetic latex. The durability of latex that is often used in innerspring mattresses is questionable as it can develop body impressions. The latex may also off gas and act as a heat trap.
8. Mini coils.These coils are usually no more than four inches tall and tend to be pocket coils. They help to provide additional contouring support.
Comfort Layer Comparison
The following comparison (based on actual owner experiences) shows whattendsto be true; a particular brand, model or individual mattress may go against these findings.
Regular Foam
Fiber
Gel Regular Foam
Memory Foam
Gel Memory foam
Latex
Mini Coils
Consumer Satisfaction*
C
D
C+
B
A-
B-
C+
Conforming
C+
D
C+
A-
A-
B
B-
Not heat trap
C
B+
B-
D
C
C-
A
Easy to move on
B-
B
B-
D
D
C+
B+
Motion Isolation
D+
d-
D+
B+
B+
C+
B
No off gassing
C
A
C
D+
D+
C-
A
Affordable
B-
a-
C+
D+
D
D
C-
Hybrid Mattresses
Innerspring mattresses with memory foam – especially those models 1.5 inches or more of the material – may also be referred to as (memory foam) hybrid mattresses. They tend to have characteristics of both innerspring mattresses and memory foam mattresses. Learn more: memory foam hybrid mattress ratings.
Buying Tip
Instead of buying a mattress with a thick comfort layer, consider buying the mattress and comfort layer separately as described below. This buying strategy often minimizes both potential durability problems and cost.
How to do it
Purchase a firm innerspring mattress, that is, one with minimal padding – preferably no more than two inches of padding in the comfort layer. Most mattress brands offer at least one model that meets this criteria. The advantage of this is that firm models tend to have fewer and less severe sagging problems than do models with thick comfort layers / pillow tops. Firm models also tend to be highly affordable because they lack significant padding.
Then, if you wish to soften the mattress, purchase a mattress topper. The thicker the topper is, the softer (and perhaps less supportive) it tends to make the mattress.
The advantage of this buying strategy is that if the topper deteriorates, compresses or sags, then only it needs to be replaced as opposed to the entire mattress.
Consumers who have used this buying strategy tend to report good comfort, durability and money-saving results.
Top of page
Sleep Like The Dead's mattress research in The News –

About Our Unbiased Innerspring Mattress Reviews and Research
Ratings are based on over 8,000 innerspring mattress owner experiences collected from diverse sources.
Learn more about our research methodology and why you can trust our mattress reviews.
Do More Coils Make a Better Mattress?
The Core of the Matter
The coils, also known as the core or the innerspring unit, provide the main support for the body. Proper support is essential not only for a good night's sleep, but for maintaining a healthy spine. When considering the core of an innerspring mattress, there are a number of important factors: the number of coils used throughout the mattress, the way the coils are constructed , and the shape of the coils .
Is a High Coil Count Better?
You might have heard a rumor that the more coils in a mattress core, the more supportive the mattress will be. While this can be true, coil count is not nearly as critical today as it once was. These days the construction of the coils is a much more important factor in determining the overall comfort and support of the mattress.
A typical mattress contains between 250 and 1,000 coil springs
A mattress with a lower coil count might use thicker wire or other techniques to compensate for this (see Coil Construction below)
As a rule of thumb, the minimum number of coils you should look for in a mattress is 300 for a full, 375 for a queen and 450 for a king-size mattress
How are Mattress Coils Made?
Gauge:
When discussing the coils of an innerspring mattress, the word "gauge" refers to the thickness of the wire used to construct the coil. Somewhat counter-intuitively, the lower the number, the "heavier" the gauge, and the thicker the wire — 12.5 gauge wire (very "stiff") is thicker and stronger than 16.5 gauge wire (quite "springy").
Working Turns:
Another important factor is the number of "working turns" in each coil, a measurement of how tightly the coil is wound. Coils constructed with a higher number of working turns will result in both a softer and more durable mattress, since the work of supporting your body is spread throughout the spring. Working turns can be counted by tracing the wire with your finger — each time your finger travels 180 degrees around the coil translates to one working turn.
Tempering:
Tempering is the process of heating and cooling the coils to ensure they retain their proper shape over time. A "double heat tempered" coil has gone through that process twice, ensuring increased durability .
Types of Coils
There are three main coil designs used in modern mattresses: Hourglass (also called Bonnell) , Pocketed and Continuous .
Hourglass Bonnell Coils
Hourglass coils, the most commonly used design, come in two varieties — Bonnell coils and offset coils. Based on 19th century buggy seat springs, the Bonnell coil has an hourglass shape with a knot at each end, and is known as the original mattress coil. Today, Bonnell coils are still the most prevalent coils in the mattress industry, though they are typically found in less expensive mattresses. The offset design, found in more expensive mattresses, is similarly hourglass shaped, but the circles at the top and bottom of each coil are flattened to create a hinging action within the mattress core. This design allows the mattress to better conform to your body, and tends to make offset coils less noisy than their Bonnell predecessors. It also allows offset coils to be connected to each other via helicals (corkscrew-shaped wires that run over the tops and bottoms of the coils), which prevents them from moving from side to side when compressed.
Below: Offset hourglass coils connected with helicals
Continuous Coils
Continuous coil springs are made from a single length of wire shaped into a series of loose S-shaped ringlets. The concept behind this design is that by attaching each coil to its neighbors, the mattress core will be stronger, more stable, and more durable. Continuous coil designs also allow for significantly more coils per mattress, making it difficult to compare coil counts with non-continuous coil systems. Today, this coil type is common mainly in very inexpensive mattresses.
As with connected coils, since metal touches metal in the bed, there's potential for noise or squeaking when the coils rub against each other.
Are Pocketed Coils Better?
Pocketed coils, also known as Marshall coils, are each individually wrapped in a fabric pocket. While the pockets might be connected together, the springs are each independent of one another and can move separately. Pocketed coils provide more motion separation than other innerspring coil types, meaning that when your partner starts tossing and turning, you are less likely to be disrupted. This can really come in handy if your bed-mate is a restless sleeper. On the flip side, pocketed coils endure greater strain over time, since each coil absorbs weight without distributing it to other nearby coils.
Many innerspring mattresses now use pocketed coils, and the majority of hybrid beds use them too.
Below: Coils in their fabric pockets
Micro coils
Coils are usually found in the support layer of a mattress. But coils can be part of the comfort layer, too. Micro coils are small, flexible springs that can make up a layer near the surface of a mattress. They are usually designed as individual coils wrapped in fabric pockets that are sewn, glued or welded together to create a flexible surface.
Micro coils range in height from about 1" to 3" tall. In addition to being shorter, micro coils are narrower and made with lighter gauge wire than regular coils. The lighter, encased wire gives micro coils a softer feel, and the smaller size enables more springs to be placed into a given area, also enhancing softness.
If pressure relief and motion isolation are important to you, micro coils are a good choice. They do a good job of conforming to your body's contours. They also do a good job at isolating movement. Micro coils provide a good level of repositioning and overall responsiveness, cradling the body while creating a supportive, pressure-relieving effect for recessed areas of the body not in direct contact with the support layers of a mattress.
How Long Do Innerspring Mattresses Last?
The basic techniques and materials used to make innerspring mattresses date back centuries, and are time-tested. Assuming you buy a good quality innerspring or pocketed coil mattress from a reputable brand and retailer, your new mattress should last in the neighborhood of 8 to 10 years. It could be more or less depending on your circumstances, sleep style and body weight, but a quality innerspring mattress should hold up well and resist body impressions as well as (or perhaps better than) newer-technology memory foam.