Mattress Ruined. What Happens If You Sleep on Your Memory Foam Mattress Before 24 Hours?
Table of Contents
How Long to Let Your Memory Foam Mattress Expand?
The general rule is to give your new memory foam mattress 48 hours to expand and inflate to its proper size.
The real answer is not that simple. Every memory foam mattress has its unique requirements.
The following chart shows what each manufacturer recommends. Below that we go over where the 48 hours comes from and if you can immediately sleep on your new mattress.
Mattress Expansion Times For Each Manufacturer
| | |
| --- | --- |
| Manufacturer | Time |
| amerisleep | Can lay on it right away but could take 8 hours for the corners to expand fully and you should wait 2 hours before putting sheets on. |
| BEDBOSS | Should decompress in 24 hours, but let it sit for 2 hours before moving it to the bedroom. |
| Bedinabox | "It expands in about 3 minutes" is what I got when I emailed them. This seems too fast; I would still give it a few hours to be on the safe side. |
| Casper | Can expand and be ready to sleep on in a few minutes but keep in mind that some will take longer. |
| Classic Brands | Allow 24 to 72 hours for the mattress to regain its full shape. If the mattress gets to its full height, it's ready to use. |
| Dreamfoam Bedding | 6 to 7 hours from opening. |
| Helix | Give it 2 hours to regain its shape, and you're done. |
| Layla | Will take its full shape within minutes, and you can sleep on it right away. If you're sensitive to smell give it a few hours to air out. |
| Leesa | May take up to an hour to expand but give it 24 hours to fully expand and be at its best |
| Linenspa | Up to 48 hours but they do say you can jump on it as soon as you like. If anything they say your body heat can help speed up the expansion process. |
| LUCID | Up to 48 hours, but if it's fully expanded after 24 hours you can go ahead and sleep on it. |
| Lull | Will do most of the expanding in 2 to 5 hours and fully expand in 24 to 48 hours. |
| MLILY | Should be ready in 24 hours. Walking on it while it's on the floor can help speed up the process. |
| Nectar | Between 24 to 72 hours to expand. |
| Nest Bedding | You can sleep on it right when you open it, but it can take up to 24 to 48 hours for it to fully expand. |
| Olee Sleep | let it expand up to 72 hours |
| Puffy | Allow it to expand and breathe for a few hours before putting bedding on it. |
| Purest Of America | Allow 24 to 72 hours to fully recover. |
| Signature Sleep | Wait at least 48 hours. |
| Tuft & Needle | Only takes several hours to reach the proper specifications, but in some cases, it may take up to 5 days. |
| Tulo | Allow it to sit for an hour before using it. |
| Zinus | 48 to 72 hours to fully decompress. Zinus recommends you sleep on the mattress during this time as it helps to full up the mattress. If after a week it hasn't expanded, please contact them. |
Don't see your mattress? Go ahead and give it a couple of hours to expand, but let me explain why.
Can You Sleep on a New Memory Foam Mattress Straight Away?
The reason why you wait 24 hours, 48 hours or 72 hours is an old saying that people keep repeating.
As shown from the chart a significant number of manufacturers report shorter times and a good bit suggest sleeping on the mattress the first night. The reason is for your constant movements, and body heat loosens the foam. The more lose the foam, the better it expands.
Where The 48 Hour Memory Foam Expansion Time Came From
The first generation of memory foam mattresses is where this wait time wives tale came from. More time was needed for older memory foam mattresses to air out there odors.
The mattresses today don't smell as bad; I would still recommend letting them air out for a few hours to absorb the smells of its surroundings. I know it sounds odd, but it's well worth doing.
What if my mattress says to wait a few hours? – Well, it's better to play it safe than sorry. The people that best understand your mattress are the ones who made it.
What If Your Memory Foam Mattress Is Not Inflating?
No need to worry if your memory foam mattress is not expanding; here is what you do.
Get the mattress flat as possible on the floor. Wearing clean socks walk on the mattress. The constant moving around combined with your body heat expands the mattress. I like to think of it as a mattress massage.
After massaging the mattress place it back on the bed frame and sleep for a few nights.
Keep in mind:New mattresses are like new shoes; they need to be broken in. Over the years you have gotten used to your old mattress, so the new one is going to feel different. We tend to forget this because we only buy mattresses every decade or so.
What To Do After Your Memory Foam Mattress Has Expanded?
I mean, you spent all this money you probably want it to last as long as possible?
If you want your mattress to last, you need a mattress protector.
Your mattress is a giant sponge, and it will soak up all the sweat, soda, dead skin and other nasty stuff you do in bed. Those liquids sit there not only making the mattress dirtier but destroying the function of the structure. It's hard to work correctly when "waterlogged" with juices.
Plus, modern-day mattress protectors feel and look like regular bed sheets. I even have a review on the very one I use on my mattress. They're not even that expensive either; I consider it crazy when people don't use something so practical and affordable.
How Long Should You Leave a Memory Foam Mattress Before Sleeping on It?
It's best to let your memory foam mattress expand for 48 hours. If you can't give 48 hours then allow the mattress to expand for 6 hours before sleeping on it.
What Happens If You Sleep On Your Mattress Too Soon?
If you sleep on your mattress before it's expanded it's not the end of the world. In fact, many mattress manufacturers recommended you sleep on it the first night because your body heat helps to expand the foam.
I would not worry about it too much. The goal is to give the mattress a few hours before you sleep on it. It can take some mattress a whole week to reach its correct size and sleeping on it won't hurt.
It's Been A Week And The Mattress Has Not Expanded.
If it's been a week and the mattress has not expanded correctly then, unfortunately, you have a defective mattress.
The good news is that this is usually rare. If it's been a week no need to keep fighting it, contact the company you bought it from to check out the return policy. If you're curious about returns and what they do with the old mattress check this out.
If you have to return the mattress and want a new one I've had good luck with Zinus Green Tea Mattress.
How long to let wayfair mattress expand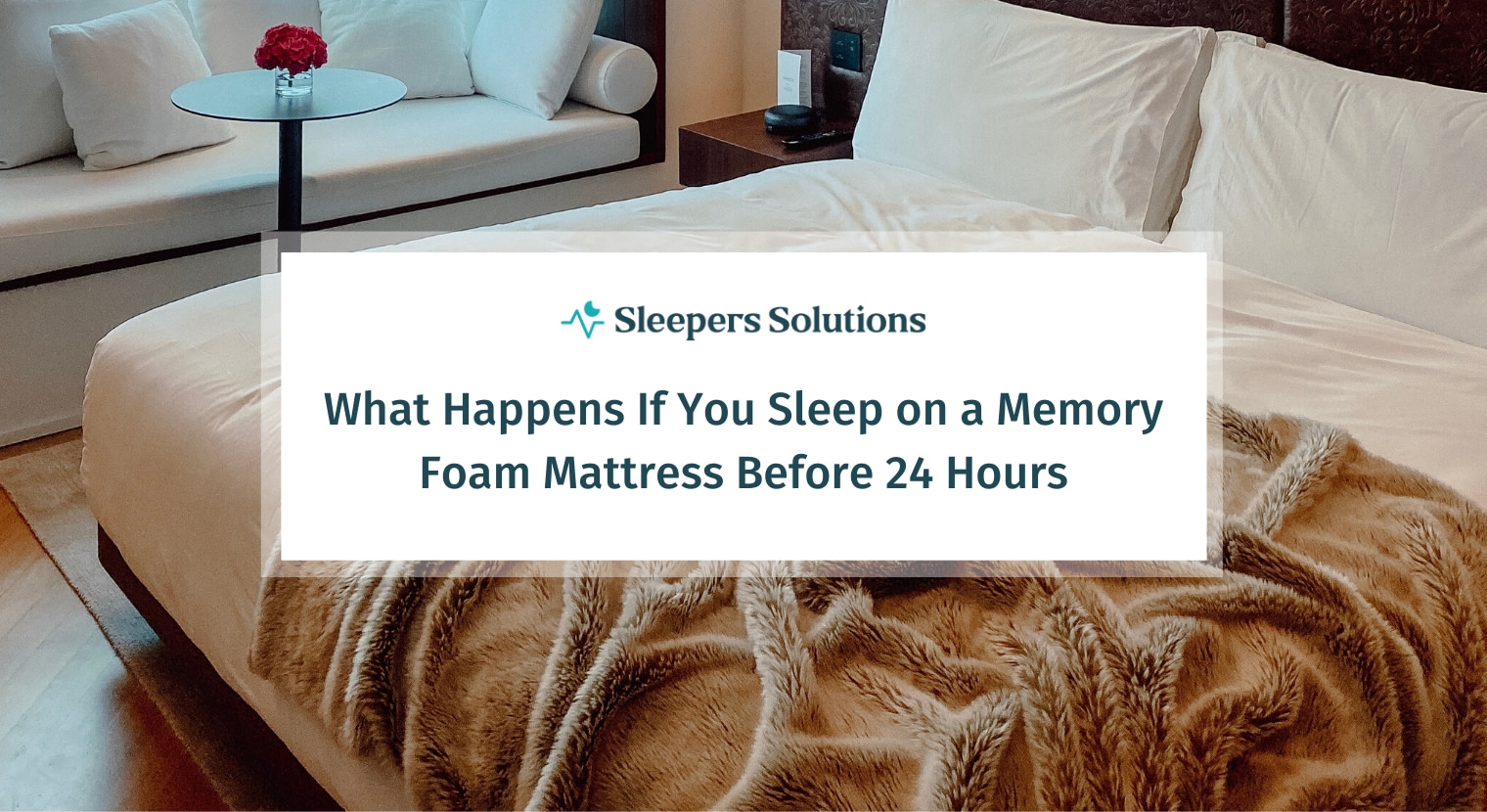 What Happens If You Sleep on a Memory Foam Mattress Before 24 Hours
So you've got a new memory foam mattress, you're excited – in the back of your mind you remember some rule of thumb about waiting for a day before sleeping on it. The manufacturers say to wait for at least 48 hours before it expands fully, especially the ones that are still in the box. But if you're curious what happens if you sleep on a memory foam mattress before 24 hours, then you're in the right place.
Sleeping on a Memory Foam Mattress Too Soon
There are some essential things to consider before sleeping on a memory foam mattress too soon. For instance, most memory foam mattresses require up to two days before it goes back to its original size and form. After all, these mattresses are vacuum sealed, pressed and rolled tightly to fit in the packaging.
But can you sleep on a memory foam mattress the first night? Well, you can relax, jump, or do whatever you want with your bed as soon as you received it. Using it right away won't cause any damage but will only speed up the process of expanding the foam.
This 24-hour recommendation is to ensure customer satisfaction and manufacturer guarantees.It also gives any off-gassing time to dissipate.
Why It Needs 24 Hours to Expand?
Well firstly, you you should know that the off-gassing happens in the first couple of hours. If it's okay to sleep on your new memory foam without waiting for 24 hours to allow it to expand, then why do we still need 24-48 hours?
It's all about the manufacturer guarantee. They claim that if it doesn't fully open up and you did sleep on it then you'll void that guarantee. If you've paid several hundred or even thousand on a new bed – you have to think twice about risking your money back opportunity.
But another important question is that, what should you do if your mattress takes more than 24 hours to expand fully? Well, there are rare cases wherein compressed memory foam mattresses don't fully extend. If that's the case, then you can ask your seller what to do to make it expand or ask for a new one.
Get yourself a mattress protector right now!

Waterproof Mattress Pad Protector Cover [Memory Foam]
For less than $20, save your mattress from spills for life.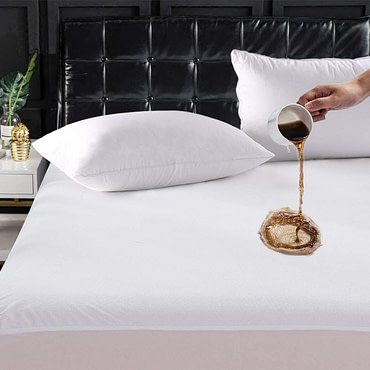 If you are looking for the highest rated mattress protector on Amazon for your platform bed or box spring, here are the best choices we've found. Check these to find out if one of them is perfect for your needs.
Zinus Mattress – How Long to Expand
Most Zinus Memory Foam Mattress like the 12 Inch Green Tea Mattress need 48 to 72 hours to relax and decompress and restore to its original shape. That's why the Zinus company manual advice customers to open the packaging within 72 hours of arrival to make sure the mattress they ordered will fully grow to its potential.
And with the green tea extract infuse in the foam, you will not inhale hazardous and harmful smell with you first open the packaging. It will typically dissipate after laying the mattress in a well-ventilated area.
What to Do When Memory Foam Mattress Not Inflating?
Memory foams have different thickness levels. You can choose from an 8-inch mattress to a 13-inch memory foam bed. They are designed with open cells to conform to various shapes of sleepers using the bedding. Before they leave the factory, these mattresses are folded and compressed using a machine roller to fit into a small package.
The best way to use a memory foam is to let it expand before using. However, if it's not inflating, there are simple tricks you can do to enjoy its comfort after 24 hours of arrival. Check these tips to help you out:
Unbox the memory foam within the three days of arrival. Remove the plastic cover using your hands. Never use any sharp objects like a knife and scissors when removing the mattress from the package to avoid damages.
Allow the foam to adjust in room temperature, which may take up to a couple of hours until it begins expanding. This step is essential, especially when you get your memory foam in the winter season. Foam mattresses tend to become more brittle if it's still tight, which can lead to tearing.
Unroll it in a spare room so the open cells of the memory foam will expand and inflate freely. Separate each layer of the foam carefully to allow them to grow. Pull them in uniform motion with slow and steady hands.
What Are the Possible Reasons Why your Lucid Memory Foam Mattress is Not Expanding?
If your Lucid memory foam mattress is not expanding, there might be an essential step you haven't performed after unrolling it. First, it needs time to develop, typically within 72 hours before you can finally use the mattress. So wait for it until it becomes entirely usable in its original size.
Some memory foam mattresses take one week to air out, but they lose the new-foam smell at the same time. It is already fully plumped when you noticed that the smell is gone. And you can use a mattress topper to retain the plumpness of your new memory foam.
Key Takeaways
The truth is, each mattress has its own expansion time and features. Therefore, the time required before they fully expand will depend on the model and brand you purchased.
Before you can move it to your bedroom, most memory foam mattresses that usually take 24 hours to decompress may still need at least two hours. Waiting for 24 hours or 72 hours to allow a bed to expand is a traditional belief.
Most of the mattresses offered on the market today only take a short time to decompress, and you can sleep on the right after unboxing them. So there's nothing to worry about sleeping on your mattress too soon. You won't damage your memory foam while sleeping on it during the first night.
The key is in the type of memory foam used in your mattress. The higher quality the foam, the better and faster it will expand in less than 24 hours.
How long to let wayfair mattress expand
Wow! Received one day shipping but there is a Wayfair Warehouse in my city. I have spine, hip and knee issues. I'm a side sleeper and on my old mattress I could not sleep for more than an hour or so without waking up in horrendous pain in my hips or knees. I was lucky to get 4 hours sleep a night total. This mattress feels like you're laying onto marsh mellows but you don't sink down into it. Then you can feel a small amount of support under that but it's just right so you don't hit pressure points. You can feel the cooling effect from the top layers as well. Definitely a temp difference when you feel it compared to surrounding air. First night of decent sleep i've had in years. This is a great value for what you are getting in my opinion. I purchased adjustable base with mattress and got it in three days so I had to wait a few days before I could sleep on it when I got it but I used the time to let it expand. No smells at all that I noticed. It comes with a 10 year warranty. Saw the mattress and base in Wayfair commercial last night while lying in it. It's currently sold out after Labor Day Sale but take a chance if you are questioning yourself purchasing this mattress. Myself and 4000+ reviewers can't be wrong. More
Love this. We gots purple for ourselves and this for our son and honestly they're pretty similar. Def a great mattress for the $&
I loved the comfort of the mattress
Really comfy but beware! It came with big verbage on the side of the box admitting to bpa chemicals in it that can cause cancer! Also, it smelled really chemically for about 3 weeks, it stunk up the whole upstairs.
Love this mattress, so, so much!
Interesting concept for a mattress. Can't give comment yet for sleeping on it as I am waiting for my whole bedroom set to be completed. Can't wait.
great mattress, especially for the price. only criticism is it does feel more like you're sleeping on top as opposed to in. that may take some time to get used to. I would imagine the hybrid bed with coils would feel more traditional. no issues with pressure points whether you sleep on your back side or stomach. I actually did over sleep the first night I used the bed! Everytime I turn in, there's a smile on my face. More
This bed is heaven! WE had a bed that wasn't even 10-yrs old, but the springs had already started giving way. Seeing the new technology in foam mattresses had me curious to try one out. SO glad I did.
Feels like sleeping on a cloud! I can really tell the difference between Nora mattress and a spring mattress. didn't want to get up out of bed this morning because it was so comfy! Like sleeping on a cloud for sure.
So comfortable and well made!
My husband and I upgraded from a queen size to this. I added a pillow top protector to it but it is very comfortable. It comes in a big long package but that was helpful for us because we bought it during renovations. For the price, this is a great mattress.
Love this mattress!! Super comfy.
Memory foam was the safe way to go. I've had the mattress for a week now, body is still adjusting to it but falling asleep is not longer a challenge. The comfort felt helps the busiest mind fall asleep like a baby.
Said it was 2 day shipping but it took way longer than that
Inflated quickly, no intense smell, perfectly firm
Wonderful mattress. We bought it for our 8 year old little girl and she swears it's the best sleep of her life!
Very impressed with this mattress. Perfect for our guest room
Sleeps so well, my mom comes over just to sleep on it because it's so comfortable, and I also convinced her to order two
Was skeptical at first . But WOW it filled out and the mattress is perfect.. comfortable, forms and supports your body. don't want to get out of bed
So far I'm loving this mattress!
For the price, it can't be beat. I use this mattress in my guest bedroom and my guests consistently tell me how comfortable it is! It is on the firm side, so only order if you like your mattress firm (I do!)
This is a nice mattress but is not firm at all,is more like plush
This is the best mattress Ive ever owned. I cant say enough good about it. I havent slept this well in years. My shoulders dont ache anymore, I sleep uninterrupted because I cant tell when my husband gets up or back into bed. Couldnt be happier with this purchase.
I bought this for my teenage daughter. So far she really likes it. It is a little softer than I expected but totally worth the price paid. Im looking to buy a bed for myself and now I know that if Im buying a similar bed to buy an extra firm. You really just fall into the and it hugs your body.
Very nice mattress for an excellent price. It expanded to 12 inches almost immediately, and it is supportive and firm.
It's been almost a month since we got our King Tempur-Pedic Cloud Supreme Breeze. And to be honest, I'm in love. Literally obsessed. I had heard some negative things about memory foam mattresses – in particular, that they sleep hot and smell bad. Because my boyfriend and I are both hot sleepers, we decided early on to pick a mattress from the Breeze Collection. We spent a great deal of time testing the feel of each model. The Contour was way too firm, and the Flex didn't feel unique enough for the amount of money we planned on spending. So we decided on the Cloud. The Luxe was comfortable, but too soft. The Supreme, on the other hand, was soft, but offered enough support so that we were laying on the mattress, rather than in it. As far as the smell, it wasn't nearly as bad as I had expected! It didn't bother us at all. There was a slight chemical odor, like that of fresh paint, but nothing like I feared. Besides, it went away within a day or two! The only negative things about the Cloud Supreme Breeze are the weak edge support and the fact none of the Breeze covers are machine washable (just buy a mattress protector). The edge support thing doesn't affect us, but I could see it being an issue if someone were to sleep hanging off the side of the mattress. Overall, this bed has been a blessing. I don't wake up in pain anymore. I sleep throughout the night and I find myself waking up in the same position as I fell asleep in, which is an incredible feeling. And the Breeze layer keeps the bed so cool and comfortable. I wouldn't be able to relate to anyone who says memory foam mattresses sleep hot because this bed definitely doesn't! And if my boyfriend wakes up in the middle of the night, I have no clue because of the incredible motion isolation this bed offers! I would highly recommend this bed to anyone considering a memory foam mattress, or who shares his or her bed with a partner, or who sleeps hot. I couldn't ask more from a mattress.
I love my new bed! Its incredibly comfortable and soft. My husband no longer has shoulder pain when he wakes up. We're both incredibly happy with our purchase!
I was not sleeping at all. Pain in my back, legs, hips. As soon as I got up, pain went away. We decided to try the Tempur-Pedic. Now I can sleep without any pain at all. We bought an adjustable bed, that really makes it nice. I got the Breeze, my husband did not. I would definitely recommend the Tempur-Pedic bed.
Sleeping comfortably with longer interruptions for bathroom time. No wakeup with partner rollovers. Less body pain. Just feels great!
This is absolutely the best purchase I have made in over six years. Tempur-pedic is worth every penny! This is the best bed ever! Don't ever hesitate to buy this bed as it is so so worth it!
With this bed I can turn over I don't feel any hurting on my hips shoulders arms best bed ever period I also have fibromyalgia and my body does not hurt Turning over. and that's amazing
Comfortable but gets extremely hot. For about the first hour the cool gel will keep it cool, but after that it is very hot. Not recommended for hot natured person. My sister is cold natured and she loves it. I paid almost 4000. for the mattress, but I have to get rid of it.
After 6 months of sleeping on this bed I had to purchase a different mattress. It's horrible! Both my husband & I can't sleep through the night without getting up to stretch our backs. This was such a big disappointment over all. This bed was a replacement after having 3 replacements mattresses prior of the adjustable Tempurpedic mattress (due to side walls calapsing). We thought having a more expensive replacment would be better. So now this is our 4th bed in 2 yrs from this company. Such a disappointment.
After back surgery and spinal fusion, this bed was a God send. Tried all the beds and spent a ton of money. This one is the best. I even have one in my camper.
Buying a new mattress is stressful. I know I wanted the right mattress that was perfect for me and my husband. We received this bed about a week before we went on vacation. LET ME TELL YOU. This bed is unlike any other, its comfortable, it keeps you cool, I am a hot sleeper, I like to stay cool when I sleep. This was the best purchase I have ever made with buying a bed. My husband loves it, I love it our kids love it. While we went on vacation no other bed was the same, we both woke up with stiff muscles, our bodies had ached. We had stayed at a Ritz Carlton in L.A okay the beds are nice but we could not wait to go back home to get in our bed. It perfectly contours to your body, you feel rested, you don't feel your significant other getting out of bed, you sleep more deeply. You will not regret getting this bed. I HIGHLY RECOMMEND YOU BUY THIS BED NOW! !
Keep away from this product. Both my husband and I have been sound sleepers, but it has been impossible to get a good night's sleep since we got this mattress.
My wife and I have spent a ton of money on different mattresses for the last 8 years. I would like it, and she couldn't sleep. Then she would like the next one and I couldn't sleep. We were hesitant 8 years ago to try Tempur-Pedic because we heard they were hot to sleep on. Then they came out with the cooling techniques, so we bit the bullet once again and bought the Tenpur-Cloud Supreme Breeze. FINALLY. we are both able to sleep soundly and comfortably through the night with no aches and pains in the morning! Amazing! So glad we made this purchase!
We had an unusual problem with our mattress within a year of purchasing it and Tempur-pedic gave us a new one for an even exchange. It was a bit of a hassle to get the paperwork to the Warranty Dept. but once it was submitted the replacement was on order and arrived in a timely fashion. Thank you Tempur-Pedic.
Very comfortable bed have no more pain in hips or shoulders anymore. Highly recommend this bed.
This bed is amazing. It's not to firm and not to soft. It's cooler temp than other memory foam mattresses. I have had sciatica and tension headaches for years now but haven't had ANY of those symptoms since I got this bed a year ago. I never noticed any strange smells but I did buy one that had been out of the factory wrap for a discount. It's my understanding these mattresses need to air out when they are taken out of wrap for the first time. Also good to know, you MUST break in the mattress by pushing out the air bubbles. The salesperson showed me to walk on my knees slowly over entire mattress. I did this once a day and notice the full benefits of comfort after two weeks of doing that. The shape has held for the last year and has no dents. I sleep alone right in the middle with my 80lb dog. I'm 155lbs. So that much weight every night in exact same spot and no dents whatsoever. I will never buy another brand of mattress again. I will be purchasing one for my rv in the future.
It is completely different feel from our old "pillow top" mattress. Much more firm. My husband liked it from the beginning. I am still getting used to the dense firmness.
Until I get my Temp. Ped. 'official' cover, I'm using a reg mattress cover. So I'm hoping the true 'wonder' will come thru once I put that on because right now I'm bothered by some pressure points. Another thing, this about the adjustable base, . When the foot goes up the top sheet comes untucked (OMG — HORRORS, right? !! ) But I was thinking TP could devise something like a pouch around the foot of the mattress to tuck a flat sheet into to keep it from untucking. Just a thought from an inventor. We'll see.
I used to think that "a bed was a bed". didn't really matter what kind it was. until. I had 2 surgeries . and was having such a hard/painful time sleeping. woke up many times during the night. finally I decided to try the Tempur-cloud. wow. so much better. the pain is so much better now. I can sleep long periods of time . and get much better rest. the inner-spring mattress we had was awful. I love the comfort/softness that the Tempur-cloud gives us. firm yet soft. giving support without the pressure. allows 2 people to move about without waking each other up. we bought the adjustable bed. and I can now read in bed. which I have not been able to do since my accident over 10 yrs. ago. very pleased with the purchase.
Fall asleep so fast and stay asleep, what a pleasure.
Our joint pains have greatly reduced, and we are sleeping longer without the need to visit the bathroom
I'm a loyal Naturepedic mattress customer because of their strict organic/non-toxic standards and the superior quality of their fabrics and craftsmanship. I'm never disappointed. I started my son on their organic crib mattress which is great. He's 4 years old now and we've moved on to the twin size. There are no toxic flame retardants in this mattress and I don't have to worry about any memory foam off-gassing. There was a slight smell the first few days but has since disappeared. The springs are firm, yet comfortable. If you're looking for a non-toxic mattress for yourself, baby and/or child I really can't think of another company that would make a safer mattress than Naturepedic
Was a bit worried with the "firm" description, but the softness is more of a medium to medium-firm, I'd say. Very heavy compared to a standard full mattress, which made it a little tough to lift up onto a loft. Was surprised at how small the box was when we received it, but it unrolled perfectly when we opened it. The mattress is exactly what we were looking for. More
This mattress is great! I had been looking for a new mattress for my daughter. She says it is, the most comfortable bed ever! It came rolled up in a package, was very easy to unpackage,and was full size immediately. It also came with a letter opener to cut off the plastic. Would definitely recommend to anyone looking for a firm, comfortable long term mattress
I love the way mattresses are delivered in this day and age. They come rolled up in a box. The unboxing is the best part! Not only is this mattress comfortable and soft, it's a mattress you can feel safe having your child sleep on every night. It's made of organic cotton. There was no smell when the mattress was unboxed. Most mattresses have a potent chemical smell. Happy with this item. More
The Verse innerspring mattress from Naturepedic comes rolled up in a box, which was a surprise but convenient. I let it sit for several days after unrolling it before using it and you never would have known it arrived vaccum sealed and rolled. No off gassing, high quality cover, and the firmer mattress provides good support and comfort for my growing gradeschool-aged child
Best mattress out there for kids!
I love a soft, plush mattress, but this one was way too soft, almost flimsy. It reminded me of an air mattress or waterbed. I could feel every movement my partner made. Exchanged for a medium
My husband and I sold all of our furniture and moved to another state. For the first two months we slept on an air mattress and after researching all the different beds, we decided on this one. Oh. My. God. This bed is amazing. It's like sleeping on a cloud. It's so comfortable. I sleep in a lot of different positions and every one of them feels so good on this bed. You will not regret this purchase
Love love love my new mattress this has been the best I have gotten in a long time.
Haven't slept on it yet but it looks great
Really hard mattress. I think I got the wrong one. Not soft or comfortable at all
Quality of this mattress is outstanding. Very comfortable. So happy with this choice.
Absolutely gorgeous. Very well designed and constructed.
What I expected. great buy. makes going to bed a vacation
Set up when delivered was nice. The mattress is very thick and plush just like we wanted.
So comfortable and you can hardly feel the person next to you ❤️
Stinky for days, but nice and firm. Hoped for a little more thickness, but it will do the trick!
Comfy! Works perfect on my day bed
Very satisfied. Didn't have any problem at all. It did what is said it would. Very comfortable mattress I've ever.
I am very pleased with this mattress firm but not too much. I have told friends and suggested they buy it if its a memory foam mattress they are looking for. Best price anywhereand on time delivery im very satisfied with purchase
Pretty good for the kids , they loved
Got this for my granddaughter. I was leery of the quality but was pleasantly surprised when it arrived. It has a nice soft covering and was a great find for the price. I'm very happy with this purchase.
I bought this mattress to replace the one at the trailer and was a little worried as I have not owned a Gel mattress before. As usual I was not disappointing, the reviews were spot on and I bought this on sale and it was worth every penny
It comes in a box super easy to just open over the platform bed I bought with it. Super nice firm soft memory foam. It's the best Mattress i've ever had. I just bought my second one!!
I bought the twin size for my 8 year old son's bunk bed. He was very quick to let me know how much he loves the new mattress – great buy and affordable price!
More firm than medium but more comfortable than i was expecting. I've been through the night and i have many joint problems.
Perfect for bunk beds
This mattress is exactly what we expected. More comfortable than one would think for the price. These went in the kids rooms, and they love them!
Delivery was easy and the mattrest is comfortable.
Not to firm just right and a good buy
This bed is so comfy. I feel as if am being cuddled in my sleep. Best sleep Ive had in years. Now my daughter wants one.
Very small & uncomfortable
Very comfortable and great value for its price!
Awesome bed and an even better price. Bought for a rental property and get nothing but compliments.
Very comfortable. I have been having a great nights of sleep . Very professional customer service
The mattress isn't as I expected. Its soft but not plush like I was expecting. Its an ok mattress. Another thing i didn't really like was that, when you sit on top of it or on the edges, it dips down. Even when you laying on it, it goes down a bit. Makes it uncomfortable to sleep on it. Its not bad, just could use some improvement. Pros: fast delivery and the customer service is really nice and kind
really comfortable sleeps well
I bought this and another mattress to fit a bunk bed for my sons room. This one goes on the bottom where he likes to sleep (maybe because this mattress is more comfortable I'm not sure) this is a pretty decent mattress and my sons not even 4 yet so while I prefer a softer mattress this is really nice and comfortable but firm for his rapidly growing little body. I think it's great quality and there was no funny smell when it was opened which is really comforting (no bad chemical odor). My son loves his bed and mattress and it's comfortable enough I don't mind lying with him for a bit on occasion
Not happy with the quality its all springs, no support my husband probably wont like this at all, we have a serta I thought was the same bed but its totally different
Fast Shipping. Great Product for a low price. Euro Top on a 10.5" hybrid worth 5 star
Comfortable and firm enough!
It is comfortably firm and the pillow top adds a little more comfort. I wish the pillow top was a bit more plush, but it is not a big concern.
It's a comfy mattress at first, but overtime (I bought it in early May) it starts to sink in in the middle. My teen isn't even that heavy (only 100 pounds), and I was surprised that this was happening so quickly, especially to a Serta mattress.
This mattress felt better than my S. a. I would highly recommend it. The mattress is soft with some firmness.
WOW! A great mattress at a great price The best part was free delivery to my bedroom (upstairs) was included as was removal of the old mattress. Very excited to have a great night's sleep!
I purchased two of these for bottom bunk and trundle, very comfortable
This mattress was going on a murphy bed, it's slim and yet is quite comfortable. Perfect for this purpose and comfortable enough.
How Do I Set Up My Mattress in a Box?
You come home to a large white and blue box. Step one: Bring that puppy inside!
Where to unbox your bed-in-a-box
First, move your Leesa box to the room where you'll be setting up your bed. Before you set up the mattress, make sure you have the right bed frame for your new mattress. In order to give you the proper support when you sleep, the Leesa mattress should be placed on a flat, rigid surface, like a platform bed. If you have a slatted bedframe, be sure the slats are no more than three inches apart – this gives the Leesa mattress the firmness and support it needs to give you the ultimate sleeping experience.
How to unwrap your Leesa Mattress
Only 7 steps stand between you and sleep nirvana.
Step 1: Open the box.
Step 2: Keeping the mattress wrapped, slide it onto the surface of your bed frame.
Step 3: Proceed with caution! Using a pair of scissors, carefully cut the first layer of plastic, being careful not to cut into the foam of your mattress.
Step 4: Repeat, removing the second layer of plastic around your mattress.
Step 5: Unroll your mattress. It'll still be compressed tightly and folded in half.
Step 6: Unfold the mattress and while it's still compressed and in its third layer of plastic arrange it on your bed frame or platform. (Don't open it yet! it's easier to position correctly when it's still compressed and in the plastic.)
Step 7: Once positioned, carefully cut away the final layer of plastic around the perimeter. Pull the plastic out from under your Leesa with matador-like flair.
Instantly, the base, memory foam and cooling premium top layer of your Leesa mattress will begin to expand, decompress and fill with sweet, fresh air.
How long will it take my memory foam mattress to fully expand?
Patience, young grasshopper. It will be impossible to resist diving straight into your Leesa, but let your mattress fully decompress before you begin sleeping on it. In an hour your Leesa will feel great; four hours and it's almost there; but to get the ultimate support and feel from your memory foam, give your mattress a full 24 hours to decompress and you can expect perfection.
Do I have to put sheets on it?
We know, your new bed is so beautiful. Do you really have to cover it with sheets? Your Leesa mattress was created with clean design in mind. The single-piece cover is a soft-to-the-touch lycra/poly blend that is so soft we've had people actually say they prefer not to put sheets or a mattress cover on it. But that's entirely up to you.
Review: What Does the BedStory Mattress Really Feel Like?
Kate is a mother of two and holds a Bachelor of Science (B.S.) degree from Sonoma State University. She's also a passionate researcher.
I think it's common knowledge now for my readers that my husband and I are self-admitted mattress nerds. We've tried countless mattresses and with no hassle return periods being the standard these days, there's very little risk for us. Well, we did it again!
We recently decided to try a very intriguing memory foam mattress, the BedStory mattress. Now, there has certainly been a lot of hype online about this mattress lately, and with an extremely attractive price, we decided to give it a shot. The king-sized version was just over $400 (and it's significantly less for smaller versions) which is an absolutely amazing price, so much so that I was more than a bit skeptical. But one look at all the positive reviews on Amazon for this mattress, and it's certainly pretty convincing.
So we ordered our mattress and thanks to Amazon Prime, it arrived at our doorstep within two days! Now we just had to find out if this mattress was a cheap gimmick, or if this is now the new "mattress to beat" that all future memory foams would be compared to. Let's find out!
This Article's Organization
Video Review
The Features of the Model We Picked
We choose what seems to be the most popular version of the BedStory mattress, the Lavender Memory Foam Mattress. It has some of the best reviews I've seen for a mattress on Amazon, so this was the one we went with.
Knit Fabric Mattress Cover:This mattress's knit cover is a non-woven fabric that stretches and conforms easily so as to not interfere with the feeling of the memory foam. It's also hypoallergenic and designed to be breathable.
Infused Lavender Scent:One of the top layers of this mattress is infused with a lavender scent via essential oils. Lavender is said to purify the air and relieve stress. We actually didn't notice this feature until we unpacked the bed. More on that in a bit!
Four Layers of Support:The top layer is a fireproof fabric that helps this mattress reach CFR1633 fire standards, followed by a 2.5-inch layer of the memory foam, then 7-inches of air circulation foam, and finally 2.5-inches of high-density support foam at the bottom.
Air-Circulation Foam Layer:The air circulation foam layer is worth a separate mention here since it's pretty unique. Basically, this is a large layer of foam that has very large channels for air to flow through it. This is to help keep the mattress cool.
CertiPUR-US Certified:This means the mattress is free from harmful chemicals in its construction. The company claims the mattress is very eco-friendly.
The Unpacking Process
My Opinions of the Mattress
Gone are the days of being able to go to a mattress store and lay on countless different beds before choosing the perfect bed for you. Now it's all done online and shipped to your door. This can certainly be scary for some of us, but the majority of these mattress-in-a-box companies now offer very generous trial periods. So you just need to buy it, try it, and do the not-so-bad return process if you don't like it.
The Feeling of this Mattress
Probably the most difficult part of writing a detailed review for a mattress is describing the feeling you get laying on it. Although you'll never have the full idea of what it feels like until you try it, I'll do my best to give you a detailed description of what it's like to lay on this mattress, as compared to other memory foams.
Firmness:This mattress is certainly very unique in my opinion. It's advertised as being a good compromise between a firm and a soft mattress. However, I must say that it definitely feels more on the firmer side to me. This means that it's generally better for back or stomach sleepers. It could also be a great fit for you if you've always avoided memory foam mattresses because they've felt too soft for you in the past.
Rebound:This mattress does do something very interesting. All memory foams will mold to the shape of the person laying on it, and then rebound when the sleeper moves pressure away from the area. Mattresses all seem to have different rates at which they do this. Well, this mattress rebounds very slowly. When I say very slowly, I do mean extremely slowly. Your imprint will stay up to a few seconds before it disappears again, which is an incredibly long time for memory foam, in my experience.
This mattress has a very unique feeling which my husband and I love. Yes, it's a bit firmer than other memory foams I've tried, but it holds the molded shape longer than the others. This still provides you with a slight "hug" feeling while sleeping—something you don't normally get with a firm memory foam mattress. I said this mattress was unique, right? I meant it! I don't know if this feeling will be for everyone, but I certainly feel more people need to try it, because I think a whole lot of you will absolutely love it.
Too Hot or Too Cool?
I generally have never had an issue getting too hot while sleeping. My husband, on the other hand, is always getting too hot while he sleeps. He's had varying degrees (no pun intended) of success with different mattresses staying cool at night. He reported waking up a few times during the night sweaty and hot with this mattress. He stated it was certainly a bit worse than our old mattress.
I had no issues with getting hot at night, although I rarely do with any mattress, so I may not be a good gauge to go by. So if you're a hot sleeper, this may not be the mattress for you. If you really like the described feeling of the mattress in the previous section, you may want to try BedStory's gel memory foam version of this mattress (see "Other BedStory Mattress Options" section of this article). Gel memory foam is exceptional at helping to transfer heat away from the body. Hot sleepers (like my husband) prefer this mattress.
Edge Support
This mattress has excellent edge support. Like most modern memory foams, there is no "edge" to the mattress created by a separate material. It's just the same memory foam all the way out to the edges.
My husband sometimes likes to sleep near the edge of the mattress, and he says he has no problem doing that on this bed. There is no excessive sagging or any other issues as you get closer to the sides. The bed holds its shape very well.
Motion Transfer
I'm happy to report that we didn't have any issues with motion transfer with this bed. I am not sure exactly what part of the bed's design gets the credit for this, it may just be their combination of memory foams they use, but either way, it does an excellent job at this. My husband likes to toss and turn a lot and I didn't feel it at all. Which is surprising because I usually wake up with even the slightest movement. So overall, this mattress gets five stars from us for keeping motion transfer to a minimum.
Off-Gassing
I've said a few times how unique this mattress is, well the off-gassing of this bed certainly kept with that trend! I don't know if my husband and I just didn't believe what the listing for this bed stated when we bought it, but we certainly didn't expect bursts of lavender smells to fill our room when he opened the mattress!
That's right, if there was any off-gassing of this mattress, we certainly couldn't tell through the smells of lavender filling the room! This mattress is infused with lavender essential oil which the company claims helps to keep the air pure and provide a more restful sleep. One other side effect is that there's is no discernable off-gassing smell like you typically get with memory foam mattresses.
We did notice that the lavender smell was fairly strong on the first day, and then began to decrease the more we let the mattress "air-out." The first day it was very strong, and we left a window open that day. On the second day, it was about half the strength. On the third and fourth days, it seemed to subside and become stable at a lower level where the mattress remains. Yes, the mattress is made so it always has that faint scent of lavender, which it still does! We both enjoy it quite a bit and don't find it overpowering at all now that the bed has had a few days to air out.
This is the exact mattress we bought, we love it! It's a firm(ish) memory foam that still hugs you like a memory foam mattress should. Make sure you select the right size!
The button below will take to to the Amazon listing for this mattress—look at those reviews!
Mattress Options, Shipping, and Guarantees
Other BedStory Mattress Options
BedStory offers both hybrid mattresses as well as the memory foam mattresses. I won't call any of these "traditional memory foam mattresses" since they each have unique features. At the time of this article, these are the versions being offered.
Hybrid Mattresses
Latex Hybrid Mattress (10-inch):This version incorporates a latex layer in the memory foam design that is said to help reduce allergens. It's also resistant to mold and dust mites. It also features "air circulation foam" (basically foam with long grooves cut into it to improve airflow) and the mattress cover is made of moisture-wicking fabric, to help keep you dry.
Gel Hybrid Mattress (12-inch):This mattress incorporates springs into a memory foam design which includes gel memory foam (known for its ability to keep the sleeper cool). Convoluted foam is used to ensure plenty of airflow throughout the mattress while making it very plush feeling. This is a good "in-between" mattress that is somewhere between memory foam and a traditional spring mattress.
Memory Foam Mattresses
Lavender Memory Foam Mattress (12-inch):This is the version we choose. It's closer to a more traditional memory foam mattress but is reported to be a good balance between firm and soft. It also features the convoluted foam to help keep the sleeper cool. A knit mattress cover absorbs moisture, helps the mattress to breathe, and dries fast. Once layer inside the bed is infused with a lavender scent.
Gel Memory Foam Mattress (12-inch):This mattress features a hypo-allergenic mattress cover as well as bamboo charcoal gel memory foam. Bamboo charcoal is said to absorb toxins and keep the air pure while gel memory foam is known for keeping sleepers cool. Convoluted foam is also used to ensure maximum airflow through the mattress. This is the better memory foam to choose for hot sleepers.
Shipping
This manufacturer sells all of their beds through Amazon at this time (as far as I can tell). So shipping is quick and simple via Amazon Prime. We got our bed in two days, right to our front door with no issues. Shipping was also free.
Return Period
BedStory will accept a return of your mattress up to 100 days after purchase. The funny thing is that their website actually states that they will not accept a return before 30 days and this is to allow "your body ample time to adjust to the feel of a new mattress" I will give them credit with that statement, with every mattress you buy you do need to give it a little time to see how you will truly sleep on the mattress.
If you absolutely must return the bed prior to 30 days, I would suspect that you'd have no problem doing that through Amazon since they have a policy of accepting any returns within 30 days without an issue. So if you have to return it prior to 30 days, I'd contact Amazon directly. If it's after 30 days, contact BedStory by e-mailing them about your desire to return the bed [email protected]
My guess is that it's probably easier to return it directly to BedStory than to Amazon. The reason is that Amazon usually requires you to ship the item back while most mattress-in-a-box manufacturers will set up for a donation center to come to your house and retrieve the mattress for your before refunding you the amount of your purchase—a far easier process.
Warranty
BedStory includes a 10-year warranty on their mattress which is certainly a solid length of time. Unfortunately, the details of this warranty are not accessible on their website at the time of this article (as far as I could find). This is a bit of a concern as most manufacturers will post the details of their warranties in plain view on their website. Per the reviews from other customers on Amazon though, there are overwhelmingly positive experiences reported about BedStory's customer service, so I am sure the warranty will cover the most common issues like sagging or splitting.
Final Thoughts
My Overall Feelings
For the price of this mattress, I was certainly expecting somewhat of a gimmick. I mean, this is (I believe) the cheapest memory foam I have seen to date from an apparently reputable bed manufacturer. But, the overwhelmingly positive Amazon reviews from other customers had me questioning that assumption.
Well, I was proven wrong once I got the mattress and slept on it for a few nights. We love the mattress. We love the feeling, and that good "hug" feeling it has even though it's a firmer mattress. The lavender scent is really refreshing and relaxing during the night. We even have a 10-year warranty and paid so much less than we were expecting to pay.
The only downside for us is my husband who has always been an overly hot sleeper and reports being a bit too hot on warm nights with this mattress. He says he loves the feeling too and even wants to keep the mattress for now. We'll see once the warmer nights of the summer hit, we just might end up switching to BedStory's gel memory foam mattress at that point, so we can get that same good feeling, but with a cooler bed.
What's your biggest hesitation about buying the BedStory mattress?
Questions & Answers
Related
Review: What Does the Sweetnight Mattress Really Feel Like?
by Kate Daily 2
Acesleep Mattress: The Best Memory Foam for Side Sleepers?
by Kate Daily 4
What Type of Foundation Is Best for Memory Foam and Latex Mattresses?
by Brian Anderson 27
My Experience Purchasing a Memory Foam Mattress
by Ellen Gregory 2
How to Choose the Best Mattress for Your Body Type
by becauseilive 38
Popular
What You Need to Know Before Buying Furniture on Wayfair
by Learn Things Web 20
A Beginner's Guide to Reupholstering a Couch, Step by Step
DIY—How to Restore a Cast Iron and Wood Garden Bench
by RentedMule 29
Comments
Kate Daily
12 months ago from California
Haha, no, I don't think I could do that! Thanks for the read Liz. Yeah, it's always a little scary buying a mattress online.
Liz Westwood
12 months ago from UK
This is a very detailed and useful review.Will you mattress hop and swap it for another just before the trial period is up? Our last mattress was a groupon buy, our first mattress via the internet and luckily turned out to be ok.
Copyright © 2020 HubPages Inc. and respective owners. Other product and company names shown may be trademarks of their respective owners. HubPages ® is a registered Service Mark of HubPages, Inc. HubPages and Hubbers (authors) may earn revenue on this page based on affiliate relationships and advertisements with partners including Amazon, Google, and others.
HubPages Inc, a part of Maven Inc.
Interior Design
Connect with us
About Us
Copyright © 2020 HubPages Inc. and respective owners.
HubPages Inc, a part of Maven Inc.