How Long Should You Keep a Mattress?
If you buy something through a link in our posts, we may get a small share of the sale.
When you no longer wake up refreshed, it may be time to take a good hard look at your mattress. Old mattresses can cause aches and pains as well as not allow your body to relax and get a good night's rest.
How long you should keep a mattress before replacing it depends on several factors, which we'll review below. Take these things into consideration when you are unsure about the life of your mattress or when you think it may be time to purchase a new one.
​How Long Should You Keep a Mattress?
Theaverage mattress will last about ten years. Some mattresses may need replacing before that. However, you can give life to ​it by knowing how to extend your mattress' life, while saving money at the same time. You might not have to replace it when ten years have passed.
Your mattress is not invincible. Here are a few reasons why it will start to break down around the ten-year mark:
​Weight Placed on the Mattress
​The average mattress is made to support an average amount of weight. If you weigh more than the average person, you could look at replacing your mattress sooner Source.
This can be avoided if you turn your mattress on a regular schedule to prevent sagging. However, if you are putting a lot more than the average weight on your mattress, you will need to replace it a few years sooner than the manufacturer advertises.
Amount of Steel Coils Inside
​Older mattresses were loaded with heavy duty spring coils that helped the mattress keep its strength through the years. The coils were also strong enough to support the weight put on a mattress without losing its shape.
Now, more manufacturers aretaking away coils and adding in foamwhich makes the mattress softer. This also makes the mattress too soft and it can begin to sag or have lumps due to the ​lack of support steel coils offer​.
​Cheaply Built Mattress
​No matter the brand or price, some mattresses are built with cheap materials and shortcuts. The quilted cover of mattresses can be filled with synthetic fibers and foam which can easily settle in and show permanent indention with little wear. Even really nice mattress pads​ can often serve to mask a poor mattress.
While you can't always trust a grinning salesman to tell you the truth, taking the time to learn a few things about mattresses can help you know what to look for.
Know which materials are good in a mattress and which ones, like polyester fiber, will cause your mattress to prematurely sag.
These factors and a few more can make or break​ any mattress regardless of its price or brand. While you may not have known about this before you purchased your last mattress, knowing now can help you try to extend the life of your current mattress. It can also help you when you are buying a new mattress in the future.
How to Tell When You Need a New Mattress
While you'll never know for certain when its time to replace your bed, there are a few indicators you can pay attention to:
Your mattress makes noise:Whether is a creaking or squeaking, a mattress that makes noise is a strong indicator that it is breaking down. Noises lead to more intense problems down the road, like a broken spring.
Your mattress has holes and divots:If you're slipping into deep pockets and holes as you sleep, your mattress has begun to show its age. This can lead to an uncomfortable nights sleep, and even back pain. A sagging mattress will need to be replaced soon.
You consistently wake up tired:Obviously, this could also be an indication of other issues. But, it could also be a sign of an aging mattress, which isn't allowing you to get a restful nights sleep.
Your mattress is 8-10 years old:Even without some of these signs, as your mattress reaches double digits in years, you'll probably be needing a new one soon.
At the end of the day, if you consistently are having challenges with your mattress, its probably time to start considering a new one. Although, there are tactics to extending its life, which we'll review next.
​How to Extend the Life of Your Mattress
​From day one you should take the steps to extend the life of your mattress. Normally your mattress will not last as long as manufacturers suggest. However, if you follow these steps, you can get the most out of your mattress and delay having to replace it as often.
In addition, Bedroom Critic has some useful information on how often you should replace and clean your mattress and other household items here.
​Use a Mattress Cover
​A ​mattress cover is a thin fitted sheet which covers your mattress before you put on any bedding or sheets, much like the concept of a lamp shade. If you want something thicker, you can opt for a mattress pad which offers more cushion and creates a thicker barrier between you and your mattress.
​Purchasing and using a mattress cover​ or cushion will protect your mattress from water and any liquids. They can also protect against dirt and debris, and reduce the abrasion on the top of the mattress which can break down fibers. Mattress covers clean up great when washed properly, as well.
​Rotate Your Mattress
​You can easily add years to your mattress's life by simplyrotating your mattress​ once every three months. Repeated laying in the same exact spot will slowly break down the inner mechanics and materials in your mattress.
When you rotate your mattress, it gives these areas a break and allows you to put pressure on a different spot on the mattress. This also allows the previous sleeping spot a chance to rest and restore itself. You can ​assign the kids to do this job so they can also learn a to maintain their beds while keeping responsibility.
Regular rotation will extend the life of your mattress because it distributes you and your partner's weight more evenly over time. If you sleep with someone else and they are much heavier, you will want to rotate your mattress a little more frequently to ensure one side of the mattress does not sag.
Keep Your Bed Clean
​This direction comes with a variety of solutions. All combat and get rid of dust and dander. While dust may not seem harmful to objects, it can build up and get trapped in the fibers of your mattress, eventually breaking down and damaging those fibers.
Below are some of our tips to keep the bed clean:
​Wash your sheets regularly. The human body sheds flakes of skin, along with any dirt particles you pick up during the day that are not washed off.
Vacuum your mattress with an allergen-focused vacuum​.
This is also an important step if you sleep with pets. Even pets that do not shed as frequently can emit dust, dander, and debris. This concept is the same for even when they have their own ​pet bed​.
​Vacuum your mattress once a month. ​Not with the full body and rollers, however. Instead, when you change your sheets and wash your mattress cover, use the vacuum hose attachment to pick up any hidden dirt or dander that has made its way down through the fibers.
Conclusion
Using these simple tips can allow you to keep your mattress and enjoy it well after the ten-year mark.
How long does a mattress last?
My mattress is getting on in years. In fact, Bill Clinton was in his first term as president when I last bought a new one. Is it time for me to replace my mattress?
You've probably logged more than 30,000 hours in your bed, and your mattress has likely become less comfortable and less supportive. But there's no set formula for determining when you need to replace a mattress. It might be time to buy one if:
•You regularly wake up tired or achy—you make Oscar the Grouch seem as cheerful as Mr. Rogers.
•You tend to sleep better away from home, than in your own bed. Are you planning unnecessary business trips or looking for any reason to go on a weekend getaway?
•Your mattress looks or feels saggy or lumpy—it needs go on the Abs Diet.
•You're over age 40 and your mattress is five to seven years old. Remember, your body tolerates less pressure as it ages. As if getting older weren't tough enough . . .
A mattress can be an expensive investment—we've tested models that cost in excess of $4,000—but if you treat your new one properly, it could easily last 10 years. Our advice:
•Don't let your kids use your bed as a trampoline.
•Rotate your mattress. If you have a single-sided mattress (you sleep on only one side), rotate the mattress from end to end—that is, move the mattress 180 degrees. The foot of the mattress is now at the head, and vice versa.
If you have a double-sided mattress, rotate it as above, then turn it over so the bottom is now on top.
Perform these steps every two weeks for the first three months you have your new mattress, then once every two months thereafter. You'll find illustrated instructions on a number of different Web sites.
• Use a bed frame that has a center support.
Essential information:See "How to buy a mattress without losing sleep" for detailed advice on finding the perfect bed. And watch our video buying guide.
How Long Do Mattresses Last? The Results May Shock You!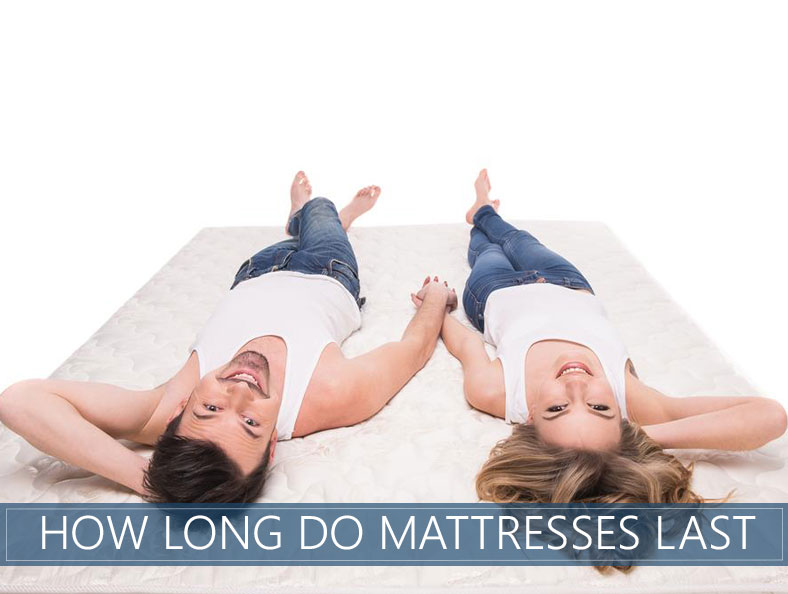 Mattresses are pretty expensive — one quick glance at our buyer's guide will confirm this fact. This is why many people do not replace them – not even after many years of use.
They do not want to spend a lot of money on a new one. Besides, now you can delay the process of buying a new one if you do an excellent job at maintaining your existing one.So, how often should you replace your mattress?
It doesn't matter which type of bed you have. Most of them are ready for replacement within ten years to ensure a good night's rest (old mattresses can hurt your sleep quality). Besides, it can last beyond ten years on average, if the owners maintain it properly.
Also, many different factors affect a bed's lifespan. You can extend its life expectancy by following a few easy steps in the text below. We prepared and wrote down some tips to boost its longevity.
How Long Do Mattresses Last?
Mattresses aren't exactly cheap, most people replace them very infrequently and consider buying a new one either a chore or a burden. It's easy to delay or prolong this process simply by taking proper care of whichever type you own. As a general rule, most should be replaced within ten years for best results in sleep and health, however, the average life of a mattress can last beyond ten years or more if taken care of properly. While it is true that how long one lasts depends on different factors, you can easily increase its life expectancy by undertaking a small number of simple steps. Here is a look at a few of the factors that can decide how long should a mattress last, and possible ways to increase its lifespan:
Table of Contents
1. The Type
What type do you have? For instance, is it air, innerspring, memory foam or latex? Each one has its own life expectancy; air and innerspring being the shortest, memory foam being mid length, while latex types are known to last the longest.
Air mattresses will over time either develop leaks or generally become less effective at retaining air pressure. If they have a built-in pump that becomes faulty, this too can lead to premature replacement. Overall, the average air mattress life expectancy is placed at five years.
Spring mattresses are good for sharing couples who like a springy and bouncy surface, but unfortunately, due to the inner core being thin metal wire, this type does tend to sag and lose its support even if flipped and rotated regularly. Even ones which have been well cared for will most likely need replacing within 7-8 years.
Memory foam mattresses are less prone to sagging but not invincible. They too require rotating, and foam does eventually lose its support but after a long while. This type should be good for at least ten years if kept ventilated, clean, and rotated.
Latex mattresses are the creme de la creme and tick all the boxes for quality and longevity. The naturally hypoallergenic and anti-microbial properties add to the durable nature of latex rubber foam to combine a core which can last up to 15 years.
2. Regular Cleaning
Another important factor which determines mattress life expectancy is to do with cleaning.Howdo you clean it? Do you clean itregularly? Do you give it to aprofessionalcleaner? It's essential that you clean your mattress regularly to prolong the life. If you do not, it won't last long at all. This is due to the invisible bacteria, mildew, and mattress mold that can slowly eat away at the materials involved. Moreover, it may be better if you could have it cleaned professionally from time to time, as mattresses are home to bacteria and germs in plenty, which might not get adequately cleansed with household cleaning products and methods.
3. Amount of Use
As you can imagine, anything that is used more will last less. However, there are two things that need to be kept in mind. Whichever type you own, it wouldn't last as long in cases of extreme use, for example sharing couples who use for 10+ hours per day, and secondly on the other hand, if it has been left unused and uncleaned for prolong periods of time. Mattresses that are moderately used, where people sleep on it for around 7-8 hours a day, and then cleaned regularly are the ones that have the longest life.
4. The Cleaning Products
The question of how long do mattresses last really is to do with many supporting factors, but quite often depends on the cleaning methods used to clean them. For instance, in case of blood stains, you might have to use hydrogen peroxide to get rid. Too much of this chemical (and other heavy duty stain removers) would lead to a reduction of mattress life as these are not made to withstand such chemical uses.
5. Proper Precautions
It is always nice to have kids around the house. However, if your kids want to use your bed as a trampoline, it seriously isn't a good idea. You would rather have them play elsewhere since this can seriously damage your bed. Imagine you have an innerspring, the springs will become too soft and compressed in no time at all and will leave you with a creaky and sagging surface. Additionally, whether it's latex or memory foam, soon there will be indentations which are beyond repair. To prolong its life, you can also rotate and flip it from time to time, but that's only if it's double-sided and permits you to do so. You could perform this every few months for the duration of its life, which will significantly improve how long a mattress can last.
When Do You Know You Cannot Use Your Mattress?
Usually, mattresses that are over seven years old do not provide the comfort and support you need on the bed. Once you see there are signs of the surface and support wearing out, or you're feeling uncomfortable in the bed when you are sleeping on it, you would be better off changing it. Some of the common visible signs of wearing are sagging, holes and tearing. If you cannot get a full night's sleep and feel that you're having a better slumber elsewhere than your bed, you need to start looking for a replacement.
You might buy the most expensive mattress, but if you do not care for it properly, it might not even last ten years. On the other side, ones which are taken care of correctly are known to last more than 15 years.
How Long Does A TempurPedic Mattress Last? (Explained)
Everything you need to know about the durability and lifespan of TempurPedic beds.
Categories:
Last Updated:
If you've read any of our buyer guides, you probably knowwe expect a quality mattress to last you about 8-10 years. Of course, there are a ton of factors that go into how durable a mattress will be, like your body weight, volume of use, its construction, the quality of materials inside and much more.
An overhead look at the TempurPedic Pro Breeze mattress
If you think about it, a mattress that's sitting in your guest room will probably last longer than the mattress you sleep on with your loved one every single night. Also, a $300 mattress that sources low density foams from overseas is way less likely to hold up as long as a premium $2,000 mattress that's made right here in the USA. But in general, a good mattress that's used consistently should last you about a decade, give or take a year or so.
Hybrid Mattresses vs Foam Beds
Above we briefly touched on how mattress construction can have an impact on its durability, and that's especially true if you're dealing with a hybrid mattress. A hybrid bed is simply a mattress that contains both foam and coils, and those coils play a big role in the prevention of sagging. Not only docoils provide more support compared to dense foams, but they also provide bi-directional resistance to pressure when you lay down.
A look at the construction of the TempurPedic Tempur-Adapt hybrid mattress
Accordingly, if you're looking to use your next mattress for as long as possible, we think you should spring for a hybrid mattress (pun intended). TempurPedic sells all-foam beds, as well as hybrid ones. You can check out full reviews of the TempurPedic hybrid beds here.
TempurPedic Mattress Warranty Analysis
The warranties mattress companies offer can sometimes be a dead tell for how long they expect their products to last. In TempurPedic's case, theyoffer a 10-year "full replacement limited warranty."
A 10 year warranty is pretty standard in the mattress industry. That's what most companies offer. There are only a handful of brands that actually go above and beyond the 10 year period. For example, Nest Bedding and Layla are two companies that back their mattresses with lifetime warranties.
The Layla mattress comes with a lifetime warranty
For the most part, the TempurPedic warranty is pretty straightforward and normal. It essentially covers any manufacturing defects for a 10 year period. For example, thewarranty covers indentations (sagging) more than 0.75″, cracks and splits in the foam and defects related to the zipper. The warranty does not cover physical abuse such as burns, cuts, liquid stains or damage stemming from the use of improper bed frames. We recommend you check out all the details related to the warranty on the company's official website.
The company also recommends you keep proof of purchase documents in a safe place. That way, you won't run into any issues in the event you want to make a claim.
What Actual Customers Say
As your trusted bedding reviewers, we felt an obligation to get down and dirty and research what actual customers of TempurPedic had to say about the durability of their mattresses. We went through literally hundreds of reviews dating back several years looking for folks who specifically mentioned how long their mattress lasted.For the most part, people had great things to say about their beds. Below are a few reviews that might be of interest to potential customers. We didn't include their entire comments for brevity's sake, just a brief snippet to get the point across.
Customer from Portland, OR said "My original TempurPedic mattress was great for 18 years."
Customer from Philadelphia, PA said they had just purchased their "second TempurPedic mattress in 12 years," and they had "no complaints" after sleeping on their new Breeze Hybrid for a few months.
Customer from Hammon, LA said they purchased a king size bed 14 years ago and "they can't imagine replacing it any time soon."
Customer from Cornelius, NC said "I adored my TempurPedic for 15 years."
Customer from New York, NY said they only started to "experience back pain" after they had their TempurPedic "for 12 years."
Customer from Cocoa Beach, FL wrote "first one lasted 10 years."
Customer from CDA, ID said they had their TempurPedic "just over a year, love it"
We could keep going, but we think you see the pattern here. And for the record, all of these reviews were from this year. The folks who claimed their TempurPedic was long-lasting kept their bed for an average of 10-15 years, which is a little longer than your standard mattress.
There were a total ofthree negative reviews we could find:
Unhappy customer from Houston, TX said her and her husband had their TempurPedic for "over a couple of years, and there were indentations where my husband and I sleep."
David from Texas said his TempurPedic "doesn't hold up" and that it "does good for 6 months, but doesn't support after." He also claimed to have a "¾" dip in the side of his mattress."
Unhappy customer in Carmel, IN said it was "great for one year," but now they're "going into year 3 and it's worn."
However, based on the majority of these reviews, most people claimed their TempurPedic mattress lasted them over a decade. Just please, for the sake of a good night's sleep, don't be like that guy from Oregon who kept theirs for 18 years. No matter how good a mattress is, you should probably bite the bullet andpurchase a new bed after 10-12 years.