7 Signs You Should Replace Your Mattress
A good night's rest is crucial to your health and well-being, yet millions of Americans suffer from lack of sleep. TheSleep in Americastudy by the National Sleep Foundation (NSF) found that 75% of adults have problems sleeping well. The study showed that 60% of respondents experienced daytime sleepiness that interfered with activities, caused work absences, or mistakes on the job. While medical conditions may be responsible for some instances of bad sleep, it might be your mattress that's the issue. Review these seven signs that it's time to replace your mattress to see if your bed is to blame for inadequate sleep.
#1 Your mattress is 7-10 years old
Research has found that mattresses have a life-span of roughly eight years, but this varies by manufacturer, mattress type, whether you sleep alone or with a partner, and how you sleep. If you're a larger person, your mattress will likely wear out faster than manufacturer guidelines suggest.
Mattresses were not designed to last forever, and excessive wear and tear will age a product faster. Inferior products don't last as long, yet even the highest-quality mattress has a maximum lifespan and will eventually need replacing. If your mattress is old, that's the first sign you may need a new one.
#2 The mattress is saggy
If there's a dent in your mattress in the shape of your body, that's a signal that your mattress is overly worn. Sagging can occur with almost any mattress material (aside from waterbeds) and can be observed under your sleep area, at the edges, or both. If your mattress has springs, they can break down and sag.
Fiber, foam, and pillowtop materials all break down over time and the deeper the sag in your mattress, the more discomfort you'll likely experience. Saggy mattresses can disrupt sleep and cause aches and pains. If your memory foam mattress core has softened, you may feel the sag as a "hammock" effect.
#3 Your spine isn't aligned when you sleep
No matter how old (or new) your mattress, if it doesn't offer proper support and alignment, you won't get optimal sleep. For back or stomach sleepers, your spine's natural S curve should be evident when you're lying on your mattress. If it's flattened or exaggerated, the mattress isn't aligning your spine properly.
For side sleepers, your spine should be straight from neck to bottom if you've got proper support. A yardstick or level can confirm adequate alignment. A good pillow may correct minor issues, but if you can slide a hand in the gap between body and mattress, it's a red flag that you might need a different mattress.
#4 Your mattress is uncomfortable
Knowing whether your mattress is comfortable sounds like common sense, but many people adjust to discomfort. If you get better sleep on a hotel mattress or a friend's guest room, your home bed might not be comfortable enough. A bed may seem comfortable in a showroom but then doesn't perform well at home.
The upper part of your mattress consists of "comfort layers" that should support your body and provide pressure relief. Comfort layers break down over time resulting in poor sleep and body aches but in some cases, your mattress choice might have been faulty from the start, and you need to replace it.
#5 You wake stiff and sore
Poor sleep can contribute to chronic back pain. If you wake up stiff and sore every day, your mattress could be part of the problem. If your back pain is worse when you wake but subsides when you stretch and move around, that's a sign that the mattress is causing or contributing to your pain.
A firm mattress may not be the answer. A study from the Kovacs Foundation in Mallorca found that medium-firm mattresses provided better comfort for chronic low-back pain. Experts recommend sleep testing different types of mattresses before buying if you suffer pain while sleeping or when waking.
#6 Worsening allergies or asthma
If it's not allergy season and there's no alternate explanation for an uptick in allergy or asthma symptoms, your mattress might be the culprit.Slateinterviewed an expert on dust mites that said your mattress is a "crime scene in terms of how it gets inoculated with [dust] mites" over time.
The protein in dust mite feces may cause allergic reactions and asthma attacks and so can the dust that accumulates in your mattress. Vacuuming, steaming, and flipping your mattress might reduce dust and mites to ease your symptoms. If these steps don't help, a new mattress might be the solution.
#7 You gained or lost weight (or added a co-sleeper)
For those that experience a significant gain or loss in weight over the life cycle of your mattress, the change might alter the effectiveness of your mattress. A Canadian study linked both inadequate and excessive sleep to weight gain so how you sleep and what you weigh are intermingled.
Heavier body types trigger more wear and tear on springs, foam, cushioning and mattress components. Also, if you were a solo sleeper but now have a partner in your bed, your mattress might not offer adequate sleep surface or support for the extra weight. That means it's time for a new mattress.
Become an informed consumer
If you suspect you need a new mattress, do your homework, and educate yourself before you buy. Understand the lingo and gimmicks employed by mattress firms so that you get the product you need that fits your budget and gives you the best night's sleep. There's no prescription for which mattress will best fit your unique needs.
Look for a mattress that offers adequate support for spinal alignment. Comfort is subjective – it's how a bed feels to you. You might find a firmer mattress superior to a softer one or vice-versa. Mattress selection is highly personal and should be your preference at the cross-section of proper alignment, support, and comfort.
How Often Should You Rotate Your Mattress? – And Should You Flip It?
If someone is like me, they grew up rotating or flipping their mattress over every now and then. Always after a gentle reminder from Mom, of course.
We've been told (correctly) that rotating and/or flipping the mattress is often the key to its healthy performance and long lifespan. When we sleep in the same spot every night, ourbody weight leaves an impressionin that spot. If we do not rotate our mattress and give that space the ability to recover, we may need a new mattress sooner than later.
Now, with a new generation of bed in a box mattresses made with specific and customized layers, rotating and flipping may no longer be necessary. That being said, we've put togethera general guide to rotating and flipping a mattressto help address the following questions:
Why should I rotate my mattress?
Does my mattress need to be rotated or flipped?
How do I do it?
How often should you rotate your mattress?
Keep in mind that more likely than not, the folks who make the mattress will tell peoplewhether or not it needs to be rotated or flipped.To keep a warranty in good standing, we're going to suggest that people go with their recommendation above everything else.
Why Should I Rotate My Mattress?
First, let's clarify what we mean by "rotate." When we talk about it in this post, we meanmoving the mattress 180 degrees,so the portion that was at the head of the bed is now at the foot of the bed.
As we mentioned up at the top, some mattresses needed to be rotated because it evens out the overall wear and prolongs the bed's lifespan. It also helpskeep the spine in neutral alignment, a crucial aspect of getting a good night's sleep and waking up pain-free.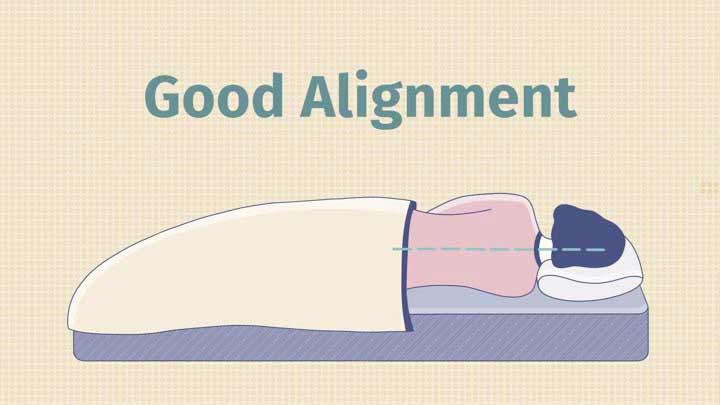 Sleeping in the same spot every night, night after night will cause the bed towear unevenlyover time. This can also result in sagging,which will cause the spine to get out of alignment and could ultimately cause people to feel pain and potentially need to replace their mattress. By rotating it, people are giving one area a chance to recover and a fresher spot to take on new weight.
How Often Should I Rotate My Mattress?
There are so many different materials and combinations of materials used in mattress construction now that there is no one-size-fits-all answer to how often people should rotate their mattress.
In general, mattress brands that recommend rotation suggest doing itevery three months to once a year.The main point seems to be that people keep up with it and try to be regular about their rotations.
How Do I Rotate My Mattress?
Here are some recommendations on how to rotate a mattress in the most stress and hopefully pain-free way possible.
Plan out rotationsfor the year in advance. People should use a phone, laptop or a printed calendar to remind themselves to periodically rotate their mattresses through the year. Some mattress brands may recommend every three months, in which case they could use the beginning/end of a business quarter to rotate. The Fourth of July holiday is a great halfway point to rotate the bed as well. And it's never a bad idea to start the new year out sleeping on a fresh side of the bed, either.
Prep the space. Nothing is more frustrating than lifting a heavy mattress and holding it while people make decisions. People should spare themselves by moving nightstands away from the bed, removing all bedding and deciding if to turn the bed clockwise or counterclockwise first.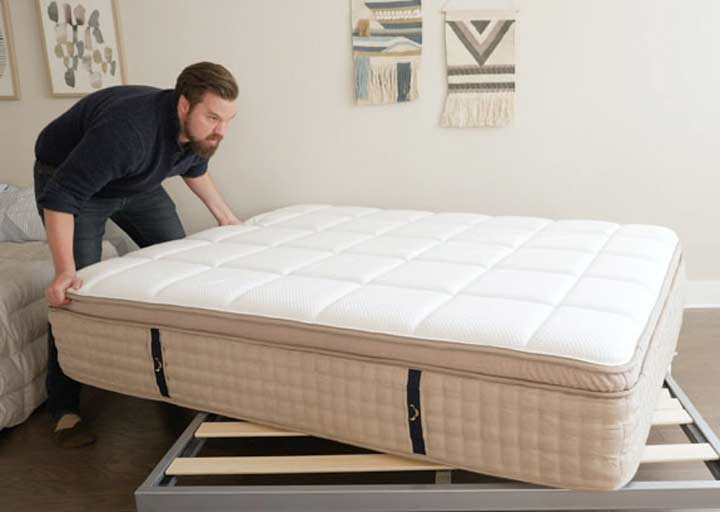 Strategize the rotationbased on the bed. If people have a bed with a headboard, they will want to move the mattress slightly away from the top of the bed before rotating. If it also has a footboard people could lift the mattress and rest it on the footboard to aid in their rotation.
Get in there with the vacuum, while possible. Depending on the mattress and bed set up, it may be worth pausing mid-rotation to grab the dustbuster and get into those hard to reach spots under and around the bed and mattress. Adding fresh clean sheets to the newly rotated bed may make people feel like they've got a brand new bed.
What Mattresses Need To Be Rotated?
Unless the mattress company that someone purchases their bed from says otherwise, it'salmost always a good idea to rotate the mattressregularly.
Here is a list of mattress types that would benefit from rotation:
Memory Foam
Latex Foam
Innerspring
Hybrid (a mix of more than one material – usually a combo of foam and innerspring)
In some cases,air beds with foam topperswill also benefit from rotation.
Some mattresses should not be rotated because they are only supposed to be facing one direction. For instance, the Level Sleep mattress features a proprietary zoned construction, and the lumbar zone will not be in the right position if the mattress is rotated.
Why Should I Flip My Mattress?
The truth is thatmost modern mattresses are not meant to be flipped.For the most part, they are designed with specific layers and will not operate correctly if turned upside down. Typically, onlyolder mattressesand innerspring mattresses with no pillowtop should be flipped.
Thesteel coil springsinside an innerspring mattress will wear out over time if someone sleeps in the same spot on the same side every night for the entire time they own their mattress. To help remedy this, it is recommended that people not only flip their innerspring mattresses over butrotate themas well.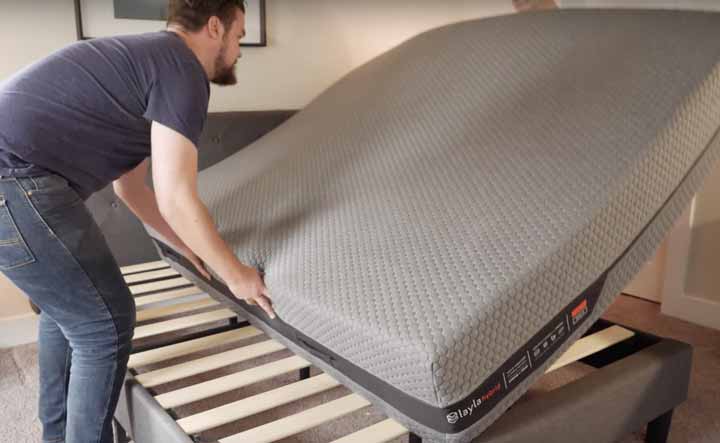 How Do I Flip My Mattress?
It is a good idea to rotate a mattress when flipping it, as it will help with even wear and increase longevity for all mattresses. Check out ourtips for rotatinga mattress earlier in the post.
During the rotation process, take the opportunity to flip the mattress upside down and continue rotating until it's completed its 180-degree turn. This may be possible to do on one's own, but forlarger or heavier mattressesit may be best to have a friend to help.
Non-pillow top innerspring mattressestend to be the type of mattress that will still need to be flipped, but foam mattresses that are designed with specific layers do not need to be flipped. If people have a hybrid mattress with springs or a traditional innerspring mattress, it would be wise toconsult with their mattress manufacturerbefore rotating or flipping.
Final Thoughts
Keeping all this in mind, itshould be easyfor most people to rotate and flip their mattresses. Again, make sure to ask a friend for help because there's no need to make it harder than it is!
Is it good to rotate your mattress?
It is a very good idea to rotate a mattress because it will even out the wear and indentations that form over time. Rotating the mattress every 3-6 months should ensure that it will last for a longer amount of time.
Do you need to rotate a hybrid mattress?
Most hybrid mattresses need to be rotated so that they wear evenly over time. Just make sure to check with the manufacturer about when is the best time to rotate.
Can you flip a one-side mattress?
No, one cannot flip a one-sided mattress. A one-sided mattress is built to lie one way, with the support layer on the bottom, the transition layer in the middle, and the comfort layer on top. Flipping the mattress will make it very uncomfortable to sleep on.
When should I rotate my mattress?
It depends on the mattress, but most companies recommend rotating a mattress every 3-6 months.
Subscribe to Mattress Clarity!
Get special coupons, discounts, and giveaways!
How Long Should You Keep a Mattress?
If you buy something through a link in our posts, we may get a small share of the sale.
When you no longer wake up refreshed, it may be time to take a good hard look at your mattress. Old mattresses can cause aches and pains as well as not allow your body to relax and get a good night's rest.
How long you should keep a mattress before replacing it depends on several factors, which we'll review below. Take these things into consideration when you are unsure about the life of your mattress or when you think it may be time to purchase a new one.
​How Long Should You Keep a Mattress?
Theaverage mattress will last about ten years. Some mattresses may need replacing before that. However, you can give life to ​it by knowing how to extend your mattress' life, while saving money at the same time. You might not have to replace it when ten years have passed.
Your mattress is not invincible. Here are a few reasons why it will start to break down around the ten-year mark:
​Weight Placed on the Mattress
​The average mattress is made to support an average amount of weight. If you weigh more than the average person, you could look at replacing your mattress sooner Source.
This can be avoided if you turn your mattress on a regular schedule to prevent sagging. However, if you are putting a lot more than the average weight on your mattress, you will need to replace it a few years sooner than the manufacturer advertises.
Amount of Steel Coils Inside
​Older mattresses were loaded with heavy duty spring coils that helped the mattress keep its strength through the years. The coils were also strong enough to support the weight put on a mattress without losing its shape.
Now, more manufacturers aretaking away coils and adding in foamwhich makes the mattress softer. This also makes the mattress too soft and it can begin to sag or have lumps due to the ​lack of support steel coils offer​.
​Cheaply Built Mattress
​No matter the brand or price, some mattresses are built with cheap materials and shortcuts. The quilted cover of mattresses can be filled with synthetic fibers and foam which can easily settle in and show permanent indention with little wear. Even really nice mattress pads​ can often serve to mask a poor mattress.
While you can't always trust a grinning salesman to tell you the truth, taking the time to learn a few things about mattresses can help you know what to look for.
Know which materials are good in a mattress and which ones, like polyester fiber, will cause your mattress to prematurely sag.
These factors and a few more can make or break​ any mattress regardless of its price or brand. While you may not have known about this before you purchased your last mattress, knowing now can help you try to extend the life of your current mattress. It can also help you when you are buying a new mattress in the future.
How to Tell When You Need a New Mattress
While you'll never know for certain when its time to replace your bed, there are a few indicators you can pay attention to:
Your mattress makes noise:Whether is a creaking or squeaking, a mattress that makes noise is a strong indicator that it is breaking down. Noises lead to more intense problems down the road, like a broken spring.
Your mattress has holes and divots:If you're slipping into deep pockets and holes as you sleep, your mattress has begun to show its age. This can lead to an uncomfortable nights sleep, and even back pain. A sagging mattress will need to be replaced soon.
You consistently wake up tired:Obviously, this could also be an indication of other issues. But, it could also be a sign of an aging mattress, which isn't allowing you to get a restful nights sleep.
Your mattress is 8-10 years old:Even without some of these signs, as your mattress reaches double digits in years, you'll probably be needing a new one soon.
At the end of the day, if you consistently are having challenges with your mattress, its probably time to start considering a new one. Although, there are tactics to extending its life, which we'll review next.
​How to Extend the Life of Your Mattress
​From day one you should take the steps to extend the life of your mattress. Normally your mattress will not last as long as manufacturers suggest. However, if you follow these steps, you can get the most out of your mattress and delay having to replace it as often.
In addition, Bedroom Critic has some useful information on how often you should replace and clean your mattress and other household items here.
​Use a Mattress Cover
​A ​mattress cover is a thin fitted sheet which covers your mattress before you put on any bedding or sheets, much like the concept of a lamp shade. If you want something thicker, you can opt for a mattress pad which offers more cushion and creates a thicker barrier between you and your mattress.
​Purchasing and using a mattress cover​ or cushion will protect your mattress from water and any liquids. They can also protect against dirt and debris, and reduce the abrasion on the top of the mattress which can break down fibers. Mattress covers clean up great when washed properly, as well.
​Rotate Your Mattress
​You can easily add years to your mattress's life by simplyrotating your mattress​ once every three months. Repeated laying in the same exact spot will slowly break down the inner mechanics and materials in your mattress.
When you rotate your mattress, it gives these areas a break and allows you to put pressure on a different spot on the mattress. This also allows the previous sleeping spot a chance to rest and restore itself. You can ​assign the kids to do this job so they can also learn a to maintain their beds while keeping responsibility.
Regular rotation will extend the life of your mattress because it distributes you and your partner's weight more evenly over time. If you sleep with someone else and they are much heavier, you will want to rotate your mattress a little more frequently to ensure one side of the mattress does not sag.
Keep Your Bed Clean
​This direction comes with a variety of solutions. All combat and get rid of dust and dander. While dust may not seem harmful to objects, it can build up and get trapped in the fibers of your mattress, eventually breaking down and damaging those fibers.
Below are some of our tips to keep the bed clean:
​Wash your sheets regularly. The human body sheds flakes of skin, along with any dirt particles you pick up during the day that are not washed off.
Vacuum your mattress with an allergen-focused vacuum​.
This is also an important step if you sleep with pets. Even pets that do not shed as frequently can emit dust, dander, and debris. This concept is the same for even when they have their own ​pet bed​.
​Vacuum your mattress once a month. ​Not with the full body and rollers, however. Instead, when you change your sheets and wash your mattress cover, use the vacuum hose attachment to pick up any hidden dirt or dander that has made its way down through the fibers.
Conclusion
Using these simple tips can allow you to keep your mattress and enjoy it well after the ten-year mark.
Mattress Ruined. What Happens If You Sleep on Your Memory Foam Mattress Before 24 Hours?
Table of Contents
How Long to Let Your Memory Foam Mattress Expand?
The general rule is to give your new memory foam mattress 48 hours to expand and inflate to its proper size.
The real answer is not that simple. Every memory foam mattress has its unique requirements.
The following chart shows what each manufacturer recommends. Below that we go over where the 48 hours comes from and if you can immediately sleep on your new mattress.
Mattress Expansion Times For Each Manufacturer
| | |
| --- | --- |
| Manufacturer | Time |
| amerisleep | Can lay on it right away but could take 8 hours for the corners to expand fully and you should wait 2 hours before putting sheets on. |
| BEDBOSS | Should decompress in 24 hours, but let it sit for 2 hours before moving it to the bedroom. |
| Bedinabox | "It expands in about 3 minutes" is what I got when I emailed them. This seems too fast; I would still give it a few hours to be on the safe side. |
| Casper | Can expand and be ready to sleep on in a few minutes but keep in mind that some will take longer. |
| Classic Brands | Allow 24 to 72 hours for the mattress to regain its full shape. If the mattress gets to its full height, it's ready to use. |
| Dreamfoam Bedding | 6 to 7 hours from opening. |
| Helix | Give it 2 hours to regain its shape, and you're done. |
| Layla | Will take its full shape within minutes, and you can sleep on it right away. If you're sensitive to smell give it a few hours to air out. |
| Leesa | May take up to an hour to expand but give it 24 hours to fully expand and be at its best |
| Linenspa | Up to 48 hours but they do say you can jump on it as soon as you like. If anything they say your body heat can help speed up the expansion process. |
| LUCID | Up to 48 hours, but if it's fully expanded after 24 hours you can go ahead and sleep on it. |
| Lull | Will do most of the expanding in 2 to 5 hours and fully expand in 24 to 48 hours. |
| MLILY | Should be ready in 24 hours. Walking on it while it's on the floor can help speed up the process. |
| Nectar | Between 24 to 72 hours to expand. |
| Nest Bedding | You can sleep on it right when you open it, but it can take up to 24 to 48 hours for it to fully expand. |
| Olee Sleep | let it expand up to 72 hours |
| Puffy | Allow it to expand and breathe for a few hours before putting bedding on it. |
| Purest Of America | Allow 24 to 72 hours to fully recover. |
| Signature Sleep | Wait at least 48 hours. |
| Tuft & Needle | Only takes several hours to reach the proper specifications, but in some cases, it may take up to 5 days. |
| Tulo | Allow it to sit for an hour before using it. |
| Zinus | 48 to 72 hours to fully decompress. Zinus recommends you sleep on the mattress during this time as it helps to full up the mattress. If after a week it hasn't expanded, please contact them. |
Don't see your mattress? Go ahead and give it a couple of hours to expand, but let me explain why.
Can You Sleep on a New Memory Foam Mattress Straight Away?
The reason why you wait 24 hours, 48 hours or 72 hours is an old saying that people keep repeating.
As shown from the chart a significant number of manufacturers report shorter times and a good bit suggest sleeping on the mattress the first night. The reason is for your constant movements, and body heat loosens the foam. The more lose the foam, the better it expands.
Where The 48 Hour Memory Foam Expansion Time Came From
The first generation of memory foam mattresses is where this wait time wives tale came from. More time was needed for older memory foam mattresses to air out there odors.
The mattresses today don't smell as bad; I would still recommend letting them air out for a few hours to absorb the smells of its surroundings. I know it sounds odd, but it's well worth doing.
What if my mattress says to wait a few hours? – Well, it's better to play it safe than sorry. The people that best understand your mattress are the ones who made it.
What If Your Memory Foam Mattress Is Not Inflating?
No need to worry if your memory foam mattress is not expanding; here is what you do.
Get the mattress flat as possible on the floor. Wearing clean socks walk on the mattress. The constant moving around combined with your body heat expands the mattress. I like to think of it as a mattress massage.
After massaging the mattress place it back on the bed frame and sleep for a few nights.
Keep in mind:New mattresses are like new shoes; they need to be broken in. Over the years you have gotten used to your old mattress, so the new one is going to feel different. We tend to forget this because we only buy mattresses every decade or so.
What To Do After Your Memory Foam Mattress Has Expanded?
I mean, you spent all this money you probably want it to last as long as possible?
If you want your mattress to last, you need a mattress protector.
Your mattress is a giant sponge, and it will soak up all the sweat, soda, dead skin and other nasty stuff you do in bed. Those liquids sit there not only making the mattress dirtier but destroying the function of the structure. It's hard to work correctly when "waterlogged" with juices.
Plus, modern-day mattress protectors feel and look like regular bed sheets. I even have a review on the very one I use on my mattress. They're not even that expensive either; I consider it crazy when people don't use something so practical and affordable.
How Long Should You Leave a Memory Foam Mattress Before Sleeping on It?
It's best to let your memory foam mattress expand for 48 hours. If you can't give 48 hours then allow the mattress to expand for 6 hours before sleeping on it.
What Happens If You Sleep On Your Mattress Too Soon?
If you sleep on your mattress before it's expanded it's not the end of the world. In fact, many mattress manufacturers recommended you sleep on it the first night because your body heat helps to expand the foam.
I would not worry about it too much. The goal is to give the mattress a few hours before you sleep on it. It can take some mattress a whole week to reach its correct size and sleeping on it won't hurt.
It's Been A Week And The Mattress Has Not Expanded.
If it's been a week and the mattress has not expanded correctly then, unfortunately, you have a defective mattress.
The good news is that this is usually rare. If it's been a week no need to keep fighting it, contact the company you bought it from to check out the return policy. If you're curious about returns and what they do with the old mattress check this out.
If you have to return the mattress and want a new one I've had good luck with Zinus Green Tea Mattress.
How Long Do Mattresses Last? The Results May Shock You!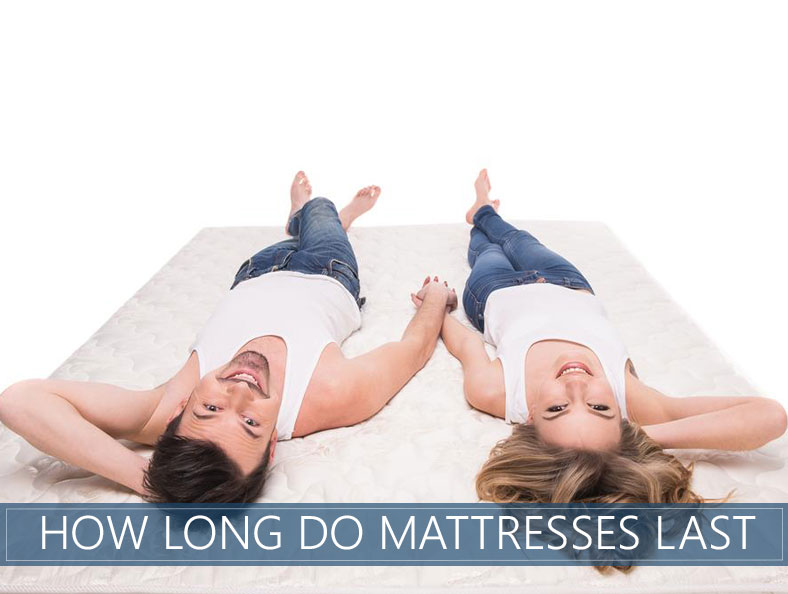 Mattresses are pretty expensive — one quick glance at our buyer's guide will confirm this fact. This is why many people do not replace them – not even after many years of use.
They do not want to spend a lot of money on a new one. Besides, now you can delay the process of buying a new one if you do an excellent job at maintaining your existing one.So, how often should you replace your mattress?
It doesn't matter which type of bed you have. Most of them are ready for replacement within ten years to ensure a good night's rest (old mattresses can hurt your sleep quality). Besides, it can last beyond ten years on average, if the owners maintain it properly.
Also, many different factors affect a bed's lifespan. You can extend its life expectancy by following a few easy steps in the text below. We prepared and wrote down some tips to boost its longevity.