Mattress Ruined. What Happens If You Sleep on Your Memory Foam Mattress Before 24 Hours?
Table of Contents
How Long to Let Your Memory Foam Mattress Expand?
The general rule is to give your new memory foam mattress 48 hours to expand and inflate to its proper size.
The real answer is not that simple. Every memory foam mattress has its unique requirements.
The following chart shows what each manufacturer recommends. Below that we go over where the 48 hours comes from and if you can immediately sleep on your new mattress.
Mattress Expansion Times For Each Manufacturer
| | |
| --- | --- |
| Manufacturer | Time |
| amerisleep | Can lay on it right away but could take 8 hours for the corners to expand fully and you should wait 2 hours before putting sheets on. |
| BEDBOSS | Should decompress in 24 hours, but let it sit for 2 hours before moving it to the bedroom. |
| Bedinabox | "It expands in about 3 minutes" is what I got when I emailed them. This seems too fast; I would still give it a few hours to be on the safe side. |
| Casper | Can expand and be ready to sleep on in a few minutes but keep in mind that some will take longer. |
| Classic Brands | Allow 24 to 72 hours for the mattress to regain its full shape. If the mattress gets to its full height, it's ready to use. |
| Dreamfoam Bedding | 6 to 7 hours from opening. |
| Helix | Give it 2 hours to regain its shape, and you're done. |
| Layla | Will take its full shape within minutes, and you can sleep on it right away. If you're sensitive to smell give it a few hours to air out. |
| Leesa | May take up to an hour to expand but give it 24 hours to fully expand and be at its best |
| Linenspa | Up to 48 hours but they do say you can jump on it as soon as you like. If anything they say your body heat can help speed up the expansion process. |
| LUCID | Up to 48 hours, but if it's fully expanded after 24 hours you can go ahead and sleep on it. |
| Lull | Will do most of the expanding in 2 to 5 hours and fully expand in 24 to 48 hours. |
| MLILY | Should be ready in 24 hours. Walking on it while it's on the floor can help speed up the process. |
| Nectar | Between 24 to 72 hours to expand. |
| Nest Bedding | You can sleep on it right when you open it, but it can take up to 24 to 48 hours for it to fully expand. |
| Olee Sleep | let it expand up to 72 hours |
| Puffy | Allow it to expand and breathe for a few hours before putting bedding on it. |
| Purest Of America | Allow 24 to 72 hours to fully recover. |
| Signature Sleep | Wait at least 48 hours. |
| Tuft & Needle | Only takes several hours to reach the proper specifications, but in some cases, it may take up to 5 days. |
| Tulo | Allow it to sit for an hour before using it. |
| Zinus | 48 to 72 hours to fully decompress. Zinus recommends you sleep on the mattress during this time as it helps to full up the mattress. If after a week it hasn't expanded, please contact them. |
Don't see your mattress? Go ahead and give it a couple of hours to expand, but let me explain why.
Can You Sleep on a New Memory Foam Mattress Straight Away?
The reason why you wait 24 hours, 48 hours or 72 hours is an old saying that people keep repeating.
As shown from the chart a significant number of manufacturers report shorter times and a good bit suggest sleeping on the mattress the first night. The reason is for your constant movements, and body heat loosens the foam. The more lose the foam, the better it expands.
Where The 48 Hour Memory Foam Expansion Time Came From
The first generation of memory foam mattresses is where this wait time wives tale came from. More time was needed for older memory foam mattresses to air out there odors.
The mattresses today don't smell as bad; I would still recommend letting them air out for a few hours to absorb the smells of its surroundings. I know it sounds odd, but it's well worth doing.
What if my mattress says to wait a few hours? – Well, it's better to play it safe than sorry. The people that best understand your mattress are the ones who made it.
What If Your Memory Foam Mattress Is Not Inflating?
No need to worry if your memory foam mattress is not expanding; here is what you do.
Get the mattress flat as possible on the floor. Wearing clean socks walk on the mattress. The constant moving around combined with your body heat expands the mattress. I like to think of it as a mattress massage.
After massaging the mattress place it back on the bed frame and sleep for a few nights.
Keep in mind:New mattresses are like new shoes; they need to be broken in. Over the years you have gotten used to your old mattress, so the new one is going to feel different. We tend to forget this because we only buy mattresses every decade or so.
What To Do After Your Memory Foam Mattress Has Expanded?
I mean, you spent all this money you probably want it to last as long as possible?
If you want your mattress to last, you need a mattress protector.
Your mattress is a giant sponge, and it will soak up all the sweat, soda, dead skin and other nasty stuff you do in bed. Those liquids sit there not only making the mattress dirtier but destroying the function of the structure. It's hard to work correctly when "waterlogged" with juices.
Plus, modern-day mattress protectors feel and look like regular bed sheets. I even have a review on the very one I use on my mattress. They're not even that expensive either; I consider it crazy when people don't use something so practical and affordable.
How Long Should You Leave a Memory Foam Mattress Before Sleeping on It?
It's best to let your memory foam mattress expand for 48 hours. If you can't give 48 hours then allow the mattress to expand for 6 hours before sleeping on it.
What Happens If You Sleep On Your Mattress Too Soon?
If you sleep on your mattress before it's expanded it's not the end of the world. In fact, many mattress manufacturers recommended you sleep on it the first night because your body heat helps to expand the foam.
I would not worry about it too much. The goal is to give the mattress a few hours before you sleep on it. It can take some mattress a whole week to reach its correct size and sleeping on it won't hurt.
It's Been A Week And The Mattress Has Not Expanded.
If it's been a week and the mattress has not expanded correctly then, unfortunately, you have a defective mattress.
The good news is that this is usually rare. If it's been a week no need to keep fighting it, contact the company you bought it from to check out the return policy. If you're curious about returns and what they do with the old mattress check this out.
If you have to return the mattress and want a new one I've had good luck with Zinus Green Tea Mattress.
How Long Do Mattresses Last? The Results May Shock You!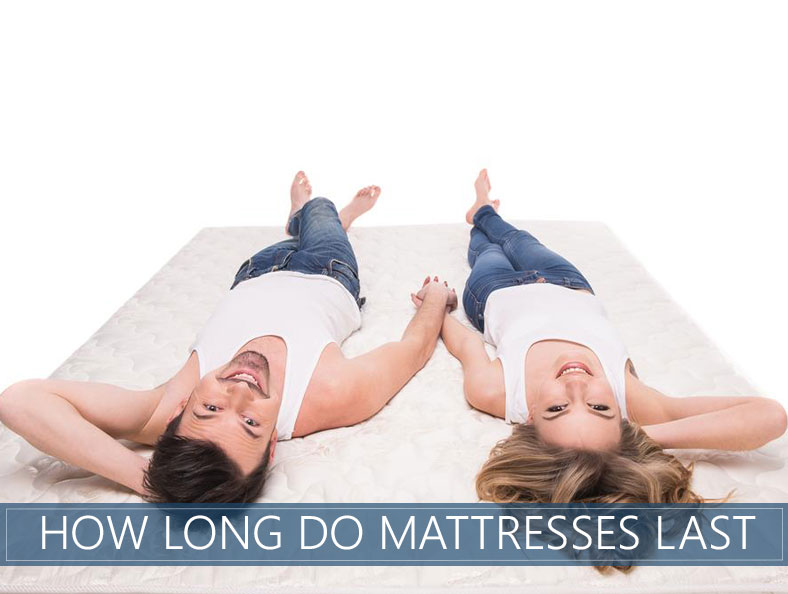 Mattresses are pretty expensive — one quick glance at our buyer's guide will confirm this fact. This is why many people do not replace them – not even after many years of use.
They do not want to spend a lot of money on a new one. Besides, now you can delay the process of buying a new one if you do an excellent job at maintaining your existing one.So, how often should you replace your mattress?
It doesn't matter which type of bed you have. Most of them are ready for replacement within ten years to ensure a good night's rest (old mattresses can hurt your sleep quality). Besides, it can last beyond ten years on average, if the owners maintain it properly.
Also, many different factors affect a bed's lifespan. You can extend its life expectancy by following a few easy steps in the text below. We prepared and wrote down some tips to boost its longevity.
How Often Should You Change (and Clean) Your Pillows?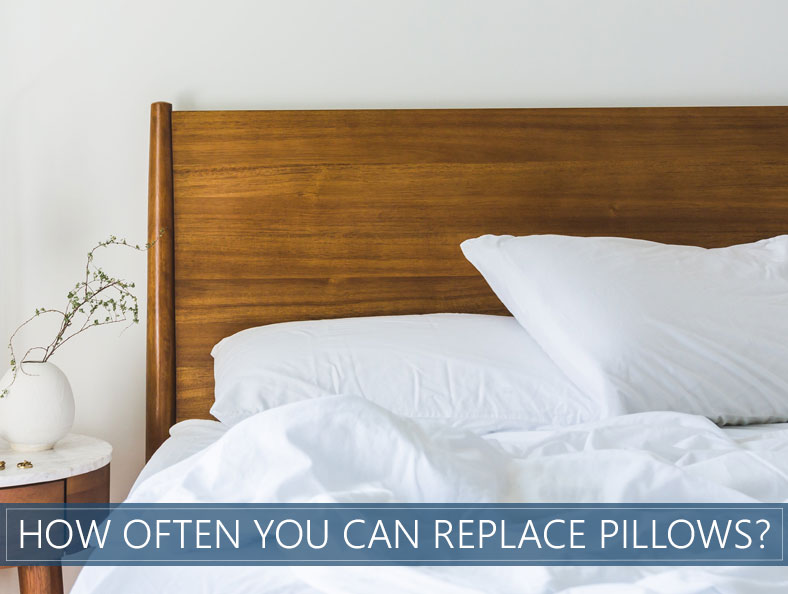 If you can't really recall whenthe last time you changed your pillowwas, it might be the right time to do it.
There is a general rule of thumb that you ought to do so at least once a year or two years at worst.
There are a few different reasons for which you'd want to consider doing so, and we've taken the liberty of elaborating a bit on this topic.
Why Replace Your Pillow
Better Sleep
Your pillow has a direct impact on the way your neck and head are supported, and when they are brand new, the support is the best. This keeps your spine aligned which translates to a great night of sleep. Keep this in mind.
Hygiene
You sweat. That's a fact. Furthermore, your dead skin cells peel and all of this gets absorbed in the pillow. With time, you might experience certain allergic reactions or skin inflammations resulting from these – it's important to keep this in mind.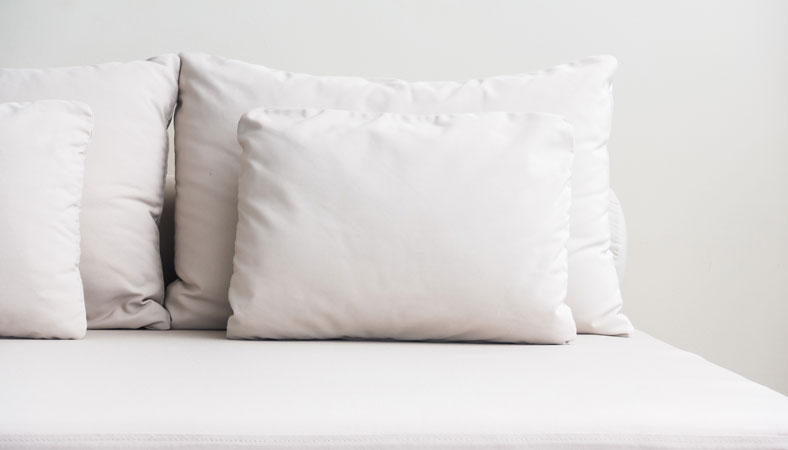 How Often Should I Wash My Pillow?
The general rule of thumb is three weeks, even though you could do it more frequently. This is what's considered a great habit to get into. Should you do so, rest assured that you wouldn't experience any issues regarding hygiene.
Types of Pillows & Replacement Timeline
Memory foam
Memory foam pillows should be replaced once a year. Their conforming is great, but they tend to sag. The material is not that reliable, and that's the main reason for it.
Down Pillow
Down pillows should also be changed once a year, maybe a little longer than that. They tend to lump quite a bit, and it is at that point they'd become unusable.
Latex
Latex is more durable than memory foam, and as such, if you have a latex pillow, you can replace it once every two years. They are more expensive as well.
Feather-based
Feather-based are amongst the most common types out there, and they are also usually the more inexpensive ones. You should change these at least once a year even though certain people recommend even more often.
Bamboo
These should be changed once every year and a half as bamboo fibers tend to be a bit more reliable than cotton ones.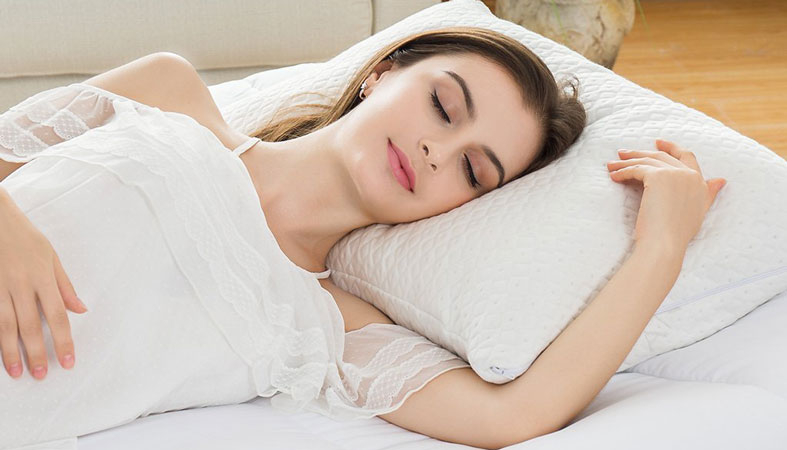 Frequently Asked Questions
Can Pillows go in the dryer?
Some of them can – others can't. For instance, you can throw a bamboo pillow in the dryer, but you can't put a feather-based one in it as you risk making a substantial mess.
Are there health risks associated with an old pillow?
The more you use a pillow, the more its properties diminish. Think of it as amortization. An old and inappropriate pillow could cause spinal misalignment so – yes, there are health risks associated with old pillows.
Conclusion
The most important thing to consider is your health. As such, you are obligated to ensure that everything is handled as per the highest standards. Follow the above guidelines to guarantee that your pillow is in perfect condition and that it delivers the necessary capabilities.
Sources and References:
When Should You Replace Your Pillow? – sleep.org
Pillows: A Hot Bed Of Fungal Spores – sciencedaily.com
More Readings:
Author: Sleep Advisor
Our team covers as many areas of expertise as we do time zones, but none of us started here as a so-called expert on sleep. What we do share is a willingness to ask questions (lots of them), seek experts, and dig deep into conventional wisdom to see if maybe there might be a better path towards healthy living. We apply what we learn not only to our company culture, but also how we deliver information to our over 12.7M readers.
Sleep research is changing all the time, and we are 100% dedicated to keeping up with breakthroughs and innovations. You live better if you sleep better. Whatever has brought you here, we wish you luck on your journey towards better rest.
Transparency Disclosure– We may receive a referral fee (at no additional cost to the buyer) for products purchased through the links on our site or other applicable pages. To learn more, please read our full disclosure pagehere. We also encourage you to read about how we may research and/or test Products here.

6 Types of Foam – Qualities To Look Out For
10 Top Rated Trundle Beds – Our Reviews and Ratings for 2020
How to Properly Wash (or Clean) Your Pillows
How Can You Make a Mattress Firmer – 7 Helpful Tips And Tricks
How To Pick a Carpet for Your Bedroom
Menopause and Insomnia – What's Burning? Oh, it's me.
Our 8 Highest Rated CBD Oils for 2020
What is Beauty Sleep and How Can I Get it? The Science Revealed
9 Tips for Sleeping Better in a CPAP Mask
Sleep Chronotypes – Are You a Bear, Wolf, Lion, or Dolphin?
Transparency Disclosure– We may receive a referral fee (at no additional cost to the buyer) for products purchased through the links on our site or other applicable pages. To learn more, please read our full disclosure page here.We also encourage you to read about how we may research and/or test Products here.
About Us
Contact Us
Culture
Terms & Conditions
Privacy Policy
DMCA Policy
Contribute
Sleep Calculator
There's no one-size-fits-all when it comes to better health and better rest, but no one has time to sleep, let alone figure out how to upgrade the sleep they're getting.
From figuring out how to buy a mattress, suggesting ones that are good for different needs and body types, or breaking down the newest science behind technology and wellness breakthroughs, Sleep Advisor has you covered.
How Long Do Mattresses Last?
Mattresses aren't exactly cheap, most people replace them very infrequently and consider buying a new one either a chore or a burden. It's easy to delay or prolong this process simply by taking proper care of whichever type you own. As a general rule, most should be replaced within ten years for best results in sleep and health, however, the average life of a mattress can last beyond ten years or more if taken care of properly. While it is true that how long one lasts depends on different factors, you can easily increase its life expectancy by undertaking a small number of simple steps. Here is a look at a few of the factors that can decide how long should a mattress last, and possible ways to increase its lifespan:
Table of Contents
1. The Type
What type do you have? For instance, is it air, innerspring, memory foam or latex? Each one has its own life expectancy; air and innerspring being the shortest, memory foam being mid length, while latex types are known to last the longest.
Air mattresses will over time either develop leaks or generally become less effective at retaining air pressure. If they have a built-in pump that becomes faulty, this too can lead to premature replacement. Overall, the average air mattress life expectancy is placed at five years.
Spring mattresses are good for sharing couples who like a springy and bouncy surface, but unfortunately, due to the inner core being thin metal wire, this type does tend to sag and lose its support even if flipped and rotated regularly. Even ones which have been well cared for will most likely need replacing within 7-8 years.
Memory foam mattresses are less prone to sagging but not invincible. They too require rotating, and foam does eventually lose its support but after a long while. This type should be good for at least ten years if kept ventilated, clean, and rotated.
Latex mattresses are the creme de la creme and tick all the boxes for quality and longevity. The naturally hypoallergenic and anti-microbial properties add to the durable nature of latex rubber foam to combine a core which can last up to 15 years.
2. Regular Cleaning
Another important factor which determines mattress life expectancy is to do with cleaning.Howdo you clean it? Do you clean itregularly? Do you give it to aprofessionalcleaner? It's essential that you clean your mattress regularly to prolong the life. If you do not, it won't last long at all. This is due to the invisible bacteria, mildew, and mattress mold that can slowly eat away at the materials involved. Moreover, it may be better if you could have it cleaned professionally from time to time, as mattresses are home to bacteria and germs in plenty, which might not get adequately cleansed with household cleaning products and methods.
3. Amount of Use
As you can imagine, anything that is used more will last less. However, there are two things that need to be kept in mind. Whichever type you own, it wouldn't last as long in cases of extreme use, for example sharing couples who use for 10+ hours per day, and secondly on the other hand, if it has been left unused and uncleaned for prolong periods of time. Mattresses that are moderately used, where people sleep on it for around 7-8 hours a day, and then cleaned regularly are the ones that have the longest life.
4. The Cleaning Products
The question of how long do mattresses last really is to do with many supporting factors, but quite often depends on the cleaning methods used to clean them. For instance, in case of blood stains, you might have to use hydrogen peroxide to get rid. Too much of this chemical (and other heavy duty stain removers) would lead to a reduction of mattress life as these are not made to withstand such chemical uses.
5. Proper Precautions
It is always nice to have kids around the house. However, if your kids want to use your bed as a trampoline, it seriously isn't a good idea. You would rather have them play elsewhere since this can seriously damage your bed. Imagine you have an innerspring, the springs will become too soft and compressed in no time at all and will leave you with a creaky and sagging surface. Additionally, whether it's latex or memory foam, soon there will be indentations which are beyond repair. To prolong its life, you can also rotate and flip it from time to time, but that's only if it's double-sided and permits you to do so. You could perform this every few months for the duration of its life, which will significantly improve how long a mattress can last.
When Do You Know You Cannot Use Your Mattress?
Usually, mattresses that are over seven years old do not provide the comfort and support you need on the bed. Once you see there are signs of the surface and support wearing out, or you're feeling uncomfortable in the bed when you are sleeping on it, you would be better off changing it. Some of the common visible signs of wearing are sagging, holes and tearing. If you cannot get a full night's sleep and feel that you're having a better slumber elsewhere than your bed, you need to start looking for a replacement.
You might buy the most expensive mattress, but if you do not care for it properly, it might not even last ten years. On the other side, ones which are taken care of correctly are known to last more than 15 years.
Find Out How Long Crib Mattresses Are Good For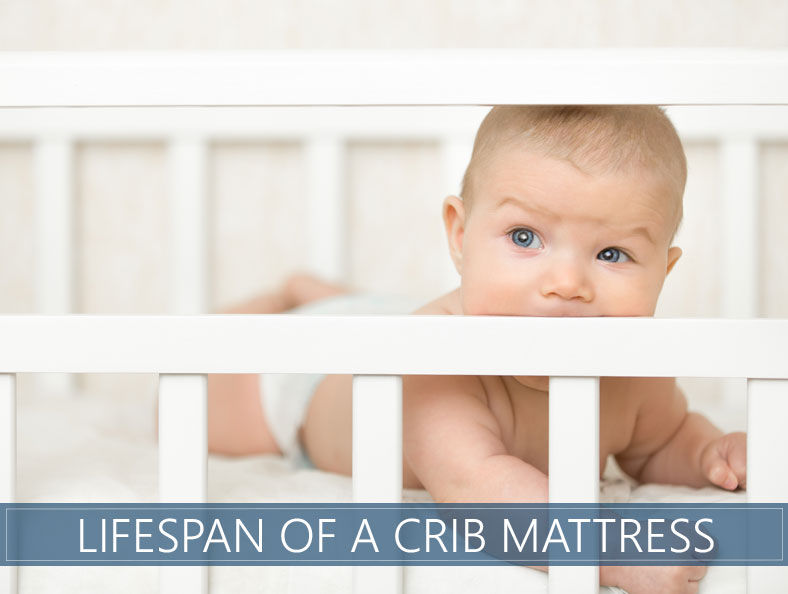 As adults, we put a lot of emphasis on our own mattresses. We spend a lot of time evaluating comfort, durability, firmness, and cooling. And, of course, we want the best quality at a reasonable price.
The consideration we put into our child's mattress, especially for a crib, should be even more thorough. After all, it's not just about comfort for your baby or toddler (though that's important, too!); safety is also a top priority.
When you're looking to get a new bed for your bundle of joy (see our top crib picks), you'll naturally also wonder how long it will last, if you can use it down the road if you have another child, and even if you can accept a hand-me-down from a well-meaning friend or family member.
In this article, we'll discusshow long crib mattresses lastand address the above inquiries, too!