Mattress Ruined. What Happens If You Sleep on Your Memory Foam Mattress Before 24 Hours?
Table of Contents
How Long to Let Your Memory Foam Mattress Expand?
The general rule is to give your new memory foam mattress 48 hours to expand and inflate to its proper size.
The real answer is not that simple. Every memory foam mattress has its unique requirements.
The following chart shows what each manufacturer recommends. Below that we go over where the 48 hours comes from and if you can immediately sleep on your new mattress.
Mattress Expansion Times For Each Manufacturer
| | |
| --- | --- |
| Manufacturer | Time |
| amerisleep | Can lay on it right away but could take 8 hours for the corners to expand fully and you should wait 2 hours before putting sheets on. |
| BEDBOSS | Should decompress in 24 hours, but let it sit for 2 hours before moving it to the bedroom. |
| Bedinabox | "It expands in about 3 minutes" is what I got when I emailed them. This seems too fast; I would still give it a few hours to be on the safe side. |
| Casper | Can expand and be ready to sleep on in a few minutes but keep in mind that some will take longer. |
| Classic Brands | Allow 24 to 72 hours for the mattress to regain its full shape. If the mattress gets to its full height, it's ready to use. |
| Dreamfoam Bedding | 6 to 7 hours from opening. |
| Helix | Give it 2 hours to regain its shape, and you're done. |
| Layla | Will take its full shape within minutes, and you can sleep on it right away. If you're sensitive to smell give it a few hours to air out. |
| Leesa | May take up to an hour to expand but give it 24 hours to fully expand and be at its best |
| Linenspa | Up to 48 hours but they do say you can jump on it as soon as you like. If anything they say your body heat can help speed up the expansion process. |
| LUCID | Up to 48 hours, but if it's fully expanded after 24 hours you can go ahead and sleep on it. |
| Lull | Will do most of the expanding in 2 to 5 hours and fully expand in 24 to 48 hours. |
| MLILY | Should be ready in 24 hours. Walking on it while it's on the floor can help speed up the process. |
| Nectar | Between 24 to 72 hours to expand. |
| Nest Bedding | You can sleep on it right when you open it, but it can take up to 24 to 48 hours for it to fully expand. |
| Olee Sleep | let it expand up to 72 hours |
| Puffy | Allow it to expand and breathe for a few hours before putting bedding on it. |
| Purest Of America | Allow 24 to 72 hours to fully recover. |
| Signature Sleep | Wait at least 48 hours. |
| Tuft & Needle | Only takes several hours to reach the proper specifications, but in some cases, it may take up to 5 days. |
| Tulo | Allow it to sit for an hour before using it. |
| Zinus | 48 to 72 hours to fully decompress. Zinus recommends you sleep on the mattress during this time as it helps to full up the mattress. If after a week it hasn't expanded, please contact them. |
Don't see your mattress? Go ahead and give it a couple of hours to expand, but let me explain why.
Can You Sleep on a New Memory Foam Mattress Straight Away?
The reason why you wait 24 hours, 48 hours or 72 hours is an old saying that people keep repeating.
As shown from the chart a significant number of manufacturers report shorter times and a good bit suggest sleeping on the mattress the first night. The reason is for your constant movements, and body heat loosens the foam. The more lose the foam, the better it expands.
Where The 48 Hour Memory Foam Expansion Time Came From
The first generation of memory foam mattresses is where this wait time wives tale came from. More time was needed for older memory foam mattresses to air out there odors.
The mattresses today don't smell as bad; I would still recommend letting them air out for a few hours to absorb the smells of its surroundings. I know it sounds odd, but it's well worth doing.
What if my mattress says to wait a few hours? – Well, it's better to play it safe than sorry. The people that best understand your mattress are the ones who made it.
What If Your Memory Foam Mattress Is Not Inflating?
No need to worry if your memory foam mattress is not expanding; here is what you do.
Get the mattress flat as possible on the floor. Wearing clean socks walk on the mattress. The constant moving around combined with your body heat expands the mattress. I like to think of it as a mattress massage.
After massaging the mattress place it back on the bed frame and sleep for a few nights.
Keep in mind:New mattresses are like new shoes; they need to be broken in. Over the years you have gotten used to your old mattress, so the new one is going to feel different. We tend to forget this because we only buy mattresses every decade or so.
What To Do After Your Memory Foam Mattress Has Expanded?
I mean, you spent all this money you probably want it to last as long as possible?
If you want your mattress to last, you need a mattress protector.
Your mattress is a giant sponge, and it will soak up all the sweat, soda, dead skin and other nasty stuff you do in bed. Those liquids sit there not only making the mattress dirtier but destroying the function of the structure. It's hard to work correctly when "waterlogged" with juices.
Plus, modern-day mattress protectors feel and look like regular bed sheets. I even have a review on the very one I use on my mattress. They're not even that expensive either; I consider it crazy when people don't use something so practical and affordable.
How Long Should You Leave a Memory Foam Mattress Before Sleeping on It?
It's best to let your memory foam mattress expand for 48 hours. If you can't give 48 hours then allow the mattress to expand for 6 hours before sleeping on it.
What Happens If You Sleep On Your Mattress Too Soon?
If you sleep on your mattress before it's expanded it's not the end of the world. In fact, many mattress manufacturers recommended you sleep on it the first night because your body heat helps to expand the foam.
I would not worry about it too much. The goal is to give the mattress a few hours before you sleep on it. It can take some mattress a whole week to reach its correct size and sleeping on it won't hurt.
It's Been A Week And The Mattress Has Not Expanded.
If it's been a week and the mattress has not expanded correctly then, unfortunately, you have a defective mattress.
The good news is that this is usually rare. If it's been a week no need to keep fighting it, contact the company you bought it from to check out the return policy. If you're curious about returns and what they do with the old mattress check this out.
If you have to return the mattress and want a new one I've had good luck with Zinus Green Tea Mattress.
How long should i let my nectar mattress expand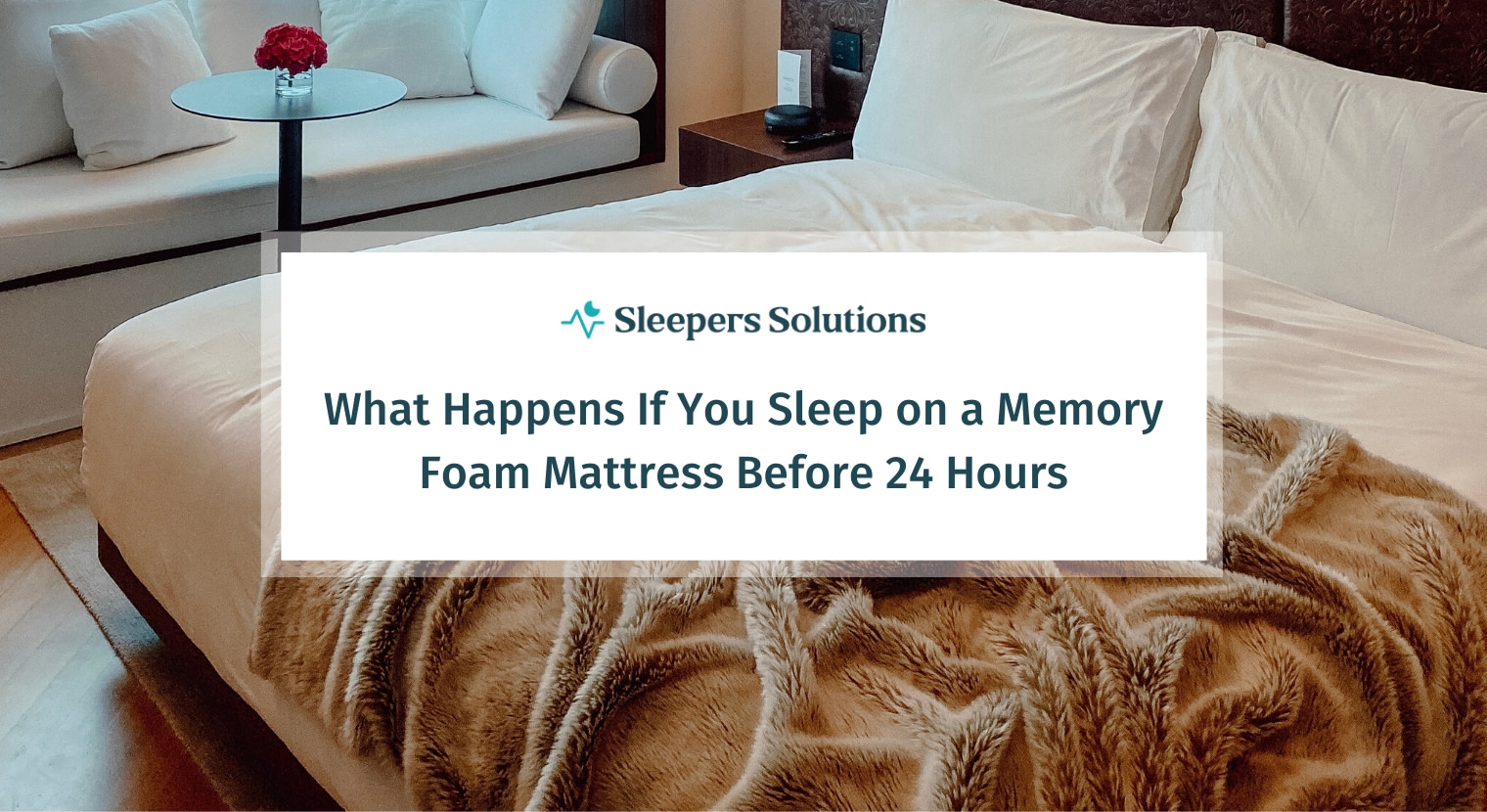 What Happens If You Sleep on a Memory Foam Mattress Before 24 Hours
So you've got a new memory foam mattress, you're excited – in the back of your mind you remember some rule of thumb about waiting for a day before sleeping on it. The manufacturers say to wait for at least 48 hours before it expands fully, especially the ones that are still in the box. But if you're curious what happens if you sleep on a memory foam mattress before 24 hours, then you're in the right place.
Sleeping on a Memory Foam Mattress Too Soon
There are some essential things to consider before sleeping on a memory foam mattress too soon. For instance, most memory foam mattresses require up to two days before it goes back to its original size and form. After all, these mattresses are vacuum sealed, pressed and rolled tightly to fit in the packaging.
But can you sleep on a memory foam mattress the first night? Well, you can relax, jump, or do whatever you want with your bed as soon as you received it. Using it right away won't cause any damage but will only speed up the process of expanding the foam.
This 24-hour recommendation is to ensure customer satisfaction and manufacturer guarantees.It also gives any off-gassing time to dissipate.
Why It Needs 24 Hours to Expand?
Well firstly, you you should know that the off-gassing happens in the first couple of hours. If it's okay to sleep on your new memory foam without waiting for 24 hours to allow it to expand, then why do we still need 24-48 hours?
It's all about the manufacturer guarantee. They claim that if it doesn't fully open up and you did sleep on it then you'll void that guarantee. If you've paid several hundred or even thousand on a new bed – you have to think twice about risking your money back opportunity.
But another important question is that, what should you do if your mattress takes more than 24 hours to expand fully? Well, there are rare cases wherein compressed memory foam mattresses don't fully extend. If that's the case, then you can ask your seller what to do to make it expand or ask for a new one.
Get yourself a mattress protector right now!

Waterproof Mattress Pad Protector Cover [Memory Foam]
For less than $20, save your mattress from spills for life.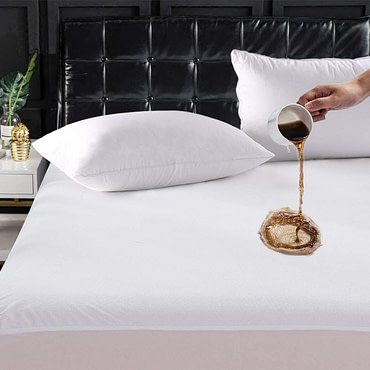 If you are looking for the highest rated mattress protector on Amazon for your platform bed or box spring, here are the best choices we've found. Check these to find out if one of them is perfect for your needs.
Zinus Mattress – How Long to Expand
Most Zinus Memory Foam Mattress like the 12 Inch Green Tea Mattress need 48 to 72 hours to relax and decompress and restore to its original shape. That's why the Zinus company manual advice customers to open the packaging within 72 hours of arrival to make sure the mattress they ordered will fully grow to its potential.
And with the green tea extract infuse in the foam, you will not inhale hazardous and harmful smell with you first open the packaging. It will typically dissipate after laying the mattress in a well-ventilated area.
What to Do When Memory Foam Mattress Not Inflating?
Memory foams have different thickness levels. You can choose from an 8-inch mattress to a 13-inch memory foam bed. They are designed with open cells to conform to various shapes of sleepers using the bedding. Before they leave the factory, these mattresses are folded and compressed using a machine roller to fit into a small package.
The best way to use a memory foam is to let it expand before using. However, if it's not inflating, there are simple tricks you can do to enjoy its comfort after 24 hours of arrival. Check these tips to help you out:
Unbox the memory foam within the three days of arrival. Remove the plastic cover using your hands. Never use any sharp objects like a knife and scissors when removing the mattress from the package to avoid damages.
Allow the foam to adjust in room temperature, which may take up to a couple of hours until it begins expanding. This step is essential, especially when you get your memory foam in the winter season. Foam mattresses tend to become more brittle if it's still tight, which can lead to tearing.
Unroll it in a spare room so the open cells of the memory foam will expand and inflate freely. Separate each layer of the foam carefully to allow them to grow. Pull them in uniform motion with slow and steady hands.
What Are the Possible Reasons Why your Lucid Memory Foam Mattress is Not Expanding?
If your Lucid memory foam mattress is not expanding, there might be an essential step you haven't performed after unrolling it. First, it needs time to develop, typically within 72 hours before you can finally use the mattress. So wait for it until it becomes entirely usable in its original size.
Some memory foam mattresses take one week to air out, but they lose the new-foam smell at the same time. It is already fully plumped when you noticed that the smell is gone. And you can use a mattress topper to retain the plumpness of your new memory foam.
Key Takeaways
The truth is, each mattress has its own expansion time and features. Therefore, the time required before they fully expand will depend on the model and brand you purchased.
Before you can move it to your bedroom, most memory foam mattresses that usually take 24 hours to decompress may still need at least two hours. Waiting for 24 hours or 72 hours to allow a bed to expand is a traditional belief.
Most of the mattresses offered on the market today only take a short time to decompress, and you can sleep on the right after unboxing them. So there's nothing to worry about sleeping on your mattress too soon. You won't damage your memory foam while sleeping on it during the first night.
The key is in the type of memory foam used in your mattress. The higher quality the foam, the better and faster it will expand in less than 24 hours.
Unwrapping your new mattress
There has recently been a massive influx of boxed mattresses to the market. The reason why has been to reduce the delivery costs, logistics and manufacturing to maximise profits. We are yet to be convinced of the benefits to you the customer with these models. Most of which are cheaper layers of foam and have been created by venture capitalists rather than mattress experts.
Can a quality mattress really be easily rolled?
The reason we have created this detailed guide is due to the number of enquiries we have about opening mattresses such as Eve, Simba, Casper, Herdy and Emma mattresses. We know opening these boxed mattresses can be tricky and if you damage the beds you will void your guarantee. We also provide advice on what to do if you need to send your boxed mattress back under their 30-100 day returns process if you're not getting on with your new boxed mattress.
We would advise caution with buying a boxed mattress, as rolling and storing them for long periods of time can damage their flimsy foam layers. However, if you've recently bought a boxed mattress this guide will give you all the details you need to know.
What is a boxed mattress?
A boxed mattress is usually a foam mattress that has been vacuum packed and rolled to save on storage and delivery space. They have been marketed as NextGen and given different fancy covers. However, in reality, all of these mattresses are variations of the basic memory foam layered mattress. There are a few exceptions such as Herdy but in effect, they are layers of foam, glued together then crushed & rolled to fit into a box. At John Ryan, we don't sell any rolled mattresses. Our mattresses wouldn't fit and we wouldn't subject them to the damages of being rolled and crushed. We did some tests when rolled mattresses entered the market, more on that later.
Boxed mattress brands you may see online:
Eve mattresses
Casper Beds
Leesa mattress
The One by Made (Memory Foam Bed)
Herdy – Wool and synthetic pocket springs
The mattress enters a big roller which crushes the air out of the foam reducing its size drastically, putting it under stress it is then sealed in a bag, usually heat sealed, and then boxed. It means that a normally large sized mattress can be reduced to fit more on a lorry and make delivery easier for the customer.
However, these mattresses are under great stress when in this position. They want to return to their regular shape and are constrained. Foam can tear, springs can deform and fabric can become stretched and rippled when you unroll them.
We recommend avoiding boxed mattresses if possible, your money is better spent on a Quality upholstered pocket sprung mattress instead like our Handmade Mattresses.
Does rolling a mattress damage it?
A very long time ago now, we trialled rolling a sample Hybrid foam mattress, mainly to see what happened. We were given assurances by suppliers of the machinery that can crush and roll mattresses, that it was fine to do so. There is a time limit of around 6 weeks and after that, the mattress is usually showing some form of stress or damage. However, after 6 weeks we unrolled our two samples. One was Hybrid foam layered up, the other was a FEPS spring unit with a hybrid foam layer.
The Results of Boxed Mattresses:
The Layered foam mattress came out with micro tears all across the foam layers when removed the cover off it (Most Eve, Simba, Casper or Leesa mattresses have non-removable covers so you can't see inside or inspect them)
The FEPS spring unit had become stuck to some of the foam and then was slightly distorted once it worked its way loose
The best way to think of it is that the mattress has been suppressed in its packaging, desperately trying to get back to its original shape. Over time cracks and defects can occur in the foam as its stressed beyond its normal tolerances.
Foam can show micro tears and stress cracks once unrolled
Having a rolled mattress means you have to wait hours for it to come back to its original shape which can be frustrating for you the customer.
Are boxed mattresses like Eve and Simba any good?
We have extensively written about some of the newer boxed mattress brands such as Eve, Simba, Casper etc. The issue with these models is they try to be a one size fits everyone, which we disagree with completely.
They also don't always give you the full breakdown of what exactly is in the mattresses. We have talked at length about the differences between 100% natural latex and synthetic, and why you need to know the blend and density of hybrid foams to truly know what you are getting. Then there is the issue with the One-sided mattresses. So there is plenty to consider and we would rather you read the articles to make your own mind up on these models.
There was a really interesting article in the Telegraph on Eve mattresses posting a record loss in 2018 whilst simultaneously spending an eye-watering £17.2m o advertising. What's baffling is they only have one product, a basic foam layered mattress. These manufacture methods have been around for 20 years. So why are they spending so much on marketing and not developing the product? Eve doesn't give the exacting details for us to be able to compare their mattresses. It does beg the question is this more marketing over quality?
If you want to read some more detailed discussions on boxed mattresses, such as Eve, then please start with this comment here.
What is the best alternative to an Eve, Simba or Casper Boxed Mattress?
We would always recommend a two-sided pocket sprung well-upholstered mattress over a one-sided foam bed. If the price is your deciding factor, then we would ask you to look at our Origins 1500 which is at a similar price point to Eve, Simba and Casper as a basis for comparison to a non-rolled mattress. However, the upholstery and spring unit far exceeds the quantities and GSM of the boxed mattresses available. This mattress cannot be boxed, there are simply too many fibres inside it to be easily crushed.
Origins 1500 Mattress By John Ryan By Design
We understand it can be convenient to have your mattress arrive in a box, even though you need to wait around 6 hours for it to fully 'inflate' again and return to its original shape. We would also suggest that having two men deliver it to a room of choice with it fully assembled is a far more convenient option!
If you have bought a Simba, Eve, Emma or Casper mattress the rest of this guide will show you how to unwrap it correctly.
How to unwrap your new mattress
So your new boxed mattress has arrived but before you start, we've provided this handy guide to show you the easiest and most effective way to unwrap your bed. It may sound simple, but it will save you any damage or scratching your heads! We've provided a step by step instruction guide to show you how a Casper, Eve or Simba mattress may arrive.
1. When your new boxed mattress arrives it will be sent out rolled and in a tall box.
We advise that you remove the old mattress and make sure you have some room ready to unwrap the new one. We recommend that you move the boxed mattress to the room of choice before unwrapping it. This is because once unwrapped the mattress will quadruple in size and start to expand. This means handling it becomes somewhat harder and it can be a right fuss if you're not careful. Once in the room please take the mattress out of the box. It could look similar to the image above.
3. Once out please use a pair of scissors and not a knife. Whilst knives can be used, we warn against it as it's far easier to slice and damage your mattress with a knife than it is with scissors. Also, we find scissors easier to put down and less dangerous if you stand on them! Turn the mattress until you can see the start of the roll, a bit like looking at the end of the sticky tape. Once you have found it using scissors carefully cut the first piece of tape and wrapping.
4. The mattress will then start to unwrap as seen below. Be careful as sometimes it can start to expand rapidly!
5. Then moving down to the middle tape if present, please carefully cut this.
6. Then moving down to the last piece of tape at the bottom, please again cut through this. This is where the mattress shall be free to unroll and expand, so again just make sure you have some clear space.
7. It will start to unroll fully. You can lay it out on the bed and remove any plastic outer packaging.
8. Once unrolled you will need to leave your mattress and topper for good 6 hours as they start to expand and fill with air. This is because during rolling the air is compressed out of them.
It may be a good idea to open a window and let the mattress ventilate as they offgass. Just like a new sofa or car, there will be some 'new bed' smell that comes off the mattress. If your mattress after 6 hours is still not looking fully expanded a quick shake and then another few hours or so should be enough.
Why does my new mattress smell?
Boxed foam mattresses, such as the brands above, are also well known for having a very distinct synthetic plastic or chemical smell when you unwrap them. This is not surprising given they have been off-gassing in their bags for who knows how long. We have a really detailed article on off-gassing which may be of interest. However, with a non-rolled Natural fibre mattress, you don't get this onslaught of chemical smells when you're mattress arrives.
How long does it take to get used to a new mattress?
Once you have let your mattress settle for a few hours, we then advise you give it a week or two to sleep on it to properly try it. Lying on it for a night will not give you a true feel for the mattress. If you think of a new mattress like a new pair of shoes you need to let it bed in slightly and allow our self 1-2 weeks to truly get used to it before deciding if it is right for you or not. Especially if you have had your previous bed for a number of years you will have been used to its feel and profile, a new bed will feel different at first.
All of our mattresses are handmade and arrive fully assembled
Our 60 day love it or return it guarantee gives you this peace of mind. If there are any questions once your new John Ryan mattress arrives please don't hesitate to call us, 0161 437 4419 or email for guidance.
Returning a Boxed Eve, Casper or Simba mattress if you don't get on with it
Any new mattress will take 2-4 weeks to get used to it. Which is why the decent mattress brands and retailers will give you a no quibble returns policy like our 60 Day love it or return it. Quite often people find foam mattresses incredibly hot during the night or that they get stuck in one position which can aggravate bad backs or aches during the night. Our advice would be to give any new mattress a minimum of 4 weeks and then if not suitable get back in touch with the retailer. The boxed mattress companies are usually really good at collecting your bed. Make sure you've saved the box and packaging as some companies will require you to also send this back.
If you really don't get on with a boxed foam mattress don't be tempted to just 'try another one'. Given they all follow the rough construction principle of being one-sided it is highly unlikely based on our experience that you will get on with any foam mattress. It can be really inconvenient having to replace your bed every few weeks so if you don't get on we would advise you look at a Pocket Sprung 2 -sided mattress instead. Especially one that's breathable and responsive if you need to turn over during the night. You've got a higher chance of sleep success rather than just picking another 'next day delivery' mattress.
You'd be surprised at just what you can get for your money when compared to the synthetic boxed foam companies so its best to shop around. Our Origins Pocket 1500 is a great contender to use as a comparison model to the boxed mattress companies based on price. Why settle for a one-sided foam mattress when you can get something much more bespoke and hand made for your money?
Our Origins 1500 shows just how much you can expect for a similar budget compared to the boxed foam beds. Click to view.
Please be aware that after unwrapping any rolled mattress will take anywhere between 4-8 hours to expand to 90% of its full size. It can take further 4-6 hours to reach its maximum. We advise that you don't sleep or sit on it during this time to ensure it has time to fully expand to its correct size. Always take care when using scissors as not to cut your mattress.
If you're still scratching your head as to whether to buy into the boxed mattress phenomenon then why not have a look at our Handmade British Mattresses here. All of our mattresses are delivered full size and there are no flimsy glued foam layers to be found!
If you need any specific advice please get in touch.
How long should i let my nectar mattress expand
This mattress changed our lives for the better! It is absolutely the perfect firmness and temperature. We had a queen bed for so long and desperately needed a king since our baby sleeps with us. We couldn't afford the insane prices out there so we took a chance on Nectar and boy did it pay off.
This mattress is so comfortable! I really can't get over it. We bought it when we moved to our new house. It was perfect timing as it came in the exact day that we moved in. My wife was stressed at the idea of shopping for a mattress in person so being able to do everything online made it super easy. Delivery was quick and setup was incredibly easy. We bought a King. It's a really comfy bed – not too firm, not too soft. I appreciate that it comes with a nice cover. Lastly, company communication has been great.
I have several properties and I have bought them for each. They are delivered right to your door and so incredibly easy to set up. They come wrapped in a vacuum sealed plastic and come in a bag! a bag. You simply take the rolled up mattress out cut the outer plastic and unroll it on the bed frame, then cut the inner plastic and within moments, the mattress fluffs up. I gave mine about 4-5 hours and then I made the bed and it is comfy! The number one comment I get on my rental reviews is how comfy the beds are! This is a WONDERFUL deal and a super wonderful bed. The folks at Nectar are amazing and very responsive. If you are looking for a new mattress, don't hesitate ordering this one.
I was very hesitant to buy a mattress without trying it out first, but I did a lot of research and decided to take the risk. I tried several different styles of memory foam mattresses in stores and I'd say this falls right in the middle. It's not too hard, and not too soft. I sink in just enough to feel supported, but not so much that it's difficult to move. It took me about two weeks to adjust to it. I was stiff in different places, but after a month, I sleep much more soundly, I wake up less in the middle of the night, and I'm not sore in the morning. I am very pleased with our purchase.
There are a few things that you should always buy in person to check for quality.
Fresh fruit. Diamond rings. Cars.
Up until a few months ago, I would have added mattresses to that list. Wasn't that one of the morals of "Goldilocks and the Three Bears"? Most of us were taught that the moral was that a life of crime does't pay and you really shouldn't be sneaking into other people's houses – especially if they are bears -" but another, often overlooked moral was "not every mattress will feel JUST RIGHT. Try before you buy."
When I saw Nectar's claim of a mattress with optimal comfort, I was skeptical. What worked for Mama Bear and Papa Bear wasn't what worked for Baby Bear.
But Nectar's business model intrigued me as did their pricing structure. And if their mattress didn't work out, I would return it and they would donate it to charity. Win-win.
I'm happy to report that Goldilocks was wrong. There are some mattresses that are JUST RIGHT for everyone. This is one of them. My husband and I both sleep well on our King mattress from Nectar. The quality is fantastic. The business model is sublime. And my bank account is happy that I didn't spend a small fortune on a bed.
So I guess you could say we're living happily ever after.
Unlike Goldilocks. Who really shouldn't have broken into the bears house.
Experience in the company was very good. In addition to speaking our language, the company, the type of mattress, when tailored to the needs of our family to describe the features of nectar mattress, took us an extra effort to understand or did. When the mattress has arrived, we were very impressed by the quality. Hari was perfect. We've been sleeping very well. Very strong recommendation
Well, this mattress has been nothing but good to us. I used to wake up with lower back pain and would be stiff for the first 30 minutes or so out of bed. After two nights of sleeping on this mattress, my back pains were gone and I am sleeping better than I have in years. Trust me, this is the solution for your sleeping issues.
I hate mattresses and I think the whole industry is a sham. I hate the cigarette smell of the mattress salesperson at Sleepy's who tries to sell me on a bed I try, then, as soon as I try a different bed, starts telling me why that bed, not the other, is the best. I think the stores are sleazy. My cousin bought a mattress from Nectar and I thought, why not, since they have a no cost try-out that is so long, plus, I needed my old bed taken away. I love the bed. No really, the bed is outrageous and the customer service person must have checked back with me four times after my order. This was so much better and easier than any other mattress I bought. The mattress feels so good and smells wonderful, fresh. I'm telling my parents and sisters and cousins on Staten Island to buy one.
I'm really glad my friend told me about Nectar. I was working through a research process and was encountering other brands that advertised more. My wife and I had slept on a Tempurpedic, but we were looking for something a little more comfortable and hopefully less expensive. Nectar had great prices and amazing mattresses. Our research had us comparing alot of brands. It was very hard to understand differences sometime but the NECTAR team answered questions for me over the course of about a week and were very forthright. I didn't think about sleep trials or comfort guarantees or bed bug guarantees or foam types, cover types, anything really until the Nectar folks educated me. It has been 30 days sleeping on the mattress and I just received this request in my email for a review. Honestly, I feel like I one upped everyone and have a better mattress for a better price. That's their language I think, but it stuck. It's really comfortable and feels better. I know the mattress is healthy because I researched this part in depth and only wanted a mattress with little chemical production. If you have any questions about buying these things, ask their customer service, they're great at their jobs and actually seem to care. I never felt like they were trying to sell me. They sounded really busy by the way at the office when I called and when I asked, they said they had just gotten some press on being 100% employee owned and rated very highly and could barely keep up with orders. Ours arrived in three or four days I think to St. Louis and it looks like it shipped Fedex from the West Coast.
The best purchase in a long time. This mattress is a total win. I recommend this mattress if you're looking for something at a good price yet comfortable. I am currently 6 weeks into my trial and so far so good.
The mattress arrived 3 days after I placed my order. As described it arrived in a nice nylon bag with convenient handles to carry it up the stairs. The mattress unrolled nearly flat immediately, and expanded what appeared to be fully in just a few minutes. There was some minor off gassing that dissipated within 24 hours. We also have a Tempurpedic memory foam mattress. In terms of price and quality, I prefer the Nectar.
We love bed and company people were very helpful and friendly. Funding was automatic and I was very well treated and respected. My mother has asked for a new mattress and let her buy a nectar, as well as price and financing are very good and the bed has an excellent guarantee that does not end.
It comes in a bag all vacuumed sealed. It works great on my bad back! It doesn't have any weird funky smells. The mattress exterior covering seems really high quality and luxurious! Have been sleeping on it for over 3 months and have never slept better.
Alright. Let me just start by saying until I bought this mattress I had TERRIBLE back issues that made me immobile at times. My partner and I decided it was time to upgrade our mattress because we felt like we couldn't sleep on a queen size mattress without being on top of each other. When our Nectar mattress arrived we were SO excited and it seemed to good to be true and were about to be ready to send it back. Boy, were we proven wrong. I no longer have back issues, at all. When we sleep in the bed together it's like I have my own bed. I also have a hard time falling asleep in any other bed that isn't this one. In this bed as soon as I lay down I pass right out. If you want a quality mattress that is extremely comfortable and will make you sleep like a baby, buy this mattress.
Well, we were asked to give a review and normally I do not. I also did not want to give a review for a bed that I did spend "time" in.
So, it has been 30+ days now and I LOVE IT! I love it because I do not get up in the morning with joint pain in my shoulder and hip. No aches or pains. I sleep well. and my husband says the same thing. I also stay nice and cool at night. I absolutely would recommend NECTAR to my family and friends. I actually already have. And a 2 thumbs up for their customer service. I received it on time and in great shape. All around a AAA+ company to work with. I even put them on MY facebook page!
We purchased this mattress for my son's room, and he loves it. It was super easy to buy and it was delivered right to our door. It was really easy to set up as well! I absolutely love the way it feels and I find myself lying in my son's bed now. We're actually thinking of getting one for ourselves. Oh, and thanks for all the great follow-up.
We do not purchase mattresses often and our last was bought perhaps a decade ago. Ordinarilly, I would never purchase a mattress without trying one in a store. My mother is in palliative care and I have not had time to visit a store so I researched delivery options and was impressed by the reviews and ratings of the Nectar mattress. I decided to try the bed since the return is so easy and no cost. I am so happy. Anyone thinking about a mattress should try Nectar. They say the mattress is constructed with different foams than others, but it is the airflow I noticed the most, despite the very solid feel of the construction. The company said this was the most comfortable mattress and I laughed at first when I heard this, but it is actually true.
I've owned the Nectar Mattress for about 8 months now and it's the best purchase I've made for my back' The last few mattresses I've used sleep well for about 5.5-6hrs and then the backache would kick in and I knew it was time to get up.
With Nectar, I simply don't want to get up !! I sleep the whole night. I've actually changed my sleeping habits, go to bed earlier to get more rest and wake up rejuvenated. To some this all may sound cliche and I think it does to me also, but I honestly have to say that this mattress has made a difference in the way I sleep and wake each morning.
Best of all, they have a 365 day guarantee, if you don't like it, return it.
Absolutely love this thing! Buying mattresses online is such a gamble, but we hit the jackpot with this one. We bought a king and it's so comfortable. The mattress arrived compressed and it was super easy to set it up. Very little odor or smell. I recommend it to anyone that is willing to listen.
I'm not exaggerating when I say this is truly one of the best major purchases of my life. By now, you may have heard the hype about the company Nectar. Or perhaps you're stumbling onto their product for the first time. Either way, you should go ahead and click *Buy* right now. Seriously. Even if you're not 100% sure about `em. You'll understand why by the end of this review.
Last year, my wife and I started mattress shopping. We were upgrading from a queen to king. We had so-so mattresses in the past and wanted to do it right, find something that really worked for both of us. You know the cliche: "you spend a third of your life in bed"? Yeah, well it's true. Now, my wife has woman hips, I am thin and straight. Also cliche. We thought we needed a customizable bed to be truly comfortable, so we tried a SleepNumber. Bad mistake. It really is just two zippered air mattresses, with no localized back/hip support.
So we returned the SleepNumber (for which we had to pay shipping, but I suppose it was worth experimenting). Shortly afterward, I stumbled upon Nectar. As a new company, they didn't yet have a large online presence. Then I saw the 365 day return policy and said, hey, why not?
One week later, we received our package in the mail. It came vacuum-sealed so we carefully cut the seal and it literally "popped" into place. Instant sleep-ready. Slapped on the sheets and proceeded to sleep like babies. One year later, we are still very happy customers.
Here are the specific reasons for my piling it on:
1 – Free shipping. What?!
2 – The no-hassle 365-day trial. If you don't like it, you get a full refund. This was a HUGE factor for me, ordering from an online-only company and not yet knowing what firmness was ideal for us.
3 – Forever warranty is NOT pro-rated. Any covered defects, they replace the full value. This is highly unusual, as far as I know.
4 – No boxspring needed. I built my own platform bed and it works great. Plus, their warranty doesn't require a boxspring, unlike many other companies.
5 – A single level of firmness has managed to satisfy both my wife and me. I'm still surprised, considering my wife has curvy hips and I don't. But neither of us has had any back or neck pain.
6 – No middle men, hence, significantly lower prices. Funny as it sounds, this is a novel concept in the mattress industry. I don't know if the typical industry markup is as astronomical as T&N claims, but it's certainly a ripoff.
7 – The mattress definitely supports "relations"
8 – The whole shopping experience was just easy. Sleek, modern website and email. Clear policies and pricing. Immediate shipping information.
9 – I received a handwritten thank you note from Nectar. Can't remember the last time that happened with an online purchase.
The only downside I've encountered: some fitted sheets these days are a hair too big for this mattress, even for the thicker 11" model. But it's not Nectar's fault. It's because most mattress companies make a gimmick out of 20-layer, 100-inch thickness, and sheet manufacturers have followed suit. For what it's worth, we ended up with the L.L. Bean Pima Cotton Percale fitted sheet and it worked out nicely.
Yes, this mattress is on the "firm" side but like I said, it's worked for two (healthy) people with very different body types, which makes me wonder how much marketing hype goes into plush vs. firm. If you're a side sleeper, I highly recommend a thick pillow, thicker than you may be used to.
Nectar has grown by leaps and bounds recently. And prices have increased ever so slightly since we bought our mattress last year, but it is still one of the best values in the industry. I hope they can manage to maintain their business ethic, great return policy, and pricing. These are what really sold me.
My experience with Nectar has just been flawless. It didn't take me much time to make the online purchase. The shipping was also very fast. Excellent experience!
After months of research into a new mattress an intro to nectar popped up. I took several weeks comparing my choices to nectar and with help from their customer service (2 thumbs up for them) I chose nectar. I have no regrets. My husband and I have the best nights sleep, the mattress is plush and extremely comfortable and stays cool throughout the night. The warranty is exceptional and the customer service is great. I am very happy that I chose Nectar and would recommend them to anyone.
I first purchased this twin sized mattress for my guest room. My mother found it really comfortable and it was her first experience sleeping on a Nectar. I have slept on it a few times as well and it is amazing! I am going to order a bigger one for myself! The bag showed up super fast, and it was so neat to see how huge it got when we took it out to let it expand. I really like the design and the way this mattress breathes. It feels much higher quality than my last mattress. Definitely worth the price!
I'm like a teenager again (almost 54 now) not wanting to get out of bed. The only bad thing I can say about it is that I don't want to leave it. This mattress seems like it is going to last forever, that's maybe why Nectar offers a lifetime warranty. This is one of the most comfortable mattresses we've ever slept on! Definitely worth the price. I HIGHLY recommend this product to everyone.
I do not provide reviews and am often very busy. My focus is on things that do actually matter, not reviews. When I received the request for a review I believed it would be good and important to share my experience. As my wife's back has been hurting for years we have been to very many doctors and my wife is on cortisol and flexeril medications for pain. We were recommended the Nectar mattress by her Chiropractor and thought that was silly, being reccomended a mattress, but her Osteopath also recommended the mattress and we decided to learn more. The sories seemed quite incredible, so we researched the materials and company. We did not find much advertising but there seems to be very much word of mouth and the company representative confirmed that most of the mattresses are sold by recommendation. I thought the company was new but it had been around selling madical beds and I believe that is why their foams seem denser. The company suggested we apply for medicare reimbursement by receiving a prescription for the bed from my wife's physician and incredibly, her insurance paid for the full cost of the bed. My wife's takes far less medication for pain in the 30 days since we began sleeping on the bed and she is happier and well rested and this means I am also happier and better rested. It is a most comfortable bed and feels quite unique and enjoyable to rest upon. I have asked Parna's mother if she would also like one.
I've been sleeping on this mattress for a month and it has changed me- I highly recommend this mattress. It's so comfortable. I couldn't be happier for the price I paid. Well worth it!
It really is a dream to sleep on. My husband doesn't want to leave the bed. Thanks for inventing this bed. This mattress saved my back. For the first few nights I thought it was just really comfortable. After a few nights when my back pain disappeared, I realized it was more than just comfort, it was a life saver. We really had been sleeping on an unhealthy bed. I highly recommend it to anyone looking for a comfortable mattress and is looking for help with back pains.
Perfect amount of firmness and softness. I would recommend this mattress to anyone who has back problems l have had many back surgeries and is equal to the much higher priced memory foam mattress. This bed is just super.
Nectar is like a secret you may not want to share with just anyone..
I've been sleeping on the mattress with my fiancee since we had it delivered on April 19th. We can say that after almost two months that this mattress is fantastic. We have it directly on our carpeted floor and cannot feel the floor, even when we jump with our whole bodies and slam onto the bed. We found it slightly softer than our previous mattress (that's just our opinion though). Overall, we are extremely happy with the purchase, so much so that we bought a twin mattress for our daybed downstairs.
So far the new mattress has been great! My wife and I are finally enjoying sleeping through the night. I just love this mattress. After the first night, I was pain-free. I just couldn't believe the difference. It's soft and also very supportive. I can finally stand up straight right out of bed, haven't done that in a lot of years. Amazing product!
I never, ever, thought of mattresses. I just bought whichever felt good at the store and was in the price range and probably bought a new one twice now since leaving my parent's home in 1997 and my Dad used to remind me that a mattress should be changed every 8 years. My boyfriend mentioned Nectar and I like that they will send a new cover if I need it, plus they have a really long Warranty and I think a few pretty famous people have recommended Nectar. Wow. It really is incredibly comfortable and just feels like a whole different experience. My boyfriend loves the new mattress and doesn't even snore anymore. I like feeling cradled by the bed when we relax or even more, have fun. It's great.
I wanted to make sure that I could easily return this mattress if I didn't like it. There is no way this mattress is getting returned. It really is magic! Within 2 days, I felt a good 10 years younger. I'm able to fall asleep faster, and I feel much more rested when I wake up. I don't think that even during workouts, I'd feel as good as I do when resting on my Nectar. I love the way the mattress sleeps and it is wonderful to relax on the Nectar.
I haven't slept this well since a long time ago. The first time I laid down, it was quite nice and I do not mean to sound like an advertisement, but it was like sleeping on a cloud. We felt very supported but had no sense of pressure points and it was as if the mattress lifted us in some way. It is a very unique feel. They offer a free return and we tried the mattress because it seemed no risk,, but who want to return it? We are sleeping better so for us, that would be crazy. I can feel the air breath through the airflow channels and the cover is quite supple and buttery. Very impressed and will recommend to others.
I needed to find an affordable, yet good quality mattress. The mattress arrived quickly. It was very easy to set up because literally all you have to do is unroll it and remove the plastic wrap as you roll and that's it. This is my first memory foam mattress and so far I definitely prefer it to my traditional mattress. .
So so comfortable! I loved the idea of getting a bed rolled up in a bag and delivered to me. I followed the instructions in setting it up and it was so so easy! I aired it out for a few days and when I finally lay on it, it was an absolutely amazing feeling. I guess that's what happens when you finally get a good mattress. I've been sleeping on it for 3 months already and I absolutely love it!
First time I bought a mattress online. I have had it for about a week and I love it. This mattress is so comfortable. It's like you melt when you lay down, not sure how else to describe it. I am a super satisfied customer. Great value too! Why would I spend so much more at one of those mattress stores, when I can have this? Keep it up Nectar. Highly recommend it to anyone that needs a new mattress.
I'm a rough sleeper, and I have had back and neck pain from sports. I could not believe the comfort of this bed. It was soft yet supportive, and the worst part about my Nectar is although fully rested, I get upset when I have to wake up. It literally makes me want to stay in bed all day. Like clouds!!
I had to wait three days past delivery date. No stock more company said of Queen. I requested rush and they did and bed arrived. Very nice but why wait. Mother lives with us and cares for son and she did not like that they did not also sell box spring. When late the company did offer a discount and received a call from manager who seemed to care. Bed well priced and very nice quality.
Alright. Let's just say I'm a problem sleeper (insomniac) with chronic back pain. Spring mattresses tend to cause pressure points, and I overheat on memory foam/pillowtops. I'm also working with a pretty tight budget. It HAS GOT to be possible to get a good sleep AND have enough money to eat in the morning. So I did my research, checked out websites, and bit the bullet and bought a Nectar. If you've done your research you know what I'll say next: The bed arrived within a week, unpacking it was a tickle (watching that flat plastic-wrapped slab turn into a full mattress made me grin), and I didn't notice any chemical smell. To lay on, there's nothing like it. firm, supportive, but with just enough bounce to feel like a "quality" bed and just enough "sink" to be cushy. Here's the thing though: the first night I woke up feeling like there was some pressure on my hip, and neck (I sleep on my side, and wake up on my stomach most nights). same deal second, third night. but it's a 365 night trial, so I decided to give it some time before returning it. Glad I did! the bed just needed some time to break in, and I needed to get used to it. Now I can confidently say that this, every night, is the best sleep of my life. better than the tempur (sink in and overheat) mattress, and it even edges out the (ludicrously expensive and mechanically complex) Sleep Number bed. Support where I need it, soft enough to feel luxurious, not to mention it wicks heat wonderfully and I don't wake up sweating anymore. All In All, It's perfect, just remember to really get into that 365 night trial so the bed can break in and you can get used to it.
y'know, like a good pair of shoes.
If you're on the fence, Just do it. the trial is solid, the warranty is honest (and lacking all that fine print), and the bed is simply superior to anything I've tried.
I bought it because it came in a cool bag and being a college student that is amazing since I don't have time in my schedule to be at my apartment when it gets delivered. It was hefty but so easy to unpack. I highly recommend it!
It was in a magazine and I thought why not. I usually don't buy on impulse, but two or three celebrities and one was a basketball player, were saying this is the only mattress they will ever buy. I tried it. Absolutely incredible. Soft but solid and just a whole different feel than I have been used to. My brother tried it and bought one also using the referral discount. It's really great and the customer service person, Rebecca, was very knowledgeable and polite and entirely helpful. The price is terrific and its one of the only things I have bought in a long, long time where I felt like I got the better end of the deal. I also spilled cola on the cover and called to ask how to clean the mattress. They sent me a new cover for free. Really something. I had a Tempurpedic before which cost $3,000 and I don't have any idea who I would have called if this happened. Buy it.
We have owned a Nectar Queen in our guest room for about 4 months now. We slept on it for the first 2 weeks just to check it out and vowed to replace our King this fall. Every family member who has come for a stay (5 so far- 3 males 1 female, 3 singles, 1 couple), has loved it! Easiest mattress purchase we have made in our 4 decades of married life.
I'm a very picky person, but I decided to order it anyway. My younger brother is coming home after serving in middle east, and I know he's going to love his new mattress. I'm really pleased with the customer service. The team at Nectar has been just great. They offered us a military discount which was also very nice.
My Husband: Bye bye back pain! Me: I have never slept this comfortably while pregnant! We absolutely LOVE our new mattress! I waited close to a month to make sure I gave enough time to give a fair and honest review. I'm not good with being brief but I'll do my best!" my husband has had back pain for the past 10 years. We are both in our early 30s. We visited a well known mattress store over the summer and the salesman told us our current pillowtop mattress was likely to blame as it provided next to zero support on his back and joints. We had never even considered leaning towards a firmer mattress but started researching it more after that initial conversation with him. And after testing a couple out we realized firmer would be a much better fit for us. I never had issues with back pain but I had problem with tossing and turning 800 times during the night! I could never seem to get and STAY comfortable. We tested out multiple mattresses that we liked. What we didn't enjoy was the price tag on those mattresses. Enter: Google. I did a simple search for best affordable mattresses and came across Nectar. I immediately fell in love with the company. Best part was that it was under our budget! Beautiful music to my penny penching husband's ears. The price and money back guarantee were a huge deal to him. Well, the mattress arrived a day early and we will likely begin celebrating the anniversary of that date because it has changed our life! Seriously. I am 8 months pregnant with our second child and have been sleeping more comfortably than I ever have before!! I credit it 100% to this mattress. I don't toss or turn at all! And even better -" I don't even feel it when my husband moves or gets out of bed in the morning. I wake up feeling refreshed and ready for the day ahead. My husband, someone who has complained for the past four years of our marriage about all his aches and pains in his back, has not complained once since we received this mattress. I asked him for his honest opinion of the mattress so I could share it on here and he said it was one of the best purchases we've ever made. He's extremely happy with it and only regrets that we hadn't found Nectar sooner. Even if you think you prefer soft, pillow-y mattresses, I would urge you to give this one a try. By no means is it cushiony. I would say it's about a 7 out of 10 on firmness scale but it forms to your body just enough to make sure feel supported without feeling like you're laying on a board. To us, the bed still feels "soft" while being extremely supportive. I can't think of a person who wouldn't enjoy the way this bed sleeps! I hope this review helps you make your decision. The reviews were what helped give me the confidence to move forward with the purchase so I wanted to pay it forward and provide my own review now that I've experienced the mattress for myself.
It's honestly one of the most comfortable mattresses I have ever slept on. It was very easy to carry into the bedroom, and immediately after we opened it, it expanded. I was having lower back problems when I got it and now they're gone. It took a while to get used to it, but it was definitely worth it.
Some people hate memory foam mattresses, other love it. If you absolutely hate memory foam, there is very little chance you'll like this mattress. It's not quite memory foam, but it's very similar.
My main point of comparison is a $2,500 (over 3x the cost) Tempurpedic mattress I owned. I was happy with that mattress, but it was time for something new. Researching mattresses I came across Nectar, contacted their costumer support (incredibly responsive by the way) and decided that given their return policy.
I am so glad I did.
I had 2 minor gripes with the tempurpedic:
1. It gets very hot between you and the mattress
2. You kind of sink in – no bounce, kind of hard to move about.
I loved the comfort, support, etc. Well, except the price tag, everything is well made.
Pros:
* Does not get hot! You don't sleep hot like with a tempurpedic.
* Feels great. Most comfortable mattress I've ever slept in. They did a great job with it.
* You don't sink in quite as much, it pushes back a little. "localized bounce" is their marketing term, but basically, you don't totally sink in.
Cons:
* None so far.
So far I love this mattress. I hope it lasts, but I got nothing bad to say about it. It is very comfortable, their support is amazing, return policy great. Honestly, seems like a great company and they are producing a quality product are a good price.
Highly recommended if you are considering any memory foam mattress.
This mattress really is the real deal! I ordered it and loved it.
Very simple to unpack and set up. I let it breathe and air out for 24 hours. After that the mattress will be ready for a perfect night's sleep.
I wasn't a believer at first, but honestly this really is a great mattress! Try it for a few weeks and let it change your life.
I am 63 years old and this is the best mattress I've ever had. We bought a queen size for a guest bedroom and liked it so much that we bought a king size for the master bedroom too. As I don't know how to use these things like kids, customer service has been always there for me, I called them 4 or 5 times and they were so kind. I didn't have to move a foot from home, just a click and done. I received the mattress so fast and of course, I'm shocked that such an inexpensive mattress can be so comfortable. Highly recommended!
I woke up and it was like my soul was happier. Everything felt better. I literally did not want to get out of bed. My girlfriend stretched and even looked, well, kind of sexier after that first night's sleep. We must have been sleeping terribly on that spring mattress.
Perhaps this review will help you.
Details: I am 5"10', 260 pounds, stocky, and was recently not-exactly-diagnosed with sleep apnea. My doctor believes I may have this issue, but without tests, hard to confirm. I had bought a Serta Plush Firm mattress that basically just got flat on top and was left with firm.
So, my review of this mattress is based upon the following:
1) Ease of assembly/setting up: The bag they put this in was easy to move around. Once I got it out of the box and on the frame it was super simple to set up.
2) Inflating: I received the mattress around 2:15 in the afternoon and had on the frame by 2:40 (note: That is only 25 minutes). It was fully inflated in just a few hours and I slept on it that night. If you get the mattress and it arrives after 7PM, let it inflate and sleep on it the next night.
3) Smell: Unlike others I did not have any type of overpowering smell. It just smelled "new" TIP: If you think you may be bothered by the new smell, run your sheets through the washer and use some Snuggle concentrated fabric softener. It's got a great smell and will counteract any "new" smell of the mattress.
4) Firmness: When you first crawl onto the bed it feels a little firm, but then you sink into it and it really does conform to your body. I always lay on my back and watch some TV when I first get into bed at night. The first night I turned the TV off and laid to my left side. I felt the mattress firming back up to conform to my body.
5) Adjusting: With my old mattress I had to toss and turn several times before I finally got to sleep. I ordered this mattress on Halloween and it arrived 2 days later. Every night since (over three weeks now) I got this mattress I roll over after turning the TV off and I am asleep within 5 minutes! I have not had to toss and turn any night since to get comfortable and fall asleep.
6) Other: With my old mattress during the day I was constantly having to turn my body to try and "pop" the bones around my lumbar area. I'm not doing any of that any more. Also, I would wake up previously and have to stretch my legs and they would just pop from no getting good support. They are not doing that any longer, either.
7) One person said you may not need a pillow and I think another said you will not need two pillows. I am not so sure about the no-pillow option but two will definitely not be needed. I bought a memory foam pillow a few months ago at Belk. It was an Isotonic something or other, and it has relieved all of my neck pain. It was the precursor to getting a memory foam mattress.
8) Heat: I have not had one problem with heat, and I am hot natured. I have bamboo/rayon sheets and they are very breathable and soft. I have an alternative-down memory foam comforter on top of that. I keep my house around 65 year round.
9) Overall: I would recommend this mattress to anyone who asked, and I would purchase again if I had to do all over again.
I hope this helps.
Just to give a little background. I am about 6"3', 205 lbs and sleep on my back, occasionally on my stomach. My wife is about 5"5', 115 lbs and only sleeps on her side. About year ago we were looking for a new mattress and I did about 2 months of thorough research before deciding on the Nectar (King size). We had a queen spring mattress on which I slept truly awful, partially because we needed more room but mostly because the bed was just uncomfortable. I keep a mental list of best things I've ever paid for in terms of value, impact, quality, etc. and this is top 3 for sure. Seriously changed our lives. We are beyond the honeymoon period with the mattress, we've had it for about a year, so we've had plenty of nights sleeping on it and opportunity to find fault. Over the past year we've slept on a number of other mattresses (friends, family, 3-5 star hotels) and we always sleep better on our Nectar mattress. This is not just a matter of being in a comfortable atmosphere at home, our mattress is just more comfortable. Period.
I was totally skeptical about ordering a mattress online without being able to try it first, but the high ratings and 365-day trial convinced me to give it a shot.
I was super confused when the mattress arrived – and it came way before the shipping window they gave me, BTW – because the bag for the king-sized mattress I ordered was SMALL. After we easily got it out of the bag and cut it out of the shrink wrap, BAM!, there it was at full size in a matter of seconds.
I lay on this thing and I promise I have never enjoyed lying down so much! It's super comfortable, the perfect softness. Then my husband lay down next to me. I know this because I saw him – NOT because I felt him. I felt nothing. He is 6"1'. It was awesome.
At no point have I regretted this purchase. have already recommended it to any of my friends in the market for a new mattress. Trust me: A great night's sleep is a click away. I didn't know what I was missing.
I was looking for an affordable mattress that would also be comfortable. After searching the internet for hours, I almost gave up. I thought I was going to have to go out and buy a super expensive mattress and I really didn't want to do that. Then, I received a call from my father in law, and while we were talking I told him that we were looking for a good mattress. He told me that he just bought a Nectar and was very happy with it. I finally got something good from my parents in law 🙂
Trust Nectar to live up to the customer satisfaction standards.
Although this wasn't the right solution for us, they stepped in to make sure that we were fully satisfied with regard to the transaction and refund. Honestly, they could not have done it better.
Full disclosure: Both my wife and I do suffer from "back anomalies", in my case a congenital defect.
Point being: Most people would probably love this mattress. I'll bet you will too, and if on the odd chance not, you won't be dissatisfied with your dealings with Nectar folks. They are great.
This mattress is soft yet surprisingly firm, price is great too. We compared online mattresses and ultimately decided on the Nectar due to the 365 night trial and strong warranty. The mattress arrived as described and the bag with handles was a nice feature as it was king and we needed to carry it up a flight of stairs.
My first night sleeping on this mattress was absolutely amazing. It basically hugged my body. I don't even remember falling asleep honestly. All I know is that in the morning, I felt very relaxed and think I slept deeply. I enjoyed the gel feel but was cool, not warm as I had thought I might be on this type of bed Can't wait to get back in bed.
It is rare that I would take time out of my schedule to write a review, but I thought people should know about this. This mattress deserves a positive review of more than 5 stars if that was an option. Do not waste your time or money on any other mattress besides this one!
I don't think of myself as stupid or a sucker and my wife and I spend alot of time trying to make thoughtful decisons. Now I need to admit that I do think of myself as a little bit of an idiot. We spent over $3,500 on our last mattress. I didn't even buy NECTAR at it's price thinking it would seriously be a keeper. My wife found the company and chose the mattress when we were in a rental home waiting for our new house to be completed. At the price, it seemed like a good transition mattress and I thought we would stick it in a guest room down the road.
We received the Nectar and it was interesting to watch an 11" mattress expand from the sealed packaging. The setup was easy enough. When I tried the mattress I approached it pretty gingerly because it seemed odd that it would support me (I am 220lbs – not fat but solid). Then I laid down. Really. This was more comfortable our super "premium" matttress we bought at the store. The Nectar felt enveloping, yet I never actually sank into it and it had this luxurious softness but was still firm.
I didn't know about the super long warranty or sleep trial or anything else when we bought it. It was just the "temporary" mattress. Well, I ended up buying 4 for the new house plus the one we had. And all of them together probably cost about the same my original mattress.
I don't buy on price since I have sleep apnea. I buy for comfort and I need a firm mattress (but I like a soft one). I have to take it off to the people who run this business. Just so good. I feel like a fool for ever having bought a different mattress from a store. I also feel taken advantage by al the mattress stores and big brands over the years. My wife says the company called and wrote three times after the sale to check in. That sounds a little annoying but I don't remember anyone ever checking on my mattress before. This is the only mattress we will ever buy again.
This is the most comfortable memory foam bed my wife and I have ever slept on. It's firm, but plush. The edges do not give in when sitting on the edge. The bed stays cool throughout the night. I'm a larger man, and my wife has some back problems. This bed handles both issues with amazing comfort. This is easily the best bed on the market. It had no smell even the first night we slept in it. It has a lifetime warranty, and we will have it for the rest of our lives! 5++++ rating!
I recently had to sell everything I own to move across the country. We were previously sleeping on a mattress that cost around $1,800 on a Memorial Day sale. It was great! We like a firm support mattress, and I have issues with my back and neck. Now that I am on a budget, I did my research and found Nectar with all of the positive reviews. I decided to give this a try. The mattress arrived on-time and undamaged. I knew it would arrive in a bag. We carefully opened the bag and rolled out the mattress. At first, the mattress looked like a twin size (ordered a full-size). I was worried but decided to just take the mattress out of the plastic. As soon as I cut the plastic, the mattress became wider. I knew it would get taller once we opened it, but I didn't know it would get wider.
After 3 nights, I can honestly say that this mattress is amazing. I don't think I have ever slept so well (and I thought I got great rest with my old mattress)!! We sleep like the dead, we wake up without any pain. LOVE THIS MATTRESS so far!! Will try to post a follow-up in another month or two.
Very plush, yet supportive. Pillows are great too. We returned our Purple mattress and are very happy with Nectar!!
I've never bought a mattress sight unseen, but I bought this mattress based mostly on gut and reviews. And guess what? My gut was spot on. Sleeping on this mattress is what I would imagine heaven feels like. I can honestly say this is the best mattress I've ever owned.
We tried many different store brands, latex, memory foam, inner spring beds, and none eased the back aches. The return fees, delivery fees added up to around $700 for all the *free trials* adding insult to injury. Happened on the Nectar ad, and after finding out that there was absolutely zero fees involved, decided to give it one more try. The first thing we noticed was that after the initial period of degassing, there was no foul odor left. With a name brand memory foam bed, we left the bed in a room with open windows for two weeks, sprinkled baking soda, vacuumed the mattress, and yet the odor never completely went away. And in comparison to a premium latex bed we purchased for several times higher than Nectar, it was the perfect level of firmness. So after having slept on it for two weeks now, no back aches, no odor, and we wake up feeling very refreshed. Can't recommend Nectar highly enough.
Its been 3 months since I made my Nectar Mattress purchase, enough time to give an accurate review. We purchased a King.
We received it really quickly after being ordered with no complications. Opening the bag and cutting the wrap allowed the Mattress to expand to its full size, I let it sit for a day to fully expand, no issues there, nor did we notice any excessive smell. Very minor smell and it was gone after a day. For me no aches and pains from switching to this mattress, and my wife has also had no issues. Would certainly purchase this mattress again when the time comes! The cover is great by the way,and has a very high quality feel and look.
I am definately happy with my purchase. I wanted a memory foam mattress and after shopping at multiple stores decided to go with an online provider. I compared Nectar with the other online memory foam mattresses and decided to choose the nectar based on the 365 night trial and the warranty. So far so good. It is definitely more comfortable and a better deal than anything I have seen in stores.
It took longer to ship than expected but Nectars chat support was very helpful. The bed was delivered as expected with the free pillows. After two nughts' sleep we think it's a great mattress but a little to soft for us. You really sink into it and it's very plush. We may need to return just because we need a firmer mattress.
I never knew sleep could be so wonderful. I got my new mattress Oct 11th, due to a back issue I was not able to change out the old mattress for my new Nectar King until this past Sunday the 15th of Oct. As soon as I made the change I laid down, closed my eyes and could not believe how WONDERFUL my new mattress felt. For the last year I have not been able to sleep through the night without waking up 2 or 3 times in pain or discomfort due to my 8 year old pillow top mattress not supporting my body correctly. Since Sunday night I have slept a solid 7 hours every night. I LOVE MY NEW NECTAR KING. I have been sharing with all my family, friends and colleagues at work about my amazing new mattress, and making sure everyone I know has the link to read about Nectar and their product! They all say I sound like a spokesperson for the company!, LOL! Thank you Nectar for creating such an amazing mattress and making it so reasonably priced for anyone to purchase. Wishing you sweet dreams and continued success.
I did A LOT of research on all the new online mattress companies before deciding on Nectar. Many of the negative reviews I've read were about the company being backlogged because of the high demand. Isn't that a good thing?! So many people were freaking out that they didn't get their mattress in 3-5 days. Everyone needs to calm down. I purchased my mattress on September 27. Initially I was told it would ship in about seven days due to the high demand. That was fine.
Come day seven and it still hadn't shipped so I simply used the chat function to get an update on the status. The customer service rep was friendly and made sure to get my order out when it was scheduled. The next day I received an update that it was shipped! It look 5 business days to get to me (traveling from WA to NC). I received my mattress two weeks from the time of order. The only thing that could be improved is NECTAR's internal shipping confirmation was not updated (it said that it still hadn't shipped for like four days after it had) so I just used the FedEx tracking system which was accurate.
Now, for the mattress. We previously had an old spring mattress, and wanted to upgrade to a King without paying an arm and a leg. So making the change to memory foam was a new experience for us. I wasn't able to get it set up until about 8pm the day we received it. Almost immediately after getting in on the bed and opening it, my pregnant and tired wife laid on it and didn't move. I was nervous that it wouldn't properly inflate because of this, but I couldn't tell a pregnant lady to get off the bed. The first couple of nights the mattress was extremely soft (makes sense since it hadn't fully inflated). My wife and I knew it would take some time so we didn't think much of it. It's now been a week and the mattress has gotten firmer each day and I believe is fully inflated to how it should be. We are both mostly side sleepers and have found that the mattress is really comfortable! We've both actually woken up on our backs some mornings because of how comfortable it is to sleep in any position. We were just talking this morning about how much we love the mattress and are so happy we got it!
In addition, the pillows that we received for free are probably the most comfortable pillows I've ever slept on! I feel like it may be a little too tall for me after 6 nights, so I'm going to take some of the foam out and see if that helps but overall I'm very happy to use the pillow every night and love that it was free!
Bottom line: Don't pay attention to the negative reviews about the customer service/slow shipping. It's to be expected for a rapidly growing company. They'll figure it out. The mattress (and pillows) are well worth the wait! I promise you'll get an amazing night's sleep! Plus you'll pay way less for a queen or king (which we got) than you would with other similar mattress companies.
I am very impressed with the quality of this mattress. Upon receiving it and taking it out of the package it almost immediately puffs up and does not have that horrible chemical smell that most mattresses like this have. I used to wake up several times a night And now I find myself in the same position as I was when I went to bed the night before in the morning. I don't even move! It is also great if you are sharing a bed and you are a light sleeper-I don't even feel my spouse getting out of bed to get ready for work in the morning. This mattress has been life changing for me. My only complaint is the extra money you are charged if you break it down into monthly payments. They say they don't charge interest but it comes out to be substantially more if you go that route and I only knew this after-the-fact but honestly it is worth it. I would pay double for the sleep I am getting now.
How long before you can sleep on a memory foam mattress?
Just got a 10" memory foam mattress via FedEx today. It came rolled in a big, thick tube and immediately started to take its shape as soon as i took the packaging off.
My friend has a similar type and says I need need to wait 48–72 hours before I can lay on it. Is this true? I'd love to sleep on it tomorrow night but don't want to screw up the shape of my new investment. It seems to be fully "settled" btw. I know good things come to those who are patient but that's never been my strong suit!
14 Answer s

I would expect the mattress came with instructions for this and I am sure you can contact the manufacturer or point of purchase to ask this question.

You should do as the instructions say. I am guessing 48 hours will be enough.
Even though it seems settled, it is probably still working it out.

So, honest question, what would be the worst case scenario of sleeping on your stable foam mattress? It came in a tube. They weren't worried about that permanently deforming it, and I would imagine it took more force to keep it that way then you would exert in any one area.
Wouldn't your worst case be not getting the "full experience" that first night? You're not going to damage foam by doing exactly what it was designed for.
Sleep on that bad boy as soon as you can stand the smell.

@Cruiser Good point. The mattress didn't come with instructions. However, I just emailed the manufacturer and he answered immediately by saying that it's ready to sleep on! Now, too bad I'm already settled in my guest room for the night. :-p
@funkdaddy Another valid point. Didn't even think of that. And thankfully, it doesn't smell at all!

@LeavesNoTrace I myself heard it is good to give it time to "air out" to allow any gasses from the manufacturing process out-gas new foam odors

@Cruiser Your link was interesting. I once bought a foam mattress and I returned it because it smelled so bad I thought it was poison. I'm not sure I am convinced it wasn't even after reading your article, but it was still interesting.

We slept on ours the first night.
If we had waited for the smell to improve, we probably would have waited a year. We ended up putting a down-filled pillow-top on it (kind of like a thick comforter under our mattress pad) for many months, which both helped us adjust to sleeping on just foam and helped with the smell.

I have never heard of this, and slept on my memory foam the same night it was delivered, but it was not rolled up, the mattress was deliverd from the store I bought it from. I did, however, order a huge memory foam bean bag love seat and it took about 2 days to fully expand.

@JLeslie I work with these types of polymers and IMO these mattresses should come with a full disclosure MSDS sheet as the link I gave pointed out there are many different types of polyurethane foams and some I would not be around without a NIOSH approved respirator. Knowing how foreign manufacturers like to make things on the I would have to have full disclosure of the isoscyantes and flame retardansts used in production of the mattress.

@Cruiser It was made in China and it made me nervous. I returned it. I truly feel it was poison, I don't know what the chemicals were.
When I worked in retail once in a while a group of clothing would come in that also smelled like poison. We figured it was for shipping purposes, maybe to prevent pests? Although, it didn't smell like bug spray as much as it smelled chemically, to use a scientific term. It usually was from an Asian country, as in the continent of, but sometimes we received clothes from Asia that did not have that smell. I guess it was certain manufacturers or transporters.

Well I don't blame you @JLeslie and part of the reason I avoided buying one is there are little to no testing done on these foam composites long term health effects. The sites I visited to find info were chock full of people with adverse health symptoms when they slept on these.
They are amazing to lay on and the same research I read says there are greener alternatives on the market now with less odor complaints.

@JLeslie Oh gosh, now your scaring me! When I took mine out of the package it didn't smell like anything at all. I'm hoping that's a good sign…

@LeavesNoTrace From what @Cruiser wrote it sounds like yours is ok. Maybe it is one of the greener ones.
Answer this question
Login
This question is in the General Section. Responses must be helpful and on-topic.