More Articles
Written by: Tricia Goss
Written on: February 04, 2019
If you are considering purchasing a new mattress, you know how expensive they can be and how many choices there are. By educating yourself, you can make a prudent selection when choosing a new mattress.
In addition, read on and you will discover the best ways to care for a mattress and get the best value for your money.
Significance
Many factors will determine how long a mattress should last. The original quality of the mattress is probably the key factor. However, other aspects such as how often it is used, the size and weight of the person or people sleeping on the mattress, and how well it is cared for can greatly affect the longevity as well. That being said, a standard mattress should last between five and seven years and a premium mattress can last up to ten years.
Types
There are five basic mattress types. Beds that move to a seated position, such as hospital beds, require adjustable mattresses. You will need to replace an adjustable mattress more frequently than other types. Air beds, such as the "Sleep Number" brand, last as long as twenty years. Foam mattresses, like the "Tempurpedic" brand, can last up to ten years. Innerspring mattresses are comprised of coiled springs inside of padded fabric. There are many innerspring brands of differing quality. Waterbed mattresses do not have breakable springs like traditional mattresses and can last up to fifteen years.
Features
Your sleeping position will help you determine what type of mattress you need. If you sleep on your back, look for a firm mattress. An innerspring or air bed would be a sensible choice. If you want a softer bed, choose a pillow top variety. If you sleep on your stomach, you should choose a soft mattress that offers support. A foam mattress would be a good choice. If you are a side sleeper, seek a mattress that does not apply much pressure to your hips or joints. Foam, air or waterbed mattresses would all be wise choices.
Considerations
Turning and rotating a mattress will greatly extend its lifespan. Alternate between rotating and turning it once every three months. If you have a pillow top or other variety that cannot be turned over, rotate it every six months. Use a washable mattress pad to keep the mattress clean, and vacuum your mattress often. Blot water spills and clean any spots with soapy water as soon as possible to keep stains and mould from occurring.
Warning
As much fun as it is, jumping on a mattress as though it were a trampoline will greatly reduce its lifespan. Try not to stand or kneel on it, either. If you sit on your bed to put on your shoes or get undressed, do not sit in the same spot each time. You will wear out that area more quickly if you do. Finally, do not purchase a mattress until you have laid on it, in your favourite sleeping position, for at least fifteen minutes. Otherwise, you can't be sure you will really like it.
7 Signs You Should Replace Your Mattress
A good night's rest is crucial to your health and well-being, yet millions of Americans suffer from lack of sleep. TheSleep in Americastudy by the National Sleep Foundation (NSF) found that 75% of adults have problems sleeping well. The study showed that 60% of respondents experienced daytime sleepiness that interfered with activities, caused work absences, or mistakes on the job. While medical conditions may be responsible for some instances of bad sleep, it might be your mattress that's the issue. Review these seven signs that it's time to replace your mattress to see if your bed is to blame for inadequate sleep.
#1 Your mattress is 7-10 years old
Research has found that mattresses have a life-span of roughly eight years, but this varies by manufacturer, mattress type, whether you sleep alone or with a partner, and how you sleep. If you're a larger person, your mattress will likely wear out faster than manufacturer guidelines suggest.
Mattresses were not designed to last forever, and excessive wear and tear will age a product faster. Inferior products don't last as long, yet even the highest-quality mattress has a maximum lifespan and will eventually need replacing. If your mattress is old, that's the first sign you may need a new one.
#2 The mattress is saggy
If there's a dent in your mattress in the shape of your body, that's a signal that your mattress is overly worn. Sagging can occur with almost any mattress material (aside from waterbeds) and can be observed under your sleep area, at the edges, or both. If your mattress has springs, they can break down and sag.
Fiber, foam, and pillowtop materials all break down over time and the deeper the sag in your mattress, the more discomfort you'll likely experience. Saggy mattresses can disrupt sleep and cause aches and pains. If your memory foam mattress core has softened, you may feel the sag as a "hammock" effect.
#3 Your spine isn't aligned when you sleep
No matter how old (or new) your mattress, if it doesn't offer proper support and alignment, you won't get optimal sleep. For back or stomach sleepers, your spine's natural S curve should be evident when you're lying on your mattress. If it's flattened or exaggerated, the mattress isn't aligning your spine properly.
For side sleepers, your spine should be straight from neck to bottom if you've got proper support. A yardstick or level can confirm adequate alignment. A good pillow may correct minor issues, but if you can slide a hand in the gap between body and mattress, it's a red flag that you might need a different mattress.
#4 Your mattress is uncomfortable
Knowing whether your mattress is comfortable sounds like common sense, but many people adjust to discomfort. If you get better sleep on a hotel mattress or a friend's guest room, your home bed might not be comfortable enough. A bed may seem comfortable in a showroom but then doesn't perform well at home.
The upper part of your mattress consists of "comfort layers" that should support your body and provide pressure relief. Comfort layers break down over time resulting in poor sleep and body aches but in some cases, your mattress choice might have been faulty from the start, and you need to replace it.
#5 You wake stiff and sore
Poor sleep can contribute to chronic back pain. If you wake up stiff and sore every day, your mattress could be part of the problem. If your back pain is worse when you wake but subsides when you stretch and move around, that's a sign that the mattress is causing or contributing to your pain.
A firm mattress may not be the answer. A study from the Kovacs Foundation in Mallorca found that medium-firm mattresses provided better comfort for chronic low-back pain. Experts recommend sleep testing different types of mattresses before buying if you suffer pain while sleeping or when waking.
#6 Worsening allergies or asthma
If it's not allergy season and there's no alternate explanation for an uptick in allergy or asthma symptoms, your mattress might be the culprit.Slateinterviewed an expert on dust mites that said your mattress is a "crime scene in terms of how it gets inoculated with [dust] mites" over time.
The protein in dust mite feces may cause allergic reactions and asthma attacks and so can the dust that accumulates in your mattress. Vacuuming, steaming, and flipping your mattress might reduce dust and mites to ease your symptoms. If these steps don't help, a new mattress might be the solution.
#7 You gained or lost weight (or added a co-sleeper)
For those that experience a significant gain or loss in weight over the life cycle of your mattress, the change might alter the effectiveness of your mattress. A Canadian study linked both inadequate and excessive sleep to weight gain so how you sleep and what you weigh are intermingled.
Heavier body types trigger more wear and tear on springs, foam, cushioning and mattress components. Also, if you were a solo sleeper but now have a partner in your bed, your mattress might not offer adequate sleep surface or support for the extra weight. That means it's time for a new mattress.
Become an informed consumer
If you suspect you need a new mattress, do your homework, and educate yourself before you buy. Understand the lingo and gimmicks employed by mattress firms so that you get the product you need that fits your budget and gives you the best night's sleep. There's no prescription for which mattress will best fit your unique needs.
Look for a mattress that offers adequate support for spinal alignment. Comfort is subjective – it's how a bed feels to you. You might find a firmer mattress superior to a softer one or vice-versa. Mattress selection is highly personal and should be your preference at the cross-section of proper alignment, support, and comfort.
How Long Should My Mattress Set Last?
Ever wondered how long mattresses usually last?
You are not alone. What do you think?
20 years
15 years
10 years
According to Consumer Reports the average life for a coil spring mattress is about 8 years. Truthfully it is my opinion the average mattress used 7-8 hours nightly will only last at best 6-7 years, but what does all this really mean and can they last longer?
Sure they can but lets put this into the proper context. Mattresses can physically last 20-30 years and lets face it number one its not healthy to sleep on most 20 + year old mattresses for health reasons we won't even get into, that could be a blog by itself. Number two you wouldn't wear your clothes that long without proper cleaning and care so why should mattress care be any different. It is no different and the people own these mattresses typically ignore them. The fact is mattresses are out of site and out of mind. Physically almost every mattress in that age group has out lasted its useful, supportive, comforting life and capability. In reality the bed is causing more problems than it is resolving.
Good quality premium mattresses used night after night can support and offer a sleeper at least a fair amount comfort up to 10 maybe 12 years. The fact is that after gravity, body weight, and construction materials begin to take its toll in the form of inadequate support and lack of mattress comfort.
So what can you do to make your mattress last a little longer?
If you would like to get the most out of your mattress both support and comfort take care of your mattress like you would your car's engine with regular oil changes. In the case of a new mattress be sure to place a boxspring or foundation under it using proper steel bed frame or wood supports using legs that keep the whole bed unit from sagging.
Lastly your new mattress is not a chair so don't use it for one. Many salespeople hype up extra heavy-duty seat or side edge support in mattresses implying it can be used like a chair. Not true, we never recommend using the side of your bed for nothing more than a way to get into or exit your bed, but if you must sit on the edge of your bed, it is very important not to sit in the same spot.
Finally cheaply constructed mattresses using low grade foams, minimal amounts of foam for padding, and coils springs that are weak in gauge and few in numbers can also cause mattresses to fail in just a couple of years as quick as a few months. These types of mattresses are designed for guest rooms, very light weight people (little kids) or decorative purposes like completing a bedroom that is never used.
Author: Douglas Belleville
Doug Belleville and his father Dave own and run STLBeds – a specialty sleep store located in Arnold, MO. The staff at STLBeds is highly educated about sleep, comfort and their special sleep products. STLBeds only carries high quality mattresses and bed-related products. You won't find the brand names here – click here to find out why!
How Long Do Mattresses Last? The Results May Shock You!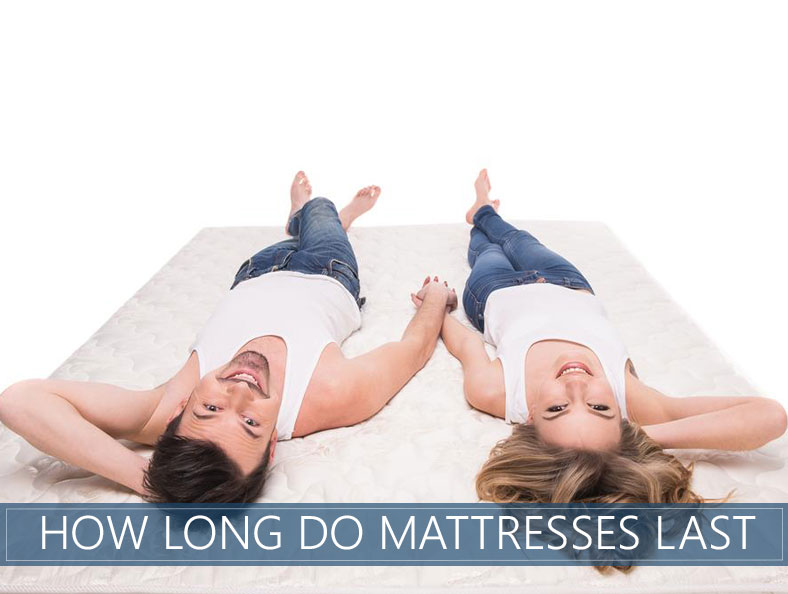 Mattresses are pretty expensive — one quick glance at our buyer's guide will confirm this fact. This is why many people do not replace them – not even after many years of use.
They do not want to spend a lot of money on a new one. Besides, now you can delay the process of buying a new one if you do an excellent job at maintaining your existing one.So, how often should you replace your mattress?
It doesn't matter which type of bed you have. Most of them are ready for replacement within ten years to ensure a good night's rest (old mattresses can hurt your sleep quality). Besides, it can last beyond ten years on average, if the owners maintain it properly.
Also, many different factors affect a bed's lifespan. You can extend its life expectancy by following a few easy steps in the text below. We prepared and wrote down some tips to boost its longevity.
How long does a mattress last?
My mattress is getting on in years. In fact, Bill Clinton was in his first term as president when I last bought a new one. Is it time for me to replace my mattress?
You've probably logged more than 30,000 hours in your bed, and your mattress has likely become less comfortable and less supportive. But there's no set formula for determining when you need to replace a mattress. It might be time to buy one if:
•You regularly wake up tired or achy—you make Oscar the Grouch seem as cheerful as Mr. Rogers.
•You tend to sleep better away from home, than in your own bed. Are you planning unnecessary business trips or looking for any reason to go on a weekend getaway?
•Your mattress looks or feels saggy or lumpy—it needs go on the Abs Diet.
•You're over age 40 and your mattress is five to seven years old. Remember, your body tolerates less pressure as it ages. As if getting older weren't tough enough . . .
A mattress can be an expensive investment—we've tested models that cost in excess of $4,000—but if you treat your new one properly, it could easily last 10 years. Our advice:
•Don't let your kids use your bed as a trampoline.
•Rotate your mattress. If you have a single-sided mattress (you sleep on only one side), rotate the mattress from end to end—that is, move the mattress 180 degrees. The foot of the mattress is now at the head, and vice versa.
If you have a double-sided mattress, rotate it as above, then turn it over so the bottom is now on top.
Perform these steps every two weeks for the first three months you have your new mattress, then once every two months thereafter. You'll find illustrated instructions on a number of different Web sites.
• Use a bed frame that has a center support.
Essential information:See "How to buy a mattress without losing sleep" for detailed advice on finding the perfect bed. And watch our video buying guide.