How Long Should a Mattress Last?
Quick Overview
The average mattress – regardless of firmness, thickness, or material composition – will perform for approximately seven years before a replacement is needed. However, a wide range of factors can affect the expected lifespan of an individual mattress model, making some much more durable than others.
This guide will look at how lifespans vary by mattress type, and also discuss ways to determine a bed's longevity based on different variables.
Mattress Durability and Lifespan
When evaluating the longevity of a specific mattress, two key terms are 'durability' and 'lifespan.'
Durabilityrefers to how well the bed withstands sagging, sinkage, and other forms of deterioration that can compromise comfort and support for sleepers. All mattresses eventually deteriorate, but some are much more durable and less susceptible to wear and tear.
Thelifespanis how long a mattress performs before it needs to be replaced. A mattress may deteriorate to some degree and still perform reasonably well, but if its comfort and/or support materials no longer function as intended then the bed is most likely due for a replacement.
Because durability and lifespan are technically different terms, they may not necessarily be linked. A mattress made from durable materials may not have a very long lifespan due to the way it is designed or configured.
Likewise, a mattress with less durable materials may have a reasonable lifespan if it is constructed in a way that promotes longevity. However, in most cases, durability and lifespan are directly correlated.
How Do Mattresses Deteriorate?
Mattress deterioration, otherwise known as wear and tear, comes in several forms. These include:
Sagging:Sagging normally occurs along the surface of the bed in areas that support the heaviest parts of the sleeper's body, such as the shoulders/chest and hips. Excessive sagging causes the surface to become uneven. This can lead to aches and pains for sleepers. Sagging is particularly common with couples, since the bodies of both sleepers are usually aligned.
Body Impressions:Body impressions are a common issue with mattresses featuring foam and/or latex comfort layers and support cores. Over time, the surface will develop a semi-permanent imprint of the sleeper's body. This may limit the sleeper to one position, since switching to a new position can cause the surface to feel uneven.
Softening:All mattresses soften to some extent after regular, nightly use. Normal softening will not affect the bed's comfort levels or pressure-relieving abilities. Excessive softening, however, can cause the materials to sag and develop indentations more quickly. Softening is most noticeable on mattresses that feel 'Medium Firm,' 'Firm,' or 'Extra Firm.'
Mechanical malfunctions:Mechanical malfunctions are an issue limited to airbeds, smart beds, and other mattresses with electrical components. These include issues with air pumps, manual and/or remote controls, and outlet connectivity.
Durability and Lifespan by Mattress Type
Material composition is usually the most telling factor when it comes to determining the durability and expected lifespan of a mattress. The vast majority of mattresses sold today fall into one of the following categories:
Innerspring
Most innersprings are constructed with foam-based comfort layers and steel, non-pocketed coils in the support core. These mattresses have the lowest projected lifespan among all mattress types because they are most susceptible to sagging – sometimes after only two to three years of use. The average innerspring has a lifespan ofsix to six and a half years.
For all-foam mattresses, longevity is often tied to foam density; low-density foams are considerably less durable than high-density, and even medium-density, foams.
Memory foam also has better longevity than polyfoam, but both materials will eventually develop prominent body indentations that restrict movement or position changes for sleepers. The average polyfoam/memory foam mattress has a lifespan ofsix and a half to seven years.
Latex
Natural latex – derived from the sap of rubber trees – is one of the most durable mattress materials available. Some latex mattresses use synthetic latex instead; this material is not as durable as natural latex, but tends to perform longer than mattress foams.
The chief issue with latex is softening, and some sleepers also report body indentations, but these issues normally do not affect the bed until after years of use. The average all-latex mattress has a lifespan ofseven and a half to eight years, with most natural latex beds outlasting mattresses with synthetic latex layers.
Hybrid
A hybrid, by definition, has memory foam and/or latex comfort layers and pocketed coils in the support core. Like innersprings, hybrids are particularly vulnerable to sagging and body impressions.
Hybrids may also soften rather quickly, depending on how thick the comfort layers are and which materials are used. The average hybrid has a lifespan ofsix and a half to seven years, with latex hybrids typically outlasting memory foam hybrids.
Airbed
Airbeds, when properly maintained, have longer-than-average expected lifespans. Most are constructed from durable materials that withstand sagging, body impressions, and other forms of wear and tear. However, airbed are uniquely vulnerable to mechanical malfunctions.
If addressed, these malfunctions may not impact the lifespan too much. Airbeds may also sag and develop body impressions if they have thick comfort layers. The average airbed has a lifespan ofeight to nine years.
The table below breaks down durability and lifespan expectations for these five mattress types.
| | | | | | |
| --- | --- | --- | --- | --- | --- |
| Mattress Type | Innerspring | Foam | Latex | Hybrid | Airbed |
| Average lifespan | 6 to 6.5 years | 6.5 to 7 years | 7.5 to 8 years | 6.5 to 7 years | 8 to 9 years |
| Overall durability | Poor to Fair | Fair to Good | Good to Very Good | Fair to Good | Good to Very Good |
| Sagging potential | Poor to Fair | Fair | Good | Fair | Fair to Good |
| Body impression potential | Good | Poor to Fair | Fair to Good | Fair to Good | Good |
| Premature softening potential | Good | Poor to Fair | Fair to Good | Fair to Good | Good |
| Mechanical malfunction potential | Excellent | Excellent | Excellent | Excellent | Poor to Fair |
| Overall longevity score | Fair | Good | Very Good | Good | Very Good |
Warranty Considerations
All mattresses come with a manufacturer's warranty that protects the bed against early deterioration and ensures owners will not have to pay hefty fees if a defect develops. Most mattress warranty coverage period begin on the date of purchase or delivery, but will not fully kick in until the bed's sleep trial has ended. The sleep trial – a period during which customers can test out the mattress and return it for a full/partial refund if they are not satisfied – typically lasts 90 to 120 nights, though some span one year or longer.
A standard mattress warranty covers the product for 10 years, but 15-, 20-, and 25-year – as well as lifetime – warranties are fairly common. The warranty length is not necessarily tied to the bed's durability or expected lifespan. In fact, because most mattresses need to be replaced within six to nine years, a warranty exceeding 10 years in length will likely be unnecessary. This is important to keep in mind because lengthy warranties can drive up the mattress price by a significant margin.
Additional warranty details to consider include the following:
Sagging/body impression depth
Nearly all mattress warranties specify a sagging and impression depth that is considered a defect and warrants repair or replacement. Though this varies by model, the depth usually falls between half an inch (1/2″) and one and a half inches (1 1/2″).
One thing to note: sagging and impressions that measure one inch (1″) or less are not associated with as much sleeper discomfort as those that exceed one inch in depth. Therefore, mattress buyers may want to think twice about models with warranties that only recognize sagging and indentations that measure at least one and a half inches deep.
Covered defects
In addition to sagging and body impressions, a mattress warranty may also consider the following issues defects that warranty repairs or replacements:
Physical flaws in the bed that cause materials to split or crack
Manufacturing flaws associated with the cover, such as cracked/broken zippers or loose seams
Coils or wires that protrude through the bed's surface and/or sidewalls
Most warranties do not consider the following issues to be defects that justify repairs or replacements:
Sagging or indentations that do not reach the prescribed depth
Repairs or replacement requests that occur due to changes in the owner's firmness, thickness, or material composition preferences
Physical damage that occurs due to misuse or improper support. This includes, but is not limited to, burns, cuts, tears, stains, and liquid damage
Mold, mildew, bedbugs, and other types of infestation
Repairs and replacements
In most cases, a mattress warranty will guarantee that the manufacturer will replace or repair a defective mattress for at least 10 years. The brand will cover the repair/replacement costs. However, owners may face the following charges for these services:
Mattress shipping and transportation costs
Mattress inspection fees
Upgrade costs if the mattress is replaced with a more expensive model
Some warranties promise the manufacturer will repair or replace a defective mattress for a long as the warranty is valid; others offer a one-time repair or replacement. Always read the warranty's fine-print carefully to minimize costs associated with repairs or replacements.
Nonprorated vs. prorated coverage
Customers should read the warranty carefully to see if it is entirely nonprorated or divided into nonprorated and prorated periods.
Duringnonproratedcoverage, the manufacturer will repair or replace a defective mattress at no additional charge to the owner apart from the costs listed in the previous box. Nearly all 10-year warranties are completely nonprorated; longer warranties usually include at least 10 years of nonprorated coverage, as well.
Duringproratedcoverage, owners must pay for mattress replacements – and in some cases, repairs too. Prorated charges vary by warranty. In most cases, they are calculated by multiplying a certain percentage of the original product price by the number of years of ownership.
For instance, let's say a mattress comes with a 20-year warranty that includes 10 years of nonprorated coverage and 10 years of prorated coverage. Once prorated coverage kicks in, the owner must pay 5% of the original price multiplied by the number of years they have owned the mattress. This means that, in Year 11, they must pay 55% of the original mattress price for a replacement; in Year 12, they pay 60%; and so on until the 20th year, when the warranty expires. Some prorated warranties max out the prorated charges at 90% to 95%.
Prorated coverage is primarily used for warranties that span 15 years or longer. Most include at least 10 years of nonprorated coverage before the prorated charges begin, but some only feature two to three years of nonprorated coverage. Customers should carefully read the mattress warranty before purchasing in order to determine if the coverage guidelines meet their needs.
Transferability
All mattress warranties are non-transferable, making them exclusively available to original purchasers who buy their bed from the original manufacturer or an authorized retailer. Those who buy the bed from a non-authorized retailer – or buy/acquire it from the original owner – do not receive warranty coverage.
Should You Replace Your Current Mattress?
Based on the information above, you may decide it's time to ditch your current mattress and buy a new one. Use the following checklist to determine if a replacement is necessary; more than one 'yes' response probably means it's time for a new bed.
You and/or your sleep partner notice sagging in the sleep surface that compromises support to a noticeable extent
You and/or your sleep partner cannot move or shift positions in bed easily due to deep body impressions
Excessive softening in the sleep surface affects how supportive and comfortable the mattress feels
You and/or your sleep partner experience added aches and pains after sleeping that were not an issue before
You own a bed with mechanical components that seem to malfunction easily
Your bed's warranty has reached a prorated period that will result in expensive charges if a replacement or repairs are warranted
Find Out How Long Crib Mattresses Are Good For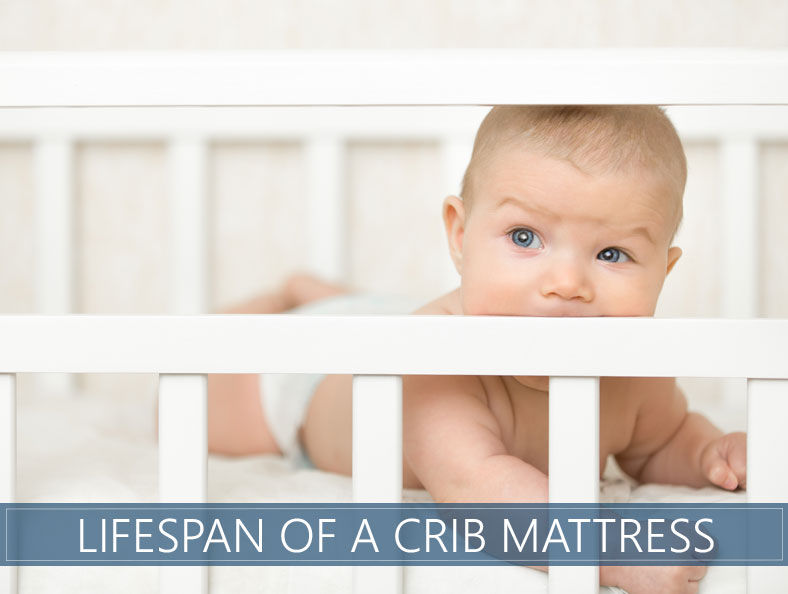 As adults, we put a lot of emphasis on our own mattresses. We spend a lot of time evaluating comfort, durability, firmness, and cooling. And, of course, we want the best quality at a reasonable price.
The consideration we put into our child's mattress, especially for a crib, should be even more thorough. After all, it's not just about comfort for your baby or toddler (though that's important, too!); safety is also a top priority.
When you're looking to get a new bed for your bundle of joy (see our top crib picks), you'll naturally also wonder how long it will last, if you can use it down the road if you have another child, and even if you can accept a hand-me-down from a well-meaning friend or family member.
In this article, we'll discusshow long crib mattresses lastand address the above inquiries, too!
How long does a mattress last?
My mattress is getting on in years. In fact, Bill Clinton was in his first term as president when I last bought a new one. Is it time for me to replace my mattress?
You've probably logged more than 30,000 hours in your bed, and your mattress has likely become less comfortable and less supportive. But there's no set formula for determining when you need to replace a mattress. It might be time to buy one if:
•You regularly wake up tired or achy—you make Oscar the Grouch seem as cheerful as Mr. Rogers.
•You tend to sleep better away from home, than in your own bed. Are you planning unnecessary business trips or looking for any reason to go on a weekend getaway?
•Your mattress looks or feels saggy or lumpy—it needs go on the Abs Diet.
•You're over age 40 and your mattress is five to seven years old. Remember, your body tolerates less pressure as it ages. As if getting older weren't tough enough . . .
A mattress can be an expensive investment—we've tested models that cost in excess of $4,000—but if you treat your new one properly, it could easily last 10 years. Our advice:
•Don't let your kids use your bed as a trampoline.
•Rotate your mattress. If you have a single-sided mattress (you sleep on only one side), rotate the mattress from end to end—that is, move the mattress 180 degrees. The foot of the mattress is now at the head, and vice versa.
If you have a double-sided mattress, rotate it as above, then turn it over so the bottom is now on top.
Perform these steps every two weeks for the first three months you have your new mattress, then once every two months thereafter. You'll find illustrated instructions on a number of different Web sites.
• Use a bed frame that has a center support.
Essential information:See "How to buy a mattress without losing sleep" for detailed advice on finding the perfect bed. And watch our video buying guide.
How Long Does a Mattress Last
How do you know if you need a new mattress? If you're waking up tired and sore, it may be time to replace. Find out how long pillow top, memory foam, hybird, latex and more can last.
How Long Should a Mattress Last?
The average mattress lasts around 7-10 years depending on the type. Read on to learn the lifespan of each kind of mattress type.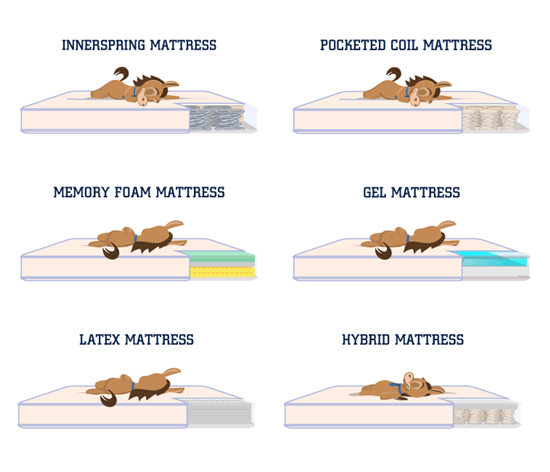 © CreditDonkey
Innerspring Mattress
These typically have a lifespan of8 years. A continuous coil mattress tends to last longer, as its single coil is less likely to break.
Memory Foam
Memory foam mattresses contain an extra layer of foam for added comfort. With proper care, they can last for10-15 yearsdepending on the density of the foam.
Gel Memory Foam
This type of mattress helps to dissipate the heat throughout the bed and keep the mattress cooler at night. It also has a lifespan of10-15 years.
Latex
A natural latex mattress lastsup to 15 yearsdue to its elasticity. If the top layer wears out, you can replace it rather than purchase a new mattress. Latex mattresses are also the only mattresses that are naturally resistant to dust mites, making them particularly good for people with allergies or asthma.
Hybrid
The lifespan of a hybrid mattress depends on its material. Typically, a hybrid mattress combines inner coils with foam and has a lifespan of8-10 years.
Waterbed
Waterbeds are made with a vinyl covering that can puncture or tear. With proper care, a waterbed can last between8-10 years.
Pillow Top
The soft top of a pillow top mattress shortens its longevity. With proper care and rotating, it can often last about7 years.
Some mattresses, like memory foams and latex, can last up to 15 years, much longer than the average innerspring. In the end, it's up to you how long your mattress lasts. If you're still getting a good night's sleep, you might not need to make a change.
How to Extend the Life of Your Mattress
Mattresses can last longer than expected depending on their use and care. Here are some preventative measures to extend the life of your mattress.
Use a secure base
Without the right support, your mattress will sag prematurely. Use a proper foundation, such as a box spring, wooden slats, or a metal base.
But consider to purchasing a new base if yours:
No longer retains its shape
Has dents or sagging areas
Squeaks when you move around on the bed
Get a Mattress Protector
Dust, sweat, body oils, and lotion seep into the mattress and wear down its fibers.
Clean Your Mattress
Ideally, your mattress should be cleaned twice a year. Sprinkle it with baking soda and vacuum after 30 minutes.
Wash Your Sheets
Wash your sheets weekly to eliminate dust, body oils, and debris that collect. This will prevent the debris from leaking into the mattress.
Rotate Your Mattress
Overuse of the area that supports your body will cause your mattress to feel less comfortable. Rotating it every 3 months can eliminate wear and tear in one area.
Don't Jump on the Bed
This can cause wear and tear. For certain types of mattresses, you also risk damaging the springs.
Don't Sleep with Your Pets
Your pet's oils, dander, and urine can leak onto the mattress.
Prevent Bed Bugs
Always check your luggage and clothing for bed bugs when traveling. Getting bed bugs may require buying a new mattress altogether.
How to Know if You Need a New Mattress
Here are some telltale signs that your mattress may be past its prime:
You wake up feeling older than your age- One of the biggest signs that it's time to replace your mattress is when you consistently get a poor night's sleep. Pay attention to how often you feel worse upon waking than you do when going to bed.
You feel like the coils poke you in your sleep- This could be a sign of advanced wear and tear, depending on the type of mattress. It means you don't have proper support and will likely affect your sleep quality.
Your bed has become noisy- You'll want to make sure that the mattress' base is secure and still supports the mattress. You may have to replace both at once, or just one at a time, depending on the level of wear and tear.
You just can't get comfortable- Though an old mattress isn't always the culprit of sleep discomfort, it should be one of the first things you check.
Sleeping aggravates your allergies/asthma- Some dust mites live in every mattress and pillow, but they can accumulate over years of time. In addition to dust mites, common allergens, including mold, can grow in your mattress.
Your mattress has dents or saggy areas- Depending on the mattress type, this can mean that the coils are damaged.
Overall, if you're consistently waking up feeling unrested, it's probably time to start shopping. You'll likely be able to save some money by looking online instead of in mattress stores. Check out our mattress reviews, such as our review of Saatva mattress, to learn more.
Bottom Line
Finding a mattress that lasts long can be tough. Once you find the right one, prolong its lifespan by taking care of it properly.
Note: This website is made possible through financial relationships with some of the products and services mentioned on this site. We may receive compensation if you shop through links in our content. You do not have to use our links, but you help support CreditDonkey if you do.
7 Signs You Should Replace Your Mattress
A good night's rest is crucial to your health and well-being, yet millions of Americans suffer from lack of sleep. TheSleep in Americastudy by the National Sleep Foundation (NSF) found that 75% of adults have problems sleeping well. The study showed that 60% of respondents experienced daytime sleepiness that interfered with activities, caused work absences, or mistakes on the job. While medical conditions may be responsible for some instances of bad sleep, it might be your mattress that's the issue. Review these seven signs that it's time to replace your mattress to see if your bed is to blame for inadequate sleep.
#1 Your mattress is 7-10 years old
Research has found that mattresses have a life-span of roughly eight years, but this varies by manufacturer, mattress type, whether you sleep alone or with a partner, and how you sleep. If you're a larger person, your mattress will likely wear out faster than manufacturer guidelines suggest.
Mattresses were not designed to last forever, and excessive wear and tear will age a product faster. Inferior products don't last as long, yet even the highest-quality mattress has a maximum lifespan and will eventually need replacing. If your mattress is old, that's the first sign you may need a new one.
#2 The mattress is saggy
If there's a dent in your mattress in the shape of your body, that's a signal that your mattress is overly worn. Sagging can occur with almost any mattress material (aside from waterbeds) and can be observed under your sleep area, at the edges, or both. If your mattress has springs, they can break down and sag.
Fiber, foam, and pillowtop materials all break down over time and the deeper the sag in your mattress, the more discomfort you'll likely experience. Saggy mattresses can disrupt sleep and cause aches and pains. If your memory foam mattress core has softened, you may feel the sag as a "hammock" effect.
#3 Your spine isn't aligned when you sleep
No matter how old (or new) your mattress, if it doesn't offer proper support and alignment, you won't get optimal sleep. For back or stomach sleepers, your spine's natural S curve should be evident when you're lying on your mattress. If it's flattened or exaggerated, the mattress isn't aligning your spine properly.
For side sleepers, your spine should be straight from neck to bottom if you've got proper support. A yardstick or level can confirm adequate alignment. A good pillow may correct minor issues, but if you can slide a hand in the gap between body and mattress, it's a red flag that you might need a different mattress.
#4 Your mattress is uncomfortable
Knowing whether your mattress is comfortable sounds like common sense, but many people adjust to discomfort. If you get better sleep on a hotel mattress or a friend's guest room, your home bed might not be comfortable enough. A bed may seem comfortable in a showroom but then doesn't perform well at home.
The upper part of your mattress consists of "comfort layers" that should support your body and provide pressure relief. Comfort layers break down over time resulting in poor sleep and body aches but in some cases, your mattress choice might have been faulty from the start, and you need to replace it.
#5 You wake stiff and sore
Poor sleep can contribute to chronic back pain. If you wake up stiff and sore every day, your mattress could be part of the problem. If your back pain is worse when you wake but subsides when you stretch and move around, that's a sign that the mattress is causing or contributing to your pain.
A firm mattress may not be the answer. A study from the Kovacs Foundation in Mallorca found that medium-firm mattresses provided better comfort for chronic low-back pain. Experts recommend sleep testing different types of mattresses before buying if you suffer pain while sleeping or when waking.
#6 Worsening allergies or asthma
If it's not allergy season and there's no alternate explanation for an uptick in allergy or asthma symptoms, your mattress might be the culprit.Slateinterviewed an expert on dust mites that said your mattress is a "crime scene in terms of how it gets inoculated with [dust] mites" over time.
The protein in dust mite feces may cause allergic reactions and asthma attacks and so can the dust that accumulates in your mattress. Vacuuming, steaming, and flipping your mattress might reduce dust and mites to ease your symptoms. If these steps don't help, a new mattress might be the solution.
#7 You gained or lost weight (or added a co-sleeper)
For those that experience a significant gain or loss in weight over the life cycle of your mattress, the change might alter the effectiveness of your mattress. A Canadian study linked both inadequate and excessive sleep to weight gain so how you sleep and what you weigh are intermingled.
Heavier body types trigger more wear and tear on springs, foam, cushioning and mattress components. Also, if you were a solo sleeper but now have a partner in your bed, your mattress might not offer adequate sleep surface or support for the extra weight. That means it's time for a new mattress.
Become an informed consumer
If you suspect you need a new mattress, do your homework, and educate yourself before you buy. Understand the lingo and gimmicks employed by mattress firms so that you get the product you need that fits your budget and gives you the best night's sleep. There's no prescription for which mattress will best fit your unique needs.
Look for a mattress that offers adequate support for spinal alignment. Comfort is subjective – it's how a bed feels to you. You might find a firmer mattress superior to a softer one or vice-versa. Mattress selection is highly personal and should be your preference at the cross-section of proper alignment, support, and comfort.