Twin XL vs. Twin Bed Size: Things to Consider When Purchasing
When it comes to furnishing your guest room or your kid's one, the choice might seem quite easy – right? Well, you'd better think again. Are you purchasing atwin-sized or a twin-XL one? There is a size difference between these mattresses, and you should be aware of it.
Want to learn about even more sizing differences? This post covers all the different mattress dimensions available.
While both solutions are typically designated for those exact purposes, the difference could turn out to be quite substantial. This is why it is incredibly beneficial for you to be perfectly aware of what separates those beds to make an informed choice.
This is why we've decided to provide you with a detailed overview of both types and see how they stack against each other. The hope is that you'll be able to differentiate between them easily and, ultimately, make the best call when the time comes to purchase one. So, without any further ado, let's dive right into it.
Comparison Chart
Length
75 inches
80 inches
Width
38 inches
38 inches
Affordability
Quite affordable
Slightly more expensive
Usage
Perfect for kids
Perfect for kids and single adults
Pros
It is the ultimate compact solution
It offers more space for your feet and could be used for longer
Cons
It's quite narrow in width
It's still as narrow as normal Twin
Twin vs. Twin XL Detailed Comparison
Dimensions
Obviously, as you can probably figure it out from the name, the size difference between the models is the main factor when purchasing one of these beds.
Starting off with the regular twin mattress, it measures 38 x 75 inches, making it one of the most common choices for kid's rooms. They would usually outgrow the length when they hit high-school, and that's when their parents would consider buying a new, larger mattress. Up until then, it's a great solution as it's space saving and it allows you to furnish the kid's room with a lot of different accessories.
The extra long Twin measurements, on the other hand, are also quite convenient for a kid's room, even though people often use it for a college room bed or a guest-room solution. The reasons are simple – it's almost as space-saving as its counterpart, but it is capable of accommodating the higher length of older people. It's as simple as that.

Comfort
In terms of comfort, both mattresses perform comparatively the same given their intended purposes. A twin bed would be ideal for a small kid up until he or she outgrows the length, making it the best choice for your kid's room. They are also quite affordable so investing in one wouldn't disrupt your personal finance.
On the other hand, the added comfort of the 5 extra inches in the length of the twin XL makes it perfect for college rooms and guest rooms. This is because they would accommodate people who can be over 6 feet tall and their feet wouldn't have to be hanging loosely in the air.
Price
The prices are a bit different with the twin XL being a bit more expensive. However, this is only related to the bed itself as well as some serious spare parts such as frames, springs, and others of the kind.
When it comes to the accessories as well as the sheeting for the bed, it's fair to say that there is no significant difference. While twin bed XL accessories tend to be ever so slightly more expensive, it's not a difference that would ultimately determine your overall choice. Therefore, this is not a differentiating factor that you ought to account for as it certainly won't make a serious difference.
Recommended Room Size
This is another thing that you would have to account for when you're making the call. The recommended room size for a regular twin size bed is 7 x 10 feet or 10 x 10 feet if you have two of those fit in the same room. If you have a twin XL mattress, you can fit one within 7 x 10 feet, but you'd be jeopardizing on the length quite a bit, leaving you with less room to maneuver.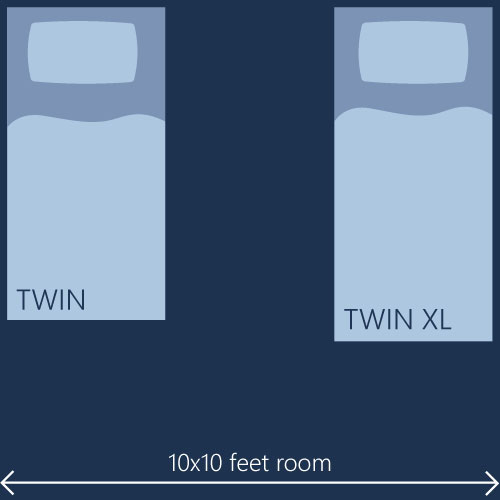 Twin Bed Pros and Cons
Twin mattresses come with a slightly shorter length which is the main differentiation. They do, however, have a lot of benefits.
It's a very common and easy to shop for bed size
It's quite affordable
It's available and fits almost any room size
It is very easy to move around
It is way too narrow for two people
It may be slightly shorter for adults or taller teens
Twin XL Pros and Cons
The twin size XL reveals a 5-inch length difference which may just be the turning stone when you make your final call.
It allows more foot space
It is virtually the same price as a twin-sized bed
It is quite easy to move around
Requires more length of your room
Our Final Thoughts
If we'd had to choose a mattress between both of these right now, the purpose of it would be the main differentiation criteria. Since you can always sacrifice 5 inches of length in your room, the only thing that would really make a difference is who would be sleeping on that bed.
If you are looking for a single bed for your only child who's just turned 2 years of age and is ready to sleep independently, the regular twin mattress would be a great option, provided you don't have the extra room.
If you have the extra room, however, or you are looking for a quick and space-saving solution for a college room or a guest room, the twin XL is the most obvious option that we'd prefer to stick with every day.
As you can see, the choice is really not that hard, and all you have to do is make up your mind regarding the use of the bed. It's that simple. We hope that you've found those mentioned above useful and that you can easily make up your mind without wasting hours in searching.
Sources and References:
More Reading:
Author: Sleep Advisor
Our team covers as many areas of expertise as we do time zones, but none of us started here as a so-called expert on sleep. What we do share is a willingness to ask questions (lots of them), seek experts, and dig deep into conventional wisdom to see if maybe there might be a better path towards healthy living. We apply what we learn not only to our company culture, but also how we deliver information to our over 12.7M readers.
Sleep research is changing all the time, and we are 100% dedicated to keeping up with breakthroughs and innovations. You live better if you sleep better. Whatever has brought you here, we wish you luck on your journey towards better rest.
The Ultimate Mattress Size Chart and Bed Dimensions Guide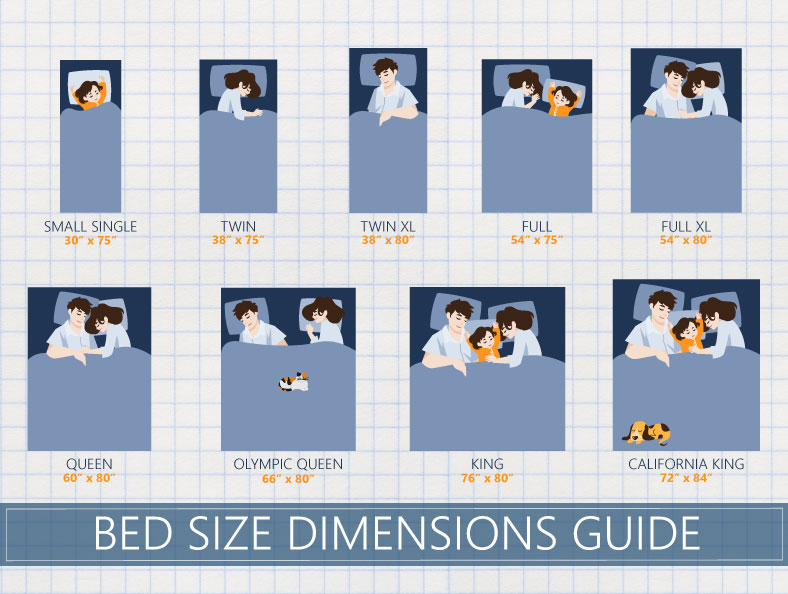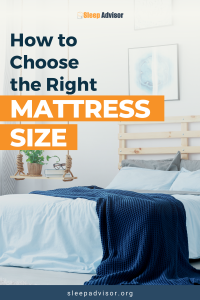 Intuitively, the different sizes of beds seem easy enough to understand, right? The truth is,choosing the right size of your mattresscan be more complicated than you may think. Does it fit nicely in my bedroom? Is there enough leg room? And many other.
To help you make the best decisions when selecting a mattress, we've put together a summary of the most common measurements you will see online and in a store so you can have an idea if it's a perfect bed for you and your bedroom.
Join Better Sleep Community
Have you joined our Facebook group?
Come ask questions in our awesome community that stretches around the globe. Build connections and make friends with folks just like you trying to sleep better.
Common Bed Size Dimensions Comparison
| Type | Size (Inches) | Suitable For |
| --- | --- | --- |
| Small Single or Cot | 30 x 75 | Babies and toddlers |
| Twin | 38 x 75 | Kids that have outgrown their cribs and single adults living in smaller apartments. It's also great for daybed or bunk bed. |
| Twin XL | 38 x 80 | Kids and taller adults and those who want to use an adjustable bed frame |
| Full | 54 x 75 | Good for a single sleeper or someone with children or pets and couples that do not require a lot of leg room. |
| Full XL | 54 x 80 | More than enough for single sleeper and for couples that need more leg room but can not accommodate queen size due to bedroom limitations. |
| Queen | 60 x 80 | Frequent choice and a perfect size for most couples that do not need a lot of sleeping space. If you plan to sleep alone this is more than enough. |
| Olympic Queen | 66 x 80 | Six Inches wider than a standard queen, it makes it nice for someone who doesn't want to upgrade all the way to king. |
| King | 76 x 80 | Great choice for couples who want maximum personal sleeping space. Check our room dimensions scale guide to ensure it will fit in your bedroom. |
| California King | 72 x 84 | 4 inches longer but 4 inches narrower than a standard king type. Good for taller individuals. |
Small Single Bed (Cot) Dimensions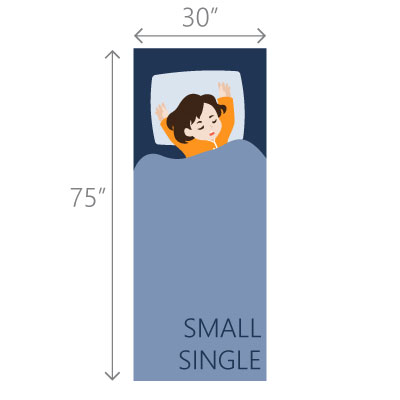 These are the mattresses specifically designed for cribs. It can also serve as toddler beds in most cases once your baby outgrows the cot. Typical measurements are30" width and 75" length.
Twin Bed Dimensions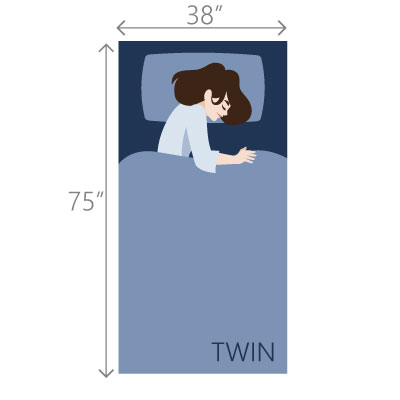 Atypical single, twin or bunk mattresses are 38" width x 75" length. You'd be hard-pressed to find a bed that is any smaller than this one, other than that of a toddler bed or crib.
Typically this isideal for childrenwho have outgrown cribs and toddler beds, and who are now ready to graduate to a larger mattress.
Additionally, for those who sleep in cramped quarters, who have small rooms or who share a room with a sibling or roommate, Twin beds are an ideal choice. Day beds, bunk beds, dorm room beds or those found in the guest room often use this type.
Recommended reading:
What is important to note about a Twin bed versus a larger toddler bed, is that comfort is taken more into account. It's common that, once you reach the Twin size, more quality materials are used, and more engineering centered on comfort takes place. This is because, the older we get, the more we consider comfortable sleeping to be a necessity.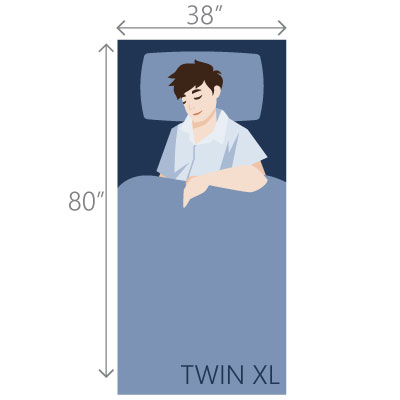 Twin XL
There are subcategories of double beds to consider as well. The Twin XL istypically 80" L while still maintaining the 38" W. If you're an adult looking for a bed that saves space and still is a comfortable choice, an XL Twin may be perfect for you.
Can I use Twin XL mattress on a King Size Bed Frame?
Yes, you can use two double/twin XL beds in a king frame. If you are in a relationship where one partner requires a different firmness than the other, usually end up being big fans of this setup. This is because Two XL beds can fit snugly alongside each other within a King sized bed frame.
This is good to know for partners who are tired of the fluffiness or firmness of their spouse's mattress.
Full Bed Dimensions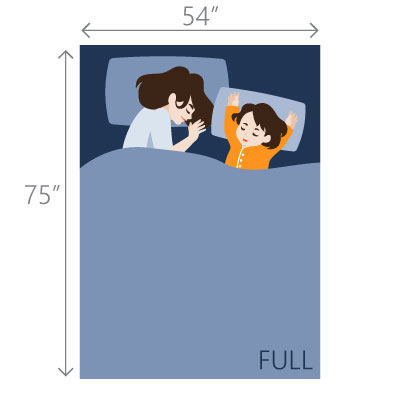 Full-size mattress measures54' width x 75" in length, and these are also commonly referred to as "standard double." Sufficient for adults that need more room than what a Twin can offer.
If you are in a relationship, this may not be the best choice for you, as the fit will be exceedingly tight. Likewise, if you have a dog, cat, or you have a child that sleeps next to you, you may want to consider a wider option.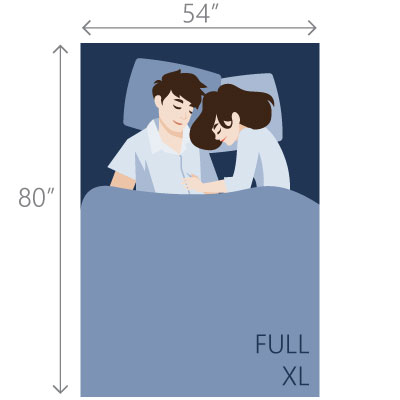 Full (Double) XL
A XL option is54" x 80"giving you anextra 6 inchesof leg space. If you do not require extra width but want some more room for your legs this is a perfect option.
Queen Bed Dimensions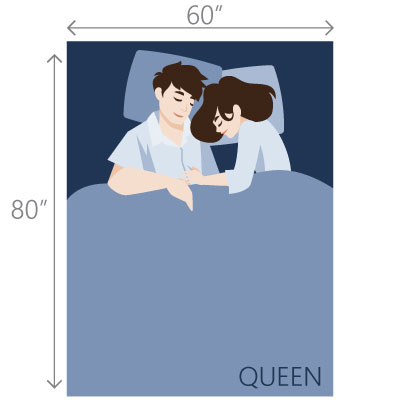 Queen size mattresses are60" width x 80" length. Ideal for almost anyone, in that it's long enough and wide enough to suit most any sleeper. For those who sleep with their spouse, child or pet, it might be perfect for you.
When thinking about these larger types, it becomes necessary to consider the living space. These take up much more room than the Twin or the Full, and thus, the ability to freely move around the bedroom may become restricted.
If you have a larger bedroom, then this won't be a factor for you.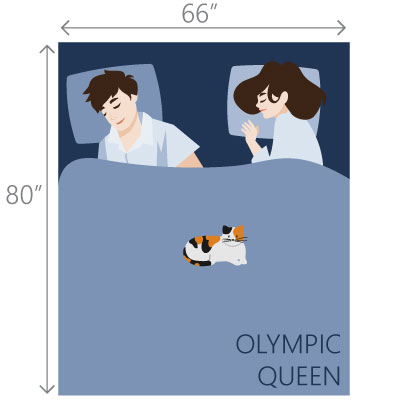 Olympic Queen
These are slightly wider andmeasure at 66"W x 80" L. Olympic queen is perfect for taller individuals, but you don't want to upgrade all the way to King, but you could use some more width.
King Bed Dimensions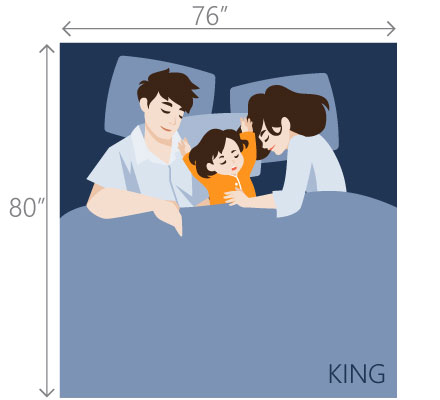 A standardKing size mattress is 76" in width and 80" in length. It's recommended that you do not opt for this option unless your room is at least 12×12. This is a perfect option for couples who sleep with their kids or pets and want more sleeping room for themselves.
If you want to compare this to other options,King is same as 2x Twin XL.
A nice fact is that box springs are split for this type, and it makes it easier to carry around and maneuver.
California King Bed Dimensions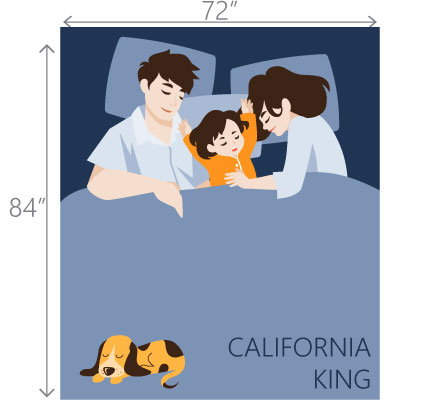 TheCalifornia King mattress is 72" W x 84" Lmaking it one of the biggest options on the market. It's perfect for active sleepers, tall people and couples with kids or pets. Cal King is 4" longer but 4" narrower when compared to a standard King.
It is recommended that you have a large room of at least 12'x12'.
Bedroom Size Requirements
Ok, so you have decided that you need a new bed. But, can you actually put it in your room and still be able to open the door and walk around it?
Let's take a look at the following illustrations showing how certain mattress sizes will fit in your room.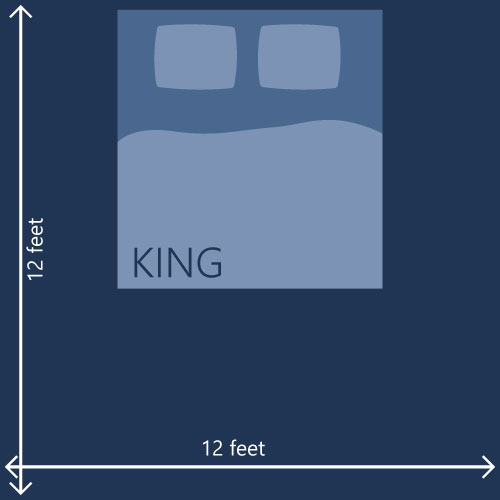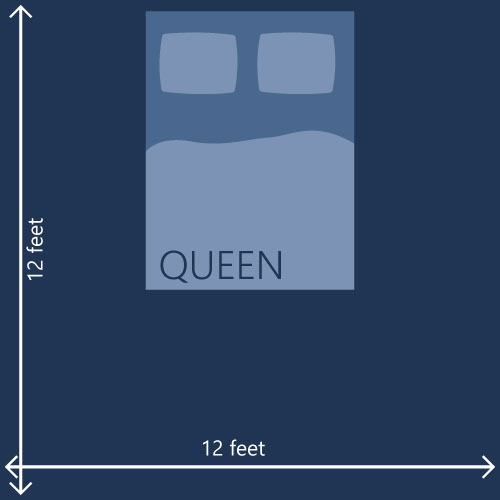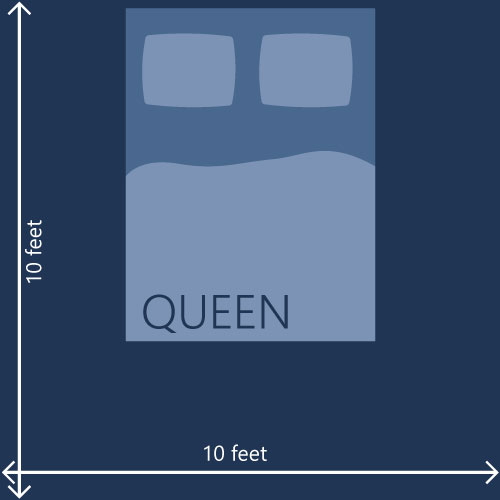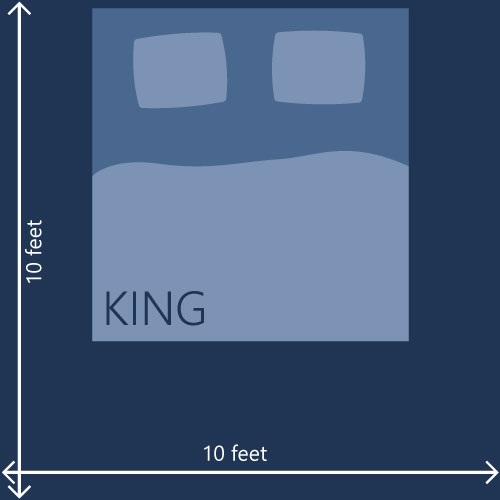 Frequently Asked Questions
Which size is best for me?
Bigger isn't always better, but in most cases it can't hurt. More space could mean fewer sleep interruptions, but if you always prefer to cuddle up rather than spread out, that extra space might not be worth it, especially if you're on a tight budget.
In many cases, couples will opt for a bigger version of a cheap bed, but if you don't need the extra space, that money could be better spent on features like cooling or motion isolation. For a better understanding of getting your money's worth, take a look at our mattress budget guide .
Conclusion
When trying to find the right mattress size to fit the needs of you or your family, these are a few things to have in mind.
First, if you'replanning on upgrading, make sure you know the dimensions of your current bed. You wouldn't want to shop for a larger option and accidentally choose the same type.
Second,if you're moving, don't forget to measure the room that you'll be sleeping in. It is awful to have a mattress that is too big for space. You'll have issues getting around the room, and your space won't be as aesthetically pleasing.
Third,who will be sleeping in it? If it's just you, you are good to go with a Double. But, if you have a spouse, kids or pets you might want to opt for a larger option such as Queen. King is the ultimate comfort size if your room can accommodate it.
Now that you know more about the sizes you can check out our other guides, researched for specific needs and types.
Hope this guide was helpful and that it cleared any doubts.
Please let us know if you have any questions in the comment section.
More from The Sleep Advisor:
More Reading:
Bed size may affect good night's sleep – netdoctor.co.uk
Reasons Why Your Bed Height Actually Matters – dreams.co.uk
Complete Mattress Size Guide – by Nectarsleep.com
Illustrated Bed Dimensions Guide – by Dreamcloudsleep.com
Author: Sleep Advisor
Our team covers as many areas of expertise as we do time zones, but none of us started here as a so-called expert on sleep. What we do share is a willingness to ask questions (lots of them), seek experts, and dig deep into conventional wisdom to see if maybe there might be a better path towards healthy living. We apply what we learn not only to our company culture, but also how we deliver information to our over 12.7M readers.
Sleep research is changing all the time, and we are 100% dedicated to keeping up with breakthroughs and innovations. You live better if you sleep better. Whatever has brought you here, we wish you luck on your journey towards better rest.
Transparency Disclosure– We may receive a referral fee (at no additional cost to the buyer) for products purchased through the links on our site or other applicable pages. To learn more, please read our full disclosure pagehere. We also encourage you to read about how we may research and/or test Products here.

6 Types of Foam – Qualities To Look Out For
10 Top Rated Trundle Beds – Our Reviews and Ratings for 2020
How to Properly Wash (or Clean) Your Pillows
How Can You Make a Mattress Firmer – 7 Helpful Tips And Tricks
How To Pick a Carpet for Your Bedroom
Menopause and Insomnia – What's Burning? Oh, it's me.
Our 8 Highest Rated CBD Oils for 2020
What is Beauty Sleep and How Can I Get it? The Science Revealed
9 Tips for Sleeping Better in a CPAP Mask
Sleep Chronotypes – Are You a Bear, Wolf, Lion, or Dolphin?
Transparency Disclosure– We may receive a referral fee (at no additional cost to the buyer) for products purchased through the links on our site or other applicable pages. To learn more, please read our full disclosure page here.We also encourage you to read about how we may research and/or test Products here.
About Us
Contact Us
Culture
Terms & Conditions
Privacy Policy
DMCA Policy
Contribute
Sleep Calculator
There's no one-size-fits-all when it comes to better health and better rest, but no one has time to sleep, let alone figure out how to upgrade the sleep they're getting.
From figuring out how to buy a mattress, suggesting ones that are good for different needs and body types, or breaking down the newest science behind technology and wellness breakthroughs, Sleep Advisor has you covered.
Best Twin XL Mattress Reviews
Whether you're searching for your teen or guest room, here are the best rated twin xl mattresses to consider
Twin XL is a popular size for taller kids, teenagers, and college students. While mattress topper pads are probably the way to go if you just need to extend the life of your current bed, in this list we'll discuss the best mattresses if you need a brand new bed.
Best Rated Twin XL Mattresses Online
Twin XL mattresses are perfect for the child in your life who just won't stop growing, or maybe they're going off to college (congrats!). Either way, you need an extra long mattress that won't leave their feet hanging off the edge of the bed. Twin XLs are usually affordable and lightweight, making them an easy choice. Here's our list of the best Twin XL beds you can buy.
Best Memory Foam Mattress– Nectar
Soft Foam Option– Nest Love & Sleep Mattress
Best Hybrid Mattress– Lucid Gel Memory Foam
We've included a lot more information below that you'll want to read through before making a final decision. Hopefully, with the help of this guide, you'll be able to select a bed that fits your child or teenager perfectly.
AT A GLANCE
PRICING
HEADLINE

Memory Foam Mattress

w/ Mattress Purchase

Nectar is a budget-tier memory foam mattress that's perfect for kids, teens, and college students.

Soft Foam Mattress

Nest Love & Sleep is an affordable mattress that's available in two firmness levels and has a neutral-foam feel. It also comes with a lifetime warranty and affordable price tag.

Hybrid Mattress

See on Amazon
Lucid Hybrid is a supportive, yet comfortable bed that won't break the bank. It has pocketed coils and gel memory foam so that it will be a nice option for bigger kids on a twin xl mattress.
HOW WE DECIDED
60+
3
6
Number of Contributors
Why Buy A Twin XL Mattress?
You would want to buy a twin XL mainly for the length. A twin size mattress is only 75" long. Taller children and teens might need those extra inches with the Twin XL. Plus, your child or teen may not have the space in their bedrooms to fit a queen size or king size bed. Also, most college dorm rooms have twin XL mattresses. So if you're a college student who isn't too keen on sleeping on that awful, springy, plastic-covered dorm bed, you might want to find a whole new mattress. And since those bed frames already accommodate a twin XL size, that's pretty much what you've got to go with. Keep in mind that this will also apply to mattress toppers and sheets.
Nectar
BEST FOR:
Anyone that likes memory foam
Back, side, stomach, and combo sleepers
Individuals that weigh under 230 lb
w/ Mattress Purchase
w/ Mattress Purchase
Nectar is a bed-in-a-box mattress brand that's up there with Casper and Purple in terms of popularity. This is a multi-layer memory foam mattress that's about a medium to medium-firm in terms of its day-1 firmness rating. As you can see in the chart below, however, we see firmness on a continuum, so if you're buying for a kid the mattress will probably feel more like a medium-firm, at least for the first few months while they break it in.
If you like memory foam (or are open to it) you will likely find this to be a comfortable mattress. You sink in—particularly around your shoulders and hips—creating a little cocoon that makes you feel secure and content in the mattress. In other words, this is not your throwback memory foam mattress.
A lot of people will really enjoy the Nectar mattress
For individuals that weigh under 230 lb (maybe 250 lb), the Nectar Sleep mattress should do the trick. And, given its firmness level, this will be a nice mattress for all sleeping positions (back, stomach, and side). The bottom line with this bed is that it'sfor individuals that like memory foam, are on a budget, and need an accomodating mattress.
Free Shipping & Returns
365 Night Trial Period
Free Sheets or Blanket
Nest Bedding Love & Sleep
BEST FOR:
If you want to select the firmness level for your new bed
Anyone that wants an American-made product backed by a lifetime warranty
People that want/need a general soft-foam bed
Back, stomach, and combo sleepers
The Love & Sleep mattress for Nest Bedding isdesigned to attract budget shoppers and yet, it's still backed by a lifetime warranty. Even more, it's available in two firmness levels (Medium and Firm) so that you can select whichever you think is best for you.
As for how the mattress feels, it's fairly neutral (i.e. it does not have a memory foam feel). In fact, it feels like a generic slab of foam that's either firmer or softer depending on which firmness level you select.
One interesting feature about the Love & Sleep mattress is that it has a special cover which incorporates a phase-change material to help regulate temperature. We wouldn't consider this a proper cooling bed, but it's not something that will cause you to drown in sweat in the middle of the night. Love & Sleep is one of very few lower priced beds that has this sort of cover.
Love & Sleep has a neutral, accommodating feel
Our experience with the mattress has been that it's best for back and stomach sleepers, though, individuals that weigh closer to 200 lb can get by on their side. And, keep in mind that all beds soften the more that you sleep on them. The Love & Sleep mattress reminds us a lot of the Tuft & Needle mattress, although, it's slightly thicker and more expensive. I mention this because Tuft & Needle is an alternative to Love & Sleep if you prefer to shop for an Amazon mattress.
Free Shipping & Returns
100 Night Trial Period
Two Firmness Options
Lucid Hybrid
BEST FOR:
Petite, medium, and even heavier people
If you want a bed with a neutral feel and a hint of memory foam
Back sleepers, side sleepers, stomach sleepers, and people that rotate positions at night
For anyone that weighs around 200-250 lb and is on a tight budget, the Lucid Memory Foam Hybrid is hard to beat, especially if you like shopping on Amazon and want a bed that's in the middle in terms of firmness. This will be a great option for college students and heavier kids that need a bed with a little more support.
This is one of few hybrid budget-level beds
The mattress has more of a neutral feel, though, you can tell it does use memory foam. That said, it's still responsive and rotating sleeping positions takes hardly any effort.
In terms of firmness, we'd set this at about a medium, give or take. For petite individuals it will feel firmer, and for heavier individuals it will feel softer—that's the case with all beds. Still, we don't see hardly anyone saying that this is a "soft mattress" or a "firm mattress." It really is in between, and we think that's a good thing.
What sets this apart from a lot of cheaper mattresses is that it has a base layer of coils, not foam. This provides bounce and support, and means that the bed should be far more durable over the long run than a comparable foam bed. This is the reason that we think it will be a wonderful option for bigger kids, teens, and college students.
30 Night Trial Period
10 Year Warranty
Review Team
How Do We Know?
Here at the Slumber Yard, we've reviewed dozens of mattresses. We've got the cheapest beds on the market, to some of the most luxury mattresses, and everything in between. If you're looking to invest at or under $1,000 on your sleep experience, you've come to the right place. Heck, even if you're only looking to spend under $500 on your new bed, you've come to the right place. We tend to take into account the small details that the average consumer may not even think about when shopping for a new bed, such as edge support for couples that like to spread out, mattress weight for people who move frequently, or if you can still get that latex mattress if you have a latex allergy (spoiler: you probably can). We also have a very diverse set of team members here at the Slumber Yard, that vary in shape, size, and sleeping position, so that we can appeal to almost anyone.
What Is A Twin XL Mattress?
A twin XL mattress is just like a twin mattress, but longer. A twin size is the smallest bed available on the market, and is typically used for children and teenagers. A Twin XL has about 5 more inches tacked onto the end of the bed, because sometimes our teens grow taller than us. A Twin XL is 39" wide by 80" long, which is exactly tall enough for someone who is 6'8". Here's a chart with the dimensions of all the most common sizes, incase you want to compare mattresses.
Typical Twin XL Mattress Pricing
A twin XL mattress is typically always going to cost a tad bit more than the twin mattress. On the budget end of the spectrum, we found twin XL's for about $120 from Linenspa, and then at a more premium level like Avocado, they'll cost you up to $1,000. A middle ground price would be around $645, which is what Casper offers.
Now, while we do understand wanting the finer things in life, do keep in mind that twin XL mattresses are usually used for teens, college students, or guest bedrooms. Teens and college students will eventually grow out of this mattress, so just think realistically about how many years you'll get out of this bed before needing to upgrade to a larger size. Then, after you think about that, decide how much you want to spend on your new twin XL mattress.
Your Body Type
Body type and weight plays a big part in how you will perceive your new mattress, because unfortunately, there's no one size fits all when it comes to beds.
A basic rule of thumb is that the larger the body type and/or the heavier you are, the softer the bed will feel for you, because you're exerting more weight onto it, and sinking in more. On the opposite side of that, the less you weigh and/or the smaller body type you have, the firmer the bed will feel to you, because you'll be laying more on top of the bed, rather than sinking in.
For this post, we assume that most people sleeping on a twin XL are doing so because they have a tall frame, which means they might be on the heavier side. Keep this in mind when you buy a new mattress that's on the firmer and/or thicker side.
Your Sleeper Type
How you sleep also has a big impact on which mattress is right for you. Most people fall within the category of side sleepers, back sleepers, stomach sleepers, or combination sleepers (which means you switch positions through the night).
Side sleepers generally need a softer mattress that will provide pressure relief for their hips, neck, and shoulders. If a bed is too firm, it can leave you with a pins and needles feeling because of a lack of circulation.
Back and stomach sleepers are the exact opposite. They need a firm surface that will support the heaviest points of their body, which is the head, shoulders, and hips. If a bed is too soft, it'll let the hips and shoulders sink too deep into the surface, which will make the spine curve or arch, which can lead to aches or soreness.
Combo sleepers are a little more difficult. We recommend either going for something with a medium firmness, or catering to the position you predominantly sleep in.
Twin Extra Long Mattresses on Sale
4b.2c/on/demandware.static/-/Sites/default/dw8123a31b/Headers/desktop-cat-banner-covid-19.jpg" />
Price:$179.99
(2434 customer reviews)
2 used & newavailable from $167.11
Price:$140.81
(986 customer reviews)
1 used & newavailable from $140.81
Price:$98.99
(8208 customer reviews)
29 used & newavailable from $58.77
Best Types Of XL Twin Matresses:
One of the choices is alatex made mattress. These are the newest craze in US and are a popular solution. They are able to conform to the sleeper's body and provide a support that other beds, like innerspring, can't. You will find these with all bigger brand names like Serta, Simmons, Royal Pedic and Sealy. They all have their own view on how a latex mattress should look like, what density it should have and should it be made out of synthetic or organic latex. To find a cheap latex mattress, you will have to look for a synthetic one. And it should be from a less known brand, since the most popular ones will tend to put a higher price simply because of their name. I suggest you stay away from less known companies like Miralux, Kingsdown or Englander. They are unknown for reason. Stick to the reputable brands, but do not look for the best ones only. Just look at it this way. Tempurpedic makes the best memory foam mattress, but it is the most expensive solution. You can get one from Spring Air and save some cash, while still getting a reasonable quality. Look for sales and discounts, many stores have them from time to time. Also, check out Macy's and Sleepy's since they will have best options when it comes to cheap products.
Futon bed xl twin mattress:
Another popular option is a futon bed, since it is very flexible. You can use them as a bed over night and as a sofa during the day. You can find a lot of options here since they are made out of different materials. It is easy to find a cheap futon, since the range of these products is wide. You'll have to look for the size and the material that it's being made of, this will tell you about the overall quality, just like I explained it all a moment ago.
At the end of the day, it is important to get a suitable product for a reasonable price. You can check mattress warehouse store and find the xl twin mattress you want. Try it out first, see how it feels and remain on it for 10 to 15 minutes at least. This is how you will get the idea of the support it provides. Salesman should allow you to try them as long as you want, so you do not have to worry about that at all. Try to think how your current mattress feels when compared to the one you are trying right now. Is it too hard or too firm? You have to make some tests if you really want to make the best choice.
Buying an xl twin mattress:
After you decided for the model you want, it's negotiation time. If you are talking to a salesman, you need to tell him what kind of prices you've seen elsewhere. He has to know that you are informed about the subject. If you already checked several stores, made some calls and visited few websites, he can't sell you a story and expensive twin mattress with it. You will see how quickly they change the stand when you tell them some things you know and the prices you have seen. They will quickly offer you a discount or take you to the back of the store to show you some more options. Be confident and talk your way to lower price. And do not forget that you can always call Macy's and Sleepy's to see what they offer. It is not unusual that they have a sale at the moment and a much lower price than retail stores do have. Be persistent and with all these information you will get to your dream bed.
Following types of mattresses are in common use, varying in dimensions: –
· Queen-sized mattresses (60" w x 80" l)
· King-sized mattresses (76" w x 80" l)
· California-King (72" w x 84 "l)
· Full or double (53" w x 75" l)
XL Twin Mattress
· Twin (38" w x 75" l)
World-wide mattresses after their production are subjected as a test of their durability to variety of tests including moving a 308 – pound roller 30,000 times to running a 308-pound roller over each one 30,000 times to feign 9 to 10 years of hard use.
Twin mattress reviews (38" x 75")
Whenever you visit a children's room, you'll wish for your children to have a twin mattress in their room. Twin mattress reviews show them to have perfect design dimensions for day beds, hideaways. The twin mattress is expected to be 38" wide which is minimum amount of width required for one person to lie on the mattress every night.
· Width and length of a twin sized mattress are very versatile; itself it allows an adult or a child to sleep very comfortable with enough space on the mattress.
· In smaller rooms and smaller space, where larger and bigger mattresses have less space to get occupied, Twin mattress is the solution.
· If you have two twin mattresses in home and you have been surprised with a guest family requiring a King size mattress, solution lies in the twin mattresses. Simply join the two twin sized mattresses and you get the King-sized mattress. Same can be done by asking your neighbors for an extra twin mattress if they have any.
· When they have good use for kids and single adults, their dark side is their less space for Adults. Twin mattresses have proven to be too small for couples.
· Having length good enough to accommodate kids and single adults, twin mattresses can at times be found less spacious for people with tall height. Even joining two twin mattresses side by side wont serve their purpose. Joining two twin sized mattresses up and down may be one solution, but this aspect is usually taken as a Con.
Choice of mattress type
When we go for shopping a mattress, we may get irritated and hesitate in our choice of new mattresses by a vast variety of options available in the market.
A baseline clue, whatever we choose we don't have to spend more than 1,000$ for the mattress of our choice.
Twin XL Mattress Dimensions Measures (39″w x 80″l)
Extra Long or Twin XL is known to be the most demanded mattress by colleges for their dorms. It has an extra 5″ length when we put it in comparison to a standard twin sized mattress. considering twin Mattress Reviews One problem of Standard Twin Mattress was its failure to accommodate taller sleepers. Extra-long twin mattress has answered the solution with 80" length.
· Twin XL mattresses unlike King size and Queen size mattress can still fit very comfortably and easily in smaller rooms and less spacious areas as they take minimum required space for placing its 39" width.
· Occupies taller sleepers up to 80" length.
· Width of Extra Long mattresses is still lacking that necessary width to suit the couples to sleep together comfortably.
· At times, these Extra-long mattresses are bit difficult to find.
Memory Foam
Memory foam is made up of polyurethane. Memory foam is usually chosen and liked by buyers who are suffering from back injury or neck injury. It is also liked by the buyers who experience joint pains. One of change and versions of memory foam is latex foam, which is proclaimed to be hypoallergenic.
Variation
A variation is latex foam, claimed to be hypoallergenic.
Characteristics of memory foam twin mattress
The best quality of Memory foam is its ability to mold itself as per weight and structure of your body.
It starts softening up when you lie on it, the moment you are up from the foam its springs bring themselves back to their genuine shape. Memory foam reviews show some people complaining about the effort the foam takes to change positions. A few buyers have also complained about it getting hot while sleeping. Keeping this problem in view different variations of memory foam have also came in the market. These have models which have been infused with gel to keep them cool. If you are also worried about off-gassing, then this gel needs to be aired out before first use. cut away detail of an innerspring mattress.
Mattress Myths
Better Beds using Foam Layers
Nowadays most of mattresses are coming with top having more foam.
More Coils in a mattress, the better the mattress
These days' good innerspring mattress models have almost 700 to 900 coils. But the material of coil also makes a difference, it has to be thicker-gauge. There are various types of coil variants which are genetically same. These types include:
· Bonnell which is essentially hourglass type
· Continuous wire
· Pocketed Springs.
Cooler sleep is ensured by gel
Some mattresses have a layer of gel, expected to cause cooling effects on the foam. Research has shown that this isn't true for the mattress which has gel infused into foam beds. This myth stands true only for the mattresses where gel has been infused into innerspring mattresses. Opposite is the result when gel infusion takes place in foam beds.
Back Sleepers are helped by Extra Lumbar Support
A lot many companies have tried to manufacture lumbar support for helping back sleepers. But research has not shown these lumber support zones to be very effective for the consumers, especially back sleepers.
Shopping Tips to buy mattresses
· Lie down the mattress of your choice.
· Must put on loose clothes
· Put off your shoes
· Be very comfortable on the mattress
· Ask the salesperson to go away.
· Keep lying down for a minimum of 6 to 9 mins.
· Spend good enough time in different positions of your sleep.
· Checking the mattress in such detail may not be one the options available. In such case return policies, must be checked in deep scrutiny.
Understand the Warranty
Warranty of mattresses can be given up to two decades. It is important to understand what all it covers. In most cases, it covers manufacturing flaws only such as:
· Sagging
· Loose coil wires
· Broken coil wires.
Why Buy An XL Twin Mattress?
Having anXL twin mattresscan sometimes come in handy, especially if you happen to be a very tall person. There are a few different reasons to have an extra long twin mattress. A lot of college dorm rooms come with a XL twin sized bed, and it's necessary to have a twin mattress that fits the framing. Maybe you just want to have that extra space at the bottom of the bed. Longer beds can also have the advantage of allowing more people on them, to watch a movie or something. When choosing an XL twin mattress you want to make sure you get one that's comfy and made of quality.
Sleep Studios makes some of the best mattresses in the world. If you're looking for a twin XL mattress that is both nicely priced and feels good, check out the Visc02 ventilated mattresses enhancer. Visc02 is a memory foam mattress that is combined with ventilation that provides balance, support, comfort, and temperature. This is a breakthrough in memory foam technology. It provides more oxygen under the covers which provides you with a healthier, more comfortable night's sleep. This is one twin XL mattress that you don't want to miss out on.
Another huge company is Paramount Bedding. They make a XL twin mattress called the Twin Extra Long Firm Mattress. This is designed as a youth mattress, and would also work well in the guest room. This is a premium mattress that is 7 inches thick and is built to last. It is rated as medium/firm for support, and guarantees a comfortable night of sleep. It comes with a massive 10 year warranty.
If you're looking for a kid's mattress, check out Simmons Kids Slumber Time Starry Sky by Simmons Kids. This XL twin mattress comes with Damask fabric that is both soothing and light weight. It also has convoluted and firm foam layers for edge support. The fabric cover is specially designed to repel wetness, which keeps the sleeping surface clean and comfortable. This is a very durable twin XL mattress and you should never need to flip it.
In closing, you'll want to analyze what your biggest motivators are for purchasing an XL twin mattress. Do you need firm or soft? Or do you need the best pricing? Amazon has the best prices right now on XL twin mattresses.
How To Choose The Best Twin XL Mattress?
The besttwin XL mattresswill be both comfortable, come with the best materials, and have a nice price tag associated with it. Sometimes it takes a while to find the best prices on these types of things, and even more frustrating is finding one that is comfortable. They come in all different types of firmness, and you want to make sure that you get a twin XL mattress that feels good to you.
Many people decide on an extra large twin mattress because they need the extra space. Tall people need something a little bit longer than a traditional sized twin mattress. College students often times needs the XL twin mattress as well because this is how the dorms are equipped. Some people just enjoy having extra room at the end of the bed which can be used for various things.
The material of the twin bed mattress should be something you seriously consider before making a purchase. The material is what will determine how soft it feels, and what it's like up against your face. Then there's also the question of firmness. How firm is too firm? And how soft is too soft? It's important to get a twin bed mattress that is soft yet durable. You don't want to have to flip the mattress over when it gets warn out.
A good warranty is also a good thing to consider when purchasing a twin XL mattress. There are different types, ranging from 1 to 10 to lifetime. Sometimes the better warranty ones come with a higher price, but you can find a discount twin mattress with just a good a warranty. You just need to know where to shop around.
The twin mattress size is something to take into consideration. It's good to have that extra length, but it's wise to double check and make sure that it fits in the area that you're planning on putting it in. You don't want to go through all of the hassle of buying an XL twin mattress, only to find out that it doesn't fit where you thought it would.
Owning an extra long twin mattress definitely has its advantages. The next step is to pick one up for yourself. Amazon has the best prices right now. I just saw a discount twin XL mattress for 67% off.
">