The Ultimate Mattress Size Chart and Bed Dimensions Guide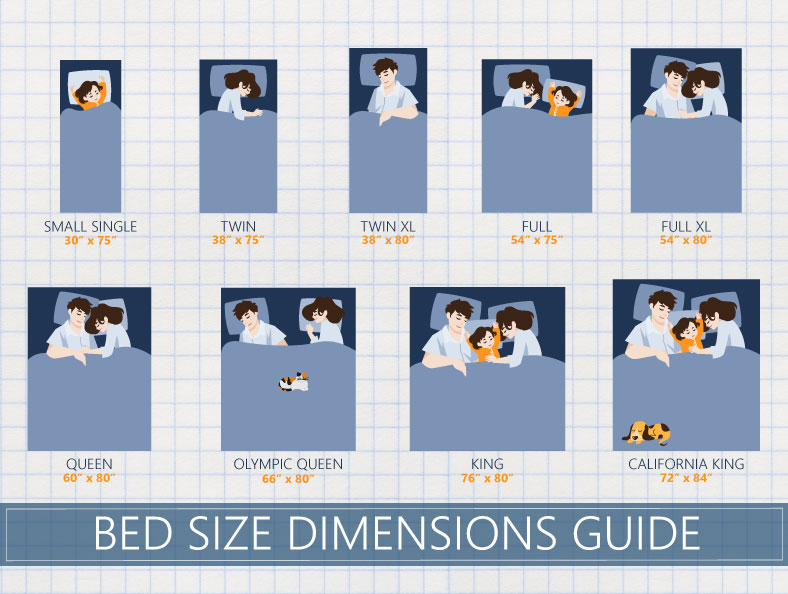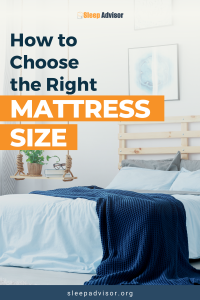 Intuitively, the different sizes of beds seem easy enough to understand, right? The truth is,choosing the right size of your mattresscan be more complicated than you may think. Does it fit nicely in my bedroom? Is there enough leg room? And many other.
To help you make the best decisions when selecting a mattress, we've put together a summary of the most common measurements you will see online and in a store so you can have an idea if it's a perfect bed for you and your bedroom.
Join Better Sleep Community
Have you joined our Facebook group?
Come ask questions in our awesome community that stretches around the globe. Build connections and make friends with folks just like you trying to sleep better.
Common Bed Size Dimensions Comparison
| Type | Size (Inches) | Suitable For |
| --- | --- | --- |
| Small Single or Cot | 30 x 75 | Babies and toddlers |
| Twin | 38 x 75 | Kids that have outgrown their cribs and single adults living in smaller apartments. It's also great for daybed or bunk bed. |
| Twin XL | 38 x 80 | Kids and taller adults and those who want to use an adjustable bed frame |
| Full | 54 x 75 | Good for a single sleeper or someone with children or pets and couples that do not require a lot of leg room. |
| Full XL | 54 x 80 | More than enough for single sleeper and for couples that need more leg room but can not accommodate queen size due to bedroom limitations. |
| Queen | 60 x 80 | Frequent choice and a perfect size for most couples that do not need a lot of sleeping space. If you plan to sleep alone this is more than enough. |
| Olympic Queen | 66 x 80 | Six Inches wider than a standard queen, it makes it nice for someone who doesn't want to upgrade all the way to king. |
| King | 76 x 80 | Great choice for couples who want maximum personal sleeping space. Check our room dimensions scale guide to ensure it will fit in your bedroom. |
| California King | 72 x 84 | 4 inches longer but 4 inches narrower than a standard king type. Good for taller individuals. |
Small Single Bed (Cot) Dimensions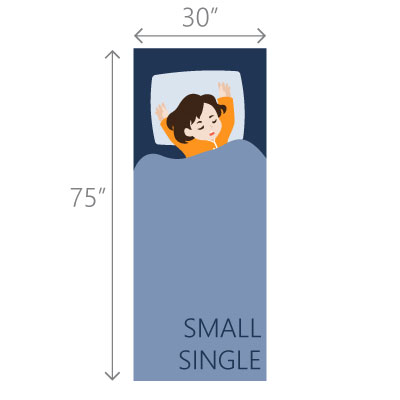 These are the mattresses specifically designed for cribs. It can also serve as toddler beds in most cases once your baby outgrows the cot. Typical measurements are30" width and 75" length.
Twin Bed Dimensions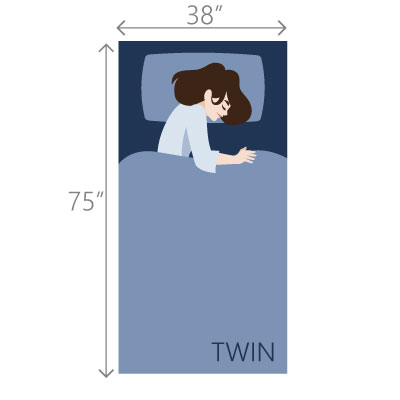 Atypical single, twin or bunk mattresses are 38" width x 75" length. You'd be hard-pressed to find a bed that is any smaller than this one, other than that of a toddler bed or crib.
Typically this isideal for childrenwho have outgrown cribs and toddler beds, and who are now ready to graduate to a larger mattress.
Additionally, for those who sleep in cramped quarters, who have small rooms or who share a room with a sibling or roommate, Twin beds are an ideal choice. Day beds, bunk beds, dorm room beds or those found in the guest room often use this type.
Recommended reading:
What is important to note about a Twin bed versus a larger toddler bed, is that comfort is taken more into account. It's common that, once you reach the Twin size, more quality materials are used, and more engineering centered on comfort takes place. This is because, the older we get, the more we consider comfortable sleeping to be a necessity.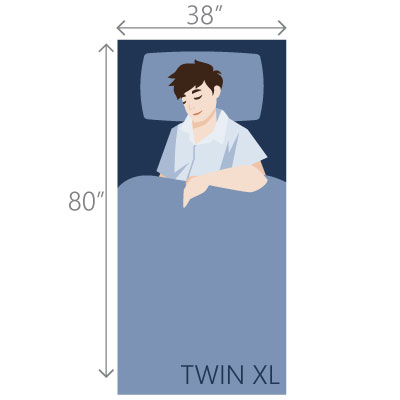 Twin XL
There are subcategories of double beds to consider as well. The Twin XL istypically 80" L while still maintaining the 38" W. If you're an adult looking for a bed that saves space and still is a comfortable choice, an XL Twin may be perfect for you.
Can I use Twin XL mattress on a King Size Bed Frame?
Yes, you can use two double/twin XL beds in a king frame. If you are in a relationship where one partner requires a different firmness than the other, usually end up being big fans of this setup. This is because Two XL beds can fit snugly alongside each other within a King sized bed frame.
This is good to know for partners who are tired of the fluffiness or firmness of their spouse's mattress.
Full Bed Dimensions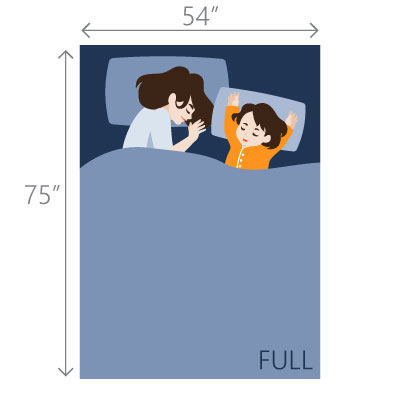 Full-size mattress measures54' width x 75" in length, and these are also commonly referred to as "standard double." Sufficient for adults that need more room than what a Twin can offer.
If you are in a relationship, this may not be the best choice for you, as the fit will be exceedingly tight. Likewise, if you have a dog, cat, or you have a child that sleeps next to you, you may want to consider a wider option.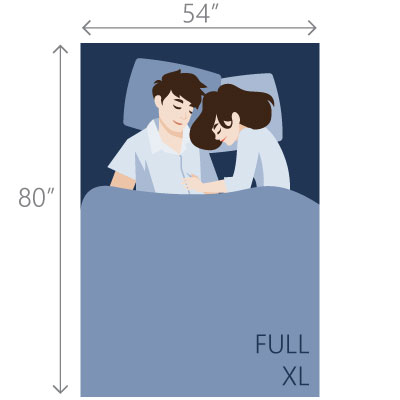 Full (Double) XL
A XL option is54" x 80"giving you anextra 6 inchesof leg space. If you do not require extra width but want some more room for your legs this is a perfect option.
Queen Bed Dimensions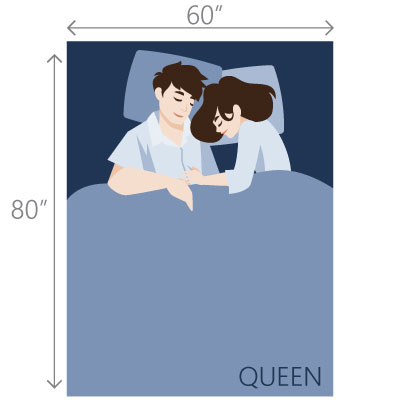 Queen size mattresses are60" width x 80" length. Ideal for almost anyone, in that it's long enough and wide enough to suit most any sleeper. For those who sleep with their spouse, child or pet, it might be perfect for you.
When thinking about these larger types, it becomes necessary to consider the living space. These take up much more room than the Twin or the Full, and thus, the ability to freely move around the bedroom may become restricted.
If you have a larger bedroom, then this won't be a factor for you.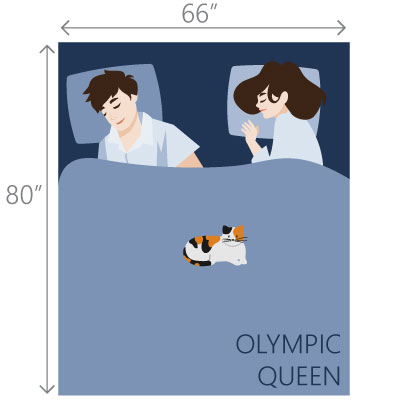 Olympic Queen
These are slightly wider andmeasure at 66"W x 80" L. Olympic queen is perfect for taller individuals, but you don't want to upgrade all the way to King, but you could use some more width.
King Bed Dimensions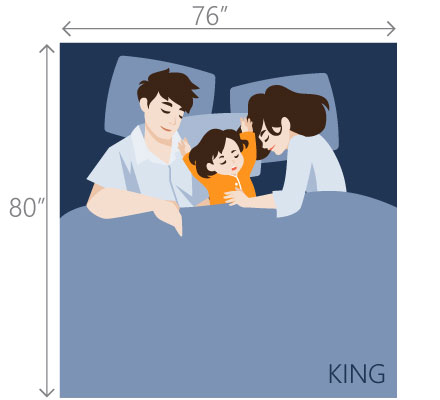 A standardKing size mattress is 76" in width and 80" in length. It's recommended that you do not opt for this option unless your room is at least 12×12. This is a perfect option for couples who sleep with their kids or pets and want more sleeping room for themselves.
If you want to compare this to other options,King is same as 2x Twin XL.
A nice fact is that box springs are split for this type, and it makes it easier to carry around and maneuver.
California King Bed Dimensions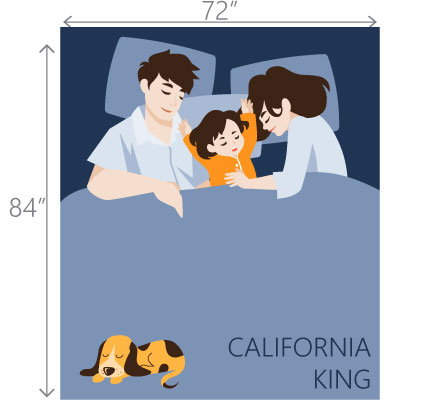 TheCalifornia King mattress is 72" W x 84" Lmaking it one of the biggest options on the market. It's perfect for active sleepers, tall people and couples with kids or pets. Cal King is 4" longer but 4" narrower when compared to a standard King.
It is recommended that you have a large room of at least 12'x12'.
Bedroom Size Requirements
Ok, so you have decided that you need a new bed. But, can you actually put it in your room and still be able to open the door and walk around it?
Let's take a look at the following illustrations showing how certain mattress sizes will fit in your room.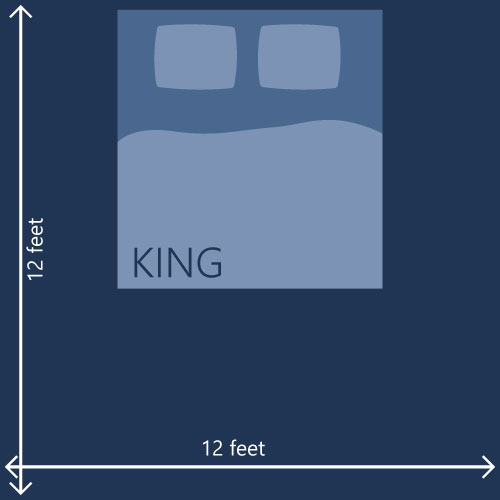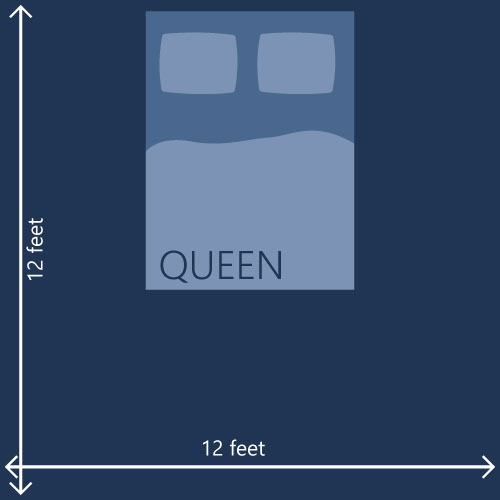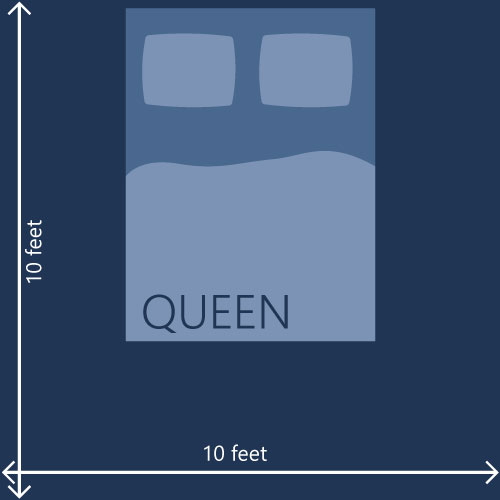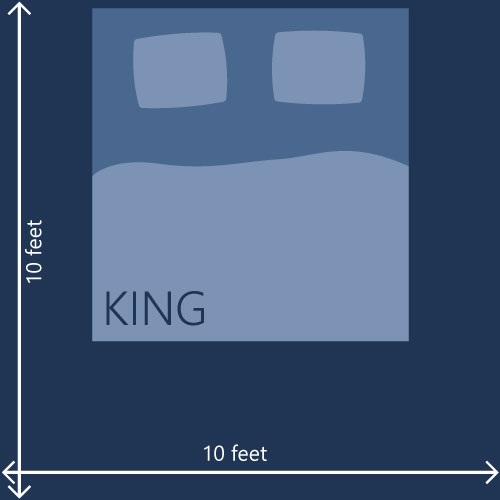 Frequently Asked Questions
Which size is best for me?
Bigger isn't always better, but in most cases it can't hurt. More space could mean fewer sleep interruptions, but if you always prefer to cuddle up rather than spread out, that extra space might not be worth it, especially if you're on a tight budget.
In many cases, couples will opt for a bigger version of a cheap bed, but if you don't need the extra space, that money could be better spent on features like cooling or motion isolation. For a better understanding of getting your money's worth, take a look at our mattress budget guide .
Conclusion
When trying to find the right mattress size to fit the needs of you or your family, these are a few things to have in mind.
First, if you'replanning on upgrading, make sure you know the dimensions of your current bed. You wouldn't want to shop for a larger option and accidentally choose the same type.
Second,if you're moving, don't forget to measure the room that you'll be sleeping in. It is awful to have a mattress that is too big for space. You'll have issues getting around the room, and your space won't be as aesthetically pleasing.
Third,who will be sleeping in it? If it's just you, you are good to go with a Double. But, if you have a spouse, kids or pets you might want to opt for a larger option such as Queen. King is the ultimate comfort size if your room can accommodate it.
Now that you know more about the sizes you can check out our other guides, researched for specific needs and types.
Hope this guide was helpful and that it cleared any doubts.
Please let us know if you have any questions in the comment section.
More from The Sleep Advisor:
More Reading:
Bed size may affect good night's sleep – netdoctor.co.uk
Reasons Why Your Bed Height Actually Matters – dreams.co.uk
Complete Mattress Size Guide – by Nectarsleep.com
Illustrated Bed Dimensions Guide – by Dreamcloudsleep.com
Author: Sleep Advisor
Our team covers as many areas of expertise as we do time zones, but none of us started here as a so-called expert on sleep. What we do share is a willingness to ask questions (lots of them), seek experts, and dig deep into conventional wisdom to see if maybe there might be a better path towards healthy living. We apply what we learn not only to our company culture, but also how we deliver information to our over 12.7M readers.
Sleep research is changing all the time, and we are 100% dedicated to keeping up with breakthroughs and innovations. You live better if you sleep better. Whatever has brought you here, we wish you luck on your journey towards better rest.
Transparency Disclosure– We may receive a referral fee (at no additional cost to the buyer) for products purchased through the links on our site or other applicable pages. To learn more, please read our full disclosure pagehere. We also encourage you to read about how we may research and/or test Products here.

6 Types of Foam – Qualities To Look Out For
10 Top Rated Trundle Beds – Our Reviews and Ratings for 2020
How to Properly Wash (or Clean) Your Pillows
How Can You Make a Mattress Firmer – 7 Helpful Tips And Tricks
How To Pick a Carpet for Your Bedroom
Menopause and Insomnia – What's Burning? Oh, it's me.
Our 8 Highest Rated CBD Oils for 2020
What is Beauty Sleep and How Can I Get it? The Science Revealed
9 Tips for Sleeping Better in a CPAP Mask
Sleep Chronotypes – Are You a Bear, Wolf, Lion, or Dolphin?
Transparency Disclosure– We may receive a referral fee (at no additional cost to the buyer) for products purchased through the links on our site or other applicable pages. To learn more, please read our full disclosure page here.We also encourage you to read about how we may research and/or test Products here.
About Us
Contact Us
Culture
Terms & Conditions
Privacy Policy
DMCA Policy
Contribute
Sleep Calculator
There's no one-size-fits-all when it comes to better health and better rest, but no one has time to sleep, let alone figure out how to upgrade the sleep they're getting.
From figuring out how to buy a mattress, suggesting ones that are good for different needs and body types, or breaking down the newest science behind technology and wellness breakthroughs, Sleep Advisor has you covered.
Extra Long Mattresses
Do you get cold feet at the thought of going to bed? Go long, with your next mattress.
We're all getting taller, with the average height of both British men and women having increased by over 10cm in the last century: a faster rise than in other nations, and faster rise than at any point in recorded history! The result is that the British are now ranked as one of the tallest populations worldwide. If you're one of the many people whose feet hang off the end of the bed every night, firstly: don't worry, you're not alone! Secondly, let us assure you that choosing to have an extra long mattress will make all the difference.
At The Odd Company we can tailor your mattresses length to suit you. Whether you're looking for just a couple of extra centimetres or something much longer, a fully sprung long mattress up to 300cm (9'10") in length from The Odd Company is the solution.
Like every mattress we make, those of an extra long length will contain the highest quality natural fillings and be upholstered using a cotton ticking. We choose to use natural materials on account of a number of superior characteristics which cannot be matched by synthetic substitutes such as foam. All our long mattresses are also fully sprung, to ensure your spine is correctly supported while you sleep.
When is an extra long mattress needed?
It is recommended that a mattress is at least 4″ (10cm) longer than the person sleeping in it to guarantee full support and avoid overhanging limbs. This means if you're taller than 6'0" (180cm), and 15% of us are, you're too tall for a regular single or double mattress and an extra long mattress would be better suited to your body length. If you're one of the 2.5% of the UK population that make up an exclusive club of individuals taller than 6'4" (190cm), then an extra long mattress with a length of at least 6'8″ (203cm) would be highly recommended.
Our bespoke, fully sprung, long mattresses don't just come in pre-set sizes, meaning you can choose exactly how long you want yours to be, with an extra long mattress considered to be anything above a standard length.
When is an extra-long mattress an extra long mattress?
The answer will depend on the width of your bed…
Today two standard mattress lengths exist 190cm (6'3") and 200cm (6'6"). All standard sized mattresses up to and including a Double are 190cm (6'3″) long, whereas standard sizes beyond this width such as King and Super King are 200cm (6'6") long. All our standard sized mattresses can be made to any length required, meaning that when it comes to an extra long mattress length nothing is off limits.
In simple terms, at The Odd Company we can make a mattress for you to any length, width or shape.
Other Odd requirements…
A mattress of an extra long length is just the start of the many areas of customisation we can offer to ensure your mattress suits you perfectly. Along with length we can also make your mattress wider or narrower than is standard, add a curved edge or a cut-out corner.
We also make divan bed bases of any size to accommodate your extra long mattress. Our divans can be made to incorporate a number of storage solutions – from drawers to superb ottoman storage where the entire lid lifts along with the mattress via springs and pistons. All of our divans can be upholstered in one of our fabrics, or your own supplied fabric on request.
Natural Materials
We use natural fillings whenever we can. Not only are natural materials often hypoallergenic, they are also sustainable, and can be widely recycled when your bespoke mattress eventually needs replacing.
Synthetic materials like memory foam, petroleum-based rubber and latex are non-porous, making them great materials for the production of insulation, wellington boots and birthday balloons, but which should be kept out of the bedroom as much as possible. They are hot and unhygienic, breathe poorly, retain moisture and hold in heat. They also contain glues and solvents, which of course, evaporate creating an odour. That being said, if we were to find breathable, sustainable, man-made fibres which performed better than the fillings listed below for our bespoke mattresses we would of course consider using them: we just haven't found any yet…
Because all of our mattresses use natural fillings, they're hypoallergenic, non-irritable, and breathable. We use a cotton ticking to upholster our bespoke mattresses, for a most luxurious and comfortable finish.
A natural fibre which has been grown and harvested for the production of textiles and clothing for many centuries. This uniquely breathable and naturally absorbent filling is used in the construction of our mattresses due to its ability to naturally wick away moisture ensuring restful sleep.
A natural material which has played an important role in the British economy since the medieval period, and whose trade was once described as the 'jewel in the crown of the realm'. Wool brings a number of benefits to a mattress. Unlike synthetic fibres which tend to trap and hold moisture and heat, wool's structural composition makes it great at regulating temperature. Wool, like cotton, is also incredibly breathable, wicking away moisture and ensuring you stay cosy during winter months and cool during summer ones. It is thanks to these properties that we use it as a filling in some of our highest specification mattresses.
For hundreds of years horsehair has been an important filling in mattresses of the highest specification. Before the interior and later pocket spring system were invented each strand of curled hair acted like a tiny spring, creating support and elasticity within the mattress. We continue to use horsehair today for this exact same reason – think of it as providing an extra layer of natural micro-spring close to the sleeping surface, to complement the pocket sprung system found in the mattress core. Additionally the fluted structure which each strand forms channels moisture and heat away from the body while you sleep, replacing it with cooler, fresher air over the course of the night.
The coat of the Kashmir goat is considered one of the most luxurious wools available, its fine fibres – half the width of sheep's wool – make it incredibly soft and springy to the touch and therefore one of the finest fillings that can be used in your mattress.
The goats take their name from the Kashmir region in the Indian subcontinent in which they were first found, an environment which is subject to extreme fluctuations in temperature. Cashmere, like other wools, is therefore an excellent regulator of heat. It is best to think of cashmere as a natural, silent air conditioning unit built into your bed. The structure of each hair is such that it directs heat along the fibre to be released into the cooler environment. When it is cold, cashmere's crimp – the natural waviness of each hair – traps large volumes of air between its fibres, creating an insulation layer which holds heat.
4108 US 31 S Franklin, IN 46131
We Proudly Offer Bowles Mattresses
Indiana Made-Bowles Mattresses are constructed in Jeffersonville, Indiana.
Experienced craftsmen construct Bowles mattresses, from the economical to the most luxurious, using only the most select components in all sleep systems and exclusive wood foundations. At Bowles, the average length of service for each craftsman is now more than 21 years. The Bowles family has been in the mattress business for more than 40 years. They are each directly involved in the management and ownership of the company.
Long's offers more than 40 Bowles models from Luxury to Economy. "Proudly Made in Indiana," Bowles builds mattresses to be very comfortable and last much longer than those of the more expensive national brands.
Bowles Mattresses – The Perfect Alternative to the overpriced National Brands.
Bowles Mattresses – The Perfect Alternative to the overpriced National Brands.
Long's offers more than 40 Bowles models from Luxury to Economy. "Proudly Made in Indiana," Bowles builds mattresses to be very comfortable and last much longer than those of the more expensive national brands.
THE PHRASE "ONE SIZE FITS ALL" DOES NOT APPLY WHEN SELECTING A NEW MATTRESS.
Since 1975The BOWLES Mattress Company, a faith-based and family owned business with an A+ rating from the
Better Business Bureau, continues to offer a wide selection of mattresses designed to fit your own unique needs.
Click for More Information
KIDS STUFF
WITH A WATER-REISTANT NANO-PEL COVER, THE KIDS STUFF MATTRESS IS AN EXCELLENT TRANSITION FROM CRIB TO TWIN OR FULL.
SEASONS SERIES
A GREAT FIRST "BIG PERSONS" MATTRESS FOR YOUR LITTLE ONE. AVAILABLE IN THREE DIFFERENT COMFORT LEVELS.
RESORT SERIES
AN AFFORDABLE "SPARE BEDROOM" MATTRESS YOUR GUESTS WILL LOVE. ALSO AVAILABLE IN A TWO-SIDED "FLIPPABLE" DESIGN!
HD SERIES
ENGINEERED AND DESIGNED FOR THOSE INDIVIDUALS REQUIRING MORE SUPPORT & DURABILITY. PLUS. ALL HD SERIES MODELS ARE TWO-SIDED "FLIPPABLE" MATTRESSES!
SILVER SERIES
INDIVIDUALLY WRAPPED COILS FLEX & CONTOUR TO CRADLE EVERY CURVE OF YOUR BODY.
SILVER SERIES PLUS
START WITH THE SILVER SERIES AND ADD A LAYER OF GEL-INFUSED PRESSURE RELIEVING COOL MEMORY FOAM. THAT'S THE PLUS.
PERFORMANCE SERIES – "HYBRID"
THE ADVANCED QUANTUM COIL SYSTEM PAIRED WITH YOUR CHOICE OF EITHER GEL-INFUSED MEMORY FOAM, ADDITIONAL MICRO COILS OR MOUNTAIN TOP LATEX.
PERFORMANCE SERIES – GEL-INFUSED MEMORY FOAM
THE PRESSURE RELIEVING QUALITY OF AN ALL FOAM MATTRESS WITH GEL-INFUSED COOL MEMORY FOAM. ALSO AVAILABLE IN A TWO-SIDED "FLIPPABLE" DESIGN!
PERFORMANCE SERIES – LATEX
THE PRESSURE RELIEVING QUALITY OF AN ALL FOAM MATTRESS WITH MOUNTAIN TOP LATEX. ALSO AVAILABLE IN A TWO-SIDED "FLIPPABLE" DESIGN!
GOLD SERIES
INDIVIDUALLY WRAPPED COILS, MICRO COILS, GEL-INFUSED COOL MEMORY FOAM AND MOUNTAIN TOP LATEX. THIS LUXURIOUS MATTRESS HAS IT ALL.
THE WEST BADEN HOTEL SERIES
REFINE YOUR SLEEP WITH "WORLD CLASS LUXURY FROM A WORLD CLASS HOTEL". THE WEST BADEN HOTEL SERIES MATTRESS.
Experience "The BOWLES Difference" for yourself today by visiting any of our eight greater Indiana locations!
AVON CASTLETON COLUMBUS FRANKLIN (AMITY) GREENFIELD GREENWOOD NOBLESVILLE NW INDY (CARMEL)
How Long Do Mattresses Last?
Mattresses aren't exactly cheap, most people replace them very infrequently and consider buying a new one either a chore or a burden. It's easy to delay or prolong this process simply by taking proper care of whichever type you own. As a general rule, most should be replaced within ten years for best results in sleep and health, however, the average life of a mattress can last beyond ten years or more if taken care of properly. While it is true that how long one lasts depends on different factors, you can easily increase its life expectancy by undertaking a small number of simple steps. Here is a look at a few of the factors that can decide how long should a mattress last, and possible ways to increase its lifespan:
Table of Contents
1. The Type
What type do you have? For instance, is it air, innerspring, memory foam or latex? Each one has its own life expectancy; air and innerspring being the shortest, memory foam being mid length, while latex types are known to last the longest.
Air mattresses will over time either develop leaks or generally become less effective at retaining air pressure. If they have a built-in pump that becomes faulty, this too can lead to premature replacement. Overall, the average air mattress life expectancy is placed at five years.
Spring mattresses are good for sharing couples who like a springy and bouncy surface, but unfortunately, due to the inner core being thin metal wire, this type does tend to sag and lose its support even if flipped and rotated regularly. Even ones which have been well cared for will most likely need replacing within 7-8 years.
Memory foam mattresses are less prone to sagging but not invincible. They too require rotating, and foam does eventually lose its support but after a long while. This type should be good for at least ten years if kept ventilated, clean, and rotated.
Latex mattresses are the creme de la creme and tick all the boxes for quality and longevity. The naturally hypoallergenic and anti-microbial properties add to the durable nature of latex rubber foam to combine a core which can last up to 15 years.
2. Regular Cleaning
Another important factor which determines mattress life expectancy is to do with cleaning.Howdo you clean it? Do you clean itregularly? Do you give it to aprofessionalcleaner? It's essential that you clean your mattress regularly to prolong the life. If you do not, it won't last long at all. This is due to the invisible bacteria, mildew, and mattress mold that can slowly eat away at the materials involved. Moreover, it may be better if you could have it cleaned professionally from time to time, as mattresses are home to bacteria and germs in plenty, which might not get adequately cleansed with household cleaning products and methods.
3. Amount of Use
As you can imagine, anything that is used more will last less. However, there are two things that need to be kept in mind. Whichever type you own, it wouldn't last as long in cases of extreme use, for example sharing couples who use for 10+ hours per day, and secondly on the other hand, if it has been left unused and uncleaned for prolong periods of time. Mattresses that are moderately used, where people sleep on it for around 7-8 hours a day, and then cleaned regularly are the ones that have the longest life.
4. The Cleaning Products
The question of how long do mattresses last really is to do with many supporting factors, but quite often depends on the cleaning methods used to clean them. For instance, in case of blood stains, you might have to use hydrogen peroxide to get rid. Too much of this chemical (and other heavy duty stain removers) would lead to a reduction of mattress life as these are not made to withstand such chemical uses.
5. Proper Precautions
It is always nice to have kids around the house. However, if your kids want to use your bed as a trampoline, it seriously isn't a good idea. You would rather have them play elsewhere since this can seriously damage your bed. Imagine you have an innerspring, the springs will become too soft and compressed in no time at all and will leave you with a creaky and sagging surface. Additionally, whether it's latex or memory foam, soon there will be indentations which are beyond repair. To prolong its life, you can also rotate and flip it from time to time, but that's only if it's double-sided and permits you to do so. You could perform this every few months for the duration of its life, which will significantly improve how long a mattress can last.
When Do You Know You Cannot Use Your Mattress?
Usually, mattresses that are over seven years old do not provide the comfort and support you need on the bed. Once you see there are signs of the surface and support wearing out, or you're feeling uncomfortable in the bed when you are sleeping on it, you would be better off changing it. Some of the common visible signs of wearing are sagging, holes and tearing. If you cannot get a full night's sleep and feel that you're having a better slumber elsewhere than your bed, you need to start looking for a replacement.
You might buy the most expensive mattress, but if you do not care for it properly, it might not even last ten years. On the other side, ones which are taken care of correctly are known to last more than 15 years.
How Long Does a Mattress Last
How do you know if you need a new mattress? If you're waking up tired and sore, it may be time to replace. Find out how long pillow top, memory foam, hybird, latex and more can last.
How Long Should a Mattress Last?
The average mattress lasts around 7-10 years depending on the type. Read on to learn the lifespan of each kind of mattress type.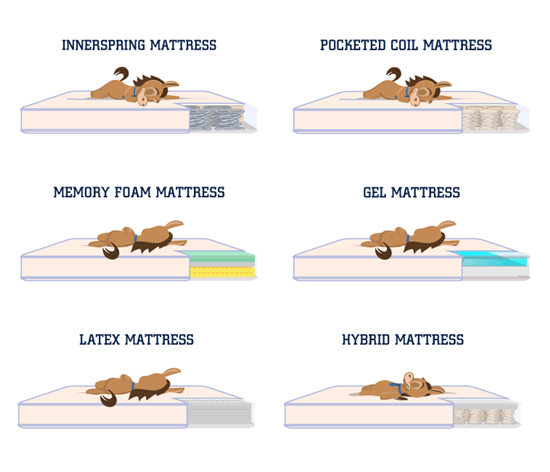 © CreditDonkey
Innerspring Mattress
These typically have a lifespan of8 years. A continuous coil mattress tends to last longer, as its single coil is less likely to break.
Memory Foam
Memory foam mattresses contain an extra layer of foam for added comfort. With proper care, they can last for10-15 yearsdepending on the density of the foam.
Gel Memory Foam
This type of mattress helps to dissipate the heat throughout the bed and keep the mattress cooler at night. It also has a lifespan of10-15 years.
Latex
A natural latex mattress lastsup to 15 yearsdue to its elasticity. If the top layer wears out, you can replace it rather than purchase a new mattress. Latex mattresses are also the only mattresses that are naturally resistant to dust mites, making them particularly good for people with allergies or asthma.
Hybrid
The lifespan of a hybrid mattress depends on its material. Typically, a hybrid mattress combines inner coils with foam and has a lifespan of8-10 years.
Waterbed
Waterbeds are made with a vinyl covering that can puncture or tear. With proper care, a waterbed can last between8-10 years.
Pillow Top
The soft top of a pillow top mattress shortens its longevity. With proper care and rotating, it can often last about7 years.
Some mattresses, like memory foams and latex, can last up to 15 years, much longer than the average innerspring. In the end, it's up to you how long your mattress lasts. If you're still getting a good night's sleep, you might not need to make a change.
How to Extend the Life of Your Mattress
Mattresses can last longer than expected depending on their use and care. Here are some preventative measures to extend the life of your mattress.
Use a secure base
Without the right support, your mattress will sag prematurely. Use a proper foundation, such as a box spring, wooden slats, or a metal base.
But consider to purchasing a new base if yours:
No longer retains its shape
Has dents or sagging areas
Squeaks when you move around on the bed
Get a Mattress Protector
Dust, sweat, body oils, and lotion seep into the mattress and wear down its fibers.
Clean Your Mattress
Ideally, your mattress should be cleaned twice a year. Sprinkle it with baking soda and vacuum after 30 minutes.
Wash Your Sheets
Wash your sheets weekly to eliminate dust, body oils, and debris that collect. This will prevent the debris from leaking into the mattress.
Rotate Your Mattress
Overuse of the area that supports your body will cause your mattress to feel less comfortable. Rotating it every 3 months can eliminate wear and tear in one area.
Don't Jump on the Bed
This can cause wear and tear. For certain types of mattresses, you also risk damaging the springs.
Don't Sleep with Your Pets
Your pet's oils, dander, and urine can leak onto the mattress.
Prevent Bed Bugs
Always check your luggage and clothing for bed bugs when traveling. Getting bed bugs may require buying a new mattress altogether.
How to Know if You Need a New Mattress
Here are some telltale signs that your mattress may be past its prime:
You wake up feeling older than your age- One of the biggest signs that it's time to replace your mattress is when you consistently get a poor night's sleep. Pay attention to how often you feel worse upon waking than you do when going to bed.
You feel like the coils poke you in your sleep- This could be a sign of advanced wear and tear, depending on the type of mattress. It means you don't have proper support and will likely affect your sleep quality.
Your bed has become noisy- You'll want to make sure that the mattress' base is secure and still supports the mattress. You may have to replace both at once, or just one at a time, depending on the level of wear and tear.
You just can't get comfortable- Though an old mattress isn't always the culprit of sleep discomfort, it should be one of the first things you check.
Sleeping aggravates your allergies/asthma- Some dust mites live in every mattress and pillow, but they can accumulate over years of time. In addition to dust mites, common allergens, including mold, can grow in your mattress.
Your mattress has dents or saggy areas- Depending on the mattress type, this can mean that the coils are damaged.
Overall, if you're consistently waking up feeling unrested, it's probably time to start shopping. You'll likely be able to save some money by looking online instead of in mattress stores. Check out our mattress reviews, such as our review of Saatva mattress, to learn more.
Bottom Line
Finding a mattress that lasts long can be tough. Once you find the right one, prolong its lifespan by taking care of it properly.
Note: This website is made possible through financial relationships with some of the products and services mentioned on this site. We may receive compensation if you shop through links in our content. You do not have to use our links, but you help support CreditDonkey if you do.