Twin XL vs. Twin Bed Size: Things to Consider When Purchasing
When it comes to furnishing your guest room or your kid's one, the choice might seem quite easy – right? Well, you'd better think again. Are you purchasing atwin-sized or a twin-XL one? There is a size difference between these mattresses, and you should be aware of it.
Want to learn about even more sizing differences? This post covers all the different mattress dimensions available.
While both solutions are typically designated for those exact purposes, the difference could turn out to be quite substantial. This is why it is incredibly beneficial for you to be perfectly aware of what separates those beds to make an informed choice.
This is why we've decided to provide you with a detailed overview of both types and see how they stack against each other. The hope is that you'll be able to differentiate between them easily and, ultimately, make the best call when the time comes to purchase one. So, without any further ado, let's dive right into it.
Comparison Chart
Length
75 inches
80 inches
Width
38 inches
38 inches
Affordability
Quite affordable
Slightly more expensive
Usage
Perfect for kids
Perfect for kids and single adults
Pros
It is the ultimate compact solution
It offers more space for your feet and could be used for longer
Cons
It's quite narrow in width
It's still as narrow as normal Twin
Twin vs. Twin XL Detailed Comparison
Dimensions
Obviously, as you can probably figure it out from the name, the size difference between the models is the main factor when purchasing one of these beds.
Starting off with the regular twin mattress, it measures 38 x 75 inches, making it one of the most common choices for kid's rooms. They would usually outgrow the length when they hit high-school, and that's when their parents would consider buying a new, larger mattress. Up until then, it's a great solution as it's space saving and it allows you to furnish the kid's room with a lot of different accessories.
The extra long Twin measurements, on the other hand, are also quite convenient for a kid's room, even though people often use it for a college room bed or a guest-room solution. The reasons are simple – it's almost as space-saving as its counterpart, but it is capable of accommodating the higher length of older people. It's as simple as that.

Comfort
In terms of comfort, both mattresses perform comparatively the same given their intended purposes. A twin bed would be ideal for a small kid up until he or she outgrows the length, making it the best choice for your kid's room. They are also quite affordable so investing in one wouldn't disrupt your personal finance.
On the other hand, the added comfort of the 5 extra inches in the length of the twin XL makes it perfect for college rooms and guest rooms. This is because they would accommodate people who can be over 6 feet tall and their feet wouldn't have to be hanging loosely in the air.
Price
The prices are a bit different with the twin XL being a bit more expensive. However, this is only related to the bed itself as well as some serious spare parts such as frames, springs, and others of the kind.
When it comes to the accessories as well as the sheeting for the bed, it's fair to say that there is no significant difference. While twin bed XL accessories tend to be ever so slightly more expensive, it's not a difference that would ultimately determine your overall choice. Therefore, this is not a differentiating factor that you ought to account for as it certainly won't make a serious difference.
Recommended Room Size
This is another thing that you would have to account for when you're making the call. The recommended room size for a regular twin size bed is 7 x 10 feet or 10 x 10 feet if you have two of those fit in the same room. If you have a twin XL mattress, you can fit one within 7 x 10 feet, but you'd be jeopardizing on the length quite a bit, leaving you with less room to maneuver.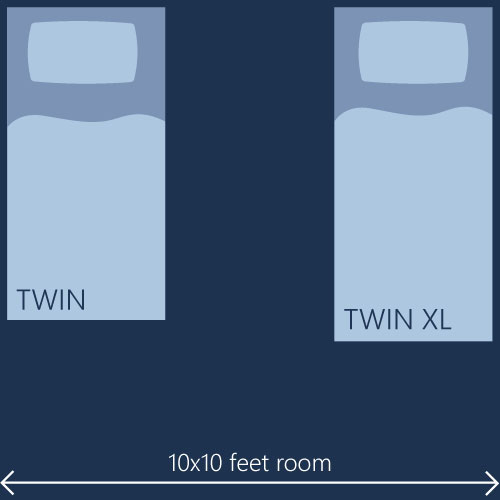 Twin Bed Pros and Cons
Twin mattresses come with a slightly shorter length which is the main differentiation. They do, however, have a lot of benefits.
It's a very common and easy to shop for bed size
It's quite affordable
It's available and fits almost any room size
It is very easy to move around
It is way too narrow for two people
It may be slightly shorter for adults or taller teens
Twin XL Pros and Cons
The twin size XL reveals a 5-inch length difference which may just be the turning stone when you make your final call.
It allows more foot space
It is virtually the same price as a twin-sized bed
It is quite easy to move around
Requires more length of your room
Our Final Thoughts
If we'd had to choose a mattress between both of these right now, the purpose of it would be the main differentiation criteria. Since you can always sacrifice 5 inches of length in your room, the only thing that would really make a difference is who would be sleeping on that bed.
If you are looking for a single bed for your only child who's just turned 2 years of age and is ready to sleep independently, the regular twin mattress would be a great option, provided you don't have the extra room.
If you have the extra room, however, or you are looking for a quick and space-saving solution for a college room or a guest room, the twin XL is the most obvious option that we'd prefer to stick with every day.
As you can see, the choice is really not that hard, and all you have to do is make up your mind regarding the use of the bed. It's that simple. We hope that you've found those mentioned above useful and that you can easily make up your mind without wasting hours in searching.
Sources and References:
More Reading:
Author: Sleep Advisor
Our team covers as many areas of expertise as we do time zones, but none of us started here as a so-called expert on sleep. What we do share is a willingness to ask questions (lots of them), seek experts, and dig deep into conventional wisdom to see if maybe there might be a better path towards healthy living. We apply what we learn not only to our company culture, but also how we deliver information to our over 12.7M readers.
Sleep research is changing all the time, and we are 100% dedicated to keeping up with breakthroughs and innovations. You live better if you sleep better. Whatever has brought you here, we wish you luck on your journey towards better rest.
How long is a twin xl mattress pad
Add foundational support with durable memory foam. Memory foam is more dense than polyurethane foam, so it feels firmer. Memory foam mattress toppers support your body's curves, which may help relieve pressure points or minor aches.
Polyurethane foam pads
Got a firm mattress? Add some oomph to your bed with a polyurethane foam mattress topper. Polyurethane foam is less dense than memory foam for a medium feel that's not too firm and not too soft. It's a cool and comfy addition to a bed and an affordable alternative to a new mattress.
Down (& alternative) toppers
A light and fluffy down mattress topper is the ultimate in softness. It's luxurious comfort that will help you stay warm all night long. Fill options vary from real feathers to down-alternative toppers, which are great for people allergic to down or anyone on a budget.
Find even more mattress pads & toppers
Shop by bed size
Twin XL : Mattress Toppers & Pads
Have trouble sleeping? Maybe you should try adding a comfy mattress topper. They are a great fit if your mattress feels a little too firm. Mattress toppers can offer added support for your back and help bring a sound sleep all night long. We offer a wide range of sizes, including king mattress toppers, queen mattress toppers, twin mattress toppers and twin XL mattress toppers. Whatever the size, they're sure to help make you feel more rested and ready to take on the day! Adding that extra layer of comfort to any restful retreat, whether it's the master bedroom, guest bedroom or even the kids' bedroom has never been so easy. Our waterproof mattress pads protect your mattress effortlessly from spills and stains. Easy to maintain, these mattress pads are sure to give you a worry free and cozy sleep. Or, take away the chill before you get into bed with a heated electric mattress pad. Our collection of mattress pads are designed to provide a snug fit over your mattresses, making your bed softer and more relaxing in a snap.
Shop Internationally at Sears
Planning a visit to the United States?
Or have friends and family in the U.S.?
Shop at Sears to get everything you want—including great gifts for yourself or others.
You'll be happy to see how online shopping in the U.S. couldn't be easier. Simply use an international credit card.
Free U.S. Store Pickup
Order something online but need a little help picking it up? No problem. You (or someone you know) can pay and pick up online orders at a Sears store.
U.S. Shipping & Delivery
Looking to keep it simple? Get your order shipped or delivered to any address in the United States—including hotels. Get a little help from friends and family to get what you want—simply have your order delivered right to them.
Did you know Sears ships to over 100 countries? Take advantage of this major convenience and get whatever you wish, shipped to wherever you want.
Shop in Puerto Rico
Now it's easier than ever to shop at Sears in Puerto Rico and the Caribbean.
Whether you're living there or just visiting, you can pick up your order or have it shipped to you.
Sears International Online Shopping
If you are planning to visit the United States, or have friends and family here, shop at Sears to get everything you want—including gifts for yourself or others. Shopping online in the U.S. at Sears could not be easier. You can pay for your order in a store or even use an international credit card. Once you place an order, you (or someone you know) can pick it up at a Sears store, have it shipped to over 100 countries—whatever is most convenient for you. If you are looking to do some international online shopping, be sure to visit Sears.com/international.
Customer Service
Order Status
Returns & Exchanges
Shipping & Delivery
Give Us Feedback
Contact Us
Sign Up for Emails & Texts
Stores & Services
Store Locator
Parts Direct
Parts Direct
Sears Home Services
Your Account
Access Your Account
Check Your Rewards Points
Pay Your Bill
Gift Card Balance
Sears Marketplace
Sell on Sears
Advertise on Sears
About Sears Marketplace
Members Get More Members Always Get More
Earn points, get
exclusive coupons
and save.
Best Twin XL Mattress Reviews
Whether you're searching for your teen or guest room, here are the best rated twin xl mattresses to consider
Twin XL is a popular size for taller kids, teenagers, and college students. While mattress topper pads are probably the way to go if you just need to extend the life of your current bed, in this list we'll discuss the best mattresses if you need a brand new bed.
Best Rated Twin XL Mattresses Online
Twin XL mattresses are perfect for the child in your life who just won't stop growing, or maybe they're going off to college (congrats!). Either way, you need an extra long mattress that won't leave their feet hanging off the edge of the bed. Twin XLs are usually affordable and lightweight, making them an easy choice. Here's our list of the best Twin XL beds you can buy.
Best Memory Foam Mattress– Nectar
Soft Foam Option– Nest Love & Sleep Mattress
Best Hybrid Mattress– Lucid Gel Memory Foam
We've included a lot more information below that you'll want to read through before making a final decision. Hopefully, with the help of this guide, you'll be able to select a bed that fits your child or teenager perfectly.
AT A GLANCE
PRICING
HEADLINE

Memory Foam Mattress

w/ Mattress Purchase

Nectar is a budget-tier memory foam mattress that's perfect for kids, teens, and college students.

Soft Foam Mattress

Nest Love & Sleep is an affordable mattress that's available in two firmness levels and has a neutral-foam feel. It also comes with a lifetime warranty and affordable price tag.

Hybrid Mattress

See on Amazon
Lucid Hybrid is a supportive, yet comfortable bed that won't break the bank. It has pocketed coils and gel memory foam so that it will be a nice option for bigger kids on a twin xl mattress.
HOW WE DECIDED
60+
3
6
Number of Contributors
Why Buy A Twin XL Mattress?
You would want to buy a twin XL mainly for the length. A twin size mattress is only 75" long. Taller children and teens might need those extra inches with the Twin XL. Plus, your child or teen may not have the space in their bedrooms to fit a queen size or king size bed. Also, most college dorm rooms have twin XL mattresses. So if you're a college student who isn't too keen on sleeping on that awful, springy, plastic-covered dorm bed, you might want to find a whole new mattress. And since those bed frames already accommodate a twin XL size, that's pretty much what you've got to go with. Keep in mind that this will also apply to mattress toppers and sheets.
Nectar
BEST FOR:
Anyone that likes memory foam
Back, side, stomach, and combo sleepers
Individuals that weigh under 230 lb
w/ Mattress Purchase
w/ Mattress Purchase
Nectar is a bed-in-a-box mattress brand that's up there with Casper and Purple in terms of popularity. This is a multi-layer memory foam mattress that's about a medium to medium-firm in terms of its day-1 firmness rating. As you can see in the chart below, however, we see firmness on a continuum, so if you're buying for a kid the mattress will probably feel more like a medium-firm, at least for the first few months while they break it in.
If you like memory foam (or are open to it) you will likely find this to be a comfortable mattress. You sink in—particularly around your shoulders and hips—creating a little cocoon that makes you feel secure and content in the mattress. In other words, this is not your throwback memory foam mattress.
A lot of people will really enjoy the Nectar mattress
For individuals that weigh under 230 lb (maybe 250 lb), the Nectar Sleep mattress should do the trick. And, given its firmness level, this will be a nice mattress for all sleeping positions (back, stomach, and side). The bottom line with this bed is that it'sfor individuals that like memory foam, are on a budget, and need an accomodating mattress.
Free Shipping & Returns
365 Night Trial Period
Free Sheets or Blanket
Nest Bedding Love & Sleep
BEST FOR:
If you want to select the firmness level for your new bed
Anyone that wants an American-made product backed by a lifetime warranty
People that want/need a general soft-foam bed
Back, stomach, and combo sleepers
The Love & Sleep mattress for Nest Bedding isdesigned to attract budget shoppers and yet, it's still backed by a lifetime warranty. Even more, it's available in two firmness levels (Medium and Firm) so that you can select whichever you think is best for you.
As for how the mattress feels, it's fairly neutral (i.e. it does not have a memory foam feel). In fact, it feels like a generic slab of foam that's either firmer or softer depending on which firmness level you select.
One interesting feature about the Love & Sleep mattress is that it has a special cover which incorporates a phase-change material to help regulate temperature. We wouldn't consider this a proper cooling bed, but it's not something that will cause you to drown in sweat in the middle of the night. Love & Sleep is one of very few lower priced beds that has this sort of cover.
Love & Sleep has a neutral, accommodating feel
Our experience with the mattress has been that it's best for back and stomach sleepers, though, individuals that weigh closer to 200 lb can get by on their side. And, keep in mind that all beds soften the more that you sleep on them. The Love & Sleep mattress reminds us a lot of the Tuft & Needle mattress, although, it's slightly thicker and more expensive. I mention this because Tuft & Needle is an alternative to Love & Sleep if you prefer to shop for an Amazon mattress.
Free Shipping & Returns
100 Night Trial Period
Two Firmness Options
Lucid Hybrid
BEST FOR:
Petite, medium, and even heavier people
If you want a bed with a neutral feel and a hint of memory foam
Back sleepers, side sleepers, stomach sleepers, and people that rotate positions at night
For anyone that weighs around 200-250 lb and is on a tight budget, the Lucid Memory Foam Hybrid is hard to beat, especially if you like shopping on Amazon and want a bed that's in the middle in terms of firmness. This will be a great option for college students and heavier kids that need a bed with a little more support.
This is one of few hybrid budget-level beds
The mattress has more of a neutral feel, though, you can tell it does use memory foam. That said, it's still responsive and rotating sleeping positions takes hardly any effort.
In terms of firmness, we'd set this at about a medium, give or take. For petite individuals it will feel firmer, and for heavier individuals it will feel softer—that's the case with all beds. Still, we don't see hardly anyone saying that this is a "soft mattress" or a "firm mattress." It really is in between, and we think that's a good thing.
What sets this apart from a lot of cheaper mattresses is that it has a base layer of coils, not foam. This provides bounce and support, and means that the bed should be far more durable over the long run than a comparable foam bed. This is the reason that we think it will be a wonderful option for bigger kids, teens, and college students.
30 Night Trial Period
10 Year Warranty
Review Team
How Do We Know?
Here at the Slumber Yard, we've reviewed dozens of mattresses. We've got the cheapest beds on the market, to some of the most luxury mattresses, and everything in between. If you're looking to invest at or under $1,000 on your sleep experience, you've come to the right place. Heck, even if you're only looking to spend under $500 on your new bed, you've come to the right place. We tend to take into account the small details that the average consumer may not even think about when shopping for a new bed, such as edge support for couples that like to spread out, mattress weight for people who move frequently, or if you can still get that latex mattress if you have a latex allergy (spoiler: you probably can). We also have a very diverse set of team members here at the Slumber Yard, that vary in shape, size, and sleeping position, so that we can appeal to almost anyone.
What Is A Twin XL Mattress?
A twin XL mattress is just like a twin mattress, but longer. A twin size is the smallest bed available on the market, and is typically used for children and teenagers. A Twin XL has about 5 more inches tacked onto the end of the bed, because sometimes our teens grow taller than us. A Twin XL is 39" wide by 80" long, which is exactly tall enough for someone who is 6'8". Here's a chart with the dimensions of all the most common sizes, incase you want to compare mattresses.
Typical Twin XL Mattress Pricing
A twin XL mattress is typically always going to cost a tad bit more than the twin mattress. On the budget end of the spectrum, we found twin XL's for about $120 from Linenspa, and then at a more premium level like Avocado, they'll cost you up to $1,000. A middle ground price would be around $645, which is what Casper offers.
Now, while we do understand wanting the finer things in life, do keep in mind that twin XL mattresses are usually used for teens, college students, or guest bedrooms. Teens and college students will eventually grow out of this mattress, so just think realistically about how many years you'll get out of this bed before needing to upgrade to a larger size. Then, after you think about that, decide how much you want to spend on your new twin XL mattress.
Your Body Type
Body type and weight plays a big part in how you will perceive your new mattress, because unfortunately, there's no one size fits all when it comes to beds.
A basic rule of thumb is that the larger the body type and/or the heavier you are, the softer the bed will feel for you, because you're exerting more weight onto it, and sinking in more. On the opposite side of that, the less you weigh and/or the smaller body type you have, the firmer the bed will feel to you, because you'll be laying more on top of the bed, rather than sinking in.
For this post, we assume that most people sleeping on a twin XL are doing so because they have a tall frame, which means they might be on the heavier side. Keep this in mind when you buy a new mattress that's on the firmer and/or thicker side.
Your Sleeper Type
How you sleep also has a big impact on which mattress is right for you. Most people fall within the category of side sleepers, back sleepers, stomach sleepers, or combination sleepers (which means you switch positions through the night).
Side sleepers generally need a softer mattress that will provide pressure relief for their hips, neck, and shoulders. If a bed is too firm, it can leave you with a pins and needles feeling because of a lack of circulation.
Back and stomach sleepers are the exact opposite. They need a firm surface that will support the heaviest points of their body, which is the head, shoulders, and hips. If a bed is too soft, it'll let the hips and shoulders sink too deep into the surface, which will make the spine curve or arch, which can lead to aches or soreness.
Combo sleepers are a little more difficult. We recommend either going for something with a medium firmness, or catering to the position you predominantly sleep in.
How long is a twin xl mattress pad
The second option for today is this mattress topper by the SureGuard Mattress Protectors Company.
It is a great item, and it brings along fabulous features.
This mattress pad is manufactured with the super quality materials.
It is highly resistant to water; it will keep your mattress safe from all sorts of fluids, bed wettings, stains, night sweats and all.
Additionally, it brings along hypoallergenic properties, so it is completely safe to use even if you suffer from ills of allergy.
This mattress pad will keep you safe from every kind of insect, bed bugs, dust mites, bacteria, and viruses.
This mattress protector will provide you relief from all the allergic issues.
This item comes in three sizes in total that includes full size, twin, and extra-long twin. You can order what suits your bed the most.
It is moisture proof and is completely noise free. The cotton terry surface of this mattress pad makes it a lot more comfy and durable.
This mattress pad is made free of all sorts of harmful chemicals, flame retardants, phthalates and more.
It is available on Amazon. The price of this item is quite economical.
I would highly recommend this mattress pad to all the people who prefer quality and comfort!
Pinzon Hypoallergenic Overfilled Microplush Mattress Topper
The last one, for now, this is an incredible item and comes with the features that are unmatched.
This mattress pad is constructed really well. The top side of this mattress topper is manufactured using the finest quality polyester; the bottom side of this item is produced with the olefin.
It is filled with the mixture of two materials, polyester, and spandex where 90% is polyester, and the rest 10% is spandex.
This imported mattress pad is sewn really well.
The cover of this product is produced with comfy micro plush fabric.
It is heavily filled that adds to its comfort.
This mattress pad is available in a couple of sizes that includes twin, twin extra-long, full size, queen, and the king and California king size.
It can easily fit any mattress that is eighteen inches deep or a little more or less than that.
The quality of this product is the finest of them all.
This is a great item to gift people especially your closed ones. You can get this product in gift packaging too.
This mattress pad is truly the best in every way that you can think of.
It is made up to the standards of environment this is why it is environment-friendly.
This mattress topper is highly durable too.
You can order this from Amazon. It accompanies a pocket-friendly price tag.
These extra-long twin mattress toppers are the best of them all. I hope these reviews will help you out. Happy shopping!