Mattress Ruined. What Happens If You Sleep on Your Memory Foam Mattress Before 24 Hours?
Table of Contents
How Long to Let Your Memory Foam Mattress Expand?
The general rule is to give your new memory foam mattress 48 hours to expand and inflate to its proper size.
The real answer is not that simple. Every memory foam mattress has its unique requirements.
The following chart shows what each manufacturer recommends. Below that we go over where the 48 hours comes from and if you can immediately sleep on your new mattress.
Mattress Expansion Times For Each Manufacturer
| | |
| --- | --- |
| Manufacturer | Time |
| amerisleep | Can lay on it right away but could take 8 hours for the corners to expand fully and you should wait 2 hours before putting sheets on. |
| BEDBOSS | Should decompress in 24 hours, but let it sit for 2 hours before moving it to the bedroom. |
| Bedinabox | "It expands in about 3 minutes" is what I got when I emailed them. This seems too fast; I would still give it a few hours to be on the safe side. |
| Casper | Can expand and be ready to sleep on in a few minutes but keep in mind that some will take longer. |
| Classic Brands | Allow 24 to 72 hours for the mattress to regain its full shape. If the mattress gets to its full height, it's ready to use. |
| Dreamfoam Bedding | 6 to 7 hours from opening. |
| Helix | Give it 2 hours to regain its shape, and you're done. |
| Layla | Will take its full shape within minutes, and you can sleep on it right away. If you're sensitive to smell give it a few hours to air out. |
| Leesa | May take up to an hour to expand but give it 24 hours to fully expand and be at its best |
| Linenspa | Up to 48 hours but they do say you can jump on it as soon as you like. If anything they say your body heat can help speed up the expansion process. |
| LUCID | Up to 48 hours, but if it's fully expanded after 24 hours you can go ahead and sleep on it. |
| Lull | Will do most of the expanding in 2 to 5 hours and fully expand in 24 to 48 hours. |
| MLILY | Should be ready in 24 hours. Walking on it while it's on the floor can help speed up the process. |
| Nectar | Between 24 to 72 hours to expand. |
| Nest Bedding | You can sleep on it right when you open it, but it can take up to 24 to 48 hours for it to fully expand. |
| Olee Sleep | let it expand up to 72 hours |
| Puffy | Allow it to expand and breathe for a few hours before putting bedding on it. |
| Purest Of America | Allow 24 to 72 hours to fully recover. |
| Signature Sleep | Wait at least 48 hours. |
| Tuft & Needle | Only takes several hours to reach the proper specifications, but in some cases, it may take up to 5 days. |
| Tulo | Allow it to sit for an hour before using it. |
| Zinus | 48 to 72 hours to fully decompress. Zinus recommends you sleep on the mattress during this time as it helps to full up the mattress. If after a week it hasn't expanded, please contact them. |
Don't see your mattress? Go ahead and give it a couple of hours to expand, but let me explain why.
Can You Sleep on a New Memory Foam Mattress Straight Away?
The reason why you wait 24 hours, 48 hours or 72 hours is an old saying that people keep repeating.
As shown from the chart a significant number of manufacturers report shorter times and a good bit suggest sleeping on the mattress the first night. The reason is for your constant movements, and body heat loosens the foam. The more lose the foam, the better it expands.
Where The 48 Hour Memory Foam Expansion Time Came From
The first generation of memory foam mattresses is where this wait time wives tale came from. More time was needed for older memory foam mattresses to air out there odors.
The mattresses today don't smell as bad; I would still recommend letting them air out for a few hours to absorb the smells of its surroundings. I know it sounds odd, but it's well worth doing.
What if my mattress says to wait a few hours? – Well, it's better to play it safe than sorry. The people that best understand your mattress are the ones who made it.
What If Your Memory Foam Mattress Is Not Inflating?
No need to worry if your memory foam mattress is not expanding; here is what you do.
Get the mattress flat as possible on the floor. Wearing clean socks walk on the mattress. The constant moving around combined with your body heat expands the mattress. I like to think of it as a mattress massage.
After massaging the mattress place it back on the bed frame and sleep for a few nights.
Keep in mind:New mattresses are like new shoes; they need to be broken in. Over the years you have gotten used to your old mattress, so the new one is going to feel different. We tend to forget this because we only buy mattresses every decade or so.
What To Do After Your Memory Foam Mattress Has Expanded?
I mean, you spent all this money you probably want it to last as long as possible?
If you want your mattress to last, you need a mattress protector.
Your mattress is a giant sponge, and it will soak up all the sweat, soda, dead skin and other nasty stuff you do in bed. Those liquids sit there not only making the mattress dirtier but destroying the function of the structure. It's hard to work correctly when "waterlogged" with juices.
Plus, modern-day mattress protectors feel and look like regular bed sheets. I even have a review on the very one I use on my mattress. They're not even that expensive either; I consider it crazy when people don't use something so practical and affordable.
How Long Should You Leave a Memory Foam Mattress Before Sleeping on It?
It's best to let your memory foam mattress expand for 48 hours. If you can't give 48 hours then allow the mattress to expand for 6 hours before sleeping on it.
What Happens If You Sleep On Your Mattress Too Soon?
If you sleep on your mattress before it's expanded it's not the end of the world. In fact, many mattress manufacturers recommended you sleep on it the first night because your body heat helps to expand the foam.
I would not worry about it too much. The goal is to give the mattress a few hours before you sleep on it. It can take some mattress a whole week to reach its correct size and sleeping on it won't hurt.
It's Been A Week And The Mattress Has Not Expanded.
If it's been a week and the mattress has not expanded correctly then, unfortunately, you have a defective mattress.
The good news is that this is usually rare. If it's been a week no need to keep fighting it, contact the company you bought it from to check out the return policy. If you're curious about returns and what they do with the old mattress check this out.
If you have to return the mattress and want a new one I've had good luck with Zinus Green Tea Mattress.
How long for a mattress to expand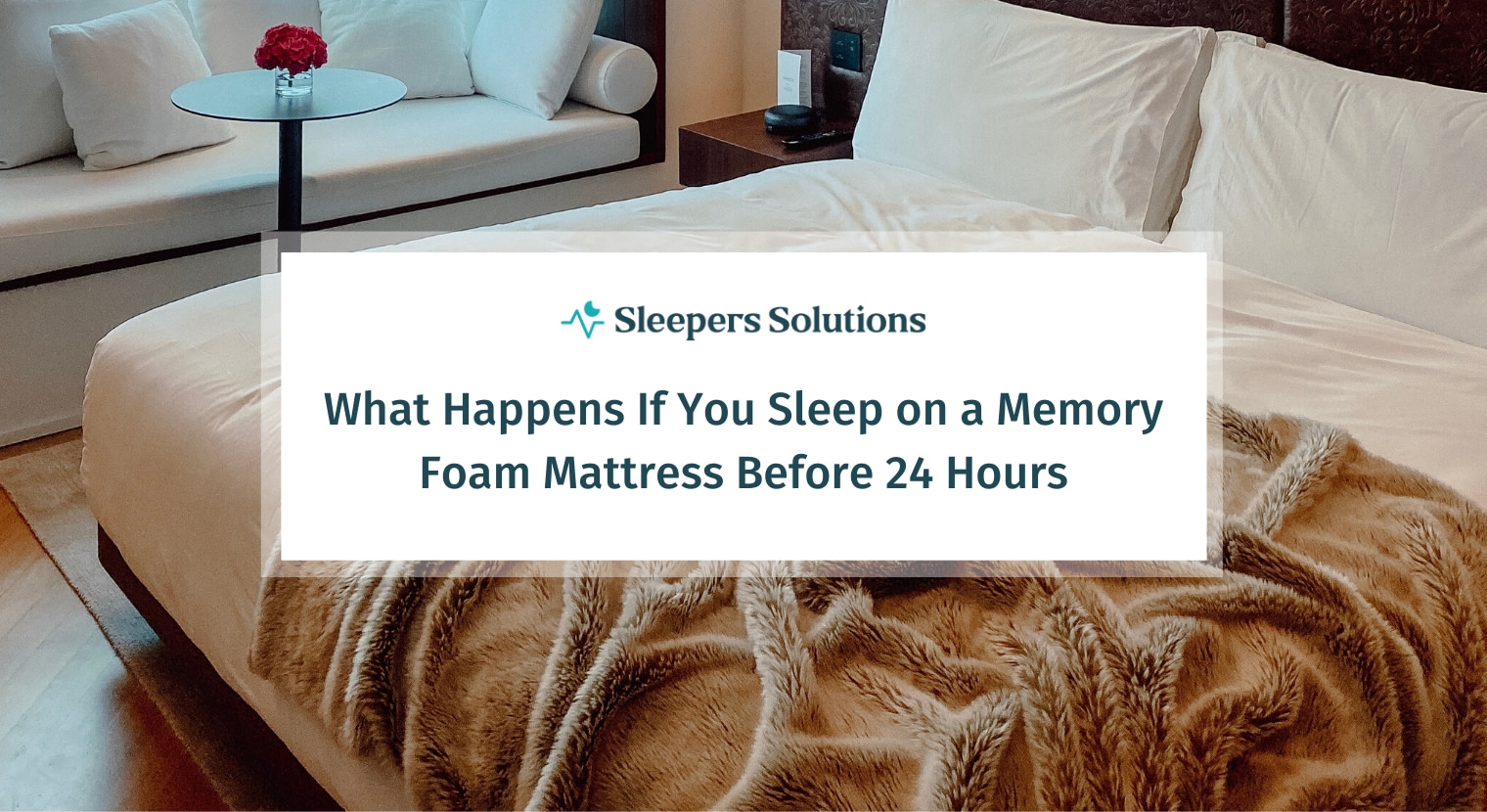 What Happens If You Sleep on a Memory Foam Mattress Before 24 Hours
So you've got a new memory foam mattress, you're excited – in the back of your mind you remember some rule of thumb about waiting for a day before sleeping on it. The manufacturers say to wait for at least 48 hours before it expands fully, especially the ones that are still in the box. But if you're curious what happens if you sleep on a memory foam mattress before 24 hours, then you're in the right place.
Sleeping on a Memory Foam Mattress Too Soon
There are some essential things to consider before sleeping on a memory foam mattress too soon. For instance, most memory foam mattresses require up to two days before it goes back to its original size and form. After all, these mattresses are vacuum sealed, pressed and rolled tightly to fit in the packaging.
But can you sleep on a memory foam mattress the first night? Well, you can relax, jump, or do whatever you want with your bed as soon as you received it. Using it right away won't cause any damage but will only speed up the process of expanding the foam.
This 24-hour recommendation is to ensure customer satisfaction and manufacturer guarantees.It also gives any off-gassing time to dissipate.
Why It Needs 24 Hours to Expand?
Well firstly, you you should know that the off-gassing happens in the first couple of hours. If it's okay to sleep on your new memory foam without waiting for 24 hours to allow it to expand, then why do we still need 24-48 hours?
It's all about the manufacturer guarantee. They claim that if it doesn't fully open up and you did sleep on it then you'll void that guarantee. If you've paid several hundred or even thousand on a new bed – you have to think twice about risking your money back opportunity.
But another important question is that, what should you do if your mattress takes more than 24 hours to expand fully? Well, there are rare cases wherein compressed memory foam mattresses don't fully extend. If that's the case, then you can ask your seller what to do to make it expand or ask for a new one.
Get yourself a mattress protector right now!

Waterproof Mattress Pad Protector Cover [Memory Foam]
For less than $20, save your mattress from spills for life.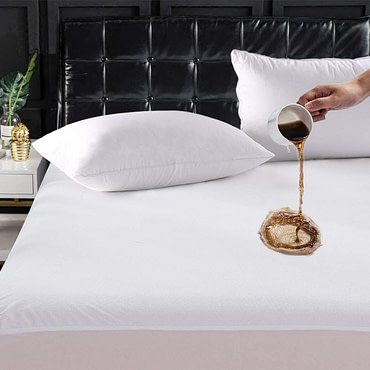 If you are looking for the highest rated mattress protector on Amazon for your platform bed or box spring, here are the best choices we've found. Check these to find out if one of them is perfect for your needs.
Zinus Mattress – How Long to Expand
Most Zinus Memory Foam Mattress like the 12 Inch Green Tea Mattress need 48 to 72 hours to relax and decompress and restore to its original shape. That's why the Zinus company manual advice customers to open the packaging within 72 hours of arrival to make sure the mattress they ordered will fully grow to its potential.
And with the green tea extract infuse in the foam, you will not inhale hazardous and harmful smell with you first open the packaging. It will typically dissipate after laying the mattress in a well-ventilated area.
What to Do When Memory Foam Mattress Not Inflating?
Memory foams have different thickness levels. You can choose from an 8-inch mattress to a 13-inch memory foam bed. They are designed with open cells to conform to various shapes of sleepers using the bedding. Before they leave the factory, these mattresses are folded and compressed using a machine roller to fit into a small package.
The best way to use a memory foam is to let it expand before using. However, if it's not inflating, there are simple tricks you can do to enjoy its comfort after 24 hours of arrival. Check these tips to help you out:
Unbox the memory foam within the three days of arrival. Remove the plastic cover using your hands. Never use any sharp objects like a knife and scissors when removing the mattress from the package to avoid damages.
Allow the foam to adjust in room temperature, which may take up to a couple of hours until it begins expanding. This step is essential, especially when you get your memory foam in the winter season. Foam mattresses tend to become more brittle if it's still tight, which can lead to tearing.
Unroll it in a spare room so the open cells of the memory foam will expand and inflate freely. Separate each layer of the foam carefully to allow them to grow. Pull them in uniform motion with slow and steady hands.
What Are the Possible Reasons Why your Lucid Memory Foam Mattress is Not Expanding?
If your Lucid memory foam mattress is not expanding, there might be an essential step you haven't performed after unrolling it. First, it needs time to develop, typically within 72 hours before you can finally use the mattress. So wait for it until it becomes entirely usable in its original size.
Some memory foam mattresses take one week to air out, but they lose the new-foam smell at the same time. It is already fully plumped when you noticed that the smell is gone. And you can use a mattress topper to retain the plumpness of your new memory foam.
Key Takeaways
The truth is, each mattress has its own expansion time and features. Therefore, the time required before they fully expand will depend on the model and brand you purchased.
Before you can move it to your bedroom, most memory foam mattresses that usually take 24 hours to decompress may still need at least two hours. Waiting for 24 hours or 72 hours to allow a bed to expand is a traditional belief.
Most of the mattresses offered on the market today only take a short time to decompress, and you can sleep on the right after unboxing them. So there's nothing to worry about sleeping on your mattress too soon. You won't damage your memory foam while sleeping on it during the first night.
The key is in the type of memory foam used in your mattress. The higher quality the foam, the better and faster it will expand in less than 24 hours.
How Long Does It Take A Casper Mattress To Expand
Casper bed mattress is one of the most popular memory foam mattresses today. The business has actually won numerous awards. The Casper bed mattress has featured on Business Insider, Fortune, CNN, Tech Insider, Inc. and Forbes among other reputed print and electronic media. You can look for Casper mattress on Amazon, there is the official site and you can now likewise buy it at Target stores. The business likewise has its own official brick and mortar shops at San Francisco and Torrance in California, Denver in Colorado, West Palm Beach in Florida, Atlanta in Georgia, Chicago in Illinois, Boston in Massachusetts, Short Hills in New Jersey, White Plains and Huntington Station in New York and one in the city, King of Prussia in Pennsylvania, Austin and Houston in Texas. How Long Does It Take A Casper Mattress To Expand
Casper mattress has actually been acquired by nearly half a million individuals. The mattress is particularly understood for its engineering feat, for inducing a sensation of weightlessness, for facilitating breathability regardless of being a memory foam bed mattress and hence being a tad more comfy than some similar mattresses that have the tendency to get rather hot and uncomfortable through the night, specifically throughout summer and damp seasons. Casper mattress features a hundred night trial free returns. You can purchase the mattress online or at a shop and you would get exact same day white glove delivery in a few areas.
Features of Casper Mattress
The flagship product of the business has a layer of memory foam and a layer of poly foam atop it. The top layer is springy to make sure a sense of balance and convenience. It likewise contributes to the feeling of weightlessness as soon as you put down. The foams are breathable owing to the open cells in the top layer so you would not feel too hot or uncomfortable. Sweating is not a concern with Casper bed mattress. It comes with a zip-off knit cover that is quite simple to clean and keep, hence assuring sturdiness. The bounce is not the best among memory foam bed mattress as Casper is a bit more resilient but sleepers will feel some reasonable bounce, which is rather preferable and supplies relief from pressure. The density of the memory foam is high enough to offer sufficient support to the numerous pressure points in the human body. There is a transition layer that distributes your bodyweight evenly. The base layer in addition to the 3 other layers is strong enough to offer stable assistance and they add to the sturdiness of the entire Casper mattress.
The open cell responsive memory foam has an adaptive capability and it also supports transition as you move from one position to another shifting your bodyweight. The Casper mattress comes in six sizes. Twin is 39″ x 75″ x 10″ and weighs 44 lbs. Twin XL is 39″ x 80″ x 10″ and weighs 46 lbs. Full is 54″ x 75″ x 10″ and weighs 60 lbs. Queen is 60″ x 80″ x 10″ and weighs 71 lbs. King is 76″ x 80″ x 10″ and weighs 91 lbs. CAL King is 72″ x 84″ x 10″ and weighs 90 lbs. All Casper mattresses are designed and assembled in the United States. The foams used in Casper mattresses have Certi-Pur certification. The certification implies the foams were made without any chemicals that cause ozone depletion. The materials are also regulated according to the volatile organic compound emissions standards for quality of indoor air as stipulated by the Consumer Product Safety Commission. Casper mattress comes with 10 years limited warranty. There is free shipping & free returns in the United States and Canada. Shipments are via UPS Standard in the US and Canada. Shipping takes three to five business days depending on the location. Same day delivery is available in parts of Los Angeles, San Francisco and New York City.
Casper Mattress Price
Casper mattress price starts from $550, which is the cost of the Twin size. Twin XL would cost $600, Full is $800, Queen is $950, King is $1,150 and CAL King is also $1,150. You can look for a Casper mattress coupon. Usually, there are offers that can help you save around $50 on the $950 worth Queen Casper mattress. You can discover comparable discount rates or Casper bed mattress coupon for all sizes. There are affiliates and partners of the business that offer routine discount rates. Casper too hosts sales from time to time so you can have the Casper bed mattress rate decreased to a level.
Casper Mattress Reviews
There is no lack of Casper bed mattress evaluations. There are more than thirty seven thousand Casper mattress evaluates on the official site alone. You would have the ability to find Casper bed mattress Amazon evaluations. You can also discover evaluations on Target and other affiliate websites. You can refer to comprehensive analyses of Casper Vs Tuft and Needle, Casper Vs Leesa and Casper Vs Purple if you wish to compare different bed mattress prior to making a notified choice. Casper is a trustworthy brand name. The company has been around for a while. There are individuals who have been utilizing Casper mattress for several years now and the business has actually been showing its engineering throughout the years. Reliability or trust is not a concern with the company. If any at all, there might be superior bed mattress out there that will draw your attention far from Casper. How Long Does It Take A Casper Mattress To Expand
Nectar Mattress is Superior to Casper Mattress
Nectar and Casper mattresses are both foam mattresses. Both use memory foam but where Casper mattress has one layer of memory foam and one layer of poly foam, Nectar mattress has two layers of memory foam. Casper mattress has four layers while Nectar mattress has five layers. Casper mattress is thinner than Nectar mattress by one and a half inches. Nectar mattress allows your body to sink a bit more than Casper mattress, which is preferred by many as the bodyweight gets distributed all the more evenly and weightlessness is more than just a perception. While both mattresses can isolate motion and are durable, Nectar mattress is considerably cheaper. A queen size Nectar mattress will cost you $795 and that is without any discount. You can easily find a coupon or some discount that will bring down the price by more than $100. Considering the differences, Nectar mattress is clearly superior and it is what you should consider.
What To Expect When You're Expecting A Tuft & Needle
by T&N Team | October 4, 2017 | Filed under: Guides
It's here! Your local FedEx delivery driver has trekked across land and sea to deliver another package to your doorstep. But this time it's different. They didn't bring you a candle, books, or socks. No, this time it's a mattress…in a box.
That's right. Your T&N was vacuum sealed with literal tons of pressure, rolled into a burrito, popped into that pretty white box, and shipped right to your front door. Now all that's left to do is get it out.
Truth be told, just like there's no "perfect" way to make a burrito, there's no one-size-fits-all of freeing your mattress burrito from its wrapper and holder. It's an awkward and sometimes clumsy process but we're here to make sure no one spills the beans…because no one wants bean stains on a brand new mattress.
Unboxing Your T&NLike all things in life, the process will be smoother with a friend. You can absolutely do it flying solo and as a bonus you can feel validated skipping the gym for a little siesta later. The only other thing you may need is scissors.
Mission free the mattress has commenced!
Cut the box tape
Tip the box
Shimmy the burrito out while friend holds the box, or just shimmy shimmy by yourself
Place burrito on frame/box spring/spot on the floor that has been lovingly set aside for this purpose
Remove first layer of outer plastic
Roll until its completely flat
Pro tip: Check to make sure the zipper is facing down and/or the gray foam is facing the ceiling
Remove remaining plastic
Watch your new mattress expand
We recommend letting it hang out for 1-2 hours to fully expand
Slap some fresh sheets on it
Happy ZzZ's
Fun bonus project: Get creative with the box! New coffee table? Space ship to the moon? Kitties new favorite toy? We want to see!
Too many words? No worries, we've got you visual learners covered too. Check out our cofounder, Daehee, gracefully executing the unboxing process like a pro. Don't worry if your unboxing doesn't look as seamless as this. A little birdie told us he's done this once or twice before.
Life After the BoxNow that your burrito is unfurled and ready to rest, you're probably asking yourself, "So what now?" In a perfect world, a decade of sweet dreams.
Back on Earth, we totally understand it's not always going to be a goldilocks-fit right away. You may notice an interesting smell, that it's just not what you were anticipating straight out of the box, or "What's with that sad droopy corner?"
Just like most new products, freshly packaged foam that has been vacuum sealed can oftentimes have a distinct scent to it. Some may notice it more than others but it is normal and in most cases will dissipate within a few hours. For many sleepers there's also a 2-week break-in period where the mattress softens and your body adjusts to all the goodness going on around it.
As for those dimensions, most of the time it should only take several hours for it to fully expand and reach the proper specifications. In some cases, it may take up to about 5 days to properly fill out.
You may also be wondering, "Alright, internet stranger. It's past the 2-week mark and still no dice." Or "I'm still noticing a smell." Or "Sad corner is still sad." Not to worry. Our CX team is here to help.
In these types of one-off situations, please don't ever hesitate to reach out to us. Whether it's by phone, email, or chat, we want to know what your thoughts are and are here for you. If it's explaining how we handle defects, warranty claims, or even discussing return options; our top priority is always to ensure you have the information available to make an informed decision.
How Long For Puffy Mattress To Expand – What You Need To Know
When the majority of people decide to purchase a mattress, the primary step is generally to do research so that they can determine the very best mattress, or the most popular mattress. Among the many mattresses you're most likely to come throughout while doing your online search, the award-winning puffy mattress lacks a doubt likely to appear in your search results page. How Long For Puffy Mattress To Expand
Puffy is the organization behind the puffy mattress brand name. Puffy's goal has actually constantly been to ensure that their clients get a cloud-like sleeping experience every time they sleep on their mattresses.
Puffy brand name mattresses are created with your comfort in mind. Puffy produces cutting-edge mattresses that include cooling properties, comfort and support all at pocket friendly rates. This assists to ensure that your entire body is comfy and well supported so that all your pressure points and pains can be alleviated.
Apart from mattresses, Puffy brand name also makes various sleep items such as puffy bed frames, mattress foundations, adjustable bed bases, puffy pillowOpens in a brand-new Window., comforters, and mattress protectors.
In this post, we are going to review the numerous features of puffy mattresses in order to assist you choose if indeed the award-winning puffy mattress is the very best mattress in the bed-in-a box market as popularized by Ellen Show. The post will likewise look at the company policy, and the benefits and drawbacks of the puffy mattresses. Please keep reading.
Types of Puffy Mattresses How Long For Puffy Mattress To Expand
Puffy mattresses have been made with an adjusting memory foam. The foam tends to adjust to numerous sleep positions, which assists to guarantee that your whole body gets sufficient support. Below is an overview of the Puffy brand mattresses:
Puffy Mattress
Puffy mattress is considered as one of finest bed in a box mattress, and it has actually been the talk of this market recently. To support this statement, Puffy was included on Ellen Show as the very best mattress in 2017 during Ellen DeGeneres' annual 12 Days of Christmas Free Gift.
Functions of Puffy Mattress
This mattress includes a 3-layer memory foam with medium firmness as you will see below:
Cooling Cloud Foam
Puffy mattress has a 4-inch cooling cloud comfort layer that is frequently made with gel. The role of the gel is to take out heat from the mattress. This assists to keep a neutral temperature throughout the night, therefore preventing you from overheating.
The cooling cloud foam ensures that you have an excellent night's sleep by easing pressure points, which avoids you from experiencing pain and discomfort on your neck, shoulders, back, sides and hips.
Firm Core Support Foam
The 6-inch layer is meant to promote firmness and stability. It prevents the feeling of severe softness when you're sleeping. This layer keeps you raised while adjusting to your unique body shape.
It relieves your pressure points and improves continuous blood flow. The firm core support foam layer helps to support your mattress on different bases.
Climate Comfort
As the name suggests, the 2-inch climate comfort foam assists to control your mattress's temperature and boost support for your pressure points. When it is too cold, it avoids your mattress from overheating throughout hot nights or contracting.
In other words, this layer permits your puffy mattress to adjust to climate fluctuations so that you do not awaken sensation too cold or too hot. It promotes constant sleeping routines and deep continuous sleep.
Benefits and drawbacks of Puffy Mattress
Isolates movement transfer
Adapts well to your body shape
Medium firmness which is fantastic for pressure points
Alleviates pressure points
Relieves back pain
Promotes coolness unlike other memory foams
Limited bounce due to the gel infused foam
Poor edge support, particularly when you rest on the edge of your bed
Not appropriate for heavy sleepers weighing more than 230 pounds
Sizes and Pricing for Puffy Mattress
The cost for each mattress prior to any promotions or discount rates is as listed below:
Twin39 ″ X 75 ″ X 10 ″$ 795
Twin XL39 ″ X 80 ″ X 10 ″$ 825
Full54 ″ X 75 ″ X 10 ″$ 995
Queen60 ″ X 80 ″ X 10 ″$ 1150
King76 ″ X 80 ″ X 10 ″$ 1350
Cal King72 ″ X 84 ″ X 10 ″$ 1350
Puffy Lux Mattress
The Puffy Lux Mattress includes 4 layers of memory foam. It provides a little more than the puffy mattress in regards to the variety of layers.
Functions of Puffy Lux Mattress
The features of the Puffy Lux Mattress consist of:
Cooling Cloud Foam
The top layer of Puffy Lux mattress is designed using a gel infused innovation. It helps to improve the circulation of air, and draws heat out of your body helping you to have sweat-free nights. It also reduces discomfort and pains from pressure points.
Plush Dual Cloud Foam
The second layer is the 1.5-inch plush dual cloud foam. It permits your mattress to adjust according to your body's pressure points, which prevents aches and pains on pressure points. It promotes comfort, air flow, and coolness.
Climate Comfort Memory Foam
This is the 3rd layer of the Puffy Lux mattress, and it includes 1.5 inches of foam. In other words, assists your mattress remain cool when it is hot, and warm when it is cold.
Firm Core Support Foam
The 7-inch firm core support foam is the fourth layer of the Puffy Lux Mattress. It boosts toughness, support and edge support. It adjusts well to pressure and helps to ensure that your spine is well aligned throughout the night.
If you tend to experience back discomfort, the firm core support foam is a feature you will certainly love.
Benefits and drawbacks of Puffy Lux Mattress
Separates motion transfer.
Medium firmness which is great for pressure points.
Ideal for side sleepers since of the plush feel.
Enhances spinal column positioning and neck and back pain relief.
Helps you sleep cooler.
May not support heavy sleepers who are more than 230 pounds.
Price his greater than other foam mattresses.
Minimal bounce, which may prevent motion.
Sizes and Prices for Puffy Lux Mattress
The rate for each mattress prior to any promotions or discount rates is as below:
Twin39 ″ X 75 ″ X 10 ″$ 1,445
Twin XL39 ″ X 80 ″ X 10 ″$ 1,445
Full54 ″ X 75 ″ X 10 ″$ 1,595
Queen60 ″ X 80 ″ X 10 ″$ 1,795
King76 ″ X 80 ″ X 10 ″$ 1,995
Cal King72 ″ X 84 ″ X 10 ″$ 1,995
Puffy Royal Mattress
This is the most recent release of the puffy mattresses brand. It has actually been created with 5 layers of 14 inches foam, that makes it much thicker than two previous mattresses. It has actually been designed with all kinds of sleepers in mind including heavier sleepers and couples.
Functions of Puffy Royal Mattress
The features of the Puffy Royal mattress include:
Cooling Cloud Foam
The 1.5-inch leading layer includes cooling beads, which assist to draw out heat and promote consistent sleep patterns throughout the night. It helps to guarantee that you're sleeping on a comfortable surface area.
Comfort Foam Layer
The 2-inch comfort layer will not only adjust to your body, however also deliver a reflexive bounce that keeps tension at bay. It permits you to have a comfortable and restful night, and you can rest assured that you will awaken feeling revitalized every early morning.
Climate Comfort Foam layer
The 1.5 inches foam assists to regulate temperature. It helps to relieve pressure and tends to prevent climate changes, thus guaranteeing that you have undisrupted sleep throughout the night. It does not broaden nor contract during extreme weather or temperatures.
Zoned support foam
The 2-inch support layer combines the STM cloud style. It is suggested to draw out heat and improve breathability throughout the mattress. It alleviates pressure points and tends to support total support to different parts of your body including your head, neck, shoulders, back, and hips.
Firm Core Support Foam
The 7-inch firm core support foam on the Puffy Royal mattress has actually been created utilizing the insta-firm technology to make sure that you get 4 times the support provided by the previous mattresses.
Benefits and drawbacks of Puffy Royal Mattress
Enhanced edge support.
Separates Motion transfer.
Controls temperature/ good for people who sleep hot.
Great for couples.
Promotes body contouring and pressure relief.
Good for a lot of sleep positions, however it is most ideal for side sleepers.
Good for heavier people.
Too pricey for people on a spending plan.
The mattress has a soft feel and you may not like it if you choose a firm mattress.
Sizes and Rates for Puffy Royal Mattress
The price for each mattress before any discount rates or promotions is as below:
Twin39 ″ X 75 ″ X 10 ″$ 1,645
Twin XL39 ″ X 80 ″ X 10 ″$ 1,745
Full54 ″ X 75 ″ X 10 ″$ 2,445
Queen60 ″ X 80 ″ X 10 ″$ 2,695
King76 ″ X 80 ″ X 10 ″$ 2,995
Cal King72 ″ X 84 ″ X 10 ″$ 2,995
Advantages of Puffy Mattresses
Premium materials
The materials used to create puffy mattresses such as the Cooling Cloud Foam, Climate Comfort foam, and Plush Dual Cloud foam are high and distinct quality.
Separate Movement transfer
The mattresses have thick layers of memory foam. They are ideal for couples because they do take care of motion transfer. You will not feel your partner's movements, especially when they're tossing, or getting in and out of bed.
Sleep cool innovation
The mattresses have the Climate Comfort foam layer which promotes coolness throughout the night. They never ever expand nor contract throughout extreme climate condition. The Cooling Cloud foam, which is developed with gel helps to get rid of heat from your body so that you can have undisrupted sleep up until early morning.
Pressure relief
The mattresses from Puffy brand name offer support to your back and your body in basic.
Stain resistant and device washable cover
The mattresses have a stain resistant cover, and you can comfortably treat or drink your preferred wine in bed without stressing over damaging your bed-in-a-box financial investment. In addition, the cover can easily be cleaned in a maker, unlike other bed-in-a-box mattresses.
CertiPURUS accredited foams
All the mattress foams are eco-friendly as they are CertiPUR-US ® licensed. They do not consist of ozone depleters, PBDEs, TDCPP, TCEP, formaldehyde, phthalates, Low VOC emissions, mercury, lead, or other heavy metals and chemicals that would otherwise be hazardous to your health.
Works on any base or surface
Your Puffy mattress will work well on a flat frame, box springs, slatted frames, or adjustable bed.
Policy Introduction: What You Need to Learn About Buying A Puffy Mattress.
Puffy have appealing customer support services that consist of:
Free shipping by means of FedEx, and it takes 1-5 company days to get your mattress.
Give the mattress 24 to 72 hours to broaden before you sleep on it.
Life-time guarantee.
Free 101-night sleep trial and money-back assurance.
If you don't like the mattress, Free returns and full refunds.
Funding is offered.
No salesperson.
No markups.
Donation Program: Donates a brand-new mattress to a children's shelter for each 10 remarks from followers.
Manufactured 100% in the U.S.A..
Vouchers are readily available.
Parting Shot!
Puffy mattresses are definitely among the very best mattresses online. Besides that, there are many types of mattresses online, and it is extremely simple to feel overloaded or confused, especially if you do not know the qualities to look for in a great and long lasting mattress.
With that in mind, this short article has actually provided you a sincere and in-depth puffy mattress review in order to assist you find out the one that is ideal for you or your liked one. We have actually highlighted the key functions, pros, cons, sizes, and the various costs of the different types of puffy quality mattresses.
Our company believe that this info will not just conserve you a great deal of time, however also assist to make sure that you have relaxing nights and undisturbed sleep. How Long For Puffy Mattress To Expand
Keep in mind that we may receive commissions when you click our links and make purchases. However, this does not impact our reviews and comparisons. We try our best to keep things fair and balanced, in order to help you make the best choice for you.