Our Zinus Mattress Review For 2020 – Does The Memory Foam Hold Up?
Transparency Disclosure– We may receive a referral fee (at no additional cost to the buyer) for products purchased through the links on our site or other applicable pages. To learn more, please read our full disclosure pagehere. We also encourage you to read about how we may research and/or test Products here.
What if a mattress could feel as good on your nose as it does on your back? What if you could buy it for hundreds less than you would spend in a retail store?
Zinus' entry-level bed includes green tea and charcoal in their memory foam to keep your mattress smelling fresh from when you open the box through years of comfortable sleep. The company is aimed at designing for every preference and keeping their choices budget-friendly.
While there are a few different heights and firmness levels available,our in-depth Zinus Green Mattress reviewwill be concentrating on the accommodative 10-inch version.
Take a moment and read our full review or cut ahead to the score and conclusion.
Who Do We Think Matches With Zinus Green Tea?
Budget-friendly shoppers– This mattress is priced to fit almost any budget and contains pressure-relieving memory materials that often cost hundreds more in retail stores.
Scent-sensitive sleepers– The infusion of green tea extract, charcoal, and castor seed oil help to offset the industrial "new mattress smell" associated with many bed-in-a-box options and keep it smelling fresh as you live and sleep on it.
Folks who share a bed– Not many materials can absorb motion quite like memory foam, and the 2.5 inches on the top of this all-foam construction should keep you sleeping peacefully even if you share the bed with a restless partner.
Possible Zinus Green Tea Complaints:
It may feel too warm.– Memory foam has a reputation for retaining heat, but the convoluted-base structure and the aerated second layer were designed to keep the air moving, which should keep most sleepers cooler than more traditional memory materials. But if you are someone who sleeps exceptionally hot, you may want to upgrade to the company's cooling gel addition.
Zinus Green Tea on Our Best Lists
BEST
Budget Mattress
BEST
Memory Foam
BEST
Under $1000
Brand Overview
Company Headquarters: San Leandro, California
Website: zinus.com
Phone: 1-800-613-1225
Mail: [email protected]
Zinus is an international company that originated in Seoul, South Korea under the direction of Youn Jae Lee. Mr. Lee is an entrepreneur who got his humble beginnings building tents in 1979. In 2004, the company launched its first bedding products and opened its first U.S. warehouse in 2010.
Presently, the products are designed in South Korea and manufactured in Xiamen, China. The company has grown to nine locations across six different countries globally. Zinus manufactures affordable and innovative mattresses, bed frames, and sofas that can be shipped directly to your door.
Construction: What's Inside Zinus Green Tea?
The cover is made of knitted Jacquard, which means there is an intricate design incorporated directly into the fabric's weave that is known to be stretchy and stable.
The 10-inch version of the bed has three layers.
The first layeris 2.5 inches of BioFoam®, a memory foam that conforms to your curves and offers pressure relief. It has also been infused with green tea extract, natural castor seed oil, and ActivCharcoal that helps wick away moisture, discourages bacterial growth, and gives the product a pleasant smell.
The second layercontains 2 inches of what the company calls Pressure Relief High-Density Foam with an aerated design to improve airflow through the mattress, which helps keep its temperature regulated. This layer provides additional pressure relief and forms a transition between the softer top layer and the base layer below.
The third layeris a 5.5-inch high-density base layer that is convoluted, a structure that looks like egg crate on top that allows air to flow more easily through the mattress and keep it cool. This layer is the bed's main source of support for the sleeper and gives the mattress its shape.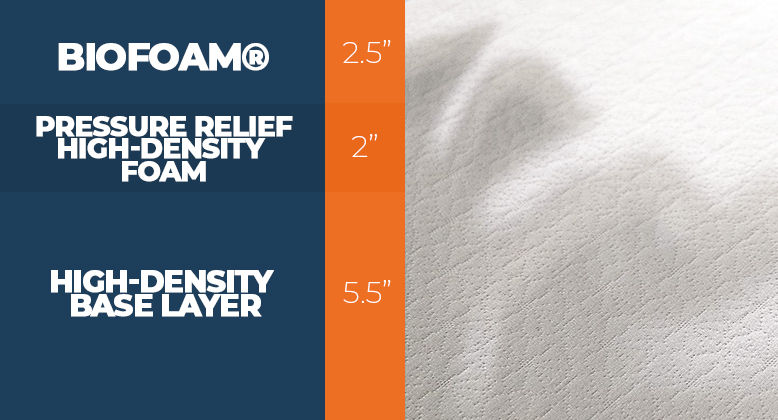 You can also purchase this mattress in a 6-inch, 8-inch, and 12-inch height, which will differ in dimension, specifications, and range from firmer to more plush.
First Impression: How Does It Feel?
This all-foam mattress arrives at your door compressed in a box, which can be easily transported to your room. All-foam beds typically require flat, non-flexible surfaces such as platforms or closely slatted frames, though this bed is adjustable base compatible. Zinus also manufactures its own bed frames that can be easily assembled in the comfort of your home.
After you unbox your new mattress, it will typically expand in 48 to 72 hours, though it may take up to a week in cooler climates. While memory foam is known for giving off that unpleasant "new mattress smell," you shouldn't have to worry about that with this bed. The infusion of green tea, castor seed oil, and charcoal in the foams reduces odors that some people may be more sensitive to.
Settling into this soft and scented bed, you should feel the memory foam conforming to the natural shape of your body while the comfort layer goes to work relieving pressure on the shoulders and hips.
Though memory materials have a tendency to retain heat, Zinus has offset these concerns by adding a base with a convoluted structure that promotes airflow, as does the second layer of aerated foams. Most people should experience a comfortably cozy sleep without overheating.
Firmness Scale: 6/10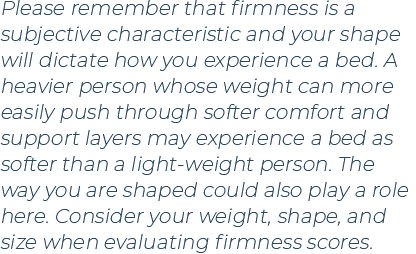 Pressure Relief
The memory materials in this mattress are designed to hold your body in a deep hug that contours to your whole body for all-over pressure relief.
When your body weight is concentrated in one area, the excess pressure can disrupt sleep and lead to aches and pains. One of the benefits of memory foam is that it does a good job of conforming to your body in multiple positions, alleviating pressure and preventing pain at its source.
Sleepers looking for extra pressure relief may opt for the 12-inch version that is slightly more plush with extra cushioning to help relieve pain and accommodate curvier body types.
With the slower-responding comfort layer, combination sleepers, who tend to change position a lot, may require slightly more effort to move around, but it will likely be worth it because the 10-inch version should sleep comfortably in multiple positions.
Support
As you sink into the first layer, you will experience the more supportive second transition layer as well as the firmer base that is designed to keep your spine aligned. While this medium-firm option should provide good support for a wide range of sleepers, heavier frames or those looking for a little extra support may want to consider the 6- or 8-inch firmer models.
If you have heavier weight concerns, note that the company has established a 250-pound weight limit in the Twin size and 500 for sizes Queen and larger.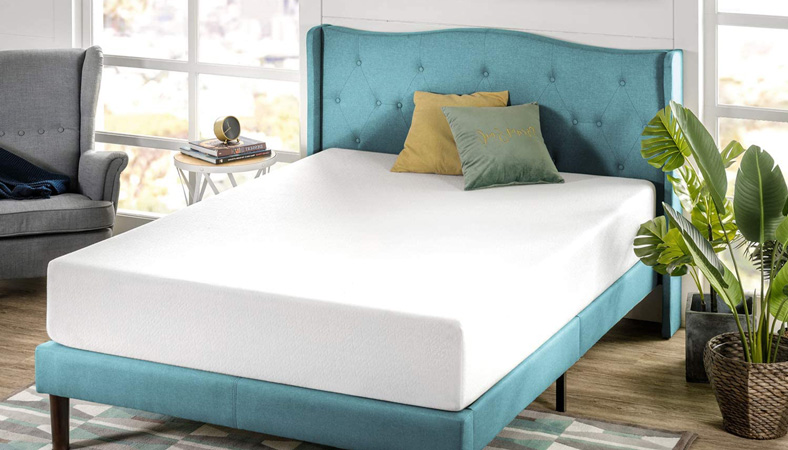 Preference-based Features
Multiple Options
This brand is all about designing beds for every preference, so they have lots of options that allow you to customize your sleep experience based on your needs. This bed is available in varying levels of thickness (which changes the firmness) and with an optional cooling gel layer.
Bed-in-a-box
This bed ships rolled up and compressed in a box. When it arrives, all you have to do is unroll your new mattress and wait for it to take shape. Removing middle-men saves the company money, which they pay forward by keeping prices low.
Great Motion Isolation
If you sleep light and you share a bed with a human or furry friend (or human friend who also happens to be furry), motion isolation is something that will likely be important. Memory foam beds do a good job of minimizing movement across the bed, so even if your bedmate is rolling around, you can still be off in blissful dreamland.
Adjustable Base Compatible
This low-maintenance mattress can be used with a box spring, platform bed frame, slatted base, bunkie board, or adjustable bed frame as long as it is on a flat surface.
Zinus Mattress Reviews
The Bottom Line.
Zinus offers a wide range of memory foam, innerspring, and hybrid mattresses – all available at exceptionally low price-points.
Available online and in brick-and-mortar stores nationwide.
Zinus beds feature memory foams infused with cooling materials that provide consistent body conforming and pressure relief.
Tuck readers get the lowest price on a Zinus mattress.
16,362 Verified Customer Experiences
19 Unique Review Sources
20 Hours of Lab Testing
4 Sleep Experts Consulted
Meet Our Testing Team

Jeremy


Jackson

Keith
General Overview
Multiple model, thickness, and firmness options
Price-points are significantly below-average
Wide online and brick-and-mortar availability
Below-average durability
Questionable edge support
'F' BBB rating and consumer complaints about sleep trial/return policy
Quick Summary
Zinus offersmemory foam,innerspring, andhybridmattresses. The company currently offers a total of six mattress models, all of which are available with multiple thickness options. The threememory foammattresses are as follows:
ThePressure Relief Green Tea Memory Foam Mattressis available in6″,8″,10″, and12″designs. The comfort system features a layer of memory foam; with the exception of the 6″ design, it also has a layer of high-density polyfoam. The support core is made from high-density polyfoam, and the cover is a jacquard knit.
TheCooling Gel Memory Foam Mattressis available in8″,10″,12″, and14″designs. The comfort system features a top layer of gel memory foam and a bottom layer of polyfoam, the support core is made with one to two layers of high-density polyfoam (depending on the thickness), and the cover is a jacquard knit.
ThePressure Relief Cloud Memory Foam Mattressis available in8″,10″, and12″designs. The comfort system features a top layer of 'Viscolatex' response foam, a middle layer of memory foam, and a bottom layer of polyfoam. The support core is constructed from high-density polyfoam, and the cover is a jacquard knit with one inch (1″) of microfiber padding.
The twoinnerspringmattresses currently sold by Zinus are as follows:
ThePressure Relief Pocketed iCoil Spring Mattressis available as a10″design. The comfort system features a top layer of standard polyfoam and a bottom layer of high-density polyfoam, and the support core is made with a top layer of high-density polyfoam and a pocketed coil base layer. The cover is a jacquard knit.
ThePressure Relief Euro Top iCoil Hybrid Mattressis an innerspring mattress that is available in12″and13″designs. The comfort system contains a top layer of standard polyfoam and a bottom layer of high-density polyfoam. The support core is constructed with a top layer of high-density polyfoam and a bottom layer of pocketed coils, and the cover is a jacquard knit with a half-inch (1/2″) of fiber padding.Lastly, Zinus offers onehybridmattress model:
TheCooling Hybrid Gel Foam Mattressis available in10″and12″designs. has a comfort system with a top layer of gel memory foam and a bottom layer of standard polyfoam. The support core features pocketed coils buffered with top and bottom layers of high-density polyfoam, and the cover is a jacquard knit.
Each bed is available in multiple thickness profiles, and height selection can also affect firmness. As a result, Zinus accommodates a wide range of sleepers in terms of weight, position, and comfort preferences.
The brand's all-foam beds provide consistent body conforming and pressure relief. They also isolate motion transfer well and do not make any noise. Innerspring and hybrid models from Zinus are more responsive, which makes them better for sex. They sleep cool, as well.
Zinus offers free shipping for all customers. Each bed is backed by a 100-night sleep trial and a 10-year warranty. Zinus beds have price-points that are considered very below-average.
Read on to learn about each of the current Zinus beds in terms of construction, pricing, and performance. This guide also includes an overview of the brand's shipping, return, and warranty policies, along with some similar mattress options.
How Long Does a Mattress Last ?
Perhaps you no longer feel lulled into sleep, or you bear the ironclad mattress to finally fall asleep every night. Regardless of your reason to ponder the lifespan of your mattress, it is imperative to know theaverage lifespantoo. As most of depending oninstinctsto upgrade or renew the mattress, it is the time you focused how long your rugged old mattress has been the culprit of yourill health.
Today, having a multi-purpose mattress is trendy, while mattress aficionados advocate mattresses shouldcater for sleepalone. The best feature of a mattress is how well it supports the body to enterdeep sleep.
Moreover, using a damaged mattress canaggravatebackachesand introduces new health issues due to poorsleep postureas wellsleep cycle.
Average Lifespan of a Mattress
How many years (5, 8, 10, 15 or 20) should a mattress is used until it becomes unfit for further use?While most mattresses boast10 yearsaccording to warranties, the health of the mattress is solely dependent on youruse. Studies show that each of us spends about2900 hoursor oddly8 yearsof our life on the mattress.
The primary cause ofback painin a variety of people owes it to theworn out mattressesthey use. Not only does updating boost your health, but it also helps to dissipate the annoyance ofsleepless nights.
According to extensive studies, the average lifespan of a standard mattress isunique. While theSleep Outfittersadvocate7 to 10 Yearsfor a mattress, Consumer reports advocate that people above 40 must not use the same mattress for more than7 years.A mattress lasts as long as it is used well. Oklahoma State University inferred that sleep cycle was considerably enhanced when a person changed from a neglected mattress to new mattressafter a decade.
If the diverse recommendations confuse you, refer to the in-depth table on how long does a mattress last:
Futon– 4 to 5 Years
Innerspring– 6 to 7 Years
Coil Spring– 8 years
Memory Foam-7 to 8 Years
Latex Mattress– 8 Years
Water Bed– 8 to 9 Years
Air Bed– 9 to 10 Years
An easy way to determine the average lifespan of your mattress is to crosscheck with themanufacturer's warranty. If you are dubious about the health of your mattress even after rummaging the paperwork, yourintuitionmust be the signal that you need a new mattress!
Symptoms of a Bad Mattress
It is not easy to determine if your mattress is ready to bedumped. Being anexpensive purchase, trashing a mattress requires appropriate planning, in addition torecognizingthe symptoms of an old mattress.
The best way to determine the lifespan of your mattress is by analyzing the following and its effectiveness towards sleep-
· Fatigue
The first symptom of sleeping on a beaten up mattress is themorning fatigue. Even though you've slept more than enough of your regular sleeping hours, you feeltired. Theworn out feelingowes it to thelack of deep sleepdue to theabsence ofcomfortduring slumber.
If you suffer from pains andspasmsin your body immediately after waking up, your mattress might be the culprit. As the mattresslacks softnessandmedium firmness, the sleeper experiences nbosupportduring sleep and wakes up withpricking pain.
· Reluctance to sleep on one's own bed
An effective way to determine if your mattress is apain than balmis by checking whether you prefer places other than your mattress to doze off. If you find comfort sleeping in your car, couch or best friend's mattress, it is time to replace your mattress. When you realize that you get abetter night's sleep everywhere other than your mattress, you need a new bedding!
Abad mattressis not easy to notice if it is damaged since long. The best way to diagnose your mattress is byinspecting theevennesson the surface of your mattress.
What are the dangers of using a bad mattress?
Do you wash your mattress equal to the times you wash your clothes? How many times do you wash your mattress?Perhaps you are one of the many that rarely cleans their mattresses. Moving on, it is no surprise that none of us genuinelycaresorvaluesour mattress.
Why do you need to change your mattress?If you wear your clothes for years at a stretch without washing them, would you be healthy?
Sleeping on aneglected mattresscannot only give you astiff neckthe next day, but alsosores,rashesorallergies!
People who use damaged mattresses wake up with cramps, drowsiness and body pains. Mattresses are often replenishedlong afterit becomes unusable. These risks pose adirect threatto thephysicalandmental healthof a person.
In addition, if you work from your mattress, the same is why;sweatmust becakedon the foam. You mustperiodicallyrotate, dust and clean the mattress to avoid catchinginfections!
How to Check if you need a new Mattress
If you doubt your mattress's health, you mustweighandcomparethe measurement with itsinitialweight. Often, theshocking weight differenceis sufficient to enlighten how pivotalcleaningandmaintenanceof a mattress is.
Essential factors to determine if you need to buy a new mattress is by inferring-
· Age of your Mattress
Every manufacturer lists the warranty oryear limitfor every mattress. Mostly embroidered as a tag on the blanket, theage limitof the mattress is not always the best answer. If your mattress does not have such a tag, contact your manufacturer and crosscheck with the model number to determine the lifespan of your mattress.
Oftentimes sleep specialists give admonition about using mattresses are older than10 years! Depending on the type of mattress you use, the age limit varies.
· Quality of your Mattress
The second most important characteristic of a mattress itsmake. If you have alow-grade mattressmade with cheap foams and springs, it is paradoxical to expect longevity of the mattress, let alone agood night's sleep.
Theworthof your foam determines your health status as well. Moreover, buying acheap mattresswill hike your medical bills while an expensive mattress will be alifelong investment.
· Duration of usage
Synonymous with the age of the mattress, usage of the mattress alsodiffers subjectively. In fact, depending on thehoursyou spend on the mattress, its lifespan varies. The mattress in your guest room is used sparingly, in comparison with the one in master bedroom. Noting thedifferencebetween the two will make you understand the effect of sleep duration on a bedding.
Additionally, depending on the kind of use, for example, if you have a routine of watching TV from the bed, then, surely, your mattress counts double the time you spend sleeping on it. In such cases, the lifespan of the mattress is,reduced by half.
· Weight of the users
Yet another important factor that adversely affects the health of your mattress is the weight of the sleepers. Depending on your body weight, select a mattress that canconformorsupportyour body weight rather than hinder it.
Not all mattresses are built to last a decade when used by hefty people. Always remember to pick your mattress respective to yourphysiqueanduse. If you do not, the mattress will break and wear out easily, not to forget newer somnipathies!
· Maintenance provided
There are numerous ways to care for a mattress and keep it healthy throughout the use. Provided you aredisciplinedabouthowandwhenyou occupy the mattress, the mattress lasts longer.
Exemplifying, if you use abed coverfor the mattress, you add a quarter decade to its life. Depending on whether you let yourkidsuse the mattress as atrampoline, the age of the mattress differs.
· Dust mites and Stains
If you are irregular about spring cleaning your mattress, there is a high chance that the mattress is caked withdead cells, sweat, dirtand ready fordust mites. The same is the primal cause ofallergiesandskin infections. If you do not clean the mattress regularly, the same can lead to its speedy damage too!
On an average, mattresses must bevacuumed6-12timesper year!
· Noisy Mattress
Another notable way to determine if you need a new mattress is by observing how well the mattress functions. If your mattress makesstrange noisesevery time you occupy it or move around, then you need new bedding!
Creakymattresses are not only annoying to its user, but a signal of how close your mattress is towards dying out! If thesqueakingis chronic, it is a red sign that it can break at any time. Often, mattresses also creak when thespringwithin the foam is damaged.
· Sagging or Sleep Impression
Lastly, an easy way to judge your mattress is by waking up and checking how well the mattress haspreservedtheimpressionof your body. Overtime, beddings tend tosagor developuneven lumpson the sleeping surface. Not only is thisirking, it disturbs thequality of sleeptoo.
Ways to Keep your Mattress Clean
When you invest in a mattress worth a few grand, you must alsomaintainitadequately. Keeping a mattress is clean is an easy habit of picking up, provided youwantto make your mattress last. The first step is to determinehow many times a year can you clean the mattress.
The two essential types of cleaning that a mattress requires arevacuumingandsun drying.Washingis not recommended and it is best to mark aroutinefor cleaning your bedding. Make sure to change your bedcover every few days and vacuum the mattress soon after. Overall cleanliness is necessary to keep the allergens and sleep-spoilers away.
If you ownsingle sided bedding, rotate it in anend-to-endfashion. You can reverse the foot end with the head end and vice-versa for each rotating session. Fordouble-sided bedding,invertthe mattress and repeat the sameonce every two weeksif your mattress is brandnew.
How to increase the lifespan of a mattress
It is true that a brand new mattress makes you feel like it will always be a dream sleep. Although it takes a few days for the mattress to loosen up into its original outline, caring for a mattress starts from the first night!
Dos and Don'ts of using a mattress to make it last longer-
Do notrollyour mattress at any point of cleaning. This tends todeformits evenness and may even make the bedding lumpy or uneven at places. The same applies avoidingbendingthe mattress at angles more than20 0 .
When shifting or going for vacation,how do youstoreyour mattress? If you're not going to use it for –>
How Long Does A Tempurpedic Mattress Last?
Last Updated on April 3rd, 2020
Since they were first introduced, Tempur-Pedic mattresses have proved to be a blessing to mankind. These mattresses are known for comfort and longevity.
The minute you sleep on any of them, you feel utterly relaxed and comfortable.
However, the question that's probably weighing heavy on your mind right now is, how long does a Tempurpedic mattress last?
Stick around to find out.
Tempur-Pedic Mattress Reviews
Tempur-Pedic is a part of Tempur-Sealy International and is a manufacturer of mattresses. As a brand, they offer various mattress models. The features of these mattress models have been provided below.
This TEMPUR-Adapt mattress is available in two different designs– the all-foam adapt, and the hybrid adapt. The all-foam adapt mattress is built with a high-density polyfoam support core, while the hybrid variant has a memory foam comfort layer. It also features pocketed coils support core.
The two designs have dual-layer SmartClimate cooling covers. In terms of firmness, they are both considered to be at the medium level.
Motion isolation is a key strength of this mattress. They absorb and minimize transfer significantly. They are great in improving spinal alignment, especially for side sleepers. Meanwhile, they also confirm for targeted relief of pain and pressure.
The ProAdapt is a Tempur-Pedic mattress that is sold either as an all-foam or hybrid bed. In terms of firmness settings, the all-foam ProAdapt bed can be soft (3), medium (5) or firm (7).
The bed is constructed with a high-density support core as well as a memory foam comfort layer. All-foam ProAdapt beds are very good at minimizing motion transfer and reduce night-time disruptions.
On the other hand, the hybrid ProAdapt uses pocketed coils instead of a foam support core and are offered with medium firmness. They offer close conforming and minimal sagging. However, both versions feature a dual-layer SmartClimate cooling cover. This makes the bed temperature comfortable for sleeping.
The TEMPUR-breeze° is Tempur-Pedic's latest model. The ProBreeze° comes in a hybrid or all-foam mattress. The all-foam bed is made with a memory foam comfort layer and high-density support core. The hybrid mattress has pocketed coils. The firmness level of both mattresses is medium.
Also, The TEMPUR-LUXEbreeze° comes in soft, medium and firm settings. It is an all foam bed. All TEMPUR-breeze° mattresses come with dual-layer SmartClimate covers which are padded using a layer of the phase-change material.
All Tempur-Pedic mattresses are made from high-quality memory foams. These foams usually offer more longevity than other foams. Because of this, Tempur-Pedic mattresses typically last longer than the average lifespan of different beds.
Besides, their all-foam mattress models offer exceptional motion isolation, pain and pleasure relief that is above average, and consistent conforming. Meanwhile, the hybrid versions are known to provide strong edge support, impressive temperature neutrality, and great motion isolation.
Pros
Durability
No noise
Multiple thickness, composition and firmness options
Great motion isolation
Impressive Business Bureau rating
Exceptional Pain and pressure relief
Cons
Very pricey
Difficult to move or rotate
Sleep trial requires a 30-night break-in period
What Type of Sleeper can use a Tempur-Pedic Mattress?
People tend to have different experiences on different beds. The most important thing to look out for in a mattress is the comfort and spinal support that it provides to the sleeper.
When it comes to how ideal a Tempur-Pedic mattress is for a person, a lot is dependent on factors like weight, firmness preference, and sleeping posture.
For the most versatility even in terms of firmness settings, the ProAdapt and TEMPUR-breeze° models are the best pick. Sleepers that weigh between 130 and 230 pounds will do well to buy any of the two Adapt mattresses. The medium firmness setting will be perfect for them.
The LuxeAdapt will work for lightweight and side sleepers because of its 'soft' setting. Back or stomach sleepers and Heavy people too can use The LuxeAdapt mattress if its firmness is set to 'firm' (7).
Besides, Tempur-Pedic mattresses are a good option for people with a relatively large shopping budget. People who tend to wake easily after hearing a noise or perceiving movements will find this bed more sleep aiding. Also, if you're looking for a mattress that has thicker-than-average profiles, Tempur-Pedic mattresses are a good choice.
All You Need to Know About Tempur-Pedic Mattresses
Construction and Firmness
Like you probably already guessed, Tempur-Pedic mattresses are constructed with Tempur material. This is a sort of high-density memory foam like the ones found in foam pillows. The producers of these mattresses make use of a layered construction technique.
Usually, varied Tempur foams are used to create the first two layers of the mattress to give different comfort options. The rest of the mattress is then constructed with two to three more layers of varying foam quality and thickness.
The Tempur material used is what makes it easy for the bed to conform to the contours and body shape of the sleeper. It also helps to distribute the sleeper's weight evenly, and as such, sleepers do not tend to wake up with body pains.
The prices of Tempur-Pedic mattresses differ depending on the particular model and size. These mattresses are a little on the pricey side, especially when compared to the prices of other standard beds.
However, they are worth the cost when you consider their advantages. Meanwhile, Tempur-Pedic mattresses come in all the different standard mattress sizes.
How to Clean a Tempur-Pedic Mattress Topper?
Tempur Pedic mattresses usually come with an anti-microbial removable mattress cover. Whenever you're ready to clean it, all you need do is unzip the cover and wash it in cold water.
Also, pour a sizeable quantity of mild detergent in your washing machine. Ensure that the cover is washed on the gentle cycle so that the fabric's integrity is maintained and retained. Afterward, you can go ahead to tumble dry the cover or better still, hang it to dry.
You can buy any of the mattresses on the company's website, though they often remove or add to their selection there. You can get the mattresses through Amazon.com as well.
They can also be obtained from other third-party retailers. The Tempur-Pedic company claim that their beds are available through 6,390 brick-and-mortar companies and from different retail locations all around the U.S, Virgin Islands, District of Columbia, and Puerto Rico. You'll get a detailed retailer directory from the company's site.
To all mattress orders within the contiguous U.S, the company offers free white glove delivery. Also, they give a 90-night sleep trial as well as a 10-year warranty to their buyers.
How Long Does a TempurPedic Mattress typically last?
Before the Tempur-Pedic mattress company started using Tempur for their mattresses, Tempur was initially being utilized by NASA to build safe aircraft seats for their passengers.
They were known to be suitable for lift-off and for distributing weight evenly. Soon after Tempur was discovered to provide excellent support for sleeping, Tempur-Pedic began making mattresses using this material. Since then, the company started to grow and gain popularity.
As the brand continues to gain more popularity, people are curious about whether or not their mattresses are really worth the price, and if they last as long as they're said to last.
Actually, the Brand's mattresses are the most recommended in America, and a large percentage of reviews report satisfaction with the beds. In fact, the beds are said to help in eliminating or reducing pains at various areas of the body. As far as the lifespan of the mattresses is concerned, it is also reported that they last for a significantly long time.
The tempurpedic mattress lifespan depends a lot on how it is used and maintained. However, Tempur-Pedic Mattresses are made with high-quality materials and high-density memory foams. As such, the mattresses are capable of lasting for a period of 7 to 8 years. They are more durable and functional than other kinds of mattresses. People who own this kind of bedding are known to have little, or no complaints about the bed sagging.
Even so, the mattresses must be maintained and used exclusively for what it is made for if it will be as durable as it is said to be. You are not expected to sit on one side if the bed for a lengthy amount of time. Also, you need to rotate the mattress regularly so that the bed can wear evenly.
Besides, the bed is not made for, and cannot withstand the pressure of kids jumping on it. Therefore, ensure that your kids do not turn the bed into their playground. Keep the mattress away from direct sunlight as this can have adverse effects on the bed too. The bed is made for sleeping and using it for anything other than that can reduce its lifespan or cause it to deteriorate quickly.
Even with all the up-sides of these mattresses, for many customers, their price point is a huge discouragement. Compared to competitors, Tempur-Pedic mattresses are believed to be overpriced. However, the company upgrade the quality of their products yearly, and this may be why the price remains on the high.
Bottom line
How long does Tempurpedic mattress last? — Between 7 to 8 years. Clearly, the pros of Tempur-Pedic mattresses outweighs the cons. So if you're thinking of buying one, why not?
Now that you're sure about the longevity period and functionality of the mattress why not try it out? Like many other buyers, you're probably going to love it too.
Zinus Mattress Review
Jake Comfort | Updated: March 3, 2020
Choosing a new mattress for your home is an exciting time. If you've been sleeping on the same mattress or the past few years, it might be time for an upgrade. Traditional coil mattresses are cheap, but they're nowhere near as nice as foam or memory foam mattresses. In the past, foam mattresses have been too expensive for many consumers to afford.
E-commerce is changing the game – you can now find a range of cheap foam mattress options online without having to worry about breaking the bank. One of the newcomers to this industry is Zinus Mattress. This company knows what it takes to bring affordable foam mattresses to the public. They have a variety of different models that help people at almost any price point.
For the sake of this article, we'll be taking a look at one of their most prominent mattresses. The most popular mattress that Zinus Mattress produces is the Green Tea Memory Foam Mattress. This mattress is simple but effective – it provides you the basics that you're looking for in a foam mattress. It also happens to be the most affordable mattress on the market.
In this review, we'll be taking a look at the Zinus Mattress Green Tea Memory Foam Mattress to provide you with all the information you need to decide if you want to buy it. We understand how hard it can be to choose a mattress – that's why we have put serious effort into compiling all the information you need. If you're in the market for a new mattress, make sure to check out all the information below!
Table of Contents
Construction
The way a mattress is constructed can tell you a lot about how it will feel. With the Green Tea Memory Foam Mattress, Zinus Mattress provides their customers with four different options. They have four different thickness levels – this helps customers better estimate the exact type of mattress they're looking for. This is a great benefit that you might not find with many other mattress producers – many modern mattress companies have a one-size-fits-all approach to their mattress designs.
In this section, we're going to take a look at the exact way the mattress is constructed. This Green Tea Memory Foam mattress boasts a pretty simple design, but it changes depending on the size you order.
Foam Layers
The Green Tea Memory Foam Mattress from Zinus Mattress uses a few different foams in its construction. There are no coils or hybrid options in this mattress design. Memory foam and support foam make up the entire mattress. Memory foam provides the comfort, while the support foam provides the base you need to keep the mattress firm. Below we'll take a look at the exact layer design of each size of mattress.
6" Mattress
Top Layer – 1" Memory Foam
Base Layer – 5" Dense Support Foam
8" Mattress
Top Layer – 2" Memory Foam
Middle Layer – 2" Pressure Relief Density Foam
Base Layer – 4" Dense Support Foam
10" Mattress
Top Layer – 2.5" Memory Foam
Middle Layer – 2" Pressure Relief Density Foam
Base Layer – 5.5" Dense Support Foam
12" Mattress
Top Layer – 3" Memory Foam
Middle Layer – 2" Pressure Relief Density Foam
Second Middle Layer – 3.5" High Density Foam
Base Layer – 3.5" Dense Support Foam
As you can see, there is quite a bit of variation in each mattress depending on the thickness level that you choose. Regardless, all of the option are a relatively basic design. Because of the price point, you won't find as much complexity in these designs as you would with more high-end mattress products.
Cover
The outside cover of a mattress has the potential to compliment a mattress, or destroy it. If a mattress cover is too thick, it will ruin the top layer texture of the mattress and retain too much heat. On the other hand, it it's too thin, it will end up not providing enough protection or support for the mattress.
The Green Tea Memory Foam Mattress from Zinus Mattress is made from a thin Kitted Jacquard. It does a great job of adding support without adding to much additional heat retention issues.
Firmness, Feel, and Support
If you're trying to buy a memory foam mattress, you're probably very concerned with the way that the mattress feels. It can be hard to find a mattress that suits you perfectly, but a comfortable mattress isn't too hard to attain if you know what you're looking for. The memory foam on the Zinus Mattress provides the sensation that you're sleeping on a cloud. You'll feel contour and hug around your body as you lay down on the mattress.
The exact support and comfort that you'll experience will depend on the mattress that you purchase. The thinnest mattress variation provides the least amount of comfort – there is only 1" of memory foam between you and the support layer. While the thicker mattresses have a lot of added foam for additional comfort. This is by no means as good of a mattress as Tempurpedic or another high-end brand.
In terms of support, it will depend on the mattress you purchase. The thicker the mattress, the more support you will feel. None achieve a level of above 7.5/10, so this isn't a great mattress for those who weigh over 230 lbs.
The primary downside to the Green Team Memory Foam Mattress from Zinus Mattress is heat retention. Foam mattresses can often retain a lot of heat, which is bad for people who need a mattress with breathability. Because there are no coils or gaps, the foam in the mattress does not breathe as well as other options. It's important to keep this in mind if heat retention is an issue for you as a sleeper.
Changes Over the Years
By all accounts, Zinus is a relatively new entrant to the mattress game – they haven't had much time to develop on their current models. The mattress we are reviewing has not undergone any massive changes over the past few months, but Zinus Mattress does have other mattress models with improvements and alterations – though these tend to cost more.
If you're looking for something a bit different, or you want to see the way they have evolved via other mattress models, make sure to check out some of the other mattress options on their site.
Sinkage
For the sake of sinkage tests, we'll take a look at the 10" model of the mattress. The amount of sinkage a mattress has determines how far you will fall into the mattress when you lie on it.
If you're lying on your back, you will find around 2.5" of sinkage. If you're lying on your side, you will find about 3.5" of sinkage. This is assuming you weigh around 150 lbs. This level of sinkage is quite high, especially if you're someone who is overweight.
Pricing
One of the best parts about the Zinus Mattress is how cheap it is. You won't have to worry about breaking the bank if you want to purchase their luxury mattresses. The price of the mattress will depend on the thickness that your purchase. The thinner the mattress is, the cheaper it will be.
Zinus Mattress is not exactly a luxury mattress – you won't receive the same features and benefits you might find with high-end mattresses. This company is seen as a cheap entrance point to the foam mattress industry – fortunately, it is very cheap. Because Zinus has four different mattress choices for the Green Tea Memory Foam Mattress, we've focused on their 10" for the sake of these price points. As mentioned previously, prices will vary depending on the thickness variation that you choose. Below is a table of the different mattress sizes and their price points:
| | |
| --- | --- |
| Twin | $160 |
| Full | $211 |
| Queen | $244 |
| King | $317 |
Other Information
It's easy to overlook the additional benefits or features included with a mattress that you purchase. If you're someone who is only concerned with the look and feel of a mattress, you might find that you run into problems long after your purchase. For example, you never want to purchase a mattress that doesn't come with a warranty. A mattress is a long-term investment and should be treated as such – you need to put yourself in a position where you're exposed to little risk.
Many modern mattress companies have to differentiate themselves from competitors by offering added benefits. In this section of our review, we're going to take a look at all the additional benefits you'll receive alongside your Zinus Mattress. It's important to take these into consideration if you're thinking of purchasing one of their mattresses – without understanding these features and benefits, you won't be able to get the most out of your mattress.
Shipping
Shipping a mattress can be extremely expensive, so you want to make sure you can reduce this cost as much as possible if you're going to order a mattress online. Finding a cheap and comfortable mattress can be great, but if you have to pay hundreds of dollars to ship it you might find other mattresses are cheaper.
But you don't have to worry about this if you purchase a mattress from Zinus Mattress. They provide completely free shipping with the purchase of any mattress. They use FedEx to deliver all of their packages – you can be certain your shipment will be handled with the professionalism of a large, multi-national shipping company.
Warranty
This is the most crucial component of any mattress purchase – you need to be certain that the company you're working with understands how significant your investment is. You don't want to run into any problems that can't be fixed.
With Zinus Mattress, you'll be entitled to a full, 10-year warranty that ensures you can receive a replacement mattress should you run into any problems. This is a huge benefit if you're looking to make sure you don't need to pay for a mattress any time in the next decade. This warranty length is around the industry standard, though some do offer longer warranties to their customers.
100-Night Trial
Ordering a mattress online can seem counter-intuitive – how can you know you want a mattress until you sleep on it? Fortunately, with Zinus Mattress you receive a 100-night trial to help you fully experience the mattress. You have to pay for the mattress upfront, but you don't like it you can return it for full refund within this timeframe.
100 nights is a fairly decent trial period when compared to the industry standard. Many top mattress producers only offer a 30-day trial period. With Zinus, you have over three months to decide if you want the mattress or not.
Support Site
One unique feature that Zinus offers its customers is a fully functioning support site. If you head to their website, you can find their support site and use it to view your orders, register your product, and more. They even have an FAQ section that you can use to fix small problems or find common solutions. This is a great feature that you don't see with a lot of other mattress producers.
Should I Buy the Zinus Mattress?
If you're wondering whether or not you should purchase the new Zinus Mattress, it's important to weigh the pros and cons. If you're looking for something cheap, this is truly one of the most affordable mattresses on the market. The fact that it comes with a variety of different thickness levels is also an added benefit.
The major downside with this mattress is the heat retention caused by the lack of coils or hybrid material. This being said, for the price point, it's hard to find much better. With a long warranty and trial period, as well as free shipping, the Green Tea Memory Foam Mattress from Zinus Mattress is an overall good deal.
If you're in the market for a new mattress, but you don't think the Zinus Mattress is right for you, we have plenty of other reviews listed on our site. Make sure to check out all the information provided on our webpage – we're a great resource if you're in the final stages of choosing a new mattress.
Alternatives to Zinus Mattress
It's easy to see why Zinus is so popular. However, there are some options you should consider before you pull the trigger and order a Zinus. Each of these alternative choices gets you all of the benefits from a Zinus mattress, but come with additional features or discounts to make them even better. The best alternatives to Zinus are…
Helix
Helix mattresses are one of the best options for an alternative to Zinus. Whereas Zinus tries to produce a mattress that will appeal to everyone, Helix produces a unique mattress for everyone.
When you order a mattress from Helix, you'll take a sleep survey. Helix takes the results of that survey and uses them to help you find the best option for your needs. They can even take two surveys and find a compromise option or create a split bed. As a result, Helix is an especially good alternative to Zinus for couples and people that want very specific qualities in their mattress.