How long does a mattress last?
Mattresses usually have a long enough lifespan to ensure you get plenty of use out of them before they must be replaced. Some may need a replacement sooner than others but, if it's of a high-quality material, you should expect a lifespan of between 7 and 10 years. The right cleaning and can ensure it lives longer, lasting much more than ten years. If it's starting to feel a little worn-out after ten years, it's time for a replacement.
Average lifespan based on two of the most trusted third party sites:
According to the mattress research experts at sleeplikethedead.com here is the average lifespan per mattress type:
And according to the mattress research experts at tuck.com here is the average lifespan per mattress type:
Based on the research from both Sleeplikethedead and Tuck,AirBeds typically have the longest lifespan, but are quickly followed by Latex and Memory Foam.
*Please note that the AirBeds being discussed are high end mattresses made by the likes of Natural Form, Sleep Number etc.. and not your typical blow up camping style mattress.
What influences the lifespan of your mattress?
Use frequency:If it's used less frequently, it will last long, to put it simply. A mattress in a less-used guest room will last much longer than the mattress you sleep on every night.
Body weight:The larger your body, the more pressure on the mattress. Similarly, the smaller your body, the less compression. More pressure causes a mattress to wear out sooner, so the lighter the body, the longer the lifespan.
Activity and use:Beyond sleeping on it, the more you use it, the more it wears down. This includes putting heavy or sharp objects on it or eating and drinking on the bed. Spillages and other damage can also weaken a mattress
Cleaning:This can improve your mattress lifespan as it can not only get rid of bacteria but also dust mites and insects that cause damage.
Signs it's time to change your mattress
The Valley In The Middle:Also known as sagging, a dip, a dent, or a mattress hammock. If it feels like there's a deepening valley in the center, the mattress has worn down.
Your bed hurts your back:It might not be immediately noticeable when you lie down, but if you wake up with back pain or experience severe discomfort when lying down for long periods of time, your mattress might be the issue. See if the pain is in the same place every time or if it mainly happens after using the bed to ensure the mattress is at fault. This happens because the mattress is wearing down, and no longer offering the same level of support that you once got from it.
New noises:A bed shouldn't be too noisy, regardless of how much you toss and turn. The sounds of grinding metal, squeaking springs, and even feeling those springs through the mattress, is a good indication that the foundation has weakened. This can impact sleeping, your posture, and cause muscle pain.
To learn more read our article on
14 Tell-tale Signs You Need a New Mattress
Final thoughts
If you want to make sure you get the most out of your mattress, then upkeep and cleaning is essential. Furthermore, know the signs of wearing down that can give you an indication it's time for a change. Keep in mind when you bought the mattress and expect to replace it in 7-10 years' time. It's not worth letting it degrade too much, as it will impact your sleep, which can have all kinds of negative consequences for your health.
How long does a mattress last?
My mattress is getting on in years. In fact, Bill Clinton was in his first term as president when I last bought a new one. Is it time for me to replace my mattress?
You've probably logged more than 30,000 hours in your bed, and your mattress has likely become less comfortable and less supportive. But there's no set formula for determining when you need to replace a mattress. It might be time to buy one if:
•You regularly wake up tired or achy—you make Oscar the Grouch seem as cheerful as Mr. Rogers.
•You tend to sleep better away from home, than in your own bed. Are you planning unnecessary business trips or looking for any reason to go on a weekend getaway?
•Your mattress looks or feels saggy or lumpy—it needs go on the Abs Diet.
•You're over age 40 and your mattress is five to seven years old. Remember, your body tolerates less pressure as it ages. As if getting older weren't tough enough . . .
A mattress can be an expensive investment—we've tested models that cost in excess of $4,000—but if you treat your new one properly, it could easily last 10 years. Our advice:
•Don't let your kids use your bed as a trampoline.
•Rotate your mattress. If you have a single-sided mattress (you sleep on only one side), rotate the mattress from end to end—that is, move the mattress 180 degrees. The foot of the mattress is now at the head, and vice versa.
If you have a double-sided mattress, rotate it as above, then turn it over so the bottom is now on top.
Perform these steps every two weeks for the first three months you have your new mattress, then once every two months thereafter. You'll find illustrated instructions on a number of different Web sites.
• Use a bed frame that has a center support.
Essential information:See "How to buy a mattress without losing sleep" for detailed advice on finding the perfect bed. And watch our video buying guide.
When Should I Replace My Mattress?
Sleep is a requirement every single day. Trying to function without sleep is like trying to drive a car with no gas in the tank. You won't be going very far. So, here's the million-dollar question: when was the last time you replaced your mattress?
Think about it for a second… has it been a few years. maybe ten years? Are you still sleeping on that hand-me-down from your parents? If getting out of bed every day feels like you're muscling your way out of the blob from summer camp, it's probably time to get a new mattress.
How Long Does a Mattress Last?
The truth is that the life of your mattress, like any major purchase, depends on a few things: the quality of the item you purchased, how well you take care of and how it's maintained. Most resources say a mattress should last you from seven to ten years. Many mattress companies claim there's a one-size-fits-all number of years a mattress should last, but that's just not the case.
Psst! Your mattress will last longer if you take care of it. Some easy ways to extend the life of your mattress include:
Using (and washing) a mattress protector. A mattress protector provides a barrier between your mattress and life, so that over time, spills, dust and dirt don't ruin your favorite mattress.
Clean your mattress regularly. Even if you use a mattress protector, dust, dirt and skin cells build up in your mattress. About once a season (four times a year), you should vacuum your mattress with an attachment. That will get any of the yucky stuff living deep down in your mattress.
Questions to Ask Yourself When Considering a New Mattress
When you're deciding whether or not it's time to replace your mattress, ask yourself these questions.
Are you Waking up Feeling Tired, Stiff or in Pain?
A mattress should be helping your body recover and refresh during the night. If you're tossing and turning, aren't able to fall asleep easily or are waking up feeling like you've been hit by a ton of bricks, you might not be sleeping on the right mattress for you, or it's time to replace. The Leesa mattress is built with premium materials for a better night's sleep. Three layers of high-quality foam, including a cooling premium top layer, were designed for full-body recovery leaving you refreshed to crush the day ahead. As you age, your body requires different levels of support to areas that are prone to creaking, like back, joints and neck. Maintaining a supportive mattress can make a real impact on how you feel every day, significantly improving your quality of life.
Is Your Mattress Lumpy or Uneven?
If it looks like a human-sized moon crater on your bed in the morning or you're being poked and prodded by springs, it's time to upgrade. A mattress surface should be smooth and consistent, without any noticeable dips, or worse, trenches. Haven't bought a mattress in eight to ten years? You're missing out on the technology advances made in the past decade.
Are You and Your Partner Waking Each Other up During the Night?
If you're blaming it on fighting over the covers, you might want to check your mattress. Today's memory foam and hybrid mattresses are made with materials that allow you and your partner to sleep quietly, turn and get out of bed without disturbing each other. The Leesa Mattress' three-layer construction gives you all the support you both need for a refreshing night's sleep, no matter how you sleep. And, we deliver it right to your front door.
The Bed-in-a-Box: Better Rest, Delivered
No one likes hauling a new mattress upstairs, or paying expensive delivery fees, and we definitely don't. The Leesa Mattress comes directly to your front door in three to ten days after your order. Your Leesa Mattress is made to order and never sits around in a showroom or warehouse. The bonus is your time isn't wasted by tooling around the retail mattress store, you don't have to deal with the cost of the middle man and the warehouse. Once you place your order, your mattress is made in as little as two to four days then shipped to your front door. This allows us to pass the savings along to you. You get a high-quality mattress for a fraction of the cost.
How Long Does a Mattress Last
How do you know if you need a new mattress? If you're waking up tired and sore, it may be time to replace. Find out how long pillow top, memory foam, hybird, latex and more can last.
How Long Should a Mattress Last?
The average mattress lasts around 7-10 years depending on the type. Read on to learn the lifespan of each kind of mattress type.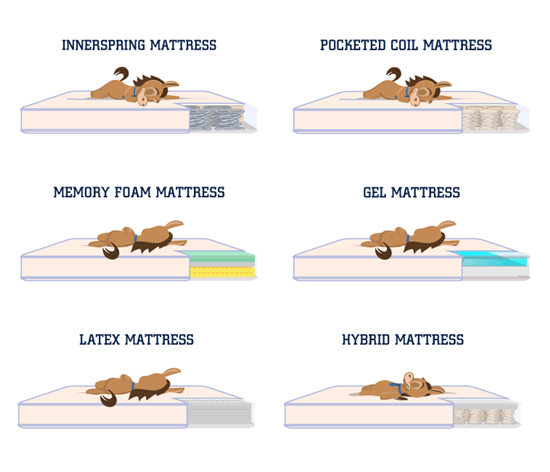 © CreditDonkey
Innerspring Mattress
These typically have a lifespan of8 years. A continuous coil mattress tends to last longer, as its single coil is less likely to break.
Memory Foam
Memory foam mattresses contain an extra layer of foam for added comfort. With proper care, they can last for10-15 yearsdepending on the density of the foam.
Gel Memory Foam
This type of mattress helps to dissipate the heat throughout the bed and keep the mattress cooler at night. It also has a lifespan of10-15 years.
Latex
A natural latex mattress lastsup to 15 yearsdue to its elasticity. If the top layer wears out, you can replace it rather than purchase a new mattress. Latex mattresses are also the only mattresses that are naturally resistant to dust mites, making them particularly good for people with allergies or asthma.
Hybrid
The lifespan of a hybrid mattress depends on its material. Typically, a hybrid mattress combines inner coils with foam and has a lifespan of8-10 years.
Waterbed
Waterbeds are made with a vinyl covering that can puncture or tear. With proper care, a waterbed can last between8-10 years.
Pillow Top
The soft top of a pillow top mattress shortens its longevity. With proper care and rotating, it can often last about7 years.
Some mattresses, like memory foams and latex, can last up to 15 years, much longer than the average innerspring. In the end, it's up to you how long your mattress lasts. If you're still getting a good night's sleep, you might not need to make a change.
How to Extend the Life of Your Mattress
Mattresses can last longer than expected depending on their use and care. Here are some preventative measures to extend the life of your mattress.
Use a secure base
Without the right support, your mattress will sag prematurely. Use a proper foundation, such as a box spring, wooden slats, or a metal base.
But consider to purchasing a new base if yours:
No longer retains its shape
Has dents or sagging areas
Squeaks when you move around on the bed
Get a Mattress Protector
Dust, sweat, body oils, and lotion seep into the mattress and wear down its fibers.
Clean Your Mattress
Ideally, your mattress should be cleaned twice a year. Sprinkle it with baking soda and vacuum after 30 minutes.
Wash Your Sheets
Wash your sheets weekly to eliminate dust, body oils, and debris that collect. This will prevent the debris from leaking into the mattress.
Rotate Your Mattress
Overuse of the area that supports your body will cause your mattress to feel less comfortable. Rotating it every 3 months can eliminate wear and tear in one area.
Don't Jump on the Bed
This can cause wear and tear. For certain types of mattresses, you also risk damaging the springs.
Don't Sleep with Your Pets
Your pet's oils, dander, and urine can leak onto the mattress.
Prevent Bed Bugs
Always check your luggage and clothing for bed bugs when traveling. Getting bed bugs may require buying a new mattress altogether.
How to Know if You Need a New Mattress
Here are some telltale signs that your mattress may be past its prime:
You wake up feeling older than your age- One of the biggest signs that it's time to replace your mattress is when you consistently get a poor night's sleep. Pay attention to how often you feel worse upon waking than you do when going to bed.
You feel like the coils poke you in your sleep- This could be a sign of advanced wear and tear, depending on the type of mattress. It means you don't have proper support and will likely affect your sleep quality.
Your bed has become noisy- You'll want to make sure that the mattress' base is secure and still supports the mattress. You may have to replace both at once, or just one at a time, depending on the level of wear and tear.
You just can't get comfortable- Though an old mattress isn't always the culprit of sleep discomfort, it should be one of the first things you check.
Sleeping aggravates your allergies/asthma- Some dust mites live in every mattress and pillow, but they can accumulate over years of time. In addition to dust mites, common allergens, including mold, can grow in your mattress.
Your mattress has dents or saggy areas- Depending on the mattress type, this can mean that the coils are damaged.
Overall, if you're consistently waking up feeling unrested, it's probably time to start shopping. You'll likely be able to save some money by looking online instead of in mattress stores. Check out our mattress reviews, such as our review of Saatva mattress, to learn more.
Bottom Line
Finding a mattress that lasts long can be tough. Once you find the right one, prolong its lifespan by taking care of it properly.
Note: This website is made possible through financial relationships with some of the products and services mentioned on this site. We may receive compensation if you shop through links in our content. You do not have to use our links, but you help support CreditDonkey if you do.
How Long Do Mattresses Last?
Mattresses aren't exactly cheap, most people replace them very infrequently and consider buying a new one either a chore or a burden. It's easy to delay or prolong this process simply by taking proper care of whichever type you own. As a general rule, most should be replaced within ten years for best results in sleep and health, however, the average life of a mattress can last beyond ten years or more if taken care of properly. While it is true that how long one lasts depends on different factors, you can easily increase its life expectancy by undertaking a small number of simple steps. Here is a look at a few of the factors that can decide how long should a mattress last, and possible ways to increase its lifespan:
Table of Contents
1. The Type
What type do you have? For instance, is it air, innerspring, memory foam or latex? Each one has its own life expectancy; air and innerspring being the shortest, memory foam being mid length, while latex types are known to last the longest.
Air mattresses will over time either develop leaks or generally become less effective at retaining air pressure. If they have a built-in pump that becomes faulty, this too can lead to premature replacement. Overall, the average air mattress life expectancy is placed at five years.
Spring mattresses are good for sharing couples who like a springy and bouncy surface, but unfortunately, due to the inner core being thin metal wire, this type does tend to sag and lose its support even if flipped and rotated regularly. Even ones which have been well cared for will most likely need replacing within 7-8 years.
Memory foam mattresses are less prone to sagging but not invincible. They too require rotating, and foam does eventually lose its support but after a long while. This type should be good for at least ten years if kept ventilated, clean, and rotated.
Latex mattresses are the creme de la creme and tick all the boxes for quality and longevity. The naturally hypoallergenic and anti-microbial properties add to the durable nature of latex rubber foam to combine a core which can last up to 15 years.
2. Regular Cleaning
Another important factor which determines mattress life expectancy is to do with cleaning.Howdo you clean it? Do you clean itregularly? Do you give it to aprofessionalcleaner? It's essential that you clean your mattress regularly to prolong the life. If you do not, it won't last long at all. This is due to the invisible bacteria, mildew, and mattress mold that can slowly eat away at the materials involved. Moreover, it may be better if you could have it cleaned professionally from time to time, as mattresses are home to bacteria and germs in plenty, which might not get adequately cleansed with household cleaning products and methods.
3. Amount of Use
As you can imagine, anything that is used more will last less. However, there are two things that need to be kept in mind. Whichever type you own, it wouldn't last as long in cases of extreme use, for example sharing couples who use for 10+ hours per day, and secondly on the other hand, if it has been left unused and uncleaned for prolong periods of time. Mattresses that are moderately used, where people sleep on it for around 7-8 hours a day, and then cleaned regularly are the ones that have the longest life.
4. The Cleaning Products
The question of how long do mattresses last really is to do with many supporting factors, but quite often depends on the cleaning methods used to clean them. For instance, in case of blood stains, you might have to use hydrogen peroxide to get rid. Too much of this chemical (and other heavy duty stain removers) would lead to a reduction of mattress life as these are not made to withstand such chemical uses.
5. Proper Precautions
It is always nice to have kids around the house. However, if your kids want to use your bed as a trampoline, it seriously isn't a good idea. You would rather have them play elsewhere since this can seriously damage your bed. Imagine you have an innerspring, the springs will become too soft and compressed in no time at all and will leave you with a creaky and sagging surface. Additionally, whether it's latex or memory foam, soon there will be indentations which are beyond repair. To prolong its life, you can also rotate and flip it from time to time, but that's only if it's double-sided and permits you to do so. You could perform this every few months for the duration of its life, which will significantly improve how long a mattress can last.
When Do You Know You Cannot Use Your Mattress?
Usually, mattresses that are over seven years old do not provide the comfort and support you need on the bed. Once you see there are signs of the surface and support wearing out, or you're feeling uncomfortable in the bed when you are sleeping on it, you would be better off changing it. Some of the common visible signs of wearing are sagging, holes and tearing. If you cannot get a full night's sleep and feel that you're having a better slumber elsewhere than your bed, you need to start looking for a replacement.
You might buy the most expensive mattress, but if you do not care for it properly, it might not even last ten years. On the other side, ones which are taken care of correctly are known to last more than 15 years.