How Long Does A Tempurpedic Mattress Last?
Last Updated on April 3rd, 2020
Since they were first introduced, Tempur-Pedic mattresses have proved to be a blessing to mankind. These mattresses are known for comfort and longevity.
The minute you sleep on any of them, you feel utterly relaxed and comfortable.
However, the question that's probably weighing heavy on your mind right now is, how long does a Tempurpedic mattress last?
Stick around to find out.
Tempur-Pedic Mattress Reviews
Tempur-Pedic is a part of Tempur-Sealy International and is a manufacturer of mattresses. As a brand, they offer various mattress models. The features of these mattress models have been provided below.
This TEMPUR-Adapt mattress is available in two different designs– the all-foam adapt, and the hybrid adapt. The all-foam adapt mattress is built with a high-density polyfoam support core, while the hybrid variant has a memory foam comfort layer. It also features pocketed coils support core.
The two designs have dual-layer SmartClimate cooling covers. In terms of firmness, they are both considered to be at the medium level.
Motion isolation is a key strength of this mattress. They absorb and minimize transfer significantly. They are great in improving spinal alignment, especially for side sleepers. Meanwhile, they also confirm for targeted relief of pain and pressure.
The ProAdapt is a Tempur-Pedic mattress that is sold either as an all-foam or hybrid bed. In terms of firmness settings, the all-foam ProAdapt bed can be soft (3), medium (5) or firm (7).
The bed is constructed with a high-density support core as well as a memory foam comfort layer. All-foam ProAdapt beds are very good at minimizing motion transfer and reduce night-time disruptions.
On the other hand, the hybrid ProAdapt uses pocketed coils instead of a foam support core and are offered with medium firmness. They offer close conforming and minimal sagging. However, both versions feature a dual-layer SmartClimate cooling cover. This makes the bed temperature comfortable for sleeping.
The TEMPUR-breeze° is Tempur-Pedic's latest model. The ProBreeze° comes in a hybrid or all-foam mattress. The all-foam bed is made with a memory foam comfort layer and high-density support core. The hybrid mattress has pocketed coils. The firmness level of both mattresses is medium.
Also, The TEMPUR-LUXEbreeze° comes in soft, medium and firm settings. It is an all foam bed. All TEMPUR-breeze° mattresses come with dual-layer SmartClimate covers which are padded using a layer of the phase-change material.
All Tempur-Pedic mattresses are made from high-quality memory foams. These foams usually offer more longevity than other foams. Because of this, Tempur-Pedic mattresses typically last longer than the average lifespan of different beds.
Besides, their all-foam mattress models offer exceptional motion isolation, pain and pleasure relief that is above average, and consistent conforming. Meanwhile, the hybrid versions are known to provide strong edge support, impressive temperature neutrality, and great motion isolation.
Pros
Durability
No noise
Multiple thickness, composition and firmness options
Great motion isolation
Impressive Business Bureau rating
Exceptional Pain and pressure relief
Cons
Very pricey
Difficult to move or rotate
Sleep trial requires a 30-night break-in period
What Type of Sleeper can use a Tempur-Pedic Mattress?
People tend to have different experiences on different beds. The most important thing to look out for in a mattress is the comfort and spinal support that it provides to the sleeper.
When it comes to how ideal a Tempur-Pedic mattress is for a person, a lot is dependent on factors like weight, firmness preference, and sleeping posture.
For the most versatility even in terms of firmness settings, the ProAdapt and TEMPUR-breeze° models are the best pick. Sleepers that weigh between 130 and 230 pounds will do well to buy any of the two Adapt mattresses. The medium firmness setting will be perfect for them.
The LuxeAdapt will work for lightweight and side sleepers because of its 'soft' setting. Back or stomach sleepers and Heavy people too can use The LuxeAdapt mattress if its firmness is set to 'firm' (7).
Besides, Tempur-Pedic mattresses are a good option for people with a relatively large shopping budget. People who tend to wake easily after hearing a noise or perceiving movements will find this bed more sleep aiding. Also, if you're looking for a mattress that has thicker-than-average profiles, Tempur-Pedic mattresses are a good choice.
All You Need to Know About Tempur-Pedic Mattresses
Construction and Firmness
Like you probably already guessed, Tempur-Pedic mattresses are constructed with Tempur material. This is a sort of high-density memory foam like the ones found in foam pillows. The producers of these mattresses make use of a layered construction technique.
Usually, varied Tempur foams are used to create the first two layers of the mattress to give different comfort options. The rest of the mattress is then constructed with two to three more layers of varying foam quality and thickness.
The Tempur material used is what makes it easy for the bed to conform to the contours and body shape of the sleeper. It also helps to distribute the sleeper's weight evenly, and as such, sleepers do not tend to wake up with body pains.
The prices of Tempur-Pedic mattresses differ depending on the particular model and size. These mattresses are a little on the pricey side, especially when compared to the prices of other standard beds.
However, they are worth the cost when you consider their advantages. Meanwhile, Tempur-Pedic mattresses come in all the different standard mattress sizes.
How to Clean a Tempur-Pedic Mattress Topper?
Tempur Pedic mattresses usually come with an anti-microbial removable mattress cover. Whenever you're ready to clean it, all you need do is unzip the cover and wash it in cold water.
Also, pour a sizeable quantity of mild detergent in your washing machine. Ensure that the cover is washed on the gentle cycle so that the fabric's integrity is maintained and retained. Afterward, you can go ahead to tumble dry the cover or better still, hang it to dry.
You can buy any of the mattresses on the company's website, though they often remove or add to their selection there. You can get the mattresses through Amazon.com as well.
They can also be obtained from other third-party retailers. The Tempur-Pedic company claim that their beds are available through 6,390 brick-and-mortar companies and from different retail locations all around the U.S, Virgin Islands, District of Columbia, and Puerto Rico. You'll get a detailed retailer directory from the company's site.
To all mattress orders within the contiguous U.S, the company offers free white glove delivery. Also, they give a 90-night sleep trial as well as a 10-year warranty to their buyers.
How Long Does a TempurPedic Mattress typically last?
Before the Tempur-Pedic mattress company started using Tempur for their mattresses, Tempur was initially being utilized by NASA to build safe aircraft seats for their passengers.
They were known to be suitable for lift-off and for distributing weight evenly. Soon after Tempur was discovered to provide excellent support for sleeping, Tempur-Pedic began making mattresses using this material. Since then, the company started to grow and gain popularity.
As the brand continues to gain more popularity, people are curious about whether or not their mattresses are really worth the price, and if they last as long as they're said to last.
Actually, the Brand's mattresses are the most recommended in America, and a large percentage of reviews report satisfaction with the beds. In fact, the beds are said to help in eliminating or reducing pains at various areas of the body. As far as the lifespan of the mattresses is concerned, it is also reported that they last for a significantly long time.
The tempurpedic mattress lifespan depends a lot on how it is used and maintained. However, Tempur-Pedic Mattresses are made with high-quality materials and high-density memory foams. As such, the mattresses are capable of lasting for a period of 7 to 8 years. They are more durable and functional than other kinds of mattresses. People who own this kind of bedding are known to have little, or no complaints about the bed sagging.
Even so, the mattresses must be maintained and used exclusively for what it is made for if it will be as durable as it is said to be. You are not expected to sit on one side if the bed for a lengthy amount of time. Also, you need to rotate the mattress regularly so that the bed can wear evenly.
Besides, the bed is not made for, and cannot withstand the pressure of kids jumping on it. Therefore, ensure that your kids do not turn the bed into their playground. Keep the mattress away from direct sunlight as this can have adverse effects on the bed too. The bed is made for sleeping and using it for anything other than that can reduce its lifespan or cause it to deteriorate quickly.
Even with all the up-sides of these mattresses, for many customers, their price point is a huge discouragement. Compared to competitors, Tempur-Pedic mattresses are believed to be overpriced. However, the company upgrade the quality of their products yearly, and this may be why the price remains on the high.
Bottom line
How long does Tempurpedic mattress last? — Between 7 to 8 years. Clearly, the pros of Tempur-Pedic mattresses outweighs the cons. So if you're thinking of buying one, why not?
Now that you're sure about the longevity period and functionality of the mattress why not try it out? Like many other buyers, you're probably going to love it too.
Where Are Tempur-pedic Mattresses Made?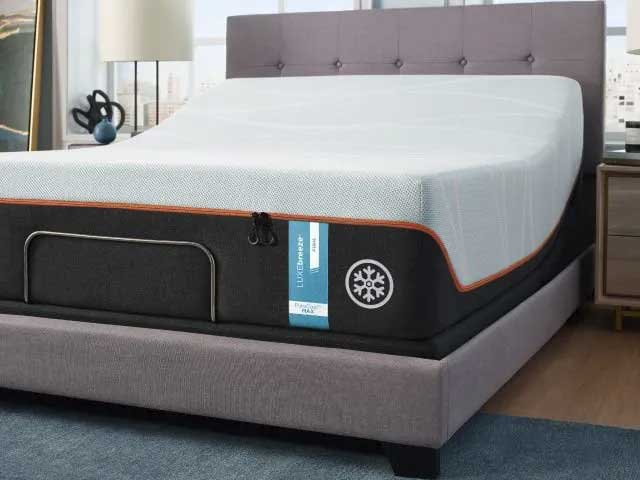 The importance of having a quality mattress cannot be ignored. Your mattress has a huge impact on your sleep quality. Buying a mattress should be considered an investment. A good mattress will protect your health and ensure that you are able to get a restful night's sleep each and every night. One of the best mattresses out there is the Tempur-pedic mattress range. In this guide, we are going to reveal everything you need to know about this mattress and why it is such a good option.
Introduction To The Tempur-pedic Brand & Mattresses
So, who is Tempur-pedic? This is the brand name for a manufacturer and distributor of mattresses and pillows. However, what makes this brand unique is that all of their products are made using viscoelastic foam, which can provide you with a comfortable and restful night's sleep.
Viscoelastic foam is another name for memory foam. Memory foam consists mostly of polyurethane, as well as a number of different chemicals that are designed to increase the density and viscosity of the mattress. One of the reasons why this has become a preferred choice for mattresses is because the material will react to the heat of the body. This means it will mold to your warm body, providing you with comfort that is bespoke to you. Once you get out of bed, the mattress will then return to its original shape.
Where Are Tempur-pedic Mattresses Manufactured?
The company is based in America. They are headquartered in Lexington, Kentucky at Coldstream Research Campus. They also have a number of different manufacturing plants around the country, including in New Mexico, Albuquerque, Virginia, and Duffield. This is one of the reasons why they are able to promise such high levels of quality because everything is made here in the United States.
How Did Tempur-pedic Mattresses Come About?
The company was originally based on research that was carried out by NASA. This research was conducted so that a material could be developed that would improve survivability in the event of an accident while also providing cushioning for comfort throughout space flight. This research led to the exploration of creating a Tempur-pedic mattress. The very first one was introduced by a Swedish technical foam company, called Fagerdala World Forms. This brand then came to the U.S. in 1992, which led to the creation of Tempur-pedic Inc.
Visit Best Mattress Today
Hopefully, you now have a better understanding of the Tempur-pedic mattress and how it is able to provide such high and impressive levels of quality. If you are looking for the best Tempur-pedic Las Vegas has to offer, you won't be disappointed with the collection of mattresses that we have for sale at Best Matt. We have worked hard to bring you the best of the best so that you can be certain that you always have a restful night's sleep. Please do not hesitate to get in touch if you have any queries about the Tempur-pedic mattress.
How To Cool Down A Tempurpedic Mattress – An Easy Solution
While this type of mattress is very comfortable, they can still be the culprit behind a sweaty and hot night spend tossing and turning. According to research carried out, by Sleep like the Dead, the largest site for reviewing mattress in the USA independently, at least 8% of Tempurpedic mattress owners report sleeping hot or overheating on their mattress. When you read this article, you will know how to cool down a Tempurpedic mattress in the easiest way and enjoy your stay on the mattress.
It is true that the Tempurpedic mattress has changed the way you can sleep. Getting it ensures that you have added an incredible amount of comfort. I used to sleep poorly, but with it, my nights have become perfect and no more neck or back pains. Their airy structure is perfect for adapting to the contours of your body. This will enable the body weight pressure points to be spread across the mattress surface.
With its advantages, it also has a disadvantage of excessive heat retention due to increasing hug and linkage. The weight of the body displaces the tiny bubbles of air via compression. What this means is that there remains no space for air circulation. This might be the reason why some manufacturers create specialized beds which are designed for cooling.
Things you will need
When controlling the overheating in Tempurpedic mattresses, you will require:
Steps To Take To Ensure You Cool Down A Tempurpedic Mattress
To take care of the cooldown for the Tempurpedic mattress, I suggest you use the three easy steps below, which are not that expensive to get rid of this problem and enjoy what this mattress has to offer. If adhered on well, you will be able to turn your Tempurpedic mattress into a perfect resting and relaxing place.
1. Choosing Breathable Sleep Wears
Bottoms and tops made of wool, cotton, and other natural fibers are the best to be used as sleepwear as they will make you sleep cooler than using synthetic fibers like polyester while sleeping on your Tempurpedic mattress.
2. Create A Space Where Air Could Flow Easily
It is hard to change the airflow of the Tempurpedic mattress due to its solid structure, but you can ensure that the surface on which the mattress rests has plenty of open space so that, it is possible for the air to move. Remember, air at times gets trapped under your mattress and this makes your body heat to accumulate.
When that happens, it increases the discomfort during the time when you are supposed to be relaxing on your mattress. Getting the right bed for your mattress is the best way to go and I would recommend those with equally spaced wooden boards because that allows a lot of movement of air around the room.
If you check beneath your mattress and find that the the solid plywood on teh bed has only one sheath, then that could be the reason why you feel hot while sleeping on the mattress. If that is the case, you will need to replace the undersides of your bed with wooden boards that have a lot of space in between. If you have a bed that cannot be modified, you can exchange it with one that will allow a good flow of air underneath.
When there is excessive body heat, it will soften your Tempurpedic mattress making it be more uncomfortable. But once you modify the bed, it will be kept in shape, and provide the body with equally distributed surface area support.
3. Use Wet Clothes
When the night seems to be hot, you can use a wet hand towel or washcloth, and then placing it on your chest or head while they sleep. Even though the effects are temporal, but the method can cool you down long enough to get tired and be able to sleep peacefully.
4. Create Cold Air
If the season is hot and you are feeling uncomfortable on your mattress, a fan can be counterproductive. You can go ahead and invest in a two-way window fan which will push out warm air while pushing in fresh air from outside and the stagnant air from the room is also pushed out. In front of your bedside fan, you can try placing a plastic bag or an ice pack of frozen water.
5. Stay Hydrated
Drinking a glass of water before retiring to bed, even though it has its negativity of making you visit the toilet several times, it has the advantage of ensuring that you stay cool down and help you stay comfortable on a Tempurpedic mattress. Taking a cold shower before going to bed can also make you accomplish a cool down effect.
6. Keep Electronics And Lights Off
When sleeping on a Tempurpedic mattress with overhead lights and bedside lamps on can make it uncomfortable. The best way to go is to ensure that you turn them off at least 10 to 20 minutes before going to bed as that will give them enough time to cool off. Devices such as laptops, televisions, and cell phones also give off heat to some extent.
You may like this video: Keeping Your Bed Cool In The Summer
Conclusion
From the above explanations, you can see that it is possible to make yourself comfortable on your Tempurpedic mattress by following the six different options that will enable you to cool down the heat. Being a quality mattress on its own, making it more comfortable and ensuring that you don't toss and turn while on it is my wish.
I hope you enjoyed reading it and hope you will try the steps out to see if they will also work for you. they worked for me and am sure you too will be able to benefit from them.
A Mattress Like No Other
From the moment you lie down until the moment you rise, every Tempur-Pedic mattressprecisely adapts to your body's weight, shape and temperatureto reduce motion transfer, relieve pressure points and alleviate discomfort.
#1 In Customer Satisfaction With Retail Mattresses
— J.D. Power 2019 Mattress Satisfaction Report ‖
Closeout – Save 30%!
Save on our most luxurious soft, medium and medium-firm Breeze 2.0 closeout mattresses! All sizes available. Through Monday – while supplies last!
COOLER, DEEPER SLEEP
Up To 8° Cooler All. Night. Long.++
Shown in Split King size. Price excludes furniture and Power Base.
TEMPUR-breeze°
Cool when you lie down.
Cool when you fall asleep.
Cool throughout the night.
Queens starting at
TEMPUR-Adapt® Series Mattresses
95% of Sleepers Recommend Their Tempur-Pedic® Mattress ‡ – Read the Reviews
"Best bed we have owned."
Satisfied Customerin Lakewood, CO
Shown in King size. Price excludes foundation and platform.
$300 Instant Gift
when you purchase a qualifying mattress set
Talk to a Sleep Expert
© 2020 Tempur-Pedic North America, LLC. All Rights Reserved.
Terms of Use
Privacy Policy
Instagram Tempur-pedic Instagram
Pinterest Tempur-pedic Pinterest
Twitter Tempur-pedic Twitter
Facebook Tempur-pedic Facebook
Youtube Tempur-pedic YouTube
§ Consumer Reviews and Testimonials
The comments expressed by consumers on this web site are not intended as advertisements. To the extent certain comments include endorsements by a consumer about the performance of an advertised product, those comments should not be interpreted as meaning that every person will have the same experience or achieve the same or similar results. A consumer testimonial is a representation of one person's subjective experience.
* Among traditional mattress brands based on 2017-2019 Tempur Sealy Brand Tracker Report.
** Real product owners compensated for time
‡ In the 2017 Tempur Sealy Brand Tracker Report, 95% of people responded that they would recommend their Tempur-Pedic® mattress
The comments expressed by consumers in some advertising should not be interpreted as meaning that all consumers will have the same experience or achieve the same or similar results. Consumers represented in advertising may have received free product.
++ LUXEbreeze feels up to 8 degrees cooler based on average heat index of TEMPUR-LUXEbreeze® compared to TEMPUR-ProAdapt® models measured over 8-hour period. PRObreeze® feels up to 3 degrees cooler based on average heat index of TEMPUR-PRObreeze® compared to TEMPUR-ProAdapt® models measured over 8-hour period.
+ TEMPUR-Cloud's top and second layer each provide more pressure relieving power than all layers in other compressed mattress models tested. TEMPUR-Cloud® provides greatest resistance to continued deflection after initial 50 mm deflection per BSI BSEN1957:2012 Load Deflection Analysis.
‖ For J.D. Power 2019 award information, visit jdpower.com/awards
2 Monthly payment is based on purchase price alone excluding taxes and shipping. Credit purchases subject to credit approval. Other transactions may affect the monthly payment.
3 The Tempur-Pedic credit card is issued by Wells Fargo Bank, N.A. Special terms apply to qualifying mattress and Tempur-Ergo adjustable base purchases. The special terms APR will continue to apply until all qualifying purchases are paid in full. The monthly payment for this purchase will be the amount that will pay for the purchase in full in equal payments during the promotional (special terms) period. The APR for Purchases will apply to certain fees such as a late payment fee or if you use the card for other transactions. For new accounts, the APR for Purchases is 28.99%. If you are charged interest in any billing cycle, the minimum interest charge will be $1.00. This information is accurate as of 04/01/2020 and is subject to change. For current information, call us at 1-800-431-5921. Offer expires 12/31/2020.
' > 1 The Tempur-Pedic credit card is issued by Wells Fargo Bank, N.A. Special terms for 12 months apply to qualifying purchase of $1,000 or more charged with approved credit. Special terms for 24 months apply to qualifying purchase of $1,500 or more charged with approved credit. Special terms for 36 months apply to qualifying purchase of $2,000 or more charged with approved credit. Special terms for 60 months apply to qualifying purchase of $8,000 or more charged with approved credit. The special terms APR will continue to apply until all qualifying purchases are paid in full. The monthly payment for this purchase will be the amount that will pay for the purchase in full in equal payments during the promotional (special terms) period. The APR for Purchases will apply to certain fees such as a late payment fee or if you use the card for other transactions. For new accounts, the APR for Purchases is 28.99%. If you are charged interest in any billing cycle, the minimum interest charge will be $1.00. The information is accurate as of 04/01/2020 and is subject to change. For current information, call us at 1-800-431-5921 Offer expires 12/31/2020.
2 Monthly payment is based on purchase price alone excluding taxes and shipping. Credit purchases subject to credit approval. Other transactions may affect the monthly payment.
3 The Tempur-Pedic credit card is issued by Wells Fargo Bank, N.A. Special terms apply to qualifying mattress and Tempur-Ergo adjustable base purchases. The special terms APR will continue to apply until all qualifying purchases are paid in full. The monthly payment for this purchase will be the amount that will pay for the purchase in full in equal payments during the promotional (special terms) period. The APR for Purchases will apply to certain fees such as a late payment fee or if you use the card for other transactions. For new accounts, the APR for Purchases is 28.99%. If you are charged interest in any billing cycle, the minimum interest charge will be $1.00. This information is accurate as of 04/01/2020 and is subject to change. For current information, call us at 1-800-431-5921. Offer expires 12/31/2020.
' > 1 The Tempur-Pedic credit card is issued by Wells Fargo Bank, N.A. Special terms for 12 months apply to qualifying purchase of $1,000 or more charged with approved credit. Special terms for 24 months apply to qualifying purchase of $1,500 or more charged with approved credit. Special terms for 36 months apply to qualifying purchase of $2,000 or more charged with approved credit. Special terms for 60 months apply to qualifying purchase of $8,000 or more charged with approved credit. The special terms APR will continue to apply until all qualifying purchases are paid in full. The monthly payment for this purchase will be the amount that will pay for the purchase in full in equal payments during the promotional (special terms) period. The APR for Purchases will apply to certain fees such as a late payment fee or if you use the card for other transactions. For new accounts, the APR for Purchases is 28.99%. If you are charged interest in any billing cycle, the minimum interest charge will be $1.00. The information is accurate as of 04/01/2020 and is subject to change. For current information, call us at 1-800-431-5921 Offer expires 12/31/2020.
2 Monthly payment is based on purchase price alone excluding taxes and shipping. Credit purchases subject to credit approval. Other transactions may affect the monthly payment.
3 The Tempur-Pedic credit card is issued by Wells Fargo Bank, N.A. Special terms apply to qualifying mattress and Tempur-Ergo adjustable base purchases. The special terms APR will continue to apply until all qualifying purchases are paid in full. The monthly payment for this purchase will be the amount that will pay for the purchase in full in equal payments during the promotional (special terms) period. The APR for Purchases will apply to certain fees such as a late payment fee or if you use the card for other transactions. For new accounts, the APR for Purchases is 28.99%. If you are charged interest in any billing cycle, the minimum interest charge will be $1.00. This information is accurate as of 04/01/2020 and is subject to change. For current information, call us at 1-800-431-5921. Offer expires 12/31/2020.
Did you know that your browser is out of date?
Your browser is out of date, and may not be compatiable with our website. A list of the most popular web browsers can be found below.
Just click on the icons to go to the download page and upgrade your browser.
How is a tempurpedic mattress made

Tempurpedic Mattress Topper
Slumber Search is supported by readers. Some links on Slumber Search are referral links. If you use one of these and buy something, Slumber Search may make a small amount of money. More info.
Tempur-Pedic is known for their high end memory foam material, Tempur®, which has revolutionized the mattress industry over the last few decades. Their mattress topper offering is a 3" thick spin on theirmemory foam focus, with a medium firmness.Customers like how they feel overall with their Tempur-Pedic mattress topper and reference it being a good,cost-effective alternative to buying a high-end mattress.
Mattress Topper Scores
Overall Score: 9.4/10
Customer Satisfaction:9.5/10
Tempurpedic Mattress Topper Details
Tempur-Pedic's mattress topper, Tempur-Topper Supreme, is designed to be bothpressure relieving and supportive.Its 3" thick profile is ideal for those that wantextra contour on their mattress or desire extra cushion while sleeping on the flooror hard surface. Customers report that the topper has a pressure relieving feel that helps provide extra comfort to spring mattresses.
Quality of Materials
In terms of quality, Tempur materials are generally some of the highest quality foams available –with more density and longer durability generally. That said, with more density can come more heat retention, which isn't a problem for all, but can be a problem for some warm sleepers.
The Tempur-Topper Supreme has just two layers — a cover layer and a Tempur, memory foam layer. We'll go through each of their layers and describe how they should act on your body given ideal conditions. Here is what's inside:
Cover Layer:The cover is made of asynthetic blend. It is dust-mite resistant, removeable and washable. Overall it doesn't retain much heat.
Layer 2:The next layer is 3" of high quality Tempur material that is medium-firm and ideal forthose looking for contour and support at the same time. Customers describe ithaving a slow response and a gentle conforming quality around the body, while not being so soft as to sink in completely.
Firmness
The Tempur-Pedic topper is medium-firm, which isperfect for back or mid-sized side sleepersdepending on the firmness of your mattress below. Those that have larger body types or are stomach sleepers may find it too soft for them.
Back Pain Relief
There are a significant amount ofcustomers that describe back pain relief and increased comfortwith their Tempur-Topper Supreme, and also making firmer spring mattresses feel more comfortable.
Cooling
Although most customers don't have an issue with heat retention, those that sleep very warm at night or who live in a warm environment may notice some heat retention.
Who Is The Tempur-Pedic Mattress Topper Right For?
Tempur-Pedic's foams are some of the highest grade and are great additions for those that want a true memory foam experience. Their Tempur-Topper Supreme is ideal for those that wantenhanced contour and lasting supportand wouldn't consider themselves hot sleepers.
Browse Tempurpedic Mattress Topper Customer Reviews
We had gone to a Tempur-pedic store to look at a new mattress. They were the most comfortable I have ever tried, but the one we wanted is $6000. This isn't in my budget today but I needed something for my bed, so I looked online and saw this. It was extremely heavy in the box and you lay it on the bed for a few hours and then put the sheets on as normal. OMG! It was almost like sleeping on the Tempur-pedic. I was worried about only 3 inches being enough to emulate the bed, but it is wonderful. This will definitely work probably for year when I'll get my other one . maybe! Great investment, even though it was almost $500, but much cheaper than the $6000 for the full bed.
I 'liked' the mattress I had. but then I added the Tempur-Topper, and I can't get over the difference. It's like night and day! Its substantial layer of 'cushion' is enough to make you think, and feel, that you've been transported into the clouds!
I like the topper but wish it were just a bit firmer and not quite so warm. I wish I could afford the whole tempurpedic mattress. This does cushion my pressure points though, and that is the reason I bought it.
The only slight problem is that it is warm.
I have tender joints and tempurpedic ears the pain..
We bought this for our southern condo after we enjoyed the comfort of the one we purchased for our northern condo.
I finally bought a TEMPUR-pedic mattress topper for my firm mattress and I sleep great. Arthritic joints made sleeping comfortably on a really firm mattress difficult and with the TEMPUR-pedic topper my joints do not hurt and wake me up! Love this topper and I would recommend ONLY TEMPUR-pedic!
Use it on all beds in house
This product wasn't anywhere near the same quality & comfort level as the products I bought about 15 years ago. The density of the material has changed. The topper slides off the bed & there is no way to secure it. The edges pull up on all four corners. I am as frustrated when I contacted them after receiving it & asked to return it & they declined. Apparently a topper is a "personal product," but a mattress is not considered one. Thus you can return a mattress, but not a topper. I have pain & a sleep system that increases my pain is a serious problem. It's not all bad, but my expectations were higher for the price & reputation of the brand.
Purchased for my daughters dorm bunk bed and she absolutely loves how comfortable it is!!
I have never taken the time to write a review but I just need to send a PSA out into the universe. If you can't afford a Tempur-Pedic mattress buy this topper. You will not be disappointed, it's the bees knees.
First, I purchased the MyPillow topper (this wasn't soft enough so I returned it). Then I bought this (also not soft enough but this one can't be returned). I purchased a gel memory foam topper from another store and love it.
Can't put a price on a great night of sleep. My daughter is in dorms that provide stiff beds. Due to bed bug issue no mattresses can come into facility so we purchased the topper and it has been a game changer for her. We tried doubling up egg crates but she still struggled so broke down and purchased her this. Knowing she is getting good night sleep makes this momma happy!
I had had a Temper-Pedic for 20 years and loved it. I then moved and was given a very firm mattress, for which I purchased a Temper-Pedic topper, and all is now perfect!
the first 3 night, my wife and I woke up 10 times and every night thereafter, for two weeks, woke between 5 to seven times each night. this topper was both uncomfortable and at times to hot. if we could have returned it we would have without hesitation, this was a total waste of money.
I bought this topper to help with my hip issues and to use in conjunction with my tempurpedic pillow. I am a side sleeper and change positions often, and it has really helped me feel so much better when I wake up! I sleep more soundly and feel much more rested!
great product. firm yet flexible. I have joint pain and this has totally helped my sleep
Very comfortable and I sleep like a baby
I am a back sleeper. For years, I could not sleep comfortably because there were a few pressure points that bothers me. I was trying to purchase a TEMPUR mattress, but that means I need to change the base, headboard, and other bedroom furniture to match the new mattress, which seems too much hassle for me. Then, one day I found this TEMPUR-Topper Supreme. I immediately knew this is what I need. I can simply put it on top of my current mattress, no need to change anything else. To be sure, I read Customer Reviews. One customer had the same problem as I had, and she was very happy with the purchase. So I was confident this would be the right product for me. Indeed, since I purchased this TEMPUR-Topper Supreme, I have been sleeping comfortably, the Topper totally conforms with my shape and weight, there are no pressure points to bother me anymore. I recommend this Topper to anyone who wants to relieve the pressure points and sleep better. In addition, this Topper comes with a removable/washable cover, which is a very nice feature. But since the cover has only a half-zipper, it makes removing very difficult, I wish it can be improved to a full-zipper, which will make removing much more easily, and customers will be totally happy.
This mattress cover sleeps better than a complete $7000 mattress set my husband purchased. It firm yet like sinking in a cloud for a perfect nights sleep. I never want to get out of bed. I was a bit hesitant to purchase this cover due to the price but after months of debating with myself I took the plunge and it was the best decision ever. My husband purchased a mattress set that I thought was Tempur-pedic, I was never able to get good sleep on and was extremely disappointed. When I realized it was a knock off I made this purchase and have never been happier. You can not skimp on quality and it is well worth the cost. I love it and highly recommend any Tempur-pedic product.
Love it! Worth every penny! Highly recommend it.
This is one of the best purchases I've made. Feels a little firm to the touch but sleeps great with total body support. I had been having lower back issues when I slept but this product has done the trick.
-smells bad -sleeps hot -so soft it's worthless -and no returns what a deal!!
Really liking it's comfort. Not loving the huge ridge in the middle. The memory foam remembers your sleeping imprint well but does not return to anywhere near flat. Had the same problem with another topper and returned it. I had hoped for better luck with the Tempur. If I could afford a full mattress I would get one but that is just not in the cards. There will be no sitting a glass of wine on the continental divide. The upside is that it does tend to trap the bed hog the other side of the mountain.
I love this topper! I give it 5 stars. However, my husband gives it a zero so averaged to 3 stars. He wakes up every time he tries to turn over, couch more comfortable. So we are returning and getting a twin size for my side.
This topper does the trick after years of tossing and turning due to arms and shoulders falling asleep at night, I finally can sleep the night thru. I didn't want to purchase a new mattress and this topper makes my bed feel good a new.
I have been sleeping on this mattress topper for 3 weeks now. It has saved me..no kidding!! I have a popular adjustable bed and no matter what number I put it on, I was not comfortable. I basically was not sleeping so I bought one of those blue egg crate looking mattress toppers. It did not help. As a result of months of sleepless nights, I was beside myself. My lower back hurt every morning and this affected my sciatica and I was exhausted every day. I had lower back pain most days and lived on advil. not the way I want to live my life. This mattress topper was my last resort. I was very skeptical and doubtful but I finally "bit the bullet" and purchased it. I have a Queen bed, so I bought the twin for my side of the bed only since my husband is happy with our current mattress. After the first night, I knew this was going to work out wonderfully. It feels great sleeping on it! No more advil and no more lower back pain, my sciatica is much better. I'm so happy because I was desperate and this was my last resort. I never imagined that I would say this but this is an AMAZING product and IT WORKS! I highly recommend this mattress topper. It's worth every penny! If you're "on the fence", go for it! You'll be so happy you did!
I have the pillows for myself and family. Would love to eventually be able to buy the mattresses. I purchased a mattress topper for my son who has fibromyalgia and immediately noticed the difference.
So far really like this product, does sleep a little warm but not bad.
I ordered this quite a while ago and it was on back order so it came like 2 months later but it was worth the wait!! My bed is so much more comfortable. I have a tempurpedic mattress but it was way too firm so I needed to get a topper to help me sleep. I am happy with it although I really didn't need to buy a 2,000$ tempurpedic mattress in the first place to just put a topper on top. Kind of a waste of money, but I can sleep well now.
We were both having trouble sleeping on our mattress but we were not willing to toss it yet since it was only a couple years old and we paid a lot for it. Problem is all solved with our Tempur Pedic mattress topper. From the night we first put it on the bed, we both have started sleeping all night and waking up feeling so refreshed. No more pressure point pain or tossing and turning all night. This purchase was worth every bit of what we spent. You can see the quality the moment you unpack it.
I purchased this mattress topper for my son to put on his dorm room bed to try to make it feel similar to his Tempurpedic mattress on his bed at home. He says that this sleeps just as well as his bed at home. This is amazing because I have never known there to be a worse mattress than a dorm room mattress. Happy this mattress topper makes my son feel so comfortable in his sleeping when he is off on his own at college!
My butt can now sink down a bit, hence there's support on my lower back. No more pains in the morning. My upper body though, ie my chest and shoulders also sink down, so now the pillow is too high (since your head is not that heavy so it doesn't sink equally as the chest). So I literally now sleep with no pillow. And its fine. Excellent.
I use it as my current mattress topper. It definitely makes me want to go get a full fledge tempur pedic mattress when my current one starts to go bad.
We purchased the cloud luxe supreme. This bed is like sleeping on a cloud. Every time my husband and I crawl into our bed we both say " I love my bed" and drift off quickly for a great night sleep. It is so comfy and inviting. I highly recommend this bed. My husband has had two back surgeries and he can't sleep on anything else. It soft yet supports your every curve. Best purchase ever.
This mattress topper completely transformed my son's dorm style matress up at college. I spent many hours researching toppers and couldn't be happier than I am with tempurpedic.
I am having to rearrange this topper almost every other day and my expectation was something more comfortable to lay on. It is just not what I had in mind. I am hoping I will grow more accustomed to it.
Bought to help with back issues and it has been a blessing!
We are so happy with our purchase! The topper has made a huge difference. We no longer wake up in severe pain. all over pain! It's amazing!
We have had many mattress toppers for our guest beds over the years but never considered Tempurpedic due to a slightly higher cost than most. Once we incidentally were the guests at a friends house that had a topper on their bed, we immediately bought them for all of our beds in the house. Worth every penny of great sleep we've gotten. Perfectly compliments the tempurpedic pullows we have as well.
We bought this topper and it has been wonderful on our backs and sleep.
We needed a new bed and I wanted to try a tempurpedic but was hesitant because of the cost so we decided to try the topper. I definitely feel less achey after sleeping on it and really like how it feels. It's way more squishy then I thought it was going to be, you almost sink into it but in a good way. I really hate the way our sheets don't stay on very well now because of depth.
Im home for winter break and am going to buy a topped for my super nice and expensive matress because i miss my cheap dorm bed thanks to my topper. This is one of those purchases you NEVER regret.
Have used my topper for all 4 years of college. Major game changer for the dorm room mattresses
First, you will not regret buying this topper. It is extremely comfortable and I am having the best sleep I have had in a long time. I bought this because the Simmons firm mattress I purchased (a mistake never to be repeated) was painful for me to sleep on. I woke up sore and achy, with a stiff neck or back. I was not ready to buy a full tempur mattress because of the cost so I went with the topper (and it came with a free cloud pillow). The cloud pillow is great but too firm and high for my neck. The topper, however, is absolutely wonderful. It offers great support (feels like a mattress), and I feel great in the mornings. My aches and pains have vanished and I fall asleep quickly and happily and soundly. The quality is high end (I have had other toppers in the past and they don't compare), it is worth the cost, and was easy to remove from box and unroll. There was a smell for 1-2 days but it dissipates. This is a great "intro" to the real deal and I will be sure to purchase a tempur mattress next time. Highly recommend!
I have very sensitive pressure points and our cheap mattress wasn't helping! I kept going back and forth on whether or not to buy a whole new mattress set so decided to try out the topper first. It has helped SO much! The change was immediate. Gone are the days I wake up with throbbing hip and shoulder pain! I love the cloud like cushion of this topper! It's well made, definitely worth the money when you can't purchase an entirely new mattress.
I used to wake up very sore and achy in the morning, no more! Highly recommend!
I have used this topper on vacation and camping and its great
Wonderful product. Recommend it wholeheartedly!
Very soft! Best sleep I have ever had
since it is arrived, no more sleepless nights. more to say that months-long my back pain is totally gone like a magic. I highly recommend it to anyone.
It was comfortable but it moved around on my bed & sheets too much so I returned it.
We decided to try a tempur-topped on our 10yr old pillow top mattress as a temporary fix for our sleepless nights and aching backs from a worn down mattress. This topper has given us the mattress more structure and strength to hold our body weight without dipping in. We do plan to eventually purchase a mattress, but unfortunately it's not at the top of priority list right now. Thankful this topper has given us the sleep we so desperately need as parents to 3 small children. It's acool and comfortable all night. Highly recommend!
Love it love warrnty and Custmer services
It's just perfect! I sleep so much better.
This is the most comfortable supportive Mattress Topper I've ever slept on. I've been experiencing sciatic nerve pain and this has relieved my pain immensely. Now it is hard but that's what I like about it. I'm a side sleeper and love the way it supports my body and hip. For the life of me I can't understand how anybody can give this Mattress Topper a bad review. It's far superior to any other Mattress Topper I've ever used especially other Memory Foam Mattress Toppers. It's so comfortable.
I bought a beautiful red pull out couch from Macy's. The mattress is good but a little too firm. I was recommended by the sales person to check this out and I'm glad I did and very comfortable on my back.
I bought the generic Tempur-Pedic mattress and regretted it immediately, returning would've been a hassle and probably not even possible, so I amended the mistake by purchasing the proper mattress topper. It is very nearly almost as comfortable as if I had just purchased a Temper-Pedic mattress to begin with, though coupled with my generic mattress, all in all probably slightly more expensive. I'm pretty happy with it. Beyond being super comfortable, it's great when my kids are sick. They want to sleep close by, but I am not interested in having their germs vaporized in my face throughout the night, so I can take the topper off my bed and it doubles as a firm but useable travel bed. Bonus points for spine health, after sleeping on the mattress topper on my hardwood floor I woke feeling refreshed without the usual back ache! Be warned, it's very awkward to move on and off the bed, and as I am the only adult in my home, it makes for quite a burdensome addition to clean up. May not be relevant information but in case it is, there you have it! So, if you're weighed down with a mediocre mattress and are looking to lighten things up (like the tension in your neck, spine and hips) this would definitely be a good purchase.
My mom sent this topper to me to cover my mattress in my dorm. It made a world of a difference. It can't replace my Tempur pedic mattress at home but it comes pretty close to it. I love this mattress pad.
Sleeps a little warm, but man the comfort is beyond worth it
I have chronic back pain and prior to purchasing this product, I would wake up every morning with a stiff back making it difficult to get out of bed, and I would wake in the middle of the night due to pain.This product has helped me stay asleep and wake up in the mornings without a stiff back. I am so grateful for this product! I highly recommend this product to anyone that has back pain
I'm a young mom of three and recently gave birth to my last child and wow my neck, back and hips are in pain and my husband and me decided to purchase the topper and pillows. What a game changer, I mean it. My sleep is so good that I can't wait to get in bed and I honestly don't want to get up in the mornings. But I feel refreshed in the mornings again and it actually feels like I am getting good rest. I cannot wait to purchase the mattress once we moved into our new home. Just amazing and I regret waiting so long!
I have been wanting a Tempurpedic mattress for years. (I sold them briefly at a local mattress store) He could not understand how I could justify the cost. I compromised, and ordered a Tempur-Topper Supreme, he now falls fast asleep and praises the comfort. I am very happy and feel more rested and have less back pain in the mornings. This is an excellent option until I can afford the mattress set, and my husband is now on board!
I love my Tempur-Pedic mattress topper. It's given me a new bed at the fraction of the cost of a new mattress. It's firm but quickly softens and I'm sleeping better than I have in years. It does get a little warm at times but overall it's super comfortable and helping me sleep better and without pain in the morning.
The TEMPUR-Topper Supreme is a beautiful, excellent quality, helpful product. Sleeping on it marvelously ameliorates painful pressure points in back, neck, hips and knees. However when the customer is rather tall and/or large, it must be noted that three inches of TEMPUR material is not quite enough to allow sinking deeply as a heavier body requires. A second topper assures deep enough cushion to provide complete and total comfort, ease and the most utterly wonderful sleep experience.
It feels great and I have sleep better after adding this to my ordinary mattress!
I look forward to falling into my cozy bed each night. Thank you TEMPURPEDIC!!
I purchased the TEMPUR-Topper Supreme and love it. It felt wonderful to sleep on. I also purchased 2 Tempur-Pedic pillows and fell in love with them.
I am currently staying in a college dorm. Prior to purchasing a topper from tempurpedic I was sleep on a mattress pad that you can purchase out of any local store. My body would ache and it was extremely hard to find a comfortable spot! After purchasing the topper, I've received the best sleep ever. I wake up refreshed. My body isn't ache and not to mention the moment I get in bed I'm out within 10 minutes! By far this is the best decision I've ever made! Thank you tempurpedic!
We purchased our Tempurpedic for our guest room. All of our guests are pleased and report a wonderful night of rest.
I have a king size bed that is so firm that I could not sleep in it because it hurt my back. I slept on my sofa for a few years. Then that started hurting my back. Instead of buying a new bed I decided to buy the Tempur-pedic topper And I am so glad I did. No more back pain. Some reviews mentioned it being too warm but I haven't had that problem.
My mattress is somewhat old and I've been having lots of back and neck problems. I put the mattress topper on my bed and it feels like I bought a brand new mattress! I love this thing so much! Definitely worth the money!
Ive always had very bad problems sleeping and couldnt ever find a good matress for the price. I decided to invest a small amount more into this topper and i was not dissapointed.
Amazing topper. Change my mattress from a 4 to a 10. Love love love this topper. Highly recommend if you can't afford a whole new mattress.
I have bought this due to the chronic pain in the shoulder and neck. I have been using the tempur pillow and it was somewhat not very comfortable. After reading some reviews, I decided to get the matching topper which goes well with the pillow. The feeling was awesome after one use, and it is a perfect combination with the pillow. Now I can wake up in the morning not feeling stiff on the neck and shoulder. Good product!
My daughter feels like she has a feather bed and loves it! It supports but feels soft.
II was away for a month and didn't realize how much I would miss sleeping on my tempur-topper supreme mattress cover. I absolutely love it and would love to win a mattress set.
I've tried three or four Toppers and took them all back for one reason or the other this one you can unzip and clean the cover .a little on the pricey side but it's the only one that I have been happy with nice cushy feeling makes my thousand dollar mattress a$5000 mattress highly recommend
I use this product everyday. It is not an essential part of my sleep routine. Before I use to look for comfortable places where I could be productive to do work and multi task, now that place is always my bed. Overall, additional benefits I noticed after the first month was I started waking up more refreshed and with less aches and pains.
Camper mattress was very hard so as I already have 2 Tempurpedic mattresses this was a no brainer, I put in this topper and it's just as comfortable as my full size mattresses. I don't want to get out of bed it's so comfortable. Love love love it. The only thing is it's a little pricey but for me it was so worth it.
We have a twin pull out and use this topper on top of the pullout mattress that came with chair. Unbelievably makes our pullout feel like a real bed. Very supportive and so comfortable.
I have chronic back pain and was looking for a good mattress topper. I couldn't be happier! There was no chemical smell as some had reported. It has a nice cover and I used it immediately. It is very supportive.
The Tempurpedic topper made a very uncomfortable bed into a very comfortable place to sleep. Now when I go to visit my mom, I can actually stay at her house! Thanks!
LOVE, LOVE, LOVE this mattress topper. I am beginning to have more restful and restorative sleep.
We are diehard Tempurpedic fans, so we very much missed the comfort when camping. Problem solved with the TEMPUR-TopperSupreme!
I'm super excited about getting a good night's sleep again.
Just what I needed for our timeshare this year. Makes the older mattresses we have into something new!
I would buy this product again, absolutely love Tempur-pedic and my topper. I look forward every night to getting into bed and getting a good nights sleep.
I purchased a queen size topper and when it arrived there was a rip in the topper cover. Thankfully I purchased directly from Tempur-pedic and the problem was resolved with customer service. I returned the queen size for a twin size. It arrived in a timely manner. I gave it 4 stars because it's not as firm as I'd like. Toppers do not come in different firmness, just the one. I think it's a very high quality product and there customer service is impeccable. Everyone has their own wants when it comes to a mattress and I am taking nothing away from the product. For me, I wish it could have been firmer.
I ordered the pillows, just love them and ignored 4 more for my clients that had sleep issues and neck problems, they seen great improvements
My co-workers purchased a mattress topper for a colleague who was diagnosed with a myofascial connective tissue disorder. The mattress topper helped ease the chronic severe myofascial and joint pain. The product was a success!
I recently suffer from insomnia due to multiple reasons. one of them are due to too hard mattress. I bought this on sale and I start to have good sleep gradually and gradually. I realized that before the back problem keep bothering me that's why I cannot fall asleep and stay asleep. I wish I could find this earlier so can make my life much easier!
The mattress topper is too soft. Works well for my 2.5 year old who does not weigh very much but not for adults.
It's nice product I love it but the size is totally terrible. It shows 84x74x3 in, but real one I got only 80x74x3 in. When I put it on bed, it's obviously short length a lot. And the answer from service call is very very uncomfortable me; they said it's single size that you can return it if can't accept it. So if your bed is CA king size and you plan to have this product, strongly recommend you DO NOT buy it.
You don't toss and turn
I have had a sleep number mattress for over twenty years! As I am a side sleeper, the padding that came with the mattress was no longer functional. My shoulders became more and more painful as the original padding flattened out. I decided to purchase the Tempur-Pedic Temper-Topper Supreme and see how that would work, as a new good quality mattress costs a lot of money. Since I had an air type of mattress, there were no springs or other things that could go wrong with it. The air bladder has held up marvelously through the years as I only need to add a little air maybe two or three times a year. I now have the equivalent of a new mattress at a fraction of the cost, and my shoulders feel much better now.
Recently moved to a one room apartment in Chicago and hoping my friends would visit, purchased a topper for my sofa bed. Solved the problem of how to store it by putting it atop my Tempurpedic mattress. That was the cherry on top! Can't believe how truly comfortable this combination is.
Bought this about a month ago, and my wife and I really love it. It is very comfortable. Soft yet supportive. It has helped my back and shoulder. Sleeping better now.
This product is good for body , u can feel comfratable
The company did a wonderful job of shipping the product. I am still getting used to "high" bed and the softness of it, but my aches and pains have been minimal since purchasing.
We purchased the topper to replace the foam in our traditional innerspring mattress. After replacing the regular poly foam with the tempur material both of us are able to sleep through the night and wake up without pain! Can't wait till we can afford an actual tempurpedic mattress
This is so comfortable.. I have a mattress that is nice but too firm and the temper topper was the perfect addition, it makes the bed so soft and comfortable, I live in Florida and was worried it would be to warm but it's not any warmer then my mattress, it's the perfect addition!
I have had a queen size tempur cloud mattress for many years now and recently my wife and I had got an off brand memory foam king size set for too good of a deal to pass. Unfortunately this off brand mattress was no where close to par with my tempurpedic and so we ordered the topper with hopes of making it more comfortable and it did exactly just what we needed, got us a great night sleep! Great purchase for your money!
Disclaimer
Mattress & furniture shopping is an oftentimes tedious and mundane task. This site's sole purpose is to make the decision making process faster and more efficient. The reviews here are aggregated from other sources across the Internet and although we have tried only to find trustworthy reviews, the content and scores here may be subject to manipulation by agents acting on behalf of manufacturers and marketers. Like all things you read on the Internet, understand there is no better judge than yourself. When it comes to your own comfort, your own body is the only North Star. Where Slumber Search discusses medical ailments, we strive to ensure the information on this site is accurate, current and useful, however, we do not warrant the accuracy or completeness of any information related to medicine. We are not doctors — if you have a medical condition, please consult your doctor.
The makers of Slumber Search also make affiliate commissions from some of these manufacturers to keep the site running. There is NO additional price markup for using this site or on links from this site and any commissions made by Slumber Search come out of the brand's profit margin. See how it all works here.