Mattress Firmness
Find the best firmness level for you
What does mattress firmness mean?
In your search for the correct mattress you are usually faced with the choice ofmattress firmness. But what exactly does mattress firmness mean? When lying down, your spine should be aligned orthopedically correct. For this, it is important that the mattress is not too soft and not too hard. This is where the mattress firmness comes in and you must decide on what is suitable for your individual needs. If you choose the wrong degree of firmness it can lead to long-lasting damage to the spine, unnecessary tension and back discomfort.
If the mattress is too soft, it may give little support to the spine and the entire body will then sag. This then leads to constant back problems. In this case, a different mattress with a higher degree of firmness should be selected.
If the mattress is too hard, it may mean that your skin is being pressed too hard and not enough blood circulation is allowed to flow. This causes sleepy arms or legs. At night, your body must recover and regenerate, so it is very important to make sure your body has proper circulation. If you notice that your mattress is too hard you should look into sleeping on a softer mattress
Levels of Firmness
Mattresses are available in 5 different degrees of firmness. Here is an overview:
Hardness 1:Mattresses with the hardness H1 are very rare, as this degree of hardness is only suitable for adults up to 60 kg. These are usually custom-made.
Hardness 2:People weighing between 60 and 80 Kg should choose this degree of hardness.
Hardness 3: Mattresses with a hardness of H3 are most frequently bought. The upper limit of such a mattress is 110 Kg.
Hardness 4: A mattress with hardness H4 has an upper limit of 140 Kg and is described as very firm.
Hardness 5: The hardness degree H5 is one of the rarest degrees of hardness with the hardness H1. They are also usually made of special products for people weighing over 140 kg.
Depending on the mattress manufacturer, however, these details may vary. As there are no fixed rules on how to specify the degree of hardness, manufacturers are free to decide on these designations. Some manufacturers use, for example, designations such as "F1", "soft", "medium" etc.
Emma Mattress firmness
Emma Mattress has a medium firmness which allows the body to slightly sink into the mattress, thus keeping the spine in alignment and allowing for just the right amount ofbody support. But the firmness of our mattress is adjustable! When you get your mattress, you try it for a couple of days and if you don´t feel comfortable you can get back to us and we will send you a free of charge memory foam comfort layer, either soft or firm, to adjust the mattress to your preferences and maximize your comfort! You can also buy amemory foam mattress topper.
Because needs vary between individuals, we offer100 daysto test the Emma mattressrisk free!The trial period starts on the day of the delivery. You can test the Emma Mattress for 100 days to decide wether or not you are satisfied with our product. If you realise the mattress is not the perfect mattress for you, we will arrange a pick-up date and full refund for you!
How hard is emma mattress
Dat de Emma Original een winnaar is, wisten we al. Al meerdere keren kwam dit matras als Beste uit de Test bij de Consumentenbond. Ook is de Emma Original verkozen tot Product van het Jaar 2019. Maar niet alleen in Nederland valt Emma goed in de prijzen. Het is Europa's meest bekroonde matras! Een goede reden om zelf ook een Emma Matras in je slaapkamer te hebben.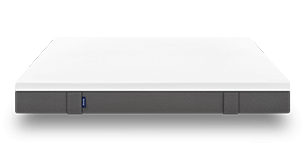 Een echte zorgeloze slaapervaring.
Wij bieden je een zorgeloze ervaring: je kan onze producten makkelijk bestellen en nadien brengen wij ze zo snel mogelijk tot aan je voordeur. En het beste nieuws: de slaapervaring van je leven is binnen handbereik!
100 Nachten Proefslapen
Na 10 minuten proefliggen in een drukke winkel weet je niet of een matras perfect voor jou is. Daarnaast heeft je lichaam een paar weken de tijd nodig om aan een nieuw slaapproduct te wennen. Daarom krijg je bij elk Emma product 100 proefnachten. Tijd zat, en lekker thuis.
10 Jaar
Garantie
Bij Emma gebruiken we alleen materialen van de beste kwaliteit en van de beste leveranciers. We zijn zó zeker van onze kwaliteit dat we je 10 jaar lang duurzaamheid van onze materialen garanderen. Zo heb jij dus 10 jaar lang heerlijke en zorgeloze nachten!
Gratis Bezorging & Retour
De kans is groot dat Emma het perfecte matras voor jou is. Mocht het toch niet zo zijn, neem dan gerust contact op met onze klantenservice en wij zullen het matras gratis bij je ophalen. Maak je geen zorgen: je hoeft het niet eens meer terug te rollen in de doos.
Emma Original

Krijg ondersteuning en voel verlichting. De drie lagen van de Emma Original laten je slapen zoals nooit tevoren en zorgen dat je mooiste dromen uitkomen. Nacht na nacht.
Emma Basic

Ondersteunt niet alleen je rug, maar ook je portemonnee. De twee lagen van de Emma Basic geven alles wat je nodig hebt om elke nacht gewoon lekker te slapen.
Élu Produit de l'Année, Frankrijk, 2018
Europa's Meest Bekroonde Matras
Test Aankoop, België, 2017 en 2018
A Deco Proteste, Portugal, 2017
Beste uit de Test in 7 Landen
Altroconsumo, Italië, 2017




Hoe een levensveranderende beslissing een hele industrie op zijn kop zette.
Van slaapfee naar kebabzaak. Hoe is dit mogelijk? Deze slaapfee kreeg het voor elkaar. Hoe is dit mogelijk? Bekijk hier zijn interview en zie hoe Emma zijn leven op z'n kop heeft gezet.
Nog meer Emma!
Kun je geen genoeg van Emma krijgen? Goed nieuws! Neem een kijkje bij onze Emma Blog. Hier vind je de perfecte dosis slaaptips, feitjes, geschiedenis en nog veel meer! Heerlijk om te lezen voor het slapengaan.
Marga Hermanns
Wat een super matras,bij het oude matras had ik veel last van ochtend stijfheid,en s,Nachts Vaak Wakker van Stijve gewrichten,heb nu 3 nachten gelapen, op het Emma matras en word Lang niet meer zo vaak wakker. En sta s,ochtends normaal op. Een echt een AANRADER.
Marian VD
Vanaf dag 1 ben ik lyrisch over het matras. Ik slaap er nu een maand op en vanaf dag 1 zijn mijn lichamelijke klachten bij het opstaan verdwenen en is mijn slaapkwaliteit ontzettend verhoogd. Ik raad het iedereen aan en ga binnenkort ook het kussen aanschaffen.
Marcus de Leeuw
Ruim 1 jaar geleden gekocht en nog steeds geeft deze matras een goede ondersteuning voor je rug en zij waardoor wij iedere dag opnieuw uitgerust opstaan. Deze matras is echt voor iedereen aan te bevelen. Ook mensen met rugklachten! De kussens van Emma gaan wij nu bestellen..
Hanane
het beste matras waar ik ooit op heb geslapen. jeetje wat heb ik moeite moeten doen om het juiste matras vinden. ik ben zeker wel 2,5 jaar bezig om gewoon een goed matras te vinden. eindelijk! Ik ben en er blij mee en heb het ook aan iedereen in mijn omgeving aangeraden.
The UK's Most Awarded Mattress, Made in the UK.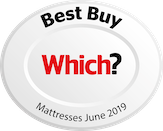 Our exceptional product quality has been proven to provide the greatest sleeping experience. With awards, endorsements and recommendations from notable testing agencies such as Which?, The Independent, T3, Good Housekeeping and many more. Our Emma Original is the UK's most-awarded mattress in 2019, but don't just take their word for it! Take advantage of our risk-free 200-night trial and try it out yourself.
"Emma has managed to rise above the excellent competition in this area to be crowned best mattress."
"Exceptional. It's one of the highest-scoring mattresses we've tested in years!"
Which? Consumers' Association, 2019
"This is as good as it gets. "
The Independent, 2019
"The 'Emma Original' mattress – best mattress for all-around comfort."
Ideal Home, 2019
"Substantial firm mattress that provides best nights sleep."
Good Housekeeping Institute, 2018
"This design provided a comfortable, non-sweaty night's rest for both our testers."
"There is no doubt that this is the UK's leading mattress!"
The Mattress Guide, 2020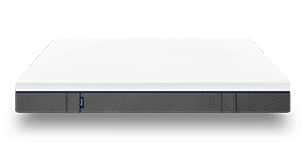 Made with you in mind.
200-Night Trial
Now isn't the time to worry about having to make a quick decision about whether the Emma products are perfect for you. That's why for now we have doubled our risk-free trial period from 100 to 200 nights, So, relax, take your time and enjoy.
Free, no-contact delivery
Each Emma product is delivered factory-fresh and brand-new straight to your doorstep. Our no-signature regulation cuts out all unnecessary contact between you and the courier service. And as usual, delivery and returns are entirely free.
10-Year Guarantee
Your mattress comes with a 10-year guarantee. That's how sure of its quality we are. So, in the unlikely event that you have any problems, let us know and we'll sort it out.
0% Finance
We've partnered up with Klarna to give you the freedom to spread the cost of your Emma items
Mumma S
"Fabulous mattress! My husband often complained of back troubles in the past (he's 33yrs old) so we decided to invest in an Emma mattress after reading the reviews. We are so glad we did! It's perfect for us and we wouldn't go back to cheapy/rubbish mattresses ever again."
Ross E
"I was very doubtful of the reviews and ratings which kept coming up online, but I took a gamble and opted for an Emma mattress. There is absolutely no way I would return or replace it as it is literally the best mattress I've ever had. Couldn't be happier with it."
John G
"Amazingly comfortable mattress and excellent customer service. I bought a King and we slept on it on the floor for some time after buying our new house — even on the floor it was really comfortable! You cannot feel the other person in the bed moving around at all."
Patricia C
"Loved it from the first night! Extremely comfortable and easy for me to move on my own. My last mattress was a traditional one and a nightmare to move, taking 2 people, so the Emma is a delight after that. My sleep has improved too. I really highly recommend it."
Don't just take our word for it – see for yourself! Find out which Emma is right for you.
Emma is the reason why so many people can't get out of bed
Here's the Emma Sleep Design Story
Quality
Our team of engineers have dreamed up a mattress that kicks quality butt. The Emma is constructed from premium memory foams so your mattress will maintain it's supportive qualities and keep you sleeping happy.
Style
Who says a mattress can't have fashion sense? The grey-and-white mesh mattress cover turns heads on pillows.
Comfort
No one wants an uncomfortable mattress, which is why Emma was designed to provide ultimate comfort for every type of sleeper.
Cooler sleep + longer sleep = happier you
Did you know…?
Home air-conditioning units aren't common in Europe but Europeans still average five hours more sleep per week, even in warm weather. Not fair, huh? This is why our engineers have designed a cooling mattress that is comfortable and breathable. The Emma mattress combines open-cell foams with cut-out technology so your mattress stays cool and helps you sleep better for longer. Now that's fair.
Emma doesn't have a wrong side of the bed
The Emma Mattress has scored high with European Consumer Testing Associations for its memory foam anti-motion transfer properties. This means that if you sleep next to someone who moves around, you won't feel a thing. One of the reasons our motto is "Don't worry, sleep happy."
A durable dream come true
On average, Americans buy a new mattress every seven years, compared to Europeans who buy a new mattress every ten years. Is it because Europeans are cheap, or because their mattresses are better? Our money is on the second option. That's why our team of engineers have dreamed up a good mattress that is not only comfortable and breathable, it's durable too. Emma has scored high with European testing associations for durability, so your mattress will keep its form and shape for years to come. Just another reason why our motto is "Don't worry, sleep happy."
Check out our most popular products!
Emma Mattress

Emma mattress is designed to enhance your sleep experience. Discover a mattress that gives you the ideal pressure relief and maximum comfort against back problems.
Emma Pillow

Emma Memory foam pillow is designed to help you sleep better. You can customize your pillow to get it firm or soft, high or low, just as you want it!
Emma Protector

The maximum protection for your Emma mattress. A waterproof, breathable, probiotic and antibacterial cover. Patented innovation for your mattress.
Emma is proud to be one of Europe's highest rated mattresses. And we have the numbers to prove it: Less than 4 years + 500,000 happy sleepers = 29 European Consumer Testing Awards
"Their memory foam mattress is gentle comfort that rests on hard science in order to provide you with the perfect foundation for a sensational night's sleep."
Good house keeping Institute, 2018
Emma is proud to be one of Europe's highest rated mattresses. And we have the numbers to prove it: Less than 4 years + 500,000 happy sleepers = 29 European Consumer Testing Awards
"This is as good as it gets."
The Independent 2019
Emma is proud to be one of Europe's highest rated mattresses. And we have the numbers to prove it: Less than 4 years + 500,000 happy sleepers = 29 European Consumer Testing Awards
"The bed-in-a-box foam Emma mattress was rated best mattress by consumer organizations in six countries."
Emma is proud to be one of Europe's highest rated mattresses. And we have the numbers to prove it: Less than 4 years + 500,000 happy sleepers = 29 European Consumer Testing Awards
Emma Mattress Review UK – The Good The Bad And The Ugly
If you're considering buying the Emma mattress make sure you don't suggest it to your wife by saying "How about we start sleeping with Emma?" while sitting at the kitchen table in the morning enjoying your cereal.
I can tell you from experience it doesn't go down well…
But it is, of course, possible to enjoy this excellent mattress without upsetting your partner at the same time.
I've been enjoying the Emma mattress for just over a week nowand have to sayI'm impressed!
I used it on the floor for 5 days and on a slatted bed frame since then and was completely comfortable on both, I'd say it's god for any bed base you've got.
Everything from delivery through to the feel of the mattress has been excellent andI've been sleeping soundly every night since I got it.
So let's go into some more details in this Emma mattress review starting with the good, the bad, and the ugly…
The Good Of The Emma Mattress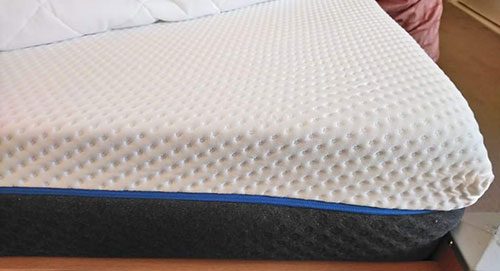 There are a lot of great things about the Emma mattress but the main thing is that you'll sleep better on it. The memory foam provides great support across your whole body, cuddling you in like a warm hug while being bouncy enough that it moves when you move.
A couple of other things I liked were:
MOVEMENT ABSORPTION
I don't feel my wife moving around at all while we're in bed. I'm quite a light sleeper and would feel every time she rolled over but now I can hardly tell she's there (until my duvet starts to disappear of course).
GREAT SUPPORT
I said it above but it's worth saying again, you get great support on your back and joints from the memory foam without sinking too deep and getting trapped.
I SLEPT GREAT
That's what it boils down too. I'm sleeping longer without waking up in between so getting a deeper sleep and ultimately feeling more rested.
It's the result of hundreds of little details that have gone into making this fantastic mattress.
Free Delivery and 100-Night Trial

It's free delivery (unless you want saturday delivery which costs an extra £35) and you get to try it out for 100 nights before the purchase is locked in.
So you can try it for a month and if you don't like it you can send it back for a full refund. You just organize a date to collect it and it gets taken away making it a really low-risk choice because if you don't like it you don't pay for it or keep it, how good is that?
THE BAD PARTS OF THE EMMA MATTRESS
With the good always comes the bad, and no mattress is perfect so let's see what's wrong.
MEMORY FOAM SMELL
Ah the familiar smell of memory foam.
Not a good time and if you've had memory foam pillows before you know what I mean.
It's unavoidable when you first unpack it you get that chemical waft of memory foam which will likely stay through your first and probably second nights of use.
But after that it goes away, It has no smell at all now and if you can persevere through those first couple of days it isn't a problem.
A GRIPPY BOTTOM
Now the bottom of the mattress has an anti-slip material which is a bit of a double edge sword, it's great because once the mattress is in place it stays there, fine. But if you don't unpack it exactly where you need it it is a pain to shift.
This is a bit of a unique situation to me because I was using it on the floor (I've just moved and didn't have a bed frame yet) but wanted to mention if for the sake of a complete review.
THE UGLY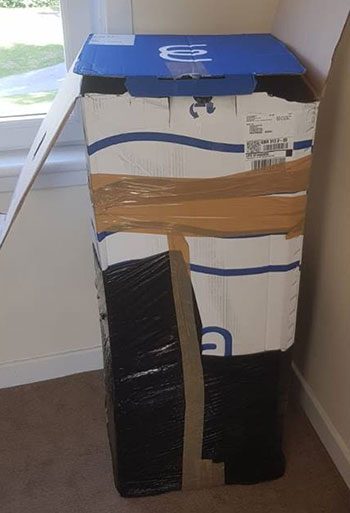 *lightning strikes, horses neigh*
It's hideous! AAAARrrrrgh….
OK, OK, I'm exaggerating a little, and maybe this is here because I thought of a good title for the article and wanted to run with it…
But the box was pretty banged up when it arrived but the mattress inside?
Which is absolutely the way round I want it to be and is pretty standard from most bed-in-a-box companies.
What's Inside the Emma Original Mattress
The Emma Original is a memory foam mattress made up of 3 layers of foam with a climate regulating cover on the outside.
Top Layer – Breathable Airgocell-Foam
This a 3 cm layer of cold foam that helps air flow underneath you so you don't overheat through the night. It's also got something called point-elasticity which is what reduces motion transfer.
This is the layer, alongside the other memory foam layer, that works to stop your partner bouncing out of bed every time you sit on its edge which leads to a more rested nights sleep.
Middle Layer – Pressure Relieving Visco Elastic Memory Foam
This is the layer that provides some much-needed relief to your pressure points along your spine and in your joints. It's the memory foam that keeps you comfortable in any sleeping position and works to stop back pain.
It also hugs you in slightly cradling the body and stops you moving around so much, or more it stops you needing to move around, which can disturb your sleep and leave you feeling more tired than is necessary.
Base Layer – Dense Support Foam
This is what makes up the bulk of the mattress and provides the counter pressure needed to stop you sinking into it completely. It provides excellent pressure relief of your lower back and gives it the nice medium-firm feel.
Top Cover – Climate regulating Elastic
The cover is split into two sections, the first is the white top cover which is made of a special climate fiber that regulates your body temperature to stop you overheating.
The second is the grey side cover that is made with a 3D mesh that looks stylish, is anti-slip and provides some much-needed air circulation through the body of the mattress.
All very high quality materials that make this a luxury mattress.
What Type Of Sleeper Is The Emma Mattress Best For?
Wondering what type of sleeper you are? Everyone moves about through the night but generally, you want to pay attention to what position you tend to wake up in. If you wake up on your side you've probably spent most of the night as a side sleeper.
There you go, come for the Emma mattress review and stay to learn what type of sleeper you are! Anyway…
Back Sleepers and Side Sleepers
That's who the Emma mattress is best for because the sink from the memory foam lets your shoulders sink in deeper keeping your spine aligned and you sleeping comfortably.
And it's got enough resistance that you don't sink in too deep on your back and get well supported all night long.
Front sleepers will get on OK because it's on the firmer side but generally, stomach sleepers don't want to go for memory foam because your stomach sink down and puts pressure on your neck which can cause you to wake up with neck pain. It's not too bad with the Emma but you've been warned!
Usually, stomach sleepers want either a pocket sprung mattress or a hybrid mattress (like the Simba Mattress)that has more support, you can see my pocket spring mattress reviews here.
HOW YOUR MATTRESS AFFECTS YOUR SLEEP
Your mattress is everything when it comes to getting a good night's sleep.
An old one can have you tossing and turning all night which just ruins your sleep leaving you tired in the morning.
And don't get me started on back support! Old sagging mattresses are what nightmares are made of when it comes to morning back pain, been there done that not fun.
So it's well worth investing in a new mattress and even more worth it investing in one of the best mattresses which this is since it appears in my list of the best memory foam mattresses.
IS THE EMMA MATTRESS RIGHT FOR YOU
If you're looking for a comfortable mattress that will have you sleeping better than yes.
But more specifically if you are any of these people below.
A light sleeper who shares their bed.
Someone with back or joint pain
Someone who rolls around a lot
Someone who likes comfort
It's great for any sleeper type and I can't think of anyone it isn't right for.
It's a relatively firm mattress at first feel but that's because the memory foam takes a second to activate so it starts firm but gets softer ending asa nice medium-firm feel.
ANYTHING ELSE?
Yes! I'm glad you asked.
You get a 100-night trial period to test it out.
10-Year guarantee.
Free delivery and returns.
I love free delivery so that's a big plus from me. And delivery is with UPS, quick and reliable.
With the 100-night trial, if you don't like it you just reschedule a pick up with DPD or UPS depending who delivered it and they take it away and give you a full refund of the price making it very low risk in terms of trying it out to see if you like it.
If you think the Emma Mattress right for you just click the button below, read some more of the information available at Emma's website and continue to order yours today.
F.A.Q On the Emma Original Mattress
there are a few questions that come up again and again when people are shopping for a new mattress so I thought I'd address them here.
Do You Need To Use A Mattress Protector?
I'd recommend it, they help your mattress last longer and are a good last resort in case you spill anything on your mattress, that morning cup of coffee leaving a big stain on the nice white cover is not what you want.
Besides, you can pick up an affordable mattress protector either from Emma themselves or I've got a separate article on them here.
Will They Take Away Your Old Mattress?
Disposing of your old mattress can be a pain depending on what your local council are like, I know some of them here in the UK can be a nightmare with pickups of large items.
So, while it's not idea, Emma can pick up your old mattress when they deliver for an additional fee of £35, which in the scheme of things is very reasonable and makes the whole transaction that little bit easier.
Can You Use A Mattress Topper With The Emma?
You can use one but I don't think you'll need to. You definitely don't want to use a memory foam mattress topper as the foam in the topper is probably lower quality than the foam in the mattress. But if you want to make it softer you can use a feather or microfibre topper to soften up the firmness.
What Sizes Are Available?
In the UK sizes, you have all the standard sizes, single, small double, double, king size and super king size. Plus you've got the EU sizes of single double and king size which is useful if your bed base came from Ikea.
Loads of people get a double frame from IKEA and then there own mattress leaves a gap at the bottom of the bed frame. It's just because an EU double is 10 cm bigger than the UK double, just to be a little awkward!
Can You Be Too Heavy For It?
Unfortunately yes you can, the upper weight limit is around 20.;5 stone per person or 130kg. If you're heavier than that you'll sink in too deep and not get the proper and full benefits of the mattress.
Conclusion
I really love the Emma Original Mattress, it's a superb choice of memory foam mattress that'll work hard to keep you sleeping all night long.
Emma themselves are a staple mattress company in the industry and they've made an excellent bed-in-a-box mattress which I know you won't be disappointed with. And if you are? Just send it back for a full refund.
I hope you found this Emma mattress Review Useful!
Happy Sleeping!
Related reading
I have an affiliate relationship with some companies where we get a percentage of sales if you click over from our site. This is at no extra cost to you and how I pay the costs of running this site.
About Kieran
I'm Kieran an award-winning sleep blogger and I created The Dozy Owl, I believe that a lack of sleep is a national crisis and if we can master our sleep we can do anything.