Sarasota & Venice Mattress Stores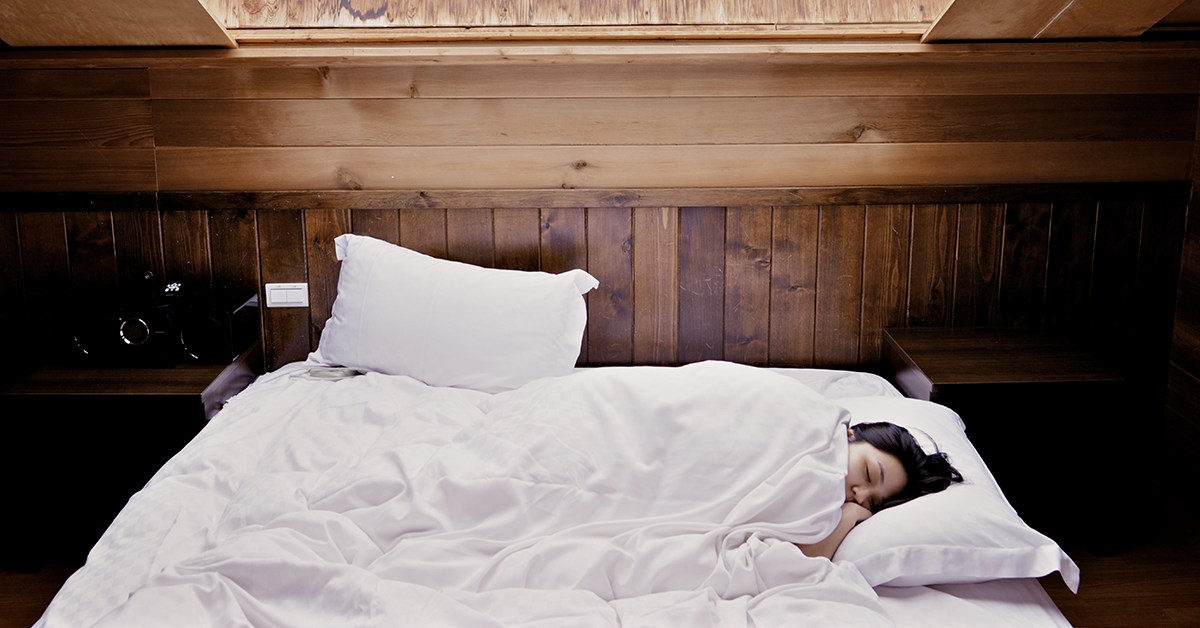 Mattresses are a major part of our lives, but how hard or soft they are can make a big difference for the quality of sleep you'll get. Let's look at the pros and cons of each type.
Pros of a Hard Mattress
1. They facilitate a neutral spine position, keeping your body straighter
2. They reduce the pressure on your circulation system, allowing blood to flow better
3. They prevent your lower back from collapsing, which allows you to inhale more oxygen while you're sleeping
4. They support the use of props like body pillows and pillows between the knees
5. The human body can adapt to sleeping on a hard mattress and begin finding it comfortable
Cons of a Hard Mattress
1. Changing to a hard mattress (from a soft one) can be uncomfortable for several days
2. Studies have suggested that hard mattresses are not a good option for people with certain lower back problems (arthritis, rheumatism, scoliosis, etc.)
3. It can be harder to notice the differences in firmness between harder mattresses, and some may not be quite firm enough
4. Very few locations ever advertise their mattresses as "hard and solid" instead of "soft and plush", perpetuating the problem of people who are harming their bodies by sleeping on the wrong type of mattress
5. Body weight can eventually create indentations
Pros of a Soft Mattress
1. Soft mattresses can reduce back pain and help aging individuals deal with joint pain and problems
2. Slimmer, lighter people can sleep on a medium-firm mattress and enjoy the plushness without sacrificing spinal support
3. Soft mattresses can be a better option for people who sleep on their side, especially in a fetal position
4. Softness can be added through the use of pillow-top systems, allowing for a firm primary mattress with just a bit of softness on top
5. Research is continuing to work on ways to support the body even when softer mattresses are being used
Cons of a Soft Mattress
1. The softness can push a spine out of alignment and reduce the quality of sleep
2. Soft mattresses can be more expensive than their firmer counterparts
3. Two people may disagree on the amount of softness they want in a bed, making it harder to share
4. Soft mattresses tend to grow softer over time and may cease being appropriate after a few years of use
5. Tend to result in below-average buyer satisfaction
In short? You may want to consider a firmer mattress unless your doctor says otherwise.

Mechanics Of Orthopedic Mattresses And How Its Largely Used As A Marketing Term
For those out there that suffer from both overnight and morning aches and pains, a new mattress could be the cure. A properly-designed mattress can support bad backs and injured joints to prevent pain. However, it seems like every mattress on the market today is advertised as "orthopedic"- including the ones many out there are currently suffering on.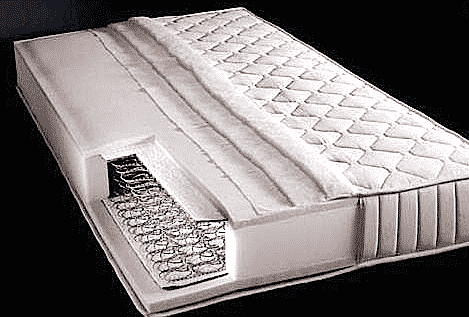 No Regulation
The term "orthopedic mattress" was coined in the 1950s, after studies of how the joints and bones work suggested that specially-designed mattresses could prevent morning back pain. The first orthopedic mattresses on the market were, indeed, designed followed orthopedic principles to be therapeutic for bad backs. However, after mattress manufacturers noticed that these mattresses were selling well, they started calling all mattresses "orthopedic." After all, there are no government regulations or standards in place to prove that one mattress is better than any other. There are also no regulations or standards for the language mattress manufacturers can use to describe their products. Essentially, the term "orthopedic mattress" is being used as a marketing term.
However, there are actually orthopedic mattresses in existence. Most people have heard that sleeping on a hard floor is good for back pain, and so they mistakenly believe that an orthopedic mattress should be hard as a rock. Scientific studies have, however, found that extra-firm mattresses are not the best choice for back pain sufferers. For example, a blinded study of over 300 back-pain sufferers reported that a mattress of medium-firmness was best for relieving back pain. The patients were given mattresses to sleep on, but were not told what type of mattress they have received. Their back pain was assessed after they had slept on the mattresses for around 3 months. Very soft mattresses are the worst for back pain, but extra-firm mattresses were no good either.
Advocates of extra-firm mattresses or sleeping on the floor are overlooking two principles of orthopedics: pressure points, and the natural curvature of the back. When lying on a hard surface, the parts of the body in contact with the surface are essentially squashed by the body's weight. This can cause considerable discomfort and even tissue damage. To avoid pressure points, the surface needs to have some give. Everyone understands this- we put pillows on hard chairs and prefer padded sofas over metal park benches. A too-firm mattress provides no relief from pressure points.
The Back Curves
The other important point is that the back is not straight. It naturally curves. Trying to straighten out the curves places great stress on the muscles, tendons, and even bones of the back, leading to pain and damage. When lying on a hard floor, the back has to either constantly work hard to maintain its curvature, which can lead to pain, or it can give up and straighten out, which also leads to pain. If instead, a person lies on a surface with some give, the surface will conform to the natural curves of the body and support them. Of course, if the surface is too soft, it will conform to the natural curves but provide no support at all. Therefore, a properly-designed orthopedic mattress needs to achieve the perfect balance of sufficient softness and sufficient support. Of course, there are individual differences in how much support is necessary. It is important for each person to try out orthopedic mattresses on an individual basis rather than just accepting a doctor's prescription for a particular mattress.
Subscribe to Mattress Clarity!
Get special coupons, discounts, and giveaways!
The 7 Highest Rated Firm (Hard) Mattresses in 2020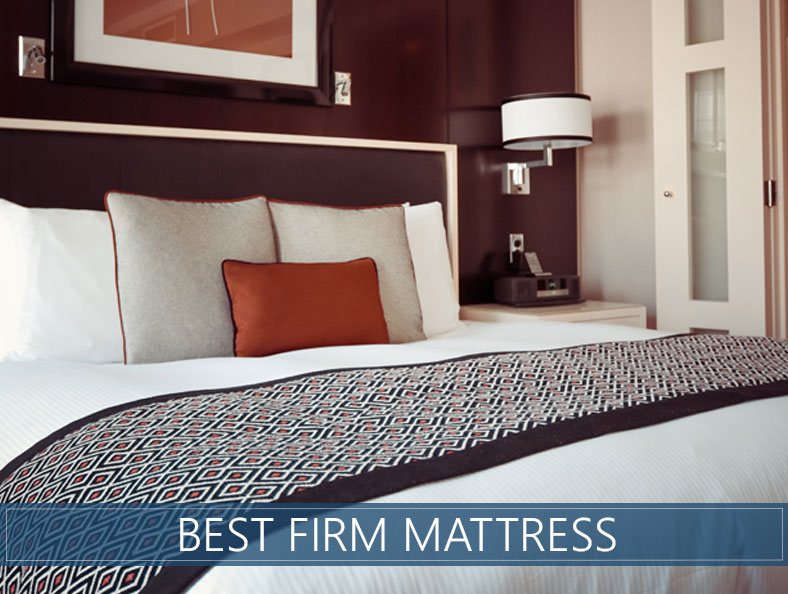 Transparency Disclosure– We may receive a referral fee (at no additional cost to the buyer) for products purchased through the links on our site or other applicable pages. To learn more, please read our full disclosure pagehere . We also encourage you to read about how we may research and/or test Products here .
One of the first things you ought to do when you go ahead and start looking for a bed is to identify the type of sleeper that you are. Do you prefer to sleep on your sides, back or stomach? As long as you get that sorted out correctly, you are good to go.
The next thing to consider, and probably the one that would ultimately determine your choice, is the mattress firmness. We are going to take a closer lookat some top rated firm mattresses on the market. They are usually preferred by people who like to sleep on their backs or stomach.
For more options, we recommend that you read our highlights of best-rated brands and see the winners for each category.
Of course, that's far from being enough when it comes to determining the firmness level of your bed. There are quite a few things that you would have to account for to understand what makes a great firm (or extra-firm) mattress. That's why we've taken the liberty of providing you with everything you need to know in a structured and comprehensive manner. Hopefully, after you are done the reading, you'll be confident choosing your ideal "hard" mattress.
Trial Period: 120 Days
Warranty: 15 Years

CLICK HERE FOR PRICE

Trial Period: 365 Days
Warranty : Forever Warranty

CLICK HERE FOR PRICE

Trial Period: 120 Days
Warranty : 10-Year

CLICK HERE FOR PRICE

Trial Period: 120 Days
Warranty : 10-Year

CLICK HERE FOR PRICE

Trial Period: 120 Days
Warranty: 15 Years

CLICK HERE FOR PRICE

Trial Period: 120 Days
Warranty: 20 Years

CLICK HERE FOR PRICE

Trial Period: 100 Days
Warranty: Lifetime

Top 7 Firmest Bed Reviews

Saatva – Affordable Luxury

Highlights:

CertiPUR-US® Certified
120-Day Trial
15-Year Warranty
Charity Initiatives
Made in the USA

Saatva's Firm model is an especially supportive innerspring bed that features a coil-on-coil construction with firmer foams in its comfort layers. Sleepers should feel like they are floating on top of the mattress rather than sinking into it and the alignment should be great for most back and stomach sleepers.

The coil-on-coil design includes individually wrapped springs on top of an interconnected coil base. While the first layer of coils helps contour, the base helps prevent sagging and gives support. The steel in the base coils has been tempered, which increases their durability.

Why is it special?A firmer innerspring experience provides all the things people love about coils. From bounce to support, Saatva offers a high-quality package.

It has premium features, like an enhancement to the lumbar area, as well as a dual perimeter edge support, and the incorporation of organic cotton into its cover. In addition, Saatva offers free White Glove Delivery and mattress removal.

Nectar – Exceptional Value

Highlights:

CertiPUR-US® Certified
OEKO-TEX® Certified
365-Day Trial
Forever Warranty

This bed was made to suit most budgets with exceptional value due to the generous trial period and reasonable price. If you love the traditional feel of memory foam but feel like you get stuck deeper that you'd like it most mattresses, Nectar could be for you. Firm and supportive, but great for pressure points, Nectar uses a combination of three types of memory foam to provide the deep cradle many sleepers love without causing them to get stuck or overheat.

Because of the great support and soft pressure point relief, this bed could be a great option for a variety of sleeping positions, helping to maintain proper alignment. Though Nectar allows you to sink in comfortably, it shouldn't retain heat like other memory foam options because of its breathable cover and the gel-infused top layer of foam.

What stands out?This bed was made with one firmness level to be suitable for most sleeping positions so you shouldn't have to worry if you're a combination sleeper or your partner sleeps differently than you. Combined with the extra-long trial, its versatility makes it a great value.

Plank by Brooklyn Bedding – Extremely Firm

Highlights:

CertiPUR-US® Certified
120-Day Trial
10-Year Warranty
Made in the USA

Firmer beds have plenty of benefits, from properly supporting stomach sleepers to helping many sleep cooler. For those looking for the right option, Plank by Brooklyn Bedding should be firm enough to support you, while allowing some cradling so you don't feel like you're sleeping on an actual plank.

On this firmer Brooklyn bed, you're not likely to sink in but rather lay on top of the supportive foams and enjoy an evening of cool sleep. This option is great for stomach sleepers for proper spinal alignment, and while it might not relieve pressure points like memory foam, if you like sleeping on the floor, odds are that's not a huge factor on your list. However, if the bed is a little too soft for your liking when it arrives, you can even flip it over for a firmer feel.

What makes it unique?As the foams are quick responding, most sleepers shouldn't have any trouble with repositioning, and though it's an all-foam model, with gel infusions, it shouldn't retain heat.

For stomach and back sleepers, this bed is likely a dream come true, especially if you don't find yourself preferring less cushion.

Brooklyn Aurora – Amazing Cooling

Highlights:

CertiPUR-US® Certified
120-Day Trial
10-Year Warranty
Made in the USA

For those who want to sleep on a firm cooling mattress with great features, the Brooklyn Aurora is one of the best we've seen, which is offered in a Firm configuration. The Brooklyn Aurora uses proprietary Titanflex™ latex alternative as the main foam in this bed with cooling and support mechanisms built into every layer. With pocketed coils, memory foam, and copper gel integrated into various parts of the bed, we know it may be oversaid, but this mattress has it all.

Why is it special?Brooklyn aims to pass along their savings in manufacturing to the customer, which is why they own their manufacturing process, cutting out middlemen. This means customers could get luxury quality and materials in a bed in box option without paying an exorbitant amount.

However, that's not even the best part of this bed. While it's exceptionally firm, it also has bounce, motion isolation, and edge reinforcement for those who want support they can rely on.

Loom & Leaf – Memory Foam

Highlights:

Organic Cotton Covering
CertiPUR-US® Certified
120-Day Trial
15-Year Warranty
Made in the USA

Firm memory foam? Although it may seem too good to be true, especially to stomach and back sleepers, the Firm model from Loom & Leaf is an incredibly supportive memory foam solution.

With the perks of a luxury mattress crossed with a firmer feel, this bed should elevate sleepers without making them feel like they're sleeping on a rock.

The supportive foam and quilted organic cotton cover give it some comfort while the overall construction of the layers delivers firm support. With a cooling Spinal Zone Gel pad in the center third, sleepers should experience ideal temperature regulation and some extra support for the spine. This is especially helpful when lying in a position with a lot of surface area contact with the bed.

What stands out?For a good firm memory foam solution, it is hard to beat Loom & Leaf. It is an exceptionally well-made product that feels truly high-end. If you decide to purchase, you'll even receive complimentary White Glove Delivery and mattress removal services.

Zenhaven – Flippable

Highlights:

Dual-Sided
OEKO-TEX® Certified
120-Day Trial
20-Year Warranty
Made in the USA

If you're not quite sure if you need a harder mattress but suspect that maybe you should try one out, Zenhaven is a safe option because you can flip it over at will for a new feel– it is dual-sided. The brand claims that its Gentle Firm side feels 18% firmer than its Luxury Plush side.

Zenhaven uses four layers of tree-tapped American-made Talalay latex, bundled in organic New Zealand wool and cotton. The Talalay process for producing latex ensures a durable and consistent material that should also be hypoallergenic. The brand has taken its production one step further by innovating the Talalay design to include five zones for even more support for the shoulder and torso areas.

What makes it unique?Zenhaven has a luxurious latex feel, giving the body a buoyant sensation when lying down, along with solid support and quick responsiveness in each layer. If you find yourself in need of a softer bed, it's only a flip away.

Complimentary White Glove Delivery and free mattress removal are part of the Zenhaven package, making your best night's sleep even more hassle-free.

Love and Sleep by Nest Bedding – Budget Choice

Highlights:

CertiPUR-US® Certified
GREENGUARD Gold Certified
100-Night Trial
Lifetime Comfort Guarantee
Lifetime Warranty
Made in the USA

Nest Bedding® built its entry-level Love & Sleep budget bed with so many higher-level features that we're surprised at the price. Their multiple comfort levels include a Firm mattress that works well for exclusive stomach sleepers and back sleepers who like a little extra support.

This iteration of the Love & Sleep has a supportive 8-inch foam core that is topped with a 2-inch layer of Energex foam that provides pressure relief and contouring. The entire bed is wrapped in a durable cover integrated with phase-change materials to help keep your temperature regulated throughout the night.

Why do we love it?The company has included some impressive cooling technology and a generous sleep trial/warranty package with their beds that give it fantastic value in the entry-level space. Additionally, for being an all-foam bed, this model does well with motion isolation and provides enough bounce to keep most sleepers happy.

There is also a Lifetime Comfort Guarantee that helps ensure your satisfaction for as long as you own the bed.

Who Should Sleep on a Firmer Bed?

One of the first things that you want to consider is what kind of sleepers benefit the most from a good firm option. If you usually sleep on your back or your stomach – you may fall into that category. At the same time, if you are a heavier regarding weight, you'd also likely benefit a lot from a hard mattress that is more stiff than what a side sleeper needs.

For those of you who like to sleep on their backs – the harder bed will work at keeping your spine in proper alignment, and it should prevent excessive sagging and contouring.

Stomach sleepers, on the other hand, also benefit from a hard mattress for reasons that are quite similar. They tend to keep a particularly flat profile, which results in fewer gaps between your body and the bed. With this said, if you prefer belly sleeping, you should consider a unit that will prevent your back from arching. At the same time, the bed should prevent your pelvis from sinking right into it.

Who Shouldn't Get a Hard Bed?

Naturally, some people wouldn't prefer a particularly hard bed. Those of you who like sleeping on their sides probably wouldn't appreciate the extra firmness. The reasons are numerous.

Right off the bat, the very first thing that you should consider is that while sleeping on your side, you exert a lot more pressure on a concentrated surface on the mattress. That's why the sinkage can be a lot more. If the bed doesn't contour your body and sink appropriately, you can start experiencing pain in your shoulders and lower back.

People who are light regarding weight should also stay away from hard beds. The reason is quite simple – they wouldn't be able to exert enough pressure on the bed to sink and would likely float on top of it. This is a rather unpleasant sensation that can also cause a lot of issues.

Benefits of a Firm Model

Obviously, firm mattresses are suitable for a particular types of sleepers. There are numerous benefits brought by a firmer bed, so let's have a look.

They are more comfortable for some

The truth is that you can never have too much support. However, the opposite is true. Firmer mattresses offer an expressed amount of support, and they are a lot more comfortable if used by the right person. Those of you who experience lower back pain, neck or joint issues could benefit.

You would never be able to get a proper rest if your mattress is overly soft or if it's sagging for the positions we've discussed. With this in mind, a proper bed with the necessary amount of firmness will comprehensively align your spine, inducing a state of great relaxation.

If there is one thing that you should consider when picking a mattress, that's the spine alignment. A firm bed can significantly help with this if used for the proper positions.

Proper distribution of weight

A firm model offers splendid overall weight distribution which can alleviate a lot of pressure points between the body and the bed.

Buyer's Guide

As you have started your search online, there are a few guidelines you can use to help find something you will be comfortable on for years to come. While some people like to go to shops like Mattress Firm or other local stores, if you prefer to shop online, reference the following tips to help make your selection.

How Firm?

There are different types of firmness levels when it comes to it. We've decided to focus on those who score up the higher end of the scale.

Typically, for a mattress to be above the average, it has to be medium firm, firm, and extra firm. These all have different purposes.

For instance, medium-firm beds are preferred by the vast majority of sleepers. It's estimated that about 80% of people prefer this particular firmness level. Firm ones would feel slightly less tough in comparison, and the firmest ones are very sturdy.

Hard mattresses are great for back and stomach sleepers while extra-firm ones can be used by people who are substantially overweight or are just very heavy. This would help guarantee the necessary support.

What Material?

There are different types of materials that you can go for. The most preferred on the market when it comes to beds are memory foam, innerspring and latex.

Now, if you are a fan of memory foam mattresses, you could have a harder time finding a firm, let alone extra firm bed. This is due to the natural properties of the material.

On the other hand, innerspring and latex are materials are generally more responsive, and they can make it easier for the mattress to be a firm. They are the predominant materials for most extra-firm solutions just for that reason.

Beware of Sagging

Sagging in mattresses that are firmer could be a serious issue for sleepers. In certain situations, the excessive sag is caused by the low quality of the material. That's why we recommend making no compromises if you're to buy a firm bed.

Old mattresses, however, may no longer have the material or structural integrity to deliver the necessary amount of support. Keep in mind that the average useful lifespan for the majority of beds will range between 8 and ten years. Of course, there are a lot of factors that might affect and alter this such as usage, body type, weight, and others of the kind.

Edge Support

The edge support is quite important for some, and it's amongst the factors that you can account for. Poor edge support could potentially lead to quicker sagging of your mattress as you sleep regularly on it.

For those sleepers who share it with someone else, you are likely to find yourself on edge a lot more than you'd like to. This is when you can definitely appreciate proper edge support.

However, another way to help get around it is to get a bigger size if you are part of a couple. For instance, instead of getting a good Queen size mattress, you can order a King size so there is more available space for each person.

Amorous activities are also an important consideration. Interestingly enough, quite a lot of couples enjoy taking advantage of the edge of the bed for sexual activities. Most of the options outlined above do not suffer from this problem.

Temperature (Air Flow)

This is one of the most commonly underestimated characteristics and also one of the most important ones for many people. The air flow that your mattresses allows largely determines the overall temperature of the unit.

The last thing you'd want is to wake up sweating through the night, just because you've picked a unit that retains a substantial amount of heat.

You can aim for something cooler and innerspring and latex are the leaders in this segment, though there are often gel infusions in memory products. Overall, a cooler bed is attributed to better sleep and proper rest.

Frequently Asked Questions

What is a Medium-Firm Mattress?

When you're looking for a bed, you're looking to blend the perfect amount of two key features, which are pressure relief and support. You want one that is soft enough to cushion the places where the body tends to develop pressure when lying prone, and you also want a bed with enough support in place to keep your weight resting evenly. This blend is not the same for everyone or every sleeping position, but Medium-Firm tends to accommodate most sleepers in most positions.

If you've been doing some mattress shopping, you've probably heard the words "medium-firm" a lot: there's definitely a reason for this. Mattress manufacturers looking to capture the largest market for their brand aim for this firmness because it tends to be the most versatile feel across the largest population of body types. It is also ideal for combination sleepers who switch positions at night.

It's important to keep in mind that not every sleeper will experience a bed in the same way, and what feels Medium-Firm for one person might feel quite a bit firmer to someone who is significantly lighter than average. Likewise, someone significantly heavier might experience a bed marked Firm as quite a bit softer.

The Hard Bed™ Mattress

Product Description

Availability:In-Store(On Display & Stocked in Calgary and Edmonton)or
Buy Securely Online(Ships direct to your door in an easy-to-handle cardboard carton, simply unpack and expand the mattress)

Current Calgary & Edmonton inventory in-stock and ready to ship via UPS or Fedex, compressed and rolled, easy to handle
In-Stock: Twin (Less than 10) | Double (Less than 10) | Queen (More than 80) | King (More than 60)

Hard Bed is Certified Hard.

Hard Bed is a revolutionary solution in firm support sleeping. Manufactured in the largest, most consistent-quality mattress facility in the world, Hard Bed combines the newest sleep technologies with proven traditional craftsmanship. In fact, Hard Bed is one of the only fully reversible, two-sided mattresses available in Canada.

Your Hard Bed features a layer of 3.4 lb high-resilience (HR) Smart Foam quilted to both the top and bottom fabric panels. Sandwiched between the incredible Smart Foam is an 8" layer of extra-firm foam to provide ever-lasting support.

Everyone knows that mattresses used to last 15 or 20 years. What everyone forgets is that mattresses used to be flippable. This is why Hard Bed has returned to this style. Simply flip your Hard Bed (which will be easier to do after you've toughened-up your back), once every 6 months to maintain incredible support for years to come.

Why no springs? When designing the ultimate in firm beds, springs are simply not desirable. An ultra-firm spring unit ends up causing far too many pressure points, where-as our combination of unique high-resilience Smart Foam and an extra-firm support core ensure that excess pressure points are less of a risk.

Hard Bed™ Mattress Specifications

Layers from top to bottom:
Zippered, quilted, removable double jacquard outer cover (top and bottom)
High-resilience (HR) Smart Foam quilted to top outer cover
8" Extra-firm foam core
High-resilience (HR) Smart Foam quilted to bottom outer cover
Mattress is fully symmetrical, may be turned, flipped or rotated for use on both top and bottom

This old-school way of building a mattress will provide a considerably longer mattress life than modern one-sided mattresses
Hard Bed is super easy to flip due to the rigidity of the extra-firm foam

Total height of approximately 9"
CertiPUR-US® Certified
Foam made without ozone depleters
Made without PBDEs, TDCPP or TCEP ("Tris") flame retardants
Made without mercury, lead, and other heavy metals
Made without formaldehyde
Made without phthalates regulated by the Consumer Product Safety Commission
Low VOC (Volatile Organic Compound) emissions for indoor air quality (less than 0.5 parts per million)
Oeko-Tex® Standard 100 Certified
Easy delivery & setup
Ships via courier, vacuum packed and rolled to be compact and easy to move, even in king size!
Delivered in an eco-friendly recyclable cardboard carton
Simply unbox, place on your bed frame or the floor, gently cut the inner-plastic wrap and watch your Hard Bed expand, ready for action
Designed in Canada by The Mattress & Sleep Company
Made in China

Estimated Delivery, Shipping Costs & Availability

This mattress is rolled and shipped in an easy-to-handle cardboard carton and will arrive via a standard courier such as UPS or Fedex.

If you'd like deluxe in-home setup, this service is available in the Calgary & Edmonton areas at no additional charge, and is also available in select other areas for a nominal fee. During the online checkout process, you'll have the option of selecting in-home setup if this option exists in your area.

Hard Bed FAQ

Q?Hard Bed is too hard. Can I return it?
No. It's called Hard Bed. Sometimes, life is hard. Please do not order this mattress unless you are wanting an extremely firm mattress.

Q?How does Hard Bed arrive?
Hard Bed is conveniently vacuum-compressed and rolled in a manageable carton. We recommend removing Hard Bed from the carton as it's much easier to lift and move out of the packaging. There is a plastic sleeve around the mattress which prevents it from expanding and unrolling. Simply place where you intend to use Hard Bed, and then carefully cut along the plastic sleeve to open Hard Bed up. Our delivery company will do all of this for you, if we're delivering in our local Calgary & Edmonton store areas.

Suggested Foundation/Boxspring

Any firm, flat, level surfaceorelectric adjustable bed. So long as your box spring isn't sagging, it will work just fine with your Hard Bed mattress. If you're planning to use this mattress on a platform style bed simply ensure your platform has sufficient support such as a solid surface or slats no more than 3" apart. Bowed/curved slats are also fine! However, these slats might make your Hard Bed feel a touch softer.

Warranty & Care Instructions

Your Hard Bed mattress is covered by a 10 year prorated limited warranty. The Mattress & Sleep Company and Healthcare Co. Ltd. will address any covered manufacturers defect at any time during the first 10 years of Hard Bed ownership.

Please rotate your Hard Bed once every 6 months, and flip it over once per year. Consider using a St Dormeir Mattress Protector to ensure your Hard Bed stays hygenic for years to come. St Dormeir protectors also provide superior temperature and humidity regulation to ensure you sleep in the optimal climate conditions!

Dimensions & Weights

39" wide x 75" long x 9" thick
99 x 190 x 23 cm
38 lbs | 17 kg (approximate)

Twin XL Mattress
39" wide x 80" long x 9" thick
99 x 203 x 23 cm
41 lbs | 19 kg (approximate)
Double/Full Mattress
54" wide x 75" long x 9" thick
137 x 190 x 23 cm
52 lbs | 24 kg (approximate)
Queen Mattress
60" wide x 80" long x 9" thick
152 x 203 x 23 cm
61 lbs | 28 kg (approximate)
King Mattress
76" wide x 80" long x 9" thick
193 x 203 x 23 cm
80 lbs | 36 kg (approximate)

Unboxing Hard Bed

Hard Bed ships from Calgary or Edmonton direct to your door in a compact, easy-to-handle recyclable carton. Tight on space? No problem! Because Hard Bed is compressed and rolled, it's easy to move. Simply place the carton near where you'll be setting up and open it up. Follow along with our unboxing photos below!

Are you in the Calgary or Edmonton areas? Our in-home delivery teams will take care of all the work for you at no extra cost!

Tap the centre-right or centre-left edges of the images below to move back/forward through the unboxing steps.

Your Hard Bed will expand and assume it's natural shape in about 5 minutes. It's ready to sleep on right away, however, please allow two full days for Hard Bed to recover to 100% of it's original firmness from the factory.

Orthopedic Mattress Prices in Nigeria (April 2020)

With all the standing, walking, and sitting our bodies undergo everyday be it at the office or at home, or at times due to the lack adequate exercises we ought to be doing every day, a lot of us, especially the aging ones, find ourselves having to deal with back and neck aches. While it has been a persistent problem in the society today, one remedy that has been advised by medical practitioners is to purchase an orthopedic mattress.

An orthopedic mattress is not just a mattress; it is designed to help the align the body in a way to stretch the muscles and hence, enhance sound sleep. These mattresses not only ensure you sleep better, it also promotes your physical state and general wellbeing. It is not enough to just sleep to a random mattress, especially for people with persistent back and neck aches, what is more important is the type of mattress and the materials it is made of. This has made orthopedic mattresses very important.

A well-built orthopedic mattress improves the quality of your sleep by equally distributing pressure through the body and hence, aiding better circulation. It also reduces your movement during sleep and tends to enhance a calmer sleep.

As expected, the demand for the orthopedic mattress in Nigeria has ominously increased as lots of people have been complaining about persistent neck and back aches. Although some of these pains are as a result of everyday routines or stress, they have their greatest effect at night when one tries to sleep. The introduction of orthopedic mattresses in Nigeria has been greatly embraced and has seen their market grow enormously.

In this post, we will take a look at the prices of various brands and sizes of orthopedic mattresses in Nigeria. We will also take a look at basic things to consider before buying one.

Prices of orthopedic mattresses in Nigeria

The market for orthopedic mattresses has drastically increased over the last decade. This is largely due to a higher number of people complaining about chronic back and neck pains. This type of mattress has been recommended by medical practitioners and hence, increased the rate of demand of the products.

Orthopedic mattresses come in different sizes, designs and materials. Although there are only few brands that manufacture the products in Nigeria, it is still essential to consider the prices of the various brands and types available in the market today.

Orthopedic mattresses can be purchased directly from the manufacturers or from distributors across the country. They can also be gotten in contemporary stores or via e-commerce websites. It is advisable to purchase orthopedic mattresses directly from manufacturers or brand distributors. This confirms, to a large extent, the authenticity of the product. Also, one can easily return the products whenever there are issues that warrant such.
| | |
| --- | --- |
| Vita Galaxy Orthopedic Mattress | N50,000 – N100,000 |
| Mouka Regal Orthopedic Mattress | N75,000 – N80,000 |
| Mouka Semi Orthopedic Mattress | N55,000 – N70,000 |
| Beledoc Detachable Orthopedic Mattress | N170,000 – N230,000 |
| ZR 6ft x 6ft x 8 Orthopedic Mattress | N150,000 –N160,000 |
| Vita 7ft x 7ft x 8 Orthopedic Mattress | N160,000 – N180,000 |
| Vita Semi 6ft x 6ft Orthopedic Mattress | N100,000 – N115,000 |
| ZR 5ft x7ft x 8 Orthopedic Mattress | N109,000 – N120,000 |
| Sarafoam Orthopedic Mattress 6ft x 6ft | N100,000 – N120,000 |
| Regal Orthopedic Mattress 6ft x 7ft x 10in | N195,000 – N210,000 |
| Regina Semi Orthopedic Mattress 6 x 7 x 10in | N125,000 – N150,000 |
| Regal Orthopedic Mattress 6ft x 3.5ft x 8in | N85,000 – N95,000 |
| Regina Semi Orthopedic Mattress 6 x 6 x 10in | N110,000 – N120,000 |
| Regina Semi Orthopedic Mattress 6 x 7 x 8in | N120,000 – N125,000 |
| Mouka Orthopedic 6 x 6 x 8in | N95,000 – N110,000 |
| Regina Semi Orthopedic Mattress 7 x 7 x 10″ | N130,000 – N140,000 |
It should be noted that the variation of these prices is as a result of some factors. These factors include the place of purchase, the size of the mattress, the material the mattress is made of and the time or period of purchase.
Things to Consider Before Buying an Orthopedic Mattress
The market for orthopedic mattresses has expanded over the past few years. Due to high demand of the product, there are now various types, brands, class and sizes of orthopedic mattresses in the market. The diverse options available in the market today as only made it more difficult for one to choose a particular orthopedic mattress. Choosing an orthopedic mattress is delicate and it is important to pick one that suits your reason for purchase.
When you are buying an orthopedic mattress, it is important to consider some basic factors. These factors help you streamline your options and pick the best mattress for you. Some of these factors include:
Budget: Orthopedic mattresses are generally more expensive than standard mattresses. They can range from as low as N55,000 to as high as N300,000 depending on the size, quality and material. It is always important to know how much you are ready to spend on the mattress so as to streamline your options. There are several types of orthopedic mattress and you will be able to find one that fits your budget.
Purpose of Purchase:When you decide to buy an orthopedic mattress, be sure to keep in mind what your exact neck, back or spine problems may be. Although the orthopedic mattress is generally designed to address most back, neck and spine challenges, you may need to converse your challenges with a well-informed salesperson or consultant. This helps streamline your options and eventually select the right mattress for the right kind of sleep.
Quality of the Mattress:Orthopedic mattresses vary in quality. As much as you should consider your budget, you should also consider the quality of the mattress you are buying.
Partner:You should also consider the person that will be sleeping with you on the bed. If your partner does not have any ache and needs not use an orthopedic mattress, you might need to consider purchasing a semi orthopedic foam for convenience of both parties.
Orthopedic Mattresses in Nigeria: Where to Buy
Needless to say, you have two options when it comes to buying household stuffs here in Nigeria: buying them offline or placing your order online. Orthopedic mattresses are no exception.
Although not so many Nigerians are cool with the idea of ordering an item such as a mattress online, this option actually gives you access to the best prices available in the market, since online marketplaces like Jumia and Konga have many sellers vying for your patronage. So, it's a game of who can offer the best prices. Another huge benefit of buying your orthopedic mattress online is that you can have it delivered right at your doorstep. So, you won't have to do anything strenuous. If you're skeptical for any reason, some online retailers would allow you to pay on delivery. So, you can pay after the product has gotten to you.
The other option, of course, is traditional — visiting a mattress distribution or sales outlets around you to make your purchase. Aside that this option deprives you of the chance to compare prices, you'll also have to make separate paid arrangements for transporting the mattress to your desired location.