How Is Memory Foam Made?
Memory Foam Developed by NASA
The very first memory foam material was developed by NASA in the 1970s. Their intention was to try to improve seat cushioning and crash protection for airline pilots and passengers. Memory foam has widespread commercial applications, in addition to the popular mattresses and pillows you are familiar with today.
Anybody who has gone shopping for a bed, a new pillow, or even a new bicycle seat or mouse pad wrist rest in the last two decades will have encountered memory foam. This new material has been applied to a huge range of uses since its introduction to the US in 1991—from revolutionary medical uses to gimmicky new product designs. But what is it, who came up with it, and how does it work?
Though it is a relatively recent phenomenon in the US, memory foam has been around in various forms since the midpoint of the century—the first work on the polyurethane polymers that go into memory foam was actually begun in 1937 by Otto Bayer and his coworkers In 1965 the nursing staff at Lankenau Hospital tested "inert polyurethane porous foam" pads for use as bedding material, and found that they prevented "decubitus ulcers" (also known as pressure ulcers, sustained by patients who spend long amounts of time lying down), and found them to be hypoallergenic and resistant to bacteria (Kraus 1965). In the 1960s, NASA did work on materials that would serve as better cushions, and would also keep astronauts comfortable and protected from the extreme g-forces of lift off. It was then that memory foam as we know it came into being.

Memory Foam vs. Polyurethane Foam
Memory foam starts its life as polyurethane foam—a material first manufactured in the 1950s by adding water, halocarbons, or hydrocarbons to a polyurethane mix. Depending on the chemicals added and the way it is processed, polyurethane can form anything from car parts to spray liner, or in this case, one of the most comfortable sleeping surfaces the world has ever seen.
In the modern production of memory foam, a polyol is mixed with a diisocyanate and water. The foam rises like bread, with an open cell structure that helps give it its unique ability to spring back slowly from pressure. The introduction of gases into the initial solution creates a bubble matrix; vary the application of chemicals, and the size of the bubbles changes. A more open cell structure will have more give, and allow more airflow through the material.
Memory Foam Firmness
The firmness of memory foam is rated by the IFD (Indention Force Deflection), also known as ILD (Indentation Load Deflection) measuring the force in pounds required to make a 25% indentation in a 4 inch thick foam square. Also important in measuring the "softness" of a foam is the density. Foam densities range from 1-7 lbs, but a good-quality foam will usually be at least 4 and usually 5 lbs. A foam with a high density, but low ILD may still feel firm when compressed, especially in a lower room temperature. The density together with the IFD/ILD and the resilience will determine the softness, firmness, and life-span of the foam. Foam that is lower density will more readily conform to pressure, whereas higher density foam (usually 5-lb. or above) molds itself to contours when warmed by body heat.
Major production of memory foam did not begin until NASA released it into the public domain in the 1980s.Fagerdala World Foamstook up the challenge of producing this somewhat difficult product, and in 1991 produced the "Tempur-Pedic Swedish Mattress." Today numerous companies around the world produce visco-elastic memory foam, which gives consumers increased variety and price range. Unfortunately, it also increases the risk of purchasing cheaply-made foams that may deteriorate over time. Not all memory foam is made equal, as many of the overseas manufacturers work at reducing the cost of memory foam by adding in other "filler" type ingredients that reduce the quality and potentially add toxicity to the formulation. The real problem with overseas foam is the lack of quality standards that have been created in the United States.
How Mattresses Are Made
This content was created by the National Sleep Foundation
Mattress construction from the inside-out
If reading about mattress construction sounds like a real, ahem, snooze, know this: The way a mattress is made determines how it feels. And how a mattress feels may be the difference between a fitful night and peaceful slumber!
The Big Picture
Two basic types of mattress make up the vast majority of the market: They're called innerspring and memory foam. Made of steel coils, innerspring is, by far, the most common type. Memory foam, on the other hand, is made from polyurethane or latex foam, and is very dense foam. Memory foam is usually more expensive than innerspring.
Inside an Innerspring Mattress
Coils determine how much support (suspension versus springiness) the mattress will give. Manufacturers may use different types of coil shapes and structures, as well as different amounts of spacing and patterns to affect comfort. The next layer, top padding, isusually made from polyurethane foam. The outer layer (or ticking) is the material bound to the top padding with stitching. The way that ticking and top padding are attached influences the mattress's overall feel. Large, wide patterns will create a cushioned feel, which smaller patterns feel tighter and firmer. Generally, the more coils an innerspring mattress contains, the more comfortable it's bound to be—but if the number of coils is over 390, then you're not likely to notice the difference, so don't bother paying extra.
Inside a Memory Foam Mattress
Especially attractive to people with chronic pain conditions, memory foam mattresses consist of, essentially, very dense foam. When you lie on a foam mattress, your body heat softens the material, allowing it to "mold" to your body. One big advantage: In bigger beds, a memory foam mattress won't shift as much as an innerspring when one partner turns or moves. So if you're often disturbed by your partner's tossing and turning in the middle of the night, it might be time to invest in a memory foam mattress. But one con: Because these mattresses mold to your body, they can absorb a lot of heat and make you feel hotter while you sleep. Some people also complain that they have a chemical smell.
How Latex and Memory Foam Mattresses Are Made
There are a couple of reasons why you might be interested to read what I have on this section of my website. The first is that you have a natural curiosity about how the products you buy are made, and considering you'll be spending up to one third of your life on a mattress, I can't blame you for wanting to know.
The second reason might be because you're concerned over how eco-friendly a mattress is, and again, I can't blame you. After all, we're constantly told how we should treat our planet better and the dangers that certain materials can pose to our health.
So, no matter what the reason I thought it would be a good idea to let you know how latex and foam mattresses are made. Of course, if you're familiar with latex you may think this is the most natural substance a mattress can be made from, and you would be right since the raw material is drawn directly from the rubber tree.
However, if you are erring on the side of a latex mattress do be careful of the actual amount it contains because manufacturers use three different forms: 100% natural, 85% natural and 15% synthetic and finally 20% natural and 80% synthetic. Of course, the more natural a latex mattress is the more expensive it will be.
In respect of memory foam mattresses, the materials used are synthetic and this is one of the reasons why I come across so many complaints about the "outgas" odor many of them give off when they're brand new. Whilst this can be a little worrying, if you're careful to look for the CertiPUR-US certificate this will guarantee that your mattress is gentle on the environment and isn't bad for your health.
If you're interested in finding out about the whole process, why not have a little peek at the short video I have included below?
How to Compress (Deflate) & Roll Up a Memory Foam Bed at Home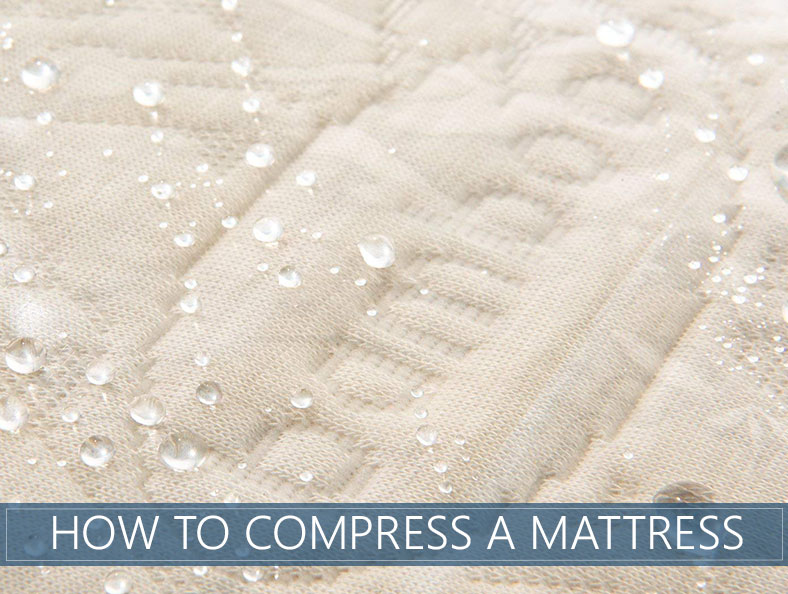 One of the biggest pains of moving is transporting a mattress.
They are big, bulky, and require two people to move. They take up a ton of room in a moving van, and if you've only got a car, then you're probably wracking your brain trying to figure out the best way to strap that sucker onto the roof.
But, wait a second.
If you have a memory foam bed, if you may remember that it came in a fairly compact box. Surely there must be a way to compress the bed back down to a size similar to the factory's package.
The bad news is that those factories have giant machines that exert tons of force onto the mattress to fold it into the nice, little bundle that gets delivered to your doorstep. The good news is that there's a relatively easy and inexpensive way tocompress a memory foam mattressDIY-style, so you can move to a new house without having to bribe your friends with bottomless pitchers of margaritas.
LeesaOriginalMattress
Free shipping straight to your door in 3–6 days.
100–night mattress trial to make sure it's the right fit for you.
100% handcrafted and made-to-order in the USA.
10–year warranty and financing eligibility.
Your new Leesa mattress is covered by a 10-year limited warranty. If your mattress has a defect covered under the warranty, we'll replace or repair it for 10 years. This includes all parts of the mattress determined to have a defect. No deductible.
We know you'll love your Leesa mattress, but we give you 100 nights to sleep on it. If you decide the mattress isn't for you, we'll coordinate pickup from your house and refund the full purchase price, less the value of any discount you received.
We don't want you to have any hesitations when it comes to choosing the right mattress, so we cover shipping costs. We ship via FedEx ground to all 50 states – contact free.
Learn more about the Leesa Original Mattress
Our fan-favorite, Original mattress features an all-foam makeup, with a breathable cover and exclusive top layer for cooler sleep and memory foam and a core support layer for comfort and support all night long.
Top layer of breathable foam
Leesa-Exclusive foam for cooling comfort.
Memory foam for the perfect hug
Perfectly contours your body and relieves back, hip and shoulder pressure.
Signature core support
Foam base layer provides support and durability for all body types and sleep positions.
Product
Specifications
Twin
39" x 75" x 10"
45 lbs
Twin XL
39" x 80" x 10"
48 lbs
Full
53" x 75" x 10"
56 lbs
Queen
60" x 80" x 10"
71 lbs
King
76" x 80" x 10"
90 lbs
Cal King
72" x 84" x 10"
92 lbs
IFD: 13. DENSITY: 3.0
2" Contouring Memory Foam
IFD: 9. DENSITY: 3
6" Core Support Foam Base
IFD: 32. DENSITY: 1.8
Seamless Iconic Four-stripe Cover
A great start towards better sleep!
Perfect for all sleep positions, back, side or stomach.
Designed for comfort and support.
Relieves pressure and reduces lower back pain.
We deliver good
With a 100-night trial, free shipping and a 10-year limited warranty, trying a Leesa mattress is easier than ever.
*Additional terms and conditions apply.
We craft good
Our mattresses are made-to-order in the USA. Once assembled and compressed, ships straight to your door in 3-6 business days.
We share good
Every Leesa mattress purchased supports our One Good Bed Promise, helping us donate another mattress to a child in need.
We operate good
Our B Corp certification is proof of our commitment to the highest standards of social and environmental performance, transparency and accountability.
Customers love the Leesa Original mattress
See what the experts have to say
All your questions answered
Our mattresses are made to order, so product takes an extra bit of time to get to you (it's not sitting in a warehouse somewhere collecting dust!). The mattress, once compressed, will ship in a box directly to you in 3-6 business days. We will send you an email with your tracking details as soon as your mattress leaves the building.
If you opt for White Glove Delivery for in-home setup, please allow up to 7 additional business days for our partners to receive all of your items, schedule and complete your delivery and setup.
We recommend moving the box into the room where you will set up. Then, follow these steps:
1. Unbox your Leesa mattress on its side, next to the foundation or floor. Avoid using a sharp object to open the box as you run the risk of unintentionally slicing your Leesa. Unboxing by yourself? Try placing your foot on one of the box flaps to hold it in place while you pull the bedroll out.
2. Position your rolled up Leesa on any solid or slatted foundation and remove the outer layer of plastic wrap. You'll notice that your Leesa has already started to expand at this point.
3. Unwrap and fold the mattress and tear away the inner plastic. If you tear the inner plastic at the top of the bed, you can pull it straight down and off like a sock.
Watch your Leesa expand and take shape.
Note: It may take up to an hour for your Leesa to fully expand and a few days to fully firm up. Any slight odor will dissipate shortly after setup.
Choosing the right surface that supports a mattress can affect the way it feels. Our mattresses are designed to deliver their signature feel sitting on a firm, flat, and sturdy surface. Below are the best options to support your mattress:
The Leesa Foundation
A solid platform
The Leesa Platform Bed
A solid box/foundation
A Bunkie board on a traditional box spring
A slatted base
If you are unsure about your setup, give us a call or send us a quick message. We're happy tohelp.
Try your mattress for at least 30 nights. This allows your body ample time to adjust to the feel of a new mattress. If you decide the mattress isn't for you, we'll pick it up from your home then refund the full purchase price, less our Bed Adoption Fee to place your return.*
*Alaska & Hawaii Customers: There is a $100 fee for mattress returns.
Mattress protectors are a great way to shield your mattress from life's little accidents. Look for a highly recommended brand that offers a waterproof, hypoallergenic protector made of breathable fabric.