How Is Memory Foam Made?
Memory Foam Developed by NASA
The very first memory foam material was developed by NASA in the 1970s. Their intention was to try to improve seat cushioning and crash protection for airline pilots and passengers. Memory foam has widespread commercial applications, in addition to the popular mattresses and pillows you are familiar with today.
Anybody who has gone shopping for a bed, a new pillow, or even a new bicycle seat or mouse pad wrist rest in the last two decades will have encountered memory foam. This new material has been applied to a huge range of uses since its introduction to the US in 1991—from revolutionary medical uses to gimmicky new product designs. But what is it, who came up with it, and how does it work?
Though it is a relatively recent phenomenon in the US, memory foam has been around in various forms since the midpoint of the century—the first work on the polyurethane polymers that go into memory foam was actually begun in 1937 by Otto Bayer and his coworkers In 1965 the nursing staff at Lankenau Hospital tested "inert polyurethane porous foam" pads for use as bedding material, and found that they prevented "decubitus ulcers" (also known as pressure ulcers, sustained by patients who spend long amounts of time lying down), and found them to be hypoallergenic and resistant to bacteria (Kraus 1965). In the 1960s, NASA did work on materials that would serve as better cushions, and would also keep astronauts comfortable and protected from the extreme g-forces of lift off. It was then that memory foam as we know it came into being.

Memory Foam vs. Polyurethane Foam
Memory foam starts its life as polyurethane foam—a material first manufactured in the 1950s by adding water, halocarbons, or hydrocarbons to a polyurethane mix. Depending on the chemicals added and the way it is processed, polyurethane can form anything from car parts to spray liner, or in this case, one of the most comfortable sleeping surfaces the world has ever seen.
In the modern production of memory foam, a polyol is mixed with a diisocyanate and water. The foam rises like bread, with an open cell structure that helps give it its unique ability to spring back slowly from pressure. The introduction of gases into the initial solution creates a bubble matrix; vary the application of chemicals, and the size of the bubbles changes. A more open cell structure will have more give, and allow more airflow through the material.
Memory Foam Firmness
The firmness of memory foam is rated by the IFD (Indention Force Deflection), also known as ILD (Indentation Load Deflection) measuring the force in pounds required to make a 25% indentation in a 4 inch thick foam square. Also important in measuring the "softness" of a foam is the density. Foam densities range from 1-7 lbs, but a good-quality foam will usually be at least 4 and usually 5 lbs. A foam with a high density, but low ILD may still feel firm when compressed, especially in a lower room temperature. The density together with the IFD/ILD and the resilience will determine the softness, firmness, and life-span of the foam. Foam that is lower density will more readily conform to pressure, whereas higher density foam (usually 5-lb. or above) molds itself to contours when warmed by body heat.
Major production of memory foam did not begin until NASA released it into the public domain in the 1980s.Fagerdala World Foamstook up the challenge of producing this somewhat difficult product, and in 1991 produced the "Tempur-Pedic Swedish Mattress." Today numerous companies around the world produce visco-elastic memory foam, which gives consumers increased variety and price range. Unfortunately, it also increases the risk of purchasing cheaply-made foams that may deteriorate over time. Not all memory foam is made equal, as many of the overseas manufacturers work at reducing the cost of memory foam by adding in other "filler" type ingredients that reduce the quality and potentially add toxicity to the formulation. The real problem with overseas foam is the lack of quality standards that have been created in the United States.
How Is Natural Latex Made?
Ever wondered where thenatural latexon certain mattresses comes from? Natural latex is amilky sap that can be harvested from rubber treeslike Hevea brasiliensis.
A government publication from 1990 claims there are more than 12,000 plant species that yield latexcontaining naturalrubber, though in many of those species the natural rubber is not suitable for commercial use. Suitable latex that contains rubber can be used to make items like mattresses, balloons, and gloves.
Rubber trees arenative to South Americabut were imported to countries around the world in the 19th century. In the wild, they can reach up to 130 feet in height, andlive for 100 years. According to The Rainforest Alliance, rubber trees do best in "low-altitude moist forests, wetlands, riparian zones, forest gaps, and disturbed areas."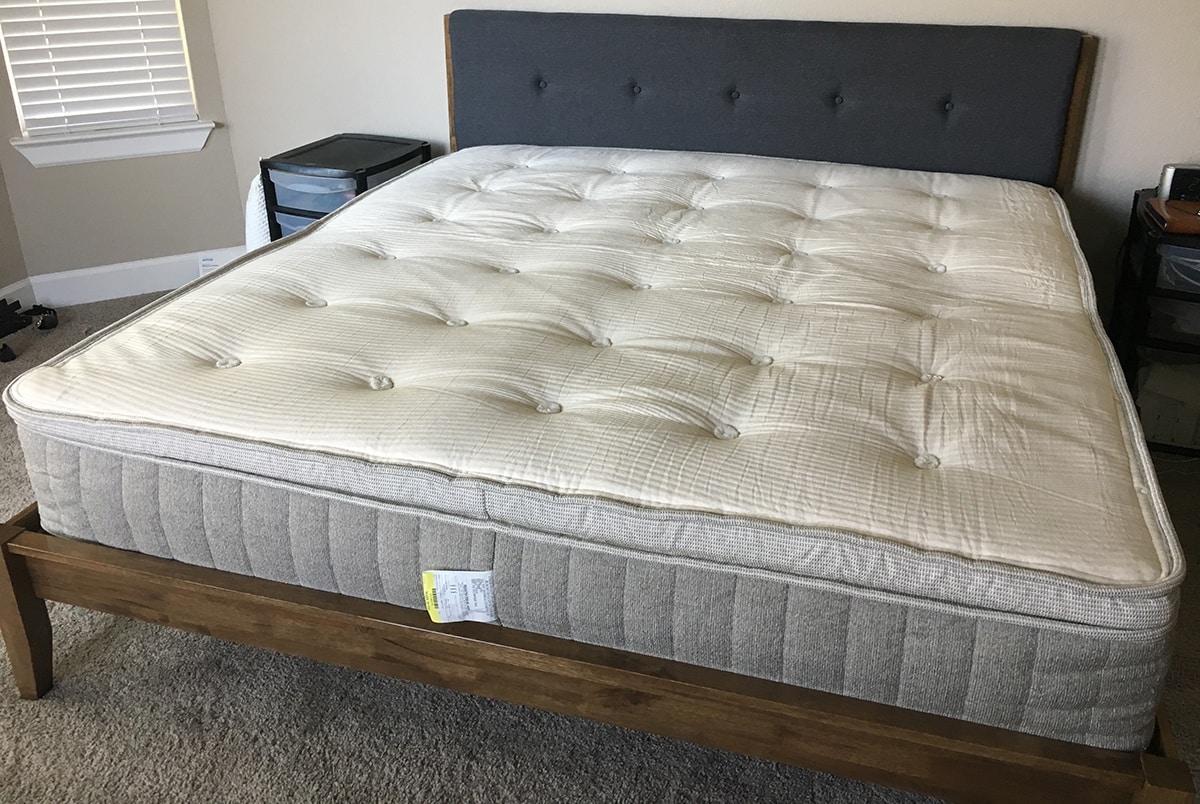 Brentwood Home's Cedar Mattress is made with eco-friendly materials, including natural latex. Read our review, here.
To harvest latex from trees, you need to"tap"them — a processsimilar to tapping trees for maple syrup. The Alliance Rubber Company explains: "To 'tap' the substance, rubber harvesters cut a wedge in the bark. They must reach the latex without cutting into the sap vessels. After workers make a cut,latex oozes out and collects in a containerattached to the tree.
Tapping takes place every other day and each tapping yields about 2 ounces (56 grams) of the substance. After tapping, the cut dries, and latex stops flowing in an hour or two." The tapping process should not harm trees when conducted properly. According to Alliance, you can tap trees starting when they are six years old and continue to tap them for up to 28 years.
So, what exactly is the point of having latex in your mattress — and how does it get there? Latex is used to create latex foam, which helps make mattresses springy and comfortable. There are two processes that turn latex into foam: The Dunlop method, or the Talalay method. Both methods involve washing the latex foam to remove impurities and additives, but otherwise there are a few difference between the two processes.
"Dunlop is the name for the original process – named after the inventor – which basically heats up foamed liquid latex with the addition of sulphur, turning it into a flexible, resilient block of foam (Vulcanization)," latex expert Andrea Karsten explained in an interview. "The Talalay process is based on the Dunlop process but adds a freeze/vacuum step before vulcanization which results in a more open and interconnected latex structure." Karsten further explained: "Dunlop tends to feel more solid and offers very stable support, whereas Talalay can be made in softer grades and tends to feel softer and more yielding."
Fans of natural latex bedding products note thatnatural latex is resistant to mildew, mold, dust mites, and bacteria. If you're in the market for a mattress made with natural latex, be sure to research whether the product contains100 percent natural latexor a blend of natural and synthetic latex. And happy hunting!
Subscribe to Mattress Clarity!
Get special coupons, discounts, and giveaways!
How Mattresses Are Made
This content was created by the National Sleep Foundation
Mattress construction from the inside-out
If reading about mattress construction sounds like a real, ahem, snooze, know this: The way a mattress is made determines how it feels. And how a mattress feels may be the difference between a fitful night and peaceful slumber!
The Big Picture
Two basic types of mattress make up the vast majority of the market: They're called innerspring and memory foam. Made of steel coils, innerspring is, by far, the most common type. Memory foam, on the other hand, is made from polyurethane or latex foam, and is very dense foam. Memory foam is usually more expensive than innerspring.
Inside an Innerspring Mattress
Coils determine how much support (suspension versus springiness) the mattress will give. Manufacturers may use different types of coil shapes and structures, as well as different amounts of spacing and patterns to affect comfort. The next layer, top padding, isusually made from polyurethane foam. The outer layer (or ticking) is the material bound to the top padding with stitching. The way that ticking and top padding are attached influences the mattress's overall feel. Large, wide patterns will create a cushioned feel, which smaller patterns feel tighter and firmer. Generally, the more coils an innerspring mattress contains, the more comfortable it's bound to be—but if the number of coils is over 390, then you're not likely to notice the difference, so don't bother paying extra.
Inside a Memory Foam Mattress
Especially attractive to people with chronic pain conditions, memory foam mattresses consist of, essentially, very dense foam. When you lie on a foam mattress, your body heat softens the material, allowing it to "mold" to your body. One big advantage: In bigger beds, a memory foam mattress won't shift as much as an innerspring when one partner turns or moves. So if you're often disturbed by your partner's tossing and turning in the middle of the night, it might be time to invest in a memory foam mattress. But one con: Because these mattresses mold to your body, they can absorb a lot of heat and make you feel hotter while you sleep. Some people also complain that they have a chemical smell.
What's in a Mattress Anyway? Peeling Back the Layers of Quality Sleep
Have you ever wondered what a mattress is made of? Or how memory foam is made? Or the difference between a quilted mattress vs. spring mattress? As your mom always said, it's what's on the inside that counts.
When considering your mattress options, you may wonder what's going on beneath the fabric that makes it feel like you're sleeping on clouds. Below is a thorough overview of the various materials that go into making a mattress so the next time you walk into a mattress store you can tell the salesperson exactly what you're looking for, down to the foam type! The following materials found in many different types of mattresses are some of the key ingredients to a good night's sleep.
The Most Common Materials In All Mattresses
A soft, movement-absorbing material that helps with temperature regulation and pressure point relief. Some common types of foam include memory foam, gel memory foam, polyurethane foam, and viscoelastic foam (also known as "rebounded foam").
Polyester Batting
Used as a filling in pillowtop mattresses and mattress covers.
Can be found in some mattresses for extra padding and temperature regulation.
Cotton
A breathable material used both inside and outside of the mattress.
Adhesives
Used in mattresses to bond layers, materials and seams together for the perfect fit. Quilting is often used in combination with adhesives to further strengthen the bond between layers.
Flame Retardants
Found in all mattresses sold in the United States due to flammability laws for fire resistance.
Steel Coils
Either formed as open coils or individually wrapped coils (also called pocketed coils), these are a key structural component that establish firm support at the base of the mattress.
Now that you know the most common mattress materials, let's get more specific about what goes into the three most popular mattress types: innerspring, memory foam, and hybrid mattresses.
What is a Memory Foam Mattress made of?
These mattresses are known for lush layers of memory foam and polyurethane material which conform to your body. A newer addition to the memory foam family is gel memory foam which acts as a phase changing material (PCM).
On a spectrum from hard to soft, specialty foam layers work together to relieve pressure points from your joints and balance your body temperature. These layers conform to your body shape and absorb movement so you sleep undisturbed.
Memory Foam Mattress Cover Materials
Covers used on memory foam mattresses are typically stretch knit covers that allow you to settle comfortably into the foam. With the cover working its magic on top, higher density foams are used as the core layer of the bed to provide support. These beds do not have coils in them! This benefit is great for those who prefer to settle into the mattress with less of a bounce factor because the firmer core layer of foam helps provide a balanced support system.
What is this high-density foam core made of exactly? They are usually made of polyurethane, but can sometimes be made of more natural materials like soy-based foams or latex.
Since they don't have coils, memory foam mattresses don't need a foam encasement for edge support to hold the bed together. Some foam mattresses have firmer foam near the edge of the bed, but this is not necessary for support since the high-density foam offers even support throughout.
What is an Innerspring Mattress made of?
Innerspring mattresses come in two different systems: open coil or individually pocketed springs. The outer quilting is typically made of traditional cotton fabric blends that give each mattress a unique look, fitted with steel coil springs for a firm base support.
It's important to remember that the number of coils doesn't always amount to the same level of comfort from one mattress to the next, but plays a role in reducing motion transfer and offering support.
Each manufacturer uses different designs and support techniques to achieve this result, often including layers of polyurethane foam and filling inside the mattress. However, more luxurious innerspring mattresses will use other kinds of foam, including memory foam, gel memory foam and latex materials.
Innerspring Mattress Cover Materials
Cover materials can range from polyester to cotton or stretch knit, each one specifically designed to be soft and breathable. Fun fact: the tighter the cover, the firmer the bed will feel.
When you wake up and get ready for the day, edge support materials are important — especially if you prefer to put your shoes on while sitting at the edge of the bed! These materials range from thick metal rods to foam inserts and encasements. The more edge support you have, the more sleep (and sitting!) surface available.
What is a Hybrid Mattress made of?
Hybrid beds are among the latest and greatest options on the market for better sleep thanks to the many unique benefits hybrid mattresses offer. Specifically, they combine a 50/50 ratio of individually wrapped coils with memory foam to offer the best of both.
The coils offer support, while memory foam and gel memory foam layers conform to posture and regulate body temperature. Cotton fabric blends are added to protect the bed. You get the best of both mattress types above in the hybrid, plus personalized materials that are going to work together to help you get a good night's sleep.
Hybrid Mattress Cover Materials
Hybrids tend to have a more elastic mattress cover so as not to interfere with the conforming benefits of the memory foam layers. Further enhancements to hybrid collections showcase foam encasements, made from high-density foam, which supports the edges of the mattress.
Knowing the basic building blocks of your mattress can help you ensure that your next bed has all your favorite ingredients for good night's sleep.
Related Posts
You Might Also Like
The sheets are crisp and cool, the pillows fluffed and fresh, the lights are dim or off. But if you haven't covered your mattress with a protector, you're not 100 percent in the healthy sleep zone.
Finding a mattress can be a struggle, especially when there are so many bed options to choose from. To simplify your mattress search, we've put together a list of the top consumer rated mattresses. Ranked in terms of value, quality and of course, comfort, these beds have been praised highly by real Mattress Firm customers.
The best leggings for yogis. The best gift for a new mom. Everyone wants the best in life, and mattresses are no exception. It's time to put the debate over the best mattress for back sleepers to rest. Although back sleepers can typically sleep on any mattress, many complain of back pain or a lack of conformance. Contrary to popular belief, firm mattresses aren't necessarily the best type of mattress for back sleepers. In fact, sleeping on surfaces that are too hard can lead to concentrated areas of pressure, which causes discomfort.
How to Find the Best Rated Mattress for You
To help you make the right choice for your friends and family, regardless of sleep-style, we are here to take the guess-work out of guest room mattresses.
When it comes to mattresses, there's a lot of choice. Luckily, we at Mattress Firm can help you narrow it down to your perfect match. One brand that we love for its ability to deliver the ultimate sleep experience is Tempur-Pedic®. Their mattresses are proven to provide an incredible amount of pressure relief and motion isolation for a great night's sleep, every night. Tempur-Pedic® + Mattress Firm = a match made in sleep heaven? We think so—here's why.
Back pain can be debilitating, turning what would otherwise be a full night's rest into a night of tossing and turning. And, what's worse is a night of restless sleeping makes it nearly impossible to get comfortable and catch the Zzz's you need.
From tossing and turning to bad dreams and racing thoughts, there's a lot that can get in the way of the perfect night's sleep — especially when your stress and anxiety levels are at an all time high. Sometimes, no matter how tired we can get, our bodies and our minds can keep us from getting the sleep we so desperately need.
If you're in the market to buy a new mattress, but are on a budget, you may be worried that finding an affordable mattress may limit your selection. Rest assured, there are many different mattresses that are suited to fit any budget and sleep style.
MattressFirm.com is wholly owned and operated by Mattress Firm, Inc., 10201 S. Main St. Houston, TX 77025 – Copyright 2018 by MattressFirm.com, a Mattress Firm, Inc. Company All rights reserved.
1 Offer valid 3/11/20 – 4/28/20. Savings applied to our low price. Savings vary by mattress and model (max savings up to $400). Product selection may vary by store. Offer not valid on previous purchases, floor models, clearance items, final markdown, Purple, tulo, iComfort, Tempur-Pedic, Stearns & Foster or Sealy Hybrid. Other exclusions may apply. Cannot be combined with any other offers. Limited quantities available; offer valid while supplies last. Visit a store, call (877) 348-1012 or chat online for complete details.
2 Extra 25% off sitewide on qualifying items. Additional savings is applied to listed sale price. Offer not valid on previous purchases, Purple, iComfort, Tempur-Pedic, Stearns & Foster, Sealy Hybrid, Nectar or DreamCloud. Other exclusions may apply. Products & offer may vary by location. No cash value. Visit a store, call (877) 348-1012 or chat online for complete details.
3 Offer valid 3/27/20 – 4/28/20. Receive a free Head Up 50 adjustable base (up to a $499.99 value) with select mattress purchases with minimum $999 purchase. Free adjustable base offer valid on same size mattress purchased. Split king or split California king base purchases consist of 2 bases. For split king or split California king purchases, consumer will receive one free adjustable base with promotion, with second base at regular price. Free adjustable base offer valid to complete mattress set, has no cash value and cannot be used as credit. Offer not valid on previous purchases, floor models, clearance items, final markdown, weekly deals, daily deals, Purple, tulo, iComfort, Tempur-Pedic, Stearns & Foster, Sealy Hybrid, Nectar or DreamCloud. Other exclusions may apply. Adjustable bases not eligible for returns price of adjustable base (up to $499.99) will be deducted from refund if mattress is returned. Adjustable base may be pictured with furniture bed frame and headboard not included with offer. Limited quantities available offer valid while supplies last at participating locations. Visit a store, call (877) 348-1012 or chat online for complete details.
4 Receive a $300 Instant Gift with purchase of select mattresses in store or online. Purchase select Tempur-Pedic mattresses and receive a $300 Instant Gift or purchase select Stearns & Foster or Sealy mattresses and receive a $200 Instant Gift. Select your Instant Gift from your choice of sleep accessories. Sleep accessories must be added to the same transaction as the qualifying mattress purchase. Offer has no cash value and value cannot be carried over any value not used at time of transaction will be surrendered. Offer not valid on previous purchases, floor models, clearance items or final markdown. Other exclusions may apply. Value of accessories received (up to $300) will be deducted from refund if mattress is returned. Offer valid while supplies last at participating locations. Visit a store, call (877) 348-1012 or chat online for complete details.
5 Offer valid 3/22/20 – 4/19/20 at participating locations only. Save 10% on any size 2019 Stearns & Foster® mattress. Selection may vary by retail location. Certain offers may not be combined. Not valid on prior purchases. Visit a store, call (877) 348-1012 or chat online for complete details.
0% APR: 5 years* with a minimum purchase of $2799, 4 years* with a minimum purchase of $1999, 3 years* with a minimum purchase of $1299, 2 years* with a minimum purchase of $999 on your Mattress Firm credit card 60, 48, 36 or 24 equal monthly payments required. *Offer valid 3/11/20 – 4/28/20. Qualifying purchase amount must be on one receipt. No interest will be charged and equal monthly payments are required on promo purchase until it is paid in full. These payments equal the total promo purchase amount divided by the number of months in the promo period and rounded up to the next whole dollar. These payments may be higher than the payments that would be required if this purchase was a non-promo purchase. Regular account terms apply to non-promo purchases. Down payment equal to sales tax and delivery may be required at point of purchase. For new accounts: Purchase APR is 29.99%. Minimum interest charge is $2. Existing cardholders: See your credit card agreement terms. Subject to credit approval.View payment options.
The advertised service is a rental or lease purchase agreement provided by Prog Leasing, LLC, or its affiliates. It is not a loan, credit or financing. While no credit history is required, Progressive obtains information from consumer reporting agencies in connection with lease application. Acquiring ownership by leasing costs more than retailer's cash price. Not available in MN, NJ, VT, WI, or WY. Merchant participating locations only. Leasing available on select items. Not all applicants are approved. See lease for details.
Mattress Firm is proud to support both current and veteran military members as well as first responders. Save 10% off purchases with valid military/first responder ID. Savings applied to listed sale prices. Offer not valid on previous purchases, floor models, clearance items, final markdown, Purple, tulo, iComfort, Tempur-Pedic, Stearns & Foster or Sealy. Offer valid at participating locations only. Visit a store, call (877) 349-1012 or chat online for complete details.
*Among traditional mattress brands based on 2017-2019 Tempur Sealy Brand Tracker Report
Making the Perfect Mattress
Hand Crafted Comfort
The Puffy Mattress is the culmination of four years of research and development, foam formulations, and sleep trials. We believe, as do the majority of our customers, that we have crafted the perfect sleep system — especially for those with back pain.
It's no secret that foam, especially higher quality foams such as those used in the Puffy, can only be compressed tightly for so long before degrading in quality. To ensure you receive your mattress in immaculate condition, we make, compress, and package our mattresses in smaller batches so they are only compressed for a week or two before you receive it.
Made the Right Way

100% Manufactured
in the USA

OEKO-TEX®️
STANDARD 100 CERTIFIED.