The 10 Best Mattress Protectors UK 2020 – An Expert Buyer's Guide
My name's Kieran and I have a confession to make.
I am… an extremely sweaty sleeper.
Sometimes it's otherworldly!
There is a reason for me telling you this, bear with me. Regularly suffering from night sweats has cultivated my love for one bedding essential:
The mattress protector.
A mattress protector will increase the life of your mattress and keep your mattress fresh. Getting a waterproof one means that spills are a worry of the past. Or you can get a quilted non-waterproof one that will protect it from dust mites and minor spills.
So, here is my guide to getting yourself the perfect mattress protector! I'll talk you through what you should expect from a mattress protector and give you some reviews of the best ones available, along with links to where you can buy them online.
Check out the table below for a rundown of the best mattress protectors or read on for more in-depth reviews.
Top Pick and best For Hot Sleepers – John Lewis Extra Deep Fit Cotton Cooling Mattress Protector
Top Waterproof Mattress Protector – John Lewis Waterproof Quilted Protector
Deep Fit choice- Panda Bamboo Mattress Protector
Luxury Choice – Tempur Waterproof Mattress Protector
Budget Pick – House by John Lewis Quilted Microfibre Mattress Protector
Table of Contents
The Five Best Mattress Protectors Reviewed
Now that you know more about the kind of mattress protector you want, here arethe three best mattress protectors on the market.With each one, you'll finda short review and a link to where you can buy it online.
1. Top Pick For Hot Sleepers – John Lewis Extra Deep Fit Cotton Cooling Mattress Protector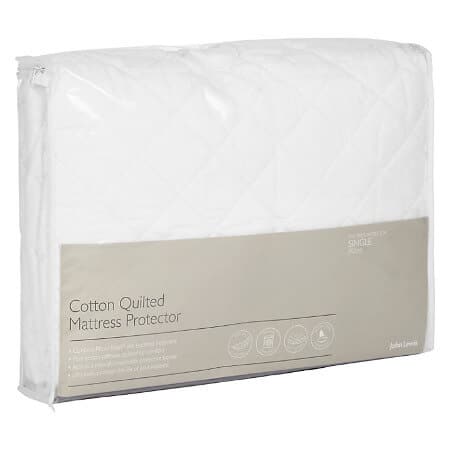 Waterproof:No
Material:Cotton
Machine washable
2 Year Guarantee
Great Price
100% Cotton
Hypoallergenic
This is the mattress protector I use, it's breathable helping me keep cool through the night compared to a waterproof one which can trap in heat and the quilted layer brings a little softness to my memory foam mattress.
It's not waterproof as I said but it can handle minor spills or small amounts of liquid.
It's budget friendly and comes in a range of sizes, from small single through double to king size and super king size.
The Micro-fresh technology inside also reduces bacteria growth and keeps the fabric 99.9% germ-free making it a great anti-allergy mattress protector and perfect for keeping away bed bugs.
It's a fitted sheet style and deep fit up to 35 cm. The perfect mattress protector for cooling and keeping your mattress safe. However, if you need a waterproof mattress protector then read on.
2. Top Waterproof Mattress Protector – John Lewis Waterproof Quilted Protector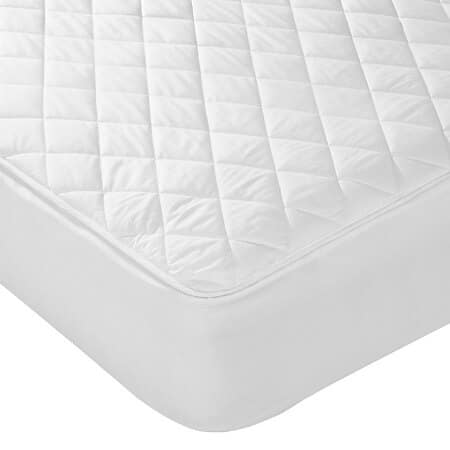 Waterproof: Yes
Material:Cotton
2 Year Guarantee
Waterproof
Breathable
Machine Washable
Hypoallergenic
In my opinion,this is the best waterproof mattress protector you can get.
There'sno nasty plastic feelingand you can hardly tell that's it waterproof when you lie on it. The quilted top just feelsluxurious!
It's a blend of cotton and polyester knitted with polyurethane with the quilted section being like a thin mattress topper filled with polyester.
It'll fit on any mattressup to 32cm deep,so it should be suitable for most people.
The Micro-Fresh technology is award-winningand is special because of thehypoallergenic materialbuilt into the mattress protector. It adds anextra layer of protectionso no germs, no bacteria, and no dust mites!
The only downside is thatit can't go into your tumble dryerbut it can be hung up no problem.
The best waterproof mattress protector around, ideal for bed wetting, available in single, double, king size and super king size.
3. Extra Deep Fit – Panda Bamboo Mattress Protector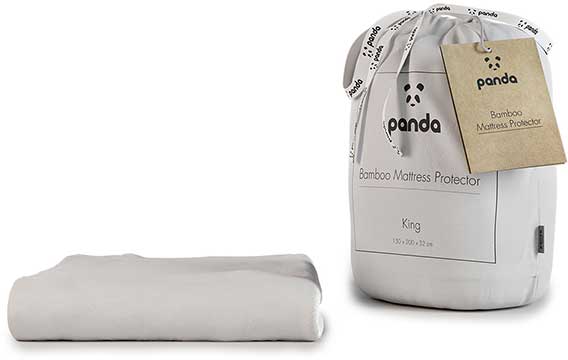 Waterproof:Yes
Material:Bamboo Rayon
32 cm deep fit
Minimal Rustling
Antibacterial
Machine washable
2-year guarantee
I always prefer a non-waterproof mattress protector, but I did like the Panda protector, it's got minimal amounts of rustling when you move about on it and the bamboo rayon alongside the cotton is nice and soft.
Plus they've got a huge range of bed sizes from cot and cot bed all the way up to Emperor including the EU sizes which are slightly different to the UK ones.
The bamboo is antibacterial and hypoallergenic helping protect the skin and prevent any allergies flaring up. And it's been Oeko-Tex Standard 100 tested to ensure it's safe for babies and sleepers who suffer sensitive skin.
It's got a deep fit 32 cm that should go over most beds and ensure your new mattress is completely protected.
4. Luxury Choice – Tempur Waterproof Mattress Protector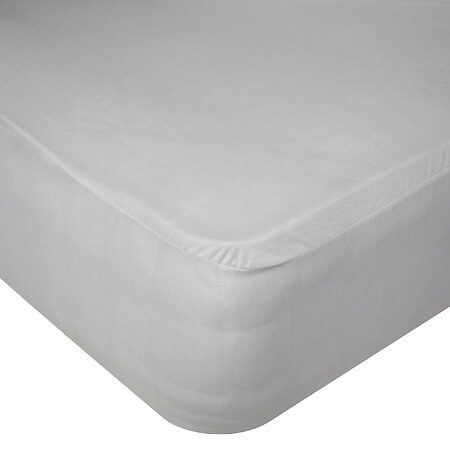 Waterproof: Yes
Material:Rayon
Machine Washable
Tumble Dryer Friendly
10 Year Guarantee
Waterproof
Can Sleep Directly on the Protector no sheet Required
This one wasdesigned for Tempur mattressesbut you can still use it if you have a different one.
This protector isincredibly high-quality,so much so thatyou can sleep straight on this without having to put a sheet on top of it.Andit's waterproof!
It can go into the washing machine and the tumble dryerand straight back on the bed, which will beideal if there's a little person in your life who still has accidents from time to time.
Unbelievably, Tempur havea ten-year guaranteeand considering that you sleep directly on this, the guarantee is really awesome.
A high-quality protector that will keep your bed dry,you won't be disappointed!
5. Budget Pick – House by John Lewis Quilted Microfibre Mattress Protector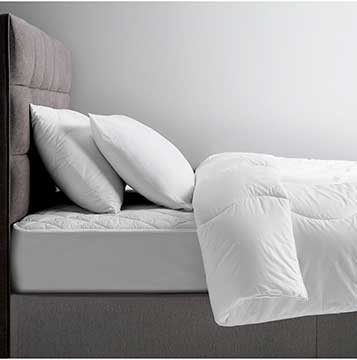 Machine washable
30 cm deep
2-year guarantee
Not a huge range of sizes available for this one but you get the important ones: single, double and king size.
It's pretty basic all-around, microfibre so not great breathability and not waterproof, but it is very cheap and will protect your mattress, plus it's quilted so you get an extra comfort layer.
It's also fitted as opposed to straps so it doesn't move around and will keep your whole mattress protected.
An excellent and affordable mattress cover.
HOW DOES A MATTRESS PROTECTOR WORK?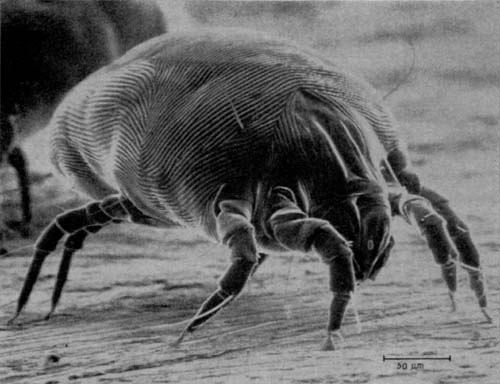 Let's start with the obvious. A waterproof protector keeps moisture away from the mattress. This stops those big yellow stains from appearing and stops the growth of bacteria.
It does this in two ways, which I just touched on.
The first is that itstops moisture getting to your mattress.This means youwon't get those big yellow stainsand youwon't get bacteria growthin your mattress.
The second is that itstops dust mites from being able to get inside your mattress,which is brilliant because it's so difficult to get dust mites out once they're in.
Many people have allergies to dust mites which can causeblocked or runny nose and scratchy throatsin the morning. Dust mites also belong to the same family as spiders.Gross.
Most mattress protectors are alsomachine washable,which further helps this problem.
WHAT SHOULD I LOOK FOR IN A MATTRESS PROTECTOR?
There arefour things that you should considerwhen you're looking for your mattress protector:
1. Is it machine washable?
Your mattress protector is effectively catching all the bacteria and dirt before it can get to your mattress, sobeing able to wash it is really important.That's why all the mattress protectors that I've recommended can be chucked in the washing machine. Nice and easy!
2. Is it waterproof?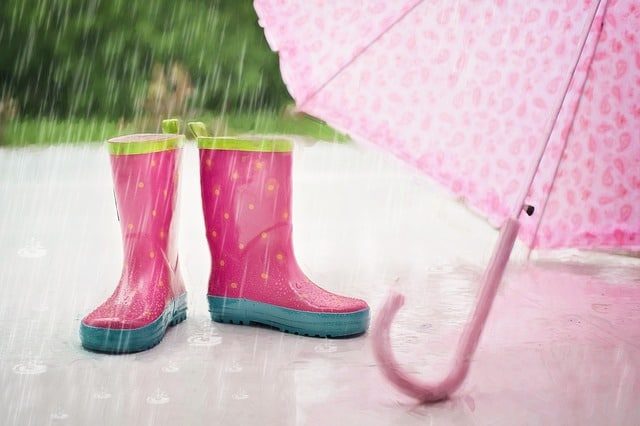 This isarguably the most important factorif you're a sweaty sleeper (like me) or if you're buying this for a kiddo who hasn't grown out of wetting the bed yet.
There's a sweet spot with buying a waterproof mattress protector, since you wantsomething functional that doesn't rustle or make you feel like you're in a hospital bed.
You need agood quality blended fabric protector.
3. Is it breathable?
This is really important, sinceyou don't want any liquid or bacteria to get trapped in your mattresswith a binding mattress protector.
A breathable onewill let air flow between you and your mattressand it'll also stop you from overheating.
4. Is it made from a comfortable material?
You're going to be lying on top of this mattress protector, soit should definitely be comfy!There's no point in having a new mattress or high-quality bedding if the thing in between is jabbing or tickling you all night.
Other Mattress Protectors, I Reviewed By Material Materials Explained
There are a few different materials that are most common in mattress protectors so I'm going to go into a little more detail in each of them
Cotton Mattress Protectors
These are best for hot sleepers because the natural material is breathable and helps wick away moisture keeping you cool and comfortable.
And it's double sided because the cotton actually works to help keep you warm in winter through its temperature regulating properties.
Not usually waterproof unless it's a cotton blended with something like a polyurethane material that can make it waterproof. The consequence of which is you lose some of the breathability and it starts to rustle a little.
You also have the added benefit that cotton is longer lasting than most man-made materials so if you but a cotton protector that's also machine washable you could be looking at a great investment and some really long-lasting bedding.
And while it's under your sheet so not a huge factor it's very soft feeling which although you don't feel directly does add to the overall comfort of your bed.
My favorite material of mattress protector.
Silentnight Pure Cotton Mattress Protector

Hollowfibre filling
Machine washable
single, double and king size
Silentnight always do you right and this cotton protector is no different, it's a mattress pad with a layer of hollowfibre to add a little comfort while the cotton is fantastically soft keeping your bed clean and protected.
A great price and not a bad choice at all.
Soak and Sleep Luxury 100% Cotton Quilted

Single through to Super king including EU sizes
200 thread count
Good breathability for hot sleepers
This is a great choice of mattress protector for a memory foam mattress. It's available in a huge range of sizes and you can't go wrong with a nice thick quilted top for room to breathe and some nice softness that sits on top of your bed. And it comes from a trusted brand, Soak and Sleep have been delivering top quality bedding for many years now.
The Bettersleep Company Egyptian Cotton

Luxury Egyptian cotton
Available as single, double, king size and super king size
Machine Washable
Nothing says luxury like Egyptian cotton, superbly soft and antiallergenic, plus this too has the quilted cover to give you added softness and a great feel to your bed.
Bring hotel quality to your home with this protector.
Rayon Mattress Protectors
Rayon is quite a strange material because it's technically man-made but it's made from natural fibers, usually wood or bamboo pulp believe it or not.
You get a lot of different blends of rayon, my favorite being bamboo, but generally, they are soft, breathable, naturally wrinkle-resistant, biodegradable and environmentally sustainable.
Bamboo, in particular, is a great choice if you care about the environment because it is sustainable and grows happily and quickly in many parts of the world.
Reyon is often combined with another natural material like cotton to make it that little bit softer and more delicate on the skin.
LUCID Super Soft Rayon from Bamboo Jersey Mattress Protector

Material: Bamboo Rayon & Cotton
Hypoallergenic
70% bamboo rayon and 30% cotton
Fitted sheet design
15-year warranty
The jersey weave makes it really nice and soft and minimizes any sound that can come from having a waterproof mattress protector.
Under the soft outer fabric is the vinyl-free waterproof membrane that works to block all liquids and keeps out dust mites and other allergens.
What's really impressive is that this comes with a 15-year warranty that means it will last an incredibly long time. Get this on your child's mattress and it'll last them till they move out!
Polyester Mattress Protectors
Polyester is cheap and cheerful, it's not overly breathable and can sleep a little hot but it's usually quite cheap and often used as part of a waterproof mattress protector.
They're strong, durable and quick drying which can be useful if you're needing a protector for a bed wetter.
It's not my first choice of material but it's tried, tested and very affordable so it's one to consider.
Silentnight Quilted Protector With Straps

Held in place with straps
30 cm deep fitting
Hollowfibre filling on top
Silentnight have done it again, this time with a more affordable model that can work to protect any new mattress, or an old one for that matter!
Rather than fitting like a bed sheet, this is held in place with four elasticated straps that each work to hold it in place. It's a breathable fabric that comes with a two-year manufacturers guarantee.
HAPPY SLEEPING!
RELATED READING
I have an affiliate relationship with some companies where we get a percentage of sales if you click over from our site. This is at no extra cost to you and how I pay the costs of running this site.
About Kieran
I'm Kieran an award-winning sleep blogger and I created The Dozy Owl, I believe that a lack of sleep is a national crisis and if we can master our sleep we can do anything.
Reader Interactions
Comments
Alison Bennett says
I have used the all cotton John Lewis mattress protector mentioned here for a year. I was told that there might be some shrinkage and I should try to stretch it after washing (at 40 degrees). I have done this with my husband and I playing tug of war with them in all directions and both protectors have shrunk so much that they do not cover the bed any more. I have been offered a refund and will return them when I can find a suitable replacement.
What cover can I use that will not shrink and fit a deep mattress? I do not want to use any man made fibres and do not need it to be waterproof. I would be very grateful for any help that you can give me.
Sorry to hear that and thanks for letting me know, it's not a problem I'd heard of before. Glad you're getting the refund because that shouldn't really happen. I'm just about to test out and am very excited by the new Panda bamboo mattress protector, it's 32 cm deep and bamboo isn't man made so could be just what you're looking for so that's what I'd recommend. You can find it here.
Alison Bennett says
Thanks Kieran. I hope you find it a positive test drive. Bamboo is an excellent renewable (better than cotton), I just hope the protector doesn't wear out as quickly as my husbands bamboo socks!
Frances Linden says
Hello and thank you for your very valuable research
I have just taken delivery of my new sealy posturepedic bed as of Friday there and I am delighted that I seem to have made the right choice having tried it several times in the furniture shop because of my previous matches being too old and far too soft giving me back pain and pressure points and immensely warm all causing me to constantly waking up in the night every time I try to turn over or find another cool bit the first night I slept in my new bed has made a huge difference on all levels already just with one night
Being so delighted I have coarse one to protect the mattress but most of the mattress protectors seem to say that they I made of quilting which adds an extra layer of comfort to the mattress which is not what I want I want to be able to feel the benefit of my new orthopaedic mattress through lying on it and not to have too much padding certainly as little padding as possible with a mattress protector
It doesn't have to be waterproof for me but I would be interested in either option
I would be extremely appreciated if you could advise your thoughts on what may be available to meet the above criteria or especially so that I can still feel the benefit and the Contours of my new orthopaedic bed I thank you very very much indeed for your time
Hi Kieran …
I have just bought a new (standard double) mattress (33cm deep) & want to make the right decision so would value your opinion. The previous mattress had a complete mattress cotton (non-waterproof) cover so still looks like new. On top of that, there's to be a double electric blanket (with ties at corners which I'm replacing for a new similar one, therefore eliminating the need for too many fitted things), then the sheet. The both complete mattress covers (John Lewis) do not recommend the use of an electric blanket. It is not essential to have a waterproof cover (but a good idea). I like the idea of a breathable cotton cover but must accommodate the 33cm depth. Most of our household needs come from J Lewis. The Tempur appealed because of the back pain issue. a tall order, I know but can you assist with helping me to make the right decision, please? Thank you
Thank you so much for stopping by! Having read all the info above I think this John Lewis Mattress Protector it's Silk (not cotton but still great) can work up to 35cm deep and no warning against electric blankets. Hope that helps!
The 8 Best Waterproof Mattress Protector Reviews & Guide 2020
How much did you invest in your mattress? How much did it cost you? We all know that buying a mattress can be quite expensive and we all hope that the mattress we have bought will last forever, but of course, things don't go that way.
There will come a time when you need to replace your mattress, no matter how expensive it is. While this is inevitable, there is one thing that we can do to prolong its durability—use the best waterproof mattress protector.
Why You Need a Waterproof Mattress Protector
A waterproof mattress protector can give added insurance for your mattress. If you take a closer look at the warranty provided by the manufacturer, you will realize that it does not cover the damage that came as a result of spills and moisture. A mattress protector can protect your mattress from such incidents.
This added investment can help extend the life of your mattress by reducing the risk of mildew and mold buildup. It can also prevent spills and liquids from seeping in. Lastly, it can also keep unwanted stains out of the mattress.
To know what the best waterproof mattress protector for your needs is, you need to read this article:
The Top Waterproof Mattress Protector of 2019
Below are some of the waterproof mattress protectors that you can find in this market:
SafeRest Premium Waterproof Mattress Protector
All mattress protectors from SafeRest are known for offering premium protection from dust mite, allergens, urine, fluids, and bacteria, and this mattress protector is one of them.
This premium waterproof mattress protector is perfect for kids and households with pets as it is made of a hypoallergenic soft cotton terry fabric. Aside from its hypoallergenicity, the surface of the mattress is not just soft and smooth—it is highly breathable as well.
The mattress protector is backed with a waterproof membrane that is free of PVC, phthalates, and vinyl.
Since this fabric absorbs liquids well and allows heat and air to pass through it, maintaining the dryness and coolness of your bed throughout the night.
Another great thing about this mattress is it features a SafeRest Invisa-Shield fitted sheet style. This design ensures that the addition of the cover will not change the feel of your mattress.
LUCID Waterproof Mattress Protector
Another hypoallergenic mattress protector is the LUCID Waterproof mattress protector that is also made of noiseless and comfortable cotton terry surface. The cotton fabric is backed by a polyurethane membrane that keeps water or liquids out of the mattress.
This backing membrane is free from vinyl and thus, allow the air to pass through which ensures that the sleeper will feel as comfortable as possible. Aside from its waterproof backing membrane, the fabric also has an allergen- and dust mite-proof barrier to keep the sleeping environment as clean as possible.
Another thing that makes this mattress protector unique is its ultra-thin design which maintains the mattress' breathability. Moreover, the protector has deep pockets and can accommodate 22-inch deep mattresses.
This mattress is backed by a 15-year warranty which most users will certainly find beneficial.
LINENSPA Waterproof Mattress Protector
This premium mattress protector from Linenspa blocks all types of liquids including perspirations and other bodily fluids. This ultra-thin hypoallergenic mattress is cool and soft to touch. It is also backed up a noiseless polyurethane backing which does not just block out water but dust mites and allergens as well.
This protector is crinkle-free and can be machine washed and dried on low heat. It is very easy to maintain as you just need to follow the care instructions stated in the product's label.
This protector features a fully elasticized sheet style that has deep pockets which can accommodate mattresses that are up to 18 inches thick.
The mattress is backed by a 10-year product warranty.
Luna Waterproof Mattress Protector
This is another hypoallergenic mattress cover that is made with soft and comfortable cotton terry fabric. It also offers natural absorbency and coolness and makes sure that the mattress will get dry immediately.
The breathable waterproof backing membrane is free of phthalate, PVC, and Vinyl which makes it perfect for babies and children.
Aside from its premium materials, there are two other things that you would love about this mattress protector. First off is the mattress' Luna Waterproof Airflow Technology which allows water to pass through while blocking the entrance of water. This allows your mattress to breathe and remain dry.
Second, the mattress protector has an Invisi-Lay protection which allows the protector to add a layer of protection to your mattress without altering its texture or feel. s
You can enjoy a 15-year product warranty when you invest in this mattress protector.
Utopia Bedding Waterproof Mattress Protector
This mattress is not made from cotton terry. Instead, it is manufactured with the right blend of cooling materials such as ultra tech polyester and viscose rayon which are both derived from bamboo.
Aside from keeping your mattress dry, these fabrics also offer moisture wicking and thermos regulating properties that ensure the sleeper's comfort throughout the night.
The mattress has a permeable TPU backing that can block off stains, liquids, and bacteria. The mattress also has a hypoallergenic barrier which can keep allergens and dust mites out.
This is another mattress protector that is easy to maintain and care for. It can be machine washed in cold setting and tumbled dry low. It does not have to be ironed or bleached.
Last but not least, the mattress has a smooth grip system that can perfectly fit mattresses and will not show off any wrinkles or creases. The mattress protector can fit mattresses that have a thickness of less than 18 inches.
Tastelife Waterproof Mattress Protector
This cotton waterproof mattress protector features a TPU backing membrane that is certified by SGS to be free of harmful chemicals like vinyl, PVC, fire retardants, and phthalates.
This protector features a deep-layer super soft combed cotton that is said to be both hypoallergenic and antimicrobial. It also contains 20% polyester which helps to extend its shelf life.
But what makes this product unique is it is constructed using the NBH2O Technique which offers amazing benefits including water-resistance, antibacterial, breathable, and allergy relief.
The protector has 18 inch-deep pocket and can accommodate mattresses that have a thickness of 8 to 21 inches.
This is also easy to keep clean as you can machine wash it and tumble it dry on low heat.
Home Ideas Mattress Protector
Here's a crinkle free protector from Home Ideas. It is considered to be breathable, cool, hypoallergenic, and noiseless because it has a cotton terry surface and is backed with a highly breathable TPU backing membrane.
The surface of the mattress is noiseless and can completely absorb moisture and prevent it from reaching the mattress. It features a fitted sheet style and can fit mattresses that are up to 16 inches deep.
The materials of the mattress protector are certified OEKO-TEX Standard and have been tested to ensure the user's comfort and safety. All materials have undergone rigorous testing to ensure sustainability.
The purchase of this material comes with a 10-year warranty.
Hospitology Products Waterproof Mattress Protector
This mattress protector features a mattress encasement design which provides full protection on all sides of the mattress. The sides of the mattress are encased with the protector that features a zipper closure system which can prevent bedbugs and allergens from getting inside the mattress. Because of its design, this protector does not just deliver protection against moisture but against bedbugs and allergens as well.
Moreover, the protector has bug flap and zipper lock enclosure which keeps bedbugs off. It also features an Allergy Blocker which can prevent allergens from getting out of the mattress.
The protector can accommodate mattresses with a height of 12 to 18 inches. It is constructed with extra-soft polyester knit fabric that is comfortable, cool, and breathable.
However, please keep in mind that this protector can handle only small amounts of liquid so spills should be addressed right away.
The purchase of this mattress comes with a 5-year limited warranty.
Different Types of Waterproof Mattress Protector
The first thing that you need to be familiar about is the different types of waterproof mattress protector. Generally, there are four styles of waterproof mattress protector that you can use. Here they are:
This is the simplest style of all because it features no elastics, zipper or gartered closing mechanism. From its name, this protector features a thin layer of padding that is placed on top of the bed sheet.
Because of the simplicity of its design, this pad is the easiest to install. Moreover, it is also the most affordable.
Fitted Sheet
This one resembles the design of a fitted bed sheet. It is large enough to cover not just the top of the mattress but its sides as well and is secured with a garter. It is installed in the mattress the way a fitted sheet does.
The only difference is that this protector has waterproof abilities due to the addition of a backing material into it.
Fitted Pad
The design is the same with that of a fitted sheet in the manner that it can cover the sides and the top part of the mattress. The only difference it has as compared to fitted sheet it is a lot thicker and offers more comfort and softness as compared to just a simple pad.
6-sided Mattress Protector
This one offers the ultimate protection because it encases not just the top and side portions of the mattress—it covers the bottom part as well (hence the term, 6-sides). Because of this, it is also often referred to as mattress encasement.
Thanks to the 360-degree protection that it offers, this protector is recommended for keeping out bed bugs, allergens, and dust mite.
Materials Used in Waterproof Mattress Protector
The second most important thing that we should talk about is the type of fabric used in creating the waterproof mattress protector.
When it comes to this, the protector is divided into two different parts—the backing and top cover. Of course, the backing of a waterproof protector features a waterproof fabric like these two:
Polyurethane
This is a plastic polymer that is commonly used for waterproofing purposes. This is usually attached to the top fabric of the protector through lamination or thermal bonding. This is usually written in the label as TPU which stands for Thermoplastic PolyUrethane.
Vinyl
This backing features a strong waterproof seal which makes it a great option for waterproofing mattress protectors. However, most vinyl fabrics contain phthalates which can be a cause of concern for both children and pregnant women.
To avoid such issues, it is recommended that you choose phthalate-free vinyl materials.
Now, the next thing that we have to deal with is the fabric used for the top portion of the protector. Here are some of the most common fabrics that you can choose from:
Cotton
The most outstanding features of this material are its softness and smoothness. However, this material is highly absorbent, so it is best paired with a waterproof backing.
Rayon
This is a semi-synthetic fabric that uses a blend of natural materials and other chemicals. The combination of these materials creates a cooling, breathable and smooth texture and feel.
Polyester
This fabric is soft but not as soft as cotton. However, it is considered to be more breathable and less absorbent. This synthetic material is created to give off varying textures.
Lyocell
This is a textile that has been collected from wood pulp. It also has a soft feel and also holds better against water or liquids. This material is often referred to as Tencel when marketed.
Fabric blends
You can find mattress protectors that use a blend of two or three of the materials that are mentioned of the above. A lot of manufacturers mix these fabrics to achieve a certain feel or perform a particular function.
Other Things to Consider When Buying a Waterproof Mattress Protector
It is about time that we move on to the most important topic of all—the different factors to keep in mind that can help you find the best protector for your needs. These are as follows:
Breathability
Waterproof protectors are known for offering excellent waterproof protection to mattresses. However, these types of mattress protectors are known for their inability to regulate temperature well. This is because most of the waterproof lining used contain a few chemicals that may trap heat.
But for your information, there are two ways on how you can find breathable mattress protectors. First off, you should choose a mattress protector that is made from breathable materials like rayon, viscose, and cotton. Second, choose a protector that has a waterproof membrane that is free of flame retardants and low volatile chemicals.
Noise
Another common complaint about waterproof mattress protectors is their tendency to create noise. This is common with protectors that are made of plastic-like materials. To avoid this, choose protectors that are made from cotton or rayon.
Warranty
Some mattress protectors come with a warranty and the warranty period may range from 5 to 10 years. The longer the warranty period, the more likely it is that the protector will last longer. But of course, the higher its price will be.
Maintenance
It is a must that you know what the cleaning process of the protector is. Keep in mind that the more frequently you wash it, the faster it will show signs of wear and tear, Because of this, it is a must that you choose a protector that can be wiped down.
But of course, you need to properly and regularly maintain and clean your protector. Because of this, it is important that you go for a protector that can be machine washed so taking care of it won't take too much of your time.
Other Functions
Aside from keeping water out, there are other ways on how a mattress protector can prolong the life of your mattress. These include keeping bedbugs, allergens and dust mites out.
If you wish to maximize the lifespan of your mattress, you may want to invest in a protector that can also fulfill such functions.
In Summary
We all love to invest in waterproof shoes and waterproof messenger bags, but when it comes to waterproof mattress protectors, we tend to neglect its importance.
With the information above, you can no longer deny the fact that the use of a mattress protector can extend the life of your mattress and improve its quality. If you wish to deliver the utmost protection to your mattress, it is a must that you use the best waterproof mattress protector, and you can do that by following the tips that we have provided you.
Primary Sidebar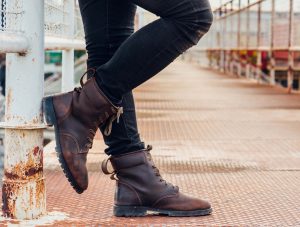 The Ultimate Best Waterproof Shoes & Boots for Work Reviews 2020
The Best Waterproof Outdoor Speakers Reviews & Guide 2020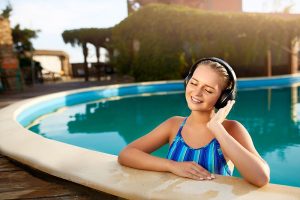 The Best Waterproof Headphones for Swimming This 2020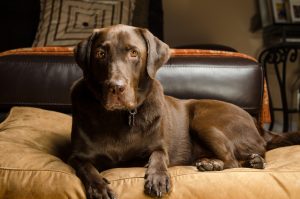 The Best Waterproof Dog Bed for your Pooch in this Guide!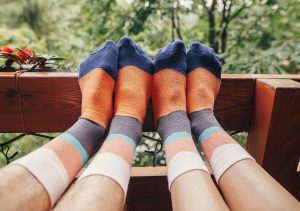 The 9 Best Waterproof Socks Reviews & Buying Guide 2020
Footer
Recent Posts
Disclaimer
All information on this website is intended for entertainment and educational purposes only. It is not a replacement or substitute for professional medical advice and/or treatment. Consult with your own doctor for information and advice on your specific questions.
All wallpapers and backgrounds found here are believed to be in the "public domain". Most of the images displayed are of unknown origin. We do not intend to infringe any legitimate intellectual right, artistic rights or copyright. If you are the rightful owner of any of the pictures/wallpapers posted here, and you do not want it to be displayed or if you require a suitable credit, then please CONTACT US and we will immediately do whatever is needed either for the image to be removed or provide credit where it is due.
All the content of this site are do not gain any financial benefit from the downloads of any images/wallpaper.
Amazon Associates Program
Waterprooflab.com is a participant in the Amazon Services LLC Associates Program, an affiliate advertising program designed to provide a means for sites to earn advertising fees by advertising and linking to Amazon.com.
As an Amazon Associate we earn from qualifying purchases.
Additionally, Waterprooflab.com participates in various other affiliate programs, and we sometimes get a commission through purchases made through our links.
Amazon and the Amazon logo are trademarks of Amazon.com, Inc., or its affiliates.
We do not specifically market to children under 13.
Are Mattress Protectors Really Necessary?
If you've recently purchased a mattress, you might already be thinking about how to protect your investment. How can you still enjoy its breathability and comfort while still protecting it from bed bugs, allergens and liquids? What happens if you spill something on your mattress? Can you simply remove a stain by cleaning your mattress? At the end of the day,do you really need a mattress protector?
You can absolutely clean your mattress after one spill, or even every few months, but there's no better way to protect your investment and your health than investing in mattress protection. Most quality mattress protectors fit just like a fitted sheet, and can easily be thrown in the wash along with your sheets and pillowcases. Their hypoallergenic design protects against bacteria, bed bugs, dust mites and all kinds of liquids. Plus, they keep your mattress looking and feeling new for longer.
Investing early in mattress protection can save you thousands down the line. So what's the deal with mattress protectors and encasements, how do you find one that works for you, and are they really worth it? Check out our overview on mattress protection, along with tips for finding one that's worth the money.
Should I get a mattress protector or a mattress encasement? What's the difference?
Mattress protection generally comes in two categories and is typically a waterproof mattress cover that safeguards either the top layer (mattress protector) or encases the entire mattress (mattress encasement) for full protection. Either type works, but each tends to have significant differences in how they feel and function.
Mattress Protectors
Most mattress protectors cover your mattress like a fitted sheet on your bed. They don't cover the entire mattress, but do protect it against most accidental spills, bacteria and some allergens. They're made of water-resistant materials that still allow for considerable airflow and breathability. If you have a mattress that has cooling technology in its upper-most layers (something like the Brooklyn Aurora, for example), a mattress protector retains the benefits of this cooling technology while simultaneously protecting your investment.
Choose a mattress protector if you:
Want protection against most spills and allergens, but want something that's nearly undetectable through the sheets
Are on a tighter budget and want to save money
Still plan to regularly clean your mattress to remove allergens
Want the ease and convenience of laundry care for something that is easily removed
Mattress Encasements
Mattress encasements are similar to protectors in that they safeguard your investment, but they're designed for maximum protection of your health and the life of your mattress. Because mattress encasements are usually zippered and cover the entire mattress from top to bottom, they deliver 360° coverage. They're often more durable and tend to keep out even things like bed bugs. Their full coverage can usually be felt more noticeably through the sheets. Removing them for laundering will require more effort than removing a traditional mattress protector.
Choose a mattress encasement if you:
Want more complete protection against both accidental spills as well as allergens and bed bugs
Are willing to spend a bit more for more comprehensive protection
Consider the mattress a "high risk" area for accidents that include bodily fluids
Have very sensitive skin or allergies that require extensive protection
Tips for Find a Quality Mattress Protector or Mattress Encasement
There are a variety of mattress protectors and encasements on the market today: some offer simple stain protection while others also deliver protection against allergens and irritants such as bed bugs, mold, dust mites, and dead skin. Most will be breathable and will not significantly hinder the cooling benefits of the mattress, but be cautious and read reviews to ensure your top pick does not change the overall feel on the mattress. To find a quality protector or encasement that's worth the money, consider these tips:
Check Out Reviews
You never really know how a mattress protector or encasement will feel on your bed until you try it. For a good indicator before trial, though, take a close look at reviews. Search for words like "cooling" and "softness" to find reviews that cover the feel of the protector.
Look at Materials
Most protectors use fabrics and materials that are moisture-resistant but still allow for some breathability. Terry cloth, polyester/lycra and even vinyl are popular materials that still allow for breathability while repelling water.
Consider Length of Protection
Mattress protectors of any quality should repel liquid immediately after contact, but only some can withstand extended exposure to liquids in large amounts. Check out any reviews that talk about how long a mattress protector can keep liquid out, as well as how much. You might not need something that can repel a quart of liquid for 24 hours, though, so weigh your particular needs against those reviews. Long-lasting repelling could impact breathability.
Why use mattress protection?
Although there are many cleaning agents and tips on how to clean a mattress, it can be difficult to completely remove stains or clean the mattress entirely. Mattress protectors or encasements solve this problem by simply repelling the stains to begin. Mattress protection products absorb or repel liquids and allergens and are easily washable in the washer and dryer. Protecting the integrity of your mattress and having a fresh surface to sleep on ensures you are healthier and happier in the long run.
Using a mattress protection product is often recommended to individuals who have significantly sensitive skin or chronic allergies. A quality mattress protector or encasement can provide that extra layer of protection that you need to avoid flare-ups triggered by common allergens and irritants like dust mites and bed bugs. Mattress protection is commonly used in nurseries and health care facilities, primarily because both protectors and encasements easily cleaned and sanitized.
Need mattress protection that's both breathable and durable?Check out the Brooklyn Bedding Luxury Cooling Mattress Protector or the Brooklyn Bedding Mattress Encasement.
Do I Need a Mattress Protector?
A mattress protector might be the most important accessory to have for your mattress. There seems to be a lot of confusion about what a mattress protector does. Often, when I bring up a mattress protector when selling a mattress, I get an immediate "no" as soon as I start talking, the customer fearing being "upsold." Other times, the customer laughs and proclaims proudly that they don't "pee the bed," not realizing all of the other fluids that the human body produces. It baffles me that so many people sleep on mattress without a mattress protector. So what does a mattress protector do?
Disclosure:By clicking on the product links in this article, Mattress Nerd may receive a commission fee at no cost to you, the reader. Read fulldisclosure statement.
What does a mattress protector do?
A mattress protector accomplishes four things:
Keeps the mattress clean.Human bodies are pretty gross. We all perspire at night. We all produce oil from our skins. Some of us wear makeup. We all also shed dead skin cells. There are other activities that can produce a "wet spot" on the bed. All of this can soak through your sheets and into the mattress. Once a little gets into your mattress, it's almost impossible to get it out of your mattress. A mattress protector prevents any of that from getting into the mattress and can be taken off and washed.
Keeps the mattress feeling in "like new" condition for longer.Perspiration (or any moisture, like spilling a drink) will wear down the foams in the mattress, shortening the comfort life. It's a similar effect to a kitchen sponge after too many uses. Even if only a little moisture gets through, after years of every night use that adds up. You will need to replace your mattress more quickly without the protector.
Helps prevent dust mite allergies from acting up.Dust mite allergies are very common and can lead to issues such as sneezing, runny nose, wheezing, and shortness of breath. Dust mites eat dead skin cells, and there will be dead skin cells in your mattress if you don't use a protector.
Helps protect the warranty.As I mentioned in my warranty post, a stain will void the warranty. Even if the stain has nothing to do with the warranty issue, it still voids the warranty.
For all those reasons, everybody needs a mattress protector.
A mattress protector is different than a mattress pad. Mattress pads generally add some level of padding to the mattress (hence the name,) and is not generally waterproof. Mattress protectors are thin, won't change the feel of the mattress, and are waterproof. If you buy the correct mattress, you won't need any extra padding on the mattress, and you get to use the thin, waterproof mattress protector instead.
There are also mattress toppers, which are even thicker than mattress pads. If you use a foam topper, I'd recommend using the mattress protector over the topper, such that it covers both the topper and the mattress.
Types of mattress protectors
There are a few types of mattress protectors. The best protectors will have some sort of performance fabric on the top to wick away heat and moisture from the body. These tend to be the most expensive, but are great for people who sweat a lot at night. These are both waterproof and breathable. An example of this is the Bedgear Dri-Tec protector. This is the one I use.
If you're concerned about your bedding being all organic, Naturepedic sells organic mattress protectors here.
Another type of protector will also be waterproof and breathable, but won't have the performance fabric on the top. This tends to be more moderately priced, but has most of the function of the most expensive ones. An example of this is the Protect-A-Bed Premium.
The cheapest type of protector are the ones that feel more like plastic. These tends to be less breathable, and some are less durable but these are less expensive. At the bare minimum, everybody needs at least something like the SafeRest protector, which gets very high reviews on Amazon.
Conclusion
Everybody needs some type of mattress protector on their mattress. Having a mattress without a protector is like having an expensive smartphone without a case. If you don't have one, get one, even if it's the cheap one for $30. It's more sanitary and it could protect your investment, which may have been $1000 or more.
Protect-A-Bed
You have no items in your shopping cart.
SIZE
SHOP BY COLLECTION
FEATURES
BUYING GUIDES
LEARN
Mattress Pad & Protector Buying Guide
Mattress Pad & Protector Buying Guide
Mattress Pads, Mattress Protectors & Mattress Covers
From accidents and spills to pests, allergens, and infestations, mattress pad protection is essential to a clean, comfortable and healthy night's rest. Our mattress pad and mattress protector buying guide was created to help you get a better understanding of mattress protection, and how it can improve the health of your home. Read more below and follow the links for a deeper look into this bedroom essential.
What is Mattress Pad Protection?
Mattress pad protection is vital to the longevity of your mattress, and more importantly, it provides a healthy sleep environment by guarding against bed bugs, dust mites, allergens, sweat, and stains. Since it's almost impossible to wash a mattress, mattress protectors are removable, so they can easily be washed and maintained. Mattress covers come in different sizes, colors, styles, materials, fabrics, and with varying protection benefits.
Types of Mattress Protection
Mattress covers are effective in providing the following types of mattress protection:
Wear and Tear
Mattress pads add a layer of fabric to protect against light wear and tear that comes from sleeping or laying on a mattress. Over time, mattresses get dirty, accumulate small rips or tears, or fade in the spots that are the most slept on. Mattress protectors, mattress covers, mattress pads, or box spring covers add a line of defense to combat these issues and prolong the lifespan of the mattress or box spring.
Spills, Stains & Incontinence
Waterproof mattress pads safeguard against spills, stains, and moisture resulting from accidents, fluids, and sweat. Mattress protection can prevent mold and mildew from growing in the mattress by blocking fluids from soaking into the bed. Waterproof mattress covers are ideal for sleepers who sweat, people who eat or drink in bed, families with small children, those who have issues with incontinence, pets that sleep on the bed or anyone seeking to keep the mattress stain-free.
Allergen-Free Bed
Dust mites are the most common household allergen, present in most home textiles. They feed off of human skin flakes and use mattresses as breeding grounds. The most effective way to combat dust mites, and enjoy a healthier sleeping environment, is to purchase a dust mite mattress cover that fully encases the mattress on all sides. For maximum allergy protection, consider implementing a box spring cover to prevent dust mites or other allergens from accumulating in the box spring.
Additional allergy asthma and triggers include pet dander, mold, and mildew, all of which can penetrate an unprotected mattress. Mattress covers shields pet owners from an unhealthy buildup of pet dander in the bed. Waterproof mattress pads can block fluids, and prevent the growth of mildew and mold inside the mattress.
Bed Bug-Proof Mattress
Bed bugs are small insects that live on human and animal blood, and therefore prefer to live inside mattresses and pillows, near their food source. One way to prevent these tiny insects from infesting your bed is by purchasing a bed bug mattress encasement. Bed bug-proof mattress covers encase the entire mattress on all sides and are too thick for bed bugs to enter or exit. For maximum protection throughout the entire bed, consider purchasing a bed bug proof box spring cover. For the best protection, make sure to look for pillow covers that are entomology lab certified.
Types of Mattress Protectors
There are two main types of mattress protectors, with each providing distinct benefits and protection:
6-Sided Mattress Encasements
A zippered mattress encasement encompasses the entire mattress. It's like placing a mattress into a large protective fabric bag. Mattress encasements are ideal for shielding against bed bugs, dust mites, dander, allergens and other contaminants. For the maximum protection, select a model that includes a micro-tooth zipper, or a zipper small enough to prevent bed bugs from entering or escaping the mattress.
5-Sided Fitted Sheet Style Protection
A fitted sheet-style mattress protector is placed over a mattress just like a fitted sheet. It slides over the edges and corners of the mattress, includes a full "skirt" around the sides of the mattress, and uses elastic edging to ensure a snug fit. With top surface waterproofing, This type of mattress protection is an ideal safeguard against spills, stains, and incontinence. It can also be used for protection against normal wear and tear. While they may offer top or side surface protection against bed bugs and dust mites, they are less effective then encasements because the bottom of the mattress is not covered.
Mattress Pad Fabrics
Mattress protectors come in a wide range of fabrics, with each one offering unique advantages and disadvantages. The following is a list of the most popular fabrics used on mattress covers:
Cotton Mattress Pads
Cotton mattress pads are naturally hypoallergenic due to the organic composition of cotton. Cotton fabric is available without chemical and pesticide treatments, which is ideal for those with skin sensitivities. It's also breathable enough to allow mattresses to stay cooler for a comfortable sleeping experience.
Polyester Mattress Pads
Polyester is a durable fabric offered in a variety of textures and styles. Polyester is easy to wash and maintain and can be less expensive than other fabrics. Although polyester is not as cool as fabrics like Tencel®, it's often blended with other materials to maximize protection and comfort. Polyester does not wick moisture, although it can be fast-drying, and is not considered hypoallergenic.
Tencel® LyocellMattress Pads
Tencel lyocell is a bedding fabric known for its botanic origins and comfortable properties. Tencel is an eco-friendly textile that is sourced from sustainable resources. Tencel lyocell mattress covers are highly breathable, naturally hypoallergenic, moisture-wicking and inhibit the growth of odor-causing bacteria. Additionally, Tencel mattress protectors are ideal for those with sensitive skin because Tencel is very soft and smooth, not abrasive or itchy like wool or cotton fibers.
Plush VelourMattress Pads
Velour or velours is a plush, knitted fabric or textile similar to velvet or velveteen. It is usually made from cotton but can also be made from synthetic materials such as polyester. Velour can be a woven or a knitted fabric, allowing it to stretch. It combines the stretchy properties of knits with the rich appearance and feel of velvet. A plush velour waterproof top surface, and sensually soft mattress protection infuses luxury into your down time with dry, warm comfort.
BambooMattress Pads
Bamboo mattress pads are popular due to the natural benefits of soothing, comforting bamboo fabric. Much like Tencel, the fabric on bamboo mattress covers is moisture-wicking and inhibits the growth of odor-causing bacteria. Bamboo mattress protectors allow sensitive sleepers to rest soundly since bamboo is a naturally hypoallergenic mattress cover.
Cooling Mattress Covers
Cooling mattress pads utilize specialty engineered fabrics that create a cooling sensation by lowering the temperature of the bed while you sleep, perfect for hot sleepers or those who prefer a crisp, cold sleep climate. Cooling mattress covers typically work by dissipating heat faster than other fabrics, keeping the bed feeling cool all night for a comfortable night's rest.
Waterproof Mattress Pad Materials
Mattress protectors are typically made out of one of the following two materials:
Polyurethane Waterproof Mattress Pads
Polyurethane is a super-thin, flexible membrane that is used to waterproof fabrics while remaining totally undetectable and silent during sleep. It is a superior waterproof barrier, and is also highly breathable, with microscopic pores that allow air to pass through the mattress cover. This keeps the sleeper cool throughout the night, while effectively stopping the transmission of liquids, dust, bed bugs and dust mites. Polyurethane is a durable material that's quieter and cooler to sleep on when compared to vinyl.
Vinyl or Plastic Waterproof Mattress Pads
Vinyl mattress pads are not nearly as breathable as polyurethane mattress pads but are effective against pests and liquids. Vinyl's thickness provides an effective barrier against bed bugs and dust mites. However, vinyl has several drawbacks. It retains heat, which makes for a warmer bed throughout the night. It is not a breathable material, trapping in moisture and sweat, contributing to a wet or sticky sleep surface. Plastic mattress pads tend to be crinkly, loud and sleep very hot, but they are easy to clean and maintain.
How to Buy a Mattress Pad
Mattress pad protection is available in a wide range of options. Here are features to consider when shopping for mattress pad protection:
Size
The size of the mattress will determine what size mattress pad is needed. Measure the mattress size and depth before shopping for a mattress protector. It's important to buy a mattress protector that fits the entire mattress in order to get maximum protection.
Features
Determine the benefits most important to you when selecting mattress protection. Consider features like waterproofing, cooling fabrics, guarding against bed bugs, and wear and tear prevention. Hypoallergenic mattress pads are ideal for sensitive sleepers who may be allergic to certain fabrics, dust mites or chemicals and pesticides – look for protectors that feature Tencel or bamboo.
Comfort
Mattress protectors with thick or layered fabrics can add soft comfort or cushion to the surface of the mattress. The type of fabric used and the knitting style can provide a plush finish with additional cushion and texture, while knits like jacquard add loft and also keep you warmer. If you prefer a cold sleep climate, consider a cooling mattress cover.
Breathability
For those that prefer a cooler sleeping experience, choose a mattress pad that allows the mattress to breathe. This guarantees efficient airflow, prevents heat from being trapped, and provides a cooler night sleep. Mattress protectors with polyurethane waterproofing allow more airflow and cooling than their vinyl counterparts.
Easy to Wash
Since mattress protectors are designed to protect against spills, stains and other mishaps, it's important that your mattress cover is easy to remove and wash. Regular washing of mattress protection will keep the bed clean, sanitized and odorless. Make sure that the mattress pad you select is machine washable, and always follow the care instructions provided.
Warranty
When shopping for mattress protectors and mattress pads, ensure the products you are looking at is back by a solid manufacturer's warranty. The ideal warranty last about 10 years and covers defects in performance due to manufacturing issues. Once you make your purchase, ensure you read the warranty, register your product on the manufacturer's website, and follow the care instructions as directed on the product label. With the proper care, a good warranty can ensure your mattress protector lasts for years.