How to make your firm mattress softer
New mattress too hard? Try these tips before you return it.
If your bed is too firm it can cause aches, pains and disrupt your sleep.
Did you set up a brand-new mattress , only to wake up the next day and find it too firm? One of the downsides of buying a mattress online (or even a store IRL) is that you don'treallyknow what it's going feel like until you sleep on it. Even if you have the chance to test out your mattress in a store before you buy, sometimes that's not enough to know how comfortable it will be to sleep on. So if you prefer a softer mattress, but keep waking up after sleeping on your new bed with aches and pains from the firmness — it's not too late.
Before you resort to going out to buy a new mattress — consider these tips below to help make your new bed more comfortable. Is your mattress too soft instead? Try these tips to make a soft mattress more firm .
Try a mattress topper
A plush mattress topper or mattress pad can help your bed feel softer.
Don't underestimate the power of a soft mattress topper to totally change the way your bed feels. This is one of the least expensive options since you won't have to replace the mattress or bed frame to feel a difference.
Some things to look for when you check out a mattress topper are "plush," or down-filled toppers. Memory foam can be a good option, but sometimes these toppers will feel more firm. If you currently have a memory foam mattress and it feels too firm, try a plush pillow top mattress topper. If you have a regular mattress but want to see if memory foam will feel softer, you can always get a soft, less dense topper to see if it helps you.
Consider the foundation
It's important to consider what type of foundation you have if you want your bed to feel softer.
If you have a new memory foam mattress, chances are you may have ditched your box spring for a different support. This could be part of the problem since a box spring may feel softer compared to a more firm surface, like a platform or slat foundation.
If you have a regular mattress, using a box spring support may help the mattress feel softer. If you have a memory foam mattress, check with the manufacturer before placing it on a box spring since many say that a box spring is not a good support for a memory foam mattress.
Give it some time
If you just purchased a new bed, it may simply take some time to "break in" the mattress. If you purchased a "bed in a box" or memory foam mattress that came compressed inside a box, it may take some time to fully expand and could feel less firm over time. Try waiting it out a few more days before deciding it's time to return it and try another mattress.
If you want to try giving the mattress some time to wear in, you can always add a softer mattress topper on it in the meantime while you wait. This will of course vary depending on the type of mattress you have, but it's worth trying if you're patient and aren't losing too much sleep.
Check the temperature in your room
Do you like to keep your bedroom really cool at night? If you have a memory foam mattress this could actually make the mattress feel more firm. This is because the memory foam mattress material is more sensitive to temperature.
Your body heat could help it feel a bit softer, but to really feel the difference consider warming up your room at night to help the mattress feel more soft.
The information contained in this article is for educational and informational purposes only and is not intended as health or medical advice. Always consult a physician or other qualified health provider regarding any questions you may have about a medical condition or health objectives.
Our 8 Highest Rated Soft (Plush) Mattress Picks For 2020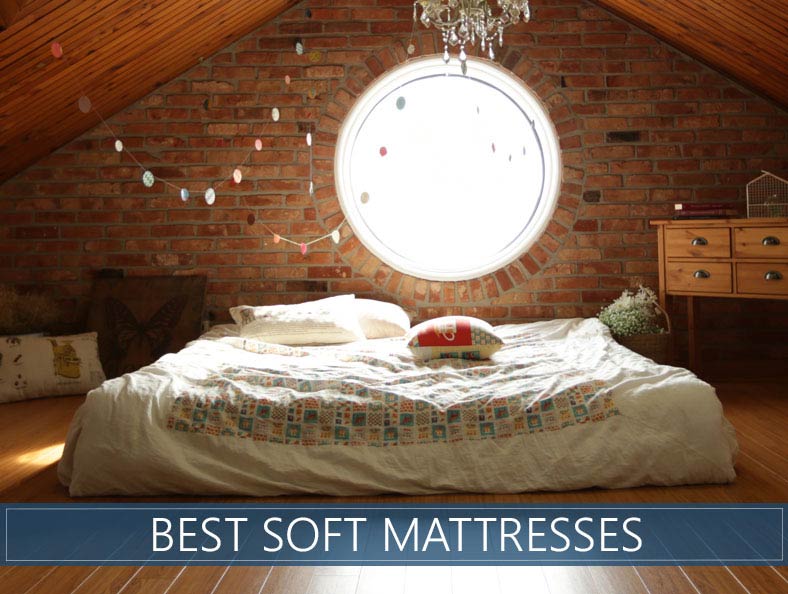 Transparency Disclosure– We may receive a referral fee (at no additional cost to the buyer) for products purchased through the links on our site or other applicable pages. To learn more, please read our full disclosure pagehere . We also encourage you to read about how we may research and/or test Products here .
Buying ahigh-performance soft mattresspresents some unique challenges. It's not easy for a plush bed to maintain supreme comfort while also excelling in support. If you want to feel like you're sleeping on a cloud, then this article should be perfect for you. We've done the research to make it easier to choose a great soft style mattress.
So how do you do it? How do you pick a great soft mattress? Let's dive in!
We picked seven of the top beds you can buy in 2020 that have a softer feel. This can allow you to make a quick and effortless call, sparing you a substantial amount of time and energy.
Trial Period: 365 Days
Warranty : Everlong

CLICK HERE FOR PRICE

Trial Period: 120 Days
Warranty : Lifetime

CLICK HERE FOR PRICE

Trial Period: 120 Days
Warranty : 10-Year

CLICK HERE FOR PRICE

Trial Period: 100 Days
Warranty : 10 Years

CLICK HERE FOR PRICE

Trial: 100 Days
Warranty: 10 Years

CLICK HERE FOR PRICE

Trial Period: 120 Days
Warranty: 20 Years

CLICK HERE FOR PRICE

Trial Period: 100 Nights
Warranty: Lifetime

CLICK HERE FOR PRICE

Trial Period: 120 Nights
Warranty: 10 Year

Top 8 Softest Bed Reviews

DreamCloud – Affordable Luxury

Highlights:

CertiPUR-US® Certified
365-Day Trial
Everlong Warranty

On a budget but want something luxurious? DreamCloud has plenty of posh features but at a low price point. Starting with its plush EuroTop cover, through the gel-infused foam layers, and down to the durable spring system, you should expect a comfortable and supportive night's sleep.

What stands out?DreamCloud just might be the best of both worlds; this hybrid has memory foam benefits that melt away pressure points and springs for bounce, support, and easy repositioning. It is on the softer side, so side sleepers should love the comfort around the shoulders and hips.

The materials are durable and feel expensive but offered at a fair price, which is great for anyone trying to save a few bucks. Not sure if it is the right choice for you? Once you purchase, it comes with a 365-night trial, so you have plenty of time to decide whether it is right for you.

Layla – Pressure Relief

Highlights:

Dual-sided Firmness
CertiPUR-US® Certified
120-Day Trial
Lifetime Warranty
Made in the USA

Layla wants to modernize the way we look at memory foam with their innovative cooling technology that uses copper to ferry away heat from the sleeper, who is nestled in a deep cradle that provides fantastic pressure relief. If a deeper hug is not your style, you can flip the mattress over for a firmer bed with a shallower cushioning depth.

What sets this mattress apart?Traditional memory materials are known for their ability to contour to every curve of the body and make pressure points vanish, but the more old-fashioned models have a downside: heat retention. By including copper in their top foam layer and gel in their cover, Layla does a great job of keeping the surface temperature comfortable no matter which side you choose.

The wellness industry is ramping up and there is plenty of talk about copper and its potential to promote good health, which is something you can look into. What we can tell you is that the cool and comfortable hug of Layla has what it takes to make your pressure points disappear.

Brooklyn Aurora – Amazing Cooling

Highlights:

CertiPUR-US® Certified
120-Day Trial
10-Year Warranty
Made in the USA

Worried about getting too warm while sleeping? The Aurora is one of Brooklyn Bedding's hybrids, which are cooler than all-foam alternatives. The brand's careful synthesis of foam and coils give this bed a unique edge in the hybrid market, and their soft option should give you the plush comfort you prefer.

What makes it unique?This bed is built with a layer of the company's proprietary TitanFlex™ foams followed by a layer of 8-inch coils that are individually pocketed to help isolate motion. Though all three available firmness levels offer a good blend of comfort and support, the softest version maximizes pressure relief and holds your body in a slightly deeper cradle.

Plus, Brooklyn Bedding owns their own factory which allows them to defray a lot of the costs associated with middlemen working the production process. These savings are generously passed on to their customers, which is how they can deliver quality materials at a very attractive price point.

Casper Wave – Spine Alignment

Highlights:

CertiPUR-US® Certified
100-Day Trial
10-Year Warranty
Designed and Assembled in the USA

Spine alignment is important for all sleepers for healthy posture and keeping those aches and pains away. Sometimes, especially when a mattress is too soft, the hips might dip too low, causing discomfort.

The Wave is Casper's new high-end model, with a unique, innovative design. It does have memory foam inside, but you will not melt into it like other all-foam beds. It has a quicker response, similar to the Original, so while there is some contouring, you should not feel stuck.

What's special?The Wave has a zoned design placed around the hip area, with a feature that you might not see anywhere else; the base layer has targeted gel pods in the center area. This should help it adjust and support around the hips, keeping them level with the rest of your body.

Your core is usually the heaviest part of your body, so keeping it well-supported should align your spine. Support does not have to be firm, though, and you should find comfort and support on Casper's Wave.

Casper – All Sleeping Positions

Highlights:

CertiPUR-US® Certified
100-Night Trial
10-Year Warranty
Designed and Assembled in the USA

Maybe you find yourself moving around all night long, flipping from your back to your side to your stomach and then back again. If you like a soft mattress, you are going to want something plush yet supportive, which might be more difficult than you think.

Casper is one of the top mattress brands in the industry, and it is an extremely versatile option for combination sleepers or couples. Its Zoned Support™ is soft around pressure points and more supportive in spots that need some extra love, like the hips.

What stands out?Casper is designed for all-around comfort that adapts to all kinds of sleeping positions and body types. The bed has a gradual firmness that starts soft at the top and gets firmer down to the base. As you push down further, it gets firmer, so heavier parts of the body get the support that they need.

Zenhaven – Flippable

Highlights:

Dual-Sided
Certified Organic Cotton
OEKO-TEX® Certified
120-Day Trial
20-Year Warranty
Made in the USA

Latex offers a unique sleep experience because of its quick response time, low heat retention, and pressure-relieving body conformance.

This all-natural latex brand comes from the makers of Saatva, a company that endeavors to reduce its carbon footprint.

If you are looking for an all-foam alternative to memory foam, latex is an excellent option. The all-natural Talalay foam in this bed provides more bounce and sleeps cooler than many memory beds.

What is this bed's best feature? This handcrafted mattress also offers dual-sided firmness, and the Luxury Plush offers 4.5 inches of soft comfort that envelops your shape and cradles away pressure that can build up in your joints, especially for curvier side sleepers. And if the softness is not quite right, a firmer bed is available on the other side.

All Saatva brands arrive at your door straight from the manufacturer with free professional installation to set up your new bed, and this service also includes the removal or your previous mattress and foundation.

Alexander Nest Signature – Balanced Feel

Highlights:

CertiPUR-US® Certified
100-Night Trial
Lifetime Comfort Guarantee
Lifetime Warranty
Made in the USA

Looking for some overall comfort and support? Alexander Signature by Nest Bedding might be your answer.

Signature is a foam and coil hybrid known for its pressure-relieving qualities. The comfortable contouring of the upper foam layers should be effective for all sleeping positions and body types, great for couples and combination sleepers.

What's unique?This bed should just feel great overall, with its cooling, breathable foam. You should feel the soft top layers of foam comfort your pressure points but the pocketed-coil system gives the bed some bounce, so moving throughout the night should be a breeze.

While some foam beds retain heat, Signature cools down with its phase-changing cover and both gel and copper-infused foam. So while you should get the benefits of contouring memory foam, you can avoid the pitfalls.

Plus, with a lifetime warranty, you can feel comfortable knowing your purchase should be providing lasting softness for years.

Sanctuary Plush – Budget Choice

Highlights:

CertiPUR-US® Certified
120-Night Trial
10-Year Warranty
Made in the USA

Buying a new mattress can be an expensive investment, but a good night's sleep doesn't have to break the bank. Sanctuary Plush is an affordable option, especially for the quality of materials, which is why it is our Budget Choice.

On Sanctuary Plush, you should feel deep contouring from the foam layers that give you a deep hug, keeping those pressure points comfortable. Motion transfer should not be a problem on this mattress, either, which is key for couples or those with pets or restless children climbing into bed at night.

What's so special?Dreamfoam prides itself on offering a quality rest for every person's budget, and Sanctuary Plush can fit the bill. By eliminating the middle man of brick-and-mortar stores, the company can sell its products at a much lower cost than comparable options.

Plus, boxed delivery allows Dreamfoam to save on shipping costs, which in turn saves you money.

Who Should Sleep on a Softer Model?

The quick answer to this would be side sleepers. They are usually ideally suited for this type of bed. Of course, this doesn't mean that they are no good for other sleeping preferences.

However, keep in mind that the softer layers of the bed should allow for an excellent hug, contouring, and support throughout the curves of your entire body. Some back sleepers might also grow to love this feel. However, it would come down to personal preferences and true alignment needs.

People who sleep on the left or right side, on the other hand, can truly benefit from a softer mattress as it can enable them to sink conveniently into the bed, offering great spinal alignment. People who are under 150 pounds of weight might also find the solution suitable, as they may not be able to sink in to relieve pressure adequately otherwise.

Who Shouldn't Sleep on a Soft Bed?

An ultra soft bed tends to mean a more pronounced sinkage. People who are overweight or who weight more than 150 pounds may need to consider avoiding overly soft beds. They may need something firmer for the enhanced support.

On the other hand, those of you who prefer sleeping on their backs or tummies tend to be better off with a medium-firm bed. This can provide clear support and should make sure that your spine is aligned correctly.

Additionally, if you are simply not a fan of contouring and the expressed foam hug that most of the softer units deliver, you might do better to look for something slightly sturdier (you can check out top rated beds with different structures and properties).

Benefits of a Soft Mattress

There is a lot of merit to owning a softer mattress. They provide serious comfort in most cases and many of them can accommodate some varied sleeping preferences as well.

Finding this type of mattress can help you experience the cloud-like sleeping sensation that many people dream about.

The most significant benefits are revealed for the proper sleeping position, and for most people that is the side sleeping position. The soft model can help make sure there are as little pressure points between your body and the bed and that it contours your body's shape.

Light-weighted people can also experience the benefits of a plush mattress as they can receive a proper amount of sinkage and hug that they may not be able to on something harder.

Buyer's Guide

Firmness Level vs. Support

Among the very first things that you should take into account when purchasing a mattress is the actual support. Firmness is not necessarily the same thing as support. These are actually two different properties in any given bed, and there is a fine line between them that you ought to be aware of.

While they do tend to work closely together, they are far from being the same thing. A good level of mattress support means that your spine is correctly aligned and that there are no pressure points between your body and the bed. This could help you alleviate back, hip, or shoulder pain.

The firmness, on the other hand, is the overall feel the mattress delivers. Is it firm or is it soft? That's what this particular characteristic is all about.

Consider the Temperature

Softer mattresses are usually made out of memory foam (but not always), and this is a material that can bring the most substantial heat retention if it is not a modern design. If your bed retains a lot of the heat, you may just wake up in the middle of the night sweating through your PJs.

If heat is a problem for you, consider the construction of your plush mattress and make sure that there is airflow or that there are other cooling measures in place. This will help dissipate the heat and will bring more coolness to your bed, in the hopes that you rest soundly.

With this in mind, there are certain materials which bring additional cooling to the bed. Latex and gel are amongst them. They may slightly raise the price, but are becoming more common.

Think About Edge Support

Edge support is one thing that a lot of people disregard because it isn't always of huge importance to every individual or couple. However, it can be important if you are part of a couple that needs some more space. As a general rule of thumb, softer beds tend to be more challenged with edge support, though not always.

If you sleep with someone else, you may find yourself using the edges a lot more often than not. This is an example of when you'd truly appreciate proper support in this area. It allows for a proper usage of the entire surface, which can be something to consider.

With this in mind, proper edge support also helps amorous nighttime activities. This can help co-sleepers to maximize space, and lessens the potential to put a damper on the passion.

Material/Type

Softness can be delivered by a few different materials, including memory foam, latex, and innerspring. As you can probably guess on your own, memory foam is the established and predominant leader in the segment because of its properties.

Latex is more responsive, and it does have a certain bounce that's not always well-received by those looking for truly soft sensation. Innerspring, on the other hand, has even more expressed bounce most of the time and there is also some serious pushback. However, you can still find soft versions of both types if you know where to look.

How to Make a Firm Mattress Softer

I like a softer mattress, and here are all the tricks I've learned to get a better night's sleep!

I have never been an adherent to the school of the firm mattress. A bed should be about comfort. It should be a refuge from the harshness of the world and a place to relish sweet dreams. There are many things you can do to make a firm mattress softer, let's start with the cheapest and work our way up.

1. Use a Foam "Egg Crate" Mattress Topper

This is what my mother always called those foam pads that you can put on your mattress. In college, my roommate had never seen one of these, until I threw one on her spartan bed to cushion her bony body. They are the cheapest way of softening up a bed. I recently bought one for around $20 at Wal-Mart. Of course, they vary in thickness, so the more you pay, the thicker of a foam pad you'll get. Throw it down on the bed, top with sheets, and you're done!

2. Use a Feather Bed

The classic choice, a featherbed is made up of bird down mixed with larger feathers to make a fluffy, soft nest for your bed. There is a very wide price range when it comes to featherbeds. You can go down to your local Bed Bath and Beyond and pick one up for $70, or you can go to Macy's and buy a $400 Charter Club featherbed.

There are a couple of things to keep in mind when shopping for a featherbed, however. The first is the percentage of down the featherbed has. You want a high percentage of down in a featherbed, because more down means less larger feathers. These larger feathers can prove crunchy and will poke out of the fabric, pricking you when you are just dozing off.

Another thing to consider is the thickness, or fluffiness, of a featherbed. Your weight will compact the bed a bit, though it can be fluffed back up. A cheaper bed will not wear well over time and will be flat as a pancake in a few months. A good featherbed will resume its shape after a good fluffing, however, and will last many years.

3. Buy a Memory Foam Topper

The new kid on the block, memory foam is what the astronauts sit on during takeoff. Memory foam is made of polyurethane that's chemically altered to be very dense. It's also responsive to heat, making it softer in warm spots and harder in cool areas. Because memory foam is so dense, it can be very heavy, but it is also very supportive.

Memory foam, unlike feather beds, does not have as large a range of quality. Yes, some memory foams may be softer than others (marginally), but there aren't factors like down percentage to encounter. The key quality to consider while searching for a memory foam topper is thickness. The thicker the memory foam the more support, and the further you are away from your hard mattress. Memory foam runs from about $110 for a 1/2" topper to $800 for a full-on mattress. Many in between sizes exist, usually made in half-inch increments.

Memory foam can also be considered a good investment, because it retains its shape and lasts a very long time. (I'm talking about "it may come with you to your next mattress" long time).

4. Use a Combination of These Methods

I personally enjoy the best of both worlds. On my bed, I have a hybrid feather and memory foam topper. The memory foam provides a half-inch base while feathers are on top. The feathers provide a pillow-like feeling, while the memory foam provides curve-hugging support. I bought this about a year ago, and the topper is still going strong. For about $110, I consider it a very smart investment in a good night's sleep. Keep your eye out on places like eBay and Overstock.

Questions & Answers

Related

Review: The New 12-Inch Sweetnight Gel Memory Foam Mattress

by Kate Daily 2

How to Choose the Best Mattress for Your Body Type

by becauseilive 38

My Experience Purchasing a Memory Foam Mattress

by Ellen Gregory 2

Acesleep Mattress: The Best Memory Foam for Side Sleepers?

by Kate Daily 4

Is the Casper Mattress Really Worth It? An Honest Review

by Kate Stroud 1

Popular

What You Need to Know Before Buying Furniture on Wayfair

by Learn Things Web 20

The Difference Between California King and King Sized Mattresses

Purple Mattress Review: Is the Purple Powder Toxic?

by Kate Daily 18

Comments

Dawn

Where can you find this hybrid? I've looked everywhere. Is there a brand name or another name for it?

Shelly

I have a memory foam pad and I really like it. My husband loves the feel but isn't very fond of how hot the memory foam makes him.

CennyWenny

9 years ago from Washington

Ava-I agree, memory foam takes a little getting used to, but once you do you can never go back!

Ava Da Luca

Memory foam is really the way to go it last a really long time and feels great. Make sure to go to a place where you can try it out first though some people don't really like the feel of it.

bizijebator

9 years ago from slovenia

lots of good information, it helped me a lot.

keep up that good work

Sarah Carlsley

9 years ago from Minnesota

MMMmm-memory foam. I wouldn't go back to anything else. Great hub, thanks for the ideas!

Susan Hazelton

9 years ago from Sunny Florida

Great options, there's nothing worse than tossing and turning all night on an uncomfortably had bed. Thanks for the information.

RamonB

Interesting read, but I can't understand anyone wanting to make a mattress softer. I love my firm Millbrook bed and I hate staying in hotels where the mattress always seems to have too much give.

For me, firmer is always better 🙂

Zach Smith

Memory foams might make the mattress a lot firmer. Latex foams might be a better choice since these mattresses usually have lesser density. Try looking for a latex pad. What is great about latex is that it offers a combination of upper back support and lower back comfort. Many people are in need of this type of comfort.

MARIEL ELLEMAN

thanks . this really helped becuz i was going to buy the new TEMPURPEDIC CLOUD SUPREAM it cost around 2,000 but now i can get a soft mattress without paying all that mony:)

relica

10 years ago from California

You have a lot of great ideas for softening a firm mattress. It almost makes you think that if you are going to err on the firmness of your mattress when you are buying a new one, you should error on the side of firmness, because you can always soften it up. Nice hub.

CennyWenny

10 years ago from Washington

BM-Try Overstock.com, they always have an interesting selection of bedding goods for a reasonable price.

BM

Where can I get a memory foam + fiberbed hybrid in queen size or memory foam and down. Ive looked evryhere but I cant seem to find it

CennyWenny

10 years ago from Washington

Model Girl- Wal-Mart and Bed, Bath and Beyond are both good choices, as is Target. Sometimes you can score good deals at stores like Ross and TJ Maxx too!

Pretty Model Girl

10 years ago from Tempe, AZ

You know, this is a really good idea. I hate my mattress now, it's so uncomfortable. Other than Overstock, where's a good place to pick up a topper in person?

fat boy bean bag

Its fairly a good job. I think I got what I was looking for. Its really nice now to shop for mattress. As there are a variety of mattresses so difficult to choose one. But thanks to your hub which helped me in this regard. Thanks once again.

Stephanie Marshall

11 years ago from Bend, Oregon

Lots of options! Nice job on this Hub. Makes me want to go shopping.

ps. I love your avatar with your dog!

Copyright © 2020 HubPages Inc. and respective owners. Other product and company names shown may be trademarks of their respective owners. HubPages ® is a registered Service Mark of HubPages, Inc. HubPages and Hubbers (authors) may earn revenue on this page based on affiliate relationships and advertisements with partners including Amazon, Google, and others.

HubPages Inc, a part of Maven Inc.

Interior Design

Connect with us

About Us

Copyright © 2020 HubPages Inc. and respective owners.
HubPages Inc, a part of Maven Inc.

Do I Need a Soft or Firm Mattress?

Quick Overview

Whether you need a 'soft' or 'firm' mattress will ultimately depend on your body, budget, and personal preferences. The right firmness level for a given sleeper varies by height, weight, and sleep position.

Additionally, mattress firmness is often linked to pricing and performance factors like durability and pressure relief. Due to the wide range of mattresses sold today, multiple firmness options are available for memory foam and latex beds, innersprings, hybrids and other common mattress types.

Read on to learn more about finding a mattress with the right firmness level for you and your sleep partner.

Why Is Firmness Important?

A mattress with the right firmness level will provide adequate support and alleviate pressure points throughout the sleeper's body. Mattresses that feel too firm or not firm enough can create joint discomfort, back and shoulder pain, and exacerbate pressure points.

How soft or firm a mattress feels will largely depend on how the comfort layer (or comfort system) is constructed, as well as its overall thickness. The comfort layer is defined as the body-cushioning system that forms the topmost part of the mattress, and its composition will determine how closely the mattress conforms to a sleeper's body. Common comfort layer components include polyfoam, memory foam, latex, and/or steel microcoils, as well as the mattress cover. Some mattresses have a single-layer comfort system, while others may have as many as four or five individual layers in the comfort system.

Other factors can be used to evaluate firmness in different mattress types. In innerspring mattresses, the gauge (or thickness) of steel coil and other metal components can affect overall firmness. In mattresses made entirely of foam and/or latex, firmness may be linked to a measurement known as indentation load deflection (or ILD). ILD refers to how much weight is needed to indent a sleep surface by 25%; mattresses with low ILD ratings are not as firm and require less weight for indentation, while mattresses with high ILD ratings are firmer and require more weight.

Due to the wide range of firmness preferences among individual sleepers, many mattress manufacturers offer models with multiple firmness options. Additionally, some mattresses are available in 'dual firmness' or 'split firmness' designs that feature different firmness settings on both sides of the top surface; these models are geared toward couples with differing firmness preferences. Other 'flippable' models feature different firmness settings on both the top and bottom surfaces, and they can be rotated whenever the owner wants to change the firmness.

Firmness vs. Support

Firmness is tied to bodily support, although it's important to differentiate between these two terms: firmness refers to how a mattress feels as soon as a sleeper lies down, whereas support refers to how well a mattress maintains an even and sag-free surface, aligns the sleeper's spine, and relieves pressure throughout the night.

That being said, mattresses that are too soft or too firm may lack proper support for certain sleepers. Excessively soft mattresses often sink excessively, which can compromise support for heavier individuals. These beds may also create discomfort for those who sleep on their back or stomach, since both of these positions require flat surfaces for good spinal alignment.

Alternatively, many lighter individuals find that excessively firm mattresses do not conform closely enough; as a result, they do not experience as much pain and pressure relief as heavier people. Side sleepers also tend to prefer mattresses that are less firm; this position often requires surfaces that conform closely to align the spine and alleviate related aches and pains as they develop.

In addition to firmness, sagging and indentations in the sleep surface can also negatively impact mattress support. Minor indentations of 5 inches or less may not affect how the mattress feels, but deeper sagging can cause pressure points to develop in affected areas of the sleeper's body. Generally, mattresses built with high-density foam, Dunlop latex, or coil support cores withstand sagging and indentations to the most noticeable extent.

How Is Firmness Measured?

At Tuck.com, we rate mattresses using the following 1-10 firmness scale:

1 (Extra Soft):An extremely plush sleep surface that sinks deeply beneath a sleeper's body.
2-3 (Soft):A very plush surface that conforms closely and sinks somewhat deeply.
4 (Medium Soft):A plush surface with adequate conforming and minimal sinking.
5 (Medium):An even balance of firmness and conforming with little sinking.
6 (Medium Firm):A low-conforming surface with very little (if any) sinking.
7-8 (Firm):A sufficiently firm surface that conforms to a degree without any sinking.
9-10 (Extra Firm):An extremely hard surface with no conforming or sinking.

It's important to note that mattresses with firmness settings of '1', '9', or '10' are quite rare because the vast majority of sleepers prefer surfaces with firmness settings of 2 to 8. As a result, most mattresses sold today fall between 'Soft' and 'Firm.'

Firmness and Sleeper Type

Body weight and sleep position are arguably the two most important factors for determining the right mattress firmness.

People with below-average weights generally feel more on mattress with lower firmness settings; if the mattress is too firm, then they may not weigh enough to feel any conforming or pressure relief. On the other hand, people who weigh more than 230 pounds may experience uncomfortable sinking on mattresses with low firmness settings.

Sleep position is key because it determines which areas of the body need more cushioning and support.

Back sleepers require more spinal and lower back support to maintain proper spinal alignment and prevent pain and discomfort from developing.
Side sleepers have vulnerable pressure points at the shoulders and hips, and also require neck support for proper spinal alignment.
Stomach sleepers generally need firmer mattresses to adequately support their hips and prevent uncomfortable sinking; most physicians do not recommend stomach sleeping due to the high risk of discomfort and pressure.

As a result, a side sleeping individual who weighs 150 pounds will react quite differently to the feel of a mattress than a back or stomach sleeper who weighs 300 pounds. Additional factors include the sleeper's shoulder, waist, and hip measurements.

Using customer reports and product analysis data, the table below features the most popular firmness setting for individuals with different weights and sleep positions. Please note that this table reflects general findings; mattress firmness preferences are highly subjective, and we strongly urge all buyers to test out multiple firmness settings before buying a new mattress.
Weight Group
Sleep Position
Optimal Firmness Range
Lighter than average
(Less than 130 lbs.)
Side
Medium Soft to Medium
Back
Medium Soft to Medium Firm
Stomach
Medium Soft to Medium Firm
Average
(130 to 230 lbs.)
Side
Medium Soft to Medium
Back
Medium to Firm
Stomach
Medium to Medium Firm
Heavier than average
(More than 230 lbs.)
Side
Medium to Medium Firm
Back
Medium Firm to Firm
Stomach
Medium Firm to Firm
Firmness and Mattress Price
Although mattress price-points vary from brand to brand, models with low firmness settings (1 to 3) tend to be the most expensive due to extra padding layers that make the comfort system feel exceptionally soft.
Additionally, high-end materials like Talalay latex and gel memory foam tend to produce comfort systems with the softest settings. Alternatively, firmer mattresses feature less padding and are usually cheaper by comparison.
Firmness and Mattress Performance
The firmness setting may be used to determine how a mattress will perform in the long run. Performance factors tied to mattress firmness include the following:
Durability:Mattresses with low firmness settings – particularly innersprings – tend to be the least durable due to premature sagging and indentations in their relatively soft sleep surfaces. Firmer mattresses are less susceptible to this type of degradation, and their average lifespan is significantly longer.
Pain/pressure relief:Mattresses with mid-level firmness settings (4 to 6) tend to alleviate the most bodily pain and pressure, since they are designed to offer a balance of comfort and support. Models that are too firm or not firm enough provide less pain and pressure relief by comparison.
Smell:Off-gassing odor is an issue for most mattresses, but mattresses with low firmness settings (1 to 3) tend to produce stronger, longer-lasting smells because they have thicker foam layers; off-gassing is a major complaint among foam mattress owners. Firmer mattresses, on the other hand, generally contain lower amounts of foam and, as a result, produce less odor.
Temperature neutrality:Medium Firm and Firm mattresses typically retain less body heat and sleep somewhat cool as a result, while mattresses with lower firmness settings usually sleep warmer. However, temperature neutrality is more closely linked to mattress type; innersprings and hybrids tend to retain less body heat than foam and latex models.
Sex:Mattresses with mid-level firmness settings tend to be best for sex because they are sufficiently responsive without causing too much sinkage. Firmer mattresses are usually responsive enough for sex, as well. Mattresses with lower firmness settings may also be responsive but sinkage is an issue for some.
Ease of moving:Mattresses with low firmness settings are usually heavier, and need to be rotated more often, than mattresses with higher firmness settings.
The table below features a summary of pricing and performance expectations for mattresses with different firmness settings:
| | | | |
| --- | --- | --- | --- |
| Firmness Range | Extra Soft to Soft (1-3) | Medium Soft to Medium Firm (4-6) | Firm to Extra Firm (7-10) |
| Price | Most expensive | Affordable | Most affordable |
| Durability | Poor to Fair | Fair to Good | Good to Very Good |
| Pain/pressure relief | Fair to Good | Good to Very Good | Poor to Fair |
| Odor potential | Poor to Fair | Fair to Good | Good to Very Good |
| Temperature neutrality | Poor to Fair | Fair to Good | Good to Very Good |
| Sex | Fair to Good | Good to Very Good | Good to Very Good |
| Ease of moving | Poor to Fair | Fair to Good | Good to Very Good |
Firmness and Pillow Loft
Pillows play an important role in mattress firmness preferences. Pillow loft, or pillow thickness, can greatly affect the feel of a mattress. The thickness of a pillow is measured using the term 'loft'. Low-loft pillows measure less than 3 inches thick, medium-loft pillows measure 3 to 5 inches thick, and high-loft pillows measure more than 5 inches thick. A good rule-of-thumb when choosing pillows for a mattress: the lower the firmness setting, the lower the pillow loft.
The table below features a detailed breakdown of the optimal pillow loft for different firmness settings:
| | | | |
| --- | --- | --- | --- |
| Firmness Range | Low-Loft Pillow Rating | Medium-Loft Pillow Rating | High-Loft Pillow Rating |
| Extra Soft to Soft (1-3) | Very Good | Fair to Good | Poor |
| Medium Soft to Medium Firm (4-6) | Fair to Good | Very Good | Fair to Good |
| Firm to Extra Firm (7-10) | Poor | Fair to Good | Good to Very Good |
Mattress Buying Tips
Many mattress manufacturers list a firmness setting with different models. If this information is not available online for a particular model and you are unable to test out the mattress in person, we strongly recommend reaching out to that company's customer service division to inquire about its firmness level.
Many online-only mattress brands offer sleep trials for new customers. These trials are typically 30 to 90 nights in length; customers have the option of returning their mattress for a full or partial refund before the trial period ends. In some cases, customers may be able to exchange their mattress for a different model — but it is important to read the fine print, since some brands do not allow customers to exchange their mattress for a model with a different firmness level.
Additionally, most companies will not honor warranty claims for customers who are dissatisfied with the firmness level of their mattress, or whose comfort preferences have changed since they made their original purchase. Unless the mattress shows another type of defect covered under the warranty (such as deep indentations or protruding wires), mattress owners will likely be unable to replace their mattress for a model with a different firmness setting.
Mattress Firmness Checklist
Before purchasing a mattress, here are a few firmness-oriented considerations to make:
What is your mattress budget?Mattresses with low firmness ratings tend to be more expensive than those with higher firmness ratings.
What is your weight?People who weigh less than 130 pounds usually feel more comfortable on 'Soft' or 'Medium' mattresses, while those who weigh more than 230 pounds often prefer higher firmness ratings. People who fall in the middle, fittingly, tend to prefer 'Medium Soft' to 'Medium Firm' surfaces.
What is your preferred sleep position?Generally speaking, side-sleepers are more comfortable on mattresses with lower firmness ratings, while back- and stomach-sleepers prefer mattresses with higher firmness ratings.
Do you have chronic back pain or constant pressure/discomfort?If the answer is yes, then you may feel most comfortable on mattresses with mid-level firmness ratings.
Is off-gassing a major issue?People who are sensitive to strong smells may prefer firmer mattresses, since they produce less off-gassing odor compared to mattresses with lower firmness ratings.
Do you sleep hot?Mattresses with 'Medium' or 'Firm' ratings typically retain less body heat than those with 'Soft' ratings, and sleep cooler as a result.
Do you plan to use the mattress for sex?Mattresses with lower firmness ratings tend to be more responsive – and thus, better for sex – than those with higher firmness ratings.
Do you plan to move/rotate the mattress on your own?Mattresses with lower firmness ratings tend to be heavier (due to additional padding layers) than firmer mattresses. Additionally, less firm mattresses need to be rotated more often on average.
What type of pillows do you own?Low-loft pillows are best paired with mattresses that are less firm, while high-loft mattresses go with firmer mattresses. If you do not own pillows with the right loft level, then you may need to purchase new ones in order to feel comfortable.
Are firmness exchanges allowed?Before committing to a specific brand, be sure to review the terms of their sleep trial and mattress warranties. In some cases, you will not be able to exchange your mattress for a model with a different firmness once the initial purchase has been made.
Firmness FAQ
Lastly, we'll answer some common additional questions regarding mattress firmness options.
How can I test out firmness before buying?
Those who visit brick-and-mattress stores can arrange to visit one of these locations and lie down on a mattress to test the firmness. However, physical stores typically have a narrower selection of beds and price-points tend to be higher due to overhead costs related to maintaining a brick-and-mortar establishment.
Many online mattress brands do not operate brick-and-mortar locations, but they offer 'sleep trials' that allow customers to test out a bed before committing to a full purchase. Most sleep trials begin on the date of purchase and delivery, and extend for at least 90 consecutive nights; in rare cases, the trial may span one year or longer.
If the customer is dissatisfied with their bed before the trial period expires, then they may return it for a full or partial refund (depending on the brand's trial offer). Some companies will also arrange for the mattress to be picked up from the customer's residence at no extra charge, while others will apply shipping and transportation fees to the total refund amount.
One thing to note: some mattress sellers impose a mandatory break-in period. This means customers must test out the mattress for a certain amount of time (typically at least 30 nights) before they qualify for a full refund on their return.
What if I have different firmness preferences than my partner?
Differing firmness preferences can be a challenge for couples, but many of today's beds address this concern by offering multiple firmness settings. These include mattresses with dual-firmness, meaning each side of the bed has a different firmness setting.
Other mattresses are flippable, with a different firmness setting on the top and bottom surfaces. These beds may be more suitable for couples who are willing to compromise on firmness night-to-night.
For couples with different preferences who would rather not purchase a new mattress, toppers can be very useful. A mattress topper is an individual layer of cushioning that rests on top of the mattress, usually beneath the top sheet. Most toppers make the mattress feel softer but some can actually increase the firmness. Common topper materials include memory foam, latex, down/feather blends, and wool.
I bought a mattress and I don't like the firmness level. What can I do?
First, look into the bed's return policy. If you are dissatisfied with the firmness but 90 nights have not elapsed since the original purchase or delivery date, then you may be able to return the bed for a full refund or, in some cases, exchange it for a different model from the same brand.
If the trial period has passed, then you will most likely be unable to return the mattress for a refund. Most mattress warranties stipulate that mattress repairs or replacements are not available simply because the owner's firmness preferences have changed; in other words, firmness preference is not considered an identifiable defect.
Those who want to change the feel of their mattress after the trial period expires can use a topper to increase or reduce their bed's firmness. If six to seven years have passed since the mattress was purchased, then it may be time for a new bed; the average mattress will perform for about seven years before it needs to be replaced.
Are different materials firmer than others?
When evaluating mattress firmness, material composition is usually a poor indicator. A bed's comfort layers may contain memory foam or polyfoam, latex, minicoils, wool, and other materials with firmness settings ranging anywhere from 'Extra Soft' to 'Extra Firm.' How these materials are engineered will determine how firm or soft they feel.
However, as noted above, some materials tend to be more supportive than others. For example, beds with Dunlop latex and/or coils in the support core typically maintain flat sleep surfaces with minimal sagging.
On the other hand, memory foam and polyfoam beds tend to develop sagging and indentations in the sleep surface that compromise support, regardless of how soft or firm these materials actually feel.
As a general rule, use the bed's listed firmness setting to evaluate how it feels and avoid using the mattress materials as criteria. If the firmness setting is not listed, feel free to contact the brand's customer service division to inquire.
I'm (X) weight and sleep in (X) position but I don't like the firmness level your table says I'd like. What's up with that?
Although our general mattress assessments are mostly accurate, firmness preferences are highly subjective.
Just because a sleeper has a certain weight and/or preferred position does not necessarily mean their optimal firmness setting will correspond to the majority of sleepers in their weight or position group. A lighter individual or side sleeper may prefer an 'Extra Firm' bed, while a heavier person or back/stomach sleeper may find a softer bed is most comfortable.
Ultimately, the most important consideration is the firmness levelyouprefer, regardless of body type of sleep position. The best way to decide is to test out as many different firmness settings as possible.
6 Easy & Simple Ways to Make Mattress Firmer
A mattress definitely holds the key position when it comes to defining a good night's sleep. It is important because, without having a proper mattress, you may not even think about having a calm and consistent sleep overnight. You will find yourself turning and tossing and may end up with groggy feelings in the morning.
To make sure you sleep better and enjoy a consistent sleep, you should consider buying a mattress which is thick enough to provide you the desired comfort and also is soft or firm depending on what your body needs.
However, there is a problem here, when you buy a new mattress it's too soft or after using for a time your mattress become softer,… and your body do not like that. Do not worry! In this article, we'll show youhow to make mattress firmerin simple and affordable ways.
Why thickness and firmness of your mattress are important?
Regarding the thickness and the firmness of the mattresses, we can say that you should select according to the way you sleep or what are the basic requirements or expectation you have while using your mattress.
Like if you are a side sleeper, you might be in need of a medium soft mattress whereas if you are a back sleeper you may need to get a firmer mattress. For the belly sleepers, it is always a good choice to buy a soft mattress.
But it is also true that when you buy your mattress it may be a little firm, but as the time passes the firmness of the mattress gets vanished or may slightly deteriorate due to the external factors and usage of the mattress.
Why mattresses lose their firmness?
The mattresses may lose their firmness because of the moisture, heavy usage, insufficient care, and lack of proper placement of the mattress. And if you are in need of a slightly firm mattress, you may need to treat it through proper ways so that you can restore its actual firmness or at least support it using different accessories to gain the firmness again.
Your Mattress is Too Soft? How To Make Mattress Firmer?
An easy way out to make sure you have a firmer mattress again is to replace it with a new one. But you should be aware of the fact that replacing your mattress may cost you 500-1000usd or more depending upon the kind of mattress you have or want to replace your old mattress. So, better not to go with the replacement option and try to look into easier, low cost and wise solutions, instead.
#Replace the worn out layers:
If you have a mattress having multiple layers, you may try changing the above layer and see if that works for you. It will cost a lot lesser than changing the whole mattress and you will get a firm support again.
#Give it a firm platform
Try to put your mattress on a plywood bed support. This will ensure that your mattress is supported in a firm way so that no part is sagging and will be kept straight.
#Use a firm mattress topper
Using afirm mattress topperis one of the easiest ways to get the firm mattress surface. You should use alatex mattress topperor ahigh-density memory foam mattress topperfor a firm yet adjustable support. Latex and memory foam toppers are the best choices to make mattress firmer.
If your existing mattress is too soft, you should buy a latex topper, because naturally, latex is firmer than memory foam.
In case you need soft yet form upper layer, you may choose a cotton filled mattress topper. A well-fitted mattress pad and cover can also supplement in retaining and enhancement of mattress firmness.
A mattress topper acts in protecting your mattress in many different ways.
One is that your mattress will have an extra layer which will be affected when you use your mattress and in the way and the actual mattress does not get direct affect on its surface.
It gives an extra soft or firm layer on the top of your bed, keeping it firm and in the actual form of the mattress, the way the mattress was before.
You should use a memory foam mattress topper if you have to get the firmness back for your side sleeping habit. This will give you medium firmness and a very good night's sleep.
For those who need to transform into a new mattress through a mattress topper, a latex mattress topper would be the best.
The mattress topper only works on the mattresses which have minor sagging issues and not too damaged. Also, the mattress toppers can only supplement the mattress firmness on the top and they may not fix it if your mattress got damaged
#Keep the room temperature at an optimum level
Highs and lows in the room temperature can also affect the firmness of the mattress. If you could keep it normal, you can easily avoid the deterioration process of the mattress.
#Give your mattress a sun bath
Make sure you put your mattress under the sunlight after every few months. This will help the mattress rejuvenate its internal structure by stretching the cells and killing germs and mildew and release moisture.
#Flip your mattress often
Make sure you flip your mattress on a regular basis. This practice will help you retain the shape of the mattress and the mattress will not be overly used from one side or spot. When all areas get equal pressure, the deterioration process will be slow.
Among all these tips, we may consider two things the most important ones, moisture and wrong placement of the mattress may lead to the loss of firmness. So, if you can protect the mattress from these two factors, you can surely make it feel firmer and supportive.
Comments
ANNA PATON says
Thank you that was very helpful. My bed is soft/plush and I wake up with lower back pain which goes after 10 mins. I am 68 years old so could be an 'age thing' I will get a firm memory foam topper see if that helps. Also do some back stretches my physio taught me
Kindest regards
Anna
You're welcome, Anna.
You can take a look at this article to choose the best topper for your back: Best Mattress Topper for Back Pain
Hi I have a soft memory foam bed as well and wake up with lower back pain too. My older conventional mattress did not give me any pain. I think it's probably your mattress, it should be firmer to avoid the pain contrary to some articles advice. Good luck.
Claire Bell says
Hi, I have been searching the Internet for approx 2 hours and this is the only site I have managed to find that someone "in the know" actually replies. I would appreciate it greatly if you could respond to this request via my email as well as posting on here please. (I am unlikely to be able to get back to this post and see your response, due to my dimness). I would greatly appreciate it if you can.
So… to the mattress topper. For many years now I have had a memory foam mattress, but due to a house move my original bed didn't fit in my new bedroom. So I have bought a complete new bed and mattress. They were both fairly expensive and are only 3 months old. The base is one of those that opens/lifts up for storage. I stupidly didn't buy a memory foam mattress this time and it is giving me untold problems with ongoing neck and shoulder problems, but I find I also have to support both sides of my waist with small cushions when I'm in bed. In my opinion this mattress is too soft and my issues are only going to get worse, not better.
Is there a mattress topper out there that will help to firm this mattress up that doesn't cost the same as a half decent memory foam mattress?
Thanks very much in advance for any advice you may have and I really would appreciate an email to either respond to this question or at least send me back to this link.
Thank you for your kind words!
Normally, you will get notification of my reply in your email.
In that article, you can find top rated medium-firm to firm toppers which can help to make your mattress firmer. If you want more firmness (if your existing mattress is too soft), you should buy a latex topper, because naturally, latex is firmer than memory foam (but they are more expensive).
Hi, I clicked on the link for the latex mattress topper as you suggested and the description and reviews all indicate that it makes your mattress softer not firmer.
My situation is basically that I have back pain and my boyfriend and I have a brand new mattress that he loves and my back is hurting. So I figured if I could get a mattress topper for my half of the bed, that would solve my problem without disrupting his sleep.
Hi Eleanor,
Yes, latex toppers can both help to make your mattress softer or firmer (I mentioned both in that article). It depends on the firmness of the topper your choose: soft, medium-firm or firm. A soft topper will make your mattress softer. A medium-firm or firm latex topper will help to make your mattress firmer and help relieve back pain.
I also wrote an article about mattress topper for back pain here: https://www.thebestmattresstopper.com/best-mattress-topper-for-back-pain.html
I have a mattress with an attached pillow top. I feel like I can't clip it for that reason, but would the plywood help? My husband and I wake up every morning with back pain. Buying a new mattress is not in our budget at this time especially being the holiday season. Any suggestions would be appreciated, thank you!
Sorry for late feedback.
You should check your bed foundation, if it's not good then using plywood can help a little.
You can consider buying a mattress topper too, an affordable mattress topper can improve your mattress. Take a look at our article on choosing mattress topper for back pain here: https://www.thebestmattresstopper.com/best-mattress-topper-for-back-pain.html
Layla Paker says
Hi, Thanks for your the article. Everyone knows that a good mattress is important for your sleep. When we have used it for a while, it lacks softness, which causes problems such as back pain, knee pain, waking up at midnight. Make mattress firmer is a temporary solution, I wonder if I should change the mattress? I am in need some information. Can you give me a tutorial? Thank you very much, have a nice day.
I bought a king size ottoman bed with a memory foam mattress but I have not been able to sleep on it as its too soft I have neck and back pains. I cant get up form it its too soft and very uncomfy,
Could you please help?
Did you read the article and try our suggestions?
You can buy a medium-firm or firm topper to firm up your mattress. A good mattress topper can help relieve back pain too. Read more about choosing mattress topper for back pain here: https://www.thebestmattresstopper.com/best-mattress-topper-for-back-pain.html
Which would sleep cooler, a firm memory foam topper or a firm latex topper? I have a new mattress that is too soft and does not allow me to turn over easy, but do not want something that adds heat as i like to sleep cool.
A firm latex topper is cooler. Generally, latex and gel-infused foam are top cooling materials.
Barbara watkins says
Thanks for this information. My frequent guest requires a firmer bed than that provided by my memory foam, which is almost new. I will look for a firm topper. What a relief to not buy a whole new mattress!
Thank you so much for this helpful article. I have been given a bed by a friend, but the mattress is a soft mattress and is far too soft for my partner who likes and needs a firmer mattress. Will a Latex mattress topper help firm up the mattress enough for him?
Yes, a latex topper can help.
Great article, just remember to use a mattress encasement on any mattress to keep it protected from bed bugs, spills, viruses, dust mites, allergens, etc.
I sleep on the floor and my back feels wonderful.
Brian M Salazar says
Your article was super useful. I looked into the latex topper but the brand you suggested (Ultimate Dreams) is not available in firm for a king size bed. Another brand (Pure Green by SleepOnLatex) is available and sounds promising. However, it doesn't seem to come with a cover. In your experience, is a cover required?
My only other concern is if the bed sheets will fit with such thickness. I definitely need Firm though bc my tempurpedic has somehow become too soft since we got it a few years ago.
Butch Armstrong says
My issue is that I have a nice mattress that is only a couple of years that is soft for me since I have arthritis in my hips. The problem is now I have my girlfriend living with me, and she needs a firmer mattress. What do you think about cutting a mattress topper in half, or purchasing a twin topper to go on my queen bed. I fear that would put her side of the bed higher than mine. I really do not want to spend 1000.00 for a new adjustable mattress since mine is not old.
Hi Butch Armstrong,
Yes, you can put a topper on one side of the bed to adjust the firmness of your mattress. You can buy a thin topper (about 2 inches) to reduce the height difference.
Or, you can also try a medium firm topper to see if it's comfortable for your hip. A medium firm topper can be a good solution for both of you.
Amber Elliott says
Hi,
I am having a hard time finding a firm mattress topper. Do you recommend one? I bought my daughter and son n law a new bed and it's not firm enough. So they are not using a 900 mattress.
Hi Amber Elliott,
Robert VandenHeuvel says
I fixed a Tempur-Pedic soft mattress that was too soft by adding a latex topper underneath it. I weigh 260 pounds and I have back deformities. The soft mattress felt great in the store but was causing pain at home, so I followed the recipes posted here and on Amazon and bought a latex topper 2″ and put it under the existing mattress on top of the box spring. It helps about 90% and the rest of the aches and pains are tolerable. I won't be moving the topper to the upper side. This arrangement already works so well, and for only about $200
Leave a ReplyCancel reply
This site uses Akismet to reduce spam. Learn how your comment data is processed.