My Portfolio
This blog encompasses my writings for personal and professional growth.
How to insulate your air mattress against the cold
Air mattress can provide you with a lot of comfort in comparison to other types of bed and especially when you use it during a camping trip. Well, I, for one, will not be caught dead sleeping in one of those foam pads or thin sleeping bags. Sleeping on the cold hard ground and waking up with a stiff back is not an ideal way to start my day.
An air mattress is the best thing you can ever get to a comfortable sleep outdoors. However, there are a few disadvantages to the air mattress and one of it is the inability to stay warm in cold climate. Have you ever gone camping on a cold weather or to a high altitude sleeping on an air mattress? If your answer is yes, then, you will know what I mean. I hate the feeling of sleeping on a cold bed whether it's at home or outside. No fear. There are a few ways to insulate your air mattress against the cold.
At home: During cold weather especially in winter, you may find that you are not too keen on getting onto your air mattress when it's time to go to sleep. My husband will literally find excuses not to go to bed before I do so that I'll get to warm it first. Finally when I caught on to his trick, I realize that I have to find a way to solve this problem.
One effective and easy way is to put a layer of foam on top of your air mattress. This will help to keep your body from directly touching the bed. In order to keep it in place, you can use a good cotton mattress cover over it. This way you will have dual layer of protection. Aside from that, if you are into vintage decoration, you can consider using a felt.
During camping: Well, as you know, it is more important to keep the air mattress or yourself warm especially when you are outdoors facing the forces of nature. The best air mattress to get for an outdoor activity will be a self-insulated one. The insulator will help to keep your bed warm. Besides that, you can also get a high density foam.
Do not use it to layer the bottom of your air mattress. It may keep your bed above the cold ground but cold air still can go into your air mattress through the sides. So, the best way is to use the high density foam on top of your bed to keep your body away from the cold air mattress.
Aside from that, there are many other materials that you can use to insulate your air mattress from the cold. The thumb rule is to put the extra layer on top of your air mattress. Of course, it also depends on what you have on your hands so that you don't have to buy a new one. For example, you can use an old sleeping bag, blue camping mat and even one of those silver blankets that are used by emergency services to wrap people up after an accident to keep them warm. These are some ways which you can consider using the next time you feel adventurous.
7 Ways to Make an Air Mattress More Comfortable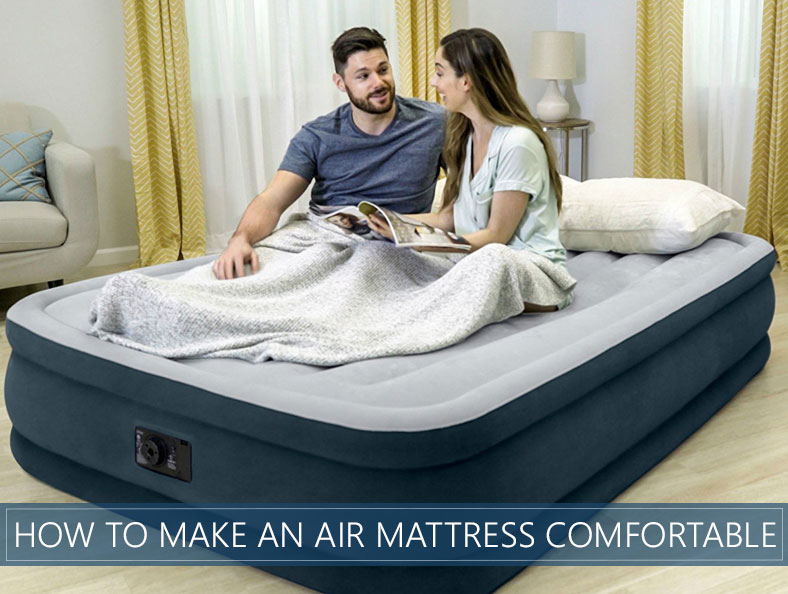 It goes without saying that unhealthy sleeping patterns are amongst the most common problem which leads to a range of different issues. And, when it comes to it, the mattress is one of the main causes for this.
With this said, we've decided to take the liberty of providing you with a few things that you might want to considerif you wanted to make your air bed a lot more comfortable. While we understand that this is likely to be a temporary solution, it is still important to make sure that it is supportive and reliable enough to prevent any issues.
Here are a few things that you might want to take into account if you want to enhance the quality of sleep on your air bed.
Proper Covers and Spreading of Bed Sheets
What you might want to consider is the fact that an air mattress (inflatable bed) is nothing but an inflated air into a structure that has been preliminarily enclosed and made in the form of bed. With this said, the air inside is bound to get warm as the weather becomes hotter.
The same is true for when the weather becomes colder – the air is also going to cool off. To prevent any serious alterations regarding temperature, you should prepare the proper spreading of bed sheets alongside mattress covers. This would prevent you from feeling uncomfortable due to the severe temperature changes.
Put it on a Softer Surface
This is another straightforward and quick way to improve the overall quality of the inflatable mattress. It is because the vinyl bottom layer of the bed is not going to augur that good with a surface that's harder. These include hardwood floor, for example – it is certainly going to make your sleeping quite rough. For this reason, you can put it on a mat or a rug, and this will significantly increase the overall quality of your sleep. And if you're wondering how to make an inflatable mattress quiet, this trick can help you with the noise as well.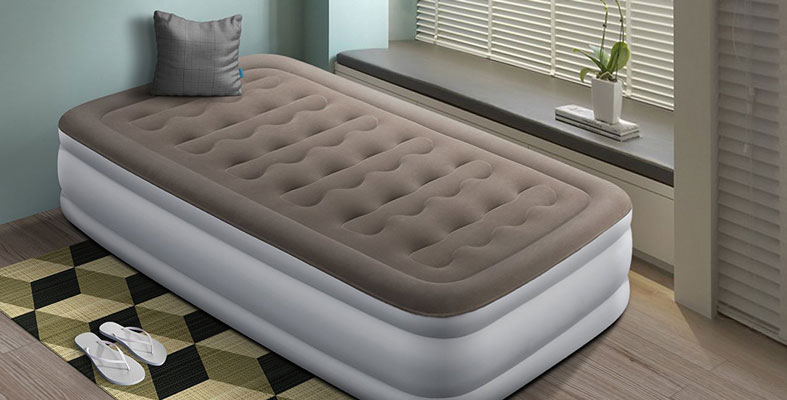 Add a Topper
This is one of the most affordable ways to substantially increase the overall quality of the bed. This is going to ensure that you don't sleep on the characteristic rubbery surface of the air bed.
In cheaper solutions, this surface feels particularly uncomfortable, and with a mattress topper, you can easily get rid of those issues. The topper is going to maximize the comfort as much as it is actually possible. It is also usable on regular beds as well.
Place it on a Box Spring
This is one of the things which is going to enhance the comfort of your air bed substantially. It is also going to ensure that you would be capable of getting out of the bed a lot quicker and without having to put in as much effort. The reason for this is that the overall height would be a lot more. If you wish to enhance the quality of your sleep substantially, box spring is another thing that you might take advantage of – it is quite convenient.
Your Pillow Matters
There are tremendous and undeniable benefits which are associated with the usage of a proper pillow. They can't be overstated. For this particular reason, you should always make sure that you have a great and appropriate pillow for your bed.
This is something that applies to regular mattresses as well. It doesn't matter if you have the most expensive mattress on the market, if your pillow is uncomfortable and inappropriate, this could cause a lot of issues.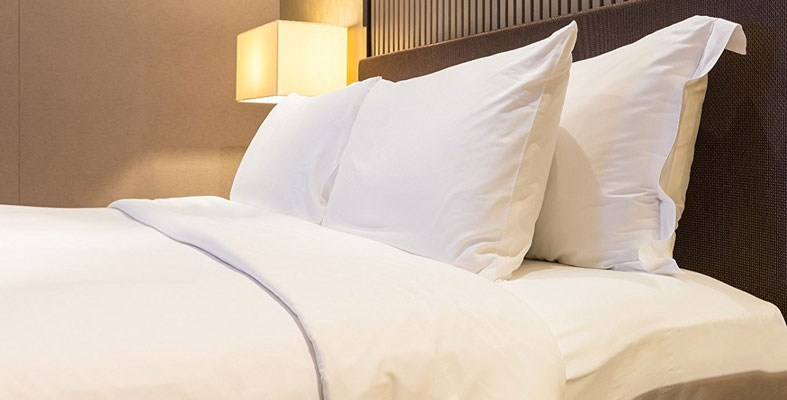 Using the Wall
Having a headboard over your head is something that you might want to consider for each bed that you use. The headboard is likely to prevent your pillow from falling off as you sleep and causing disruptions. An inflated mattress is unlikely to ever have a board over it, so you can put it right next to the wall to resemble this sensation.
Deflate or Inflate
One of the most important factors which are going to impact the quality of the sleep in an air bed is the amount of air that it contains – this is something critical. If you have too much air in it, the inflatable bed is going to feel very firm.
If you don't have enough, on the other hand, this is going to cause it to sag and to be unable to support you properly. This is something that you want to prevent. Make sure to inflate and to deflate the bed as much as it is needed to achieve the perfect specification. This is something fairly individual as it would obviously vary based on your actual weight, for instance.
Conclusion
As you can see, an air bed could be adjusted to fit your requirements for a reliable and comfortable sleeping solution. Of course, this is something that should only be used temporarily as it is incapable of bringing any long-term comfort and support.
An air bed is awesome for your guest room, but it doesn't mean that you have to keep it ill-maintained. Following all of the above is going to ensure that you get a bed that's supportive, comfortable and cool.
They are particularly affordable, so keep in mind that they would bring tremendous value for your money as well.
Sources and References:
Should You Buy A Pull-out Sofa or An Inflatable Mattress? – sleep.org
Effect of different mattress designs on promoting sleep quality, pain reduction, and spinal alignment in adults with or without back pain; systematic review of controlled trials– sciencedirect.com
More Reading:
Author: Sleep Advisor
Our team covers as many areas of expertise as we do time zones, but none of us started here as a so-called expert on sleep. What we do share is a willingness to ask questions (lots of them), seek experts, and dig deep into conventional wisdom to see if maybe there might be a better path towards healthy living. We apply what we learn not only to our company culture, but also how we deliver information to our over 12.7M readers.
Sleep research is changing all the time, and we are 100% dedicated to keeping up with breakthroughs and innovations. You live better if you sleep better. Whatever has brought you here, we wish you luck on your journey towards better rest.
Transparency Disclosure– We may receive a referral fee (at no additional cost to the buyer) for products purchased through the links on our site or other applicable pages. To learn more, please read our full disclosure pagehere. We also encourage you to read about how we may research and/or test Products here.

6 Types of Foam – Qualities To Look Out For
10 Top Rated Trundle Beds – Our Reviews and Ratings for 2020
How to Properly Wash (or Clean) Your Pillows
How Can You Make a Mattress Firmer – 7 Helpful Tips And Tricks
How To Pick a Carpet for Your Bedroom
Menopause and Insomnia – What's Burning? Oh, it's me.
Our 8 Highest Rated CBD Oils for 2020
What is Beauty Sleep and How Can I Get it? The Science Revealed
9 Tips for Sleeping Better in a CPAP Mask
Sleep Chronotypes – Are You a Bear, Wolf, Lion, or Dolphin?
Transparency Disclosure– We may receive a referral fee (at no additional cost to the buyer) for products purchased through the links on our site or other applicable pages. To learn more, please read our full disclosure page here.We also encourage you to read about how we may research and/or test Products here.
About Us
Contact Us
Culture
Terms & Conditions
Privacy Policy
DMCA Policy
Contribute
Sleep Calculator
There's no one-size-fits-all when it comes to better health and better rest, but no one has time to sleep, let alone figure out how to upgrade the sleep they're getting.
From figuring out how to buy a mattress, suggesting ones that are good for different needs and body types, or breaking down the newest science behind technology and wellness breakthroughs, Sleep Advisor has you covered.
How To Make An Air Mattress More Comfortable
The recent escalation in health complications emanating from unhealthy sleep has triggered global outcry. It is for this reason that we flexed our muscles and dived deep into the mattress industry in an attempt to offer you some ideas on how to make an air mattress more comfortable. Although this type of bed is most commonly used as a temporary setup, perhaps for guests or whilst camping, even if used for a short period of time there are fringe benefits from obtaining maximum comfort from your purchase. Below we discuss and recommended the 7 top methods which can be done very easily and sometimes with no added cost:
Table of Contents
Our Top 7 Tips
1. Proper Spreading of Bed Sheets and Covers
An air mattress (also commonly known as an air bed) is literally air inflated into an enclosed structure made in the form of a mattress or bed. Therefore it is worth noting that there is air inside, which is bound to get warm when the weather is hot, and cold when the weather is cold. Nights usually get cold and for that reason, the air will too as those nights fade. Ensuring that proper spreading of bed sheets and bed covers shall assure that one does not have to have to bear with these temperature changes.
2. Place It On Soft Surface
Placing the mattress on soft surfaces is yet another way to improve comfort levels. This is because the vinyl bottom layer does not augur well with hard surfaces such as hardwood floor which would make your sleep quite uncomfortable. For this reason, one ought to place it in a strategic position on a soft surface like a rug or a mat in order to get quality sleep.
3. Add A Topper To Your Bed
Adding a topper to your bed is yet another way to improve comfort. This ensures that you do not sleep on the somewhat hard or rubbery surface which in sometimes cheaper versions feels somewhat uncomfortable. The topper will maximize the comfort of your sleep surface based on which type you use, whether it be a memory foam or latex.
4. Place On A Box Spring Or Platform
Placing it on a box spring adds comfort, and ensures that you can get out of bed fast and with least effort due to the overall raised height. This is, therefore, another way recommended if at all one wishes to enjoy a great nights sleep.
5. Use A Pillow On It
The health benefits of using a pillow when sleeping can never be overstated. For this reason, one should ensure that they always have a good pillow when sleeping in order to enjoy proper spinal alignment. This goes a long way in curbing the risk of experiencing neck and backaches which are quite stressful, to say the least. Pillows can range dramatically in price but it's not a good idea to buy cheap quality ones which will certainly not offer the right support, nor will they last very long. Check our pillow section for some recommendations based on your needs.
6. Use The Wall
It is a wise practice to always have a headboard whichever type of bed you use. Commonly a headboard prevents pillows and other bedding from falling off as one is asleep. In general, air mattresses will never come with a headboard due to their compactness and flexible design. Therefore one should aim to move the bed closer to the wall for best results ensuring maximum comfort.
7. Inflate Or Deflate
Having the right amount of inflation for your air bed is yet another way to ensure the sleep surface is either soft and plush, or nice and firm. Having too much air inside will make it too firm, whereas having too little will make it too soft. Nowadays, if the bed has a built-in pump, this fine-tuning can usually be tweaked with the single turn of a knob.
It is, therefore, time we put some of these basic practices in place to curb the catastrophic repercussions resulting from unhealthy sleep once and for all.
Camping Air Mattresses And
Cool Temperatures
Camping air mattresses don't insulate well
Although camping air mattresses are great cushions, they are poor insulators.
A sleeping bag on an air mattress works well for most summer camping and in moderate temperatures. Keeping excess heat from building up allows campers to sleep more comfortably.
However, on cool evenings or at higher elevations, campers may find themselves struggling to stay warm, while lying in a sleeping bag on an air mattress.
The large air cavity in the mattress allows air to move around inside, transferring heat from the body to the ground, and warm air cannot build up against the body to keep it comfortable.
On cold nights, a sleeping bag or blanket on an air mattress probably will not insulate enough. The bottom of the sleeping bag will be compressed by body weight and will not be able to trap warm air between the fibers or down. The air mattress cannot trap warm air, either.
This has been an ongoing problem with air mattresses and cold nights: even though campers may be in a very well insulated sleeping bag, the body chills from below.
A tip to stay warm on an air mattress
Camping equipment manufacturers have developed a solution to the problem of compression defeating insulation: the self-inflating pad, which does not compress much and therefore retains its insulating property.
By placing a thin, self-inflating pad on top of an air mattress, the pad will insulate by trapping warm air against the body, and campers will sleep warm and very comfortable, even on a cold night.
Even a fairly narrow, 20" wide, 3/4-length, self-inflating pad, which does not extend under the lower legs, can insulate enough to make a camper comfortable on an air mattress on a cool night.
These pads would normally be too small to be used as a sleeping cushion by most leisure tent campers, unless they are children.
Socks and a few unneeded clothes under the foot of the sleeping bag can assist in keeping your feet warmer.
A quality sleeping bag will loft and trap warm air above the camper.
For campers with good circulation, some of the excess heat retained in the trunk of the body will be transferred via the bloodstream to the extremities, and that is often enough to keep the lower legs and feet comfortable.
The self-inflating pad also does not need to be as wide as the air mattress.
The gaps between the pad edge and the mattress edge can even make for more comfort by allowing a bit of excess heat to escape so campers don't get too warm—especially if they are otherwise well-insulated.
If the self inflating pad has a smooth top, the gaps to the sides allow the sleeping bag to rest on the flocking of the air mattress and stay in place better.
Other solutions for sleeping warmer
In a bind, laying clothing between the sleeping bag and air mattress will improve the situation.
In an emergency, a sheet or corrugated cardboard or several sheets of newspaper will also help. These can be placed under the air mattress to reduce heat transfer from the body through the air mattress to the ground.
Air mattress losing pressure on cold nights
A big drop in air temperature between the time of day when the mattress was inflated and the coldest part of night may cause the mattress to become noticeably less firm.
If you are expecting a drop in temperature of 20-30 degrees or more, inflate the air mattress more firm to compensate.
Perspiration and condensation
On a cold night, some of camper's perspiration will pass through the bottom of the sleeping bag and condense on the tufted points of the camping air mattress.
The body perspires even while sleeping, and some of the perspiration will condense on cold surfaces.
Since the tufted dimples of the air mattress are drawn away from the heat of the camper's body, they can become cold enough for perspiration to condense there.
In the morning remove the sleeping bag and let the condensation on the pad or mattress evaporate.
This will keep camping sleep gear in good condition for more camping trips.
How To Make An Air Mattress More Comfortable?
How To Make An Air Mattress More Comfortable?
Air mattress popularity is on the rise thanks to its balance between comfort and convenience. Peoples appreciate its benefit to their sleeping posture and how quickly and effortlessly the entire thing can be stored away. Yet as with usual factory built products, you may have to add something of your own to be truly relaxed on the air mattress. If you happen to in need of hints to do that then you are in the right place. This article can offer you several useful pieces of information on how to make an air mattress more comfortable.
Generally speaking, each person has specific demands and requirement so everyone preferences are not really the same. That is why it's essential to be flexible and make modifications to the below if required to better fit your current situation. For most of the time, it's wise not to alter the bed appearance and its construction since you may cause permanent damages. While not really too fragile, air mattress remains a dedicate product and it requires careful handling and use. If you want to sleep comfortably on it, treat the air mattress with care
Tips and tricks on how to make an air mattress more comfortable
Use a topper or buy one that has it
Lying directly on the mattress might make your skin feel inconvenient and affect your sleep. An extra cushion in the form of a foam or latex topper can come in really handy here. Whether you feel the surface material is too hard or too soft, the topper shall fix it in a manner that suits you the most. Or if you hate making separate purchases, just get an air mattress that is equipped with a topper from the start.
Utilize proper bed sheets and covers
To put it short, the air mattress is just an airtight structure that when fully inflated will resemble a bed or alike. The use of air means the air mattress is more or less vulnerable to temperature changes. If the weather is hot, the air inside would be warm. And if the temperature is low, the air could get cold. This greatly impacts your experience on the air mattress if you just use it right away without using bed sheets and covers. Cover the sleeping side with them should let you sleep in comfort and avoid the issue of temperature changes.
Leave the air mattresses on a soft and stable surface
The bottom side of the air mattress is not good at dealing with hard and uneven grounds. Annoying noises can be heard when you turn your body due to the friction between the bottom portion and the floor. In order to solve the phenomenon, pick a flat position to locate the mattress and slide in a rug or a mat underneath. This should prevent it from sliding away on its own and at least reduce the squeaky sound.
If possible, you can try to get mattress completely off the ground with the help of a box spring or a stance. There won't be any more contact with the ground so the sliding and the squeaking are eliminated. It considerably increases the overall height which should make it easier for you to get up, especially when you have knee problems. The elevation of the mattress also provides you with another benefit. Now the surface has no thermal relation with the mattress. So even if the floor gets really cold, you can still sleep comfortably.
Pillow and headboard
You can never underestimate the usefulness of a pillow when it comes to a good sleep. No need to look for a fancy looking one, just grab a functional and durable pillow for your air mattress. As long as it can support your head and permit proper alignment of the body spinal then that product is sufficient. If you tend to move and roll around in your sleep, a headboard would be helpful to keep the pillow from falling. You can improvise by positing the mattress against the wall or a cabinet.
Inspect the body for leakage and re-inflate it frequently
An air mattress can't work well if there is a leak so give it a check over once in awhile. Yet if there are no visible holes, you may end up with a partially deflated mattress after some time in use nerveless. It's the reason why you wake up one morning with back pains or neck aches. If you intend to use the air mattress regularly, ensure that it's properly inflated before use. After every couple of day, pump it up again to maintain an ideal performance. All air mattresses, even high-end models, will leak their air eventually so keep an eye out.
Integrated Dual Smart Pump Technology. The CloudNine Series has a proprietary dual pump system which continuously and silently runs in the background providing a firm mattress all night long! Perfect for in-home use!
For people that want a comprehensive answer to this, three are air mattresses that come with a smart pump. The built-in sensor can sense any loss of the air and start the pump to fill it back. You can casually sleep all the way to sunrise knowing that your body will wake up fresh and energized. Certain products in this category are a bit expensive but if you look around carefully, you can get one that fit your wallet. Some of them even come with a price tag that is very competitive compared to an average model.
Keep everything that can puncture the mattress away from it
Obviously, you can have a good time on the air mattress if it's damaged. From pointy furniture to sharp tools or even your pet, they all pose potential threats to the mattress integrity. If you want to sleep comfortably, make sure that you shield the air mattress from any danger. In the case that you need to repair it. Remember that the mattress material is stretchy and not easy to deal with if you are not experienced. Sending the mattress for maintenance is probably the logical course of action at that time.
Conclusion
And that is pretty much it, not too hard to absorb, right? Having an air mattress is nice already but knowing how to make an air mattress more comfortable is even better. Just follow the tips and tricks above then you can set up a lovely place to rest and sleep without worries.
Last update on 2020-04-10 / Affiliate links / Images from Amazon Product Advertising API