Creating a Slipcover for Your Crib Mattress
Creating a slip cover for your crib mattress is actually very easy. Even if you are not an experienced seamstress you can complete this job in an afternoon. You'll even find that creating a slipcover for your crib mattress doesn't always require a sewing machine. Don't fear, with a little forethought and a small amount of creative ability you can create a personalized backdrop for your baby's bed.
Step 1 – Consider the Material You Will Use
There are many materials you can use to make a slipcover for a crib mattress. However, organic cotton is thought to be the safest and gentlest for your baby. Organic cotton does not contain chemical dyes, perfumes, or any irritants that could harm your baby. However, you can find organic cotton that is dyed with vegetable dye, if you prefer something other than the bland color of organic cotton. If you choose not to use organic cotton make sure that the bedding you use is free of harsh chemicals or preservatives that can irritate your baby's tender skin.
Step 2 – Choose between a Permanent or Temporary Cover
You have two options when creating a slipcover for your crib mattress. You can make a permanent slipcover that will never be removed, or you can create a temporary cover that can be removed for washing. temporary slipcovers are the best option. After all, babies often spit up and bottles may leak. If you use a permanent cover you will have to cut it off and use a new one every time the cover gets dirty.
Step 3 – Measuring the Right Dimensions
Before you begin you will need to measure your baby's crib mattress. Remove the mattress from the crib and place it on the floor or a large table. Measure the length, height, and width of each end of the bed. Next, measure the sides, and finally the top and bottom. Write all of these measurements down with your pen and paper. You will notice that the matching sides, such as the top and bottom, usually have the same measurement within a half inch. It is usually best to use the biggest measurement for each part of the mattress. For example, use the biggest measurement out of the top and bottom.
Step 4 – Cutting Your Material
The next step you will complete is the cutting of the material. For most people this is the scariest part of the project. However, take your time and measure twice to make sure you have no problems. At this point you have three measurements. One measurement for the top and bottom, one for the sides of the mattress, and one for the ends of the mattress. Fold your material into two even pieces. Use the white chalk pencil to draw each of these measurements on the folded material. When you cut the three measurements out you will end up with two of each piece.
Step 5 – Sewing the Final Product
Now it is time to assemble all six pieces. Start by pining the two end pieces on the top of the slipcover. Using your sewing machine, sew these pieces together. You can sew a 1/4 inch seam for this project. After you attach the end you will want to attach the sides in the same manner. The final step is attaching the bottom and turning the piece right side out. Sew the bottom to side pieces of the slipcover. Next, sew the zipper to one end of the slip cover and the bottom. Now you can sew the final end piece and turn your slipcover inside out for use. If you prefer you can use the fusible tape to finish the slip cover instead of sewing the pieces.
How to Build a Homemade Baby Cradle
Building a homemadebaby cradlewill not only save you money, but it will serve as a functional and charming heirloom that will soothe a newborn and can be passed down through generations. This quick and easy project can be inexpensively and sturdily built using a combination of oak hardwood and plywood. With a few screws, woodworker's glue and varnish, you can build and finish a homemade cradle in two weekends.
Tools and Materials
All measurements are thickness by width by length in inches for oak hardwood unless otherwise specified as plywood.
2 end panels of ¾x22x15 pieces of plywood
2 bottom rocker boards 1×4½x29
2 top rail boards 1x5x28
4 upright pieces 1×1½x29¼
2 center rail boards 1×3-1/4×20
2 cleat pieces 3/4×3/4×16½
2 lower side rails 3/4×3-1/4×36½
2 upper top rails 3/4x2x36-1/2
32 inner slats ¼x1x7-1/4
68 slat spacers ¼x5/16×1¼
2 lower rail cleats ¾x¾x36½
1 cradle bottom ½x18¼x36-7/16 piece of plywood
Assorted wood screws
Router
Straight groove router bit
Sandpaper if grits from 100 to 220
Varnish
Step 1 – Measure and Cut Wood
Begin by cutting all the pieces in the bill of materials out of either Red or White oak to the sizes suggested. Some of these pieces will be modified such as the rocker boards, top rail boards and plywood end panels.
Step 2 – Shape Pieces
Attach the two bottom rocker boards together with double-sided masking tape. With a pencil and a bowed piece of 1/8-inch piece of wood, design and mark out an arch along the bottom of the bottom rocker boards. Carefully band saw along the curved line to cut out the bottom rocker boards. Attach the two top rail boards in the same manner, mark out an arch, and carefully band saw a curve along the top of the top rail boards.
Step 3 – Build Two End Frames
Using the two upright pieces (D),one center rail (E), the curved top and bottom rails (B and C) form the 2 end frames. Glue and clamp these together securely. When glue has dried thoroughly, clamp each piece to a work table, and using a router with a straight grooving bit route out a ¾ inch groove in the upper inside frame. Apply a thin bead of glue and clamp a fitted plywood end panel (A) into this groove.
Step 4 – Assemble Side Panels
Router grooves in lower and upper side rails (G and H), apply spacers (J) and slats (I) to form railings for the home made baby cradle.
Step 5 – Affix Cleats and Cradle Bottom
Screw and glue cleats (K) to bottom of side panels and end frames. Fit plywood bottom (L) into cleats. It is not necessary to glue or screw bottom piece into cleats as it may be necessary to remove and replace it in the future.
Step 6 – Apply Finish
Finish sanding the entire baby cradle with sandpaper, working from 100 to 220 grit. Wipe clean to remove all dust. Begin applying a 25 to 75 percent solution of varnish and minerial spirits, and finish with a final coat of 100 percent varnish.
How to Make a Mattress for Any Doll Bed
Do you remember a few months ago when I made the new bunk beds for our American Girl dolls? Well, our poor dolls have had nothing but a hard board to sleep on since then. I was just kind of dreading thedoll bedding pattern. Not that is it hard stuff to sew, it is just that sometimes I put off pulling out the sewing machine and making things like this. I think I make it worse than it really is in my mind. Ever been there, done that?

Well, I finally got over my mental block and made new mattresses for the new beds. Yay!
If you have been a follower of my blog for a long time, you may remember when I made bedding a few years ago for our first set of doll beds. This time Fairfield offered to sponsor this post and sent me a couple of products with which to make the doll mattress.
I had originally been planning to make the doll mattress in the exact same way that I made it a few years ago. However, when Fairfield sent me their project foam (affiliate link) as one of the possible items to use to make the mattress, I realized the 1″ thick foam would be perfect for the doll mattress. I also realized it would make the mattresses even easier to make. I always love when I can make a project more simple!

Now I realize that this isn't directly a fun activity with the kids and myself, but I also know that when I make something like this for my girls they have a great time playing. To me, that helps make for a Real Summer of Fun. That is why I'm including this in my list of ideas for making this a summer of real fun. You can check out all the other Real Summer of Fun ideas in that post.
So let me show you how I made this doll mattress.


Supplies:
Doll bed(affiliate link)
1″ Foamology Project Foam (affiliate link)
Fabric
Thread
Sewing machine
Pins
Fabric marker
Measuring tape
Scissors

Start by measuring your bed. This pattern can be adapted for any size doll bed.
Our doll beds happen to be the beds from IKEA that I painted and customized. The portion for the mattress measures 12″ x 19″.
You will want to add 1.5″ to your measurements. Cut your fabric at that measurement. My fabric cuts were 13.5 x 20.5″.
Cut two pieces of fabric at this size.
I tried making the mattress casing the same size as the original mattress that I made a few years ago, but because this foam is thicker than the batting that I used last time, I needed to increase the cut fabric size.

Mark off your Foamology 1″ Project Foam with the dimensions of your bed.
Mine was 12″ x 19″. I was making 2 mattresses. One for each of my daughter's beds. I marked off two mattresses.

Cut your foam to size following the lines you marked.
Now you need to sew your mattress casing. Place the two right sides (or patterned sides) of your fabric together and pin. Sew with a 1/2″ seam leaving an opening at the top or bottom of the mattress.

Before you turn the mattress casing right side out, pull each corner to a point and pin. This will give you your box corners for the thickness of the mattress.

Since I was using 1″ foam, I marked a line across the pointed end at the point where it was 1″ across. Use a fabric marker for this.

Sew on that line making sure to backstitch both at the beginning and end. Clip the excess fabric.

Now here is where I made this a super simple project. Turn your fabric right side out and place the foam mattress inside. You will need to wiggle and work the foam into the corners.
Last time I made these mattresses, my mom was in town. She doesn't mind doing the hand sewing. She wasn't in town this time. I really dislike hand sewing. I decided that the mattresses were going to be closed on the machine. In order to do it that way, you will need to pin the opening closed. Then add a second row of pins that will allow room for the presser foot, kind of like when I turned the one IKEA pillow into two.
To get a really narrow seam, if your machine has the ability to move the needle position, move the needle position to the right. Sew the opening closed remembering to backstitch both at the beginning and end.
Easy peasy! It may not look as perfect as the hand sewn closure, but it entailed no swear words and a happier mom, so it worked fantastically for me!

The dolls love their mattresses as well. They don't mind that I went for the easy closure. I also didn't add any buttons to the mattress this time. You could add a few buttons to help hold the mattress in place. I dislike sewing buttons as well and the foam is in the casing nice and snug, so I think it will have a hard time sliding around (which would be the point of the buttons).

These doll bed mattresses are just adorable. Both of my girls really thought about the paint for the bed as well as matching the bedding to the paint. So far they look great! Next week, I should be able to show you the reversible sheets we are going to add to the doll bedding.
In the meantime, you can whip up a doll bed mattress easy peasy. You can sew with your kids or you can sew it for them. Either way, it gives something fun for your Real Summer of Fun.
Don't forget to follow Fairfield on Pinterest, Facebook or Instagram for more great ideas and fun.
For more American Girl Doll ideas, follow my AG Pinterest Board. Tons of great ideas!
Gorgeous DIY Baby Cradles for Handy Parents
Courtney Constable
Preparing for baby can be an expensive experience. There are many ways to save, but you're probably prepared to guess which way is our favourite! Using your DIY skills to make things yourself can be not only cheaper than buying everything new, but it's also an opportunity to unwind, use your hands, and work together with your loved ones. there are plenty of small baby-related crafts that you can make, but have you ever considered making your own central piece for the nursery?
Check out these 15 amazing DIY baby cradle ideas that you probably won't find pre-made in the stores!
1. Baby cradle and side rocking chair
Instructables walks you through the process of making a baby cradle that's so unique in function and use that it can actually save you money on another piece of furniture too! This cradle has a rocking chair built right into the end of it so that you can rock Baby to sleep and immediately place them into their cozy bed without risking waking them up walking across the room.
2. DIY moon-shaped cradle
Sometimes a bit of decorative novelty is lovely, as long as the piece is still practical! We think this gorgeous half moon cradle design by The Owner Builder Network is the perfect blend of style and function! It's also easier to make than you might thing as long as you have some base knowledge about wood working.
3. So-ro modern wooden baby cradle
Do you have brand new twins that you'd like to be able to nap together? Perhaps you're just very close with your best friend who also has a young baby and you'd like a safe place to lay them when they fall asleep during play dates. Either way, this tandem rocking cradle design by Small for Big is perfect for letting your baby bond with others, even while they snooze.
4. Hanging curtained baby cradle
Are you working with a very small floor space and looking for alternative cribs that will keep things as uncrowded as possible? Besides being useful for that, this lovely hanging design by Seven Crossways is absolutely gorgeous. It also has a curtain that will let you block sunlight from shining on Baby's face in the morning or during nap time.
Find more ideas
Check out these beautiful projects and get a lot more ideas for your DIY project
15 Baby Boy Nursery DIYs That You'll Want To Get Your Hands On
Living
Décor Crafts for Star Lovers
5. DIY repurpose pallet crib

99 Pallets suggests letting your obsession with upcycling pallets spill over from your living room and dining room into Baby's room too! As long as they're in good condition, pallets are the perfect reclaimed wood for making your own study crib or cradle.
6. Choo choo trains crib and dresser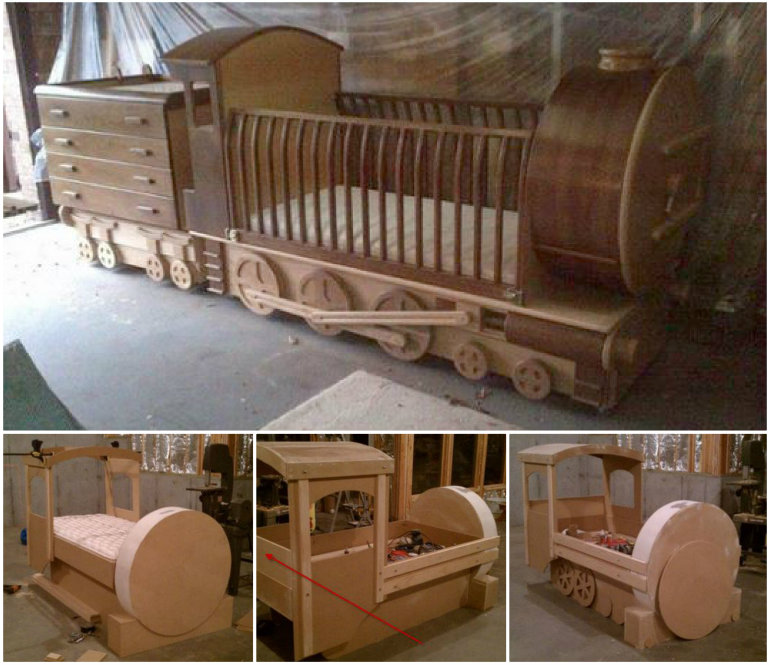 If you're quite experienced with wood working and looking for a more challenging piece of DIY furniture than the average crib or cradle, look no further than this dual crib and dresser choo choo train design by Fab Art DIY! Besides being fulfilling to complete, it's also functional in that it takes care oftwopieces of furniture. Finally, we doubt we even have to point this out to you, but it's completely adorable too.
7. Rocking cradle made from two chairs
What's even better than upcycling other things into pieces of cute decor for your Baby's new room? Upcycling something into a practial piece of new, reclaimed furniture, of course! We absolutely adore this rocking cradle design created from two identical wooden chairs faced together and attached. Get the full instructions for making it from Handmade Charlotte.
8. DIY farmhouse crib
Have you built your new baby a shabby chic nursery with a beautiful farm-like aesthetic, but you haven't quite found a crib or cradle that fits the style to your liking? Ana White suggests keeping things rustic by actually making a DIY cradle from reclaimed wood from an old barn or farmhouse. We love the way the cross boards at the foot of this crib design resemble a barn door!
9. DIY portable crib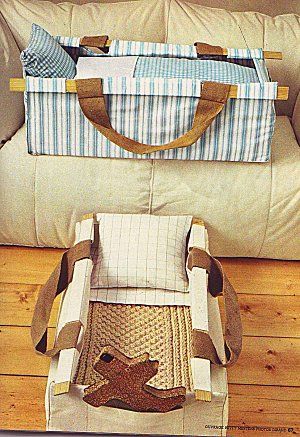 Are you looking for a way to keep baby comfortable during their naps no matter where you are when they fall asleep? This DIY portable cradle design by La Salsa D'Amelie is the perfect solution. It's also a lot more stylish and easier to carry than classic folding cribs as long as your baby is still small.
10. Hanging fabric cradle
TutorialGirl shows you how to make a gorgeous hanging cradle that's more fabric and less wood or harder materials. This pattern and design are great for people who want to make a DIY cradle but aren't experience in wood working. It's also easier to store away later when your baby outgrows it!
11. DIY hanging tent cradle
Do you like the idea of a hanging cradle made mostly of fabric and material, but the first hammock style design isn't really your preference? This hanging tent design has a little more character, especially if you're going for a rustic feel. It's also compact enough that you could hang it temporarily in your own room to help with long nights of interrupted sleep early on, without having to completely restructure your room for make floor space. Check out how it's made on Vintage Revivals.
12. Hanging whiskey barrel cradle
Do you want a reclaimed idea that's full of character and definitely uncommon? We think you'll adore Craft Like This' rustic but innovative idea for using an old whiskey barrel cut in half to create a gorgeous hanging cradle!
13. Rounded canopy baby crib
DIY Start shows you how to make a non-traditional but gorgeously decorative rounded baby cradle that will automatically turn any nursery into a princess room. No matter what colour you choose, the canopy will make everything seem royal each night and at each nap time.
14. DIY wooden pillow lounge cradle
Are you look for a second, temporary cradle for downstairs that you can set Baby to nap in while you cook or do housework, but that you'll move them from later when it's time for bed? Check out this gorgeous wooden frame cradle stuff with an oversized body pillow featured on The Project Lady! As long as they're small enough for swaddling, baby will be cozy and safe upon the cushion until you're ready to take them upstairs.
15. Reclaimed wood crib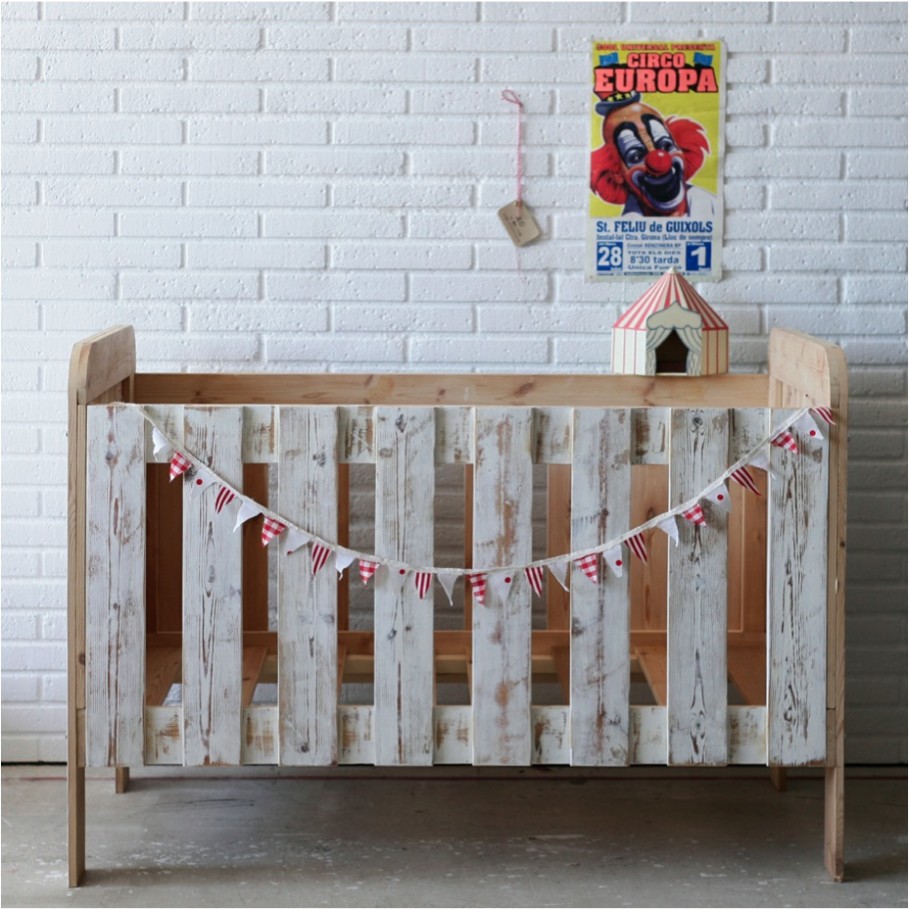 Luxury Bus LA suggests making your very own cradle design out of reclaimed wood. Whether you're getting the boards from an old fence or somewhere different, the weathered look of reclaimed wood will help you build a gorgeously shabby chic aesthetic in your nursery that definitely errs more on the side of chic.
Do you know a crafty person who's expecting a baby in a few months and doesn't have a crib or cradle yet? Share this post with them to get their creative juices flowing!
Home Ec : How to make your own natural mattress
When Money Matters More: DIY Mattresses
The last thing my mom was thinking about when she had three kids while on welfare was whether to get a natural mattress. And, when our daughter was ready for a "real kid" mattress, we couldn't afford it at the time.
So, what costs almost no money and does not contain foam, polyester, or vinyl? (There is some research to suggest that conventional mattresses actually get more dangerous–perhaps even more toxic–as they age and may even be indicated in SIDS. Thus, I don't recommend hand-me-down mattresses for your baby.)
Just about anything can work as a mattress for a little baby as long as there are no gaps for the baby to fall into along the edges. Be familiar with the best practices for preventing SIDS and add your Green Mama know-how to that.
When my youngest was a baby, she spent some time in a little cradle next to our bed, and we made her own "mattress" from layers of pure cotton towels with an organic sheet over them. It was easy to wash and easy to make.
For an older child, things get both harder and easier. After about a year, SIDS isn't an issue anymore, but your child might start to complain about sleeping on a few folded towels. When my daughter was four, we made do for months with a couple of blow-up camping pads topped with wool blankets. Finally, we bought an organic, all-cotton futon. Futons are heavy and hard, but for a child they are an affordable alternative to a truly natural mattress. We eventually softened her bed up with a wool bed topper. By layering in this way, we slowly worked our way up to a healthy, comfortable bed without compromising quality.
Recently, she got a real, natural, "organic" mattress and she loves it. Read that review.
Learn more about how to green your bedroom or nursery in the Green Mama book or by Asking the Green Mama a question. And, of course, don't forget to sign up for our truly awesome newsletter for regular doses of good advice (or just a little inspiration).