7 Ways to Make an Air Mattress More Comfortable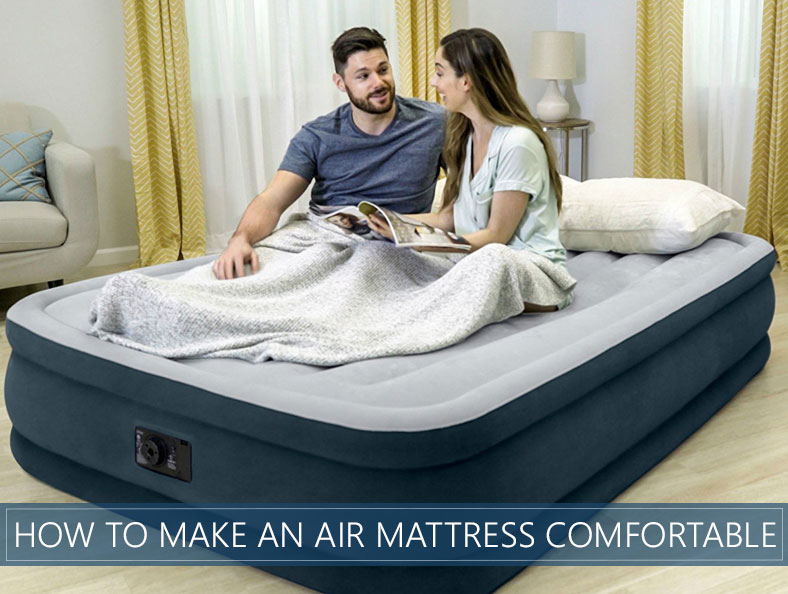 It goes without saying that unhealthy sleeping patterns are amongst the most common problem which leads to a range of different issues. And, when it comes to it, the mattress is one of the main causes for this.
With this said, we've decided to take the liberty of providing you with a few things that you might want to considerif you wanted to make your air bed a lot more comfortable. While we understand that this is likely to be a temporary solution, it is still important to make sure that it is supportive and reliable enough to prevent any issues.
Here are a few things that you might want to take into account if you want to enhance the quality of sleep on your air bed.
Proper Covers and Spreading of Bed Sheets
What you might want to consider is the fact that an air mattress (inflatable bed) is nothing but an inflated air into a structure that has been preliminarily enclosed and made in the form of bed. With this said, the air inside is bound to get warm as the weather becomes hotter.
The same is true for when the weather becomes colder – the air is also going to cool off. To prevent any serious alterations regarding temperature, you should prepare the proper spreading of bed sheets alongside mattress covers. This would prevent you from feeling uncomfortable due to the severe temperature changes.
Put it on a Softer Surface
This is another straightforward and quick way to improve the overall quality of the inflatable mattress. It is because the vinyl bottom layer of the bed is not going to augur that good with a surface that's harder. These include hardwood floor, for example – it is certainly going to make your sleeping quite rough. For this reason, you can put it on a mat or a rug, and this will significantly increase the overall quality of your sleep. And if you're wondering how to make an inflatable mattress quiet, this trick can help you with the noise as well.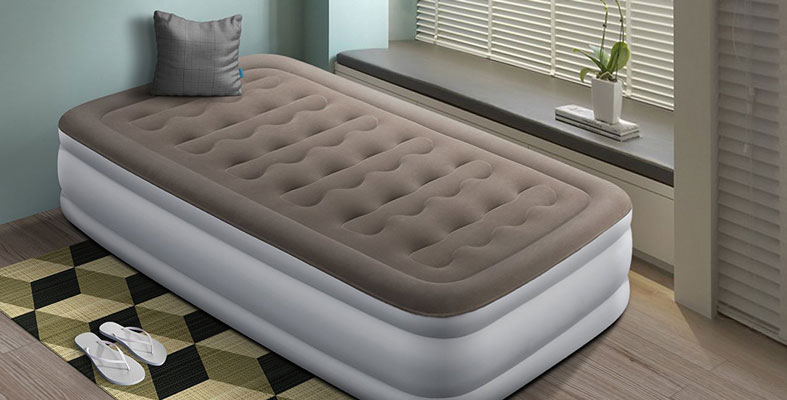 Add a Topper
This is one of the most affordable ways to substantially increase the overall quality of the bed. This is going to ensure that you don't sleep on the characteristic rubbery surface of the air bed.
In cheaper solutions, this surface feels particularly uncomfortable, and with a mattress topper, you can easily get rid of those issues. The topper is going to maximize the comfort as much as it is actually possible. It is also usable on regular beds as well.
Place it on a Box Spring
This is one of the things which is going to enhance the comfort of your air bed substantially. It is also going to ensure that you would be capable of getting out of the bed a lot quicker and without having to put in as much effort. The reason for this is that the overall height would be a lot more. If you wish to enhance the quality of your sleep substantially, box spring is another thing that you might take advantage of – it is quite convenient.
Your Pillow Matters
There are tremendous and undeniable benefits which are associated with the usage of a proper pillow. They can't be overstated. For this particular reason, you should always make sure that you have a great and appropriate pillow for your bed.
This is something that applies to regular mattresses as well. It doesn't matter if you have the most expensive mattress on the market, if your pillow is uncomfortable and inappropriate, this could cause a lot of issues.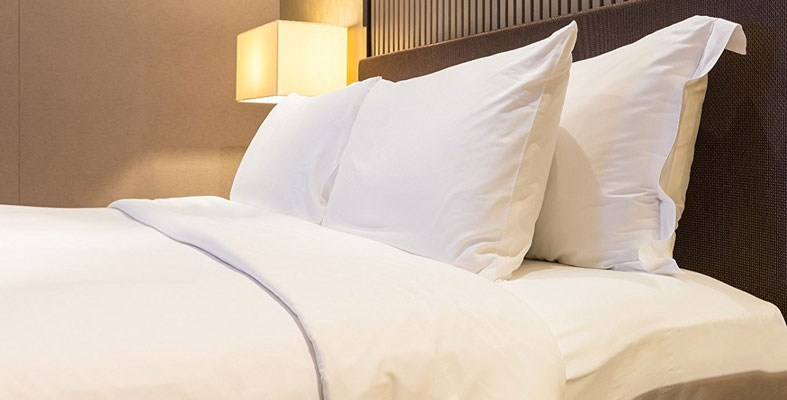 Using the Wall
Having a headboard over your head is something that you might want to consider for each bed that you use. The headboard is likely to prevent your pillow from falling off as you sleep and causing disruptions. An inflated mattress is unlikely to ever have a board over it, so you can put it right next to the wall to resemble this sensation.
Deflate or Inflate
One of the most important factors which are going to impact the quality of the sleep in an air bed is the amount of air that it contains – this is something critical. If you have too much air in it, the inflatable bed is going to feel very firm.
If you don't have enough, on the other hand, this is going to cause it to sag and to be unable to support you properly. This is something that you want to prevent. Make sure to inflate and to deflate the bed as much as it is needed to achieve the perfect specification. This is something fairly individual as it would obviously vary based on your actual weight, for instance.
Conclusion
As you can see, an air bed could be adjusted to fit your requirements for a reliable and comfortable sleeping solution. Of course, this is something that should only be used temporarily as it is incapable of bringing any long-term comfort and support.
An air bed is awesome for your guest room, but it doesn't mean that you have to keep it ill-maintained. Following all of the above is going to ensure that you get a bed that's supportive, comfortable and cool.
They are particularly affordable, so keep in mind that they would bring tremendous value for your money as well.
Sources and References:
Should You Buy A Pull-out Sofa or An Inflatable Mattress? – sleep.org
Effect of different mattress designs on promoting sleep quality, pain reduction, and spinal alignment in adults with or without back pain; systematic review of controlled trials– sciencedirect.com
More Reading:
Author: Sleep Advisor
Our team covers as many areas of expertise as we do time zones, but none of us started here as a so-called expert on sleep. What we do share is a willingness to ask questions (lots of them), seek experts, and dig deep into conventional wisdom to see if maybe there might be a better path towards healthy living. We apply what we learn not only to our company culture, but also how we deliver information to our over 12.7M readers.
Sleep research is changing all the time, and we are 100% dedicated to keeping up with breakthroughs and innovations. You live better if you sleep better. Whatever has brought you here, we wish you luck on your journey towards better rest.
Transparency Disclosure– We may receive a referral fee (at no additional cost to the buyer) for products purchased through the links on our site or other applicable pages. To learn more, please read our full disclosure pagehere. We also encourage you to read about how we may research and/or test Products here.

6 Types of Foam – Qualities To Look Out For
10 Top Rated Trundle Beds – Our Reviews and Ratings for 2020
How to Properly Wash (or Clean) Your Pillows
How Can You Make a Mattress Firmer – 7 Helpful Tips And Tricks
How To Pick a Carpet for Your Bedroom
Menopause and Insomnia – What's Burning? Oh, it's me.
Our 8 Highest Rated CBD Oils for 2020
What is Beauty Sleep and How Can I Get it? The Science Revealed
9 Tips for Sleeping Better in a CPAP Mask
Sleep Chronotypes – Are You a Bear, Wolf, Lion, or Dolphin?
Transparency Disclosure– We may receive a referral fee (at no additional cost to the buyer) for products purchased through the links on our site or other applicable pages. To learn more, please read our full disclosure page here.We also encourage you to read about how we may research and/or test Products here.
About Us
Contact Us
Culture
Terms & Conditions
Privacy Policy
DMCA Policy
Contribute
Sleep Calculator
There's no one-size-fits-all when it comes to better health and better rest, but no one has time to sleep, let alone figure out how to upgrade the sleep they're getting.
From figuring out how to buy a mattress, suggesting ones that are good for different needs and body types, or breaking down the newest science behind technology and wellness breakthroughs, Sleep Advisor has you covered.
How To Make A Bad Mattress More Comfortable With 11 Ingenious Products
Sleeping on a bad mattress can really do a number on your body and your mood — since sleep deprivation can turn any good day bad. But if you're the not-so-proud owner of a crappy mattress, don't toss it just yet. Instead, try a few of these tips to make your mattress more comfortable.
When it comes to comfort, having the right padding is everything, but it's also a personal preference. While I like sleeping on a harder surface, many people prefer to sleep on a soft one. If that's the case, an egg crate, feather bed, or mattress pad can make your mattress more supportive.
Using the right kind of pillows, and even the right sheets and comforters, can make a big difference to how well you sleep at night. If you're a side sleeper, opt for a body pillow to wake up less achey and creaky. Or, try a nice down comforter for a little extra padding and somesupersoft sheets. If your mattress feels too hot at night, look for a cooling pad that releases some of that heat, or shop around for the best cooling sheets.
Whatever issues you're having with your mattress, these ingenious products can turn whatever your sleeping on into a much more comfortable place to get your Zzz's. Here's some advice on how to make an uncomfortable mattress more comfortable.
1. Invest In A Quality Mattress Topper
Your mattress topper is almost as important as your mattress in ensuring you have a good night's sleep. To make a bad mattress comfier, try a memory foam mattress topper like this one. Made with gel memory foam that feels soft, yet firm, this topper will shape to your body eliminating any pain you get from sleeping on a bad mattress. One fan raves, "I have an Ikea spring mattress and was starting to really feel the springs through the bed and felt like I had no back support. I opted to buy a topper instead of an entirely new mattress and am glad I did! The memory foam supports where it needs to and has made my bed SO much more comfortable."
How do u make mattress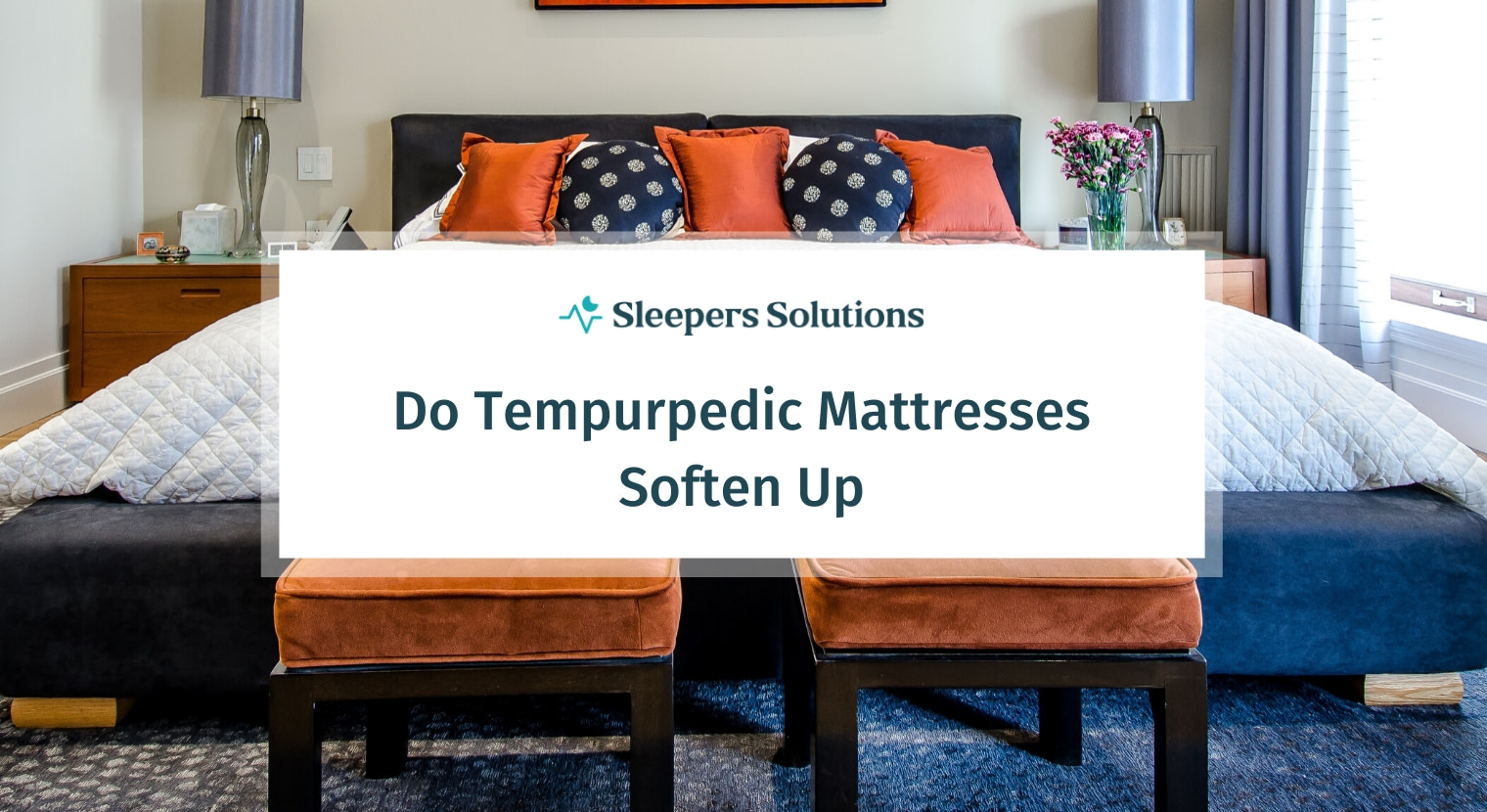 Do Tempurpedic Mattresses Soften Up
In their respective categories, Tempurpedic pillows and mattresses have high satisfaction ratings. They cater to the needs of customers, especially when it comes to getting a good night's sleep. But do firm mattresses get softer? How do you make them comfortable and ready for the best sleep experience?
At first, you may feel a bit different when you try your new Tempurpedic mattress. But you'll get used to it once your body has adjusted to the unique structure of the mattress. Eventually, your body temperature and weight will adapt to these changes it's been experiencing while you get the most comfortable sleep every night.
Breaking in Tempurpedic Cloud
The break-in period for Tempurpedic Cloud mattresses may take some time before you can finally enjoy its extreme softness and comfort. However, it won't be longer than two weeks until you get the best experience with your new mattress. From the Tempurpedic too hard solution, the Tempur cells will begin to open during the break-in period and naturally adjust to your weight and temperature changes.
Moreover, the mattress remains responsive even though it has already broken in. You will also notice that the slight smell of the Tempur material starts to disappear after weeks of use. And all that is left is the pleasure in using this high-quality mattress available today on the market.
It's essential to give it some time before wrapping up the break-in period. Consider the proper steps to get the ultimate comfort of your new mattress. After all, once the Tempur cells are open up, it will automatically release the slight odor of the material.
Here are the basic steps in breaking in your brand-new Tempurpedic mattress:
Spend more time in your bed by playing with kids, watching TV, and reading books.
Extra movements can help intensify the break-in process while causing the Tempur cells to be completely opened.
Allow the Tempur cells to breathe by getting the mattress used to changing temperatures and body weight. Don't worry if you intensify pressure on your mattress because it will come back to its original shape no matter what.
When it comes to varying room temperature adjustments, make sure to take note of the ideal temperatures. For instance, if your bedroom is at 65 degrees Fahrenheit, the Tempurpedic mattress will normally become firmer. However, if you lie on your bed, it will naturally adjust to your current body temperature. As a result, you enjoy a softer mattress that's comfortable and provides a stronger support system for all types of sleepers and sleep positions.
Will My Memory Foam Mattress Get Softer
One of the most common reasons why people are choosing memory foam mattresses is because of their ability to adjust to the sleeper's weight and position. Once you lie on it, the foam automatically molds itself according to your weight and body shape.
Also, the support system that memory foam provides is much better than other types of mattresses out there. So don't be a surprise when you buy a new mattress and then feel much firmer bed than the one you've tried in their showroom. Normally, it will take a while before your memory foam become softer and comfortable to sleep on.
Below are some helpful tips in making your memory foam softer and sleep-ready:
1. Allow it to decompress on itself after several days from purchase.
After all, patience is a virtue. However, while waiting for it to finally decompress, do everything you can to help it become softer by using it several times a day.
2. Don't use your bed with a mattress topper.
Since you want to speed up the break-in period for your mattress, make sure to resist sleeping on your bed with a mattress topper. It will only slow down decompression because it shields the mattress from your body weight and temperature.
3. Crawl, walk and roll on it.
Nothing is more effective in making your new memory foam mattress softer than crawling, walking, and rolling on it. If possible, invite your family members to have a pillow fight in your bed to add more pressure. It is how mattress dealers soften their mattresses that are on display in showrooms.
4. Adjust room temperature to allow memory foam in adjusting its firmness and flexibility.
For everyone's information, memory foam mattresses are sensitive to changing temperatures. They immediately react to extreme body heat, therefore making the foam more flexible.
When you put your memory foam in a cooler room, it tends to become firmer and feel harder. Unless you warm it up, you won't enjoy a softer bed while sleeping. So if you are looking for a softer and more comfortable mattress, make sure to raise the temperature in your room.
Wrapping It Up
A new mattress may make you feel a little bit uncomfortable, and that's completely normal. The discomfort might be because the memory foam hasn't decompressed yet, or the Tempur cells haven't opened yet. Give it some time, and you will soon enjoy the best bed for the most comfortable sleep experience.
If you ever feel uneasy and awkward in using your new mattress, follow the tips provided above and expect for better bedtimes in the next few nights. Besides, other new owners of Tempurpedic memory foam mattresses also experience the same issues in their new bed. So there's nothing to worry about when your mattress will completely soften up.
Once it has broken in, your new bed will be more enjoyable and hassle-free to use. And that will be the start of better evenings that are worth looking forward. So allow yourself to be patient with the initial problems with your mattress and understand that it's a normal process to be experienced.
More importantly, the temporary discomfort you will feel right now will be transformed into a restful sleep and better nights. So, are you ready to experience a good night's sleep after waiting for your mattress to soften up?
Do I Need a Box Spring for My Mattress? Find out below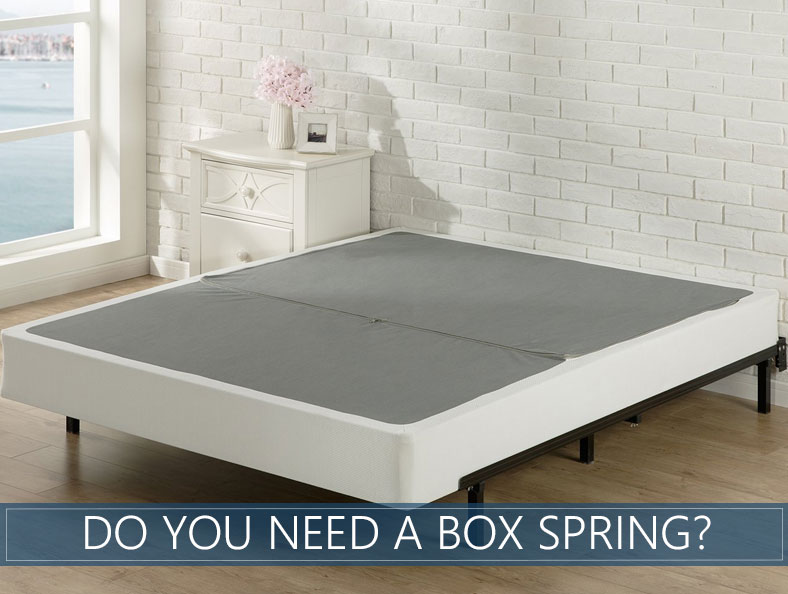 Are you looking to upgrade your bed or make a change, but are unsure which components are vital and which you can ignore? Box spring is one of those things, and there are a few things that you need to determine if this accessory is necessary or not.
We've put together a summary ofall things related to the box springto assist you in figuring out what you need for your bed. Read on to have a full understanding of the different pieces of the bed, what their functions are and how they best serve you.
What is a Box Spring?
The name doesn't do the best job of describing exactly what you're dealing with. Essentially, a box spring is a supportive square that lifts up your mattress (mattress foundation). What's interesting about the name of this piece is that often these product's manufacturers have recently gone away from putting actual springs within their products.
Some do still have springs inside that aim the assist the bed with absorbing the weight of your body, which will ultimately assist with keeping your bed sturdy and supportive over time. For firmer mattresses, springs inside the foundation of the bed make it feel like you're sleeping on a softer bed than you really are.
It's perhaps true that the name came about to briefly describe its functionality by linking together the two words. The box holds up the piece that contains the springs?
Check Out This Video Made by Mattress To Go To Learn More About This Product
Do you Really Need a Box Spring?
The simplicity of a box spring does not, in itself, answer the question of whether or not you need it. But, consider the alternative. If you choose not to use a box spring, what are you going to put your bed on?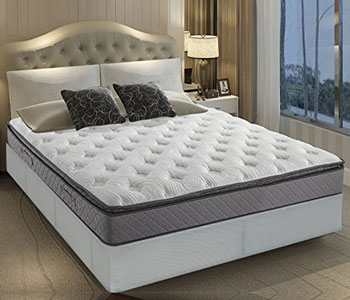 Let's go through a few different options:
You can put your bed on the floor.
You can build your own mattress foundation to place your bed on.
Do you suspend it in the air? Maybe?
You can purchase an adjustable base
Ultimately, unless you want something in your room that is not aesthetically pleasing and not as comfortable as possible, then you will most likely want to invest in a box spring. Unless, by chance, money is not that significant concern for you. If you have the money to spend, you may want to look into an adjustable base for your bed.
An adjustable base is just what it sounds like. It is a base that you can place your bed on. The base can beremotely controlledto flex, bend and lift up your mattress. Of course, there is a catch when considering this product (aside from the hefty price tag).
This product is not well suited for a traditional inner spring mattress. Instead, it would behoove you to look into purchasing a memory foam mattress to go along with your base.
Memory foam mattresses are sold by many different manufacturers and are touted as being a great option for almost every sleeper. If you are interested in checking out some of the memory foam options on the market and in seeing how they compare to each other, check out our list of the best memory foam beds.
Something Else to Consider: Product Warranty
Surprisingly, many modern day mattresses that aren't sold by memory foam companiesstillrequire that you use a box spring if you would like for your warranty to remain valid.
If you choose to go without and set your bed on an uneven surface that does not provide adequate support, it's likely that wear and tear on the mattress is going to occur faster than it would if your bed were on box spring that provided some assurances in terms of support and equal ground.
This is understandable. Mattresses advertise that they offer certain benefits that are expected to last for many years. The longevity of a bed's softness, supportiveness, and any other advertised benefits are all dependent on the bed being used in the best of environments.
While it's possible that the floors in your home might provide the actual adequate amount of support, mattress companies would rather not take that risk and end up losing money on seemingly faulty products.
Benefits to Using a Box Spring
We've addressed whether or not a box spring is an essential piece needing for your mattress. Now, it's a good idea to discuss just how you canbenefitfrom its use, aside from the fact that it helps to maintain your warranty and the longevity of your mattress.
They Elevate Your Bed
The first benefit is thatit raises your bed. Something is pleasing to the eye about a bed that is elevated high off of the ground. Additionally, it can be cleaner. Having a high bed helps to prevent small pets from jumping up as well as preventing small insects from making their way up your bed and into the covers with you.
They Absorb Shock
When your mattress is laying on the ground, there is nothing to help it absorb shock. If you decide to jump on it or if you are a sleeper that tosses and turns, without utilizing a box spring, your mattress is going to succumb to repeated use over time much faster than it would with a box spring.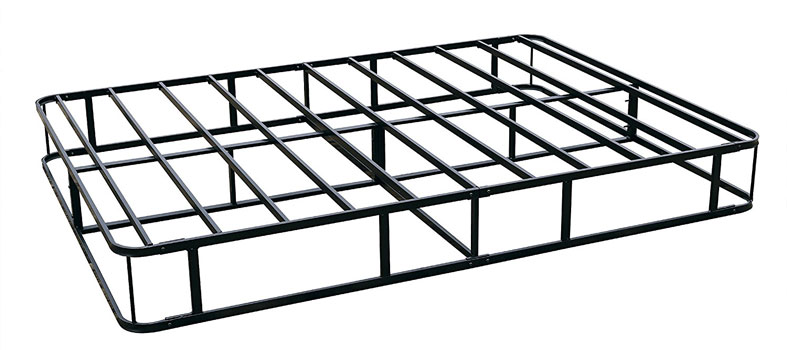 Conclusion
The fact is that there are several alternatives to using a box spring below your mattress. If you want to put in on the floor, on a rug or anywhere else, you can think of, that is ultimately up to you. If your warranty makes no mention of its need, you can do what you wish.
For those of you who are interested inreaping the benefits of a box spring, there are a few things to consider. Do you want a product that contains springs, or are you just interested in the options that are aesthetically pleasing? Whatever the case may be, determine if you do really need a box spring is a personal decision you're going to have to make to find a comfortable and long lasting sleep solution.
Author: Sleep Advisor
Our team covers as many areas of expertise as we do time zones, but none of us started here as a so-called expert on sleep. What we do share is a willingness to ask questions (lots of them), seek experts, and dig deep into conventional wisdom to see if maybe there might be a better path towards healthy living. We apply what we learn not only to our company culture, but also how we deliver information to our over 12.7M readers.
Sleep research is changing all the time, and we are 100% dedicated to keeping up with breakthroughs and innovations. You live better if you sleep better. Whatever has brought you here, we wish you luck on your journey towards better rest.
What to Do When Your Mattress Is Too Soft or Too Firm
Remember the story of Goldilocks and the three bears? She tried three different beds, trying to find one that wasn't too hard or too soft, but "just right." Turns out, she was really on to something.
Of course, "just right" bed firmness is a subjective thing about which opinions will vary wildly, and—as we saw with Goldilocks—most people would have to lie down on the bed before they could even say what "just right" means for them. So how do you find your "just right" when it comes to mattresses? And what can you do if you realize that the mattress you have doesn't fit the bill?
Why mattress firmness matters
Why should you care about how firm your mattress is? Because the right firmness can help prevent back pain and protect the quality of your sleep. Lying with your spine in a crooked, unaligned position for eight hours every day is a big contributor to back pain and can also ruin the quality of your sleep. This is why finding a mattress with the right firmness for you is so important.
What's better—a firm mattress or a soft mattress?
Firmer mattresses provide better support, but they can also apply too much pressure to certain points of the body, leading to discomfort and pain. Soft plush mattresses, on the other hand, can cause your spine to sink into the mattress, which can lead to spine alignment issues down the road.
Ultimately, there's no straightforward answer about how to choose a mattress or whether a firm mattress is better or worse than a soft one. Spend some time doing a little research and a thorough mattress comparison before making a decision. Each person's preference will vary based on a multitude of factors, including height, weight, age, and whether or not you have back pain or other health considerations. Your sleeping position will also play a role:
Side sleepers tend to need softer mattresses that don't put too much pressure on the shoulders or hips.
Back sleepers are better off with a medium firm mattress that supports the low back without pushing too much on the spine.
Stomach sleepers require a firmer surface that prevents the body from sinking into the mattress and collapsing the spine.
To make it all even more complex, your firmness needs may very over time as injuries, pregnancy, or weight fluctuations change your sleep needs.
Ready for a new bed?
Let us help you upgrade! Download our Free Information Kit below to read about our entire line of sleep products.
How to deal with a too-soft or too-firm mattress
If you come to the realization that your mattress is too firm or too soft, the best thing to do is to buy a new mattress. Of course, finances or other circumstances don't always allow for that. In a pinch, here are some makeshift solutions for remedying your current mattress firmness:
If your mattress is too soft, try slipping some plywood boards between the mattress and the box spring or the bed frame. This will add some extra support.
Try a mattress pad or mattress topper. Pillow-material mattress toppers can help soften a too-firm mattress, while thick pads or firm mattress toppers can add some more support.
Consider room temperature. Some mattress materials, like ones made from 100% memory foam, can become softer in warmer rooms, so try adjusting your thermostat to see if it makes your mattress more to your liking.
If your mattress is too soft and it's two-sided, try flipping it. The unused side will often be firmer.
Adjustable mattresses
A better solution for finding your best mattress is to choose an adjustable latex mattress. As we outlined above, everyone requires different levels of firmness- and what's more, you need different levels of mattress firmness for different parts of your body, and all these needs are subject to change throughout your life. Because of these variables, choosing one level of firmness for your whole mattress just doesn't make sense.
That's where adjustable mattresses come to the rescue. In the case of Reverie®, each of our latex mattresses is composed of individual DreamCell™ foam springs that come in three levels of firmness: firm, medium, and soft. Our Sleep Specialists help customers determine the precise configuration of these DreamCells to best support each area of their body—so their shoulders can rest on a soft surface while their low back presses against a firm one, for instance. In addition, these DreamCell foam springs can be easily reconfigured at any time (we're talking under 20 minutes) to respond to any changing sleep needs. The individual natural latex cells also allow for different firmness levels on each side of the bed, meaning back sleepers and side sleepers can rest side-by-side, each with the support he or she needs.
Now we can't speak for Goldilocks, but that sounds "just right" to us.
Ready for a new bed? Let us help you upgrade!You can contact one of our Reverie Sleep Specialists at 888.888.5990, or download our free information kit below to read about our entire line of sleep products.
Ready for a new bed?
Let us help you upgrade! Download our Free Information Kit below to read about our entire line of sleep products.