How to Make a Mattress Firmer With a Bed Board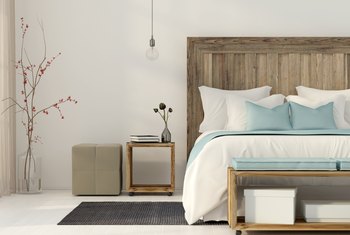 How to Make a Mattress Firmer With a Bed Board
Related Articles
1 Chemicals in Foam Toppers
2 Reduce Wood Bed Noise
3 Build Wooden Bed Rails
4 Ways to Firm Up Your Old Mattress
A comfortable mattress is key to a good night's sleep, which is key to the quality of your day. A mattress that is too soft for your liking may cause aches and pains or result in a less-than-restful night. Firm up that sagging nightmare by placing a bed board beneath it. Bed boards come in all shapes and sizes, some designed for use between a mattress and box spring, some with just a mattress. You can also make the bed board yourself from plywood, firming up that saggy situation once and for all.
The Plywood Sandwich Solution
Plywood cut to the size of the mattress acts as a do-it-yourself mattress support that fits between mattress and box spring, making a mattress firmer. This comes in handy for a mattress that's too soft overall, or for a mattress or box spring that sags in some areas due to age. Measure the mattress and cut a sheet of 3/8-inch plywood to the same size; this may require two sheets of plywood if the bed is queen size or larger. To achieve curved corners matching the mattress, set the mattress atop the cut plywood, trace the corners, then saw along the traced lines. Sand the board and edges smooth to prevent snagging or splinters, wipe the dust away and then set it on the box spring with the mattress on top.
Mattress-Only Support System
If your mattress has no box spring as support – for instance, a foam or latex mattress designed for use without the box springs, or on a platform bed designed for just a mattress, plywood comes to the rescue once again. Remove the mattress from the bed frame and measure the inner frame area upon which the mattress rests. Cut the plywood to size, then place it in the frame bottom. Depending on the frame type, you may wish to bolt the plywood down by drilling holes through both the plywood and frame. If the bed has slats to support the mattress, set the plywood atop the slats or remove the slats entirely.
Hinging on Comfort
Some premade bed boards are hinged, designed to use with adjustable beds such as hospital beds or home-based versions with head- and foot-raising capabilities. These are available in hospital supply stores in various sizes compatible with common mattress models. Some versions are thin and fold up, accordion style. Hinged or folding bed boards are designed for use between the mattress and box spring.
Bunky Board Bolster
A bunky board – a foam-covered, thin support typically used for bunk beds and platform beds – works much like plywood to make a mattress feel firmer. These are sold in shops that sell bunk beds and come in standard bunk bed and platform bed sizes, such as twin, full and queen.
How to Make a Mattress Firmer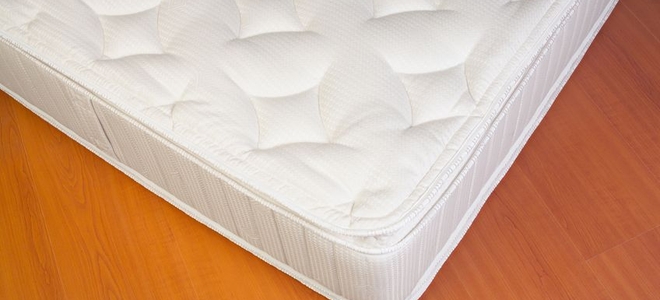 A flat and firm mattress guarantees a good night's sleep. While the mattress you picked out might have been perfect for you originally, your mattress will soften over time. Not only can a too-soft mattress be uncomfortable, but also it can cause back issues. Prevent or fix a mattress that's lost its firmness by following these simple tips.
Preventing a Too-Soft Mattress
Step 1 – Controlling the Temperature
If you can regulate the temperature in your bedroom, you can combat your mattress getting softer faster. The warmer the temperature in your room, the softer the mattress will get. Colder temperatures make it easier for mattresses to retain their firmness, so keep your room cool.
Step 2 – Providing Adequate Support
If your mattress has inadequate support, it will go soft more quickly. Make sure your mattress has adequate support, like a plywood base, and never simply put the mattress on the floor.
Fixing a Too-Soft Mattress
Step 1 – Buying a Mattress Topper
A mattress topper is a cushion-like pad that goes on top of your mattress. You can purchase ones in varying prices and qualities. Memory foam is a popular choice. Most toppers come with a strap that can be wound around the corner of the existing mattress, so that it doesn't move. Place a topper on your too-soft mattress to fix the issue without having to invest in a completely new mattress.
Step 2 – Replacing the Existing Plywood
Before replacing the plywood under your mattress, check with your manufacturer for their recommendations. Then, if appropriate, purchase some plywood that has the same measurements as the mattress. Make sure the plywood is not treated, and that it has been sanded for even edges and sides. Replace the existing plywood on your mattress with the new one. Use the same type of materials on the new plywood that was used to secure the old plywood.
Step 3 – Replace the Box Spring
Box springs are known for giving in to the wear and tear of daily use. If your box spring is losing functionality or if it's broken, replace it with another quality box spring to restore the original firmness. In addition, this will help raise the height of the mattress, giving you a firmer and flatter surface to sleep on.
How To Make A Mattress Firmer
A comfortable mattress is the ingredient of a good night's sleep. Each of us has different preferences regarding comfort, and the same goes for mattresses. You should buy a mattress that fits your needs, but sometimes things can go wrong; you may end up with one which is too soft. Mattresses can also get saggy and lose their form over time due to wear and tear.
Replacement is not always an option and of course, it does not apply for new ones. So today we are going to offer you some simple tips on how to make a mattress firmer.
Table of Contents
Make Your Mattress More Firm: 6 Easy Steps
1. Manipulating Bedroom Temperature
Temperature can affect the firmness. Generally, higher temperatures make it soft, while a colder environment makes it firm. So you can try lowering down the bedroom temperature using an air conditioner for a firmer finish. This will ensure that your sleep surface remains at a temperature that you love. Plus, it can significantly affect mattress life and longevity considering hot environments can cause sagging and hence reduce its overall lifespan.
2. Using Toppers
Mattress toppers are mini sheets of memory foam or latex that can be put over the existing mattress surface to add support and make it firmer; these are typically anything between 2-6 inches in height. They also come in other fillings such as polyester, cotton, wool, and other natural and synthetic materials, which are usually much thinner (approx 1-2 inches) and are often calledpadsas opposed totoppers. Pads will most likely make your sleep surface softer, so best to avoid these. Buy a topper matching your current bed size for a cheap but effective solution. They come with straps that can be used to hold them in place. It is easy to attach them and add robust support for extra support.
3. Using Plywood Support
Lack of adequate support can make even the best mattress feel softer than usual. For best results, you can place a piece of plywood underneath when the boxsprings are no longer proving enough support. One thing to note is the plywood should match the mattress dimensions exactly; too small and there will be overhang, too large and the wood may protrude and cause injury. Additionally, smooth out the edges so that sharp corners are removed. You should check your manufacturer for recommendations before placing the plywood as it can sometimes invalidate the warranty. If placing the plywood does not solve your problem, then try replacing the boxspring.
4. Place It On The Floor
If it is not possible to follow the above methods, then you can place the mattress on the floor instead. Of course, there are certain things you need to keep in mind when placing on the floor, such as dust and bugs from the carpet, or colder temperatures emitting from tiled or laminate flooring, or even cold drafts from nearby doors. If done correctly, this can be a cheap way to make any which is soft to become firm. For more information, check our latest post on floor mattresses.
5. Flip It
Some mattresses can be used on both sides, but not all. If yours is a double-sided, then it's possible. If it isn't double sided then you may cause more damage than good. By flipping a mattress over onto the other side it can cause the surfaces to wear evenly, thus increasing the lifespan. Try flipping every so often, perhaps every 6 months or so. Regular changing of sides makes it retain shape for a more extended period.
6. Killing Bacteria
Another excellent way to make firmer is to have it out under the sun. You could do it every few months. Not only does it dry out and resolve mold, damp and mildew issues, but it can also kill many germs and bacteria as well. While not as effective as when you give it to a professional cleaner, it is definitely one of the things that you should try out which will make a difference.
Conclusion
The six things mentioned above are the cheapest and easiest methods. Which one you choose depends on your circumstances and budget, but as you can see it is quite simple to achieve effective results in a DIY fashion with little or no cost at all. Try some of them out, almost certainly you will see good results instantly.
How To Make A Mattress Firmer
A few ways you can make a soft mattress firmer and more supportive.
Categories:
Last Updated:
Before we begin, let's first firm a few things up (get it). All jokes aside, this post is designed to be a helpful guide for you to firm up your existing mattress. Let's get to it.
Why You Might Need A Firm Bed
There are many reasons why you might need a firmer mattress. Your bed may have simply arrived a little softer than expected. Also, some mattresses tend to get softer with time, as you break them in. If you have a back injury or some back pain, your doctor may have recommended that you sleep on a firmer surface. Or maybe your partner moved in, and they need a firmer mattress. Whatever it is, we're here to help.
Let's first go over some reasons why having a firmer versus a softer bed can be so important, and then we'll talk about some options for making your mattress firmer.
Why Firmness Level Is Important
When we talk about firmness here at the Slumber Yard, know that we are doing so in a relative manner, as firmness is a term that is relative to weight. Basically, the less you weigh, the more you lay on top of a mattress, sofa, or any other surface for that matter. When you're laying more on top of a surface, instead of sinking down in it, it will feel firmer to you. Because of this, petite people might find more mattresses feel firm to them.
On the opposite end of spectrum, the more you weigh, the more you sink into a mattress or other surface. Because you're sinking down into the material more, the surface will feel softer. Heavier people might find more mattresses feel softer to them, and may have a more difficult time finding a firm enough bed. In some cases, though, we have found that heavier people will sink right through the comfort layers of a mattress and will settle more on the poly foam or coil base layers, which actually make the bed feel firmer. This isn't good for your spine though.
Your sleeper type is also important when considering the firmness level you need in your mattress. Side sleepers tend to need a softer mattress that will accommodate their curves, instead of fighting against them and possibly limiting blood flow. Back and stomach sleepers will need a firmer mattress that will keep their spine in proper alignment while they sleep. Back and stomach sleepers shouldn't have their hips or shoulders sinking into the bed too much, as this will cause the spine to be in an arched position, which can lead to back aches or other problems.
Plank is a firm mattress
Having a firm bed can also be better for your health. Remember, you sleep on your mattress for (hopefully) eight hours every night. Over the course of a lifetime, that's a third of your life spent sleeping. Keeping the spine in proper alignment, whether sleeping on your back or on your side, is very important for the overall health of your body. This study even explores the concept that firmer bedding can reduce back pain, improve sleep quality, and decrease overall stress.
Keep all this in mind as we explore the different options you have when it comes to making your mattress more firm.
Options To Increase Firmness
Trial period.Many online mattress brands have trial periods, so that you can really get to know your new mattress before you commit. Most companies offer a 100-night trial period, but others, like Nectar for example, have year-long trial periods. Check to see if your mattress is still within its trial period, because you might be able to return the bed for a full refund, and most of the time the company will come remove the mattress for you, also free of charge. You could also try contacting the company and see if they can help you. Novosbed will even send you a Comfort+ Kit, which is a free foam topper, if you feel the firmness of the bed isn't quite right for you.
Try placing your mattress on the floor.If that makes it feel firm enough for you, you could either go for a cool college kid vibe and leave it there, or you can try slipping some plywood boards between your mattress and the bed frame. This will add some extra firm support and possibly harden your mattress.
Check your box spring.Box springs can wear out with prolonged use. When they lose their strength, they provide less support for your mattress than they should, which in turn may make your mattress feel softer. Replacing a box spring is usually much less pricey than replacing a mattress, and can help to harden up your bed.
Replace the worn out layers.More and more companies are manufacturing their mattresses with different layers of material, so it's easy to switch out the ones that are more damaged. This is also a more affordable way to make your mattress firmer. Just make sure your mattress has a removable mattress cover and you're not
Dampness.Your bed can become soft from absorbing moisture from the air. This is common in humid areas or if you live close to the beach. If you think this might be the problem, just take your bed and lay it in the sun, and let it dry out for the day. This should not only firm up your mattress, but the sun should also kill off any bacteria, mold, and germs that may have occurred from the dampness. If you're super worried about a contaminated mattress, you can also pay for a professional cleaning, but make sure to try this first.
Mattress topper.I know, you're probably thinking, aren't mattress toppers suppose to make beds softer? But there are tons of great mattress toppers you can find on Amazon that will make your bed firmer. We suggest a dense memory foam or a latex one. Latex is a natural foam material made from the sap of rubber trees, and its known to be pretty firm and responsive. They have synthetic latex options, as well, which are usually cheaper. Toppers are usually around 2"-6" thick, so they can make your bed decently thicker, or just a little bit thicker, if that's what you prefer. Also, mattress pads tend to be thinner and make mattresses softer, so look specifically for a topper.
Consider your room temperature.Some materials, like 100% memory foam or airy polyurethane foam, can be temperature sensitive. If you leave them in a cold room they We've even heard of pure memory foam freezing solid if left in a super cold climate! Try adjusting your thermostat in your bedroom to a lower temperature, or even leave a window open and get the fan going and see if that firms up your bed a bit. Likewise, a warmer temperature might make your bed softer.
Rotate or flip your mattress.Sometimes simply rotating your bed so that the heavier parts of your body lay in different spots can help. We always recommend that, no matter what kind of mattress you have, you rotate it seasonally to help prevent against sagging or impressions. If your bed is two-sided, you can also try flipping it to make it firmer. Just double check first that it's a flippable mattress. Some beds, like the Plank for example, come with two different firmness levels on each side. If there aren't different firmness levels, the unused side will still often be firmer.
Nest Flip is a double-sided mattress
If all else fails, get a new mattress. As we explained above, the firmness of your bed is very important for your spinal health, and to prevent against body aches and stiffness. This is especially true for strict back or stomach sleepers. Also, having a worn out bed that's been around too long is just not great for your body. If you've had your bed for over 10 years and it's much softer than when you first got it, it might be time for a new mattress anyway. You can check out our list of Best Firm Beds or Best Beds for Back Sleepers if you want some help figuring out which bed might be best for you.
How to Make a Soft Mattress Firmer
Sometimes we make the mistake of buying a mattress that is a bit too soft other times our bed begins to lose much needed support either way giving lift to the body's structure and maintaining comfort is critical to a great night of sleep. We are often asked how to make a soft mattress firmer and today we share a handful of helpful tips.
While you may have initially selected a firmer mattress because it is what you preferred, today your body is telling you that this bed is sagging and you feel like you were beaten by the mattress all night long. It is a fact that a our body's support and comfort needs change over time and just like your body over time the mattress can change too. Whether the change is taking place due to personal taste, changes to the mattress due to wear, or even medical issues changes can be made without having to buy a new mattress.
Room Temperature affects Mattress Feel:Many of today's mattresses use building materials that are affected by room temperature. Memory foam is the best example of this. Foam's that respond to cool or warm temperatures can become firmer or softer respectfully.
Mattress Pads can tweak the feel of a mattress:There are many different kinds of pads and each can uniquely change the feel of your bed. The filling can be polyester, down, feather, wool, cotton, and many other natural and synthetic materials. The quilting or material used to fill the mattress can be loose and fluffy or tight and compact which can alter either slightly or dramatically the way you feel and sleep in you mattress and can be purchased reasonably at your local department store or on line.
Doctors say put a piece of plywood under your mattress:Many physicians agree that putting a sheet of plywood underneath the mattress. This extra firm surface can help a sagging worn mattress when a worn out boxspring just isn't enough to support it. Newer mattress sets it is recommended that you contact the retailer to avoid the possibly of voiding your mattress warranty. Replace the boxspring or foundation: Insufficient base support is often a key to a mattress losing firmness. There is a difference between boxspring and foundations be sure to understand the difference. Determine which your mattress needs and replace it. Mattresses that are still under warranty it is best to contact the dealer or manufacturer of the mattress.
Adding center support to your steel bed frame:Many times we go out on service calls only to find that the steel bed frame does not have support bars or feet in the middle, a must to comply with any mattress still under warranty. In the case of king and queen beds another must because the distance that makes up the width is 60-76 inches, a distance far too great to leave unsupported. Center Supports Bars span the width and support the bed laterally while vertical feet support the steel bars up and down.
Place the mattress on the floor:If cost of a frame or boxspring is too expensive a cheap alternative can be to place the mattress on the floor and eliminate the boxspring. You can also build an inexpensive wood pedestal and platform similar to that of a hardside waterbed pedestal.
Flip the mattress over:If the mattress is 2 sided turning the mattress over can regularly can promote more even wear and temporary needed firmness.
Mattress toppers alter mattress firmness:Mattress toppers are a great way to change the feel of soft bed and make it firmer. Toppers can be purchased most anywhere big box stores, online, and department stores etc. They come in a variety of firmness's and are built from things like latex rubber, wool, memory foam, polyurethane foam, wool and much more. Thickness is key so look for companies that will allow exchanges or returns in case the feel isn't right. Thinner models will have less effect on firmness than thicker mattress toppers.
Please understand these are not all cure-alls and are really more stop gap measures or quick fixes with little or no budget in mind. Sometimes the best choice is to simply replace the old soft mattress with a new firm mattress and boxspring.
Author: Douglas Belleville
Doug Belleville and his father Dave own and run STLBeds – a specialty sleep store located in Arnold, MO. The staff at STLBeds is highly educated about sleep, comfort and their special sleep products. STLBeds only carries high quality mattresses and bed-related products. You won't find the brand names here – click here to find out why!