10 reasons why you really should buy a memory foam mattress topper
Do you feel as if your mattress could be giving you a warmer welcome? It might be time to buy a memory foam topper: find out the benefits below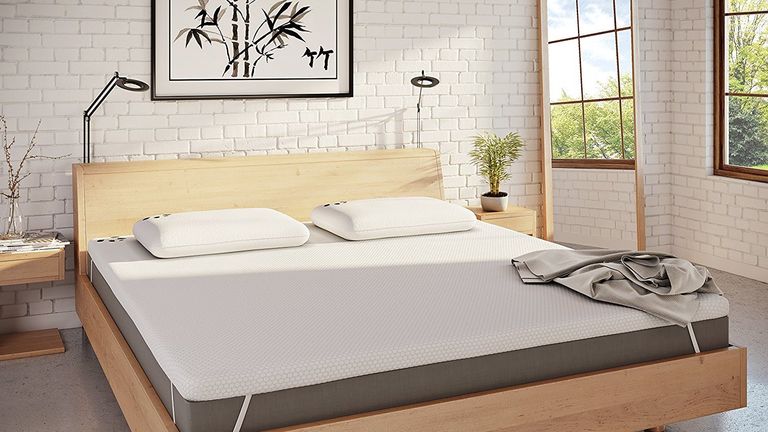 What are the benefits of a memory foam mattress topper? Other than their price, their flexibility, their portability, oooh, so many, sooo many. Below, we list the pluses of buying a memory foam mattress topper, with some handy tips and advice for which type/size/thickness you should look for.
We reckon that by the time you finish this article, you won't be wondering why you need a memory foam mattress topper, you'll be wondering where you can get one. Unless, of course, you're already happy with your mattress. Well, are you?
1. A memory foam topper instantly softens a hard mattress
Whether you've inherited a hard mattress (you're renting, at uni or have moved in with a partner), your sleeping habits have changed (post pregnancy, some women find a once comfortable hard mattress completely unforgiving, forever), you've stiffened up with age, or you've just bought the wrong mattress first time round (bear in mind, though, that you generally have 100 days to return many mattresses), a memory foam mattress topper can be instantly, softeningly transformative.
Best memory foam mattress toppers – at the best prices
Already convinced that a memory foam mattress topper is for you? Find the best toppers at the best prices.
2. It can relieve/cure your back pain
Memory foam is designed to accept your body's contours, which means any pressure points (shoulders and hips being the main offenders) will suddenly be relieved. The result? No pain while sleeping, and you shouldn't wake up feeling achy. So, whether you just suffer from a bit of back pain or have a condition such as arthritis, you'll feel better, fast.
Best mattresses for relieving back pain – our favourite buys
There are plenty of mattresses designed specifically to offer targeted spinal support; we've found the best around.
3. A topper is cheaper than a brand new mattress
So you really want to swap out that hard mattress you no longer find comfortable for a memory foam mattress but just can't afford it? A memory foam topper doesn't exactly mimic a memory foam mattress, but it's not a million miles away, it can transform your current mattress, and give you a taste for memory foam – all at a fraction of the price.
4. Fidgety partner? A memory foam topper minimises motion transfer
Got a partner who tosses and turns all night long? It's not a problem if your mattress has minimal motion transfer, BUT if you find yourself being bounced around, too, a memory foam topper can be a fast fix because it minimises all that.
5. Memory foam toppers make life harder for dust mites
Are you an allergy sufferer? You might find your dust mite allergy improves with a memory foam topper, since the dense mattress materials are less welcoming to dust mites than traditional mattress fillings. Memory foam limits mould and pet dander, too, handy if your bedroom suffers from condensation and/or the dog/cat sleeps on the bed.
Find out how to get rid of dust mites with our expert cleaning guide.
Best mattresses for allergy sufferers – don't miss our pick
From budget to top-quality, mattresses which ensure you won't over-heat and ones that are ideal for allergy sufferers.
6. Good memory foam toppers can last up to 10 years
A high quality memory foam topper will last you a long time – up to 10 years in some cases – longer in the case of toppers on beds in spare rooms.
7. They suit every single bed type
Singles, doubles, king-size – you name it, there's a memory foam topper out there to fit your bed's size.
But what if you sleep on an adjustable bed? Memory foam toppers can bend and flex to suit an adjustable bed, without sagging or sliding – and you'll still remain supported.
8. The best toppers can keep you cool
Sweaty sleeper? The latest generation of memory foam mattresses are designed to be breathable, which means no more hot sweats – time of year or time of life-related.
9. They're very low maintenance
Unlike some topper types, memory foam doesn't need fluffing or flipping – although it doesn't hurt to rotate it every now and then. As for upkeep, an occasional vacuuming won't hurt.
Find out more about cleaning mattresses in our guide.
10. Memory foam toppers suit all sleep positions
Are you a side sleeper but your partner likes to sleep on their back? The upside of memory foam is that it can accommodate any sleeping position because it is designed to cradle every part of your body evenly. For back sleepers, it will mould to the curves of your spine, providing relaxed lumbar support; for side sleepers, it accommodates those pressure points mentioned above; and for stomach sleepers, it helps to keep your back aligned.
Best mattress toppers for side sleepers
If this is your preferred sleeping position, don't miss our pick of the best toppers specifically designed for side sleepers.
This is probably the most frequently asked question we got about memory foam topper pad — whether to go with a 2" or 3" topper pad.
First, I should explain why I never recommended a thinner or thicker topper pad than 2 or 3 inches. A thinner, 1" topper pad really didn't provide enough cushion, and if you felt that your mattress was so firm as to need a 4" topper, I felt people were better off spending the money on a new mattress that wasn't so firm rather than trying to fix it with a topper pad.
So for those with a mattress that was just a bit firmer than they would like, in most cases a 2" topper did the job and worked well. With a return rate of only 2 – 3%, our 2" toppers seemed to do the job for most people.
I'd say about 2/3 of our customers bought the 2" topper.
For those wanting a plusher feel, or who felt their mattress was very firm, they went for our 3" topper. Which also had a very low return rate. The one inch difference wouldn't seem like it would really affect the feel of the topper, but for some reason a 3" topper really has a much plusher feel than a 2". So if your mattress is very firm, you may want to spring for a 3" rather than a 2".
Our memory foam was a latest generation memory foam which offered much better air flow than standard memory foams. Which meant it slept cooler — I got almost no complaints about the memory foam sleeping hot. So when you are shopping around, you might want to ask if the memory foam used in that topper pad is a latest generation memory foam offering this greater air flow.
These latest generation memory foams are more expensive, though, but in my experience they are worth it.
How to Choose a Memory Foam Mattress
How do you choose a memory foam mattress? Very carefully.
Memory foam mattresses are afast-growing alternativeto innerspring mattresses because they contour to the body and provide excellent comfort and support.
We know a thing or two about memory foam, our natural memory foam mattresses are some of the best ranked in the world.
4 Tips to Choosing a Quality Memory Foam Mattress
Knowing what to look for is key in finding the best memory foam mattress to fit your needs. Here are a few important things to know before buying a memory foam mattress:
1) Ask About the Foam Density
The misconception.densityis what dictates thefeelof foam. That's not entirely true.
Foam density actually has more to do with the foamsdurability. A 5 pound per cubic foot memory foam mattress will outlast a 3lb memory foam by an average of 10 years.
Most high-end mattresses, including Essentia and Tempur-pedic, have 5lb+ density foams. See how we compare to other memory foam.
Buyer Beware: Many mattress companies boast a 5lb memory foam butfail to specifythat this dense foam only makes up the 1st inch of the mattress. The following layers are weak 2 or 3 lb density memory foams.
2) Know the mmHg!
mmHg is basically how comfort is measured.
It's the unit of measurement used to determine a mattresses reaction against pressure.
According to the healthcare industry, a standard of 32mmHg or lower is considered pressure relieving.
More pressure relief = less press points = less tossing and turning which is the goal here.
A low mmHg also means better blood circulation, however, this is difficult to achieve while maintaining a higher density.
The best rating in the industry is offered by Essentia mattresses with 12.43 mmHg.
3) What does ILD (Indentation Load Deflection) Mean
A mattress ILD, or indentation load deflection, ranges from 6 to 40. Most memory foam mattresses on the market rate anywhere between 10 and 16 ILD. Many of the best memory foam mattresses use multiple layers, each with a different mmHg, which enhances a mattress' comfort because the layers work together.
4) Find out Where the Mattress is Made.
Mattress components are often imported from foreign countries like China and assembled in Canada or the U.S.A. Many mattress companies deceitfully claim that their products are Made in Canada or Made in U.S.A. when in reality they are just assembled in that country.
Tests are rarely performed on mattress components that are imported and as such there is no way of knowing what chemicals are used to make them. Any harsh chemical odors are masked prior to product exportation withindustrial perfumesor even green tea extracts.
Natural Memory Foam – vs – Regular Memory Foam
Regular memory foam, also known as visco-elastic memory foam or visco foam, is made with petroleum-based chemicals including those fake plant-based memory foam mattresses.
This type of memory foam is synthetic (man-made) so it sleeps hot because it traps in body heat like nylon or polyester fabrics do.
Sleeping hot and chemical odors are the main complaints among memory foam mattress owners.
It's all due to the chemical composition of that foam.
If you're not a fan of sleeping hot and are health conscious, you'll want to consider natural memory foam mattresses + pillows.
You may have seen us on Dr.OZ, Rachael Ray, O Network along with other media appearances. It's next generation memory foam which sleeps cool, is comfortable and durable all the while maintaining a healthy sleep environment. See how they're made.
You can also learn more by reading the list of chemicals found in mattresses.
Curious on what size mattress to purchase? Check out our Mattress Size Comparison Guide.
Essentia Mattresses Offer:
– Among the most durable mattresses at a whopping 6.25lbs density foam.
– Among the most comfortable mattress, measuring pressure relief at 12.43 mmHg.
– The only natural memory foam so it naturally sleeps cool.
– Peace of mind knowing it's a fully tested product.
– A Canadian made mattress.
How Thick Should a Mattress Topper Be?
A mattress topper should add to the overall softness, luxuriousness and support of your mattress. It can increase the thickness of your mattress and make it feel more comfortable and even and prolong its lifespan, etc.
When buying a mattress topper, you should determine what is that you need from it and define its basic criteria. By sorting out a few basic things, you will certainly be able to findthe best one for you.
One of the most important things you should consider when looking for a mattress topper is its thickness.Decide what thickness would work the best for you and whether it can meet your needs and sleep preferences.
However, many people don't know how to choose the right thickness of a mattress topper. If you have difficulties making your final decision about the appropriate thickness of your mattress topper,read our guide and we will help you pick the right one for you.
Before we explain how to make your decision easier, we will tell you something more about what are mattress toppers and what they are used for.They can be used for various reasons and your mattress topper thickness will depend on why exactly you need it.
Table of Contents
Reasons for Buying a Mattress Topper
Prolonging the Lifespan of Your Mattress
As they age, and the more they are used,mattressescan become saggy and develop lumps and depressions in the sleeping areas. To prevent this, or at least slow down the process, you canuse a mattress topper.
If you choose the right type and correct thickness, the topper will rejuvenate your sleeping surface and slow down the aging of the mattress and the process of sagging and developing lumps. Depending on the current condition of your mattress, you may need a 3 or 4-inch thick topper.
Changing the Level of Softness or Firmness of Your Mattress
Some people may find their mattress to be either too soft or too firm for them and this can be right after the purchase or due to the long use.
You could change your mattress, but if you are looking for a cheaper solution, then a mattress topper would be an ideal solution for you.A mattress topper is far more economical solution as it will change the feel of your bed without costing you too much.
In this case, a 2" topper may be sufficient, although a thicker topper will provide a more lasting change especially forheavier sleepers.
Changing the Nature of a Mattress
If you want to see how it feels like to sleep on amemory foam mattresswithout purchasing one, or you already have memory foam and you don't like it and want to trylatexor wool, in each of these cases,you can change the nature of your mattress by using the right mattress topper.
You can use amemory foam topperto get that contouring and hugging feel, or you can use a latex topper if you want to try out something more buoyant and different from memory foam. In such cases you can use a minimum 3" thick topper.
Increasing the Thickness of a Mattress
Some people may find that their bed is too low for them or that it is too thin and compresses pretty quickly under their weight. An extra 2 or 3 inches of a mattress topper could make some difference here, and it is less expensive than purchasinga new mattress.
Medical Reasons
If you have developed a condition that requires a good orthopedic support, then a viscoelastic material on the top of your mattress may be most suitable for you.
If your mattress is made entirely of latex or it is an innerspring and foam hybrid, then a viscoelastic ormemory foam mattress toppermay be the best solution for you.
A 3 or 4-inch memory foam topper might be enough and it will cradle your body, relieve pressure points and provide the right amount of support to those areas where it is needed most.
Available Sizes and Thicknesses
Mattress toppers generally vary in thickness from 2" to 4" although some may go up to 6 inches. In addition to thickness, the toppers may also be available in different foam densities, but let's take a look at the available thicknesses and sizes.
So,the first thing you have to learn about is the availability of various thicknesses and sizes.
If you are going to buy amemory foam mattress topperthen you should consider both the thickness level and the density of a mattress topper to make sure you get the right level of comfort and support you need.
In most cases, mattress toppers are available in three basic thickness ranges: 2 inches, 3 inches, and 4 inches thick although you can also find some special mattress toppers that are 5 or 6 inches thick as well.
2 Inches Thick Mattress Topper
A 2-inch thick mattress topper is the thinnest topper available. It can introduce more comfort and softness to your mattress and give you an extra plush and luxurious feel.
You should only buy a 2" mattress topper when you have a brand new mattress and you only want to add an extra soft layer to it and make it feel a bit softer.
2" thick mattress toppers are not suitable for older mattresses as they are too thin and they won't be able to provide the support that you need and cover sagging or other deficiencies.
3 Inches Thick Mattress Topper
The extra inch can make a big difference.A 3-inch mattress topper is a bit thicker and depending on the material you choose and whether you purchase a softer or firmer topper, it will provide you with greater comfort and support.
It can also make up for certain deficiencies in an older mattress, but this again depends on the type of a topper you choose. If you have alatex mattressand want memory foam on top, then you can use a 3-inch memory foam topper. It will make your existing mattress plusher and more luxurious or just slightly firmer.
4 Inches Thick Mattress Topper
4 inches is considered to be a maximum thickness of a mattress topperand anything thicker than 4 inches would be classed as a mattress rather than a mattress topper. However, some 5 or 6 inch thick toppers can be found as well.
A 4-inch mattress topper is ideal for covering the deficiencies of an older mattress.It will provide you with a smooth and supportive layer and a comfortable sleeping surface for a sleep without any body aches.
It is also a good thickness if you want to feel all the benefits of amemory foam mattresswithout buying one.
How to Choose The Right Memory Foam Mattress Topper [Complete Guide] [Our Top 5 Picks]
Getting a perfect night's sleep is imperative for everyone to be able to work properly in both physical and psychological ways. And that is why people need to add some extra support to their mattresses so that they can improve the quality of their sleep and literally sleep like a baby. One thing that can help people get tremendous support in improving their sleep is Memory Foam Mattress Topper.
It provides excellent support, incredible comfort and impeccable heat retention to allow the sleeper to get an undisturbed sleep. So to help you find the right memory foam mattress, we have created this guide. We will provide you with our top picks for the memory foam mattress toppers that include toppers that will be perfect for every type of sleeper. So with that said, let's get started:
Mattress Pads and Mattress Toppers – What's the Difference?
Mattress Pads:The main thing that differentiates a mattress pad with a mattress topper is the size. Pads are thinner than the toppers, and you can easily notice it if you put a pad beside a topper. So unlike toppers, pads won't provide you with extra cushioning.
Mattress Toppers:Now if we talk about the toppers, then they are entirely different from pads. They will provide the user with a lot of extra cushioning and the right amount of support to their body. So people with joint or back pain can find a lot of comfort with a mattress topper.
Some Benefits of Using a Memory Foam Mattress Topper:
Adjusts to Your Body:The memory foam topper responds to your body's shape, which means that it will start to form around your body as soon as you lay on it. You will get the right amount of support to the right areas of your body, which means people with joint or muscular pain will find memory foam toppers very helpful.
No Movement Disturbance:If you are a couple and you find the vibrations of your partner's movements on the bed very sleep disturbing then memory foam topper is what you need. No matter how much movements your partner makes, it will not be transferred to your side of the bed.
Highly Durable:Memory foam toppers are highly durable and can last for years if you properly care for them. The fact that most of them come with a warranty of three to five years says a lot about their durability.
Several Thickness Options:Due to a wide variety of thickness and size that are available in memory foam toppers, you have plenty of options to choose from according to your needs. You can select the thickness from 1inch to 4inches, so if you need more support for your lower back, you can find just the topper for you.
Very Light:Toppers are lighter than the mattress itself which means when it comes to unpacking and placing it, you can do it yourself and save money on calling in the guys to unpack and lay it on the mattress for you.
Best Memory Foam Mattress Toppers – Our Top 5 Picks
1. 4" Memory Foam Mattress Topper by Best Price Mattress (Best Thick Topper)
A highly comfortable and well-rounded topper that will easily last for years and will provide you with the right support for your body. The topper will arrive in a very neat vinyl packaging and with its own cover as well. You will experience a very strong odor right after opening its package, but that will go away after 48 hours. To know more, have a look at its features below:
Provides the user with the right amount of support and is tested by experts
Comes with a polyester mesh cover that has a zipper installed
The 4-inch topper is perfect for people with lower back pain
It is dual-sided where one side is a regular dense foam, and the other is a memory foam
Isolates motion to provide an undisturbed sleep
Incredibly thick and highly comfortable
Provides awesome support
Comes with a 5-year warranty
Not infused with gel
The cover doesn't have waterproofing
Perfect for:People who are side-sleepers or have lower back pain
RMR Readers will get the best price available with our link below
2. LUCID 2" Memory Foam Topper
If you want extra cushioning for your neck and arms and excellent heat regulation, then the LUCID 2" memory foam topper is ideal for you. This one comes gel-infused, which means proper body temperature regulation, and due to its less density, it provides excellent ventilation as well. Furthermore, the light weight and thin material of the topper make it very easy to maintain it. Have a look at some of its key features below:
Very light topper with an excellent flow of air
Incredibly built that will not have any permanent impressions after you use it
The topper is also gel infused which is great for body temperature regulation
Its 2inch thick material allows people to have extra cushioning around their shoulders and necks
Easy to maintain due to its light weight
Price is very affordable
Minimal heat retention
Gel-infused
3-year warranty
Great ventilation
Doesn't come with a cover
Less density
Perfect For:People looking for some extra comfort
RMR Readers will get the best price available with our link below
3. Sleep Innovations 4" Memory Foam Topper
If you literally want to feel how it is like to sleep on top of a cloud, then make sure to try out the Sleep Innovations 4" memory foam topper. The topper has two layers; the top plush layer which is filled with fiber and the second layer that has a gel infused memory foam. The gel keeps the bed cool while the plushness provides incredible comfort and support. Have a look at some of its key features below:
You will feel like sleeping on a cloud with this plush top
The topper is also gel infused which is great for body temperature regulation
Dual layered with its 2" gel infused memory foam topped by another 2" plush topper filled with fiber
Use in three ways; as a combo, as a plush fiber filled topper or as a memory foam layer
Fiber-filled part of the topper can be washed in the machine
Very high quality
Combination of the best toppers
10-year warranty
A little heavy
Its memory foam layer should be spot cleaned only
Perfect For:Those who are very serious about upgrading their mattress to a high quality and improve their sleeping experience
RMR Readers will get the best price available with our link below
4. Sleep Joy 2" Memory Foam Topper
A nicely ventilated foam that is going to provide you with excellent support for your upper body and is made from organic material now exists. You can get the Sleep Joy 2" memory foam topper and make things easier for you and your partner if you want a comfortable full night's sleep. Have a look at some of its features below:
Environmentally friendly because it is made with plant materials and memory foam
Minimal heat retention as it has a very good airflow
Provides good support to the upper body due to its 2" thickness
There is no bad smell when you unpack it which means you can use it right away
Easy to maintain as you just need to spot clean it
Provides excellent ventilation
Manufactured from organic materials
The odor is removed while manufacturing
5-year warranty
No cover included
Low support for lower body
Perfect For:People who want an environmentally friendly product
RMR Readers will get the best price available with our link below
5. ISOLUS 2.5" Memory Foam Mattress Topper:
If you want to get the real superstar of mattress toppers, then the ISOLUS 2.5" topper is what you need. It provides incredible airflow and excellent support to the sleeper's back. Furthermore, its moisture resistant properties make it perfect for people who sweat a lot during the night. Another benefit of having it is that it comes with a bamboo cover that keeps the allergens and bacteria away. Have a look at its features below:
Excellent support with an incredible air flow
The topper is also gel infused which is great for body temperature regulation
The top is covered with a bamboo cover that further softens it and keeps allergens and bacteria away
People who need extra support for their joints or back will find it very useful
The topper is resistant to mildew so sweats and moisture will not affect it much
Its bamboo cover can be washed in the machine
Incredible regulation of temperature
Great density and good support
3-year warranty
A little bit pricey
You need to wait for a few days for its odor to go away
Returns can be a bit complicated
Perfect For:People with lower back issues or those who sweat during the night
RMR Readers will get the best price available with our link below