New York City Mattress Disposal
Mattress Disposal ❯ Locations ❯ New York City, NY
In a city thatnever sleeps, you would imagine Mattress Disposal inNew York Citycame easy. The truth is, a good mattress is hard to come by and getting rid of the old one can be difficult. We can help minimize waste reduction and keep NYC city streets clean with our easy online booking process and mattress hauling/pickup.
Seek help when it comes toNYC mattress disposaland bookMattress Disposal Plusto remove it for you.
Mattress + Furniture Disposal starting atonly $85View Pricing ❯
Nationwide cities covered
**Based on pickups in areas where recycling was available
Items successfully removed
Happy customers served
**Mattress Disposal Plusis a hauling company, not a recycling center. We do our best to find alternative disposal solutions, such as recycling and donation, in effort to avoid dumping in local landfills.
Rely onMattress Disposal Plus– a nameyou can trustfor fast, friendly and secureNew York City Mattress Disposal.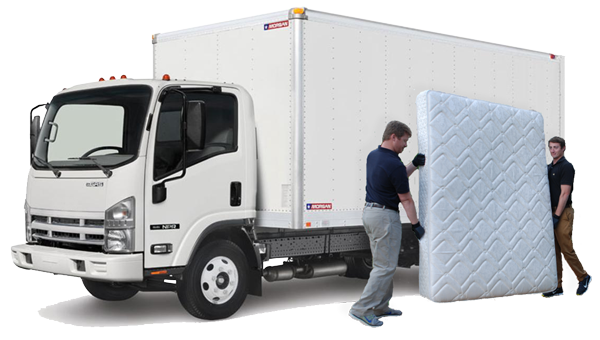 Save Time Save Effort Save Environment
*We connect you with a fully background checked and insured independent contractor team.
New York City Mattress Disposal in 4 Easy Steps
Mattress Disposal Plusworks hard to provide professionalmattress removalanddisposalat an affordable price. You can depend on our quality hauling services and enjoy convenient, easy-to-use, online booking.
1. Schedule
Simplybook onlineor over the phone to schedule an easy removal and disposal appointment based on your convenience.
2. Pickup
We'll give you a courtesy phone call on the morning of your scheduled pickup date to confirm our teams window of arrival.
3. Removal
Our licensed and insured removal team will arrive on location within your pre-scheduled time window and handle all the heavy lifting.
4. Disposal
Depending on the condition of your items, we do our best to dispose of your old mattress or used furniture in the most responsible way possible.
JustCall (877) 446 – 2371orBook Onlineand you're all set until we arrive for yourappointment.
Disposing of an Old Mattress in New York City
Do you live in theNew York Cityarea? Do you need help removing yourold mattress,box springsorused furniture? Don't leave your old used mattress by the curb. Do your part to keep the community a nice place to live and easily hire a professional hauler likeMattress Disposal Plusto help you out with eco-friendlymattress disposal in New York City.
There are between 20 and 40 million mattresses disposed of each year with the majority of them winding up in landfills. Onerecycled mattresscan save nearly 65 pounds of toxic material from a landfill and its material contents can be recycled into newearth-friendlyproducts. We offer dependablemattress haul awayinNew York City, NYand our goal is to dispose of your old mattress in the most eco-friendly way possible.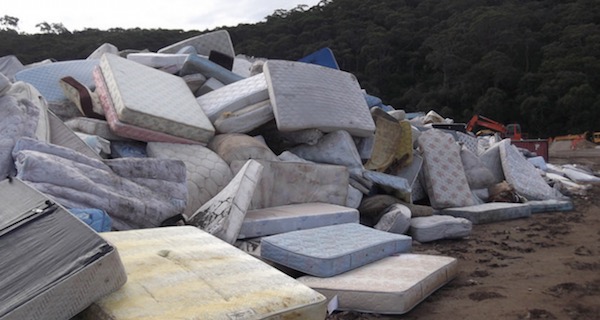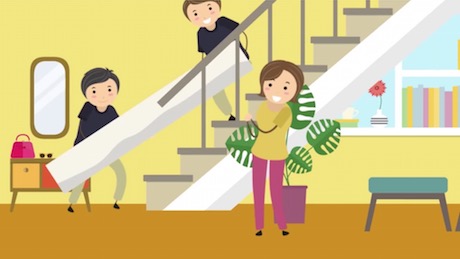 After yourNew York City mattress disposalappointment is booked, we will head out to your location at thearranged date and time. Prior to arrival, our team will call and text to confirm arrival time. We handle all theheavy lifting, haul away and disposal. This includes recycling or donation when possible and if salvageable. We remove all the stress when it comes toresponsible mattress removal.
Mattress Disposal Plusworks hard everyday to provide the best resolution for all yourmattress disposalandremovalneeds. We are proud of the quality services we provide and hope that you enjoy theconvenienceof oureasy-to-useonline booking system. All you need to do isBook Online todayand welook forwardto taking good care of you!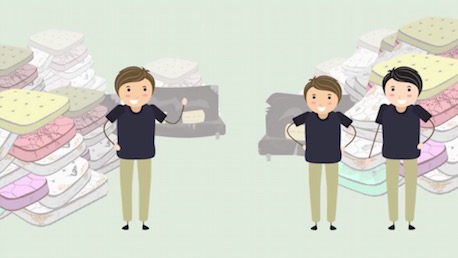 Call (877) 446 – 2371 or Book Online forNew York City Mattress Disposaltoday.
Service Location:
New York City, NY
Service Radius:30 Miles
Latitude:40.712784Longitude:-74.005943
Hours of Operation:
Mon – Fri: 8:00am – 8:00pm
Sat: 8:00am – 6:00pm
How to Dispose of a Mattress

Wondering how you should dispose of that old mattress? Despite being bulky and heavy, there are several options for mattress disposal, including renting a dumpster, donating a gently used mattress or recycling it. Use the options below to find the mattress removal solution that is right for you.
Mattress Disposal Options
A gently used mattress can be donated, but if yours is old and worn-out, you'll need to throw it away. Look through the mattress disposal options below to find one that's convenient for you.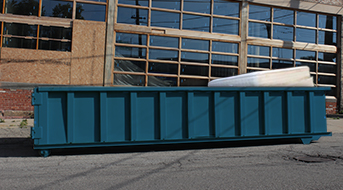 1. Rent a Dumpster
If you're disposing of an old mattress as part of a larger home cleanout, renting a dumpster is a good option for getting rid of all your junk at once, excluding prohibited materials. With a dumpster rental on your property, you can easily carry your mattress and box spring into the bin and be done with it. The price of a dumpster rental is also more cost-effective than most other disposal options.
Benefits
Things to Consider

Choose a dumpster size that fits your project.
Keep the container as long as you need it.
You'll only have to move the mattress once.
Allows you to dispose of multiple mattresses and other clutter.

In some areas, mattresses are not allowed in dumpsters or require an additional processing fee. Call our team to learn more about using a dumpster for mattress disposal near you.
Not ideal for disposing of only one mattress.
2. Check With Your Curbside Trash Collection Service
In some areas, municipal curbside collection services will collect mattresses during weekly service or on specified days. Reach out to your service provider to find out if this is an option in your area.
Benefits
Things to Consider

Low-cost disposal option.
Useful if you are only throwing away one mattress.

Not available in all areas.
You will need to store your mattress until the scheduled collection day.
There may be an additional fee for this service.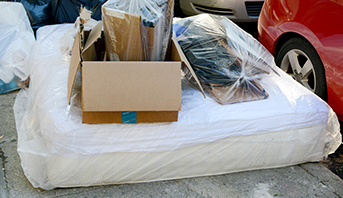 3. Junk Removal Service
Junk removal services are another option for mattress removal. This service will come to your location and haul away your mattress and other junk using a truck. However, you won't get a quote for this service until they see how much space your items take up in the truck. You will also need to be on-site during the process and work within the two-hour window they provide.
Benefits
Things to Consider

Service will load up your old mattress for you.

Will not provide a cost estimate until they see your junk.
Can only provide a two-hour window for your pickup.
Not economical if you're completing a large project with lots of junk.
How Much Does Mattress Removal Cost?
Mattress removal costs depend on the number and size of the mattresses you're getting rid of, as well as the service you choose and your location. Using a recycling service, you can usually expect to pay $20 to $40 fee for each mattress. Disposing of a mattress through a junk removal service can cost anywhere from $100 to $150, based on the above factors.
If you are getting rid of multiple mattresses as well as other household junk, a dumpster rental is the most economical option. The average cost of a dumpster rental is $433, which typically covers 20 cubic yards' worth of junk, more than twice the amount included with your typical junk removal service and can fit multiple mattresses and box springs.
In contrast, the average cost of using a junk hauling service is $297, which usually covers only 9 cubic yards' worth of junk.
Mattress Recycling Options
There are some ways to get rid of your mattress by recycling it. These options will allow you to keep the mattress out of the landfill and reduce your carbon footprint.
1. Consult the Mattress Recycling Council
In California, Connecticut and Rhode Island, mattresses are legally required to be recycled through a program administered by the Mattress Recycling Council, which costs between $9 and $11 per mattress. To get rid of your mattress in these locations, you will need to have your mattress removed by the retailer when the new one arrives or deliver it to a certified recycling facility.
2. Find a Recycling Location Near You
There are also more than 20 other states with at least one mattress recycling facility. Use Earth 911's recycling database to find a facility near you. Fees may apply.
3. Ask About Retailer Take-Back Services
If you are in the process of buying a new mattress, ask the retailer if they will remove and recycle your old mattress when delivering the new one. This common option is convenient but may include a small fee.
Options for Donating Your Mattress
Even if you are getting a new one, you may not have to throw out your old mattress if it doesn't show much wear. If the mattress is less than 5 to 7 years old and does not have any rips, stains, frayed edges or obvious signs of compression, it could still be useful to someone else.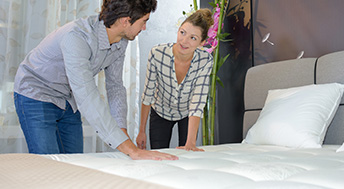 1. Find It a New Home
Check with relatives and friends who may be looking for an extra mattress, or simply want to replace their current one. As long your as mattress is in good shape, this is a great way to keep it out of the landfill.
2. Donate Your Mattress to a Local Nonprofit
There are also numerous nonprofit organizations and institutions that would gladly take your gently used mattress. The groups below generally accept mattress donations, though local policies may differ.
These organizations usually offer mattress pickup:
Salvation Army (Also allows drop-off)
St. Vincent de Paul (Varies by location, fee may apply)
Furniture Bank Association of America locations (Also allows drop off)
These organizations typically require mattress drop-off:
Places of Worship
Local Charities and Shelters
Frequently Asked Questions About Mattress Disposal
How do I know if a mattress can be disposed of in a dumpster in my area?
If you are renting a dumpster for a home cleanup or specific project, call our customer service team to find out if we accept mattresses in your area beforehand. If we do, there may be an additional charge for each mattress you are disposing of due to local disposal fees charged by the landfill or transfer station.
Can I mix other debris with mattresses in a dumpster rental?
Yes, when you rent a dumpster you can place any old mattresses and household junk inside the container, so long as they are accepted in your area.
Are there any fees for disposing of a mattress in a dumpster?
In some areas there are fees associated with getting rid of a mattress. Mattress disposal fees apply when the local landfill or transfer station must break down or recycle the mattress. These charges come directly from the local facility and will apply during a dumpster rental, curbside pickup and landfill drop-off.
Can I break apart my mattress and throw away the accepted materials?
You can break down your mattress yourself to make disposing of it easier, though you may still be subject to any associated disposal fees. Breaking down the mattress may reduce the amount of space your debris takes up in the dumpster rental or junk removal truck.
Can I get rid of box springs in the same way as a mattress?
Depending on the service you choose, you should be able to dispose of an old mattress and a box spring in the same way. If you rent a dumpster, you can throw both in the bin. If you are scheduling a pickup or removal with a junk hauling service, you may pay more to have both removed.
How Do I Throw Out A Mattress In NYC?
You and your mattress have had a good, long run. A lot of dreams and memories. But, now it's lumpy. Maybe it's got a few weird stains that you can't even identify, or a sunken spot you can't stop rolling into. Maybe you haven't been sleeping so well on it lately. Or, maybe it's just old and you know you need to let it go before some of these developments occur. But, who even knows the best way to dispose of a mattress in NYC? That's pretty random knowledge. So, now what?
Why Is It Necessary To Throw Out a Mattress?
You can't keep it forever. The mattress has been through a lot. It's got to go. For one thing, think of the weight a mattress gains over the year, from mites, mite droppings, human dead skin particles, body oil and moisture. An Ohio State University study has published findings that indicate a shockingly hefty amount of poundage is added to a mattress over a ten-year period. Yuck!
There are also increasingly significant sleep-quality issues that can develop from a mattress that's lost its integrity. Those can lead to quality-of-life consequences, making updating your mattress gradually a higher priority.
Benefits of Throwing Out an Old Mattress— Stuffing in an old, worn mattress can lose its elasticity, causing back, neck and hip pain, and sleep difficulties that can lead to reduced energy, irritability, loss of focus and poor performance. Throwing away and replacing an old mattress:
Improves sleep quality
Contributes to improved efficiency and mood
Helps protect overall health
Disadvantages of Throwing Out Your Mattress— People in the city who find themselves faced with disposing of an old mattress and replacing it with a new one discover that it's not the quick and simple task they had once naively assumed it would be. Plus, a new mattress isn't cheap. Disposing of a mattress means:
A time-consuming and laborious disposal process
Learning all the rules and protocols for mattress disposal in NYC
Parting with a lot of money for a new mattress
Throwing Out Your Mattress In The Big Apple
Getting rid of a mattress in New York City is a little more involved than just dragging it out to the curb. The rules for NYC garbage disposal of such big objects are stricter than you might expect, especially for mattresses. Rules for getting rid of used mattresses in the city aren't just about loading large items onto the sidewalks. There are also regulations set up to help prevent widespread bedbug infestations. Yikes! Who would have thought about that! Compliance can actually be kind of challenging.
Rules About Throwing Out Mattresses In NYC
Mattress disposal is governed by the City of New York Department of Sanitation ( DSNY), and they have some strict rules about it. They'll come and collect the old mattress for you when you leave it on the curb. But, you're responsible for making sure that it's sealed up properly in special mattress bag or covering. That's to help prevent the spread of bedbugs throughout the densely populated NYC boroughs.
The DSNY doesn't provide the bags or covers you'll need, so you're on your own finding a bag acceptable for the purpose. They're available at some moving supply businesses, and home improvement and department stores.
What's Involved in Throwing Out A Mattress In NYC?
If your mattress is under 4 ft. x 3 ft. in size, you can simply bag it and put it out on the curb for collection. You don't need an appointment. However, if it's larger than that, you need to schedule with the DSNY to have it picked up.
Next, you bag up the big unwieldy mattress, and the box springs too, if that's your plan, and lug them both down to the curb, only after 4pm on the evening prior to the scheduled pickup date.
You must also ensure that the mattress is not placed in a way that impedes sidewalk pedestrian traffic, or that allows it to stick out into the street, or that imposes on neighbors' properties. Failing to comply with one of the requirements, whether it's improperly bagging the mattress, or placing it on the curb wrong, can cause you to get multiple citations and fines from the city.
Scheduling Mattress Disposal
Trying to work with the DSNY to set a pickup date can create real complications for people on tight schedules. Appointments may have to be scheduled 3 or 4 weeks in advance. That can leave you stuck paying an extra month of extra rent, if you can't dispose of the mattress in time to meet your move-out date. Not a small price to pay at NYC rent rates.
Appointments are not available on City holidays. If collection is suspended during snow operations, appointments for pickup are also not possible. For a next-day pickup appointment, you must schedule with the DNSY before midnight on the previous day.
Don't Accidentally Commit Mattress Disposal Crime
The City does not like bedbugs. In its mission to keep them from spreading, people are fined for improperly disposing of mattresses and box springs. To avoid a $100 fine, you must seal your mattress and/or box springs in a plastic cover or bag, before you put it on the curb for collection. You can get large plastic bags at department stores, home improvement stores, and moving supply centers.
Painless Option For Getting Rid Of A Mattress
As you can see, Option A—doing all the work yourself to get rid of a mattress—is not looking very good. It's long. It's laborious. It's predictably frustrating. There's even risk of unintentionally committing mattress crime, by making a mistake that results in citations. Ugh. So much time and money, tracking down the approved bagging materials, struggling to seal and carry a huge, hard-to-manage mattress, and trying to get a reasonable curbside pickup date, and making sure every rule is obeyed. It's a lot.
Take heart. There's a better way to get rid of a mattress in New York. You don't have to go through all of the researching, shopping, bagging, scheduling, using brute force and worrying about the law. Instead, you can dispose of your mattress with just one quick phone call.
At Maid Sailors, we know how inconvenient it is for city residents to have to turn your attention to dealing with the whole affair of getting rid of an unwanted mattress. We recommend hiring well-trained technicians that provide white-glove removal service for mattresses or pretty much any other large waste items you need to have hauled away. Maid Sailors can then help to sweep and clean up the area afterward too.
To save yourself a pain in your back and risk to your wallet from fines, just call a mattress removal specialist to come and get your old mattress out of your life in a hurry! Completely painless and drama-free.
Reporting A Mattress Violation
If you see uncovered mattresses or box springs that's been dumped somewhere in the city, you can call to have it picked up. If it has been illegally dumped, you are not required to seal it in an approved plastic cover or bag for collection. But, you'll need to call 311 to request to have it picked up.
Why You Need A Cleaning Company
Maid Sailors is one of NYC's premier cleaning services. We provide residents throughout all five boroughs with the full range of NYC cleaning services that you need to live your best life in the city. We offer regular cleaning, deep cleaning, organizing, laundry service, green/eco-friendly cleaning, move-out cleaning, Air BNB turn-around cleaning, and office cleaning. Call Maid Sailors NYC at (212) 299-5170 anytime, to discuss your cleaning service needs.
How to Get Rid of a Mattress in New York City
Blog Home ❯ Local Mattress Guides ❯ How to Get Rid of a Mattress in New York City
Mattress Disposal in NYC
There is nowhere in the world quite like NYC. New York is amazing! We talk about it, we sing about it, we brag about it: you can travel the whole world over and never find a city that can outshine New York. New York is famous for a lot of things—the park, the plays, the diversity, the hot dogs, and more.
However,New York Cityis also famous for its crowded nature and high population density, and these factors can sometimes make it very difficult to perform basic tasks. For example, have you ever tried to get rid of anold mattressorold furnitureinNew York? You can't take it on the subway, and it is difficult to maneuver through crowded, cramped apartment buildings. You may not own your own vehicle large enough to transport it.
Because getting rid of a mattress isn't actually easy in this city or in her 5 boroughs. The practical problems of trying to part ways with your mattress pile up quickly in NYC.
Let's take a look at how to get rid of a mattress in New York City without it becoming a major pain!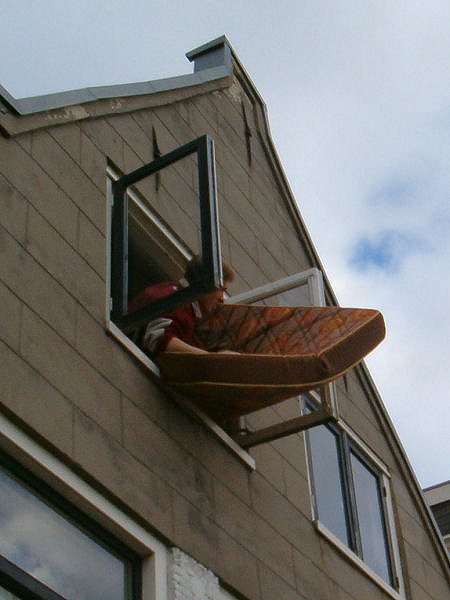 Don't Throw Your Mattress out the Window – There's a Better Way
You may be tempted to toss your mattress out of your window;please don't.
NYC living usually means high-rise living, and that presents a unique challenge for anyone looking to dispose of a mattress in a responsible fashion.
Mattresses are heavy, andlugging one down several flights of stairsor trying to stuff it into a tiny elevator is scary stuff. So what other options does one really have?
Saying Goodbye to Your Mattress Doesn't Have to Be Expensive
Getting rid of a mattress in NYC often means hiring movers or renting a truck. Both of these options can be time-consuming and expensive. Finding a way to dispose of your mattress in New York City can be bad news. But with the right approach, you'll be able to breathe a sigh of relief.
Mattress Disposal Plus Offers Flexibility
If you have an unwanted mattress and live in New York City, first of all, don't panic. Mattress Disposal Plus offers NYC residents abold new wayto take the pain out of disposing of your mattress and even your box spring as well.
"What's the catch," you ask? There is none!
Mattress Disposal Plus gives you a 4-hour window for pick up, calls a full30 minutes before arrivaland even recycles your mattress, box springs, and furniture.
Tossing your mattress in the garbage isn't the best option out there, especially when Mattress Disposal Plus can take your mattress off your hands quickly and easily. The old days of scratching your head and wondering how to rid yourself of a mattress in NYC are gone, thanks to Mattress Disposal Plus!
Need to get rid of an old mattress? BOOK A PICKUP ❯
Mattress Disposal Plus Uses Experienced, Insured, and Licensed Teams
Mattress Disposal Plus only uses professional pickup teams, which are licensed, background-checked, and insured. There isno replacementfor professionalism, and with Mattress Disposal Plus you can expect to have your mattress and box spring removed quickly and conveniently. You should never lug a mattress and box spring down twisting, dangerous New York City staircases.
Instead, call Mattress Disposal Plus and leave the heavy lifting to the experts.
Rest Easy: Here's How to Recycle Your Mattress.
According to the Mattress Recycling Council, "Americans as a whole dispose approximately 15-20 million mattresses and box springs per year."
I recently purchased a new mattress from Keetsa, which markets themselves as eco-friendly. When I asked the store manager if they have a recycling program for my old mattress, he looked at me, perplexed, and suggested I put it out on the street for the sanitation department to pick up.
For my sustainable, eco-conscious mind, this simply wasn't good enough. So I did what any millennial would do: I Googled recycle mattress NYC. What resulted was a staggering lack of mattress recycling in a city with more than 8 million people. But, I did manage to find a couple options: Renewable Recycling, Inc if you live in NYC and 1-800-GOT-JUNK if you live elsewhere in the US.
If You Live Outside of NYC
1-800-GOT-JUNK recently partnered with Spindle to create a mattress recycling program that's available to mattress buyers all throughout the US. They will come and haul away your mattress and if it's still in good enough condition, they will donate it. If it's not, they'll recycle it. The team at 1-800-GOT-JUNK tells me that about 80-90% of a mattress is able to be saved from the landfill and recycled into something new. The wood frames, for example, may be processed into wood chips and used in particleboard, mulch, or animal bedding; the metal components like springs can be melted down and used in appliances, buildings, or vehicles; and the foam, wadding, and latex can be turned into carpet underlay, stuffing for pillows, or reupholstering furniture.
They make it really easy for you to recycle your mattress: just put in your zip code, the date and time you're available to have them pick it up, and some info about what you're getting rid of (size of bed, if there's a box spring, etc.), and they take care of the rest.
For NYC Residents
In NYC, there'sRenewable Recycling, Inc.,based locally in Oceanside, NY. Based on my apartment's proximity to their warehouse, they offered to pick up my mattress to be recycled at a fair price.
Founded in 2014 by Christine Kiourtsis and her now husband Michael Hawksby, they are spearheading mattress recycling in NYC and Long Island. I sat down with Christine for a Q&A over coffee one summer morning. Her energy and passion for her craft were beaming and only became more evident as we conversed.
Julie: How did this idea of creating a mattress recycling company start?
Christine: I was working for a health club that is very involved in the community, and my husband and I were at a sporting event they had partnered with at this beautiful park. In the middle of all this greenery we saw a pile of mattresses just lying there… in this giant, beautiful park. We both thought, 'This is terrible,' and wondered, 'Wow, how is this an issue and no one does anything about it?'"
My husband started investigating about how municipalities dispose of mattresses. The sanitation department has dump stations and people are supposed to put it in the front of their house and if they can't, let's just say, stores for example, the sanitation department will charge that store for picking up. Financially, people don't want to do that and that's when this niche of recycling mattresses came to our minds, because no one is really doing it."
What was it about this environmental issue that peaked your interest?
I was previously employed by a green energy company so the idea resonated with me. After researching, I learned that mattresses harbor toxic chemicals from government mandated flame retardants (in some states) and polyurethane, which can leak into the landfill ground and contaminate our drinking water. Also, not only are they an eyesore, but used mattresses with the rusty springs hanging out become a safety hazard, especially in a recreational park like that one. So it became a passion and we just ran with it.
How did the business aspect generate?
"Well, we started in 2014. You have to prove yourself as a corporation for one year, get approved and certified, then you can apply for grants. I have become certified with two organizations that have helped guide me through the process: the Mattress Recycling Council based out of California, one of the first states to start the mattress recycling movement, and ISPA, the International Sleep Products Association, which is helping to get our word out on a more retail level. NYC has a grant for green energy which a company can apply for once they have become a certified business; they pick one company a year to fund. I submitted our proposal and hope to hear back this fall.
That's great! And the goal is to be a viable resource for NYC consumers correct?"
Yes! That is the big market we are targeting. We are currently involved with smaller towns and their municipal departments and we aim to provide a great service and can save those towns money in the long run.
How do you help them save money?
Currently, there are companies that pick up the mattresses from transfer points associated with the sanitation departments and truck them to the landfills. Towns are billed per ton for this. One bundle of 20 mattresses equals one ton. Your average queen sized bed is 60 to 80 pounds, and after roughly 10 years it doubles in weight from wear and bodily fluid accumulation. Then, let's say it rains and the mattress soaks up that water. Now, it's three times the weight it originally was. So what once was only one ton is now two to three tons, and the towns are all paying for this. With our company,you pay per unit, not by weight. A town called Lynbrook, in Long Island, NY, was our first contract and they are already seeing the financial benefit six months later, so long term, this isn't just great for the environment, it's also fiscally beneficial as well.
How about for the individual consumer?
Right now we're capable of carrying roughly 15 mattresses at a time. For the average homeowner that is environmentally conscious and wants to do the right thing, like yourself, we only charge by distance up to 100 miles from the facility in Oceanside, NY. But truthfully, we would never say no. For instance, if a hotel in New Jersey was getting rid of 50 mattresses and really wanted to do the right thing and use our service, at the present moment we'd have to charge them for a truck big enough to service that distance, but we would absolutely do that if they were willing to help foot that charge. The next step is purchasing a truck large enough to carry numerous mattresses at a time so we can service those with more volume or those that are farther away.
How does the recycling process work?
Everything gets recycled: the foam, the metal, the wood, everything. The box springs too. The way the mattress industry is going it's becoming more foam based and away from the coils and springs. The foam has become the most lucrative part. The companies that buy the foam from us use it for upholstery, the insides of sporting equipment, bicycle seats, carpet pads, things like that. We also work with companies that will melt the metal down and resell it. It has been repurposed to make benches, lamp posts, light poles, etc.
How did you learn about the recycling process?
Honestly, trial and error. Our buyers do a great job of providing us with constructive criticism and saying, for example, 'We can't have any part of the pillow top on it because it jams up our machines, and the machines are expensive to repair.' So we refined our process to meet that standard. We have a spinning table with cutters that chops the mattress up well and we've learned through repetition and refinement how to do this fast and effectively. It's definitely a dirty job, but we love it and it's rewarding.
What about mattresses that have bed bugs?
We have a container that has plexi glass on the top where we put contaminated mattresses into and using the sun as a natural energy the container heats up to at least 110 degrees to burn off any contaminants. Unfortunately, those mattresses still have to get discarded but we have been fortunate to not receive very many of them.
Have you reached out to newer companies like Casper to partner with?
"That is definitely a long term goal with us, to have a partnership with an eco-conscious company like Casper, which is based in Brooklyn. Connecticut, as well as California and Rhode Island, actually have laws stating that companies that sell mattresses have a designated service to recycle mattresses in return. When they drop off a new mattress to a consumer, they are required to pick up the old one for recycling. It's a great model and that is something we as an independent company in New York want to strive to be.
Check outRenewable Recycling, Inc.here and find out how you can help "save the earth, one mattress at a time."