How to Clean Foam Mattress Topper in 3 Easy Steps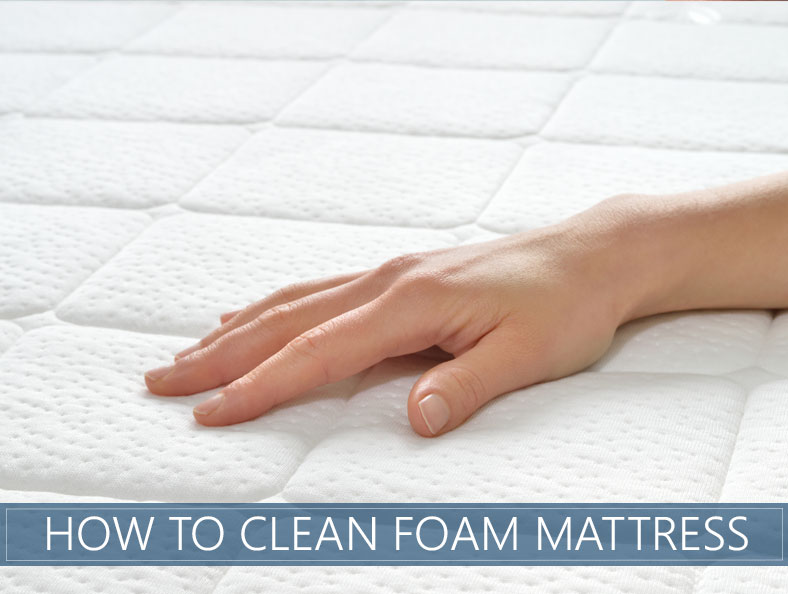 Keeping your bedding clean is very important – not only because of hygiene but also to keep allergies at bay. Nothing is more frustrating than seeing pesky stains all over your mattress topper when you wake up in the morning. Given the delicate structure of the memory foam in the mattress topper, they cannot simply be tossed in the washing machine. They require a different approach because the centrifugal force of the washing machines can damage the fine structure of the foam and the foam can tear apart when soaked.
However, there are 3 easy ways to clean your mattress topper, so read on to find out how.
There are certain steps you should take before starting, so to begin with, make sure your topper is in the right position for the cleaning process. Depending on how bad the stains are, you may have to remove it from the bed and place it somewhere where you can clean and dry it easier.
In some cases, mattress toppers require a long time to dry so make sure to place it in a ventilated area so that it can dry completely. If you use the mattress topper when it is still damp, its structure will damage, so make sure that it dries completely.
Are you looking to find the best mattress topper available? Be sure to read our comprehensive guide.
Use Your Vacuum Cleaner Often
By simply cleaning it with you vacuum cleaner you will get rid of all the dust and grime and prevent micro-organisms from forming on its surface and possibly even inside its airy structure. Make sure your topper is placed on an even surface so that your vacuum cleaner can reach all the spots. Using water-based vacuum cleaners is also advisable, however, make sure to leave your topper to dry for several hours before using it. Vacuuming often will save you a lot of effort and time and prevents spills to become hard to clean stains. Once a week should be enough to keep it in excellent condition. Make sure to use the vacuum cleaner on both sides of the topper for best results.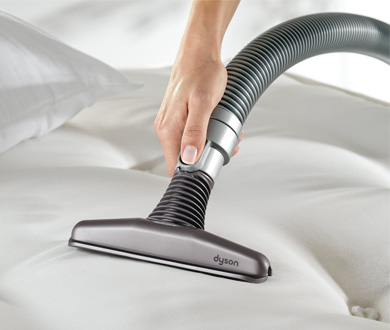 Spot Clean With Ease with The Right Solutions
After you finish working on the stains with a vinegar and water solution, you can proceed using the same washing detergent used for clothes to clean the rest of it. It is up to you when it comes to using liquid or regular washing detergent. Mix it with water and gently apply it to the stained area. Make sure to dissolve the detergent with water as leaving tiny particles of it during the cleaning phase will damage the surface of your mattress topper. Again, use circular hand movements and rub the detergent so that it penetrates into the stain to dissolve it from the inside. Leave the detergent on the stain for about half an hour in order to chemically dissolve stains and other impurities. We generally advise working on the stains until the detergent dissolves them completely and repeating the process for best results.
Removing stains with baking soda
Baking soda mixed with water is another great natural solution for cleaning persistent stains. Baking soda is an essential ingredient in almost any situation when cleaning is needed so chances are you already have it in your pantry.
Start by mixing one part of baking soda with two parts of cold water and stir it until the baking soda dissolves and the solution gets a milky, white color. Start to work on the stains with gentle movements of your hand and repeat the process until you get as much of the solution as possible on the stain as well as the area around the stained area. Leave it for about half an hour to soak. Afterwards use a mildly damp cloth to remove the solution and then use a dry cloth or paper towel to remove the remaining water.
For more difficult stains and odors we recommend using a different approach because they will be harder to remove and take longer to do so. For blood stains or food and beverage spills we recommend using enzyme-based solutions. You might have seen that hydrogen peroxide is recommended for removing blood stains. This is completely wrong and it will cause damage to the surface of your memory foam mattress topper. Avoid it at all cost.
Enzyme cleaners are the most effective solution for dissolving and removing the more persistent organic-based stains. They work from the inside of the stain by breaking, their its structure and making them easy to clean up and remove.
Removing odors is easy with vacuum cleaners and a detergent/water mixture. It simply takes more turns to remove the bad smell from the topper completely. We also recommend exposing your topper to direct sunlight for short periods of time as the radiation of the sun and heat will remove most of the odor without you doing a single thing. We also advise you to keep your topper in the sun to remove all the remaining water that might have settled in during cleaning.
Use a Mattress Topper Cover For Effortless Cleaning
By using covers for your mattress toppers, you can keep them in perfect shape. Best of all, covers can be washed in the washing machine and this enables you to keep your toppers clean and in pristine condition. Unlike toppers, covers can be cleaned as often as necessary without the danger of damage. This saves you time. We suggest using cotton covers as they are soft and feel good under the skin. Covers are the best way to keep your bedding nice and clean with the least effort and time spent.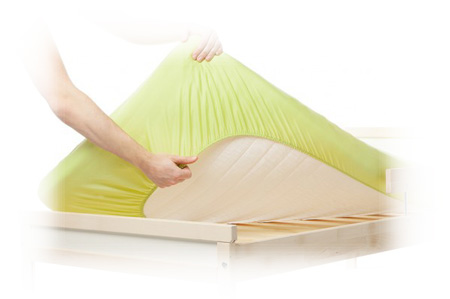 Author: Sleep Advisor
Our team covers as many areas of expertise as we do time zones, but none of us started here as a so-called expert on sleep. What we do share is a willingness to ask questions (lots of them), seek experts, and dig deep into conventional wisdom to see if maybe there might be a better path towards healthy living. We apply what we learn not only to our company culture, but also how we deliver information to our over 12.7M readers.
Sleep research is changing all the time, and we are 100% dedicated to keeping up with breakthroughs and innovations. You live better if you sleep better. Whatever has brought you here, we wish you luck on your journey towards better rest.
How To Clean A Foam Mattress
A complete guide on how to clean your memory, poly, or latex foam mattress.
Categories:
Last Updated:
We spend about one third of our lives sleeping on our mattress. Over time, our dead skin cells, sweat, hair, body odors, and pet dander sneak through our sheets and accumulate on our beds. While we keep our sheets clean, it's still important to clean your mattress every now and then, as well. We recommend once or twice a year, or whenever anyone gets sick or has an accident.
Keep in mind that different foam bed types have different cleaning processes. But no worries, we've detailed each one for you. These are also instructions for the foam of the mattress, so you will need to remove the mattress cover. If that's not possible, sorry, but you'll just have to stick with spot cleaning the cover.
Grab your rubber gloves, we have some cleaning to do
Read these steps to learn how to freshen up your bed, so you can sleep right, sleep tight, sleep clean.
How To Clean Your Memory Foam, Poly Foam, Mattresses
Memory foam is a type of petroleum-based material that reacts with pressure to slowly compress and contour around your body. Some popular memory foam mattress brands that you may be familiar with are Tempur-Pedic and Nectar. Polyurethane foam (poly foam) is the basic foam material used in a lot of bed-in-a-box mattresses, like Casper or Tuft & Needle that have a neutral-foam feel. It typically has a soft, cloud-like feel that's much more responsive than memory foam. Here's how to keep them clean:
Vacuum the foam. You can do this with either a handheld vacuum or with a brush attachment. This will clear out all of the surface level lint and crumbs and make sure they don't get scrubbed deep into the mattress in the following steps. Be sure to get every inch of the top of the bed, and around the sides, as well.
Clean with solution. We don't recommend using harsh cleaning products like ammonia or bleach for this, as they can ruin the foam. Instead, you can use a ½ cup of fabric cleaner or white vinegar mixed with 1 cup of water. Make sure you shake it well to mix, then spray the mattress. Spray sparingly, because if the bed gets too wet, it's very easy for mildew to form. If you have any stains, immediately scrub them with a clean cloth. You could also use a steam cleaner on your memory foam mattress.
Deodorize. Grab some baking soda, and sprinkle it over the mattress. You can even do this while it's still wet. Open up the windows in your room and run the fan to help dry out the mattress, or, you could even bring it outside in the sun to dry on a tarp. Just make sure it's not too windy, or all the baking soda will blow away.
Vacuum again. When the mattress is dry, vacuum it again to collect all of the baking soda. Make sure that your bed is absolutely and completely dry before putting all of your (clean!) bedding back on it.
Is it flippable? If your mattresses has two different useable sides, make sure you complete these steps on both of them.
Related Content
Casper Mattress Review
How To Clean Vomit Out Of A Mattress
Lull Mattress Reviews
Latex Foam Mattresses
Did you know that latex beds are a type of foam bed? Well, they are. Latex is made from the sap of rubber trees, and feels bouncy and airy. It's typically perforated, which means it has tiny holes all over it, which allows for good airflow. It's also known to be a very durable material, so if taken care of properly, a latex bed could last you a lifetime. Some of our favorite brands that offer latex beds include Avocado and Nest Bedding. Here's how to clean it up:
Clean with solution. Avoid strong solvents and bleach, as they can damage the latex, and while we're on the subject, avoid using steam cleaners, as well, as they can over-bake the latex. Try mixing a few drops of either a mild detergent or isopropyl alcohol with water. Use a white sponge or rag (dye from colored materials could transfer to the latex and stain) to lightly blot the top of the mattress, not rub, which could tear the material.
Deodorize. Sprinkle baking soda all over the bed to soak up odors and dirt. Allow the mattress to completely dry, but be mindful that direct sunlight exposure can breakdown the cellular structure of the latex. You should probably just let it naturally dry within your home. You could even use a cool blow dryer to help it to dry out.
After it's completely dry, vacuum all the baking soda up and feel free to put sheets on your new clean mattress.
Wavy K likes to keep things clean
How To Clean A Pillow Top Mattress
We're throwing this one in for good measure. Pillow top and Euro top mattresses usually are on hybrid mattresses that have coils, but are also layered with foam for additional comfort. They usually feel just like the name states: a giant pillow. Some of our favorite pillow top mattresses are by Saatva and the Stearns & Foster Estate Addison Grace.
Vacuum.Run a vacuum all over the top of your mattress to clean up any extra dirt or crumbs. Pillow tops tend to have tufted tops, which particles can easily settle into.
Clean with solution.Like like we've said before, avoid any crazy chemicals on your mattress. Try a mixed solution of clear liquid laundry detergent and water, and dab it all over your bed. Try not to get it too wet.
Deodorize.Sprinkle baking soda all over the top of your bed to soak up any stale or lingering smells. Feel free to let it dry naturally while soaking up the baking soda. You can do this with a ceiling fan or opening up a window.
Vacuum again.Once your mattress is dry (this could take a few hours), vacuum it up again. Time to put on some fresh, clean sheets, and enjoy your sleep that night.
We hope this helps you to keep your mattress fresh and clean! Now, if you have a Purple mattress… you're on your own.
Link to Us!
If you found this article useful, please copy and paste this post on your website or blog. We appreciate the support!
How to Clean a Memory Foam Mattress
If you haven't noticed, sleeping comes with its own share of problems. When we sleep, our bodies release all kinds of fluids through the skin, including sweat. The mattress absorbs all this. Within no time, you realize that you need to know how to clean a memory foam mattress to keep it looking and smelling natural.
Memory foam mattresses are more popular than ordinary brands thanks to their impressive level of comfort and support they provide at night. They contour to your body so that your weight is evenly distributed to reduce pain and relieve pressure points while sleeping.
Unlike ordinary mattresses, memory foams are designed with a unique material using advanced Visco technology. Therefore, cleaning and maintaining them becomes an important factor to keep in mind to prolong mattress life.
Here are helpful DIY tips on how to clean a memory foam mattress to ensure it stays in excellent conditions for years to come.
Preparation for the Cleaning Process
Before we jump into the actual cleaning process, I would like to outline some few things you need to get started. You will need:
A regular or hand vacuum with hose attachment Distilled white vinegar/baking soda A couple of clean towels or cotton sloths Hair dryer or electric fan Spray bottle Tarp Liquid detergent
Cleaning a Memory Foam Mattress
How do you clean a memory foam mattress?
There are several steps involved in the process of cleaning a memory foam mattress. They are:
Vacuuming the Memory Foam Mattress Removing Stains from Memory Foam Drying your Memory Foam Mattress
Now, let's dig deeper and explore each step in greater detail.
How to Clean a Memory Foam Mattress
Your mattress is your favorite sleeping accessory. Research shows that the body sheds between 30,000 and 40,000 skin cells every hour. In 24 hours, you lose close to a million skin cells, which are the major source of dust in your home. The skin cells become a feeding ground for dust times. These small organisms shed their skins and multiply and die in your mattress.
Dust mites are great sources of allergens that can lead to a runny nose, watery eyes, and can be a serious threat for asthmatic patients. So, how do you prevent this source of allergens and other harmful components that may settle on your mattress?
Here are some ways:
Place the mattress in a firm and solid foundation:A broad box spring with a hard surface or a no spaced slatted base will work perfectly to support the weight of the mattress and the person. This allows breathability while providing the right kind of support you need while sleeping.
Vacuum cleaning regularly:I cannot mention it enough, but vacuum cleaning is the best way to clean your mattress. Take the mattress topper off then spread it across a clean and dry surface. You can either do it in your bedroom or take it outside on your front porch or backyard. Use a hand-held vacuum or a stand-alone vacuum with the upholstery attachment to sweep over the mattress surface and all the sides.
Doing it weekly or in once every fortnight would be enough to control the population of dust mites, dirt, stray hair, and other debris that may find their way into the memory foam mattress.
Doing it on an open-air has an advantage as it allows the mattress to breathe fresh air and get direct sunlight for disinfecting. This helps to keep allergens at bay and eliminate the bad odors.
People spill drinks, kids pee on the mattress, and pets stain the mattress too. But you can get pee stains out of any mattress including memory foam with the right cleaning process. As it is made of foam, liquids tend to soak in quickly, so you need to know how to care for the unforeseen accidents specifically.
Here are simple ways to get started:
Cleaning Stains with a Homemade Solution
When it comes to a home-made solution, we don't recommend using harsh cleaning agents such as ammonia or any other bleaching agent as it may ruin the foam.
Foam mattresses should not be immersed in excessive water, so extra caution should be taken when spot cleaning stains. When removing stains, it's easy to get too aggressive, which can push the stain even deeper or get the mattress too wet. Instead of using a wet rag, use a spray bottle.
To remove sweat stains from memory foam, you will need a few detergents such as vinegar, dishwashing liquid, baking soda, or a commercial enzymatic cleaner. If the effect isn't satisfactory, you can create a homemade cleaning agent by mixing a few drops of dishwashing soap into there tablespoons of baking soda in one pint of water.
Stir the solution until the soda is dissolved. You can then add about 10 ounces of hydrogen peroxide or white vinegar if you have some. There may be some foaming of the soda because of the acidity of the vinegar, which is okay to speed up the cleaning process.
Pour the mixture into a spray bottle and spray gently into the area -not too much that it gets too wet. If you use a sponge, dip it into the mixture and squeeze to dampen the are then scrub gently in circular motions. Avoid rubbing too hard, or you may drive the solution deeper into the mattress.
Once the stain is removed, gently wipe the spot with a wet cloth to remove any excess solution and allow it to dry completely.
Use Vinegar to Remove Tough Stains
Some stains won't come off even after a thorough wash.
The type of stains that occur if your toddler or pet has a bedwetting problem. Or the tough blood stains.
To get rid of fresh or dried blood stains, check out our recent article on how to get blood out of a mattress .
If you have to deal with stubborn stains, you can try cleaning it with a stronger solution.
First, use clean towels to blot out as much as possible. Then fill the spray bottle with a ¼ cup white vinegar and a ¾ cup of water.
Shake thoroughly, then spray the solution gently on the stain. Use paper towels to absorb the vinegar. Now, let it sit there for some time before putting the sheets back on.
The best place to dry off your memory foam mattress is outside in the sunshine, but sometimes the sun won't shine. So, you can use the following ways to dry your mattress.
Use a small fun or hair dryer on a low heat setting and dry the memory foam as much as you can. It should be warm and done gently. Leave it for a day to dry completely.
If possible, place the mattress outside or simply open the windows in the bedroom to ensure there is enough airflow to dry the mattress quickly.
Once it's dry, you can clean any remaining pee or urine stains with the right cleaning agents, such as baking soda. If you use baking soda, remember to let it sit for some hours then vacuum thoroughly.
Deodorize your foam:Put your mattress on the backyard or front porch for several hours. Direct sunlight helps to eliminate and deodorize the foam mattress.
Prolong the Memory Foam Mattress Life
Use a mattress topper
A waterproof mattress cover is the best thing that can help preserve your memory foam mattress. Not only does it prevent stains from getting into contact with the mattress surface, but it is also easy to clean and maintain at a low cost. The cotton option feels great under the skin, and it will provide numerous health benefits compared to synthetic materials
If you want to learn more about cleaning memory foam, check out this video. It describes how to clean a memory foam pillow, but the same tips work great for memory foam mattresses.
Finally…
Memory foam is highly absorbent and for this reason, it can be almost impossible to remove exceptionally large, dark, and smelly stains. If you try all the methods above and you notice no difference, it may time to consider getting a new memory foam mattress.
But at least one of these steps should work. Try them out!
How to Clean Memory Foam
Getting a good night's sleep can improve a person's overall health, increase the strength of the immune system, and reduce stress levels. So, worrying about how to clean memory foam or your memory foam mattress should be the last thing keeping you up at night.
As a memory foam mattress owner, you've probably already heard the warnings: you cannot clean memory foam the same way you clean a regular mattress. Poor maintenance of memory foam can cause loss of shape and support.
It can also damage the material over time or allow moisture and mildew to build up inside. Regular maintenance, and using the proper technique when removing stains, can increase the lifespan of your memory foam mattress, memory foam topper, or memory foam pillow.
What You Need to Keep Your Memory Foam Clean
We will go over a step-by-step process for how to clean a memory foam mattress during routine cleanings, how to clean a memory foam mattress topper, and how to clean memory foam pillows.
We will also address the different types of stains and odors you may encounter while cleaning and how to get them off your mattress. Below is a list of supplies you will need to help you properly clean memory foam and keep it stain-free.
You may not need to use all of these items at one time, especially if you are doing routine cleaning. However, when you do need spot cleaning or more substantial stain removal, it's an excellent idea to have these items handy.
Supplies Needed to Increase the Lifespan of Your Memory Foam
A handheld vacuum cleaner with a soft brush attachment
Fabric cleaner or gentle laundry detergent
Baking soda
Distilled white vinegar
Enzymatic cleaner
Hair dryer or electric fan
Gloves
Tarp, or something to place under the memory foam while cleaning
Some of these items can be swapped out or replaced with other things. For example, if you do not have a handheld vacuum cleaner, a regular vacuum cleaner with a soft brush attachment will also work. If you have a preference for baking soda over white vinegar, either solution is useful for removing stains and odors.
How to Clean Memory Foam – Cleaning Routine
Vacuum Memory Foam to Clear Dirt and Dust Particles
Whether you are trying to clean a memory foam mattress, topper, or pillow, the instructions all start the same: vacuum the memory foam first. Use circular motions while vacuuming to loosen up dirt and dust particles.
Wash Memory Foam Using Gentle Cleaning Solution
If there are no significant stains or odor problems to address, then a light washing is all that is necessary. Can you wash memory foam pillows? Wash all memory foam by hand, even when cleaning items like pillows that can easily fit inside a washing machine.
Running a memory foam pillow through the washing machine can ruin the material and cause it to lose shape. Use fabric cleaner or mild laundry detergent and dilute it with warm water before adding it to your memory foam.
Memory Foam Cleaner
1 part fabric cleaner or laundry detergent
2 parts water
Spray bottle
Mix the fabric cleaning solution or laundry detergent with water in a spray bottle. Lightly mist both sides of the entire mattress, topper, or pillow with the cleaner. Make sure you do not soak the memory foam. Too much moisture can be especially harmful to memory foam since it's such an absorbent material.
A damp cloth can be used in place of a spray bottle by wetting the fabric and gently applying it to the mattress. Again, use circular motions if you go this route and avoid excess water to prevent mildew from building up inside the mattress.
Use this mixture for sofa fabric cleaning, too. It works great on stains or just for general freshening of the material.
Dry Memory Foam to Remove Excess Water
This last step can take some time, especially since you want to make sure to remove every bit of moisture to prevent it from getting trapped in the memory foam. Wringing or twisting the foam may seem like a natural solution to removing excess water, but never do this!
These motions can affect the structure of the mattress, making it less responsive to your weight as you sleep, and reduce the amount of support it provides.
Instead, use an electric fan or hair dryer to speed up this process. For either option, blow the air at an angle a safe distance away from the memory foam. Use the lowest setting on a hair dryer.
If your hair dryer comes with a warm or cool adjustment, this is even better. Taking your mattress outside to air dry is another excellent option if you have space. Exposing your mattress to direct sunlight also helps reduce odors.
It can take as long as 24 hours for your mattress to dry on its own. Using hair dryers, electric fans, and even air drying it in the sun can not only speed up the cleaning process but also reduces the chances of forming mildew. Make sure the memory foam is completely dry before returning it to your bed or using it.
Improve the Lifespan of Your Memory Foam
Clean mattresses every 3-6 months.
Flip mattress head-to-toe every time you wash it.
Never use hot water, always warm water.
Protect foam pillow by adding pillowcase.
Keep foam mattress clean by adding a mattress cover. Doing this will also reduce the need to wash memory foam as often and leaves you with the opportunity to clean the mattress cover as often as you wish.
Remove Stains and Odors from Memory Foam
How to Get Stains off with Natural Ingredients Like Vinegar
For moderate stains, use a homemade mattress stain remover, such as one made from baking soda or vinegar. Alternatively, you can purchase an enzymatic stain remover, like those used to clean pet stains.
Avoid recipes with hydrogen peroxide if you can. While hydrogen peroxide is a great way to remove stains from regular mattresses, it can cause discoloration and break down the material of your memory foam product over time.
Spot Cleaning and Simple Stain Removal
1 part vinegar
1-2 parts water
Spray bottle or damp cloth
If the stain is still wet, cover the area with a dry cloth first. Absorb as much of the liquid as possible. Combine white vinegar with water in a spray bottle or apply to a damp cloth. Lightly spray the spot or blot with the damp cloth.
Again, be careful not to soak the area. It can be tempting to add more vinegar spray to the spot if the stain does not come out right away. Resist the urge!
If the stain lingers, sprinkle some baking soda over the stain and let it sit for about an hour. Afterward, vacuum the remaining powder. This process should take care of most stains.
Use an Enzymatic Cleaner to Remove Pet and Urine Stains
Tougher stains on mattress topper or memory foam mattresses may require alternative measures, especially if those stains come from sweat or are pee stains. There are many products you can use to get urine stains out of a memory foam mattress, but we are going to focus on three: vinegar, baking soda, and enzymatic cleaners.
What causes yellow stains on mattress?
If using vinegar doesn't help remove the stain, try an enzymatic cleaner, like those used to clean up pet stains instead. These cleaners are designed to target stains caused by organic materials like vomit, sweat, and urine.
A yellow spot is a good indication of a stain caused by any of these materials. All of them are treated the same way.
Remove Urine Smell and Stains
Paper towels or dry cloth
Enzymatic cleaning solution
Baking soda
Vacuum cleaner
First, soak up all the urine using paper towels or a dry cloth. Next, lightly spray enzymatic cleaning solution. Let sit for 15 minutes. Use a dry cloth to dab the area and soak up any excess moisture. Sprinkle baking soda over the area and let it sit overnight, or for at least 8 hours.
Vacuum the remaining powder — repeat steps as necessary. Other consumers suggest using cleaning options like Borax, which you can also add to the cleaning process. Using enzymatic cleaners and baking soda also helps with removing urine smell from mattress.
The same treatment can be used to remove pungent odors caused by sweat, vomit, or even cigarette smoke. On a smaller scale, sprinkling some baking soda on your memory foam pillow and letting it settle for one hour before vacuuming absorbs the odors and oils you leave behind.
What Causes Rust-Colored or Brown Stains on Mattress?
Food and drink stains are pretty easy to spot, and we already identified the causes of most yellow stains. Rust-colored, brown, or dark-colored stains, however, could be a sign of something much more troublesome. Nobody likes to think about them, but bed bugs can be almost anywhere – even in your memory foam mattress.
The possibility of getting bed bugs and dust mites decreases for owners of memory foam mattresses due to the density of the material used to make them. However, this does not prevent these pests completely.
If you suspect bed bugs might be a problem, unlike with other pests, deep cleaning will not resolve the issue. A budget-friendly option is to apply diatomaceous earth for bed bugs on the mattress before calling the exterminator.
Learning how to clean memory foam is nothing to lose sleep over, especially with so many great resources available! These easy tips for how to clean memory foam mattress topper, mattress, or memory foam pillow will help you rest easy. Now, it's time to give a little love back to the mattress that supports you and your dreams!
If you enjoyed our article on how to keep your memory foam clean, let the world know by sharing these tricks and tips on Pinterest and Facebook.
How to Clean a Mattress
If you've never taken the time to clean your mattress, it can collect enough dead skin cells and dust mites to double its weight in ten years. The thought of sleeping on that kind of build-up is disgusting. Knowing how to clean a mattress properly can help you sleep better at night.
Merely running the vacuum over it now and then isn't enough to thoroughly clean your mattress. While you are probably aware of the dust mites and other critters that like to call your mattress home, did you know that it may also contain sweat, blood, urine, along with mildew and mold?
Quick Mattress Cleaning Summary
Cleaning a Mattress
Mix one cup of hydrogen peroxide with two tablespoons of baking soda and a few drops of lemon and lavender essential oil in a spray bottle. After spraying the cleaning solution on the mattress, let it sit for one hour. Rub with the surface with a towel and allow the mattress to dry.
Vacuuming the mattress will clean all remaining residues. To disinfect an old mattress use our DIY mattress sanitizer recipe.
Unless you shower before getting into bed every night, your mattress could also be home to oils, dirt, and other trace chemicals. If you follow this simple guide, you'll know how to properly clean a mattress and can start sleeping better at night. Or, if you are tired of cleaning your mattress of stains and deodorizing it, you can learn about the different organizations where to donate a mattress so that it can be used by someone who needs it.
How to Clean a Mattress
Before you can start to clean your mattress, you need to remove your linens from the bed and launder them. First, wash and dry your mattress pad, then move onto your sheets, before finally washing your bedspread or comforter and duvet.
Verify the hottest water and dryer heat setting for your linens, since heat will kill the dust mites in your bedding and get rid of bed bugs that may have infested your mattress. See our how to get rid of bed bugs post for more details. Egypt's Alexandria University recently released data from a study(..) that suggests that eucalyptus and clove essential oils will help to eliminate dust mites.
Before you place the sheets back on your freshly cleaned mattress, use the following recipe to wash them.
Mattress Cleaning Solution for Eliminating Dust Mites
Hot Water
10 drops clove or eucalyptus essential oils
To eliminate dust mites on your sheets, add the essential oil to your wash. You can also add the two oils to one quart of water and pour into a spray bottle and mist the mattress to get rid of dust mites in the fabric.
Vacuum the Mattress
After removing the linens from your bed, the next step is to vacuum it. Using the upholstery attachment of your vacuum, start at the top of the mattress and work your way down.
Use narrow, overlapping paths. Make sure you also vacuum the sides of your bed in the same manner.
Deodorize the Mattress
While you may not notice your own body odors, over time your sweat can build-up in your mattress, leaving an unmistakable scent. To rid your bed of these unfavorable aromas, you can sprinkle the mattress a DIY mattress deodorizer that uses natural ingredients that you probably already have in your pantry.
Cleaning a memory foam mattress is a little different than dealing with a standard mattress. Powdered cleaners and deodorizers are often the best way for how to clean a memory foam mattress, as excess liquid is bad for the memory foam. Water and other substances that seep into the foam sometimes become trapped and can develop mold and mildew that is difficult to remove.
DIY Mattress Deodorizer Recipe
1 cup baking soda
10 drops lavender essential oil
Fill an empty Mason jar or shaker container with the baking soda. Add the ten drops lavender essential oil to the bottle. Replace the lid on the container and shake well to mix the lavender essential oil and baking soda. If you're using a Mason jar, puncture holes in the top using a nail and hammer.
To rid your mattress of odors, sprinkle the baking soda on the mattress and with a scrub brush, gently rub the baking soda into the mattress. This will help the baking soda penetrate the top layer of fabric and bond with the moisture and body oils that have soaked into the fabric. Let the deodorizer sit for at least ten minutes. Vacuum the mattress again to pull the moisture and odors out of the material.
How to Clean Mattress Stains
Unfortunately, when it comes to your mattress, stains are inevitable. If the mattress stains are visible, it can void the warranty on your mattress, making it especially important to do what you can to protect your investment.
You can do this by making regular cleaning and stain remove a part of your regular house cleaning routine. How you clean the stain on your mattress will ultimately depend on the kind of stain you have. You'll need to target each stain with the appropriate cleaning method.
Choose the appropriate recipe for how to remove mattress stains, depending on what kind of stain you have. If you cannot tell what the stain is from, pick one method to see if it works for stain removal. If it doesn't get rid of the stain you can try another strategy. Sometimes you may need to repeat the process a couple of times if the stain is particularly large or if it has deeply penetrated the mattress.
Dried Blood Stain Remover Recipe for Mattress and Upholstery
¼ cup hydrogen peroxide
1 tablespoon liquid dish soap
1 tablespoon table salt
To remove blood stains from sheets, mix the ingredients to form a thick paste. Spread the cleaning solution lightly over the stain. Allow the paste to dry completely. Once dry, scrape off the residue. With a white rag dipped in hydrogen peroxide, dab at the remaining stain, rotating the cloth as the stain lifts.
Mattress Stain Remover Recipe for Vomit and Sweat
Warm water
1 cup 3% hydrogen peroxide
3 tablespoons baking soda
Dishwashing liquid
Pour the warm water into a spray bottle and mist the stained area until it is slightly damp. Mix the hydrogen peroxide, baking soda, and dish soap and pour in another spray bottle.
Mist the mattress cleaner over the stain. With an old toothbrush or soft scrub brush, gently brush the stain until it is eliminated. Mist the area again with fresh water and blot dry.
Food and Drink Stain Remover Recipe for Mattress
¼ cup laundry detergent
¼ cup white vinegar
2 ½ cups water
Combine the ingredients in a spray bottle. How to get rid of coffee stains also applies to soft drinks and pizza sauce. Lightly spray the stained area and gently agitate with an old toothbrush.
Allow the solution to sit for approximately 15 minutes. With a wet hand towel, blot the area to remove the stain and the solution. Stubborn stains may require additional time and effort.
Rinse the cloth and continue to blot the area until the stain disappears. Remove any excess liquid by blotting the area with a dry towel.
How to Get Urine Out of Mattress
If you have urine stains on your mattress, cleaning them can be tricky because urine is one of the toughest stains to treat, especially once they've dried. With this easy to make DIY stain remover, you can get rid of urine stains out of a mattress, both old and new, and get your mattress looking like new again.
Urine Stain Remover Solution for Mattresses
¾ cup hydrogen peroxide
2 tablespoons baking soda
2 drops lavender essential oil
2 drops lemon essential
In a glass spray bottle, mix the hydrogen peroxide and baking soda. Add the essential oil and swirl the bottle gently to combine the ingredients. Spray the mixture on the areas you are treating.
Allow sitting, untouched for an hour. Using a clean towel, soak up any excess liquid. Remove the towel and let the area air dry. Run a vacuum over the area to pick up any residue.
How to Disinfect a Mattress
It is crucial to regularly disinfect your mattress to remove the germs and dirt that tend to collect. If you're still not convinced, consider that you sweat ½ pint of liquid every night, which ultimately ends up in the fibers of your mattress. Getting rid of the dirt and germs can help to alleviate allergies and can prevent the spread of illness. After you've vacuumed the mattress, sanitize it with this useful mattress sanitizing solution.
Homemade Mattress Sanitizer Recipe
2 cups vodka or rubbing alcohol
30 drops of tea tree oil
15 drops lemon essential oil
15 drops lavender essential oil
15 drops of eucalyptus essential oil
Add the ingredients to a glass spray bottle and shake well to combine. Spray a light mist of the solution over the mattress and allow the surface to air dry.
Be sure to follow these steps for both sides of your mattress. Since cleaning a mattress is such a challenging task, you should consider using a washable mattress cover to keep the dirt, dust, and grime from settling into your mattress.
A mattress cover will allow you to quickly pop it into the wash if you spill anything on it and make it a part of your regular washing routine.
We hope you enjoyed learning how to clean a mattress and utilize the all-natural recipes included to keep your mattress clean and fresh. If you found the mattress cleaning information in this article useful, please share it with everyone you know.