What Can You Do To Make A Hard Bed Softer & More Comfortable?
Life is too short to spend it sleeping on a bed that doesn't make you feel like a million bucks.
If you just bought a mattress and it seems overly firm, you'll need to figure out a few things:
Does it feel hard just because it's new? Will it soften up over time?
Did you buy something that simply isn't right for you?
In the first case, you'll be happy with your bed in no time. I've got a few tips that'll help you break in your bed so it's more comfortable.
If your situation is more like the latter, you've got a tough decision to make. Returning something this bulky (and personal) is a pain the rear. And some companies have more generous return policies than others, so you might not even be part of the return window.
Since you've already got the thing in your house, perhaps there's a way to salvage the situation andmake your firm mattress softer.
Making Your Firm Mattress Soft
Check Your Foundation
If you've recently bought a mattress and it feels to firm, the first thing you should do is check your foundation. The reason is that not all types of mattresses are suited for different types of foundations. For example, if you recently switched from an innerspring bed to memory foam, you'll need to ditch the box spring.
On the other hand, if you have something that's not memory foam, then a box spring foundation can make your bed feel softer. This is something to keep in mind if perhaps you don't have a box spring.
As a general rule, remember that box springs are designed for innerspring mattresses. Just as the name implies, it's a box with springs inside that function as motion isolators for bouncy and disruptive coiled beds.
The foundation itself can be either a solid or slatted platform. Platforms tend to make a surface firmer, so if you're feeling especially uncomfortable and you have a foam bed you may want to consider an adjustable base that may not be as hard.(See our top mattresses for platform beds here.)
Stepping on the Bed
A brand new mattress may be firmer than you anticipated, but you can easily soften it up by taking a few steps. Literally. You can break it in by sleeping on it night after night, and you'll experience some softening over time. However, if you want more comfortable sleep sooner, you can walk across the top of it every day, preferably for several minutes at a time, and that should soften it up quicker.
It probably goes without saying, but I recommend doing this procedure without shoes, so that everything stays clean.
Use a Mattress Topper
Buying a topper is one of the quickest, most effective, and cheapest ways to make a hard surface softer. By adding a supportive layer to the top of your bed, you can enhance pressure point relief and contouring. There are different materials available, including latex, memory foam, wool, cotton, feather, polyfoam, and down alternative.
The most popular option is memory foam. If you go with this variety, get something that is under two inches thick and a lower density for extra softness. (See our guide on memory foam density.)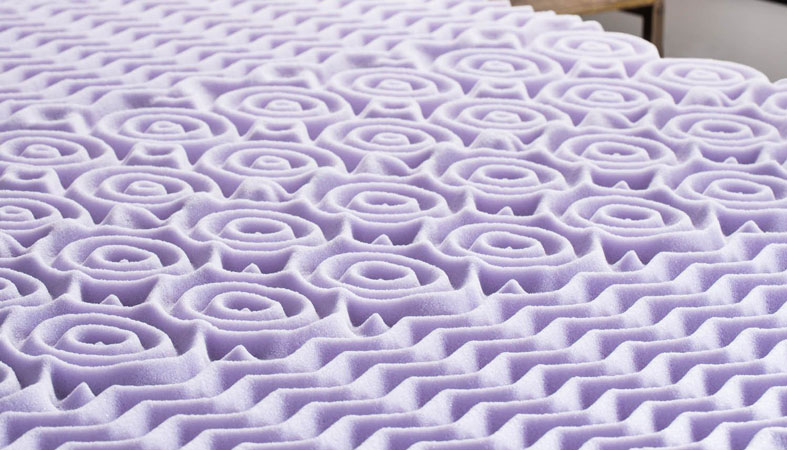 Warm it Up
This tip works if you're sleeping on a memory foam mattress. Because memory foam responds to external temperatures, a warm room will make it softer, and a cold room will make it harder. If you're sleeping in a chilly bedroom, consider upping the thermostat a few degrees to make things warmer.
Rotate and Flip It
If your mattress can be rotated or flipped, this option might provide some relief. It won't work for pillowtop beds, but most others are flippable. You have two options:
Rotate it 180 degrees. Now the area that supported your head will now support your feet and vice versa.
Flip it over so that the top side is facing down.
Just like you rotate your tires regularly for even wear, the same should be done for your mattress.
Making Your Soft Mattress Firm
Check Your Foundation
If your bed is getting older, the first thing you should do is check your foundation to make sure everything is intact and there hasn't been excessive wear and tear. Without a solid foundation, you're likely to feel the uncomfortable effects of a sagging mattress.
If you have a boxspring, check to make sure that it feels firm and resilient. If not, it's time to have it replaced. If you have a platform with slats, check to make sure that none of them are broken, sagging, and they're no more than three inches apart. Anything more and the bed won't have enough support, which will create a sagging or sinking feeling.
Here's a cool life hack that'll only cost you a couple of bucks: put a thin board, like plywood, between the mattress and the boxspring. You'll get a firmer surface, and if you and your partner have different preferences, you can just put the board on one side of the bed.
Make it Cooler
As you know, memory foam responds to temperature. Since you can make a mattress softer by warming it up, the same is true when you want to make it harder. Cooling the room down to a lower temperature will stiffen up the material and make your bed feel firmer.
Rotate and Flip It
While this tip was mentioned as a way to make a hard mattress softer, it's usually more effective for making a soft and saggy cushion feel firm again. Because we tend to sleep in the same area of the bed, it's not unusual for it to have indentations and body impressions that rob your body of support.
By rotating or flipping it, you may be able to find a spot that has the firmness you're seeking.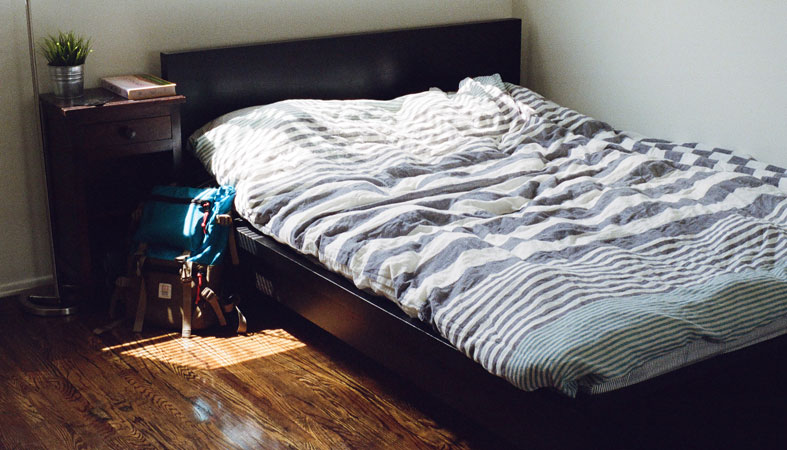 Mattress Topper (again)
It's a lot easier to use a topper to make a firm bed soft than the other way around, but it is still possible. There are a couple of materials that will subtly enhance the firmness of your mattress, though it won't be dramatic. The materials you should look for are Dunlop latex and compact wool. Avoid foams, as they'll have the opposite effect.
Replace Layers
Does our bed have a removable zipper cover? If so, you may be able to take out old, saggy layers with fresh, firm ones. You may need to get the help of a professional, and make sure you double check your warranty. Manufacturers tend to void a warranty if you've materially altered their products.
How to Make Your Bed Comfortable
Have you ever had one of those days where you long for the moment that you can get home, crawl under the blankets, and relax? Pure heaven, right?
I've found that one of the easiest ways to ensure that my bed is the most comfortable space in the house is through a special layering technique. Each part of is a delightful sensation of softness and luxury.
Here are my top four go-tos for a comfortable night of sleep:
Soft flannel sheets: In cooler weather, nothing beats the coziness of flannel sheets. When the weather heats up, I switch to jersey, t-shirt sheets. They are so soft!
Add a memory foam mattress topper: Side sleepers tend to need more pressure relief on their hips and shoulders. A topper made out of memory foam provides the perfect amount of cradling support.
Add a mattress pad cover: Get a quilted variety that holds your topper in place while doing double duty as an extra layer of padding.
Get a body pillow: Sometimes I like to snuggle, but I don't always want some hot, sweaty human with dragon breath taking up my space. That's why I love my body pillow. I get all the benefits of a snuggle partner without any of the drawbacks(You can check out this one that we've reviewed earlier).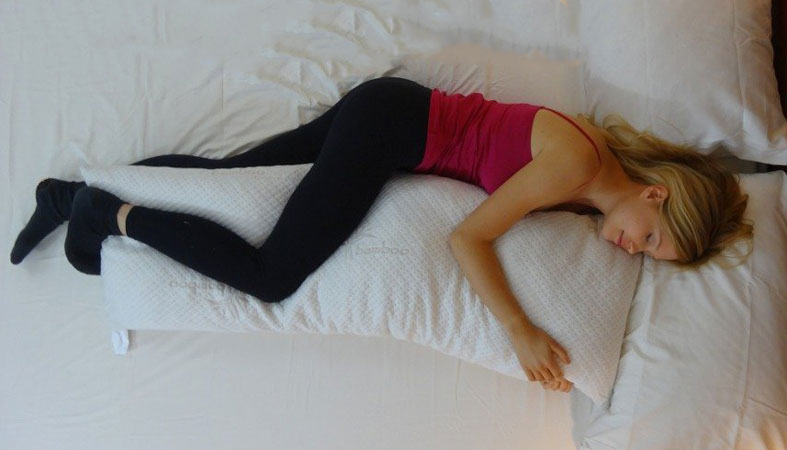 Frequently Asked Questions
Does a hard bed cause back pain?
Beds that are too hardortoo soft can both cause back pain. In the case of one that is too firm, you'll find that it'll push on your pressure points (hips, shoulders, and torso) and cause misalignment. One way to tell if your mattress is too hard is if your arm falls asleep even though you're not putting much weight on it.Here you can see some of the picks that can relieve back pain.
Why does a new mattress feel firm?
Some types of mattresses feel firm when they're brand new, and they can take some time to settle. This is especially true for memory foam. Some online companies compress their beds in a box for shipping. When a company does this, you'll find that it will already be soft.
However, if your bed arrives fully intact, expect a bit of an adjustment period. It might be 30 days or more. Just like when you buy shoes and have to break them in to get rid of that "new" feeling, the same holds true for this type of product.
Does adding plywood underneath the bed make it firmer?
Yes, absolutely! You only need to do this if you have boxsprings. Otherwise, a solid platform frame will have the same effect.
Can I make my memory foam mattress firmer?
Yes, there are a few ways to make a memory foam bed feel firmer. The first is to sleep in a colder room. Cooler temperatures firm up the foam material. Another thing you can do is get a firm topper.
Conclusion
Whether you got a new bed that doesn't match your expectations, or you have an old bed that's starting to show its age, you can use one or more of these tips and make your sleep experience something that you actually look forward to each night.
Sources and References:
The influence of bed firmness on sleep quality – ncbi.nlm.nih.gov
3 Signs Your Mattress Is Too Soft – health.com
More Reading:
Author: Sleep Advisor
Our team covers as many areas of expertise as we do time zones, but none of us started here as a so-called expert on sleep. What we do share is a willingness to ask questions (lots of them), seek experts, and dig deep into conventional wisdom to see if maybe there might be a better path towards healthy living. We apply what we learn not only to our company culture, but also how we deliver information to our over 12.7M readers.
Sleep research is changing all the time, and we are 100% dedicated to keeping up with breakthroughs and innovations. You live better if you sleep better. Whatever has brought you here, we wish you luck on your journey towards better rest.
Transparency Disclosure– We may receive a referral fee (at no additional cost to the buyer) for products purchased through the links on our site or other applicable pages. To learn more, please read our full disclosure pagehere. We also encourage you to read about how we may research and/or test Products here.

6 Types of Foam – Qualities To Look Out For
10 Top Rated Trundle Beds – Our Reviews and Ratings for 2020
How to Properly Wash (or Clean) Your Pillows
How Can You Make a Mattress Firmer – 7 Helpful Tips And Tricks
How To Pick a Carpet for Your Bedroom
Menopause and Insomnia – What's Burning? Oh, it's me.
Our 8 Highest Rated CBD Oils for 2020
What is Beauty Sleep and How Can I Get it? The Science Revealed
9 Tips for Sleeping Better in a CPAP Mask
Sleep Chronotypes – Are You a Bear, Wolf, Lion, or Dolphin?
Transparency Disclosure– We may receive a referral fee (at no additional cost to the buyer) for products purchased through the links on our site or other applicable pages. To learn more, please read our full disclosure page here.We also encourage you to read about how we may research and/or test Products here.
About Us
Contact Us
Culture
Terms & Conditions
Privacy Policy
DMCA Policy
Contribute
Sleep Calculator
There's no one-size-fits-all when it comes to better health and better rest, but no one has time to sleep, let alone figure out how to upgrade the sleep they're getting.
From figuring out how to buy a mattress, suggesting ones that are good for different needs and body types, or breaking down the newest science behind technology and wellness breakthroughs, Sleep Advisor has you covered.
How To Make A Mattress Softer
A few ways you can make a firm mattress softer and more accommodating.
Categories:
Last Updated:
Did your new bed turn out to feel more like a bench than a cloud? Don't worry, we have some tips for you to make your mattress softer and more comfortable.
Introduction
So you made the mistake of testing mattresses at the end of a long day, when anything would have been comfortable as long as you were off your feet. Now your bed has arrived and it's too firm. Or maybe you switched up sleeping positions to your side, and now you need a mattress that will accommodate for your arm instead of pressing against it and giving you a dead limb to wake up to in the morning. Or maybe a partner moved in and they need a softer bed to sleep on. Whatever the reason might be, rest assured there are plenty of simple options to soften your bed up.
Let's first talk about the reasons why having a softer mattress can be so important, and then we'll go over some options for making your bed softer.
Why Firmness Level Is Important
Keep in mind that when we mention firmness in our Slumber Yard mattress reviews, we are doing so in a relative manner. Firmness is a term that is largely dependent on weight and body type. The more one weighs, the more they'll sink down into a mattress and then the softer it will feel for them. Same goes for petite individuals, but just the opposite—the less you weigh, the more you'll find yourself laying on top of the mattress, instead of in it. Because of this, petite people may have a harder time than others finding a soft-feeling mattress.
With some select mattresses, though, we've found that heavy individuals will actually sink through the comfort layers of the bed and end up laying more on top of either the poly foam or coil base layers, which will make the bed feel quite firm. This is a sign that you need a thicker, more supportive mattress.
Sleeper type is also super important when taking into consideration the firmness level of your mattress. Back and stomach sleepers usually need a firmer surface that will support their hips and shoulders to keep their spine in a neutral alignment. If the bed is too soft, back and stomach sleepers might find their hips sinking too deep in the bed, which makes the spine arch. Side sleepers will need a softer mattress that will be more accommodating for their hips and shoulders. If you sleep on your side on a mattress that is too firm, it will constrict the blood flow in the arms and hips, which can leave them feeling tingly or even cause you to lose feeling.
Many people find a soft mattress to be much more comfortable than one that is on the firm side. This can be extra important for those with conditions like scoliosis or fibromyalgia. Considering we spend a third of the day sleeping, which adds up to us spending almost a third of our lives sleeping, we should do so in comfort. Also, keeping the spine in proper alignment, whether sleeping on your back or on your side, is very important for the overall health of your body. Keep this all in mind as we talk about the different options you have when it comes to softening up a mattress.
Options For Softening Up Your Mattress
Break it in.If your bed is new and feels too firm, it may just need more time to break in a bit. Just like new shoes need to be worn in, so does your mattress. You can break it in by simply sleeping on it night after night like you normally would, or if you want to speed up the process, you could literally walk around your bed for a couple minutes a day. You could even have your kids (or borrow your sister's kids) come and jump on it to soften it up quicker. Most mattress companies state that it can take up to 60 days to break in a new mattress. Novosbed won't even accept returns before the first 60 days, and then offers to send you a Comfort+ Kit (a free foam topper) if you feel the firmness of the bed isn't soft enough for you.
Try to break the mattress in quicker
Check your trial period.More often than not, online mattress companies will have trial periods where you can test out your new bed in your own home before you fully commit to it. Most often companies offer a 100-night trial period, but some brands have extended trials. Nectar, for example, offers a year long trial period. If you got your mattress recently, check and see if it's still under its trial period because it might be eligible for a free return and refund, and most companies will come and remove the mattress for you, as well.
Flip or rotate your mattress.If know your mattress is flippable, try out the other side. Some mattress companies like Layla have different firmness levels per side, so the other side of the bed may be softer for you. Also, we always recommend rotating your mattress seasonally to prevent against sagging or permanent indentations. When your bed has permanent indentations, it can mean that the comfort layers of the bed are compressed, making them feel firmer. Try rotating it so that the heavier parts of your body like your hips and shoulders are in different spots. Keep in mind that sagging and impressions can be a sign it's time to get a new mattress, though.
Warm it up.Some common mattress materials, like memory foam or airy polyurethane foam, can be temperature sensitive. Much like how memory foam allows your body to sink into the foam as it absorbs your body heat, a warm room will help the whole bed to soften up. Try adjusting your thermostat, using a heated blanket, or switching to flannel sheets to warm things up.
The warmer the memory foam bed is, the softer it will appear
Get a mattress topper.There are tons of great options on Amazon, and they're much cheaper than getting a new bed altogether. There are different types of mattress toppers available that can add extra pressure relief or body contouring. We specifically recommend a thick memory foam topper, a goose down topper, or a wool topper for a softer feel. Be aware that egg crate style toppers can sometimes have too much texture and can annoy sensitive sleepers. You could also get a mattress pad, but toppers are thicker and more plush.
If all else fails, get a new mattress.Like we talked about in the intro, the firmness level of your mattress is very important for your spinal health. Having a bed that's worn out, sagging, or much too firm can lead to body stiffness or trouble sleeping, which can lead to other issues. If these tips and tricks offered aren't helping, it can mean it's time to just get a new bed. Feel free to take our Mattress Finder Quiz if you need some help figuring out which bed might be best for you.
How to Make a Firm Mattress Softer
I like a softer mattress, and here are all the tricks I've learned to get a better night's sleep!
I have never been an adherent to the school of the firm mattress. A bed should be about comfort. It should be a refuge from the harshness of the world and a place to relish sweet dreams. There are many things you can do to make a firm mattress softer, let's start with the cheapest and work our way up.
1. Use a Foam "Egg Crate" Mattress Topper
This is what my mother always called those foam pads that you can put on your mattress. In college, my roommate had never seen one of these, until I threw one on her spartan bed to cushion her bony body. They are the cheapest way of softening up a bed. I recently bought one for around $20 at Wal-Mart. Of course, they vary in thickness, so the more you pay, the thicker of a foam pad you'll get. Throw it down on the bed, top with sheets, and you're done!
2. Use a Feather Bed
The classic choice, a featherbed is made up of bird down mixed with larger feathers to make a fluffy, soft nest for your bed. There is a very wide price range when it comes to featherbeds. You can go down to your local Bed Bath and Beyond and pick one up for $70, or you can go to Macy's and buy a $400 Charter Club featherbed.
There are a couple of things to keep in mind when shopping for a featherbed, however. The first is the percentage of down the featherbed has. You want a high percentage of down in a featherbed, because more down means less larger feathers. These larger feathers can prove crunchy and will poke out of the fabric, pricking you when you are just dozing off.
Another thing to consider is the thickness, or fluffiness, of a featherbed. Your weight will compact the bed a bit, though it can be fluffed back up. A cheaper bed will not wear well over time and will be flat as a pancake in a few months. A good featherbed will resume its shape after a good fluffing, however, and will last many years.
3. Buy a Memory Foam Topper
The new kid on the block, memory foam is what the astronauts sit on during takeoff. Memory foam is made of polyurethane that's chemically altered to be very dense. It's also responsive to heat, making it softer in warm spots and harder in cool areas. Because memory foam is so dense, it can be very heavy, but it is also very supportive.
Memory foam, unlike feather beds, does not have as large a range of quality. Yes, some memory foams may be softer than others (marginally), but there aren't factors like down percentage to encounter. The key quality to consider while searching for a memory foam topper is thickness. The thicker the memory foam the more support, and the further you are away from your hard mattress. Memory foam runs from about $110 for a 1/2" topper to $800 for a full-on mattress. Many in between sizes exist, usually made in half-inch increments.
Memory foam can also be considered a good investment, because it retains its shape and lasts a very long time. (I'm talking about "it may come with you to your next mattress" long time).
4. Use a Combination of These Methods
I personally enjoy the best of both worlds. On my bed, I have a hybrid feather and memory foam topper. The memory foam provides a half-inch base while feathers are on top. The feathers provide a pillow-like feeling, while the memory foam provides curve-hugging support. I bought this about a year ago, and the topper is still going strong. For about $110, I consider it a very smart investment in a good night's sleep. Keep your eye out on places like eBay and Overstock.
Questions & Answers
Related
How to Pick the Perfect Mattress for a Good Night's Sleep
by Linda Chechar 21
Acesleep Mattress: The Best Memory Foam for Side Sleepers?
by Kate Daily 4
What to Look for When Buying a Latex Mattress
by Marc Anderson 7
Memory Foam vs. Latex vs. Feather Pillow Comparisons
by Rain Defence 3
The Best Mattress for Side Sleepers With Back Pain – 2020 Reviews
by Reginald Thomas 1
Popular
What You Need to Know Before Buying Furniture on Wayfair
by Learn Things Web 20
A Beginner's Guide to Reupholstering a Couch, Step by Step
What Type of Foundation Is Best for Memory Foam and Latex Mattresses?
by Brian Anderson 27
Comments
Dawn
Where can you find this hybrid? I've looked everywhere. Is there a brand name or another name for it?
Shelly
I have a memory foam pad and I really like it. My husband loves the feel but isn't very fond of how hot the memory foam makes him.
CennyWenny
9 years ago from Washington
Ava-I agree, memory foam takes a little getting used to, but once you do you can never go back!
Ava Da Luca
Memory foam is really the way to go it last a really long time and feels great. Make sure to go to a place where you can try it out first though some people don't really like the feel of it.
bizijebator
9 years ago from slovenia
lots of good information, it helped me a lot.
keep up that good work
Sarah Carlsley
9 years ago from Minnesota
MMMmm-memory foam. I wouldn't go back to anything else. Great hub, thanks for the ideas!
Susan Hazelton
9 years ago from Sunny Florida
Great options, there's nothing worse than tossing and turning all night on an uncomfortably had bed. Thanks for the information.
RamonB
Interesting read, but I can't understand anyone wanting to make a mattress softer. I love my firm Millbrook bed and I hate staying in hotels where the mattress always seems to have too much give.
For me, firmer is always better 🙂
Zach Smith
Memory foams might make the mattress a lot firmer. Latex foams might be a better choice since these mattresses usually have lesser density. Try looking for a latex pad. What is great about latex is that it offers a combination of upper back support and lower back comfort. Many people are in need of this type of comfort.
MARIEL ELLEMAN
thanks . this really helped becuz i was going to buy the new TEMPURPEDIC CLOUD SUPREAM it cost around 2,000 but now i can get a soft mattress without paying all that mony:)
relica
10 years ago from California
You have a lot of great ideas for softening a firm mattress. It almost makes you think that if you are going to err on the firmness of your mattress when you are buying a new one, you should error on the side of firmness, because you can always soften it up. Nice hub.
CennyWenny
10 years ago from Washington
BM-Try Overstock.com, they always have an interesting selection of bedding goods for a reasonable price.
BM
Where can I get a memory foam + fiberbed hybrid in queen size or memory foam and down. Ive looked evryhere but I cant seem to find it
CennyWenny
10 years ago from Washington
Model Girl- Wal-Mart and Bed, Bath and Beyond are both good choices, as is Target. Sometimes you can score good deals at stores like Ross and TJ Maxx too!
Pretty Model Girl
10 years ago from Tempe, AZ
You know, this is a really good idea. I hate my mattress now, it's so uncomfortable. Other than Overstock, where's a good place to pick up a topper in person?
fat boy bean bag
Its fairly a good job. I think I got what I was looking for. Its really nice now to shop for mattress. As there are a variety of mattresses so difficult to choose one. But thanks to your hub which helped me in this regard. Thanks once again.
Stephanie Marshall
11 years ago from Bend, Oregon
Lots of options! Nice job on this Hub. Makes me want to go shopping.
ps. I love your avatar with your dog!
Copyright © 2020 HubPages Inc. and respective owners. Other product and company names shown may be trademarks of their respective owners. HubPages ® is a registered Service Mark of HubPages, Inc. HubPages and Hubbers (authors) may earn revenue on this page based on affiliate relationships and advertisements with partners including Amazon, Google, and others.
HubPages Inc, a part of Maven Inc.
Interior Design
Connect with us
About Us
Copyright © 2020 HubPages Inc. and respective owners.
HubPages Inc, a part of Maven Inc.
Make Your Mattress Softer
The best way to alter the comfort of your mattress, short of buying a new mattress, is to add a mattress topper. Mattress toppers, pads, and even some mattress protectors will usually add a layer of comfort padding that can have a significant impact on the feel of your mattress.
Mattress Toppers, Pads, and Protectors
The best way to change the comfort of a mattress, particularly make it softer, is with a mattress topper. Mattress toppers are usually designed to add a few inches of padding, commonly memory foam, on top of your mattress. This can have a drastic impact on how much pressure relief your mattress provides, and make the sleeping surface significantly softer. Mattress pads are generally thinner, often just a quilted layer of cotton or another more mundane material, but this can still have a noticeable impact on the softness and pressure relief of your mattress. Mattress pads also commonly including temperature regulating pads, whether that be a heated mattress pad or a pad with cooling gel. Lastly, mattress protectors' primary function is to protect your mattress from spills and dirt, but these products often use soft fabrics or padding that can also help your mattress feel softer. Depending how much of an effect you want, and if you are interested in any other features, any one of these options has the potential to breathe new life into your mattress.
Mattress Toppers – often a thick layer of memory foam, can make your mattress much softer
Mattress Pads – often thinner, quilted cotton is common, can also have temperature regulating features
Mattress Protectors – primarily to protect from spills and dirt, can also have thin padding
Memory Foam and Latex Toppers
The most popular mattress toppers are made from memory foam and latex foam, and they can substantially change the feel of your mattress. Memory foam mattress toppers are a great choice for sleepers who enjoy body-hugging comfort and conforming support that memory foam is known for. Latex foam mattress toppers are ideal for sleepers who like the feeling of sleeping "on" a mattress, rather than "in" it. Latex foam is more responsive than memory foam, so it doesn't produce the same sinking feeling that some sleepers dislike. If you're not sure which type of mattress topper will give you the comfort you desire, or if you have questions about a mattress topper you saw on our site, you can call 1-800-455-1052 to speak to a friendly mattress expert who can give you all of the information you need to make a confident purchase and improve your sleep.
Memory Foam Mattress Too Firm? Here's How to Make It Softer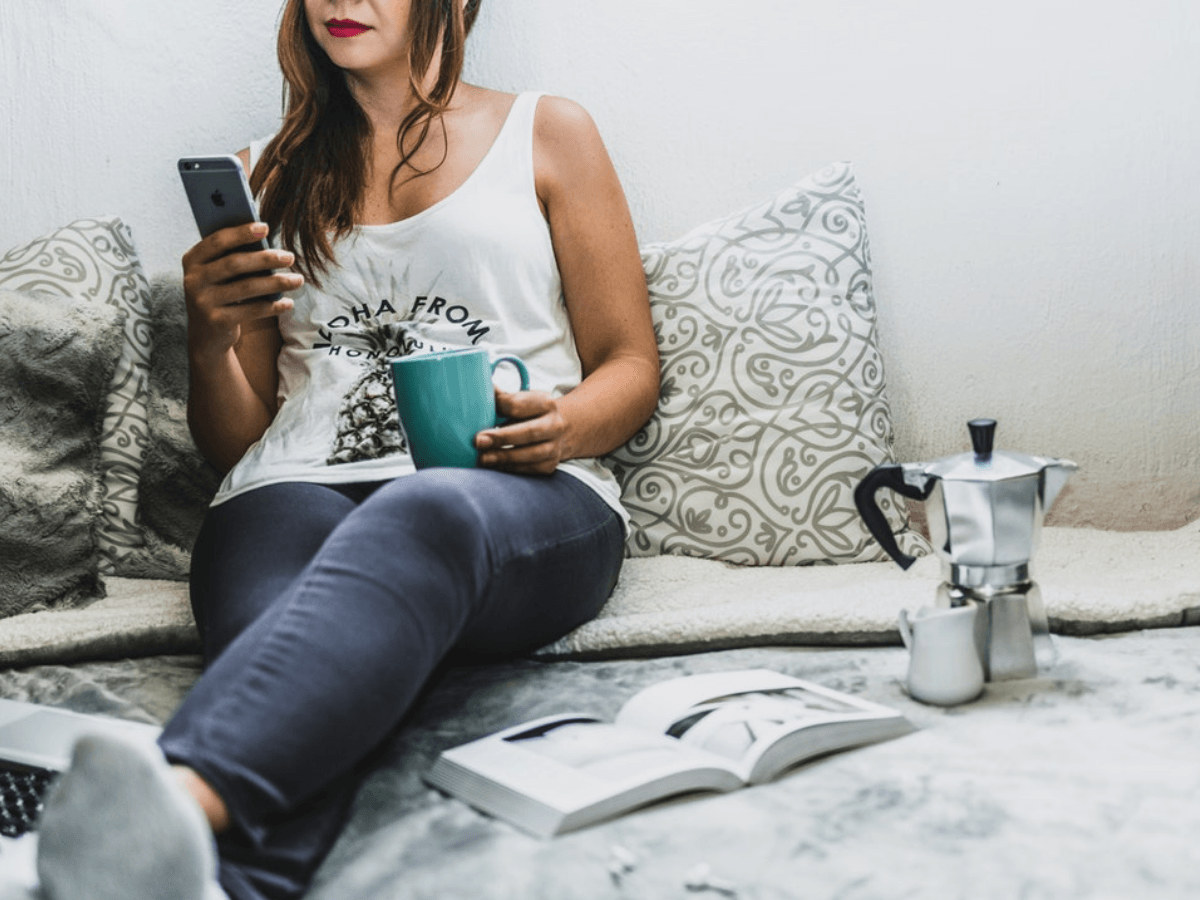 Memory foam is well-known for its ability to mould to your body shape and give it proper support. But after just a night of sleeping on it,many people will already conclude that it's too firm.
We say give it a chance. It's new and meant to feel firmer at the start.
The rule of thumb is tonever expect a memory foam mattress to be soft off the bat as it needs to be broken in before getting that desired plushness and comfort. Memory foam mattresses may require a longer break-in period due to the higher density of material per cubic foot.
Your new mattress needs your time and patience to adjust to you, and you to it. Just like introducing anything new in your life (new people, a new job, new shoes), an adjustment period is essential to break in and make yourself comfortable. Great things take time! If you end up gettinga great memory foam mattress, it'll be worth it in the end.
How Long Will It Take to Break In A Memory Foam Mattress?
It can takeanytime between 2-4 weeksfor your body to adjust to any mattress. So before committing to any brand, make sure you know their terms and conditions!
If you wish to speed up the process, here are4 ways to make your memory foam mattress softer:
1. Just walk it off.
You can put in the extra effort towalk gentlyon your mattress a few times daily. Not only is it opportunity for exercise, but it's also a proven way to soften your mattress. Putting a bit of weight on it is another option – like shoe boxes filled with stuff or hard-bound books stacked up together.
2. Warm it up.
Memory foam mattresses aretemperature-sensitive. This makes them able to react to body heat and mould to your body shape accordingly. They become softer in the heat and firmer in the cold. So, if you bought a mattress during winter season and can't break into it, try turning the heat up. This should get your mattress softer in no time.
3. Sometimes only time will tell.
Spend as much time with your new mattress even AND especially if you still find it firm. Sit, read, eat, watch TV on it. Sleep on it every night regularly. They are bound to soften with body weight and temperature anyway, so sometimes you can only be patient and hope for the best.
4. Top it up (with topper!)
If after awhile you still find your mattress uncomfortable, maybe it's time to consider a topper for extra cushioning. Make sure it's soft and plush but still supportive. Some gel memory foam toppers can transform your mattress to a cloud-like haven without compromising support.
Great Sleep Takes Time
In due time, we hope you begin to appreciate the wonders of your memory foam mattress. It's a bit of effort and patience combined but designed to be worth your while.