King vs. Queen Bed Size Comparison – What's The Better Choice?
The King vs. Queen – that's a battle worth taking a closer look into. One of the first questions asked is this:How much bigger is a king than a queen?
While the answer to this question might seem obvious, there is still a shred of doubt — especially to know which one is right for you and your needs. Understanding the core differences between both would allow you to make an informed choice.
We have taken the liberty to ensure that you get the full information broken down in quick and easy to understand bits.
Hopefully, once you are done reading the following, you will be able to see the cleardifference between queen and king sized beds. This would ultimately allow you to make a decisive and informed call without wasting your entire day looking. So, let's have a look.
Read more about:
Comparison Chart
Length
80 inches
80 inches
Width
60 inches
76 inches
Room Size
10 x 12 feet
10 x 14 feet
Suitable For
For single sleeper or for couples that don't need a lot of sleeping space.
For couples who want maximum personal sleeping space.
Price
Quite affordable
Slightly more expensive
What is the Difference Between King and Queen?
Dimensions and Size
Starting off with the dimensions of both solutions, we have the king mattress size which is 76 x 80 inches in total. This is perfect for master bedrooms, and that's where you'd find it most commonly. It is ideal for couples as it provides more than enough space per person.
On the offside, this is a mattress which requires a large room. It doesn't make sense to put a king mattress in a small room just to make it feel crowded. Additionally, you'd have to account for further furniture.
Queen mattresses measure 60 x 80 inches. As you can see, the main difference is only within the width. However, 16 inches is definitely substantial. Queen models are appropriate for people who sleep alone yet prefer the more spacious solution or for couples who don't have the luxury of a large master room and they need something more compact and space-efficient. This is something worth accounting for.
Comfort
The comfort of both solutions would seriously depend on whether or not you'd be sleeping alone or with a partner. If you get the king and you sleep alone, this is undoubtedly an overkill. It's widely inappropriate and unnecessary. However, it is a great choice for a couple as it would provide you with the necessary space per person.
On the other hand, queen-sized options are more appropriate for a single sleeper, even though you should only consider it if you have the luxury of a larger bedroom. If you have the room, though, and you ought to choose between a queen or a king for a couple, our advice would stick with the latter as it's just more comfortable.
Price
The prices of both solutions could vary wildly based on a myriad of factors. However, it's important to note that the king-sized bed is usually going to be more expensive in comparison. And, when you come to think about it, it's only natural. This stems from the larger dimensions of the bed. The same goes for its accessories.
Purchasing a set for a king bed will cost you more than getting one for your queen-sized solution. Nevertheless, the difference is not as substantial, and this isn't a decisive factor that you should be worried about. Both options are rather popular which provides you with a large breathing room to search for cheaper accessories.
Accessories
Even though the queen is far more popular than the king-sized one, both are wildly distributed and as such, finding accessories for them is incredibly easy. Literally, every specialized store that you walk into will provide you with a range of options for your queen or king-sized mattress.
This is not something that you should be worried of. Additionally, as we mentioned above, there is no significant difference in the pricing as well, and you could find affordable solutions for both sizes.
Recommended Room Size
This is also something quite important that you would have to account for. While every married couple is likely to enjoy the additional 16 inches of width on the king, not each one of them would be able to allow the additional room space.
The general rule of thumb is that you need at least 2 feet on the three sides of the room. However, this is just in case you are not looking to furnish your bedroom. If you wish to include a wardrobe and other furniture as well, you would have to leave a lot more than just that. Therefore, if you have a bedroom which is smaller than 12 x 14 feet you ought to consider something different than the king mattress.
The perfect dimension for a queen, on the other hand, is about 10 x 12 feet in dimensions. This would allow enough room for maneuvering on the sides so that you don't feel crowded.
How Long & Wide Is a Queen-Size Mattress in Feet?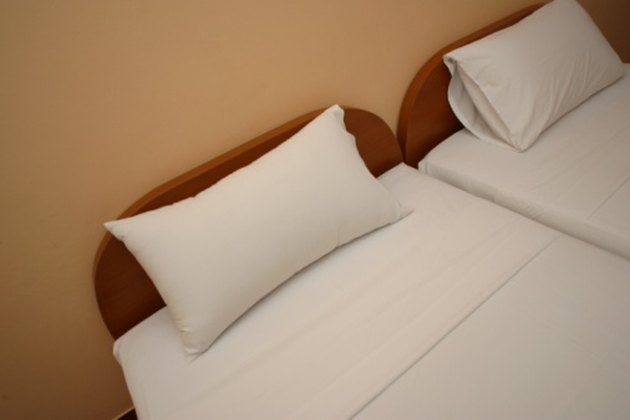 When deciding to purchase a new mattress, keep in mind factors such as material, cost and size. You'll want to buy a mattress that is not only long enough but also wide enough to accommodate you and your partner comfortably. A queen-size mattress is ideal for a couple or someone who wants to have plenty of space to move.
Width
A queen mattress measures 60 inches or 5 feet wide. It offers adequate space for one person to spread out during the night or a couple to sleep comfortably, with 30 inches of space for each person.
Length
The queen-size mattress is 80 inches or 6 feet 8 inches long. It is the same length as the XL twin but longer than regular twin and full-size mattresses, which are 5 inches smaller at 75 inches or 6 feet 3 inches long. The additional length is necessary for taller men and women.
King Width
A king-size mattress is the largest available mattress for both width and length. It measures 76 inches or 6 feet 4 inches wide, giving each person 38 inches of space to move around. The California king is a variation of the king-size mattress, giving each person less space at only 72 inches or 6 feet wide but making up the difference in length.
King Length
The traditional king-size mattress length is the same as the queen at 80 inches or 6 feet 8 inches long. The California king transfers some of the width to the length, measuring 84 inches or 7 feet long. The California king is necessary for someone who is taller than average.
Mattress Size Chart
Mattress Size
Metric Measurements (cm)
Single Mattresses

Choosing the Right Size

When shopping for a bed, determining the most suitable mattress size is paramount. Whether it be a king, queen, single, king single or double bed, BedsOnline are sure to have the perfect mattress, with the right dimensions, for you.

The Single

Single beds have dimensions of 92cm x 188cm, and they are great choices for kids of all ages. A single bed will offer your child enough space to comfortably sleep, as well as enjoy their bedroom's remaining areas. Single beds are also available in a trundle variant, so you can have a single dimension in a bedroom for two kids.

Single beds are a nice option for students who are living alone and are on a tight budget, due to their value and practicality in saving space, especially if you're sleeping in a small apartment or dorm room where saving space is a priority.

Singles are also good for guest rooms, providing your overnight visitors with a pleasant night's sleep. Single beds can be a little bit short for some people though, and this is where you should consider getting a king single mattress with its bigger dimensions.

The King Single

A perfect alternative to a single bed, especially if an ordinary single is just too short for you but don't have the space for a double bed, or anything larger. The king single bed has the dimensions of 106cm x 203cm, and is perfect for people who are taller than the average height. Like a single bed, it's perfect for kids. Purchasing a king single mattress can provide a parent with the peace of mind that your growing child won't need a new bed bought in the near future.

Despite being sizeable, the king single might not have ample space for you, and that's where you need to browse the larger options which are available.

The Double

Double beds have always been that middle 'sweet spot' for a lot of people wanting to buy a bed that is spacious, but not too big to be overbearing in their rooms. With dimensions of 137cm x 188cm, double beds are not as lengthy as a king single, but are considerably wider, allowing more movement during your sleep, or even the addition of a partner – two average sized individuals could comfortably sleep in a double bed. If you're someone who wants a lot of space in sleeping yet can't afford a queen or king sized bed, or if you simply don't have the space for one, the double is just the right bed for you.

A double bed could also do the job for your child's bedroom. If your kid's room has enough space for a double sized mattress and if it fits into your budget, your child will love their new bed.

The Queen

Probably the most popular size, the queen size beds provide a solid amount of comfort and luxury. The queen's dimensions are 153cm x 203cm, easily fitting two people. Queen beds are usually for couples that have an average sized bedroom. They provide plenty of space and come in different varieties where the mattresses are specialized to make sure that you don't disturb your partner when you get up or move around.

If you sleep alone but want the luxury of having that extra space when in bed, a queen mattress is for you.

Whether you are living alone or with your partner, a queen sized bed offers solid bang for your buck.

The King

With dimensions of 183cm x 203cm, king size beds are extremely wide and provide heaps of space for two. King size mattresses are also suitable for couples who value a lot of space when sleeping.

The king size bed maximizes your comfort when sleeping, thanks to the high-end technology found in most mattresses, which makes sure that your movement doesn't resonate over to your partner's size of the bed. It may not be the right fit for everyone, but the king sized bed provides the most luxury in space and comfort.

Mattress Size Chart

Standard Mattress Sizes Available in Canada, with Dimensions
Width x Length
Crib
28 x 51"
71.1 x 129.5 cm
Half Queen
30 x 79 ½"
76.2 x 202 cm
Twin/Single
38 x 74 ½"
96.5 x 189 cm
Twin/Single Extra Long (XL)
38 x 79 ½"
96.5 x 202 cm
Also known as "Twin Long"
Double/Full
53 x 74 ½"
134.5 x 189 cm
Also known as "Standard"
Queen RV
60 x 74 ½"
152.5 x 189 cm
Common in recreational vehicles
Queen
60 x 79 ½"
152.5 x 202 cm
California King (Western King) 1
72 x 84"
183 x 213 cm
King (Eastern King)
76 x 79 ½"
193 x 202 cm
Standard Canadian & American King
Super King 2
85 ½ x 84 ½"
217 x 215 cm
1 – Although California King is available in Canada, this size only represents a small portion of our king mattress sales.
2 – Super king sized mattresses are available from Vispring, makers of hand crafted pocket spring mattresses since 1901. Super king bedding including sheets and duvets are available from St Genève, Canadian luxury specialists.
Nearly all mattress sizes are rounded up. For example a Twin bed in real-world dimensions is usually 38 x 74" or a Double is 53 x 74". Queen and King are almost always 79 inches long. Most mattresses today are still primarily hand made, which will always lead to variances. Foam mattresses tend to adhere to sizing guidelines more accurately than spring mattresses.
Custom Mattresses
Square, rectangle, round, cut corners to fit antique four poster beds, we're well suited to work with our manufacturing partners to provide these unique requirements. Our hand crafted luxury natural mattress range from Berkeley Ergonomics, Obasan and Vispring allow for just about any possibility.
Our custom mattress category is an excellent starting point for obtaining ideas and approximate pricing on special sized natural mattresses.
Uncommon Mattress Sizes
Our partner suppliers are able to craft a mattress in just about any of these uncommon mattress dimensions. With these sizes it is critical to know that there are two distinct choices available to consumers in Canada:
An inexpensive polyurethane foam mattress cut and upholstered to the sizing required. A mattress made with these materials would usually cost less than $500, regardless of how large. This type of mattress is best sourced from your local foam upholstery shop.
A high quality, hand crafted mattress from our carefully curated range of mattress brands including Berkeley Ergonomics, Obasan and Vispring. Custom sized mattresses made to order start at approximately $1,500.
| | | |
| --- | --- | --- |
| Old Style Single 2 | 36 x 72" | 91.4 x 182.9 cm |
| Twin/Single Waterbed | 36 x 82" | 91.4 x 208.3 cm |
| Half California King | 36 x 84" | 91.4 x 213.4 cm |
| Supersingle (3/4) | 47 x 74 ½" | 119.5 x 189 cm |
| Supersingle (3/4) Extra Long (XL) | 47 x 79 ½" | 119.5 x 202 cm |
| Supersingle Waterbed | 47 x 82" | 119.4 x 208.3 cm |
| Double/Full Extra Long (XL) | 53 x 79 ½" | 134.5 x 202 cm |
| Queen Waterbed | 58 x 82" | 147.3 x 208.3 cm |
| California Queen 3 | 60 x 84" | 152.4 x 213.4 cm |
| King Waterbed | 70 x 82" | 177.8 x 208.3 cm |
Note, sizing may vary dependant upon the manufacturer.
2 – 36 x 72" was a common size in the middle part of the 20 th century. It is no longer a standard size.
3 – California Queen was used primarily as a replacement for wood-framed water beds and is nearly obsolete.
European & British Mattress & Bed Sizes
This table lists the European sizes we most frequently source for our customers here in Canada.
Width x Length
EU – Single/Twin
90 x 200 cm
EU – Single Extra Long
90 x 210 cm
EU – Small Double
120 x 200 cm
EU – Double
140 x 200 cm
EU – King
160 x 200 cm
EU – Grand King
180 x 200 cm
UK – King
152 x 198 cm
60 x 78"
UK – Queen or Super King
183 x 198 cm
72 x 78"
About Discrepancies
It is not uncommon for a particular mattress to not match up exactly to a size listed above. As many aspects of building a mattress are still done by hand, there will always be variations in sizing from one mattress to the next.
Often times, mattresses may measure as much as one or two inches shorter or narrower than the "official" dimensions. This is considered normal.
King vs. Queen Size Bed
Standardking size beds, a.k.a., Eastern king beds, andqueen size bedsdiffer in width but not in length. A king size bed offers ample room for stretching out, while a queen size bed is better for smaller bedrooms. The upfront and long-term costs of owning a king size bed will be higher than those of a queen size bed.
Comparison chart
| | King Size | Queen Bed |
| --- | --- | --- |
| Width | 76 inches (193 cm) | 60 inches (152 cm) |
| Length | 80 inches (203 cm) | 80 inches (203 cm) |
| Width per person | 38 inches (96.5 cm) per person | 30 inches (76 cm) per person |
| Cost | Since a king size bed is larger, it is more expensive and mattresses in this size may also cost more compared to queen beds. | More expensive than twin or full beds, but less expensive than king beds. |
| Usage | King size beds are usually found in master bedrooms. | Queen beds are generally put in guest rooms and smaller master bedrooms. |
| Frame | The frame is required to have a centre leg support besides the normal rectangular structure. | The frame for a queen bed is required to have a center leg support besides the normal rectangular structure. |
| Popularity | 7% of all mattress purchases | 32% of all mattress purchases |
| Advantage | The size of a king size bed allows for greater comfort and space, especially for people who are bigger in size. | It is better suited for two people or for somebody who is tall. |
Contents: King vs Queen Size Bed
Standard Dimensions
A king size bed is wider than a queen bed. While a queen size bed is 60 inches (152 cm) wide, a king size bed is 76 inches (193 cm) wide. Both bed sizes are 80 inches (203 cm) long.
Non-Standard Dimensions
In some cases, mattresses or bed frames come in slightly nonstandard dimensions that can easily become troublesome. It is important to remember to measure beds and/or refer to manufacturers' details for all mattresses, bed frames, and box-springs to ensure products are not mismatched. Nonstandard sizes, particularly very thick mattresses, also sometimes require different bed sheets.
The most common nonstandard queen mattress sizes are as follows:
Olympic queen (a.k.a., expanded queen)mattresses measure 66" x 80" (167.6 cm x 203 cm), making them a full six inches wider than the standard.
California queensare specifically waterbed mattresses that are four inches (10 cm) longer than a standard queen size mattress. These are mostly obsolete now but can still be found occasionally.
Split queenmattresses are standard queen mattresses that are literally split down the middle, allowing them to be adjusted and moved for various needs. Each half measures 30" by 80" (76 cm x 203 cm).
Common nonstandard king mattress dimensions include the following:
California king(a.k.a., Western king) mattresses are the most common "nonstandard" king bed. They are so common that they are not even really nonstandard, simply a different kind of king size bed. At 72" x 84" (183 cm x 213 cm), they are narrower and longer than the standard king size.
Split kingmattresses are like split queen mattresses and are divided down their middle. They are often two inches (5 cm) wider than the standard width, however. Each half measures 39" x 80" (99 cm x 203 cm).
IKEA Dimensions
In the U.S., IKEA's queen and king mattresses are not made to standard size. The company's mattresses are often a half-inch to inch (1.27 cm to 2.5 cm)shorterthan standard mattress lengths. This means that standard bed sheets will fit an IKEA mattress, but buyers will often be forced to use IKEA bed frames if they want to avoid having a gap between their IKEA mattress and a non-IKEA bed frame's headboard or footboard. Likewise, IKEA bed frames will not be able to properly contain non-IKEA mattresses.
Pros and Cons
Queen size mattresses are considerably narrower in width than king size mattresses. A king size mattress allows two average-sized people to sleep next to each other with nearly as much room as if two twin XL size mattresses have been placed together — 38 inches (96.5 cm) per person. This allows for comfortable stretching out. A queen size mattress puts couplesmuchcloser together — 30 inches (76 cm) per person — which can negatively affect sleep.[1]
Though king size beds might be more comfortable for some and allow couples to spread out more, they are very heavy to move and require a large bedroom. This quickly makes them impractical for apartments and smaller homes, both of which tend to have small rooms. A good way to know whether a king size bed will fit in a bedroom is to make sure there will still be two feet (61 cm) outside of the king bed. This will allow for enough walkable room. However, if other furniture is to be placed in the same room (e.g., nightstands, dressers, etc.), extra space is needed.
Unsurprisingly, king size beds cost more than queen size beds. Other than this obvious cost difference, though, there is no real average price for either size bed. Prices tend to vary depending on manufacturers, distributors, mattress material (e.g., spring, memory foam, latex, etc.), and padding (e.g., Eurotop or pillowtop). The personal finance blog, Get Rich Slowly, has a guide to smart and affordable mattress buying.
It may be difficult to figure out whether a king size bed is worth its higher upfront cost. Factoring in related and future costs may paint a clearer picture. For example, the bed frame, box-spring, and linens for a king size mattress will all cost more than they would for a queen size mattress.
Popularity
Queen size beds are sold more than any other bed size in the U.S. A survey by the Sleep Products Association (albeit dated) pegged the market share of major bed sizes in the U.S. mattress market as follows [2] :
Queen beds: 32%
Twin beds: 30%
Full beds: 21%
King beds: 7%
References
Related Comparisons
Share this comparison:
If you read this far, you should follow us: