Restonic Bed Review
Overall Rating
Your most trusted partner for a good night's sleep.
Summary
As an entry to the mid-level innerspring mattress, Restonic, founded in 1938, is a well-known bedding and mattress brand that is designed to offer pain relief and better health care. Now the brand has developed a whole series of products including Scott Living Mattress, Biltmore Mattress, and Comfortcare Mattress, constructed with microcoil, hybrid, foam, latex, and other materials.
Not much information has been disclosed for customers to refer to when you compare different models, especially those about thickness, firmness, or prices. In this article, we will cover as many contents as possible for you to have a general idea of the brand, about its pros and cons for example. If you are interested, please feel free to contact the online retailers and brick-and-mortar stores for more information.
Pros
Cons
Many models available
Above-average warranty
Value potential

Detailed Evaluation

Basic Information of Restonic Mattress

The table below lists the price, size, and other parameters of Restonic Mattress based on what we have gathered. It contains the general information about mattresses at large.
| | | |
| --- | --- | --- |
| Size | Dimensions | Price |
| Twin | 38" x 74" | $410-1400 |
| Full | 54" x 74" | $700-1600 |
| Queen | 60" x 80" | $800-1800 |
| King | 76" x 80" | $1100-2400 |
Lifespan & Firmness
It performs not okay in the aspect of durability, which is similar to innerspring mattresses. A lot of people report the sagging problem that makes the bed uncomfortable and unsupportive. The firmness ranges from medium-soft to firm based on different models, attempting to satisfy all the needs of as many customers as possible.
Conforming Ability
A highly conforming mattress is one that molds and contours to the sleeper's body resulting in a pressure-point-free sensation. It is not a strength of Restonic, and it could be uncomfortable to some degree due to its excessive firmness of some models. If you have higher request of the conforming ability of your mattress, you may want to select a softer one.
Motion Isolation & Edge Support
Models with pocket coils perform well to keep the movement from transferring across the mattress, suitable for those who are sensitive to motion caused by their partners' moving or shifting positions at night. To sit or sleep near the edge, especially for the larger-size people, the edge support of Restonic mattress will be inadequate.
Initial Odor & Sleeping Hot
It indicates that Restonic with memory foam is likely to emit gas more than models without memory foam. So the latex mattress will be a better choice for those who are more easily annoyed by the unpleasant smell. People seldom reflect that Restonic mattress has severe heat retention, giving you a relaxing cool night's sleep.
Use of Topper & Break-in Period
It depends on consumers' requirements whether to add a topper or not because the firmness of Restonic ranges from medium-soft to firm. Owners will get used to the Restonic mattress in a shorter time than the average mattress.
Move and Maintain
Because Restonic mattress is a little heavier than the average mattress, it will be not so easy to handle and move. Most Restonic models are made one-sided and no flip. However, it is better to rotate from head to foot 2-3 times one year to prevent wear and sagging.
Person Size & Sleep Position
Sleep Position
Ave-sized People (130-230 lbs)
Large-sized People (230+ lbs)
Back Sleep Friendly
Very Good
Good
Good
Side Sleep Friendly
Very Good
Good
Good
Stomach Sleep Friendly
Very Good
Good
Good
This table above shows Restonic Mattress models for sleep position based on your size and body type. It helps you choose the most comfortable mattress models. Seen from the table, we can find that because Restonic has produced a wealth of mattresses with different materials, and of various firmness levels, it can suit almost all the sleepers.
Customer Service
Maintenance & Warranty
Restonic provides the warranty spanning from 1 to 25 years for its mattresses, with 15 years of non-prorated warranty guaranteed for most models, which is longer than that of other mattresses on average. As for its maintenance, similar with other mattresses, to rotate the mattress 2-3 times a year to prevent its sagging is necessary.
Experience luxurious comfort with our Consumer Digest Best Buy and Women's Choice Award winning Restonic mattresses.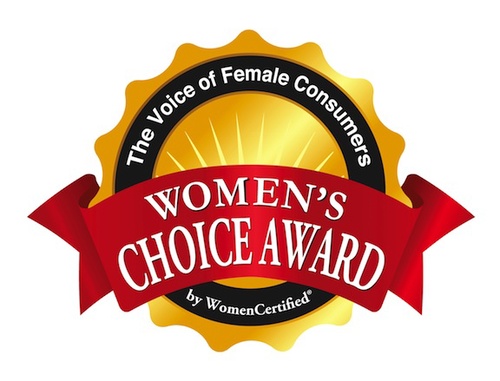 " >
Scott Living Hybrid
Commercial
We hand craft made-to-order Restonic and Sleep Haven mattresses for specialty sleep shops and furniture stores throughout Kansas, Nebraska, Colorado and Oklahoma.
Dormitory
Our University Haven model provides a durable, washable mattress for your dormitory. Some colleges and Greek houses opt for the Creston to provide a comfortable, restorative sleep experience for their students.
Hospitality
There are too many uncomfortable hotel mattresses, even at 4 star hotels. Set your hotel apart by providing a superior sleep experience for your guests.
Restonic Mattress Review
Jake Comfort | Updated: March 3, 2020
Restonic is a company that has been making significant waves in the industry in recent years. They provide a range of different mattress points at much lower price points than many of the titans in the industry. If you're someone who wants to take advantage of a coil, hybrid, or latex mattress, you're sure to find something at Restonic.
For the purpose of this review, we will be taking a deeper look at the most popular of the Restonic Mattresses – the Scott Living mattress. This mattress is endorsed by Jonathan and Drew Scott – two famous contractors and interior designers. This mattress is made using MircoCoils. If you're thinking of purchasing this mattress, this mattress review is exactly what you're looking for. Make sure to take in all the information before making any purchasing decisions.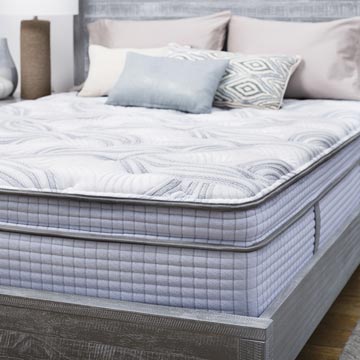 Table of Contents
Construction
It's always important to understand the way that your mattress is constructed. If you don't understand how your mattress is made, you won't understand how the different components provide comfort and support. The Scott Living mattress is one of the most advanced mattresses on the market – this comes down to the way the mattress was made.
If you're looking for a mattress that takes advantage of micro coils and a range of different materials, this might be the mattress for you. In this section, we're going to take a deeper look at the different components of the Scott Living mattress from Restonic to help you get a better understanding of what you'll be purchasing. Check it out below.
Layers
The Scott Living mattress from Restonic Mattress is made from a system of different layers. These layers provide different levels of support and comfort throughout. It's safe to say that this is a hybrid mattress – it utilizes a range of different materials to provide an optimal sleeping experience. Below we will take a look at each layer so you can better understand what is used to create this unique mattress.
Top Layer
This top layer is in place to provide you with as much comfort as possible. It is made from AlumiLast foam – a foam that has aluminum infused into the cell structure of the foam to provide you with as much comfort and airflow possible. It's safe to say you won't find this unique material in any other mattress.
Middle Layer
The middle layer provides support and transition to the base layer. It is made from 1,300 individually wrapped coils. This provides a durable support system for the rest of the mattress, as well as plenty of comfort for the person sleeping on it.
Base Layer
Another layer of support coils that's called Q5 Twin Support – it's a Restonic technology the ensures the mattress has plenty of support from edge-to-edge. It provides support across five different support zones. This part of the mattress ensures there isn't too much sinkage.
Cover
The cover of the Scott Living mattress is also made from a unique technology. Restonic's 'Cool' cover provides as much breathability as possible. It doesn't take away from the feel of the mattress and helps ensure that you get a good night's sleep without overheating!
Firmness, Feel, and Support
The most important part of any mattress is how it feels – you don't want to purchase a mattress that isn't comfortable. There's a high chance you'll use your next mattress for at least a decade, so you need to be certain it's the best possible choice for you and your partner.
The Scott Living mattress from Restonic is extremely comfortable. The top foam layer provides contour and hug that makes you realize you're sleeping on a luxury mattress. There's also a great deal of support in the mattress – it comes in around a medium on our scale ranking. This means the mattress ranks at about a 6.5-7/10 in terms of support. This means that it's a great support level for a person of normal weight. If you weigh over 220 lbs., you might need to find a mattress with a bit more support.
If you're someone who wants a mattress that doesn't overheat, this is also a great option. The coil system allows air to flow through the mattress and reduce the chance of heat retention. The cover of the mattress is also designed to dissipate heat – it's a great option for those who want something that allows for a cool sleeping experience.
Changes Over the Years
Restonic does not provide a lot of internal information about the changes in their mattresses. As a company, they tend to release a range of different mattress types. While some companies update their current mattresses with new features and materials, it's safe to say that Restonic favors bringing out new lines and models. To keep tabs on their developments, check to see if they bring out any new mattress lines.
Pricing
If you'd like to purchase a Restonic mattress, one of the first things you should consider is the price of the mattress. There's no point in trying to purchase a mattress that you can't afford. In terms of price, Restonic is a fairly expensive mattress brand – they're not as cheap as many of the new entrants to the mattress game. While the price does depend on the retailer you use, we have the standard prices for each size listed below:
| | |
| --- | --- |
| Twin XL | $1658 |
| Full | $1740 |
| Queen | $1751 |
| King | $2060 |
| California King | $2060 |
Other Information
You should never purchase a mattress based solely on the feel and support of the product. While this is certainly the most important component of any mattress purchase, you also need to consider the other features and benefits, as well as the strength of the company that you're purchasing from. For example, if a company offers a long warranty, but they've only been around for two years, you won't know if they have the strength to stay open long enough to fulfill your warranty.
Because mattress companies are trying to differentiate themselves from one another, they often try and include hundreds of dollars in additional benefits to ensure they stand out from the crowd. This should always be an important component of your decision. It's also important to be aware of these issues as you will want to take advantage of any benefits you're offered – if you're ignorant to them, you might not be able to get the most out of your mattress.
This section overviews all the additional benefits included with your mattress. It's the best way to get a true feel for how much value you're getting from your mattress. If you're someone who is trying to truly find a good deal – make sure to read all the points in this section. As you will see, some of the benefits offered by Restonic can be somewhat confusing, so you need to be comfortable with them. Read on!
Retailers and Showrooms
One of the primary benefits you're offered through Restonic is the ability to go check out their mattresses at showrooms across the country. Restonic uses a network of retailers to distribute their mattresses. While many new companies in the mattress market only ship their products, Restonic allows you to see their mattresses and make decisions.
There are a variety of different companies that provide Restonic mattresses. The best part is that each retailer will have their own benefits and features – you might be able to take advantage of certain promotions or sales if you choose to work with a specific retailer. You can also head in and lie on one of the mattresses if you want to make sure it's as comfortable as you want it to be.
Award Winning
With the amount of mattresses currently available on the market, it's rare that you're able to find one that has won legitimate awards. Fortunately for you, the Scott Living MicroCoil has received nationally recognized awards. The most pronounced of the awards won by the mattress is the Women's Choice Awards. Scott Living MicroCoil mattress has won the award from 2011-2018 – the award means that 9 out 10 owners recommend the mattress for purchase.
If you're looking for a mattress that has a great reputation with consumers and award givers, it's safe to say that this is a decent option.
Complicated Warranty
One of the major downsides to the Scott Living MicroCoil from Restonic Mattress is the warranty is quite complicated. The warranty periods depend on the type of mattress you purchase and you need to use your retailer as the first point of contact for the warranty. Some warranties may also be limited to certain faults in the product. Most warranties are between 10-20 years, which is better than the industry standard.
Before you purchase a mattress from this company, you need to be certain what it includes and how long it's for – you don't want to be in a position where you can't return the mattress if there is a problem with it. This lack of clarity is another reason you might prefer another mattress provider – many of them are more straightforward with the mattress warranty policies they have.
Trial Period Set by Retailer
Many modern mattress companies allow for trial periods with mattresses. This is largely due to the fact that many mattress providers only ship their products – without a showroom they need a way to tell their customers they can try the product risk-free. Because Restonic has showrooms, there isn't this same advantage.
The trial period and return policy will be set by the retailer – if you want to know how long you can try the mattress without having to keep it, you'll need to check with the company you purchase the mattress from. Considering plenty of mattress manufacturers
Endorsed by Jonathan and Drew Scott
If you're wondering why the mattress has such a weird name, it's because it's endorsed by a celebrity design show that promotes fashionable building and interior design. The show is hosted by Jonathan and Drew Scott – Canadian brothers that have established themselves as some of the top designers on television.
They also run a blog/website that is named 'Scott Living' – this website is devoted to their personal style and brand. They promote products and designs that are in line with what they promote through their show. This mattress is endorsed by their brand. If you're someone who is a fan of the show and their taste, you might enjoy this mattress more than most!
Other Options
Unlike many modern mattress providers, which typically have one or two mattress options, Restonic has plenty of options available to you. They have mattresses made from a variety of different materials that can meet different comfort points and different support levels. If you think this isn't the right mattress, there's sure to be one from Restonic that suits your preferences. As long as this mattress company is within your price range, and you can deal with the vague benefits available, this is a solid avenue to take.
Base Option
In addition to the mattress, you are also offered the ability to purchase a base that is custom to the mattress. While you might be able to find your own base for a cheaper price, it's nice to know there's a solid option on the table if you need something that fits the mattress perfectly. Take a look at their base options if you want to purchase one along with the mattress. Keep in mind these may depend on the retailer that you're using to purchase the mattress.
Should I Buy the Restonic Mattress?
Purchasing a new mattress can be a stressful experience. To find the best mattress for yourself, you need to think about what you're looking for from a mattress. You should also think about all the different benefits you can get from the mattress. Lastly, you need to compare the mattress against the price and quality of other mattresses on the market.
There's no doubting that Restonic's Scott Living MicroCoil Mattress is a mattress of serious quality – you can tell it's a luxury mattress from the minute you lie on it. If it's a mattress that you can afford, it's definitely a decent option. The major downside of Restonic's mattress is the fact that there aren't as many clear benefits included with your purchase. For example, the warranty is quite complicated and the trial period depends on the retailer you work with. In addition, the company does not offer much information on the construction process of the mattress.
If you don't think this is the right mattress for you, there are plenty of other options on the market. You should never rush into a purchase – check out some of the other reviews on our site if you're unsure.
Alternatives to Restonic Mattress
It's easy to see why people choose a Restonic mattress, but there are a few other brands you should also check out. We think these are the best alternatives to a Restonic mattress.
Puffy Mattress
Puffy is a great alternative to the mattress options at Restonic. This mattress is designed to work with side, back, and stomach sleepers and ships for free right to your door.
Puffy is also awesome because it can be placed on any surface. As a result, you can use it with an adjustable frame, salts, or even the floor. That means you can have more control over the look and style of your bedroom. It also saves money by allowing you to use the bedframe you already have.
Finally, Puffy offers a 101-night sleep trial. Give it a go and if you don't like it you can return it free of charge. That's an option you don't get with most mattresses.
EDITOR'S CHOICE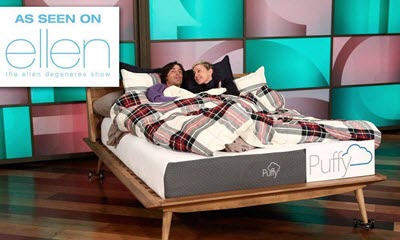 What Makes Puffy a Great Alternative?
101-night sleep trial to ensure total comfort
Free shipping
Place on any surface
Get $300 off – Limited time only!
Check out Puffy
Saatva
Saatva is one of the biggets names in the mattress industry today. The company offers a host of different branded beds and almost certainly have something that's perfect for you. Their most famous offering is one of the best hybrid mattresses on the market today, the Saatva Classic Hybrid.
This mattress features a luxury Euro Pillow Top, great perimeter edge support, and individually wrapped coils to prevent motion transfer. The result is a bed that gives you the best of what memory foam and innerspring technology have to offer. All of this plus their Spinal Zone technology means that you'll get the support you need to have the perfect night of sleep!
SAATVA
What Makes Saatva a Great Alternative?
Best-priced luxury mattress
Features Lumbar Zone Technology for back-relieving support
Highest quality materials and eco-friendly
Handcrafted in the US
Check out Saatva
Helix
While Restonic has mattresses for everyone, Helix has a mattress just for you. That's because the company has you take their Sleep Quiz before you make an order. The sleep quiz will help Helix find the perfect mattress options for you. It will tell you what your best options are and why those choices are the best.
Something that's even better is that Helix can combine the result of two sleep surveys to produce a mattress perfect for each member of a couple. They can even make split mattresses if partner's sleep needs are just too different to reach a compromise. All of this plus a great price on a high-quality mattress make Helix a great alternative!
Mattress Reviews
Helping You To Choose The Best Mattress
Recent Comments
Mattresses That Produce The Most Heat.
Most Durable Type Of Mattress Is.
When It Comes To Motion Isolation, Best Mattress Is.
Solving Back Pain Is The Best With.
Subscribe Here
Search This Blog
Blog Archive
About
Terms And Conditions
Restonic Mattress – Overall Review
Tuesday
Restonic Mattress – Overall Review
It is true that Restonic is not a popular brand, like Serta or Simmons are, but they have a satisfying level of quality. There are many products they offer, and this is one of the reasons we can't say are they a good or a bad company. It all depends on the specific product, on our preferences when it comes to beds and the prices. We need to take deeper insight to see what kind of brand this is. If you are willing to know more, read thisRestonic mattress review.
Just like any other company, Restonic is also trying to find a niche for their products. And unlike many smaller companies, they are offering a wide variety of choices. This means that they are manufacturing innerspring, viscoelastic, foam and air mattresses. It is a good thing to know they are trying to cover all the angles, since that tells us how serious a company is. And it also means that the consumers who buy their products have a certain level of satisfaction. If that is not the case, Restonic could not manufacture all those product lines. To conclude, if their products are in different niches and have different prices, it means they are doing a good job and customers know how to appreciate that.
Base line of mattresses for any company is an innerspring mattress. These are still highly popular and are making biggest number of sales. Sure, memory foam is a blast and latex becomes more and more popular. But still, people are used to innerspring and buy those most of the time.
The line that this brand has is calledComfortCare. Without going too much into hype and talking about the features with the name company gives the, I'm gonna say it all in the plain English. ComfortCare line mattresses have bigger number of coils in the center, which gives additional support to the sleeper. You may thing that is nothing special, but only good quality beds have this. This is a sign that Restonic wants to offer quality. Another thing, the edge of their innerspring modles has a higher density due to more foam being placed there. It is additional support for our bodies and it means that we will have a firmer edge to sit on. This edge also saves us from falling down if we are too close.
Are these beds firm? Or soft? The good news is that you can choose the on you want. Restonic offers three levels of firmness, with themattressescalled: Firm, Plush and EuroTop. I'm not gonna go any deeper with these three in this review, but lets just say that any of you will find a match with them when it comes to firmness.
So far, we can see that these are quality products and have something to offer. But how do they stand when compared to others? For example, Posturepedic is the competition to ComfortCare. Posturepedic has a bit more quality and durability, butRestonic mattressis cheaper. You will have to decide what is best for you. I want to say that there are consumers who complain about some Restonic innerspring mattresses sagging after few years of use. This is what happens to all beds, but they could be a bit better here. The thing is, you will probably have a long lasting bed if you are not a heavy person and choose a firm bed for yourself. You will have a long lasting Restonic at a cheap price. Otherwise, you can pay more money for a Sealy and get a bit more quality product for yourself.
When it comes to latex mattresses, Restonic is making some good quality products here. They have few variants to offer, but most of them have 6" of thickness. This is just the thickness we need, more then that is not necessary and less then that would not be enough. And you get to choose quilts, topper and pads you want.
But what level of quality Restonic latex mattresses are? Their Providence line is using the same latex material that big brands do. So, there is no difference between them and Simmons or Serta. The same company delivers materials for their beds. It mean that you can be relaxed about the value you will get for your money if you decide to go latex. And the good thing is, you will have to pay less then you would to Sealy or Serta.
Memory foam mattresses from Restonic are not one of those lousy ones. Maybe you already know this, but there are many companies who are manufacturing foam beds without any ethics. They promise a lot of value, but you actually get a bad mattress that will sag in less then a year. And you had to invest a lot of money into it. It is not a good situation for shoppers, but that is what happens when something becomes so popular. There are always some people who are ready to abuse it.
Be sure to check for quality of any product you are buying. That's the best way to protect yourself. Speaking of Restonic and theirHealthRest lineof foam beds, they have a 6.5" core and 3.5" to 4.5" of visco mattress topper. These are the perfect measurements and are suitable for a good sleep. Thicker wouldn't be good, since you would fall all the way to the bottom. I must say that Restonic has a good thing going for them here, since they can almost match True Response and True Form when it comes to quality. But the advantage they have is their price. This is how Restonic beats other brands. If you are on the budget, they could be your option.
All in all, this is a good and reputable brand that has a lot to offer. They maybe do not have such variety of choice like the biggest brand out there, but they will satisfy most of our needs. They have quality, which is the most important thing. Now you only have to decide how much you are willing to invest. If money is a bit of a problem, go with Restonic mattress. Otherwise, invest in a bed that will last you the longest.
And for the end, a cool commercial:
57 comments:

I had slept on a Restonic Mattress for over 18 years. It WAS a great mattress. I loved it. When I replaced my mattress, I went Restonic. What a mistake. After 2 months, I was already using a mattress board, and now after 4 months, the edges have collapsed, and I am getting delivery of another brand today. Restonic quality is a thing of the past. Corporate Restonic told me "Things are not what they used to be". This is not reassuring. Go with another brand. Restonic is history.

Our Restonic mattress has been horrible. After seven months it started to sag and developed body imprints. Restonic replaced it. Then, after about 9 months, the replacement mattress did the same thing! The distributor who we bought it from said that the Restonic mattress that we purchased "is not recommended for every night useage." What? Mattresses are meant to be slept on every night. That is just an excuse for a poorly constructed product. Don't buy Restonic!
My wife and I had a Restonic sensi allure mattress for 5 years before it began to sag a bit in the middle. Restonic came through and honored their warranty with a new mattress. I'm impressed with the customer service and commitment to improving their product.

We bought a Restonic Health Rest Extravaganza, which is their natural latex foam line, with a topper. It's about 2 years old and I absolutely love it! It's still like new, very comfortable. I never liked the memory foam type mattress and we used to have the Sterns & Foster inner springs for 16 years- it held up well but there is no comparison to the comfort of the latex mattress.

This is the worst mattress I have ever TRIED to sleep on. Our back and shoulders ache every night. We can not roll over on this mattress. The hump in the middle is like trying to climb a mountain. The furniture store I bought it from gave me a number to call, they sent me papers to fill out and send back to them. They charged me $59.00 to come out and meassure the sagging with a string and said there is only a 1 inch sag and nothing is wrong with the bed. Well it's not just my opinion, we have had several friends and family lay on the bed and give us their input – none of them can believe it.

this mattress is terrible.at first it was great,but began to sag after acouple months(i only weigh 185lbs)it now sags badly and has a ridge that runs down the middle.i have heard such terrible reports about there customer service that i likely will just buy another brand

I think a lot of people who buy mattress don't have a clue about the warranty. Most Restonic mats have a 15 year prorated warranty. yes you mattress must sag or have something wrong with its make-up, but the main thing is that there are no stains on the mat. Restonic will not give you a new one if it has any sort of stain on it.

Wish we had read this before buying a "top of the line" Restonic Mattress. After one month our king size mattress had noticeable body impressions down both sides. Our weights are 150 and 107, if that matters. Now after 4 months the impressions are as deep or deeper than the mattress we replaced which was 8 years old. The representative told us it was normal, and that we should sleep in the middle to level out the foam. The impressions are not 1 1/2" deep so we don't get any service from the company. We are to wait 6 month more and if they don't even out, we can send it back to the company to have the foam tested to see if there is something wrong. And how much will that cost us? Yes, we know about the warranty and it is impeccable so stains aren't the issue keeping them from doing anything about it.
The Problem with people buying mattresses right now in the present time most people are CHEAP. They Only want to buy a cheap mattress and they don't care what's inside. Until there mattress is falling apart because they didn't get the right coil support/foam they settled on a model that was cheap and after it breaks down due to the fact it wasn't made for there body type or the way they sleep. They don't listen to the salesman anymore they think the internet has all the answer's. They see 10 reviews all bad and say wow that company must suck. What they can't comprehend is that the 1,000,000 other customers that love there beds that don't come on line to whine and complain because they were not cheap and took a mattress that wasn't right for them. I mean They didn't tell me this, they didn't tell me that. You tell me that when you by a car, washer machine, Refrigator you ask the salesman to read the warranty to you? LOL people don't be lazy. Buy something that will support you. Don't buy a cheap bed and then complain after two years after it falls apart what do you expect? Then for the warranty's. KEEP YOUR INVOICE. why can't anyone take any responsabality? You have to show proof of ownership to get the warranty. warranty is only through the orgianlly customer. you expect the mattress company to know that you didn't buy it second hand, through a garage sale, etc. Grow up! put it in a file and keep it. the warranty is through the manufacture not the store you bought it at. AND EVERY COMPANY THE WARRANTY IS VOID IF THERE IS A STAIN ON IT. It is a federal and state law for health code reasons. Don't be cheap and buy a mattress protector- most are stain/water proof now. Invest in one when you get a new mattress. And Mattress are built differentyly know then the old boards that they used to make. there is support and comfort on the tops know. ALL PILLOWTOPS show body impression. That is what they are supposed to do. If your salesman tells you differently he is lying. If the mattress hits the guidlines for the warranty the company will take care of it. mattresses will be anywhere from 1" to 5" inches depending on make and model. If you Do NOT want a "body impresson"– DON"T buy a Pillow Top. Buy an old traditional Flat Firm and enjoy it. Most of these complaints can be taken care of if you Don't buy from a big store with people that don't care for there customers and are only there to make the quick sale. Buy from a store that is smaller-Locally Owned- and Takes care of there customers. It's there best interest to Help you and take care of you.
I brought a resonic bed and after several months both sides of the mattress have collapsed. Horrible, horrible and to make matters worse they will only send you a warranty package to fill out and want you to send them pictures to go along with it. They wouldn't answer any of my questions. WOW sad to find out the hard way

Then you should have bought a adult strength coil bed instead of a cheap one made for kids. Blame the store you bought it from not Restonic the salesman sold you something that isn't made for adult. Talk to them and if only a few months they should just switch it out if its really a warranty issue which to me doest sound like it is side support isn't a warranty issue the sides don't make. Your Mattresses support different when you lay down. On it. Tell the store about it. A few months your under a trail period with most stores

Absolute worst mattress I have ever owned. I have only had it about 2 years. It has had a HUGE ridge in the middle for at least the past year to the point where my wife has not slept on it for at least that long. I wake up every single morning in pain and got the same run around with the "warranty" that this sleazy company claims to offer. I finally just gave up and bought a new mattress set, of course a different brand.
And for the "Anonymous" commentor that is probably a Restonic employee, what mattress besides a short twin would not have "adult" rated springs in it? Give me a break.
Shawn what bed was it that you bought? With ridge down the middle sounds like a king size. The bed frame runs right up middle are you legs adjustable for your center support? If so lower them so your bed wont get that ridge. Also on king size beds any kind rotate them a 1/4 turn if you don't like I see you didn't. You will break the Mattress in evenly. What happens people sleep on the outsides of Mattresses they don't tend to sleep towards the middle. On all kings of any kind/make/model will get a hump down center. Can't do anything about it. What happened is your bed broke in where you sleep and the center is twice as firm (frame and boxsprings meet there) plus nobody sleeping there that part of your bed is brand new. Its to bad your salesman didn't explain this to you so you knew what would happen and he could have shown you a different model that would have been a better fit for you and your wife. I wouldn't blame this on the mattress. That model did Probably what it was designed to do at the price you bought it for. I would be upset at the store that you bought it from
Our mattress has the hump in the middle but we can't rotate it 1/4 turn. It's not a square mattress. We wish we could have flipped it but it has the latex top. It isn't 6 years old yet and I'm starting to get back aches at night. We paid a ton for this mattress and loved it at first. However, we'll never spend this much for a mattress again. Our cheaper (but still very good) mattresses lasted longer than this one has. We haven't tried yet to collect on the warranty–that is coming up soon. We've moved out of state so we don't know what to expect but we aren't too hopeful.

Medicman:
DO NOT BUY THESE CHEAP MATTRESS. POOR QUALITY AND LIKE MOST PEOPLE STATE, "BODY IMPRESSIONS". IM A PARAMEDIC SHIFT WORKER, SO AT TIMES ONLY ONE PERSN ON THE LOUSY BED!! IT WAS 2 PLUS YEARS OLD WHEN THE PROBLEMS BGAN.ITS A FIGHT TO GET WARRENTY SERVICE. WE ATE THE $ 700 DOLLARS, TOLD THE COMPANY CUSTOMER SERVICE MANAGER ( NIGHTMARE TO GET A NAME AND AHOLD OF ) TO [email protected]*## O#* AND SHOVE THEIR PRODUCT. BOUGHT A STERNS AND FOSTER. NO REGRETS..ITS BEEN ALMOST 2 YEARS NOW 🙂 🙂
Obviously a sealy dealer getting no sales because a Restonic store is in town taking all the business. Lol funny post man. I had a stern and Foster (a dealt with a nicer cover that's over priced) and it had a body impression in 1 year no customer service horrible warranty junk. Been sleeping on a Restonic for 6 years 300 pounds 4 kids wife and 2 cats and its flat as a board. So really man you post something after 6 years what you just get bored and wanted to right a lie on line I Love sales guys trying to go on competitive companies duties and post lies so people don't them. Lol truth is Restonic is the best Mattresses out there. 7 TIME CONSUMER DIGEST BEST BUY WINNER. Pretty much says it all. people don't believe what you read online go in and compare yourself. You will see the features , quality, durability, warranty, and price it makes it quite simple

The worst mattress I have ever slept on. POOR-HORRIBLE customer service. First mattress had a 3 inch depression after 3 weeks (I weigh 115 lbs). They brought out a 2nd mattress..2.5 inch depression after ONE night. Was told by the retailer that I needed to sleep all over the bed to work the latex in. Would not return my money. Retailer stated that I created the 3" depression with the tape measure. Like to see anyone do that with a tape measure. Not to mention the depression was a 3 x 3 ft depression area. It wasn't in a divot as they claimed it to be. Not to mention that the 2 mattresses delivered to my home where completely different than the floor model and themselves. Material, stitchnig, Mattress height, etc. I have pictures to prove all of it. My BEST ADVICE for anyone considering this mattress. DO NOT BUY IT!! I am out $1000 dollars and have a mattress that I can't even honestly sell to anyone. I am pursuing a court date!

i have had to use a bungy cord to hold my restonic mattress together after only 1 yr and because of a couple of stains i was told they would not cover it. wish i would have read these comments before i spent over a $1000.00 on a mattress

you use a bungie cord on a mattress that is less than 1yr old? lol that is amazing. what is also amazing that for someone who bought a $1000 set you wouldn't buy a mattress protector for $40? that would cover stains and dust mites from your mattress? the good thing is that is sounds like restonice was going to take care of your warranty issue no problem. The bad thing is with the FEDERAL LAW againt stains on mattresses they are no allowed to send it back to the factory for HEALTH CODE REGULATIONS . So really your pissed at yourself for not buying a mattress protector and pissed at the store that sold you the wrong mattress that wasn't designed for your sleeping habits. So why do you think Restonic is a bad mattress?

I can't believe all the people with complaints about the collapsing in the king size mattress! My mattress is so sturdy that I can't even sleep on it anymore! No sagging, no dents, way too heavy to move without 6 people. We both wake up sore every morning because of the firmness. I'm getting rid of mine. Had it for 1 1/2 years, paid a lot of money for it and would like some softness!

We bought a Marvelous Middle set for over $2000.00 from a local retailer (Al Grace Appliance) in Rockford, IL and have had service repair after repair.We have a huge sink hole in middle, and, we can't sleep without pillows between us to keep from rolling into each other. The 10 year warranty that was a selling feature is not worth the paper it's written on. All I wan't is for Restonic to replace this peace of junk with a conventional mattress, but no they won't.

you paid 2000 for 10 yr warranty ? I though the highest priced 10 yr warranty restonic was $699? the 15 yr warranty one start at $799 I bought one a 5 years ago and mine is completely flat like the day I got it and just bought my Kid a queen last week and was the best thing I saw on the market going to 6 other stores. from my notes and research and laying down on the beds nothing compared to the restonic models except a few spring air models.

I am getting a new mattress today! I have had the Health Rest for about 7 years and after the first 3 years, it's been a problem. It sinks in where you lay and humps in the middle. I can't wait to get rid of it. Go with Temperapedic is you go foam. Don't waste you money on Restonic!

I like how people say they had problems with there bed after few years. They have a warranty and never bother calling to get it replaced . Please I am sick and tired of competitors cutting up companies and trying to give them a bad name. They wont even post there names. The true fact is . They have won the consumer digest award 7 times. They sell thousands of mattresses a year for 70 years. I have slept on a restonic green velvet for over 2 years and have had great sleeps. Go out and try one there great mattresses . They would not be in business 70 years if they did not honor there warranty they would have been charged .
I purchased a Restonic for the first time in Dec. 2009. By August of the following year the side of the mattress had started to collapse. After numerous phone calls to the dealer, we did get it replaced. This new mattress is even worse. We have what everyone else is saying: huge body impressions and a higher ridge up the middle. My husband and I suffer from daily back aches. I am currently working on getting my money back. I will never buy a Restonic mattress ever again.

Carolyn probalay after selecting the first one wrong and not enough support( hence the sagging) probably should have upgraded to a more supportive coil and foam. Most people learn from there mistakes. Dont by cheap and expect it to last. You get what you pay for. Salesmen sell you what you want to by you think they want to sell you junk? And deal with complaints? Nope
I can hardly believe the negative comments I am reading here. I purchased my wonderful my 10" talalay latex "Extravaganza" Restonic mattress 3 years ago and it has absolutely changed my life. Previously, I could sleep no more than 5 hours a night because of the terrible pain I was in from laying on my old mattress. Now I can sleep a full 8 hours. and longer if I didn't have so much to do! My back no longer hurts and I sleep well! I really do credit the change solely to my Restonic mattress. I hope those who research the Restonic products will consider what I have said and at least give Restonic a try. It is my understanding that they provide a period under which one can try their product and return it for a full refund if not satisfied, but you must purchase a proper mattress cover to protect the mattress, otherwise the warranty is invalidated.
Sincerely,
Tonya Veazey
Prairieville, LA

I purchase 3 Restonic matresses from Star. They were $500 each. one of the matresses sagged in the middle. Called to get it looked at. The rep that came out changed my box spring. Again called them out still sagging. The rep measure a 1 1/2" dip in the middle. Said I was going to get a new matress. Star said it had to have 1 3/4′ dip to get new matress. Called them to come out again to test. They measure 1 3/4 dip in certain spots. Still they denied the claim stating there was a stain on the matress which voids the warranty. Apparantly there was a hole in my matress pad and my kids spilt a coke in my bed. Don't waste your time or money on Restonic.

Should have kept it clean.. How is restonic at fault that you stained your mattress? Plus for under 500 you should have gotten a better coil so it would last longer. Don't blame them because your dirty

Purchased a king size a year and three months ago. Paid $2000. It's nearly a 2" sag on each side. Worst mattress we've ever had. I've never paid that much for a mattress and it's not worth it. Problem I'm going to have is the store only carries Restonic. Don't waste the money!!

I'm so glad I'm not the only one having a issue with my mattress. I purchases my mattress in 2008. The 1st time it had a 1 1/2 sink, it was returned to the company and fixed. When it was returned it was super firm and after about 3 months the same thing happened. Thereafter they replaced the mattress and box spring. well well can I say my mattress is one the way back for the company again. I want my money back. I dont think I could give a Restonic mattress away. BEWARE! Ive gotten better rest on a simple air mattress.

I can see that choosing the right mattress can be so confusing. I did notice that many of the negative comments came from "Anonymous". It makes me wonder if the competitors to these companies are the ones writing up the bad reviews. A mattress store can be a lonely place. 🙂 I think, though, after muddling through all of the reviews, I've decided on the Restonic brand. They are the only mattress co. to receive the Best Buy Award from Consumers Digest. I also was recently informed that they won the Woman's Choice Award. And after trying one out, I'm sold. They are one of the most comfortable beds I've ever laid in. I'll be purchasing mine soon.

Adam..i just bought one today(Jan 20,2012). I will update post in a few mths. Lots of bad reviews i hope its just the competition posting. I will know soon enough
Jan 21 2012, I bought one king size today, will let you know, how I feel, but I got lots bad competitors reviews.

Thanks so much for posting all these comments. We were close to buying a Restonic when I came across this site upon doing research and read the comments to my husband. Next, we went to a mattress store that carried a wide variety of mattresses and the sales person confirmed the postings. It used to be a great brand, he said but now it is a low end. It no longer lives up to its name. Thanks for all who commented and all the warnings. I am grateful!
Hi, i'm wanting to buy a Restonic pillow top, the dealer says it has 1300 coils and I'm buying it fir $800. Its a king size but I dont want it to sag like the reviews say or have a lump in the middle. Should I be buying a more expensive mat? This one is on sale and its supposed to be eorth around 2 grand.

My Restonic Mattress has been the worst full size mattress I have ever slept on. It sagged right after paying $1000.00 for it.(I know the dealer did not give me the mattress I tried out in his store.) I sent it back (perfect condition), they claimed to have rebuilt it. I am sitting here at my computer hurting in my upper back so bad, trying to find a good dealer so I can buy a decent mattress, because Restonic mattress is already sagging again. Talking about stains, they sent it back to me with ink marks. I can't give it away, I wouln't put that on anybody! God have mercy on the dealer and the company. They both have lost my business. I don't know how they in good conscience sleep at night.

We bought a gel infused Restonic king size mattress set 2 months ago. So far I have absolutely NO complaints. The mattress is wonderful. I will post again at a later time to let you all know how well it holds up.

We bought a Restonic Innovation foam mattress in November 2011 and are very pleased with the purchase. Originally looked at Serta iComfort, Simmons Comforpedic, Tempurpedic Cloud Luxe and Sealy Embody. Had about decided on the iComfort until trying the Restonic Innovation. We like a soft, yet supportive mattress. The primary difference was the top layer (1 inch gel only I believe) which changed the "roll" feel from the others (did not have to wait on original impression to fill, much smoother transition). Sleeps cooler than expected and has done wonders for my back. Previous Sealy Posturpedic had indention that caused hammock posture which had become a real issue. This is a new design (currently not commonly found) and sells for around $2K for King. VERY GOOD MATTRESS, TOP NOTCH!

I purchased my cal king Restonic several years ago. I moved within 6 months of the purchase and the professional movers were astonished at the huge hill in the middle of the bed. I do rotate it but it does not work. I purchased a memory pillow top to try and sleep. It worked for a couple of years and now the mattress is sagging more than ever. I looked up these posts in hopes of finding some good results about the warranty. After reviewing the previous posts it looks like I'm SOL. The mattress has no stains because I have had several mattress pads and a topper to try and sleep. I can't even sell it because it looks and sleeps awful.Buyer beware and look up customer reviews before ever purchasing anything that is not considered disposable.

I wish the people who posted all the negative reviews would also mention which specific model they're referring to. I just bought the king Velorum latex. I hope the horrible reviews weren't about the one I got. I have a hunch that most of them are about the inner spring and memory foam ones. Wishful thinking. I tend to be an optomist.
I am on my 2nd restonic mattress in 3 years. I am not sold. They are king size mattress. The first one had a hump in the middle. The store we bought it from gladly exchanged it without even looking at it. It was a pillow top. Now I have another top of the line king size with the normal top and have had it less than 2 months and it has a hump in the middle too. I understand when you have the support of 2 twin box frames that it going to be firmer where they meet. But seriously, this is a major bummer to me as I feel as though my husband and I just roll to our designated edges. If I return this one, it will be a different mattress brand for sure. If these kind of mattress work better for platform beds rather than box springs, then they need to be upfront and tell customers that before they purchase them
I'm not a dealer, salesman, or a competitor. There is a lot of false hype on this blog about mattresses. On almost every complaint, the so called "consumer" failed to reveal which mattress model they bought. This should be your first clue that most of these reviews are fake. Second, anyone interested in buying a king size bed should reconsider. King size beds are a problem with almost every single brand on the market. If you like snuggling with your sweetie and don't like a hump in the middle then do not buy a king size mattress. Save yourself some heartache, get marriage counseling to improve the relationship and buy a queen size instead. Coil spring and/or pillow top mattresses. They sag, that's what they do, which is why you should always go with one grade higher in firmness then what you think you should. Health.com says the average life of a pillow is 2 years. This should give you a good idea of what kind of life you will get from a pillow top mattress (as far as the comfortable top layer is concerned). Don't be a cheap a**, BUY A MATTRESS COVER! If you are going to buy a new mattress then wait until you save an additional $50 for a cover before you pull the trigger. Not having a cover to protect your mattress from stains is like pulling the pin on a hand grenade and seeing how long you can hold it before it blows up. Just dumbness in the purest sense! NO MATTRESS COMPANY WILL WARRANTY A STAINED MATTRESS. I repeat. STAIN=VOIDED WARRANTY! So what do I recommend? I recommend you do your research online, go to several mattress stores and try out ALL the brands and all the bed types i.e. memory foam, spring coil, latex etc. Then research in depth the brands that felt good while in the store. If you buy online, buy from a reputable online business. If you buy at a store, then show some loyalty to the salesman that spent time to educate you on your mattress options. If a salesman tries to high pressure you by ripping the competition then their mattress is no good. Once you lay on a hundred beds you will soon find out for yourself which are good and which are not, and if their bed is really as good as they claim, then you will be back to buy it. (post continued below. keep reading)
What won't I buy? Tempur-Pedic's stocks are dropping off consistently. I was told they were the best memory foam mattress, tried one out at the store, and hated it. Couldn't roll over without exerting a lot of effort. Tempur-Pedic will debate me on this by saying that once you're in your sweet spot you won't need to roll but I'm no dumbie. We roll in bed no matter how comfortable we are, due to temperature changes during the year and because our sweet spot can very on any given day. If you like to sink and not move, this is your bed. Memory foam is nice but you either need to go really firm, with high quality foam that won't sink over time, or get whatever one you like if you enjoy letting your bed swallow you whole. Coil spring mattresses. The money is in the spring system. This is where online research helps because every manufacturer makes good and bad springs depending on the model. There is a reason one bed is $600 and the other $2500. I'm not a rich man but I will tell you that $600 is a cheap mattress. It may be a lot of money but it's still cheap. If your fat, lose weight and your bed will last longer. Don't buy an air mattress no matter how awesome someone tells you they are. It's the modern day waterbed and they are junk. Can you think of anything cheaper to make a mattress out of then free air? Come on. No one is this dumb are they? My money went to a latex foam mattress. Best decision ever. Comfortable, cool at night, hasn't broke down, and gives me tons of support and good sleep. I sleep predominantly on my stomach so I bought a mid-firm model. This gave me cushion plus support. You won't find this by surfing the web. You have to go to stores to find out what will work for you in the comfort category. I won't tell you which brand and model I bought simply because I would rather you take the advice from someone that spent a week researching online and laying in beds at stores to learn about what was best for me. Go find whats best for you. But to give you a clue about what I bought just in case your sleep habits compare to mine. I already told you I bought latex, I'm on a blog post about Restonic, and I enjoyed the mid-firm mattress. You figure it out. To tell you the truth, before I bought a mattress I had no idea what was good or bad. Who had the best or worst. And I really had no idea what I was looking for. If you want a cheap mattress go get one, but don't wine like my little sister when it hurts your little girl back. If you want a mattress that lasts 20 years, they are out there, but you HAVE TO take the time and figure out what is right for you. One more thing. If you are a married couple, you need to do a mock sex test on the mattresses you lay on, that you like. I know that sounds horrible but some one is going to get a whole lot of YOUR money when you buy a mattress. Best it goes to the guy that let you do some light core dry humping in the store. 🙂 I like a little bounce back when I'm doing the horizontal nasty so memory foam went out the window for me during this test. It was what I would imagine trying to have sex would be like in a kids ball pit. You just sink, except it's softer. I'm done. I hope this helps at least one person make a good decision about how to spend their hard earned money.

Well lets just say everyone here. I work for one of the companys that everyone keeps talking about. I can say I have a restonic mattress not goin to say which mattress set I have but I can say this, I will not sleep on anything other than a Restonic. I will put money where my mouth is. Restonic has got good quality, warranty, craftsmanship, and materials than their competitors. I slept on the competitors of Resontic and they do all the same things that everyone is saying on this site. Their is no difference. All I can say is go in to a big retail outlet and test the mattresses. While you are there look at all the prices as well. Then go down to your local mom and pop furniture stores and test out all the models and look at their prices. Make your own decisions. Dont let anything on this comments list deter you from doing a little research on your own. Because the results will astound you. I love my Restonic mattress set and wont trade it for any other mattress and that goes to show you that a competitor will choose what they feel is comfortable to them.. Enjoy your research..

I just bought a used Restonic queen mattress (was sleeping on the floor) and to tell ya the truth it is the best mattress Ive slept on in years. I have a bad back and every bed Ive ever slept in has always caused lower back pain. Ive been sleeping on this bed now for 2 months and have yet to wake up with back pain. I LOVE THIS MATTRESS.
Just bought a new restonic "tempa-gel", was unsure about it at first; however, I have come to really enjoy sleeping/resting on this mattress. The heat where I live is unbearable.. but this mattress actually helps cool you down. Its literally "cool". I would advise anyone who gets uncomfortable in the middle of the night to not waste anymore time and buy this mattress!

We bought Restonic mattress last Dec. started to use From Mid. April. Now less than 5 months it started sag and so unconformable. According to this company, it is normal!
We do not recommend to anyone to buy this horrible mattress.
I bought a Restonic memory foam, king size last June, 2012. I have pretty bad nerve damage, & my 12 year old Serta had died. The Restonic is the most comfortable night sleep. I can actually lay on the side that has the nerve damage with no pain! I love that mattress. So much so that I just bought another one, same kind, called the "Inspire", queen size for my other place. I can get a whole night's sleep without waking up from pain! Plus, there is no movement transfer, so when my husband moves or gets out of bed, you never know. Throw in having two dogs as well that sleep with us, still don't feel other movement anymore. One of the best products that I have ever bought.

BUYER BEWARE. I recently purchased a Restonic Mattress at Mattress Source. I specifically asked for coilless and the saleslman suggested the Reverie adjustable bed frame to go with it. I thought I was buying the Healthrest coilless series. None of my paperwork shows that. I have flyer that says it is Gel Infused Memory Foam.
Upon review my product warranty says it is a Rrestonic Supporting Dreams and in care instructions, #2 Do not bend the mattress. This could damage the innerspring unit.
It looks like I have a unit with coils, and have voided my guaranty by using an adjustable bed.
My receipt is also unclear it shows I puchased Q REST I CLONE PL, which they "say" the Healthrest Cool Gel. I am calling everyone today, Restonic & Mattress Source.

Just spoke to customer service at the Restonic mfg in Springfield, MO and was assured that the Cool Gell does not have coils. The care instructions reference those Restonic matteresses that do have coils.
In my opinion in a a perfect world there would be separate warranty for coils and coilless. Therefore please remove my previous post earlier today.

We purchased a Restonic Sensi-Allure Marvelous Middle all-memory foam king-size in 2005. The total nightly weight on the bed has consistently been well in excess of 400 lbs. It has held up very well over 8 years with no sagging, only normal body depressions. But, with the recommended twice a year rotating of the bed, we have found that effect has even been somewhat minimized. It was one of their more expensive beds but we highly recommend it or its replacement. We are quite happy with ours! We are both 60 years old and find that the Sensi-Allure provides great pain-free rest! We are newly energized each morning. Out daughter and husband recently purchased a far more expensive Tempur-Pedic and say ours is still nearly its equal. We love the Marvelous Middle as it allows us to sleep on either our right or left side without disturbing one another.

I hate my restonic mattress set with a passion; I was impressed with how great the mattress looked, the 10-year warranty, etc,within 2 months my $1000.00 mattress began to sag in the center, my head was sliding downwards under the headboard, my neck & shoulders began to ache, i couldn't sleep or get confortable. When I complained, I was told I had to pay for someone to inspect the mattress & if I didn't have a frame w 5-legs under it, the company would refuse to replace the mattress. Mary.M
I just bought a restonic mattress, I bought it because everyone talked bad about it, thanks for the good advise best sleep I ever had! thanks again

We bought a pillow top Restonic mattress set that had a 15 year warranty. After six years, the sides started to bulge out and there is a huge hump in the middle. We also have a mattress pad on it. My husband and I both have night sweats which has stained the mattress as well. That has voided the warranty. We have flipped the mattress on the back side and now have three mattress pads on it to use for now. We are dissapointed in the construction of this mattress. I will never buy or spend that much money on another mattress again.
Thanks for your valuable information.I found it very useful.Keep posting amazing content like this.
I am about to buy a hybrid Restonic that has the works in it. I have read the comments and can not go by what people say here. It has a ten year warranty but have tried them all out and this one feel the best and is made good. My sealy posturepedic is probably a good 8 years old and about same prices range and it is in pretty good shape, might sag a little which is normal. People are lying about the Restonic, has many best awards, look it up, and some of the stupid comments do not make any sense when reading them. I agree with what Charles said in his comments up there, it is a good mattress but cheaper than some. I have looked at them, small owner of furniture company only sells the best he said, that is the Sealy posturpedic and he got the Restonic, everyone is buying the Restonic but he has no problem selling me a posturpedic if I want one, the guy is big and heavy and sleeps on the Restonic brand. I can tell a good made mattress when I see one, yes it got springs in it, the sealy does too dumb people, might not be the best, it is how it is designed and put together. Pull up Consumer digest award on Restonic if you can find it and look at all the awards on it, that tells me who is telling the truth. I think Charlie up there said it right.
How are restonic mattresses made
Man – half a year or so ago, I made the switch from my old innerspring Queen mattress to a new King memory foam mattress. The differences were staggering — vastly superior comfort, quietness, no back pain, and I could enter / exit the bed without awakening my girlfriend when she was sleeping over.
I recently got the opportunity to review this, which I consider to be a 'hybrid' memory / latex foam mattress, and find it has a number of benefits over a conventional all-memory foam mattress, but a couple small drawbacks as well. Bottom line, I'm immensely happy with this mattress and consider it an upgrade over my older memory foam.
ADVANTAGES:
+ this mattress has superior comfort to an innerspring mattress. While it's a slightly firmer overall to my softer memory foam, I find this a plus. A pure memory foam mattress can allow you to sink so low that it's almost a challenge at times to change positions
+ to put it bluntly , the extra support and added bounciness make this mattress WAY better for sex. A pure memory foam is comfortable sleeping but can be too soft and allow sinking when you're on your knees / elbows, etc. The latex / memory foam hybrid design means you don't sink way down when you're on your knees during sex. This is a nice design upgrade
+ I find this mattress to be nice a cool sleeping, though my memory foam was as well
+ less unpleasant smell during the initial expansion phase vs. memory foam
+ the packing on this was superb. The box was well-sealed and the mattress itself was securely rolled in heavy duty vaccum-sealed plastic. This made it a lot easier to wrestle around vs. my memory foam, which was vacuum-sealed as well, but in weaker plastic. The tarp it was in had busted and so had the box — so I appreciate the secure packing of my Brio mattress
DISADVANTAGES:
– this mattress is more expensive than generic brand memory foam mattresses
– it feels a bit heavier as well, making it heavier to move
– being just a bit firmer than an all-memory foam mattress, there's just a touch more motion transference. While it is worlds better than a conventional innerspring, you don't get that total motion isolation afforded by an all-memory foam mattress
CONCLUSION:
If you're looking to upgrade from a conventional innerspring mattress, I think the Restonic Brio is a good choice for you. You get the coolness, support, and slight springiness of latex with the 'sleeping on a cloud' feeling of memory foam. The Restonic's added support makes it superior for sex – which, while not the primary purpose for a mattress, is still worth considering. It's heavier and more awkward to move than memory foam (and both are more awkward than a conventional mattress) but I honestly find the comfort benefits to be well worth the tradeoff. This is a solidly constructed mattress, MADE IN THE USA, that combines a number of modern technologies to provide a superior sleeping experience. If you've never tried a modern foam mattress — go test one (find a friend or a store). If you like the experience, then consider buying the Brio Restonic. As an owner of conventional, memory foam, and now the Restonic mattress, I can safely say that they've really got a 'best of all worlds' design with this mattress. 5 stars!
The Restonic Brio Mattress is a quality mattress for people who are looking for affordable medium support, but with the cradling forgiveness of memory foam. I reviewed the twin size.
I have slept on several types of foam mattress: the lowest end Tempur-Pedic, a mid-to-high end Tempur-Pedic, Classic Brands Cool Gel Memory Foam mattress (found on amazon), and a Serta hybrid mattress that has springs with a built-in 2 inch foam top. It's difficult to review a mattress, because everyone has personal tastes and needs when it comes to their sleep. I have found that the Restonic Brio provides a quality sleep if you're ok with the mattress providing some give in the support when you rest on it.
The Restonic Brio comes in a large box. My mattress had plenty of space inside because I think the full and queen sizes are packaged into the same kind of box. But these all-foam mattresses are much better for shipping/purchasing through Amazon than spring-based mattresses are. My box arrived on a very rainy day and it was left outside for a couple hours before I came home. The cardboard box was soaked. Luckily, the mattress was packed inside a vacuumed sealed plastic bag and was completely dry inside the plastic. Since it's vacuum packed, there is no air inside and the mattress is squished down to about a quarter of it's size. You will need to carefully cut the plastic bag and pull the mattress out. It will expand to about 90% of it's full size in just a couple minutes. You probably need to let it sit for another hour before it completely goes back to it's full mattress size, most notably in the corners. In my experience, all foam mattresses have a chemical smell and need to be aired out for a couple days before you can sleep on them. Amazingly, the Restonic Brio wasn't bad. There wasn't much of a chemical smell to begin with, and I just let it air out overnight and I didn't detect an odor afterward. The mattress comes with the cover already on it. I put some sheets directly on top of that (don't use a mattress pad with a foam-based mattress) and slept on it for 3 nights and took a nap on it as well. To provide some relative perspective, I weigh about 200 lbs and have a BMI between 24-25.
The Restonic Brio is very similar in feel to the Classic Brands Cool Gel Memory Foam mattress. When you lay on it, it has a noticeable give to it, but as you lay motionless, you do feel a little bit of a wrapping sensation around you. It is comfortable if you like a medium-level of support. I have minor lower back issues, and since I switched to a mid-to-high end Tempur-Pedic mattress, they have gone away. After 3 nights on the Restonic, I slept soundly, but my lower back was starting to feel a little discomfort after the 3rd night. This is because I like a firm mattress for my back. Even my low-end Tempur-Pedic is more firm than the Restonic Brio. Now, naturally, any Tempur-Pedic model will give you a much denser foam, but that comes at a huge cost increase compared to this mattress. It really comes down to what you individually prefer, and can afford.
In general, if you are looking to buy a mattress from Amazon, I do recommend going with a foam mattress because they do ship much better than springs. I would personally have liked to see a little more firmness from the Restonic Brio, but I can't knock it too much because it is relatively affordable, comfortable, and seems like it will hold up for years. If you want a medium-support mattress, I can easily recommend that you look into this Restonic Brio. If you need more back support because you have chronic lower back pain, I think you should look for something firmer.
I recently tried a memory foam for the first time with a memory foam topper. I loved it so much I wanted a full on memory foam mattress.
I had tried to use a memory foam pillow several years ago and I hated it. It was too hard and stiff. Because of that, I never had any desire to try a whole mattress made of memory foam. Boy, was I missing out. Having a chronic pain disorder, my hips would hurt so bad I would have to get up because I just couldn't lay there anymore. I wasn't getting much sleep at all. After getting the memory foam topper I never woke up with hip pain again. This mattress is perfect because it has a combination of latex and memory foam which not only allows for a pain-free sleep but also helps to keep me cool while I sleep. I tend to get hot while I sleep, so that is a big plus. This mattress is very comfortable for me. Much, much more comfortable than my old standard pillow top mattress.
This is a heavy mattress so you'll want to make sure you open it where you want it because it can be a bit awkward to carry around. It comes compressed for shipping and it doesn't take long at all for it to decompress. So far, I am very happy with this mattress. It looks nice and feels divine​.
Okay, I have to say. this mattress is AMAZING! I'm relatively new to memory foam, only having occasionally slept on one at a friend's house. (First time was a few months ago.) His wasn't bad, I liked it okay. But this one is SO much better! It's quite soft and relaxing, but firm enough to provide good support.
I have the mattress on a wooden slat bed frame, and it's just great. The thing I was worried most was about getting too hot. I run hot in the middle of the night, I will typically wake up to kick off the covers, with my old box spring and traditional mattress, but I haven't had that issue with this one! I find I toss and turn less, which is such a plus for me.
The look is quite nice, it's sleek and modern, and the cover of the fabric is great. The mattress seems really well made, like it'll hold up for a decade at least. It breathes really well, it's so comfortable, and I find I'm already sleeping well.
This is my first foray into the world of memory foam, and I'm never going back! I have absolutely no complaints. I'd highly recommend this mattress, and I'm definitely sold on this brand.
This Restonic mattress looks great, has minimal off-gassing smell when opened, and gives perfectly adequate support. I'm giving it four stars instead of five because, for us, five stars means This Is It, the best choice you can make in the price bracket. We recently reviewed a Zinus twin mattress, and besides being cheaper across all sizes was also heaven to sleep on. That one we gave five stars.
We recommend the Restonic Brio mattress, but we do not think it is the end-all be-all in the category. The quality is there, it has a cool surf pattern on the surface, and it arrived intact and as advertised. If they float the price down to the $600 range, bump the rating up one star. In the current $800+ range, we rate it:
We've been using this Restonic Brio Mattress (full size) for my 10-year old daughter's bed and I (Dad) have been sleeping well on it. Why am I not sleeping in my own bed you ask. daughter likes to sleep with Mommy. Daddy swaps places and falls asleep peacefully on a couple of pillow pets. I wasn't complaining in having a new mattress in my room..err. my daughter's room since this was replacing a 25+ year old mattress with some lumpy spring that seem to poke in all the wrong places.
So back to the Restonic Brio mattress. First off I was very impressed with the shipping. The last mattress I had delivered to my house was a coil/spring king size mattress. it arrived sealed in a plastic bag but was fairly scuffed up from the travel. the sealed bag had some rips and some of the actual mattress had scuff stains and tears. Not this Brio – the beauty of memory foam is that this thing came compressed/sealed in a cardboard box that was maybe the size of a dishwasher. I opened up the mattress and it uncompressed to full mattress shape thus prompting my wife to say 'you will never ever get that mattress to go back in that box – trash that box, rake the leaves, put away the dishes, blah, blah, blah, etc, etc'.
I was impressed with the actual mattress quality – nice fabric, durable stitching, sleek euro type look. But bottom line___ mattresses are for providing a comfortable night's sleep. my daughter and I have both logged some nights on this mattress and I'm happy to report that we both get a good night's sleep on this puppy. This is the only memory foam mattress in our house but I've slept on other memory foam mattresses. I would say that this memory foam/latex combo is a bit firmer than typical memory foam mattresses I've slept on but still in the 'medium' range of firmness. ie, my king bed spring/coil mattress is a bit firmer but I don't have any back problems (yet) so either works fine for me. Temperature-wise this mattress stays cool enough for me. no issues there.
So overall, I like this Brio mattress (especially compared to the 25+ year old one it replaced). I like the way it came nicely shipped. Good quality. Attractive design. Comfortable night's sleep and doesn't overheat. Tonight I will sink into my mattress to be cradled the way only memory foam can do, I'll snuggle up with a couple of pillow pets, maybe even eat a couple of rolls of Smarties from the night stand drawer and wash it down with a half drank Capri Sun that is still lying next to the bed. At current price of $725 not the lowest price relative to various competition but a solid good quality choice – 4-STAR rating from me in consideration of price/value.
This Restonic Brio Mattress is just perfect, the quality of this mattress is some of the best I have come across. The mattress I received is queen sized, and measures 80 inches x 60 inches x 10 inches. This mattress arrived compressed, but once it was let out of the packaging it fluffed up to its natural size. This mattress is excellent and doesn't sink when someone lies on it, but rather it adjusts to the body on it. This mattress provides true comfort, and I like it a lot, it came at the right time (since I had a queen sized bed base, from amazon too), so this mattress will now complete the new bed.
On a side note, when this was opened, it was left to air for a while before using it.
This mattress is wonderful, it came to our doorstep and was so easy to set up. It is the best mattress and so comfortable. Worth every penny.I highly recommend it. This one is for our son and we are thinking about getting a king size for us !!
The memory foam provides a very natural feeling of support to the body. It's easy to get comfortable in a variety of sleeping positions but it is also easy to get comfortable for reading in bed. I have chronic pain in knee, hip, back, etc. and this has helped give a little ease to these problem areas. I'm not saying it took all my problems away but a significant improvement in staying comfortable in bed through the night, less tossing and turning, relaxed muscles and reduced pain in joints. Now imagine how great it will make you feel if you don't even have any of those health concerns! Either way, it's a great night's sleep once you get used to the feel. Took me a couple of days to truly get used to but loved it from the first time that I lay down for a little test rest! At first the little bounce is a different feel compared to other mattresses.
The mattress I bought was not even 10 months old before it started sagging, I've turned it many times, it does no good. The warranty is trash, It cost to much for the company I bought it from to take it back. Never again will I buy your products. My husband is blind and has fallen off many times. We don't sleep well, trying to keep from falling off the edge. Paid extra for the protection on a bed that's trash. I'd heard of you for years and thought you were a better company, it would be nice if you could change my mind and tell everyone something better.
I went to visit my sister a month ago. She have a restonic mattress in the spare bedroom. I told her that I slept very well in this bed. She explain to me about her restonic mattress and why she prefer the gel instead of foam. It make a lots of sense because I wasn't like sinking in that bed. I bought few years a go a mattress with a very tick pillow top but since I try restonic at my sister place, for sure it will be the next one on my list.
I got a Restonic mattress about a year ago, as far as I know it's still under warranty, the very top of the mattress, the top layer of material that has all the decorative stitching in it has all come undone around all the stitching leaving the foam exposed, they were contacted and photos supplied and they will not stand behind their product. The main sleeping surface is coming apart after not even a year and is just going to get worse, this even happened while being covered with a mattress cover, I will never buy one of their products again, that's ok, one bad review is worth lots of lost sales, they should have stood by their product.
The mattress is doing well. I just have a difficult time falling asleep. Sometimes I rest pretty well and other times I don't. It's an age thing I suppose? I purchased the mattress in hopes of it helping me get a better nights sleep. I guess it was for a duration of the time I slept, rather than getting a better nights sleep?
We have only had it a few weeks. It was really firm the first week but that is getting better. Also we get very hot at night but we are not giving up yet.
No more tossing and turning to get comfortable, very satisfied with my mattress
We've had our restonic now for 8 years and it still like sleeping on a cloud I would not have another mattress with another name other than Resonic for the rest of my life!
This is one of the lumpiest mattresses I've ever owned. We tried to use the warranty as it is very lumpy and has indentions but since it's not a 2"indention in every area only in some, they wouldn't honor it. Will be the last Restonic that we purchase.
The first couple of nights were sleepless as mattress slept very firm with a lumpy feeling at legs and middle of back. After first week, horrible sleepless nights turned into sweet slumber! We love our new mattress. With the coils that are individually wrapped it is truly a buffer for movement. My hubby outweighs me by 100 pounds. When be moves around or exits the bed I am not aware of anything happening! The man I bought the mattress from told me there would be an adjustment period. He was right and I am so thankful we stuck it out! Great mattress, great sleep, great life!
I've had it since June 2015 and the mattress just feels better and better. Nice product!
My mattress when I first got it was so wonderful but now I find the area I sleep in has sunk a little too much. I have been waking with a backache so I don't know if the mattress is doing what I hoped it would do. I have turned the mattress numerous times.
I purchased a Restonic mattress back in March and I must say my back aches and leg problems have come to a halt. I actually sleep through the night for first time in years. If you can't sleep and wake up with a back ache every day, please go get yourself a new Restonic mattress. Its worth every penny you spend on it. Why have sleepless nights when you can have great nights rest and wake up feeling refreshed and pain free. The only thing i don't like about the mattress is that the pillow top cording around the top of mattress appears to be pulling away from the fabric and making it appear as though it will come apart. That part i do not like.
Both of us are enjoying the mattresses very comfy.
so far so good – no complaints at this point.
To be honest, I am very disappointed in this new mattress. I wish there was a way to get my old Restonic of 23 years back. It was so comfortable but we felt after that length of time, we should get a new one and I am so sorry. I sin k into thios one and I don't feel that it is firm at all. Can you do anything to replace it? Do I have a faulty one? Also, I almost slide off the edge when I am putting socks on. I prefer the old type of mattress with the edging for this. Why did they have to change this??
It's amazing how a good mattress can change your life. A good night sleep dictates how productive you can be the whole day. My Restonic is like sleeping on a cloud, no more waking up with back pain, sore shoulder or feeling short changed on sleep. We waited way too long to buy a new mattress, and so glad we purchased the Restonic. It was in our budget, and have recommended it to all our friends. Thanks Restonic
This is a very nice mattress for the price that I got it for. I would buy one again.
Found an up front and honest bed store owner who has sold Restonic for 25 years. Why? They are the most durable mattresses on the market. As he stated, "All mattresses that are enjoyed in the showroom start the same, how soon they fail in your bedroom depends on what lies in the middle between your head and feet. Let me introduce you to the Marvelous Middle". I now have my first Restonic. A Hybrid Signature Plush. I got a 25 year warranty, a bed that I believe will last longer than those other brands, and I want you to avoid going down the same road I went down for a decade by letting commercialism effect your decision. Sometimes better is not what is being sold on television with lovable sheep, but by what folks who would rather have you sleeping on quality than quantity. Glad to be part of the Restonic family.
Still enjoying wonderful night sleep. Recommended restonic to daughter and son in law they love their new mattress!
Bought the king mattress from a local furniture store. Had it 3 months when we noticed that it was caving in and staying indented where me and my husband each slept. It's one of the most comfortable mattresses we've ever had but became uncomfortable and unsatisfying when we were stuck in that one spot Bc if we tried scooting over, our bodies rolled into that indented spot. We fought with furniture store to pick it up and it got restuffed by the makers. Hoping there are no more issues.
Great company, outstanding service!
Originally I thought the mattress was great, but now I wake up every morning with a pinched nerve, plus we have a ridge down the center of the mattress.
Check out the Restonic mattresses at www.atlastsleepsystems.com , The cushion firm is the best mattress I have ever laid down on. I shopped every store in our town and laid on over 100 different mattresses and the Restonic @last cushion firm blew away all the compitition. I couldn't be more happy with my Restonic.
We had our old mattress for over 15 years. Replaced with Restonic mattress and have been very pleased. My only complaint is that it's hard to get out of in the morning because it's so comfy.
No inner-spring mattress will ever solve the middle hump problem, but it's already here, two months in. Otherwise, I sleep beautifully.
I can't remember the exact date but we purchased this mattress no more than six months ago and it is already sagging. My husband only weighs 150 so I don't understand why it is sinking already. The mattress was great for the first month we had it though.
We have had our mattres for almost 1 year and we still love going to bed!
Excellent value and so very comfortable.
I love my new bed. With medical issues the ability to elevate both head and feet are perfect for me.
We purchased a restonic mattress a few years ago. We have had to buy a foam pad due to the indentions that have formed from where we lay at night. My husband and I are not large people and I feel that the mattress has not held up.
our mattress is under warranty and we we're trying to het some help because it is sagging and losing its structure
Very good mattress but not as good as our old Restonic .Our old one was a little more harder.
When I purchased this I was wanted a bed with no foam, or gel and was told this bed did not have this. I have sense read it actually has both. It does get some what warm where I lay in the Summer months but sleeps well in the winter. But even though I followed direction on turning the top to the bottom it does seem to sink in on both sides with the middle higher and still stiff like new. But all and all it is comfortable.
Bought a twin Restonic Mattress in 1983 and it was perfect from day one. Also purchased a Restonic Twin Saxony Plush in 1999 which I am still sleeping on as of this post. Unfortunately, your quality seems to have gone downhill due to your one sided mattresses. Tried about 100 mattresses of various brands in the past month – each one worse than the other! Even some of the memory foams were far too hard for me. Plush Fan & Extremely Picky about Mattresses
We love our restonic bed. I purchased it nearly one year ago and must admit, I like this particular bed (la jolla is the model I believe) better than any other bed I've ever slept in, this bed is perfect.
Bought the plush model at first and it was so hard (not the firm, the medium model) and both my hub and I woke up sore as it didn't give at all it was like sleeping on a brick. Exchanged it for the pillowtop at $300 more and got it home; still not that comfortable nor like sleeping on a cloud. We got the first hard one home and it had a gash in the mattress so we returned it and got the supposedly softer one at $300 more. So we it seems can't return/exchange it. The salesperson at SLEEP TRAIN IN ISSAQUAH ON GILMAN said it was an exact copy of the BeautyRest Black mattress at $2000 less. So we tried it. After 9 days I'm still not convinced we did the right thing by buying this. We postponed buying a new mattress for 5 years and this is rather disappointing I have to say. I was hoping for a floating cloud but it's still pretty hard.
This mattress keeps it's shape and is very comfortable. Well worth the money!
My wife and I are very pleased with our Restonic Cornwall King mattress. We are having good sleeping experiences and look forward to it serving us for many years. The set up crew were very polite and professional, and the product arrived in good condition.
Thank you for sending me this. I have been flipping this mattress every 3 months but it does not matter because my boyfriend weighs 300 lbs. The sales lady assured us that this was not an issue and that's why reinforced corners are a benefit also if one weighs a lot and one is half that weight. I weigh 145 and when my boyfriend gets out of bed or gets back into bed say after using the restroom at night it always wakes me up. I explained all of this to the woman that sold this to us and she said there would be no reason for any concerns regarding Richies weight. And it was $1,300 on sale. But she threw in the box spring cause she forgot to put it on receipt. Please Lady. With all of this said, my mom told me she was surprised as Restonic is apparently known for its wonderful, durable mattresses. So its an okay mattress. But I believe I paid much too much for it. Thank you for asking. Heather
To say I get a good night's sleep is an UNDERSTATEMENT! I normally sleep for about 7-8 hrs a night. After purchasing my Restonic, I've found myself sleeping 9 and 10 hrs a night. I blame it on this comfortable pillow top. I'm also a side sleeper and I wake up with no pain in my shoulders or hips which is amazing! The pillow top is so incredible I feel as if I'm laying on a cloud. Your body just melts into this mattress! Beyond satisfied with my purchase.
Love my restonic mattress! Thought my aches and pains in the morning were the results of yesterday's activities but have now realized that it was my old mattress. Now feeling much better in the morning! Thank you!
This is the most comfortable bed I have ever owned and I have owned just about every brand out there. I have neck and back problems and this bed has given me more mobility and taken away so much pain.
This mattress is what we would imagine sleeping on a cloud would feel like. It is very supportive, but not to the point where you wake up with stiff joints or a sore back. Floating into dreamland on a nightly basis.
This mattress developed a trough where we both slept (King size) and at the same time a mountain between us. I thought this was about 10 years old but i just found my receipt from Mattress Depot and it's dated 10/2013! Not even 6 years old, and it has been JUNK for at least the last 2 years. The only cure was to jump up and down on the middle mountain for about five minutes. I paid $1300 for this back in 2013 which was ASTRONOMICAL for a POS. I will NEVER buy ANYTHING made by Restonic again. I tell you to do the same. GARBAGE!
I'm trying to work with manufacturers to replace this mattress.
Purchased 4 months ago. I am 150#s and wife much less and after just 4 months the mattress sags where we sleep and the middle is higher and still firm. The indentations from our bodies make it uncomfortable sleeping in various positions. I had high hopes for the mattress which was great when new 4 months ago, but now I wake to a back ache every morning and ordered a new mattress last night.
They're comfortable at first but you have to sleep in the exact same spot every time and if you have a dog that sneaks on the bed-it'll conform to their shape too so there are several dips and craters in a short time. Because these mattresses never go back to their normal shape if you turn them every 6 months they last 2 years, if you turn them yearly you can stretch it out to 4 years, I really regret getting it because on a fixed income it isn't easy to but new mattressses every couple of years. If I could find all the paper work I'd return the thing.