The Best Mattress Pads
If you've been looking for ways to upgrade your bed, there's a high probability that you've come across mattress pads. Whether it's for their feel or their ability to help protect a mattress, these products enjoy considerable popularity. But with so many options on the market, it can be hard to know exactly what you need and which pads are the best.
In this guide, we'll break it all down for you, including our list of the top 6 best mattress pads as well as explanations of what mattress pads are and who is most likely to benefit from using one.
Our Favorite Mattress Pads
| Manufacturer | Model | Material | Price* |
| --- | --- | --- | --- |
| | Organic Mattress Pad | Organic cotton | $135+ |
| | Down Mattress Pad | Cotton shell + down fill | $248+ |
| | Plush Pillow Top | Latex + Wool | $400+ |
| | Organic Cotton Mattress Pad | Organic cotton | $199+ |
| | Exceptional Sheets Bamboo Pad | Bamboo rayon shell + cotton/polyester backing + polyester fill | $89+ |
| | Microfiber Quilted Mattress Pad | Polyester / Microfiber | $39+ |
Saatva Organic Mattress Pad
Why we like it:
Organic and Fair Trade Certified Cotton
300 thread count
Breathable and moisture-wicking
45-day sleep trial
The Saatva Organic Mattress Pad has a soft, comfortable feel while maintaining extraordinary breathability to help keep you cool at night.
The top part of the pad is made with 100% organic cotton with a thread count of 300. This fabric is certified by the Global Organic Textile Standard (GOTS), a well-respected marker for organic materials. It also has been Fair Trade Certified to support fair labor practices. A diamond-stitch pattern provides texture and helps hold all the cotton padding in place.
The side panels are 96% organic cotton and 4% spandex to give the material extra stretch and the ability to fit mattresses up to 16" deep. An elastic band holds the pad tightly in place. Air flows easily through the side panels to promote comfort cooling and effective temperature control.
Washing the pad is simple and can be done in the washer and dryer on gentle settings.
Saatva, which has an excellent reputation based on their line of mattresses, offers a 45 day sleep trial for this mattress pad and provides a 1-year warranty.
Parachute Down Mattress Pad
Why we like it:
Silky smooth sateen cotton cover
Down fill provides plushness and warmth
Extra deep (18") to fit virtually any mattress
90-day sleep trial and 3-year warranty
The Parachute Down Mattress Pad offers a luxurious companion to your mattress that excels in adding softness and warmth to your bed.
The shell of the Parachute Down Mattress Pad is made with 100% cotton that has a sateen weave. Sateen has an extra-smooth finish that is elegant and comfortable. Inside this shell is natural insulation made up of 75% down and 25% down and other feathers. All the feathers come from European white geese.
The down fill means that this pad provides much more softness and cushioning than many others. The 550 fill power of the down gives this mattress pad enough loft to deliver a cozy warmth without excessive heat retention. Double-stitching keeps the down in place to avoid bunching or lumps.
Preserving down means handling it with care when cleaning. This pad can be dry-cleaned or can be machine-washed and dried using delicate settings and following manufacturer instructions.
Parachute sells this mattress pad in Full, Queen, King, and California King sizes. The pad fits mattresses up to 18" in depth and has a continuous elastic hem to securely hold the pad in place.
Shipping is free, and each pad comes with a 90-day sleep trial. The product is also backed by a 3-year warranty to protect your purchase in case of a defect.
Birch Plush Pillow Top

Why we like it:
3″ OEKO-Tex certified natural Talalay latex
Organic cotton cover
Breathable Birch Wool layer made without chemicals or plastics
Handmade in the U.S.
The Birch Plush Pillow Top is an all natural latex mattress pad that offers the deep countouring and plushness of poly and memory foam options, but with the breathability and bounce of latex.
The pad is covered with a breathable, soft organic cotton that helps wick away moisture to help keep your bed cool to the touch even in summer months. The second layer is comprised of Birch's proprietary wool sourced from free range sheep in New Zealand. The specially designed wool is flame retardant, breathable and durable, ensuring your pad retains its shape over time.
Birch's pillow top pad is unique for its use of OEKO-TEX certified latex. Unlike foams which trap heat and can be difficult to move around on, Birch's 3 inch Talalay latex comfort layer stays cooler longer and provides additional support for those who find memory foam too soft.
Environmentally-minded shoppers will appreciate Birch's dedication to the use of sustainable and organic materials. The company even donates 1 percent of all sales to the National Forest Foundation.
Birch offers free shipping, a one year warranty and a 100-night sleep trial.
Avocado Organic Mattress Pad
Why we like it:
GOTS, Fair Trade, and GreenGuard Gold Certified cotton
400 thread count shell
Breathable and comfortable cotton fill
100-night sleep trial and 1-year warranty
Avocado has built its name as a manufacturer of top-quality bedroom products made with materials that are often a cut above the competition, and the Avocado Organic Cotton Pad fits perfectly into that description.
It is made with GOTS-Certified and Fair Trade Certified organic cotton in the top, in the fitted skirt, and in the fill material. The only non-cotton material is the thin elastic band used to help hold the pad tightly to your mattress.
The cover uses long-staple cotton that has a thread count of 400 that is soft to the touch and at the same time extremely durable. It has a sateen weave for added smoothness. The fill material is thick 400 gram per yard cotton fill to further enhance the softness of this pad. Double-stitching and reinforced edges hold the fill in place within the pad to prevent noticeable bunching.
The pad comes in Twin, Twin XL, Full, Queen, King, and California King sizes and has a 17" pocket that fits most mattresses.
The pad can be spot-cleaned or machine-washed without bleach. You can choose between tumble-drying on low heat or line-drying.
Avocado offers a 100-night sleep trial during which you can return the pad for a full refund if you aren't happy with it, and they also back their pad with a 1-year warranty covering product defects.
Exceptional Sheets Bamboo Mattress Pad
Why we like it:
Revoloft fill is plush and hypoallergenic
Bamboo rayon is breathable, soft, and durable
18" pockets to fit virtually all mattresses
Satisfaction guarantee and 1-year warranty
The ExceptionalSheets Bamboo Mattress Pad utilizes a blend of materials to provide a comfortable, breathable cover at a great price.
The top cover of this pad is made with bamboo rayon. The fill material is Revoloft, a hypoallergenic down alternative made with polyester. There is nearly an inch of thickness with this Revoloft fill, providing a plush feel to the pad. Beneath the fill is a backing of 30% cotton and 70% polyester.
A stretchy skirt made of polyester, nylon, and spandex covers the sides of the mattress, and elastic keeps this pad snug against your mattress. It has an 18" depth to fit even an extra-deep mattress. All together, these materials give the mattress sufficient moisture-wicking and breathability to help keep you from overheating on the pad.
ExceptionalSheets products are manufactured by eLuxury Supply, which has an excellent track record of reviews from verified customers online. They offer a 1-year warranty and a satisfaction guarantee for the ExceptionalSheets mattress pad.
Overall, the ExceptionalSheets Bamboo Mattress pad is great for people who want a mattress pad that is able to increase the softness and comfort of their bed without having to buy a thick mattress cover or topper.
Hospitology Microfiber Quilted Mattress Pad
Why we like it:
Brushed microfiber cover is cozy and plush
Down alternative fill delivers warmth and softness
18" pocket with stretch fabric to hold the pad in place
Hypoallergenic
The Hospitology Heavenly Mattress Pad includes several design elements to make it an easy way to improve the feel of your mattress.
The top layer is polyester that has a brushed microfiber feel for extra softness. Beneath this cozy cover is a synthetic down alternative fiber that is compressed to give it plushness without adding too much height to the bed. This material adds moderate warmth to your bed as well. Box-quilting holds this fiber fill securely in place even when you move on the pad or when you wash it.
It has deep pockets (up to 18") to fit practically any bed. A two-way stretch fabric in the corners makes it easier to place this pad on your mattress and for it to stay snugly in place.
The cover and fill materials are hypoallergenic, which is a welcome relief to people with allergies to down. The material can help protect your mattress, but it is not waterproof, meaning it can't defend against more serious spills. It is machine-washable and dryer-safe so long as you follow the manufacturer's instructions.
With a price point far below many other mattress pads, the Hospitology Microfiber Quilted Mattress Pad is an excellent value and a reliable way to add softness and comfort to your bed.
What is a Mattress Pad?
To make sure we're on the same page, it's necessary to start by defining what a mattress pad is. A mattress pad is a thin layer that goes over your mattress. Its main goal is to help defend your mattress from spills or other accidents that might harm it. And though it's not the primary purpose of a mattress pad, using one can adjust the feel of your mattress by adding extra material to the top of the bed.
Do you need a mattress pad, mattress topper, or a mattress protector?
Some similar products that are on the market are mattress protectors and mattress toppers. There are no "standard" definitions for these products, so it can be confusing at times for consumers. To clear this up, here's a basic breakdown:
A mattress pad goes on top of the mattress and helps defend the mattress from damage. It may also offer extra cushioning and comfort.
A mattress protector goes around the whole mattress and gives more heavy-duty protection. Most protectors are waterproof and hypoallergenic.
A mattress topper goes just over the top of the mattress, and its purpose is to adjust the feel of the bed. These are usually the thickest of these products but offer the least protection.
All of these products are designed to fit under your sheets.
You can refer to the table below for a summary of this comparison between these products:
Mattress Pad
Mattress Topper
Mattress Protector
Placement
Over top and sides
Top of mattress
Over entire mattress
Thickness (typical)
.125″ – 1″
.5″ – 3″
.125″ – 1″
Material (typical)
Fiber (cotton, polyester), down
Foam, latex, fiber, down, wool
Fiber (rayon, polyester, cotton, and blends)
Amount of Protection
Medium
Low
High
Waterproof?
Sometimes
No
Normally
Hypoallergenic?
Sometimes
Rarely
Normally
Main Reason for Use
Minor protection of mattress
Adjust mattress feel
Defend mattress against spills and other damage
What are you hoping to achieve with your pad or topper?
One of the best ways to determine which of these products may be most appropriate for you is by considering the rationale that caused you to start looking at mattress pads in the first place. Here's a quick breakdown of different situations and which product might be best:
You need more support:support from your bed is what helps to keep your spine aligned so that you don't wake up sore. If you are in need of more support, then a mattress topper is clearly going to be the best option. In this case, check out our guide to the Best Mattress Toppers.
You need a softer feel:if your mattress is too firm for your liking, then a topper is going to offer the greatest ability to adjust that feel. If you only need a little bit more softness, a mattress pad may be able to do the trick.
You need a firmer feel:if your mattress is too soft for you, a topper will be the only reliable way to get a firmer comfort level.
You need to keep your mattress safe from stains and damage:for the most robust defense, a mattress protector will be your best choice. If you feel that a protector would be overkill, a mattress pad can help defend your mattress.
You have a mattress protector that is very noisy:mattress pads generally do not disturb sleep because of noise. This is also true of most toppers, but if the main goal is just to eliminate noise, a pad is a better value.
You want to reset the feel of your bed:a topper does much more to alter the comfort and support levels of your bed, so it is the best choice for pressing the "reset" button.
You need to keep allergens away:if you are highly sensitive to allergens, a protector will give you the highest performance since most have hypoallergenic covers. However, a mattress pad, especially one that is easily washable, can still help fight allergen accumulation.
In some cases, you can use more than one of these products. For example, if you buy a new topper and want to keep it from getting stained, you could encase it and the original mattress in a protector.
Types of Mattress Pads
Even though the general design of a mattress pad is simple, they can be constructed using a number of different types of materials.
This American House
The life of the Delbert Meier House, an American System-Built Home designed by Frank Lloyd Wright.
12 Mattress Brands That Are Made in America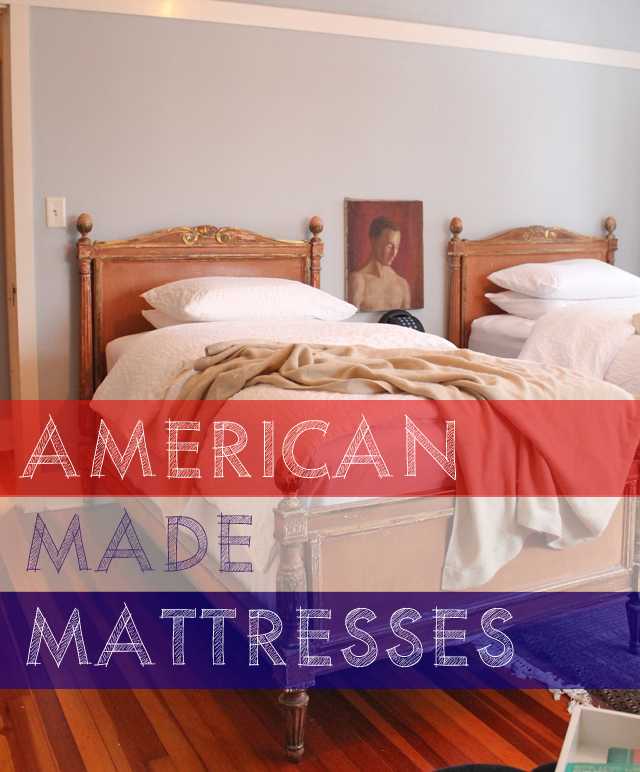 In our attempt to furnish the house with only secondhand or American made products, I found myself researching mattresses that are manufactured in the United States. As it turns out, there are quite a few mattresses companies with manufacturing facilities in the US. From traditional inner spring to the newer latex and memory foam mattresses, from budget to luxury brands, check out this list of American made beds.
Casper is the new kid on the mattress block. Covers and panels are sewn in Illinois and South Carolina and the foam for the mattresses is poured in Pennsylvania and Georgia.
Tuft and Needle mattresses are designed, sourced and manufactured in the States. The foam is poured and cut in the states, the fabric is sourced from a mill in the Carolinas and the mattresses are finished at a factory in California.
Kingsdown mattresses has been based in North Carolina for more than 100 years. They still produce some mattresses there, but they also have factories in California, Oklahoma, Virginia, as well as global manufacturing facilities.
The Original Mattress Factory has factory store locations in nine states, as well as available nationwide online. They offer both foam and pillow top mattresses.
Sealy mattresses are manufactured in three factories in the United States. The brand makes traditional innerspring mattresses, as well as hybrid, gel memory foam and latex foam mattresses.
Saatva Mattresses are produced in factories in twelve US states and are distributed through 35 fulfillment centers. The inner spring mattresses feature organic cotton covers and bio-based foam.
Englander has seven factories throughout the United States. They do not sell direct to the public so check mattress stores for the label.
Cozy Pure's organic latex mattresses are manufactured in Norfolk, Virginia. The company also produces bedding and mattress pads.
Stearns and Foster mattresses are made in the USA, although I couldn't find out exactly where.
Sealy operates 25 bedding plants in the U.S., producing both innerspring and foam mattresses.
EasyRest adjustable beds and mattresses are made in factories in Louisville and Georgetown, Kentucky and Nashville, Tennessee.
Thomasville Bedding Company has been manufacturing their mattress in Thomasville, Georgia since 1969. They make both innerspring and latex mattresses, as well as custom mattress and box springs.
Image: This American House
Share this:
15 thoughts on " 12 Mattress Brands That Are Made in America "
I love that everything you're adding to your house is secondhand or American made! A themed home is a seriously unique concept.
http://www.acmebeddingcompany.com/ Acme Bedding. Located in Muskegon, MI. Can customize to exactly what you want!
A few other American made mattresses: Dutch Craft mattresses made in Celina, Tennessee. Jamison Bedding, made in Tennessee and a few locations in the western US. Verlo mattress company has several locations around the US.
Oh and Corsicana Bedding from Corsicana, Texas. They also make these in Shelbyville, Tennessee.
Add amerisleep and leesa
Our furniture store sells American-made furniture – as well as Justice Mattresses made in Lebanon, Missouri.
Have you seen http://www.loomandleaf.com or http://www.zenhaven.com ? They're both American made luxury mattresses, one is memory foam and the other one is Latex.
Have you seen https://drommabed.com? Dromma is a 100% Made in America mattress with triple layer, cooling gel memory foam. I sleep on one and love it.
paramountsleep.com We have had their Nature's Spa for almost 10 years! Still wonderful.
Englander been into making Mattresses for over 125 yrs. Made in the USA!
Many Englander manufactures are across the United States. Tualatin Sleep Products in the Northwest is in Tualatin Oregon and produces for 7 states OR,WA,CA,ID,NV,UT,AK
Tualatin Sleep Products also manufactures other brands Eclipse,Eastman House.
Family Owned & Operated-Better Sleep by Design
(503)692-5510
My wife and I really enjoy the Eco Terra – https://ecoterrabeds.com. It's similar to the Zenhaven, but has actual third party certifications. It's also a step above Casper.
Casper memory foam mattresses are not made in the US but in China and shipped to warehouses through out the US.
Amore' mattress is made in Chicago, They also make a 12″ hybrid
Such useful information! All these brands are quite famous and liked by the people of America.
Trying to find out who makes the Calumet by Private Selection.
Leave a ReplyCancel reply
This site uses Akismet to reduce spam. Learn how your comment data is processed.
Buying a Mattress Made in USA: The Ultimate Source List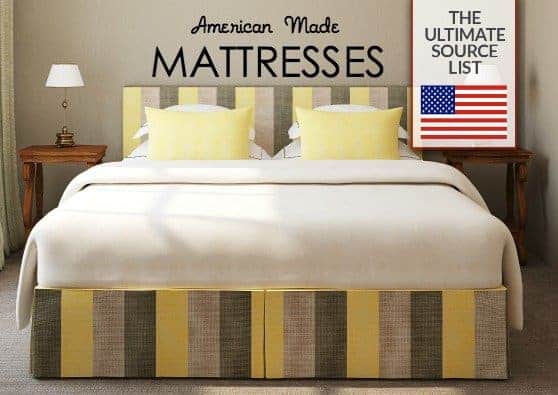 Is buying a mattress on your list of things to do this year? A good mattress is an investment in your comfort and health, but it is also a good opportunity to buy American from a company you can trust. There are a surprising number of options. Don't miss this list of American made mattresses to get you started on your search for the perfect one!
Don't miss our source lists for American made bedding and made in USA organic bedding.
Buying a Mattress Made in USA
Aslan: 365 Night Trail, Infinite Warranty
Aslanis the only mattress company that offers a full 365 night trial with free returns on a product that is 100% made in the USA. They also offer an Infinite Warranty and will match other mattress warranties. Aslan medium-firm mattresses are made of 3 layers of state of the art CertiPUR-US Foam and offer ideal comfort and support for all body types. The top layer is made of beaded GEL Memory Foam, which provides temperature regulation and helps keep the body cool. Aslan mattresses also have great edge support, and are Zero Off-Gassing.Save 10% on Aslan mattress and pillow orders with promo code USALOVE.
BedInABox.com: The Original Mattress in a Box
For 12 yearsBedInABox.comhas been offering affordable luxury mattresses online. It is the oldest direct sale mattress company in the business. All BedInABox is the only box mattress company that manufactures it's own foam cores in the USA and they are CertiPur-US® certified. Choose from mattresses for every sleep style and budget. BedInABox.com offers 120-night sleep trial. You pay nothing if you are not satisfied with a money back guarantee, just contact our onsite customer service center. Every mattress is covered with a 20 year warranty as BedInABox stands behind all products with an exceptional warranty. Get your new BedInABox mattress in only 2-5 days in the contiguous US as it is shipped right from the facility where every product is inspected for quality. Free shipping on all orders!15% off all BedinaBox.com orders (and an additional $25 off the Azul and Tranquillium mattresses) with discount code USALOVE through March 6, 2020. Valid on all Queen Size Mattresses and higher, with the exception of the PacBed Lite Mattress.
CRāVE: Luxury Foam and Spring Hybrid Mattresses
The CRāVE team knows that one mattress does NOT fit all which is whyCRāVEoffers four mattress styles to choose from. Two of CRāVE mattress styles are foam and spring hybrid mattresses- mattresses that provide comfort and support equal to traditional luxury spring mattresses, but at a lower price.CRāVE mattresses are Eco-friendly. All foams used are CertiPur-US® certified. Made in North Carolina, all materials used in CRāVE mattresses are sourced with in a 200 mile radius, reducing their carbon footprint. Receive the good night's sleep you crave on an affordable, Eco-friendly, luxury mattress. CRāVE mattress offers free shipping too!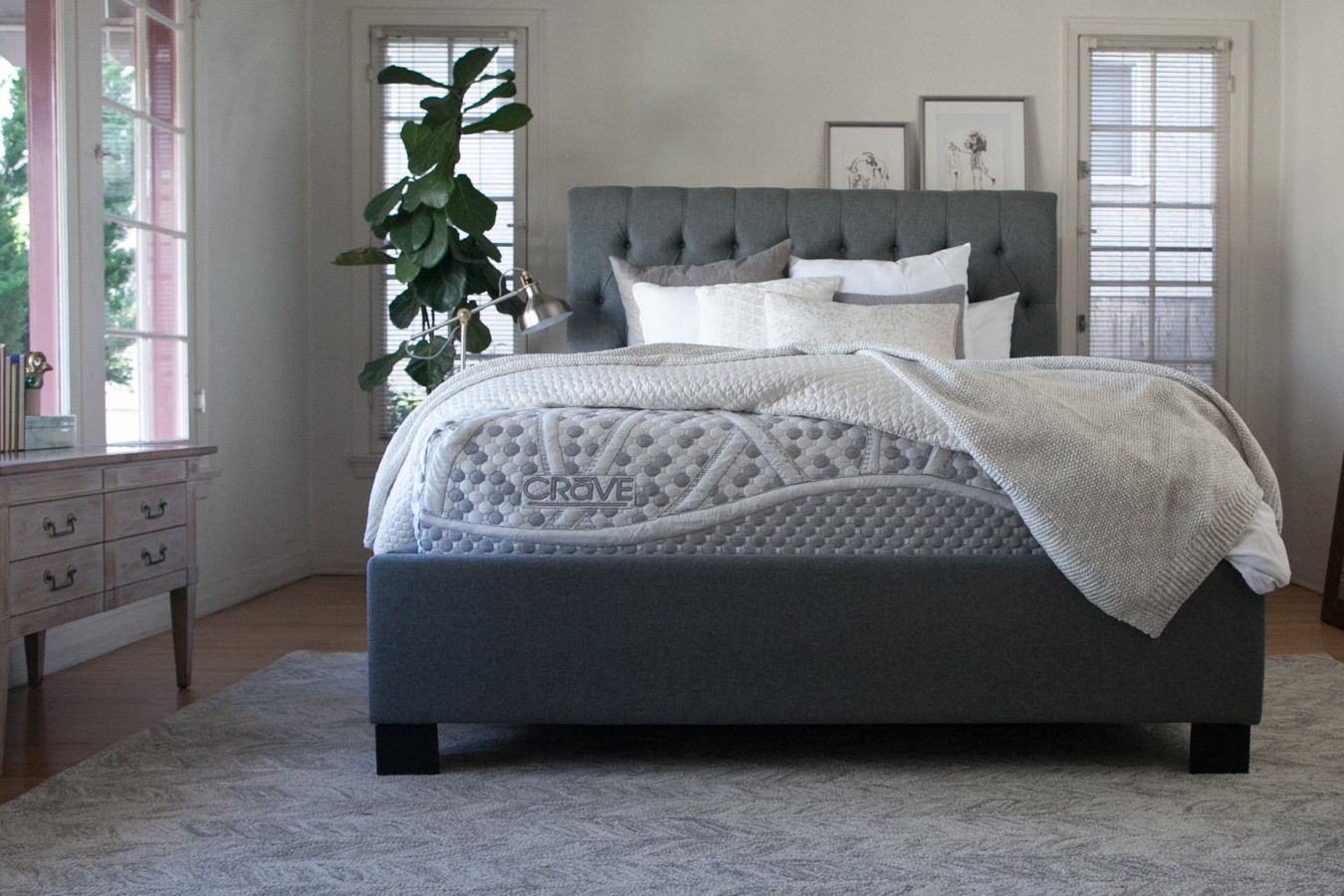 My Green Mattress: Non-Toxic Mattresses
My Green Mattressnon toxic mattresses are handcrafted in Illinois. All My Green Mattress mattresses are GREENGUARD Gold Certified, which considers safety factors for individuals with sensitivities and allergies. Instead of chemical laden flame retardants, My Green Mattress uses American Eco Wool as a natural flame barrier on it's mattresses. The wool is sourced from California and Oregon. For its latex mattresses, My Green Mattress uses 100% GOLS (Global Organic Latex Standard) Certified Organic Dunlap latex. Dunlap latex is made from the sap of the rubber tree. My Green Mattress even offers a 100 night sleep trial.MyGreenMattresss discount code USALOVE saves you $125 off.

Factory Direct Mattresses
Did you know that you can get high-quality mattresses sent right to your door? I honestly had no clue until I started doing research for this list! Purchasing a mattress from an online-only retailer usually means that the mattress comes to you directly from the factory. This lowers the cost of the mattress by cutting out retail store costs. To make shipping easier, these mattresses come rolled up in an easy to handle box. I have to admit, I was a little wary about purchasing a mattress this way.
BearMattresssent me a twin size mattress to review. BearMattress gel memory foam mattresses are uniquely designed for optimal cooling, comfort, and healing. The mattress arrived right to my door via UPS.
The box was easy for me to move without the need of another person and contained easy to follow directions on how to remove the mattress. With the help of my kiddos, we removed the mattress from the box, followed the directions, and had the mattress ready to use in no time. Once we unrolled it, there was no evidence at all that the mattress had previously been rolled up.
BearMattress was specifically designed for those with an active lifestyle as it's engineered with four layers of foam to promote healing, cooling and to increase energy levels. Active, I am not, so this review is limited on that aspect. However, the day that the mattress arrived I had been on a hike with the hubby that included going up and down a large hill which normally would have resulted in sore muscles the next day. Coincidence or not, after sleeping on the BearMattress that night (and having a great night's sleep), I did not have a spot of soreness.
My daughter is the one who has been sleeping on the mattress since. She is the person in the family who is always hot, and she would often wake up during the night from being too hot (even in the winter). This has not been happening since she has had this mattress. For our first online mattress experience, BearMattress has set the bar high!
Buying a Mattress Made in USA: Ultimate Source List
Many of the companies on this list are online only stores. This list is always growing, so check back often. If you have a favorite American made mattress company that you don't see on our list, let us know in the comments and we will add it.
4Sleepoffers luxury foam mattresses.
Agilityhybrid mattress was designed with moms in mind.
Ameena Mattressare factory direct and manufactured in Georgia (the covers are made in North Carolina) from CertiPur-US certified memory foam.
Amerisleepis a maker of natural memory foam mattresses.
Amore Bedsmattresses are available with organic cotton fabric, split mattress firmness. Also available: 2 sided flippable mattresses and coil hybrid mattresses.

AslanGEL infused memory foam Certi-pure USA certified mattresses are made in the USA and come with a 365 Night Trial.Learn more about Aslan mattresses at the top of this post.

Avocadomattresses are made with natural and organic materials in California.
BearMattressmemory gel foam mattresses are specifically designed for athletes and those with active lifestyles. See review above.
BedinABox.comis an online retailer and manufacturer of memory foam mattresses, located in Tennessee. The Serenity mattress is pictured below.Learn more about this made in USA Mattress company at the top of this post.15% off all BedinaBox.com orders (and an additional $25 off the Azul and Tranquillium mattresses) with discount code USALOVE through March 6, 2020. Valid on all Queen Size Mattresses and higher, with the exception of the PacBed Lite Mattress.
Brentwood Homememory foam, latex, spring, and foundation mattresses (quilts, pillows and pet beds too) are made in California.
Brooklyn Beddingfactory direct mattresses, pillows and sheets are made in Arizona.
Caspermattresses, pillows and sheets are made in the USA and factory-direct.
Cocoon by Sealymattresses are assembled in the USA.
Colgatemanufactures crib, changing table, and bassinet mattresses.
Cozy Puremanufactures organic pillows, sheets, blankets, and toppers in Norfolk, Virginia.
CRāVE Mattressfoam and innerspring mattresses are Eco-friendly and made in North Carolina.Learn more about CRāVE Mattress at the top of this article.

Create A Mattressmanufactures made to order memory foam, latex, futon, and pillow-top mattresses in the USA.
Diamond Mattressbrands includeRallyand Diamond. Diamond Mattress has been making mattresses in the USA since 1946.
Dromma BedEco-friendly mattresses are made in the USA from natural materials.
Easy Restadjustable mattresses are made in the USA.
Eco Terrahybrid mattresses are made in California from 100% talalay latex and have fabric encased coils.
Elementfactory-direct memory foam mattresses are 100% American made.
eLuxuryis an online retailer of bedding products. Not all products are American made, but they have a selection of pillows, mattresses, and toppers that are.
Envi3 layered mattresses are made in Portland.
Everlaymattresses, pillows, and even pet beds are made in California.
Freedom Sleepmattresses are affordable and American made
GhostBedGel memory foam and latex mattresses by Nature's Sleep. Foundation/box spring also made in USA.
Helixpersonalized mattresses are made to order.
HIBRmanufactures cooling memory foam mattress, made in America.
Hyphenmattress is designed for a cool, clean, supportive sleep.
Kiss Mattressmemory foam and latex mattresses are made in USA.
Leesafoam mattresses for everybody. For every 10 mattresses sold Leesa donates one mattress to a shelter.
Lilybedmattress is designed for women, made in Vermont
Loom & Leafby Saatva. These ultra–luxury mattresses are made from a plant-based foam
Luxiis a luxury foam mattress that adapts to your body's needs
Memobedluxury hybrid copper infused mattress, made in California
My Green Mattressnon-toxic mattresses are handcrafted in Illinois. The Hope latex mattress pictured below is made from certified organic Dunlap latex, made from the sap of the rubber tree.Learn more about My Green Mattress at the top of this post.MyGreenMattresss discount code USALOVE saves you $125 off.
MyPillowmakes a mattress too- 10″ and 4 layers.
Nest Beddingsells American made organic mattresses, sheets, pillows, blankets, and comforters.
Newtonbreathable crib mattresses are made in Tennessee.
NolahEvery part of the mail order Nolah foam mattress is made in the USA in one of their 8 factories.
Novosbeddesigner luxury memory foam mattresses are made in Pennsylvania.
Pacific Mattress Co.float foam mattresses are made in California.
PangeaBedmanufactures copper infused Talalay latex mattresses.
PerformaSleepmattresses are handcrafted in the USA. The foam is made in Georgia and the covering materials in South Carolina.
Plushbedsflagship product is the Botanical Bliss American made organic latex mattress – a custom-made, hand-crafted, adjustable firmness model with a 25-year warranty. PlushBeds offers free shipping and a completely risk-free money-back guarantee.
Puffyfoam mattresses are American made.
PuraSleepmemory foam mattress and pillows are American made.
Purpleoffers no pressure mattresses, made in USA.
Quilbedmanufactures gel memory mattresses.
Real Sleep by Real Simplemattresses are 100% made and designed in the USA
Saatvais the only online mattress brand that manufactures and sells ultra-premium innerspring mattresses.
Sertamattresses are available in 7 sizes from crib to Cal King. Serta has 24 factories throughout the USA.
Spoonmattresses are memory foam.
Spindlenatural latex mattresses are made in Massachusetts.
Stumptown Mattressmattresses are affordable and made in the pacific northwest.
Summerfieldmade in New York and developed by the owners of the mattress store Craig's Bed.
Sure2Sleepoffers plush gel memory foam mattresses
Tangomattresses are 2 sided- plush on one side, firm on the other
tulomattresses are available in multiple firmnesses and can be purchased in store AND online.
Tuft & NeedleAdaptive Foam mattresses are made in California from materials sourced throughout the USA.
Warrior Bed Companymanufactutures Certipur-US memory foam and gel mattresses in Mississippi.
WinkBedshybrid premium mattress, made in USA
Yoga Bedluxury gel memory foam mattresses
ZenBedGEL infused hybrid memory foam mattress are American made
Zenhavenby Saatva affordable luxury natural latex mattresses made in USA with organic cotton and wool.
Zottooffers hybrid foam mattress and mattress topper.
Disclosure: This is a sponsored post which USA Love List is proud to share with you because, sponsored or not, we only share stuff we love.
How are mattress pads made
Add foundational support with durable memory foam. Memory foam is more dense than polyurethane foam, so it feels firmer. Memory foam mattress toppers support your body's curves, which may help relieve pressure points or minor aches.
Polyurethane foam pads
Got a firm mattress? Add some oomph to your bed with a polyurethane foam mattress topper. Polyurethane foam is less dense than memory foam for a medium feel that's not too firm and not too soft. It's a cool and comfy addition to a bed and an affordable alternative to a new mattress.
Down (& alternative) toppers
A light and fluffy down mattress topper is the ultimate in softness. It's luxurious comfort that will help you stay warm all night long. Fill options vary from real feathers to down-alternative toppers, which are great for people allergic to down or anyone on a budget.
Find even more mattress pads & toppers
Shop by bed size
Made By Design : Mattress Toppers & Pads
Have trouble sleeping? Maybe you should try adding a comfy mattress topper. They are a great fit if your mattress feels a little too firm. Mattress toppers can offer added support for your back and help bring a sound sleep all night long. We offer a wide range of sizes, including king mattress toppers, queen mattress toppers, twin mattress toppers and twin XL mattress toppers. Whatever the size, they're sure to help make you feel more rested and ready to take on the day! Adding that extra layer of comfort to any restful retreat, whether it's the master bedroom, guest bedroom or even the kids' bedroom has never been so easy. Our waterproof mattress pads protect your mattress effortlessly from spills and stains. Easy to maintain, these mattress pads are sure to give you a worry free and cozy sleep. Or, take away the chill before you get into bed with a heated electric mattress pad. Our collection of mattress pads are designed to provide a snug fit over your mattresses, making your bed softer and more relaxing in a snap.
Top 10 Best Mattress Pads in 2020 Reviews
Shopping for the perfect mattress pad can be tricky, so we're here to help you by featuring the 10 best mattress pads in 2020 reviews. Here, we present to you our top picks available in stores, which should guide you with your purchase. After all, the last thing you want is to end up spending more for an item that falls below your expectations.
You see, mattress pads come in a wide range of styles. No matter what the variety, however, mattress pads offer ultimate support and comfort to you all night long. There are also various materials used in mattress pads such as natural latex, memory foam, wool, or cotton. If you have allergies, it's best to look for a hypoallergenic mattress pad. With back pains, a thicker pad should be ideal for you. The firmer it is, the more support you can get to alleviate the achy joints and back once you get up from bed.
Best Mattress Pads in 2020
So, check out these reviews on our highly recommended mattress pads and make a purchase that you'll never regret.
#
Preview
Product
Price
1
LEISURE TOWN Queen Mattress Pad Cover Cooling Mattress Topper Cotton Top Pillow Top with Snow Down.
$39.90
View on Amazon
2
oaskys Queen Mattress Pad Cover Cooling Mattress Topper Cotton Top Pillow Top with Down Alternative.
$39.95
View on Amazon
3
Utopia Bedding Quilted Fitted Mattress Pad (King) – Mattress Cover Stretches up to 16 Inches Deep -.
$39.99
View on Amazon
4
LINENSPA 2 Inch Gel Infused Memory Foam Mattress Topper, Twin
$39.99
View on Amazon
5
AmazonBasics Hypoallergenic Quilted Mattress Topper Pad Cover – 18 Inch Deep, Full
$20.99
View on Amazon
6
Bedsure Extra Thick(2lbs/500GSM) Padded Cotton Mattress Pad Twin Size (up to 18 inches) – Deep.
$35.99
View on Amazon
7
SafeRest Queen Size Premium Hypoallergenic Waterproof Mattress Protector – Vinyl Free
$26.95
View on Amazon
8
Edilly Queen Size Cooling Mattress Topper,Premium Hotel Quality Mattress Pad Cover,Protector for Bed.
$49.99
View on Amazon
9
EcoMozz King Pillowtop Mattress Pad with 8-21" Deep Pocket Cooling Hypoallergenic Down Alternative.
$50.99
View on Amazon
10
Taupiri Queen Quilted Mattress Pad Cover with Deep Pocket (8"-21"), Cooling Soft Pillowtop Mattress.
$26.99
View on Amazon
Last update on 2020-04-09 / Affiliate links / Price / Images from Amazon Product Advertising API
Table of Contents
10. Milliard 2-Inch Ultra Soft Full Size Gel-Infused Memory Foam Topper

We can never get enough of the outstanding support that this topper offers. If you're anything like us who prefer a mattress pad that helps with back and neck pains, then this product fits the bill. It features a memory foam material with anti-microbial and hypoallergenic features that help with individuals who suffer from asthma and allergies. Since it's infused with gel memory foam, this ensures the equal distribution of weight and optimum air circulation. You'll experience nothing but sheer comfort each time you lay in bed.
As we've mentioned, firmness is a major aspect of this pad. The only downside is that it can get very firm, which may not be suitable for those who like something softer and cloud-like.
9. Hanna Kay Hypoallergenic Queen Quilted Mattress Pad
Another brilliant mattress pad that we've discovered is this one by Hanna Kay. It's a quilted pad that can fit mattresses with a maximum depth of 18 inches. The fit is just superb, so there's no issue with the pad slipping or sliding when you sleep. Plus, with a hypoallergenic fill, your allergies are under control. The polyester material is safe for allergy sufferers, and there's an excellent cotton content that facilitates the breathability of this mattress pad. Most importantly, maintenance is a breeze since this pad is machine-washable for your convenience.
We've noticed, though, that the side portion of the cover is rather thin with a nearly see-through quality. It may not be that much of an issue for other people, but this may be a test of the pad's durability.
8. Queen Size Ultra Premium 2-Inch Visco Elastic Memory Foam Pad Bed
A sound sleep can give you a boost in energy each day. This is why with a dependable mattress pad such as this product, you'll wake up feeling refreshed every time. It has a 2-inch visco-elastic memory foam material that conforms to your body's natural shape. In addition, there's a Cool Cycle Polymer technology that gets the heat out while keeping your body cool and fresh. We can attest to the way this pad minimizes pressure points, regardless of the type of sleeper that you are.
Almost everything about this mattress pad works brilliantly, well except for a few things such as the slight smell and a little bit of heat retention concerns. Other than these, the pad is great!
7. Sunbeam Quilted Queen Size Heated Mattress Pad (equipped with SimpliTouch Pro Controller,)
Go to bed feeling all cozy with this quilted mattress pad. It comes with a controller that warms up the pad in seconds. It's the perfect companion when the weather is chilly, so you can stay comfy and toasty all night. There are 10 heat settings for the controller, along with a 10-hour automatic off. Moreover, there's the wiring system that adjusts and senses all throughout the blanket. The result – you can get a heated pad and the finest experience each time you sleep.
Just a little warning, though. This pad can get very hot, which may be overwhelming and uncomfortable for you. Also, it's best to not set it at anything higher than 2 because it can damage the controller.
6. King Size Spa Luxury Poly-Knit Plush Cool Touch Mattress Pad
Transform your bed into something softer, warmer, and cozier in an instant. This mattress pad is made of poly knit materials that are hypoallergenic and cloud-like to the touch. There's also the infinity skirt included, and this gives a snug fit for any mattress with a maximum height of 18 inches. It's made of 70 percent poly knit and 30 percent lyocell, but the skirt and backing are 100 percent polyester. With a machine-washable feature, you'll have no problem keeping this pad clean.
The materials are durable and soft, and we did not experience any allergy attacks when sleeping using this pad. However, we're not quite crazy about the printed designs on the pad's surface, which are a little dark. When using white sheets, the prints show through.
5. Sunbeam Queen Size Waterproof Heated Mattress Pad
The warmth and comfort that this mattress pad by Sunbeam is simply impressive. It comes with a 100 percent cotton material, along with a 200 thread-count for the top and 6 ounces of fill that offers ample protection to the mattress in case there are spills or moisture. You can also select from 10 different heat settings using the SelectTouch controller. Lastly, the auto-off function set to a maximum of 10 hours is a great addition to this product.
We think that there are rooms for improvement with this product. The pad's side portion comes with a polyester netting that's somewhat sloppy and loose. This makes it tougher for the fitted sheet to remain tucked in. There's also an audible humming sound when the pad is being heated.
4. Twin Size iSo Core 3-Inch Memory Foam Mattress Pad
If you think your bed needs a quick upgrade to also improve your sleep quality, then you can count on what this mattress pad with memory foam can offer. It has a 3-inch memory foam with open cell structure that conforms to the contours of your body. The softness is also unbeatable, so your rock-hard bed will no longer be something you have to deal with. With the iSoCore foam, you're guaranteed to wake each day pain-free and ultimately refreshed. You'll be amazed by the positive impact this will have to your health and daily life.
We measured the pad and noticed a particular issue with the size. The twin XL tends to be a little smaller than what the standard measurement is, which can make it a bit misleading to buy without checking the sizing first. Overall, though, the softness and comfort are extraordinary.
3. Pinzon Queen Size Hypoallergenic Mattress Pad Overfilled Microplush
Enjoy every moment you sleep with this mattress pad with microplush fill for the ultimate comfort. You can even customize the fill level according to what you prefer and go for over 50 ounces, if you wish. When the weather is frigid, you'll get extra insulation from this very soft and cozy mattress pad. The top is made of 100 percent polyester and the sides come with a spandex material.
We love this mattress pad because of its softness and warmth. However, if you want something that feels almost like cotton, this product may fall short of your expectations because it can get a little firm.
2. Sunbeam Premium All-Season Queen Size Heated Mattress Pad (available with Two Heating Digital Controllers)
Warm up your bed with this heated mattress pad that works perfectly. It gives you a sense of relaxation and calm when you bask in the warmth of the pad. It features a nice quilted design with 10 varied heat settings and an auto-off function to customize just the way you want to cozy up the mattress. Plus, you can even pre-heat the sheets when they're still cold, which is possible to do before you go to bed. This is a machine-washable pad, which takes the stress out during cleanup.
We just have one minor concern with this pad. The plug connection tends to be felt over time, although initially, we barely noticed it. This is more like a little bump against our body, but it's not that annoying.
1. Hospitology Heavenly Hypoallergenic Microfiber Overstuffed Goose Down Alternative Mattress Pad
This twin size mattress pad comes with a brushed microfiber polyester material, which is a great type of fabric because it's soft like cotton, yet hypoallergenic and durable. There's also a natural stain repelling component on the surface, and this maintains the cleanliness of the pad. However, for heavier types of spill, you'll need professional help to get these out. Even with the down alternative that's rather thick, there's barely any bulk. This gives you a highly comfortable feeling all night long.
Just remember that this pad is too big to wash in a smaller machine. So, you'll have to get professional cleaning after every use of this mattress pad to prevent damages on the material.
These are our top picks for you when it comes to the finest mattress pads in the market. We hope you enjoyed these reviews that lead you to the product you've always wanted to purchase for your needs!
How useful was this post?
Click on a star to rate it!
Average rating 0 / 5. Vote count: 0
No votes so far! Be the first to rate this post.