How Are Air Mattresses Made?
Air mattresses offer an affordable bedding solution for millions of people all over the world. From camping to other outdoor activities, lots of people are able to enjoy nature thanks to these mattresses.
They are equally great for sleeping indoors whether you have kids coming over or family on their way. even if you have the worst inflatable mattress in the world.
This is why these types of mattresses inevitably pop up in the minds of consumers as soon as they think of temporary bedding.
So, how are inflatable mattresses made? What kind of materials go into the manufacture of these units?
If you have been getting quality use out of your mattress then you'd probably want to know how they are manufactured.
Even if you have never owned one of these mattresses, it still pays to know.
Stick around as we go through some of the materials that go into the manufacture of these portable mattresses.
Who knows? This may help point you in the right direction the next time you decide to shop for an air mattress.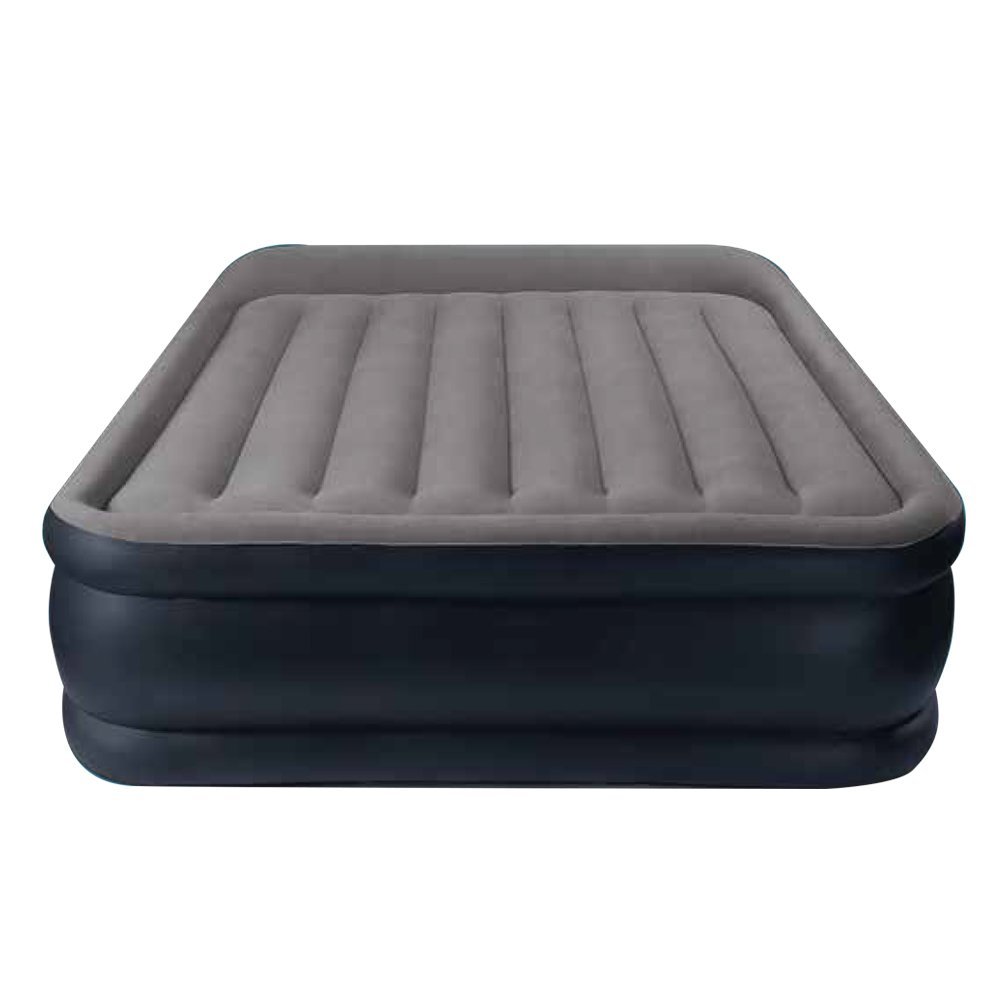 Polyvinyl chloride (PVC) is one of the most popular materials in the airbed industry. If you have been doing a little bit of research on these units then you may have come across some popular models manufactured from this material.
While lots of affordable mattresses are manufactured with PVC, it is not uncommon to find some high-end models made from it too.
Advantages of PVC Air Beds​
There are lots of advantages you stand to gain from mattresses manufactured by PVC. Here are a few of them.
Waterproof
One of the main reasons for the popularity of PVC the waterproof capabilities. Mattresses made with this material give you a waterproof surface to enjoy your sleep.
The fact that inflatable mattresses are waterproof unlike regular ones makes it suitable for the needs of many consumers. While regular beds can get wet when water or another liquid spills on it, inflatable ones have been traditionally different.
Waterproofing comes in handy in blowup medical mattresses and those relied upon by the bed-ridden.
Low Maintenance
When shopping for an airbed, it is important to choose one that is low maintenance. We live in an era where everyone is extremely busy so you wouldn't want to waste time keeping your mattress in good shape.
This is what gives PVC an edge over the other materials used in the airbed manufacturing industry. It requires no need for washing, drying, and any of those tedious activities.
However, if you insist oncleaning your mattressperiodically then you can simply get it done with a piece of washcloth and water.
This is another advantage these mattresses have over regular ones.
​Fire Resistant
While most regular mattresses are unable to withstand fires, this is a problem PVC airbeds do not have. Manufacturers apply specific chemicals on the surface of these airbeds to ensure their ability to stay in their original physical condition even when exposed to fire.
This feature is especially handy because non-PVC air mattresses are mostly manufactured from plastic or other materials which crumble when exposed to fire.
Cheap Manufacturing Process
One of the reasons why air mattresses have become so popular is the fact that they are significantly inexpensive. Industry experts have revealed that manufacturing them with PVC comes at significantly lower costs when compared to the others.
Industry players are therefore able to make their product lines available to consumers at affordable prices. You definitely do not have to break the bank in order to get a quality inflatable mattress.
Disadvantages
As expected, there are some drawbacks that come with inflatable mattresses manufactured from PVC. Here are a few of those:
Toxic Material
PVC is far from the cleanest material in the inflatable mattress manufacturing industry. In fact, this plastic has been found to be toxic and harmful to the environment in so many ways.
Vinyl chloride, a sub-component of the material results from the combination of plastic and petroleum.
Production causes the release of toxic chemicals into the environment. If you are green-conscious then you may have to look for one manufactured from alternative materials.
Less Comfortable
It is no secret that PVC is a plastic material. It is quite hard in its basic form meaning it doesn't make the most suitable sleeping surface. Some additional chemicals are added during the manufacturing process to soften and make it more comfortable.
Phtalates are the most popular chemical added to PVC to make it soft during the manufacturing process.
This chemical can be absorbed into the skin while you are sleeping. It has been linked with severe medical conditions such including cancer and asthma.
Other Manufacturing Materials Used in Air Mattresses
Textile-reinforced urethane and rubber are alternate materials used in the manufacturing of airbeds. They are quite popular and usually found in some of the high-end models available for sale.
Advantages
Here are a few advantages of going in for an airbed manufactured from rubber and textile-reinforced urethane.
Thicker and Puncture-Resistant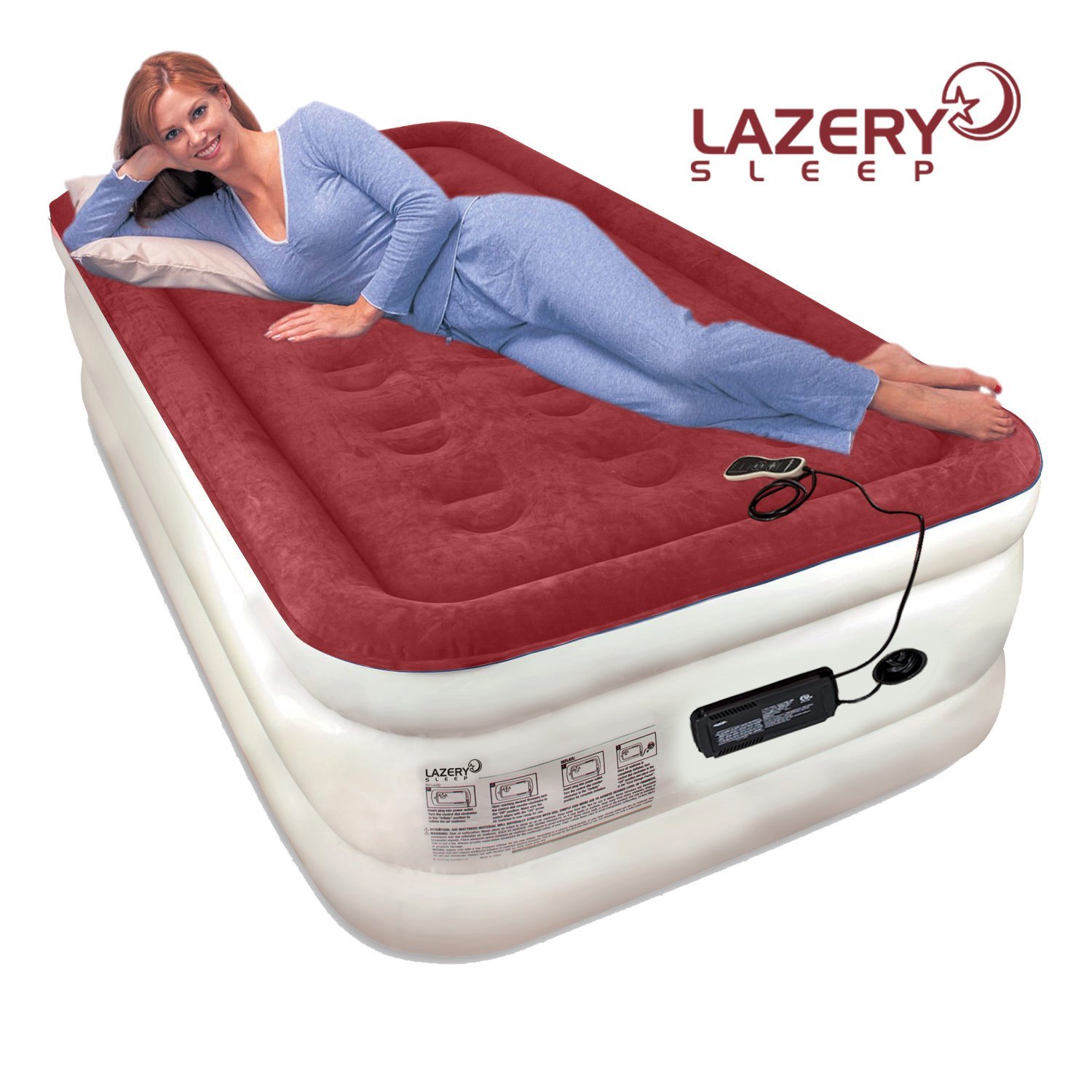 The advantage of textile reinforced urethane is they are more puncture-resistant and thicker than PVC. This means that buying a mattress made from one of these gives you more comfort and durability.
The advantage of textile reinforced urethane is they are more puncture-resistant and thicker than PVC. This means that buying a mattress made from one of these gives you more comfort and durability.
True, there may be lots of ways to fix punctures in your mattress. However, how would you feel about having a mattress with minimal risk of puncturing in the first place?
Absence of Phtalates
Thermoplastic urethane airbeds contain no phthalates. You can therefore sleep on them without risk of developing any medical issues. These mattresses typically come with no odors, which is another problem arising out of phthalates.
Disadvantages
The main disadvantage of choosing an airbed manufactured from thermoplastic urethane is the expense. The high cost of manufacture means they are relatively more expensive than models from PVC.
The Verdict
We hope you have learned a few things about the manufacturing process of air mattresses and are in a better position to make a sound choice.
If you want something environmentally friendly and willing to pay the full cost then thermo urethane is a good choice. Rubber is another great choice if your budget is not too tight.
On the other hand, PVC mattresses hit you less in the wallet and are great for consumers with low budgets.
Best Mattresses Proudly Made in the USA: Reviews and Buyer's Guide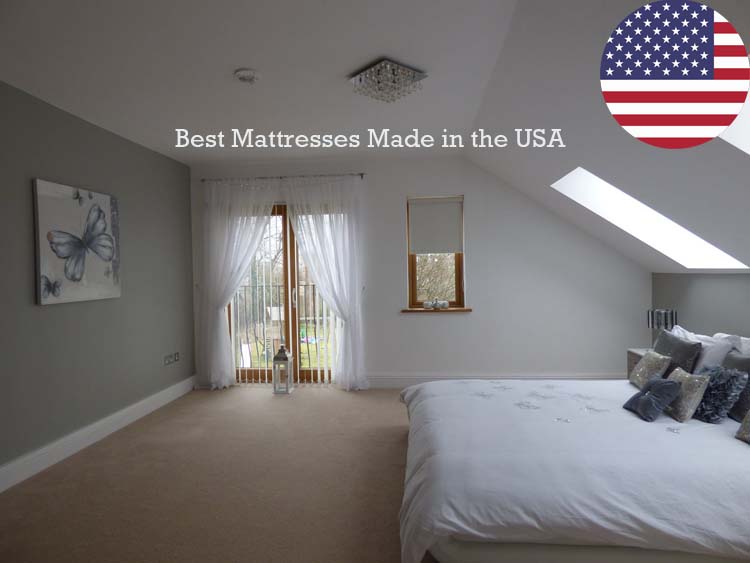 Shopping for a new mattress can easily become overwhelming, I know that like no other.
But what if I tell you that instead of surfing through all assortment on the market you canconcentrate on local brands?
This will make your shopping process way faster and much more effective.
Thankfully, I have reviewed 5 best mattresses made in the USA , which all can make a perfect fit for your bedroom.
Come see what they are!
Quick Links
Model
Type
Layers
Trial & Warranty
Rating
Zenhaven
Latex
quilted organic cotton cover;
natural wool;
Talalay latex comfort layer (Soft side);
soft Talalay latex transition layer;
firm Talalay latex support layer;
Talalay latex comfort layer (Gentle firm side)
120-night trial;
20-year warranty
Winkbed
Hybrid
Vary depending on the model
120-night trial;
lifetime warranty
Avocado
Hybrid
organic cotton cover;
Joma wool;
Dunlop latex comfort layer;
upcycled steel coils;
Dunlop latex base
365-night trial;
25-year warranty
Saatva
Innerspring
organic cotton cover;
foam pillow-top;
memory foam lumbar pad;
4-inch pocketed coils;
7-inch steel coil unit;
foam encasement around the perimeter
120-night trial;
15-year warranty
Bear
Memory foam
Celliant cover fabric;
graphite-infused memory foam;
dense foam transition layer;
high-density foam base
100-night trial;
10-year warranty

Our Reviews of 5 Best Mattresses Made in the USA

Best for Double-Sided Design

Zenhaven

And here comes another eco-friendly model in my review of the best mattresses made in the USA . But what makes the Zenhaven stand out is that itcombines two firmness options in one mattress,allowing you to use the one that suits you more.

You can choose either Luxury Plush side (which is great for petite sleepers and those who sleep on their side) or Gentle Firm option (which suits heavier individuals and those who love snoozing on their back or stomach).

The mattress is made of Talalay latex, from top to bottom, which results in anice bounce and good cradling properties. The softer side has an additional wool layer for enhanced comfort and better temperature regulation.

So, the coolest thing about Zenhaven is its double-sided design, which is rare for latex mattresses. I love that you can easily flip it to satisfy your body needs and get your deserved sound sleep.

The main problem is edge support. It is satisfactory when you're sitting near the edge, but when you lie down there, you might feel like you're going to roll off. So, this bed might not work for those who tend to sleep closer to the edge.

Double-sided design: firmer and softer sides

Latex is very conforming

Won't make you sleep hot

Well-made and durable

Has a slight latex smell

Mediocre edge support

If you need aversatile and natural mattressand don't mind to splurge a bit, then Zenhaved might be your perfect fit. It has two firmness levels in one to support different types of sleepers.

Best for Firmness Variety

Winkbed

Another contestant in my review of the best beds made in the USA is the Winkbed. Offering four firmness options and smart design of each, the manufacturer shows great care in delivering sound sleep to every user.

Since it's a hybrid bed, you can expecttemperature neutrality. The coil block creates great airflow between the layers and dissipates your body heat, thus providing you with a cooler sleep.

Also, there are several construction variations, each tailored to different types of sleepers. Whichever one you choose, you will get excellent support and good conforming. Some layers are zoned forhelping you keep proper spine alignmentthroughout the night, and there's alumbar padto relax your lower back area.

The most prominent feature of the Winkbed is the variety of firmness options and how they are suited for different needs. There's even an option specifically designed with heavier sleepers in mind.

The main issue, however, is that the coils might make occasional noises. They're not that loud, but if you're a sensitive sleeper, this might bother you.

Four firmness options

Doesn't sleep hot

Helps maintain proper spine alignment

Good edge support

Might feel too firm for some users

Coils make occasional noises

Overall, I like the Winkbed mattresses. They are all equally durable and can offer you aperfect balance between support and cradling.

Best Eco-Friendly Option

Avocado

The next option on my list of the best mattresses made in the USA is the Avocado, and it's aholy grail for all eco-enthusiasts. The manufacturer tries to reduce its carbon footprint by using renewable and upcycled materials, such as steel coils.

So, the mattress has hybrid construction. On top of the breathable and supportive coil system, there's a layer of springy Dunlop latex for contouring your body and a layer ofnatural wool that acts as a temperature regulator, keeping you cool — or warm — throughout the year.

Also,the manufacturer doesn't use any adhesivesto hold the mattress layers together. Instead, it uses a good old binding technique and stitches layers together with wool threads. You can see cute rosettes on a mattress surface that prove that.

The main advantage of this mattress is definitely its eco-friendly design. It's not only about caring for the planet but also about making a bed that is suitable for sleepers with allergies or breathing disorders.

The main drawback is, of course, the price. The Avocado is in the expensive segment of the market, so, if you have a tight budget, you should probably look into other options.

Gently firm; suits any sleeper type

Zoned support for better conforming

You might feel the rosettes through your bedding

On the expensive side

I really enjoyed testing the Avocado. It's aperfect choice for those who want to go greenand are ready to pay more for that. Just make sure you don't mind the bounce typical of latex.

Best for Edge Support

Saatva

So, the first brand to be featured among the top-rated mattresses made in the USA is Saatva. It's a luxurious innerspring model, so you can expect outstanding durability, anti-sagging design, and great support, even closer to the edges.

The main feature of this mattress iscoil-on-coil construction. A layer of 4-inch pocketed coils sits atop a 7-inch steel spring block. Both layers complement each other, and, as a result, you get a mattress that can easily support larger loads and may be suitable for heavy single sleepers and even couples.

Also, I loved how the lumbar paddelivers targeted relief to your lower back area, whether you feel stiff after sitting in your office chair or due to some medical conditions.

The best thing about this mattress is that it provides uniform support. The combination of coil layers and reinforced perimeter allows you to easily utilize the whole mattress surface and feel comfortable even when sleeping near the edge. Perfect for sleeping with a partner.

What I didn't like, though, is that this mattress might be overly responsive to movements. It's a common issue with innerspring beds, and if you have a restless sleeper by your side, this can be pretty annoying.

Great edge support

Three firmness options

Sturdy; suits heavy sleepers and couples

Well-made; quality materials

Allows for proper air circulation between the layers

Coils might squeak occasionally

Poor motion isolation

Overall, if you're looking for a mattress that will offer youuniform support across the surface, feel free to choose the Saatva. It's a great pick for anyone who shares a bed with a partner or tends to roll over to the edge.

Best for Quick Relief and Recovery

And one more candidate on my list of top-rated beds made in the USA is the Bear. Its all-foam construction can be great for those who are looking formore pressure relief and better hugfor their bodies, typical of memory foam mattresses.

So, the manufacturer did a really good job of combining materials. First, you have a breathable Celliant cover that wicks away moisture. Right under it, a layer of soft memory foam infused with graphite particles waits tocontour your body as soon as you lie down on the mattress.

The Bear can offer excellent pressure relief and decent sinkage without making you sleep hot. Also, I was very impressed by the motion isolation of this mattress. Itabsorbs any movements very effectively, so if your partner is a restless sleeper, this won't be your problem anymore.

The thing I liked the most about this bed is how it gives you relief and helps you recover faster. I was testing the Bear with a sore back, and it was the best sleep in my life, literally.

What I didn't like, though, was the foam odor. It's a common issue for all foams, especially infused ones, and the Bear is no exception. Even though the smell isn't harsh, sleepers with a sensitive nose might still feel it.

Excellent cradling and pressure relief

Great motion absorption

Perfect for side and mixed sleepers

Uses water-based adhesives; more eco-friendly than other foam beds

May lack edge support

Has an odor that takes long to air out

Despite some minor inconveniences, the Bear is a great mattress forthose who need pain and pressure relief. It comes with that typical memory foam feel but is a more eco-friendly option.

Where to Buy a Mattress in the USA?

When it comes to finding a good mattress made in the USA , you have two options available:

Online or offline shopping.

(Disclosure: I'm an advocate of the former)

But let's break down each of them down below.

Many USA-made mattress brands allow you to buy their products online.

It's really easy:

You choose the model you like, add some accessories if you need any, choose the delivery time, and then the staff arrives with your new mattress. In some cases, they may help you install the mattress and even dispose of your old one.

Aside from the uplifting experience, online shopping for a mattress has other advantages:

It's cheaper.Since online stores don't have a ton of staff and sometimes only have a website and a warehouse, they can save you a couple of hundreds on a new bed.
Online stores are open 24/7.So, you can easily 'visit' them whenever you have the time instead of spending your whole day-off driving around the city.
Multiple deals and sales are available.You can get your mattress for even less if you catch the sale time or get a promo code (hint: you can get a promo code simply by subscribing to a brand's newsletter).

Offline shopping has one significant advantage over online stores:

You can try a mattress before you buy it.

But is it really an advantage?

I mean, within one day,dozens of peoplelie on the mattresses displayed at the showroom. For months. This can significantly alter the feel, so you may get a distorted impression of the model you're planning to buy.

So, maybe it's better to use a trial period offered by most online brands selling mattresses in a box ?

"Don't forget that there's also a break-in period when your body adjusts to a new bed. Typically, this period takes about 30 days, so if you aren't in love with your mattress yet, you may want to wait a bit longer. Besides, some companies don't allow the customers to file a return until those 30 days since the purchase have passed."

What Mattress Type Do You Need?

Since American brands today offer literally all types of mattresses,it's useful to know what types there actually are and what's the difference between them.

Memory foam.Memory foam mattresses are the most common because of their excellent cradling properties. Memory foam adjusts to your body shape and keeps your spine aligned so that you can sleep soundly. Some of the issues you may face, however, are hot sleeping and inconsistent resiliency, which depends on the quality of foam.
Latex.Latex mattresses are great for their durability and cooling effects. Also, natural latex is fireproof and mold-resistant, so it won't provoke allergies. The only problem is that it's the most expensive material on the market, so latex mattresses may not be a good fit for people with a tight budget.
Hybrids.Hybrid mattresses have the best of all worlds. They can offer you a nice hug thanks to foam and latex layers and an excellent level of support thanks to coils. However, hybrids are pretty heavy to move around, and most of the innovative materials they use just don't have enough history on the market, so it's hard to predict their lifespan.
Innerspring.Finally, traditional innerspring beds are still pretty common today. These beds are great for those who love to float atop the mattress instead of sinking in it. Plus, they can work for those who want something with a sturdier perimeter and a more uniform sleeping surface. But prepare for possible noise issues and a shorter lifespan.

Things to Consider Before Purchase

Finally, I'd like to share a quick checklist with a few key things you need to consider if you not only want to buy a quality mattress from a US-based company but also want this mattress to be perfect for you personally.

Your sleeping position.The way you sleep defines the firmness that will work best for you. Side sleepers typically need something softer to cradle their hips and shoulders, whereas stomach sleepers would feel better on a firm mattress that will help them eliminate the drawbacks of their sleep position. At the same time, medium and medium-firm mattresses are often considered universally comfortable for all types of sleepers, although back and mixed sleepers will benefit from this firmness level the most.
Your weight.As with your sleeping style, your weight determines the needed firmness too. If you need a mattress for a heavy sleeper, choose firmer models, as they won't make you sink in too deep and will offer better pressure relief. Petite sleepers, on the other hand, will benefit from softer beds, as these will give in more deeply under their body, offering just the right amount of cradling.
Your health condition.You need to carefully choose your mattress if you have any musculoskeletal conditions causing pain or mobility concerns. For example, for the latter, a firmer mattress may help you move around the bed and switch positions without effort. A softer bed, on the other hand, is better for cradling stiff back and relieve pressure in the muscles.

Conclusion

Themodern US mattress marketcan offer you a lot of decent brands to choose from. You can easily find a bed of any type and construction that will suit your sleeping preferences.

The five I've reviewed above are among the most popular and best performing options available today.

My personal favorite among them is theZenhaven. Despite being a bit pricey, this mattress offers you dual firmness and is completely natural. It will offer you a truly cool and blissful sleep.

In case you're not a fan of latex, theWinkbedis a great alternative. You get to choose your preferred firmness from 4 options, and each of them can support your spine alignment in your favorite position without making you sleep hot.

So, why do you prefer American mattresses rather than imported options? What are the main factors you consider when choosing a brand? Share your thoughts below!

The Best Air Mattress

Best for Best for Indoor

Coleman SupportRest Elite PillowStop Double High Airbed

The Best Best for Outdoor

SoundAsleep Dream Series

Alps Mountaineering Rechargeable Air Bed

SoundAsleep Camping Series

Other to Consider

Insta-Bed Raised Queen w/ neverFLAT Pump

How We Found the Best Air Mattress

3experts interviewed

11mattresses tested

The Best Air Mattresses

Most air mattresses are pretty similar, but the very best offers easy inflation, minimal air loss, and — we dare to dream — a luxurious night's sleep. We picked 11 popular models, consulted chiropractors and a physicist, and measured air loss overnight, before putting our REM cycles on the line to personally test the best. Our favorites offered intuitive pumps, a neat feature or two, and performed well in our overnight test, all while giving truly comfortable support that left us pleasantly surprised.

Analysis paralysis? Subscribe to our newsletter.

Nice! Thanks for subscribing. Check your email to confirm.

The 5 Best Air Mattresses

Coleman SupportRest Elite PillowStop Double High Airbed – Best for Indoor
Alps Mountaineering Rechargeable Air Bed – Best for Outdoor
SoundAsleep Dream Series – Indoor Runner-up
SoundAsleep Camping Series – Outdoor Runner-up
Insta-Bed Raised Queen w/neverFLAT Pump – Other to consider

The Best Air Mattress: Summed Up
Coleman SupportRest Elite PillowStop Double High Airbed
Alps Mountaineering Rechargeable Air Bed
SoundAsleep Dream Series
SoundAsleep Camping Series
Insta-Bed Raised Queen w/ neverFLAT Pump
Best Indoor
Best Outdoor
Indoor Runner-up
Outdoor Runner-up
Other to consider
Size options
Queen
Twin, Queen
Twin, Queen
Twin, Queen
Twin, Full, Queen
Product weight
16 lbs.
9 lbs.
19 lbs.
14 lbs.
22 lbs.
Inflation time
1 min 35 sec
1 min 24 sec
3 min 41 sec
1 min 3 sec
2 min 45 sec
Overnight height loss
0 in
.25 in
.75 in
0 in
.25 in
Our Picks for Best Air Mattress
Coleman SupportRest Elite PillowStop Double High Airbed
No overnight air loss
Return to top
Why we chose it
Superfast inflation
The Coleman SupportRest Elite PillowStop Double High Airbed is our top pick because its 120V built-in pump is fast — really fast. It was fully inflated in only 1:35. To put that in context, the overall fastest was a single height mattress (the SoundAsleep Camping Series) at just 1:03 but then again, that's half the size of the Coleman. On the other hand, the runner-up double-height SoundAsleep Dream Series took more than twice as long with a top-tapping 3:41.
Surprising portability
The real game-changer with the Coleman is the second manual pump valve. It was one of only two double-height contenders with both an automatic internal pump and a manual pump valve, which means you can use it wherever you need it. While the Coleman doesn't come with its own external pump, you can use any manual pump (we found those with internal rechargeable batteries are generally faster than those with replaceable batteries) to inflate our top pick anywhere outside your house. And we wanted to take it outside — because it's the lightest of all our double-height air mattresses, at just 16.5 lbs, and its square carrying bag simply zips up around the mattress.
No overnight air loss
The Coleman was one of the notable few that lost no perceivable height during our overnight test. The other two were the Coleman Airbed Cot that had an elevated metal frame (which we felt protruding through the mattress), and our camping runner-up, the SoundAsleep Camping Series Air Mattress.
Points to consider
Controversial pillowstop
We were initially skeptical about the "PillowStop" feature, a slightly raised edge meant to keep pillows from falling off. It's not high enough to be a pillow itself, so you'll either rest your pillow on top of it, which might give you too much lift, or find yourself scooting further down the bed, which may be a dealbreaker for taller folks.
Bold design
We found the Coleman's bold blue and white stripes less stylish than the softer earth and water hues of most other air mattresses. If you intend to put sheets on your Coleman anyway, you can probably forget about this curious design choice, although it may still show through with lighter or thinner sheets.
Alps Mountaineering Rechargeable Air Bed
Return to top
Why we chose it
Long-lasting comfort
The Alps Mountaineering Rechargeable Air Bed made us feel like we should definitely go camping more often. This was one of the few single-height air mattresses with coil construction, and with less air and a lower profile, we really appreciated those comfort dimples. It held air pretty well overnight, too, and the quarter inch it lost didn't seem to make much of a difference, which is surprising given it's only 9.5 inches tall to begin with.
Ultra-portable
Getting this baby to your drive-up destination should also be a breeze. When tightly rolled, the Alps was about half the size of a sleeping bag, and though still hefty for a hike, will take up little space for car campers. At 9.75 lbs, it was also one of the lightest products we tested. The Lightspeed was the only one lighter, at just 4 lbs, but it lost way too much air when detaching the pump.
Rechargeable pump
All of the single-height air mattress we tested had an external pump, and of all the rechargeables, the Alps' was our favorite. We love that it comes with both a wall and car charger, but the pump itself is unusual: a sturdy cylinder about the size of a large coffee mug that locks into the Alps' unique valve and twists to inflate/deflate. The lock keeps the pump in place so you don't have to hover, and after fully inflating in 1:24, literally no air escaped when we disconnected it.
Points to consider
Specific parts
The only downside to the Alps' distinct pump design is that you have to use the pump it comes with. So if you lose or break the air pump, you'll need to contact the company directly to order a replacement (we couldn't find it anywhere else online). And if you happen to forget it when packing for a trip, you won't be able to borrow a fellow camper's pump.
Others to Consider
Return to top
If you're looking for an indoor setup and have put any thoughts of outdoor use firmly to bed, then you'll be happy with the SoundAsleep Dream Series. Though its fairly standard features didn't wow us, it was a solid performer and we're confident you'll get a good night's sleep.
The SoundAsleep Dream's double-height, coil construction comes with a built-in AC pump, and while it had a significantly shorter cord than a lot of the others we tested, we didn't find this to be a huge issue. It also has a nifty little cubby hole to keep the cord tucked out of the way when the pump's not in use. Simple storage was a breeze with the generously sized carry bag easily accommodated all 19 lbs of loosely folded mattress. Although its slow inflation time (3:41) couldn't compete with the Coleman's, the SoundAsleep does come in gentle ocean blue or deep burgundy color schemes, making it admittedly much more attractive.
Tougher to store
Return to top
The SoundAsleep Camping Series is our only pick with beam construction, and while testers noted that the horizontal beams felt a bit more intrusive than coils, it was still pretty comfortable. Side sleepers in particular liked the way the ridges pushed up to offer support along their whole side, although if you sleep on your back or front, you may find this bumpy height applies unwanted pressure. At 14 lbs, the SoundAsleep Camping feels surprisingly light, but even with our tightest fold was close to the size of an adult sleeping bag.
The SoundAsleep Camping's powerful rechargeable pump finished inflating in an outstanding 1:03, a blessing for a late-night camp setup. The pump was less convenient than the Alps' as we had to hold it in place, but this is pretty standard for external pumps. We did like the cleverly engineered flap that automatically covered the opening to limit escaping air as we removed the pump. This also made adjusting the mattress a snap, as you simply unscrew the cap and push the same flap to release air.
Minimal air loss
Misleading neverFLAT technology
Large and heavy
Return to top
A reliable indoor choice is the double-height Insta-Bed Raised Queen w/ neverFLAT Pump. We liked the Insta-Bed's automatic shut-off feature that eliminates the risk of over inflating and makes an already convenient automatic inflation feel even easier.
We weren't all that impressed with the neverFLAT technology, though, which claims to inflate and maintain preset plush, medium, and firm airfill. Try as we might, we couldn't feel any difference and with only a handful of inflation seconds between them, we remain skeptical. But the Insta-Bed was just as comfortable as our top pick and runner-up and lost a minimal quarter inch overnight (much better than the Serta that boasts the same neverFLAT pump but lost over an inch). At 22.3 lbs, the Insta-Bed is noticeably heavier than all our other picks and we had a harder time folding it to fit in its carry bag.
How We Chose the Best Air Mattress
To find the best air mattress, we sought out the most popular and well-reviewed products from major retailers like Amazon, Target, and Walmart. We also looked at those repeatedly featured on "best of" lists from sites like The Sleep Judge and Business Insider, as well as reviews on sleep blogs like Sleep Like the Dead and Choose Mattress. From a starting point of 85 potential candidates, we wound up with 11 highly-regarded contenders of varying heights, construction types, and pump methods.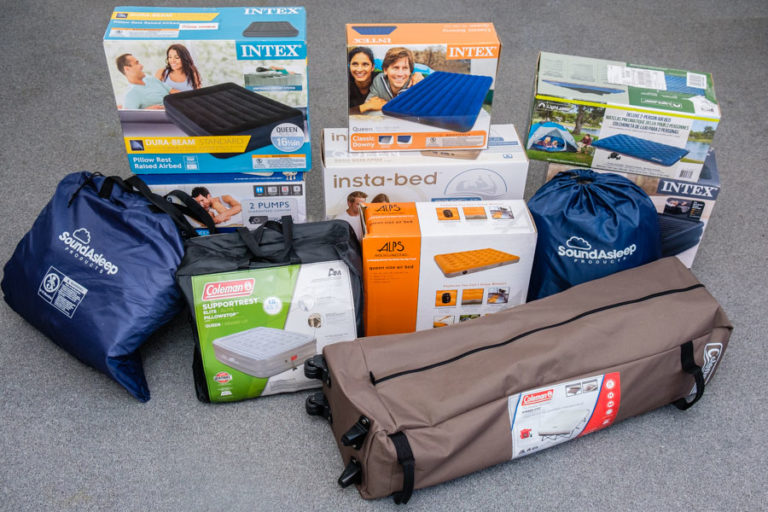 Alps Mountaineering Rechargeable Air Bed
Coleman Airbed Cot
Coleman SupportRest Elite PillowStop Double High Airbed
Insta-Bed Raised Queen w/ neverFLAT Pump
Intex Classic Downy Airbed
Intex Pillow Rest Raised Airbed with Built-in Pillow and Electric Pump
Intex Raised Downy Airbed with Built-in Electric Pump
Lightspeed Deluxe 2-Person Tufted Airbed
Serta Raised Air Mattress w/ neverFLAT Pump
SoundAsleep Camping Series
SoundAsleep Dream Series
Coil vs. beam construction
Almost all air mattresses are made of PVC, so the real difference in air mattress construction comes down to how the air is divided within the outer layers: beams or coils.
Traditional beam air mattresses tend to give you that "hotdog in a bun" feel. Large ridges on the surface are created by vertical or horizontal "seams" where long PVC strips join the top and bottom layers. This beam construction only caters to pressure distribution in the direction of the beams, meaning your body has to fit in around the raised ridges, à la hotdog.
Coil construction uses internal PVC cylinders to join the layers, which makes for a more durable and comfortable mattress because it allows your weight to be more evenly distributed. "As you get better contact over more surface area, it takes the pressure off your body and any one point in the mattress," explains physicist Michael Pilling. Essentially, the mattress conforms to your body and not the other way around. Our testers universally agreed that the coils were more comfortable, with one saying they made it feel more like a regular mattress.
Our testers found beam construction (left) less comfortable than coil construction (right).
Ease of use
Height:Double-height mattresses can be almost as tall as a traditional mattress-and-box-spring combo and are therefore easier to get onto and off. We focused on doubles (usually 16 to 22 inches), because there's something about a high mattress that gives us Princess and the Pea luxury vibes, but we also wanted to find the best single-height air mattress (typically 7 to 9 inches) for those who need a more compact and lightweight option.
Pump:The pump determines inflation speed and whether you're tied to a wall outlet or free to roam. Double-height air mattresses typically come with a built-in pump that you plug in, while singles tend to come with external pumps. We looked for pumps that were easy to use and didn't lose a lot of air (read: blast us in the face) when we stopped inflating.
Inflation:Speedy inflation shouldn't be a dealbreaker — we're talking about a minute or two after all — but a quick time is a nice perk. We had a race and noted inflation and deflation speeds, and while the single-height models were naturally faster, we were impressed that our double-height top pick gave them a run for their money.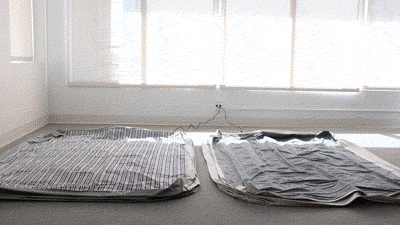 The Coleman's 1-minute inflation time (left) beat out the SoundAsleep Dream (right), which took almost 4 minutes.
Overnight air loss
By nature, air mattresses deflate as you use them — especially during the first few nights when the new PVC stretches out — but that doesn't mean you should wake up in the morning with your backside grazing the ground. Or worse, wake up in the middle of the night enveloped in swathes of deflated PVC.
"If not filled properly, air mattresses can leave the back unsupported and create increased stresses and strains to the tissues of the spine."
So we inflated all our mattresses, measured their starting heights, and then left three 80-pound bags of cement on them overnight to simulate a human or two. Some mattresses, like our top pick, didn't lose any height and felt just as firm when we measured them the next morning. Others didn't fare so well, though none failed as dramatically as the Serta Raised Air Mattress w/ neverFLAT Pump with its convincing quicksand impression. We gave preference to air mattresses that lost minimal height, and therefore air, overnight.
Comfort
We laid down, tossed, turned, and attempted to adjust the amount of air without getting out of bed on all our contenders. Then we took our top performers home for the weekend and welcomed ourselves into our own guest rooms for what turned out to be a few good nights' sleep.
Guide to Air Mattresses
Consider your usage before buying.
Before you purchase an air mattress, it's important to think about how you'll be using it. An air mattress for camping or backpacking is different to one for long-term indoor use or houseguests. Pump type, height, and portability will all depend on your plans for your mattress. The frequency of your use could determine how much you'll want to invest in a mattress, too.
Top your mattress up every day.
Slow leaks over time can happen in a number of ways: from the seams, from the pump intake/output, and even through the pores of the PVC itself. If you're sleeping on an air mattress for more than one night, manufacturers recommend topping it up with about 10 seconds of air.
"For optimal comfort, inflate the mattress to a level firm enough that your pressure points (shoulders, hip bones, etc.) sink into the mattress just enough that your spine does not form an arch. Your entire body should feel supported and you shouldn't feel pressure on your vertebrae."
Dr. James Devine
Add a mattress topper for ultimate comfort.
Both chiropractors we spoke to recommend investing in a mattress topper for extra padding and temperature control. "The materials air mattresses are made with don't breathe the way cloth mattresses do, so you can find yourself being uncomfortably hot in the summer and cold in the winter," explains Dr. Devine. "A cotton mattress pad will insulate you from the heat or cold (depending on the season) of sleeping on an air mattress."
Air Mattress FAQ
Can you patch an air mattress?
Yes! Punctures in an air mattress are quite common, and often the reason for replacement. But whether there was a rock under the tent or the cat got spooked by your houseguest, you don't have to purchase a brand-new air mattress — most mattresses even come with their own patch. The simplest way to repair: Clean the area around the hole, and then use PVC glue and a patch to seal it. If the glue isn't sticking to a flocked top, you can lightly sand it down before gluing. Some patches even come with an adhesive back so you can skip the glue. Either way, it's best to wait a day before inflating the mattress again, to really let the patch seal. You can purchase all these items separately, or buy an air mattress repair kit.
Is it bad to sleep on an air mattress every night?
It's not uncommon to choose an air mattress for your nightly snooze — especially when transitioning homes or living in a small space like a dorm room. But know that manufacturers discourage this kind of use. Most air mattresses come with a one- or two-year warranty, but manufacturers warn that everyday use for more than a month or two will degrade the mattress and almost certainly void the warranty.
If you intend to use your air mattress frequently, keep the mattress inflated and only inflate as needed each night. If the air mattress is continually inflated and deflated, it will put unnecessary stress on the bed's seams which will compromise the integrity of the mattress' structure over time.
How much weight can an air mattress hold?
Depending on the size and quality of your air mattress, most can hold up to 600 lbs. Smaller single-height twin mattresses may max out at 300 lbs. Most of our top picks range from 500-600 lbs weight limits. If you need a product that can hold more weight, consider a sleeping cot.
What are the best methods for taking care of an air mattress?
If you want to get the most out of your air mattress, you'll want to take care of it and keep it clean. The best way to achieve this has to do with storage mainly: Store your air mattress in an area that is protected from extreme heat and cold, which can cause damage to the motors or pumps and the PVC structure of the bed. And keep mattresses completely away from water and sharp objects, which could puncture your air mattress.
Aside from smart storage, be sure to keep your air mattress clean. Some experts recommend cleaning your air mattress after every use. That may be overkill for those who use their air mattress more frequently than the occasional camper. However, wiping the mattress with clean water and mild soap will help combat dirt, residue, and bacteria build-up, thus extending the life of your mattress. Also, don't allow pets on the air mattress as they could puncture the PVC casing and ruin your bed.
Finally, use bedding to preserve the life of your mattress, not only will it help keep you more comfortable, but it will also keep your bed cleaner, so that dust and dead skin cells and nighttime sweat aren't built up on the PVC vinyl.
Will an air mattress pop if over-inflated?
Yes, a blowout could occur if an air mattress is filled over maximum capacity. Even if it doesn't "pop", the over-inflation will still put tension on the seams of the bed, which will compromise the effectiveness of the support it could offer.
About the Authors
Danika Miller Internet & Entertainment Writer
Best Mattresses in Canada: Top Picks, Recommendations, and Some Extra Tips and Tricks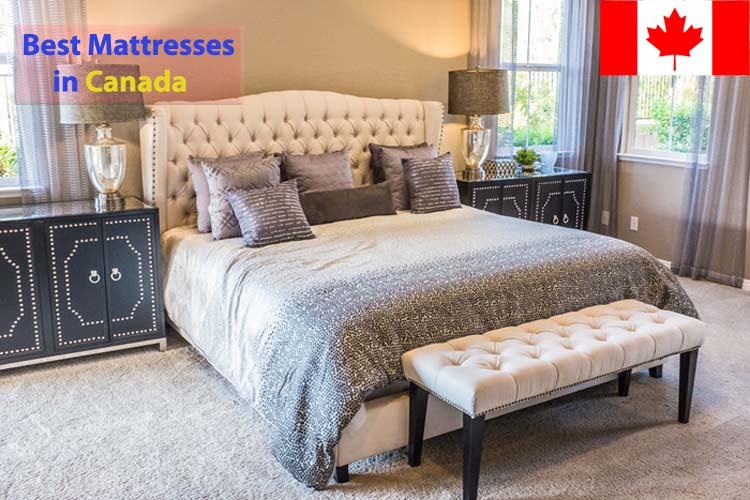 I don't know about you, but I see Canadians as warm-hearted, kind, smiley people. They justseem happy.
And Iwant them to be even happier.
The thing is, this can be easilyachieved by a better sleep. So simple, right?
Today, we are going to look at 8 best mattresses in Canada and see which one will allow for your heavenly restful sleep.
Quick Links
Name
Type
Warranty and trial
Rating
Novosbed
Foam
120-night trial, 15-year warranty
The Douglas Mattress
Foam + gel
120-night trial, 15-year warranty
Logan & Cove
Hybrid
120-night trial, 15-year warranty
Endy
Foam
100-night trial, 10-year warranty
Saatva
Hybrid
120-night trial, 15-year warranty
Loom & Leaf
Foam + gel
120-night trial, 15-year warranty
Bear Mattress
Foam
100-night trial, 10-year warranty
Helix Midnight
Hybrid
100-night trial, 10-year warranty

Top Mattresses Made in Canada

Best Mattress in a Box (Editor's Choice)– Novosbed

Being a truly Canadian product, Novosbed offers a combination ofall the good thingsyou might want in a mattress. It is supportive, comfy, and very nicely made. Additionally, this model is very flexible in use: you can pick among three firmness levels and even get free firmness adjustments after sleeping on it at home.

Novosbed is a memory mattress. It includes the followinglayers:

TheDuraBase support zoneis dense and works to distribute the body weight evenly.
TheRecore transition zoneoffers pressure relief, body contouring, motion isolation, and a smooth transition from the comfort layer to the base of the mattress.
TheNovos comfort zoneis made of squishy and cushioning memory foam.

TheTencel coveris breathable, soft, and even machine-washable.

The coolest thing about this model is how versatile it is. This mattress is perfect for people who don't really know what they need. Novosbed comes in three firmness levels, so there's an option for everyone. And if you don't feel too comfortable sleeping on it, the company offers free firmness adjustments.

The worst thing about this mattress is the fact that it might sleep hot, especially if you are a heavier user and sink in deeper into the foam.

Nicely made and durable

Three firmness options and free adjustments

Great motion isolation

Supportive with a good amount of cradling

Removable and washable cover

Might sleep hot

Mediocre edge support

Despite some minor flaws, this model deserves to be among the best mattresses made in Canada . It is very well-made and offers great comfort levels.

Want to see for yourself? Click here to order!Save $100 on Novosbed mattress from Happysleepyhead, no coupon code needed.

Best Budget-Friendly Mattress –The Douglas Mattress by Novosbed

The next item on our list of the best mattresses in a box made in Canada is Douglas. This medium-firm model is one of the mostbudget-friendlyoptions on the modern market. It combines a smart design, great comfort levels, and a rather reasonable price.

This foam mattress includes the followinglayers:

The6-inch support foam layerfunctions as a core base and helps with motion isolation.
The2-inch Elastex foam layerserves as a transition layer.
The2-inch ecoLight gel foam layerprovides both soft cradling and a cooling effect.

TheCoolSense coveris made from eucalyptus fabric and helps with temperature regulation.

The absolute best thing about the Douglas mattress is, of course, its price. For just 749 CAD (which is around 580 US dollars), you get a great bed, which is nicely made and has an effective layer composition. For such money, this mattress is a real steal.

As for the drawbacks, the most noticeable one is the absence of firmness options. I know, this isn't such a huge issue, especially given the fact that Douglas comes with a trial period. Still, I realize that because of this small flaw, Douglas might not be suitable for many users, and that's quite upsetting.

Great for pressure relief

Good motion isolation

Doesn't sleep hot

Has a very gentle, softly hugging feel

Only one firmness option

The edge support could be better

To be honest, this mattress managed to pleasantly surprise me. It is very comfortable and feels supportive and cradling at the same time. For such a price, it's a real treasure!

Ready to order? Click here!Save $50 on Douglas mattress from Happysleepyhead, no coupon code needed.

Best Luxury Mattress –Logan & Cove by Novosbed

Another cool model by Novosbed, Logan & Cove belongs on the list of top-rated canadian mattresses for a reason. Thispillow-top mattressfeatures a combination of support and heavenly soft filling. It feels like a cloud while keeping your body in a correct, neutral position."Oftentimes, when shopping for a mattress, you might be advised to buy a new box spring as well. However, if your old one is structurally sound, you can use it with any new mattress (just make sure the size is appropriate). Keep in mind, though, that some manufacturers require you to buy a box spring from them to receive the full warranty coverage."

Let's take a closer look at itsconstruction:

Theindividually pocketed coilsserve as a supportive base of the bed.
The2-inch supportive foam layeradds some cushioning and balances out the firmness of the coils.
The1-inch contouring foamis the base layer of the pillow top. It offers a good level of cradling and conforming.
The1-inch gel foam layerworks to provide a cooling effect while gently cradling the body.
Thesilk-blend pillow-top fillingis soft and breathable, which means it can help with temperature regulation too.

Theeucalyptus fiber coverfeels smooth and silky while being breathable and great at moisture wicking.

The coolest thing about this mattress is its feel. Thanks to the pillow-top + coil system combo, you get a very comfortable bed. It is supportive and can keep your spine properly aligned. At the same time, the pillow-top is soft and cradling, which makes the whole construction feel more balanced.

What might disappoint you the most is the fact that Logan & Cove isn't the best option for side sleepers. You see, this is a medium-firm mattress. And while the top feels quite soft, side sleepers might sink deep into it and hit that supportive base, which probably won't feel too comfy.

Effective construction, supportive with a decent amount of cradling

Reasonably priced (for a hybrid bed)

Great edge support

Good motion isolation, perfect for couples

Might be too firm for side sleepers

Potential noise from the coils

If you are a back/stomach sleeper who wants a luxurious feel for a reasonable price, then Logan & Cove would be a perfect option for you.

Are you convinced? Click here to order!Save $100 on Lovan & Cove mattress from Happysleepyhead, no coupon code needed.

Best Motion Isolation –Endy

Being an all-foam mattress, Endy hasa lot to offer. It is cradling, great for pressure relief, and comfortable. Additionally, it is perfect for couples! This mattressabsorbs motion like no other model.

Now, theconstructionof this mattress includes:

Thebase support layermade from memory foam, which is dense and serves to ensure the correct posture of your body during rest.
Themiddle transition foambalances out the overall construction and smoothens the transition from the comfort layer to the dense base.
TheEndy comfort foamis a very cradling and contouring top layer, which creates great motion isolation levels.

Thecoveris micro-quilted for improved breathability and removable for an easier cleaning process. The material of the cover is a polyester + lycra blend.

What might impress you the most is the motion absorption this mattress is capable of. Even if you and your partner have a large difference in weight, you will not feel a thing during the night, even if one of you tends to toss and turn a lot.

The worst thing about Endy is that it might be too plush for some users. If, for example, you are a stomach sleeper, a heavier user, or simply prefer sleeping on firmer mattresses, Endy will probably be too soft for you.

Excellent motion isolation

Cradling and pressure relieving

Perfect for side sleepers

Might be too plush for some users

Only 1 firmness option

Overall, Endy is a great mattress. Being Canadian-made, it is durable and reliable. Additionally, it is heavenly comfy!

Curious to test it out? Click here to order!

Top Mattresses That Can Be Shipped to Canada

Best Hybrid Mattress –Saatva

Even though this is an American-made item, Saatva belongs to the top-rated mattresses in Canada . And there are many reasons for that. Thisluxurious modelfeatures a combination of the most popular (and the most comfortable) materials, which work together to deliver that heavenly comfort to every user."A quick tip: do not accept delivery without checking the mattress and its condition. Of course, this rule doesn't work for bed-in-a-box options. If you get a mattress in a box, unroll it right away and check for any stains or damage. If you found one, call the customer support right away. Thus, you have more chances to prove that the stains weren't made by you (since you've just received the mattress and haven't had the time to use it yet)."

There are three firmness options available: Plush Soft, Luxury Firm, and Firm. Each of them has the sameconstruction(but a different foam feel):

Thesteel coil support systemis the base of the bed. It is very supportive and offers a fast response.
Thedual perimeter edge support systemcreates a larger sleeping area for you and your partner.
Thelumbar support memory foamoffers superb pressure relief and, at the same time, reduces tension in your back.
Theindividually wrapped comfort coils, being rather small, work to contour and support your body simultaneously.

Theeuro pillow-top and cotton coveradds some extra padding for your improved comfort. It is soft, smooth, and pleasant to the touch.

The absolute best thing about Saatva is definitely its construction. This is a hybrid model, which means it combines all the best materials for the most comfortable feel. You get the strong support from the coils and that pleasant cradling from the foam. To me, that's a perfect combo.

As for the drawbacks, the biggest one is probably the motion transfer. This mattress is quite bouncy. Therefore, it doesn't absorb the movement that well, which means it might not be suitable for couples.

Great value for money (given its smart construction and the quality of the materials)

Very supportive and responsive

Three firmness levels available

Excellent edge support

Mediocre motion isolation

Quite heavy and hard to move around, which might make the delivery process more challenging

Not suitable for sleepers who want a more hugging feel

I personally love hybrid mattresses, and Saatva isn't an exception. This supportive mattress is very comfortable and works well for different sleeping positions thanks to its smart construction.

Feel like this would be a great option for you? Order here!

Best Firm Mattress – Loom & Leaf by Saatva

The next item on our list is anotherpopular American mattress. Loom & Leaf is a foam model, but don't think that it sleeps hot. In fact, this mattress hasgreat cooling propertiesthanks to the smart material blend.

Let's take a closer look at itsconstruction:

Themulti-layered basefeatures three layers, each of which serves to provide proper support for your body and the base for the overall construction.
Thememory foam layeroffers a nice contouring effect and generous cradling, perfect for pressure relief.
TheSpinal Zone gel layeris the cherry on top: this top layer provides a cooling effect while also being quite bouncy and responsive.

Theorganic cotton coveris breathable, soft, and pleasant to the touch. And it gets better: it is natural, which means it's suitable for allergy-prone people.

What you might love the most about this model are its cooling properties. That gel layer is a real game changer. While being hugging and cradling, the mattress doesn't sleep hot. In fact, it might even help you cool down during a warm summer night.

The worst thing about Loom & Leaf is its weak edge support. Therefore, if you share your bed with a partner and need a larger sleeping area, you might want to go with a larger size when buying this great mattress.

Great cooling properties

Two comfort level options

Good motion isolation

Nicely made and durable

Mediocre edge support

Might be too expensive for some users

Loom & Leaf definitely has a lot to offer. This memory foam mattress has the potential to alter your sleep for good and serve you for many years.

Want to see for yourself? Click here to order!

Best Value for Money – Bear Mattress

The last item on our list of the best mattresses in a box in the US and Canada is Bear. This particular model is a real steal if you ask me. Featuring a smart andeffective construction, it is sold at a rather reasonable price, which makes it an awesome option for people who are looking for the best value for money .

Let's look at theconstructiona bit closer:

Thesupport layeris made from high-density foam.
Thetransitionalfoam layerhelps with pressure relief.
The responsivecomfortfoamoffers a nice amount of bounce.
Thecoolinggraphite- and gel-infused foam is used for temperature regulation.

The Celliantcovermakes for better air circulation.

Now, what you will love the most about this Bear mattress is the value for money it offers. I know you might think, "$900 for a Queen isn't such a great deal…" However, given this mattress's quality, comfort levels, and the fact that this price includes shipping to anywhere in Canada (plus taxes and customs fees), I think you'll agree that this is the best value for money you can find on the market these days.

Want to know the worst part too? Well, the biggest drawback of this mattress is the absence of different firmness options. This means Bear is suitable for a certain group of people and cannot be considered a universally comfortable mattress.

Great value for money

Innovative cover technology

Doesn't sleep hot

Cradling and contouring but doesn't make you feel stuck in the foam

Minimal to no off-gassing

Only one firmness option

Mediocre edge support

To be honest, this mattress managed to impress me. It is comfortable and offers a balanced combo of support and cradling. And don't forget about the value that it offers!

Want to test it yourself? Order here!Get 50$ OFFas a Happysleeyhead reader with coupon codeHappySleepyHead

Best Edge Support – Helix Midnight

Helix features a wide lineup of mattresses in a box that are suitable for almost everyone. But I've chosen the Midnight for my review of the best mattresses in Canada because of itsoutstanding edge support. This mattress ensures that you get the desired level of comfort even if you love sleeping closer to the side, and both you and your partner will have enough space to get comfy during the night.

Now, let's take a peek at the layers:

Thebase layerfeatures the proprietary Helix DuraDense foam that contributes to durability and supports the layers above.
Thepocketed coil systemensures proper body weight distribution, precise contouring, and good airflow.
Thetransition layeris made of high-grade polyfoam that provides slight rebound and uniform support.
Finally, thecomfort layerfeatures memory plus foam that molds to your body and supports the natural spine alignment.

All this goodness is encased in theHelix Soft Touch coverthat enhances the cooling effect and is incredibly pleasant to the touch.

The most prominent feature of the Helix Midnight is definitely its sturdy perimeter. The pocketed coils work really well here and give you the uniform surface that can support almost any sleeping style.

The drawback, however, also lies in the coils. Although the foam layers above can absorb some shock, the mattress is still pretty bouncy and may not be a good pick for active sleepers.

Great edge support

Good balance between cradling and support

Soft and hypoallergenic cover

Suits almost any sleep position

May be a bit too bouncy

Might feel firm for petite users

Overall, I enjoyed sleeping on the Helix Midnight. I think it can be a decent purchase for couples and thosewho want to have the entire mattress surface at their disposal.

Factors We Look At

With new mattress companies emerging in both Canada and the USA, the amount of info and marketing claims is overwhelming. Luckily, we know how to sift through all that info. Here are the mostimportant aspectswe pay attention to:

Comfort. Obviously, this factor is crucial. The first thing a mattress should be is comfortable, and we make sure to test each of them and how they feel.
Shipping. No matter whether you're buying from a Canadian brand or ordering from a US-based company, you need good shipping terms. We always try to pick only the companies that offer a fuss-free delivery service for a reasonable price (or for free, which is even better).
Support. We all know that without proper spinal support, our sleep cannot be healthy. Therefore, when searching for the best mattresses in Canada , we always pick the ones that can distribute the user's body weight evenly and help with spinal alignment. Even when it's a soft mattress.
Company reputation. Buying from trustworthy brands ensures your safety in case something goes wrong.
Materials safety. We spend a lot of time sleeping . Naturally, we all need our mattresses to be safe for our health. That's why we always check the safety certifications of each mattress model.
Value for money. No matter how much you pay for your new mattress, you want to get a good deal for the money. That's why we choose only the models that have a lot to offer for the price. If we recommend a cheap option, we make sure that it's still comfortable and worthy of your attention. If we suggest an expensive mattress, you can be sure that it's a really luxurious model, which will offer superb comfort levels.
Warranty and trial. Here's the deal: a sleep trial is a very helpful bonus, even when buying from a physical store. It allows you to test the mattress for a few nights and really see whether it works for you or not. As for the warranty, the longer it is, the better. A good warranty keeps you safe for years and guarantees the quality of your new mattress.

Reviews . One mattress cannot suit everyone, so we always read other people's reviews to see whether it's suitable for different body types and users' preferences.

How Does Your Mattress Affect Your Life?

Without proper sleep, we lose energy, concentration, and eventually, our health .And without a good mattress, we can't get a healthy, restful sleep. Sounds pretty logical, doesn't it?

But do you want to knowhow exactly a mattress might affectyour sleep and well-being in general? Here are some interesting facts, which might inspire you to start looking for a new bed right away:

Sleeping on an old mattress leads to back pain . This one is pretty obvious, isn't it? When your mattress is old, lumpy, or saggy, it cannot support your body weight properly. Consequently, it cannot help with the correct spinal alignment. This leads to such unpleasant things as lower back pain, sore neck, and even headaches.
A new mattress canreduce your stress levels. Good restful sleep helps people relax. So, as you have guessed, a new comfy mattress can improve your well-being, make you sleep better, and reduce your stress.
Sleeping on an old mattress will probablyenhance your allergies. Our mattresses collect pretty much everything: dead skin cells, tiny hairs, sweat, dust, small debris, fluids, and so on. And all that nasty stuff inside can make your allergies (if you are prone to them) enhance noticeably.
An uncomfortable mattress can be bad for your…brain. Yes, your brain. Lying on an old, uncomfortable mattress means low-quality sleep. And when you don't get enough sleep, your brain doesn't function as well as it used to. You lose focus and lack concentration. It gets harder to memorize things. You become less creative and more irritated. The list can go on, but you get the picture, right?
An old mattress can lead tochronic insomnia. It's simple: when your bed doesn't feel comfortable, you can't sleep. And when you can't sleep every night, this turns into a serious condition.
Bad sleep can make yougain weightor go back to your old (bad) habits. Insufficient sleep is directly linked to your stress levels. And increased stress levels lead to people gaining weight, drinking more alcohol ("just to relax"), and starting to smoke even after quitting.

Buying a Mattress in a Box in Canada

If you feel a bit stressed out when shopping for a new mattress, that's okay.

It's a serious investment, which involves a lot of thinking and doing a thorough research. And I'm here to help you with that.

If you don't know where to begin orwhat steps to take, here's a simple buyer's guide for you:

Determine the budget. Figuring out how much you can spend can make the picking process easier. Once you know what portion of your budget you can spend, you get a certain selection of mattresses, which belong to this price category. However, you should also consider some extra expenses like shipping (if it isn't free), taxes, and perhaps a set of new sheets.
Decide on the needed size. The bigger the mattress, the more expensive it is. Therefore, you don't want to pay more if you don't need a larger bed.
Consider the mattress type. There are so many mattress materials available these days, so you need to figure out which one will work the best for your specific needs and preferences. To do that, keep reading and learn the peculiarities of each type.
Think about your favorite sleeping position. It will determine the type of the mattress that you need. For instance, back and stomach sleepers need a firmer surface. At the same time, side sleepers require softer beds, the ones that will cradle the protruding parts of their body.

"If you are buying a mattress, which is going to be delivered in its full size, don't forget to measure your living space first. You need to make sure that your doors and hallways are wide and tall enough to fit a mattress. Otherwise, the delivery process can turn into a real headache."

Check the warranty and the trial conditions. This aspect is very important, and you know that. The longer the warranty, the safer you will feel when using your mattress. And a good trial period will give you a chance to return the mattress in case it doesn't work for you.
Compare different models and read other people's reviews. This will help you figure out how each model performs for different body types and under different circumstances. Perhaps some other user's experience will save you from purchasing an uncomfortable or low-quality mattress.

Don't hesitate to ask questions. If you need to specify some aspects, you can always contact customer service. Their job is to help you, so don't feel hesitant. Sometimes it's better to talk to a real person and ask them about the product than just read the specs on their website.

Mattress Types

We can talk about mattress materials for hours. But I know that you don't have that much free time. So, let me share the most important points concerningeach type:

Memory Foam. This type has a hugging, oftentimes sinking feel. Foam is cradling and works perfectly for people who need good pressure relief. As for the downsides, it oftentimes has a slight off-gassing, tends to sleep hot, and doesn't offer good edge support.
Innerspring. Innerspring mattresses are very supportive and bouncy. They let you float on top of your bed instead of sinking into it. They are relatively cheap but don't have a really long lifespan. Innersprings don't sleep hot but can be quite noisy because of the squeaky metal components.
Latex. What's great about latex mattresses is their natural origin. It offers a quick response, good support levels, and good conforming. Latex is noiseless, sleeps cool, and great at motion isolation. However, latex mattresses offer a mediocre edge support and tend to be rather pricey.
Hybrid. This type features a combination of the previous materials (sometimes just the two, sometimes all three). And here's the kicker: there is a huge number of different hybrid options, which means there's a perfect bed for almost everyone. On the other hand, such mattresses are quite expensive.

Picking the Right Mattress Size

As I've said before, the bigger the mattress, the more it will cost. So, if you don't want to spend more than needed, you should find the perfect size for yourself. Here are the main modern mattress sizes:

Twin (39 x 75 inches). Used mostly for children or in rooms with a very limited space.
Full (54 x 75 inches). Perfect for teenagers or petite solo sleepers.
Queen (60 x 80 inches). The most popular size in Canada. Can fit two adults but doesn't offer much space between the sleepers.
King (76 x 80 inches). Being the same height as the Queen, it offers the same amount of leg room, but there is more space between the sleepers.
California King (72 x 84 inches). The largest size currently available, Cal King offers both enough leg room and some free space between two adults (and maybe even some space for a cat or a dog).

Benefits of Buying Mattresses Online

Buying online can be risky.

But when it comes to mattresses, there's not much to worry about these days. Modern manufacturers do everything they can to ensure a fuss-free shopping process, even if you order from the US or buy from canadian mattress makers, which doesn't have any physical stores.

Just check out the benefits of the online mattress shopping:

In the majority of cases, companies ship their mattresses directly to your door.
You can test the mattress for days (and months) and return it if it doesn't feel comfortable enough.
You don't have to deal with an annoying sales person, who follows you around the mattress showroom.
Mattresses that are sold online are usually cheaper than the ones in physical stores.
You have all the time to compare different models and can read real users' reviews in the process of shopping.

Caring for Your New Mattress

Obviously, a mattress isn't your ordinary household item.You can't just throw it into the washer and make it sparkly new. Taking care of your mattress requiresspecial steps.

But here's the thing:

Those steps aren't difficult to follow.

Just don't forget to:

Regularly rotate your mattress. This way, it will wear more evenly, which means no dents or lumps in your bed.
Vacuum it.Once a week is perfect. Once a month is enough. This will help you get rid of the dust and other particles, which love to hide inside the mattresses.
Invest in a mattress protector. A waterproof one would be a great solution. It will protect your bed from occasional spills, sweat, and other fluids, thus prolonging its life and keeping your sleeping environment safe for your health.
Air the bed out regularly. Just strip it and leave in a well-ventilated room for a couple of hours.
Avoid jumping on your bed. I know, it's so much fun. But this activity can seriously damage the materials inside your mattress.
Clean the spills right away. Don't waste your time and don't let the moisture soak in.

These simple rules will keep your mattress fresh and intact. And you will be able to enjoy your restful sleep for many years!

Conclusion

This is crazy, but there areso many good Canadian and US-based mattress companiesthese days that it might be hard to pick just one model. If only mattresses were cheaper, I would sleep on a new one every month!

But for now, let's talk about ourtop picks. Want to know, which models impressed me the most?

Well, if you want to buy from a Canadian company, I highly recommend theNovosbed Mattress. It is nicely made, doesn't cost too much, and has a very pleasant, gentle and cradling feel. It is perfect for pressure relief too!

As for the American mattresses, my all-time favorite isSaatva.

And it gets better:

This mattress is very comfortable! It has a bit firmer feel and even features a new innovative cover technology.

So, have you already picked your personal favorite? Do you prefer buying from Canadian mattress makers or are you ready to order from the US? Let us know in the comments!

Best Air Mattresses

Tops the charts in almost every category we tested. A great bet for an air mattress.

Extremely popular among buyers — very comfortable and reliable. Its durability and puncture resistance sets it apart from other models. Grip surface on bottom prevents sliding. 1-click internal pump makes it quick and easy to inflate. Comfortably fits 2 people.

Slowest product to inflate and deflate.

If you want a home airbed for very occasional use, this is the one to get.

Built-in electric pump inflates bed to desired firmness in under 5 minutes. Waterproof top and sturdy construction. Indentations on sides prevent fitted sheets from sliding off. Includes transportable carrying case. 22-inches tall. Very comfortable. Inexpensive.

Durability may be an issue over the long run.

A very good product all around: comfortable, easy to use, convenient.

Very comfortable according to our testers. Pump takes 4 minutes and shuts off automatically when inflated; secondary Never Flat pump keeps air pressure up during night. Raised height makes it easy to get into and out of bed. Coils create strong and even sleep surface.

Never Flat pump running at night could disrupt sleep.

A solid, comfortable bed at a good price.

High off the ground, which makes it easier to get out of for some people. Good value. Rated comfortable by testers. Can bear a weight of up to 600 pounds. Comfortably fits 2 people. Inflates in under 5 minutes. Indented sides keep fitted sheets in place. Includes carrying case for easy transport.

A little saggy at the edges when you sit down on it.

If warranty matters to you, get the Serta.

Primary pump inflates or deflates mattress in under 4 minutes and has auto shut-off feature. Secondary pump system keeps mattress silently inflated throughout the night. Flocked top is comfortable and keeps sheets in place. Puncture- and water-resistant materials. Good warranty.

Costs more than the Insta-Bed, although it appears to be identical except for color.

We purchase every product we review with our own funds — we never accept anything from product manufacturers.

We purchase every product we review with our own funds — we never accept anything from product manufacturers.

Buying guide for best air mattresses

Whether you are looking for a mattress for camping or a spare bed for guests, an air mattress is a portable and fairly affordable option that offers far more comfort and support than a sleeping bag. The size, material, and inflation method may vary, so it's important to consider your needs and budget when purchasing an air mattress that will hopefully last you for years.

Most air mattresses are made of latex, PVC, or nylon. The material quality and overall design of the mattress will determine how much air is lost overnight. For something that inflates quickly and with relatively little effort, look for a mattress that includes an electric pump. While this is great to have at home, you may want a manual pump if you plan to take your air mattress when you go camping. The biggest determinant for price is the size and height of the mattress.

It's important that an air mattress is reliable and comfortable. To learn more about considerations when looking for an air mattress, continue reading.

How does an air mattress work?

Most air mattresses are made of PVC, latex, nylon, or another type of reinforced plastic for durability. In most cases, an air mattress comes with an electric pump that hooks up to a valve and inflates the mattress in a matter of minutes.

Some models have a foot-powered pump, while budget-friendly options must be inflated by mouth. Higher-end air mattresses inflate automatically by opening a valve, but they only fill to a certain pressure; you finish the inflation manually.

To deflate the mattress, simply open the valve and allow the air to escape. Pressing on the mattress once the valve is open deflates it more quickly. When the mattress is fully deflated, you can roll or fold it up again for storage or transport.

Product in depth

SoundAsleep Dream Series

Of special note — and the reason the SoundAsleep Dream Series is one of our top picks — is that the percentage of owners who complain about leaks or manufacturing defects is extremely low. There is nothing worse when sleeping on an air mattress than air slowly seeping out during the night, and the SoundAsleep fails far less frequently in this regard compared to other products.

Benefits of an air mattress

With an air mattress, you can make a comfortable bed for you or your guests in minutes. But there are many other benefits of a good air mattress.

An air mattress is lightweight and easy to store. You can easily move it around your home or pack it in your car when necessary.

Air mattresses allow you to customize firmness to be as comfortable as possible. If you prefer a softer mattress, fill it with less air. If you prefer a firmer mattress, fill it to capacity.

They are extremely durable. You can expect an air mattress to last as long — or longer — than a traditional mattress. They're also less expensive than conventional mattresses.

If you live in a small home, an air mattress allows you to create a guest room in a hurry. Pull it out of the closet and inflate it anywhere you have some floor space.

How to set up a SoundAsleep air mattress

What to look for when buying an air mattress

Comfort and support

An air mattress is only as good as the sleep it gives you, so comfort and support are essential considerations.

Look for a mattress with even air distribution to prevent lumps or bubbles.

For the most comfortable bed, though, opt for an air mattress with internal air coils or chambers.

Height

In addition to size, it's important to consider the height of an air mattress. If you're putting the mattress on the floor without a platform to elevate it, it can be difficult to get in and out of bed with a single-height air mattress.

A double-height air mattress is nearly the same height as a traditional bed, so older people and others with mobility issues may have an easier time getting on and off this type of air mattress.

Warranty

It's a good idea to choose an air mattress that comes with a warranty.

For the most protection, choose one that has a one-year warranty for both the bed and the pump.

Product in depth

Intex Raised Downy

Intex says its Raised Downy air mattress is designed with comfort and stability in mind. The bottom chamber provides the same support as a traditional box spring, while the flocked upper chamber offers comfort coils that feel a lot like traditional mattress springs. This low-priced Intex mattress also sits slightly higher than the other products we tested, at 20 inches high.

Air mattresses come in all the standard mattress sizes, including twin, full, queen, and king. The usual air mattress specs are 38×74 inches for a twin, 54×74 inches for a full, 60×80 inches for a queen, and 72×80 inches for a king.

Bigger air mattresses will accommodate larger people or multiple sleepers more comfortably, but keep the size of the area where you plan to put the air mattress in mind as well. You want to be sure it'll fit.

If you want an air mattress that's easy to inflate, opt for one that comes with a pump. Some pumps run on internal batteries, while others must be plugged into the wall. If you plan to camp with your air mattress, a battery-operated pump is the best option.

For the quickest inflation, choose a mattress that has a built-in pump. If you opt for a mattress with an external pump, make sure the valve on the bed fits it well and seals properly so leaks don't occur.

Storage

It's important to store an air mattress is some type of container to protect it from tears and rips.

You can fold up the mattress and put it back in its original box, but that can be cumbersome. For the easiest storage, choose an air mattress that comes with a storage bag or container.

Extra features

While size, comfort, and ease of use are the main things to consider, some air mattresses come equipped with extra features that could come in handy. Keep in mind that you'll usually pay more for additional features.

Some air mattresses are fitted with LED lights to serve as nightlights, while others have USB ports to charge your phone, tablet, or laptop while you sleep.

For a queen-size bed, an air mattress with 30 or more coils will be the most comfortable.

How much does an air mattress cost?

Air mattresses are available in a wide range of prices. The cost usually depends on what size mattress you're purchasing; king air mattresses cost more than twin mattresses.

In general, you can expect to pay between$25 and $450.

Expect to spend$50 to $90for a basic queen-size air mattress.

For a higher-end model, you'll usually pay between$100 and $150for a queen.

Product in depth

SoundAsleep Dream Series

Some SoundAsleep Dream Series owners report that this air mattress is actually more comfortable than their regular bed. That's due to the 40 internal air coils that keep the mattress firm and free from sagging and buckling. Our testers found the bed supremely comfortable, too, and it boasts the best durability reports of all the products we tested. Comfort and longevity: a combination worth buying.

Tips and tricks for using your air mattress

If you're purchasing an air mattress to host overnight guests, opt for a full or queen size to fit two people comfortably.

Whether you're using the air mattress yourself or hosting a guest, always make it up with traditional sheets. You'll get a better night's sleep than simply lying down on top of the inflated mattress with a blanket.

You can make an air mattress even more comfortable by adding a mattress topper. A foam egg-crate or quilted-pad style adds extra cushioning to make an air mattress feel more like a traditional bed.

It's best to place an air mattress on a soft surface, such as a carpet or rug. It can squeak on hard flooring when sleepers toss and turn during the night.

If your air mattress develops a hole, you can easily patch it up by heating a stick of hot glue and applying it to the puncture.

Some air mattresses have built-in pumps, while others have an external pump that runs on batteries or electricity. The best type depends on how you plan to use your air mattress.

How to patch an air mattress hole

Q. Can I use an air mattress as a permanent bed?

A.Air mattresses aren't usually designed for everyday use. If you sleep on it every night, durability issues will likely arise after a few months. It's best to use an air mattress one to two times a week.

Q. How do I store an air mattress?

A.When you're finished using your mattress, deflate it according to the manufacturer's instructions. Make sure all the air is out of it, as it's more prone to damage while inflated. Fold the long sides of the mattress in toward the middle. Then either fold it in half or quarters or roll it up. Place it in its box or storage bag before stashing it in a closet or on a shelf. If you can't find the box or bag, wrap it in a towel to protect it.

Q. How do I clean an air mattress?

A.First, make sure the pump is unplugged. Remove any sheets and other bedding, then run a handheld or hose vacuum over the mattress to remove crumbs, dirt, and debris. Dampen a soft cloth with rubbing alcohol and wipe down the mattress. Leave the mattress out to dry for four to five hours before folding it up for storage.