Crib mattress how to buy
Getting Started
Choosing a crib mattress might seem like a boring task but it's one that warrants careful consideration. The mattress is as important as the crib, and we recommend buying the best one you can.
Why does it matter? For one thing, your baby will spend a lot of time in his crib. It might seem hard to believe, especially when you're getting up to feed a fussy baby in the middle of the night, but infants sleep up to 18 hours a day.
You'll want to make sure the mattress fits properly in the crib you've selected without gaps that could pose a danger to your baby. And the mattress should be firm. A soft one can conform to the shape of your baby's head or face, increasing the risk of suffocation or even sudden infant death syndrome (SIDS).
There are two general types of crib mattresses: foam and innerspring. Both types—if they're good quality—will keep their shape well and provide excellent support for infants and toddlers. There are differences, though. Foam—usually made from polyurethane—tends to be lighter (about 5 to 13 pounds) compared with an innerspring mattress (about 15 to 30 pounds). So although you'll probably be lifting just a corner at a time when changing your baby's sheets, it might be a bit easier with a foam mattress. Foam is also less springy and therefore less likely to be used as a trampoline when your child is older. Still, innerspring crib mattresses are more popular in the U.S., possibly because most adults sleep on innersprings, too.
Look for Quality
Whichever type of mattress you chose, look for quality. The cheapest foam and innerspring mattresses have thin vinyl coverings and edgings that can tear, crack, and dry out over time. As prices increase, coverings tend to be thicker, puncture-resistant, reinforced double or triple laminates, or very fine organic cotton. An innerspring mattress that has more or better-gauge steel and better-quality cushioning will weigh more. The same goes for a foam mattress that's made of denser, better-quality foam.
Still, you don't have to spend a fortune or try as many mattresses as the Princess and the Pea to get a good-quality one. A mattress that costs between $90 and $200 will generally serve your baby well. Prices for foam and innerspring mattresses are comparable, ranging from $50 to $400 and up. (The more expensive ones are made with organic cotton or natural latex.) Low-priced models (less than $90) might be too soft and flimsy. Higher-priced models tend to be firmer and therefore safer.
You Can't Tell a Mattress by Its Cover
With a mattress, almost everything that matters is on the inside. Some crib mattresses feel great in the store but begin to falter once your baby starts to use it. We've learned that you can't depend on sales staff, even at reputable retail outlets, to give you accurate information. One told us, quite convincingly, that innerspring mattresses were better than foam because foam tends to "break down" after 18 months. Twenty-five years ago that may have been true, but not anymore. "A top-quality foam crib mattress will hold up just as long as an innerspring crib mattress with normal use," says Dennis Schuetz, director of marketing for the Colgate Juvenile Products Company, a manufacturer in Atlanta. That's because foam crib mattresses have become much more durable.
Hit the Stores
Once you get a sense of options in different price ranges, you should go to a store to see what a quality crib mattress looks and feels like. One place to start? The label. Manufacturers are required by law to reveal what a mattress is made of. Don't buy one from a manufacturer or retailer that doesn't tell you this with in-store information, displays, or online specifications. In fact, you should be able to find out the components of each layer. And when you push down on a mattress, your hand should spring right up. Schuetz says the biggest mistake parents make is picking a mattress that's comfortable for them. It's better to pick a crib mattress that's harder than you would like it to be. "If it feels good to you, it's too soft for your baby," he says, adding that babies need more support than adults.
Buy New
Buy a new crib mattress, if possible. For one thing, it ensures that the mattress is sanitary. If you buy a used mattress or accept a hand-me-down, you won't know for sure how it was cared for or stored. Mold can grow in improperly stored crib mattresses, and bacteria can fester on the surface from liquids (diaper leakage, spit-up) that weren't properly cleaned up. If you buy a new one for your first child and keep it clean, you can use it for your next child if you store it in a dry environment and it stays firm.
Use a Cover
Use a tightly fitting, washable waterproof mattress cover to protect the mattress and keep the baby's sleeping environment as clean and sanitary as possible.
Test the Fit
By law, all full-sized crib mattresses must be at least 27 1/4 inches by 51 5/8 inches, and no more than 6 inches thick. If you can, shop in a store that displays crib mattresses on the selling floor, and check the fit by putting it inside a sample crib before you buy it. If you can squeeze more than two fingers between the mattress and the crib, the mattress is too small.
Don't Worry About Warranties
Some mattresses offer warranties for one year, seven years, or even a lifetime. Don't be swayed by a long warranty, and don't pay extra for a mattress with a warranty. "Warranties are mostly a marketing tool to entice the consumer to spend more," Schuetz says. In general, you can expect a quality crib mattress to last as long as you're going to use it as long as the cover doesn't rip or tear.
We have not tested any of these crib mattresses.
How to buy a crib mattress
The lowdown on crib mattresses
A good mattress not only makes bedtime cozier – it supports your growing baby and keeps her safe. Consider cost, comfort, and durability, as your baby will probably sleep in a crib for up to 3 years.
Types of mattresses
Foam mattressesare generally the lightest option. These are available in a variety of thicknesses, usually between 3 and 6 inches. Look for foam mattresses that are firm, on the heavier side, and resilient when you press your hand on them. Too soft a surface can conform to a baby's shape and create a risk of suffocation and a sudden infant death syndrome (SIDS) hazard.
Innerspring mattressesare coils covered with foam, padding, and fabric.
Better-gauge steel and higher-quality cushioning is heavier and more expensive, as well as firmer and more durable.
Organic mattressesare made with all-natural or organic materials, including cotton, wool, coconut fibers, food-grade polymers, plant-based foam, and natural latex. These mattresses can be innerspring, foam, or other – it's hard to classify a mattress stuffed with coconut-husk fibers.
Organic crib mattresses can be expensive, but some people say the peace of mind is worth the price. They contend that chemicals and industrial compounds used in standard mattresses – flame retardants known as PBDE (polybrominated diphenyl ethers), vinyl, and polyurethane foam, for instance – emit toxic gases, and that the substances used to make mattresses could harm babies. Others say materials like latex can produce an allergic reaction in infants.
As researchers continue to analyze issues of toxicity, advocates for going organic point out that if these chemicals could be harmful, the safest thing to do is to buy a crib mattress that doesn't use them.
"Breathable" mattresses, made of materials that are supposed to allow a baby to breathe freely even if his or her face is pressed up against it, are getting more popular. Experts haven't yet weighed in on their efficacy.
What to look for when buying
The right size:A mattress needs to fit snugly in the crib, with no space between the side of the mattress and the crib frame. If there's a space, the mattress is too small and could be a suffocation and entrapment hazard. The size of both crib mattresses and cribs is standardized by the federal government, but due to slight variations in each, not every mattress will fit perfectly in every crib.
Firmness:The firmer the crib mattress the better (mattresses designed for older children and adults may not be firm enough). Even if it feels very stiff to you, your baby will adjust to it.Consumer Reportssuggests this test: "Press on the mattress in the center and at the edges. It should snap back readily and should not conform to the shape of your hand."
Density:You want high density so it's firm enough to keep your baby safe while sleeping. Most foam mattresses don't list density on the packaging, but weight can be a good indicator. As for innerspring mattresses, manufacturers often equate the number of coils with firmness, but the gauge of the wire is just as important. Lower gauge means thicker wire, which is stronger and therefore firmer. Look for a mattress with 135 or more coils and a gauge of 15.5 or lower.
Resiliency:When you push your hand down into the middle of the mattress and remove it, how quickly does it regain its shape? Faster is better; sleeping babies make an impression on the foam, and it can be difficult for them to change position if the mattress retains their shape. Some foam mattresses are "2-stage" or "dual firmness," with a firm side for infants and a softer side for toddlers.
Weight:A typical foam mattress weighs about 7 to 8 pounds, although mattresses made of memory foam (an especially dense form of polyurethane) can weigh close to 20 pounds. Innerspring crib mattresses are heavier in general, weighing in at about 15 to 25 pounds. Keep in mind that you'll be hoisting up a side of the mattress, or lifting the whole thing, when changing your baby's sheet.
Mattress cover (ticking):For water resistance, look for double- or triple-laminated ticking reinforced with nylon. This composition is also more resistant to tears, holes, and soggy diapers. Organic mattresses usually have cotton covers; parents may want to consider a fitted waterproof mattress cover.
Venting:Look for small holes on the sides of the mattress that let air flow in and out. A mattress will smell better if it has plenty of vent holes to let odors escape. Diapers do leak, so this is important.
Cleaning:Most traditional mattresses suggest spot-cleaning only. Some have removable covers that can be machine-washed. The innards of at least one crib mattress on the market can be hosed down in the tub once its washable cover is removed.
Certification seals:Crib mattresses for sale in the United States must meet safety standards defined by the U.S. Consumer Product Safety Commission and the American Society for Testing and Materials. (The Juvenile Products Manufacturer Association does not test or certify crib mattresses.) A manufacturer's claim that a product is organic can mean a variety of things, but look for an Oeko-Tex Standard 100 certification (a worldwide uniform certification), which assures you that certain flame retardants and heavy metals were not used to make the mattress.
Important safety notes
Use caution with used or secondhand crib mattresses. Some studies link used mattresses to an increased risk of SIDS, although researchers aren't sure whether the mattresses caused the increase in risk or were simply correlated with an increased risk. (Theories that fungal activity or toxic gases in used mattresses caused SIDS have been largely laid to rest.) Experts recommend that parents avoid old, worn mattresses, particularly those with foam/padding exposed – which can increase the potential for bacterial growth – or those that hold an indentation after your hand is placed firmly on the surface, then removed.
Air mattresses are not safe for babies. The soft surface is a suffocation hazard. As the CPSC warns, "Never place infants to sleep on air mattresses or other soft surfaces (such as water beds and adult beds), which are not specifically designed or safe for infant use."
No matter what mattress parents choose, they should continue to follow the American Academy of Pediatrics' safe-sleep guidelines and put babies to sleep on their backs on a firm, bare surface.
What it's going to cost you
Crib mattresses start at about $40 and can range to more than $350. Organic mattresses start at about $80 and can reach $400.
Best Crib Mattresses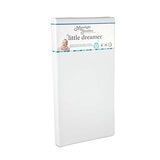 The best crib mattress in all aspects. You won't find another mattress with better features, comfort and design.
Reversible and easy to flip to the "toddler" side for additional support as your baby grows. It's waterproof, made of nontoxic materials, and has antimicrobial protection.
It's the most expensive model on our shortlist, but it's also a sound investment for the infant to toddler stages.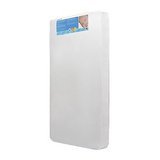 A popular choice with plenty to offer at a value price-. This is the best deal on the market today.
Offers similar qualities as more costly models. Free of harsh chemicals, has a waterproof cover, and is easy to clean. Thermo-bonded fiber core provides reliable support.
It's on the thin side, and the middle has the tendency to sag a bit over time.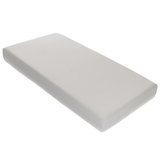 Offers both some user-friendly features and some quirks that are potential deal-breakers.
Earns praise for providing an excellent fit in standard cribs. Reversible for baby and toddler use; 100% cotton cover is waterproof, removable, and washable.
Has a peculiar odor that may fade over time. Firmer than some competitors, which may concern some parents.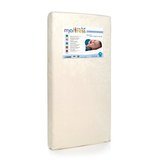 It's a good buy if you like the flexible support of memory foam. Otherwise, check out other crib mattresses on our shortlist.
Has a removable cover that is washable and waterproof and a memory foam core that provides comfort and support. Boasts a 10-year warranty.
Not as thick as some customers expected, and they also found it to be slightly too short for some cribs.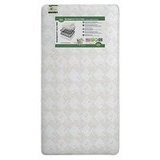 A solid choice if you want a crib mattress with an alternative core.
Reversible from baby to toddler years for adjustable support. Sturdy and dependable – constructed with 120 innerspring coils and no harmful chemicals.
It's somewhat heavy compared to others on our list.
We purchase every product we review with our own funds — we never accept anything from product manufacturers.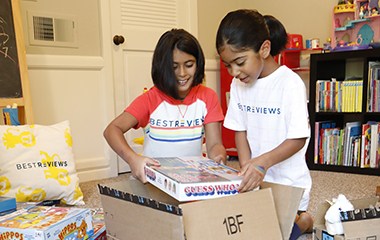 We purchase every product we review with our own funds — we never accept anything from product manufacturers.
Buying guide for best crib mattresses
A child's safety is one of the most important things in the world to parents, and the wrong crib mattress can be problematic and even hazardous.
As a parent, you want your baby to sleep comfortably. An uncomfortable child is a cranky child, and the ill effects of a sleepless night or two can quickly snowball, exhausting all members of a household. The right crib mattress can help with that.
Furthermore, studies have suggested that a too-soft mattress may increase the risk of sudden infant death syndrome (SIDS), and a too-small mattress can pose an entrapment risk. You most certainly don't want to invite any hazards into your baby's bed.
Lauren Corona has been writing about babies, kids, and childcare since 2010. She's passionate about the little people in her life and wants to make sure all parents and caregivers have all the salient information to choose safe, high-quality products for their babies and kids.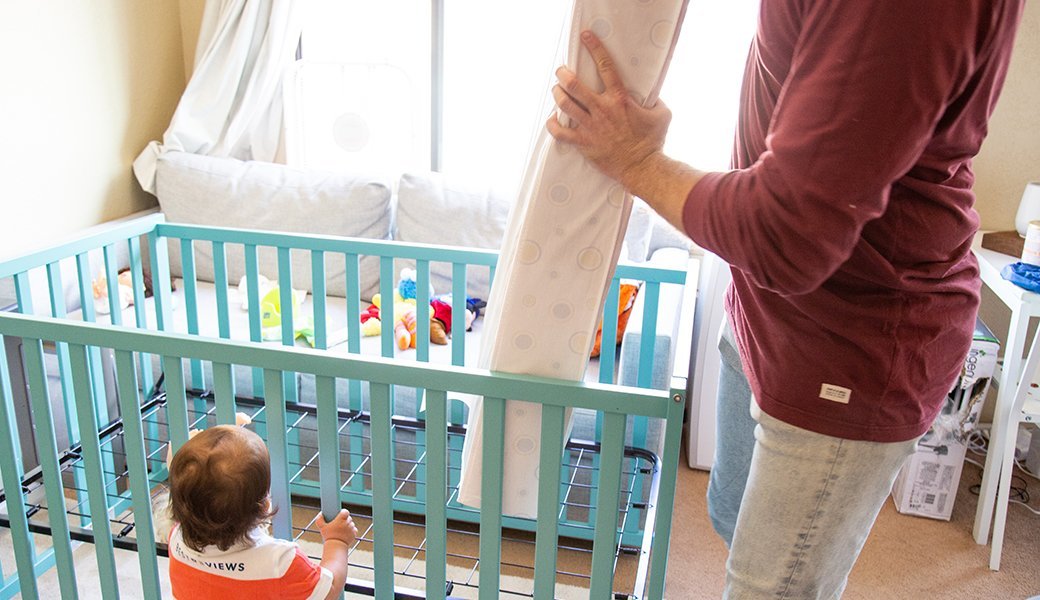 Without question, it's vital that you put some thought into which crib mattress you buy for your new arrival. But how do you know which crib mattresses are good and which are not?
At BestReviews, we're here to help!
The shopping guide below provides all the information you need to make an informed purchasing decision.
Please read on to find out more about crib mattresses, and when you're ready to buy one, please scroll up to see our top five choices in the product list.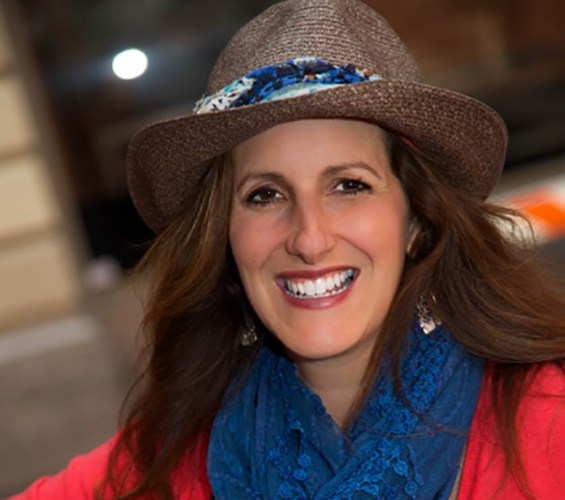 Dr. Aimee Ketchum is a pediatric occupational therapist practicing in the neonatal intensive care unit and pediatric out-patient at Central Pennsylvania Rehab Services at the Heart of Lancaster Hospital. She has been working in pediatrics for 18 years and is also the owner/operator of Aimee's Babies LLC, a child development company. Aimee has published 3 DVDs and 9 apps which have been featured on the Rachael Ray Show and iPhone Essentials Magazine. Also certified in newborn massage and instructing yoga to children with special needs, Aimee lives in Lititz, PA with her husband and two daughters.
Crib mattress types
When you buy a mattress for an adult, you're faced with some choices – including which type of material you'd like your bed to be made of. The same applies to crib mattresses.
Below, we take a closer look at the two main types of crib mattress: innerspring and foam.
Innerspring crib mattresses
Innerspring crib mattresses have metal coils, or springs, at their core. Layers of padding, such as foam or polyester, surround the springs to prevent them from digging into the sleeper.
Pros:
Innerspring crib mattresses tend to be more durable, supportive, and long-lasting than inexpensive foam crib mattresses. Notably, however, they are not necessarily more durable than high-end foam crib mattresses.
Cons:
Innerspring crib mattresses generally cost more than foam crib mattresses. And if you opt for a cheaper innerspring mattress, it may be uncomfortable, squeaky, or heavy.
Price:
Basic innerspring crib mattresses start at about$50, though we'd recommend spending closer to$100for a more comfortable and supportive option. High-end organic innerspring crib mattresses can cost as much as$500.


The steel gauge of an innerspring mattress will tell you more about its firmness than the coil count. Confusingly, the lower the steel gauge, the thicker the steel. We recommend a steel gauge of 15.5 or below for an adequately firm crib mattress.


We researched 41 models of crib mattresses and consulted with our baby expert before picking our top choice. We then tested our favorite with children to make sure it stood up to wear and tear.
Foam crib mattresses
For a baby, you can find basic foam mattresses as well as high-end memory foam and gel foam options.
Pros:
Foam crib mattresses tend to be less expensive than innerspring crib mattresses. They are also more lightweight and potentially more comfortable. However, high-end foam crib mattresses can be pricey.
Cons:
Low-cost crib mattresses made of foam may be filled with poor-quality foam that's not dense enough. What's more, memory foam can get hot in summer.
Price:
The most basic foam crib mattress can cost as little as$25. However, it's worth spending at least$50to get a firmer and more durable mattress for baby. High-end foam mattresses made from natural or organic materials may cost as much as$300, but you can find high-end options closer to$150 or $200.


The Juvenile Products Manufacturers Association (JPMA) certification ensures quality and safety testing for babies.


With an innerspring mattress, know that more coils don't always equal better quality.


Your baby will probably sleep in a crib for up to three years, so a fairly good mattress is worth the investment.


Hypoallergenic, green, eco-friendly, natural mattresses are more expensive, but important for sensitive babies.
Why buy a new crib mattress?
For parents on a budget, some baby gear can be safely bought secondhand. But crib mattresses should be purchased new, not used. Let's examine the reasons why.
In 2002, the British Medical Journal published a study that showed a correlation between used crib mattresses and an increased risk of SIDS. This could come down to a number of outside factors, but we don't think it's worth taking the risk.
Used crib mattresses may can contain mold spores, especially if they don't have a waterproof cover.
Babies might be cute, but they certainly aren't in control of their bodily fluids, so a used crib mattress is likely to be unsanitary.
A used mattress may not be as firm as it was when new, and it's important that young babies sleep on firm mattresses.


Check that your crib mattress fits snugly in the crib well in advance of when you want your baby to start sleeping in it. That way, you have time to return the mattress and replace it with a larger one if it's too small.
Considerations for selecting a crib mattress
Firmness
Your first thought might be to opt for a soft mattress for increased comfort. But your baby will be much safer on a firm sleeping surface.
In fact, The National Institute of Child Health & Human Development recommends that all babies sleep on firm mattresses to reduce the risk of SIDS.
For safety reasons, it's vital that your baby's crib mattress fits snugly in the crib.
There should be no gap between the mattress and the edge of the crib; even a small gap poses a risk of entrapment and suffocation.
The size of cribs and crib mattresses is standardized and, by law, all full-size crib mattresses sold in North America must measure between 27 5/8 inches and 28 5/8 inches wide and between 51 3/4 inches and 53 inches long. They should also be no more than six inches deep.
Organic materials
Some crib mattresses are made from natural or organic materials. While this isn't an essential feature, some parents prefer it.
If you have a baby with allergies, breathing problems, or sensitive skin, a mattress containing natural or organic materials could be especially beneficial.
Weight
As the caretaker of an infant, you'll be changing soiled sheets regularly. As such, you want a mattress you can easily lift in order to properly install fresh sheets.
Make sure your chosen crib mattress isn't too heavy for you to comfortably maneuver.


The denser a foam crib mattress is, the better. The reason: denser mattresses are also firmer. Look for a mattress that holds at least 1.5 pounds per cubic foot.


"Dual-firmness" mattresses are firm on one side (for infants) and soft on the other side (for toddlers). These are particularly useful if the crib converts into a toddler bed.
The following tips will help you choose the best crib mattress and make the most of it:
To avoid overheating, look for a crib mattress with ventilation holes, especially if you live in a warm climate.
If you opt for an innerspring crib mattress, make sure it has border rods, which prevent sagging at the edges.
Rotate your baby's crib mattress every three months to help it wear more evenly and avoid sagging.
If you're concerned about weight, foam crib mattresses are lighter than innerspring varieties.
In you live in a humid environment, a dehumidifier set to below 50% humidity could help prevent dust mites from settling in and around the mattress.
If you're concerned about chemical emissions from your baby's crib mattress, look for one that's been GREENGUARD certified.
You can buy hypoallergenic crib mattresses, which are ideal if your little one suffers from allergies or asthma.
Ideally, look for a mattress with a machine-washable cover. You'll thank yourself for it later.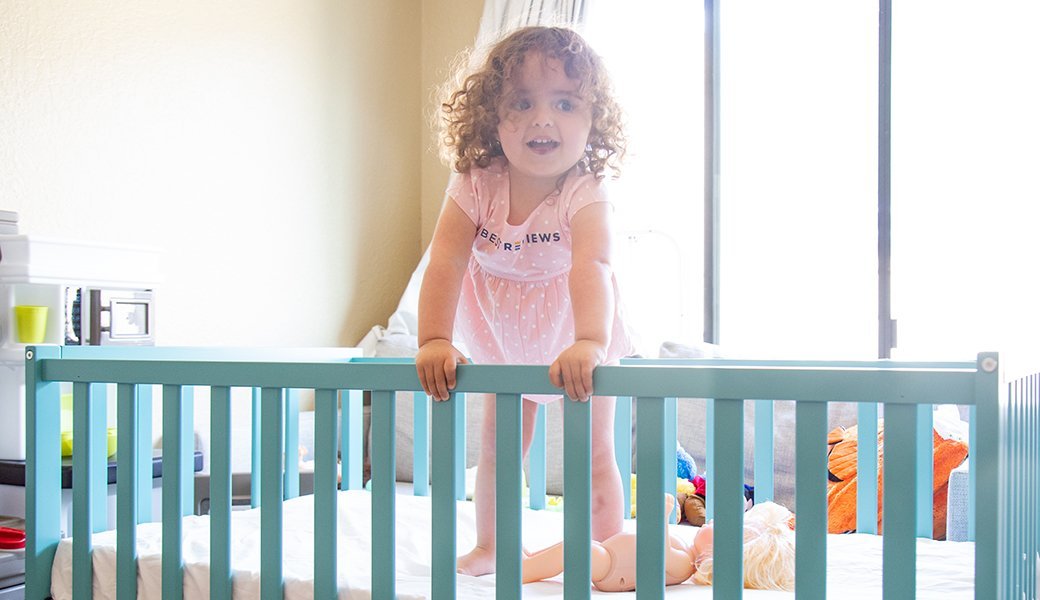 Q. Should I choose a crib mattress with a waterproof cover?
A.Unless you have magic diapers, there will be some occasional leakage at night, which is why waterproof covers are an important extra for a crib mattress. However, don't worry too much if your chosen mattress doesn't have a waterproof cover. Instead, consider buying a waterproof sheet to put under the regular sheet.
Q. Are all crib mattresses flame-retardant?
A.U.S. law dictates that all crib mattresses must meet specified flammability standards. While this doesn't mean you can safely forgo all other fire precautions, it should afford you some peace of mind.
Q. What safety precautions should I take regarding my baby's crib mattress?
A.It's important to provide a safe sleeping environment for your baby to lessen the risk of suffocation or SIDS. We've touched on some of these topics above, but here's a quick summary of how to keep your baby safe in her crib.
Ensure the crib mattress fits correctly with no gaps between the mattress and the edge of the crib.
Choose a firm mattress that's new, not used.
Be cautious with bedding. Our expert Aimee advises, "Make sure sheets are the right fit and will not pop off of the mattress."
Don't cover an infant with loose blankets. Either swaddle the child securely or use a correctly fitted baby sleeping bag.
Remove any bumpers from the edge of the crib.
Always lay your baby to sleep on her back with her feet at the bottom end of the crib.
Never use a pillow or let your baby sleep with a blanket or soft toy.
LittleOneMag
Table of Contents
What is on your "must-have" list for when your baby arrives? Hopefully, a crib with a suitable mattress is right at the top. The mattress is the most important part of your baby's crib, having a good one to sleep on is essential for their comfort and safety at night.
Features to Consider in Good Crib Mattresses
A Good Mattress Keeps your Baby Safe and Comfortable
Becoming a new parent is both exciting and nerve-racking. There are so many things to consider when preparing your child's nursery. If you want to create a safe & comfortable environment, selecting the right crib mattress is one of the most important decisions you will make. As your baby will spend most of his or her time in a crib, we recommend all parents should invest in a good quality mattress to put their mind at ease when their baby is sleeping. Keep reading for our top picks for crib mattresses for your baby in 2020.
Choosing a Mattress for your Baby
Buying a crib mattress can be far more complicated than choosing the theme or color for the nursery. There are so many options available that it can leave you confused. Let's summarize some of the important factors you should consider when purchasing a crib mattress.
Babies need Special Mattresses
If you're buying a mattress for your newborn, make sure to select a crib mattress that's specifically designed for babies. The major difference between a mattress for babies and a mattress for adults is the firmness of the mattress.
Although a firm mattress might be uncomfortable for an adult, this firmness is an absolute requirement for babies. A firm mattress will help prevent SIDS in babies which is probably the number one concern parents with newborns have. It will also help with your baby's muscle & strength development. A toddler mattress can have a slightly softer surface.
A Two-in-One Mattress can Grow with your Baby
If you're looking at a long term option for your baby you can select a two-in-one mattress. These mattresses have different levels of firmness on each side. One side of the mattress will be firm enough for a newborn or younger baby and the other side will be softer for when the baby grows older.
Check the Size before you Buy
It's extremely important that the mattress you buy is not too small for the crib. There are different crib sizes and even shapes. It's advisable to buy your crib before you order a mattress. This way you will know the exact size of the mattress you need to buy.
Always follow the two-finger rule. You shouldn't be able to fit more than two fingers between the mattress and side of the crib. This is to prevent your baby from getting stuck between the two and accidentally suffocating.
Go Green
More and more parents are investing in organic mattresses and medical professionals agree that it's a better option. Harmful chemicals are left behind on mattresses after the manufacturing process. The chemicals might aggravate any medical conditions your baby might already be suffering from such as asthma. Organic mattresses will ensure a safe & natural environment for your baby.
Airflow is Important
Mold, bacteria & odor happens because a mattress is wet. Mattress vents will prevent moisture from building up thus keeping the mattress clean and hygienic. It'll also allow for easier breathability if your baby accidentally rolls to a face-down position on the mattress.
Now we've gone over some baby mattress basics, let's run down 10 of the best mattresses available on the market today.
Top 10 Best Crib Mattresses 2020
1. Moonlight Slumber Little Dreamer Crib Mattress
Editor's Rating:
This performance-tested mattress has an easy to clean waterproof fabric. The fabric is also a medical grade stretch knit making it anti-microbial and odor resistant. You don't need to worry about bed bugs living inside your little one's mattress as it has SafeSewn seams preventing dust mites from penetrating the mattress.
The mattress is two-sided. One extra-firm as well which is excellent for infants. Then, after a certain age, just flip the mattress over for a softer foam mattress that'll be great for your toddler. The two-in-one feature helps economize over the long haul as your baby grows.
Pleasingly, the mattress is water resistant and stain resistant so you won't damage the mattress by spilling things on it accidentally. Of course, you may still wish to clean it. If so, don't use any harsh cleaning products on the mattress, and that includes diaper wipes. To clean the mattress, use a damp sponge or cloth without any cleaning products.
Safety
The mattress is made of non-toxic material and is also PVC-free, lead-free and anti-bacterial. This means it's free of chemical nasties that could hurt your infant. It is GREENGUARD certified, which is a mark of quality.
Size
27.5" x 5" x 52"
Material/Fabric
The mattress is made of four layers. A nylon cover, a woven fire barrier meaning should the worst happen the infant will be better protected. A high density foam enriched with plant oils and finally a firm-high density foam. It offers an excellent, safe and ideal sleeping surface for your young one.
Antimicrobial Anti-odor control Dual design. Quality fabric. SafeSewn seams. Water-resistant. Stain-resistant. Easy to clean. Quality tested.
The toddler side might still be too firm.
2. Best Value Crib Mattress: Graco Premium Foam Crib and Toddler Mattress
Editor's Rating:
This premium foam mattress from Graco is exceptional value. Instead of the memory foam used in adult foam mattresses, this one uses polyurethane foam for safety. The Graco Premium Foam Crib and Toddler Mattress fits all standard cribs and toddler beds
We really like the washable cover that comes with this mattress. Made from 100% polyester, the cover is easy to remove, easy to wash either by hand on in your machine and does a great job protecting the foam mattress underneath. You should also aim to wash the mattress itself regularly with cold water and mild soap. The foam mattress is breathable and maximizes airflow and it's also stain resistant.
Safety
The Graco Premium Foam Crib Mattress has GREENGUARD certification, ensuring it has been thoroughly tested for any chemical emissions or hazardous materials. It also meets all CPSC and ASTM safety standards.
Size
52" x 27.6" x 5"
Material/Fabric
In order to provide the proper firmness and airflow to keep infants safe while in the crib, the mattress is made from 100% polyurethane foam. The removable cover is made from waterproof polyester.
Amazing value Arrives in a convenient, lightweight box Polyurethane foam provides excellent support and airflow for infant safety The removable cover makes cleaning easy
If the crib mattress is not opened within 2 weeks of purchase, it may not fully expand
3. Best Premium Crib Mattress: Newton Wovenaire Crib Mattress
Editor's Rating:
The Newton Wovenaire crib mattress comes with a machine washable removable cover that can also be tumble dried which makes it easy to clean. There are spaces in the material that lets air flow through it.
The design ensures your baby can breathe through the fabric if they turn over in the night. Pediatricians recommend this mattress for this reason. It also promotes good temperature regulation so your baby is not too hot or cold. Finally, it's very comfortable for your little one!
The unique blend of materials mean you should make sure not to use warm water or apply any excessive heat to the mattress as it will shrink. This means you tumble dry the mattress itself. Wash it with cold water and then hang it up to dry.
Safety Features
As well as being GREENGUARD and CPSC certified. This mattress unique material does do more to help prevent SIDS than other mattresses. The difference may be minor compared to other mattresses but if it's something you are worried about then you can be assured that the airflow of this mattress is second to none.
Size
52" x 28" x 5.5"
Material/ Fabric
The Wovenaire core is 90% air and 10% food-grade Polymer and is 100% recyclable.
Sorry!
Your web browser is not accepting cookies.
Cookies are small pieces of information stored securely on your computer. A browser capable of storing cookies is required to view the Walmart Canada website. We use cookies to save information like your language preference and the nearest Walmart store. Personal information like your shipping address is never saved in a cookie.
Pleaseenable cookies in your browserorswitch to a newer web browser. You may also browse the Walmart Canada flyer without cookies.
Désolés!
Votre navigateur Web n'accepte pas les témoins.
Les témoins sont de petits renseignements stockés de façon sécuritaire dans votre ordinateur. Un navigateur capable de stocker des témoins est requis pour consulter le site Web de Walmart Canada. Nous utilisons des témoins pour sauvegarder des renseignements, comme vos préférences en matière de langue et de magasin. Vos renseignements personnels, comme votre adresse d'expédition, ne sont jamais sauvegardés dans un témoin.
Veuillezactiver les témoins dans votre navigateurouutiliser un navigateur Web plus récent. Vous pouvez aussi consulter la circulaire Walmart Canada en ligne sans témoins.